TRENDnet has released the all-new TEG-S750 5-port 10GbE network switch with multi-gig support across all ports. Built for high bandwidth performance, the TEG-S750 features five dedicated 1/2.5/5/10GbE ports for high-speed internet and network connections.
TRENDnet has released the all-new TEG-S750 5-port 10GbE network switch with multi-gig support across all ports. Built for high bandwidth performance, the TEG-S750 features five dedicated 1/2.5/5/10GbE ports for high-speed internet and network connections.
The switch supports 100Gbps switching capacity, allowing for reliability for all types of connections within the switch environment. With the TEG-S750 coming in right at $300, it offers a cost-effective way to deploy 10 Gigabit connections or even 2.5GbE connections over Cat5e cabling.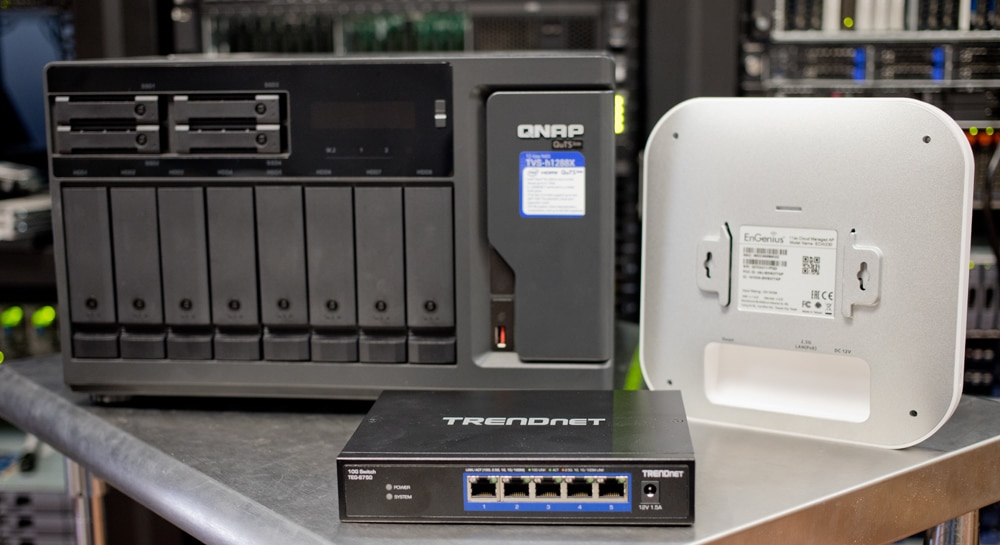 When talking about an economical solution for high bandwidth connections, the TEG-S750 steps in and although it only maintains 5 ports, there are still a ton of cases in which it excels. This can be used as an add-on switch for an environment that needs to add multi-gig connections onto an existing 10GbE network, where there are other switches, preferably managed.
It's also a viable option for a very small network that needs to support fast shared storage and a few accessories like a 2.5GbE wireless access point. Something like a small home office or remote edge use case comes to mind. Again, at this price point and will all ports being multi-gig, the TRENDnet TEG-S750 will find its way into a lot of niche spots where it can excel.
TRENDnet TEG-S750 Specifications
Standards

IEEE 802.3u
IEEE 802.3ab
IEEE 802.3an
IEEE 802.3az
IEEE 802.3bz

Device Interface

5 x 10G ports (100Mbps/1Gbps/2.5Gbps/5Gbps/10Gbps)
LED indicators

Throughput & Distance

Cat5e Cabling: 1Gbps/2.5Gbps @ 100m (328 ft.)
Cat6 Cabling: 10Gbps @ 50m (164 ft.)*
Cat6a Cabling: 10Gbps @ 100m (328 ft.)*

Data Transfer Rate

Fast Ethernet: 100Mbps (half-duplex), 200Mbps (full-duplex)
Gigabit Ethernet: 2000Mbps (full-duplex)
2.5 Gigabit Ethernet: 5Gbps (full-duplex)
5 Gigabit Ethernet: 10Gbps (full-duplex)
10 Gigabit Ethernet: 20Gbps (full-duplex)

Performace

Switch Fabric: 60Gbps
RAM buffer: 2MB
MAC address table: 16K entries
Jumbo frames: 9KB
Forwarding mode: store and forward
Forwarding rate: 44.64Mpps (64-byte packet size)

Power

Input: 100 – 240V AC, 50/60 Hz
Output: 12V, 1A
Max. Consumption: 11.9W

MTBF
Operating Temperature

0° – 40° C (32° – 104° F)

Operating Humidity
Dimensions

180 x 145 x 33mm (7 x 5.7 x 1.3 in.)

Weight
Cerritifactions
Warranty

Limited Lifetime Warranty

Package Contents

TEG-S750
Quick Installation Guide
Power Adapter (12V, 1.5A)
TRENDnet TEG-S750 Design and Build
The TRENDnet TEG-S750 is a small but hefty switch, being only 7 inches long, 6 inches wide, and 1.3 inches tall, but weighing in at a hair over 5 lbs. The TEG-S750 is a well-made switch with an all-metal build and a ton of ventilation, making for easy deployment in any environment.
The TEG-S750 also features a completely fanless design making for a quiet design. This fanless design also adds to the versatility of the switch since it could be deployed in an office for example and have no interruptions of fan noise.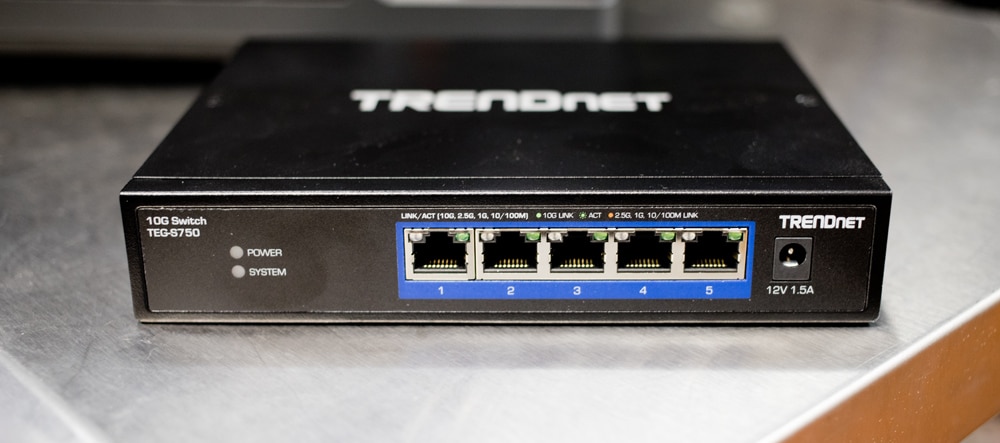 Everything to run and manage the physical components of the switch is located on the front, with all RJ45 ports being outlined in blue. TRENDnet has also included a light legend where it lets users know if the port is fully leveraging the 10GbE speeds or if it is using less than. Ports using the full 10GbE will light green, while anything less will give the orange light, which is a good indicator to see how devices are negotiating when connected.
The port for the power adapter is also on the front of the TEG-S750, making for an interesting design as most power adapters are on the rear side of the device, however, it is more of a deployment feature. Since everything is one side of the TEG-S750, it makes for better organization and gives an easiness of setting up.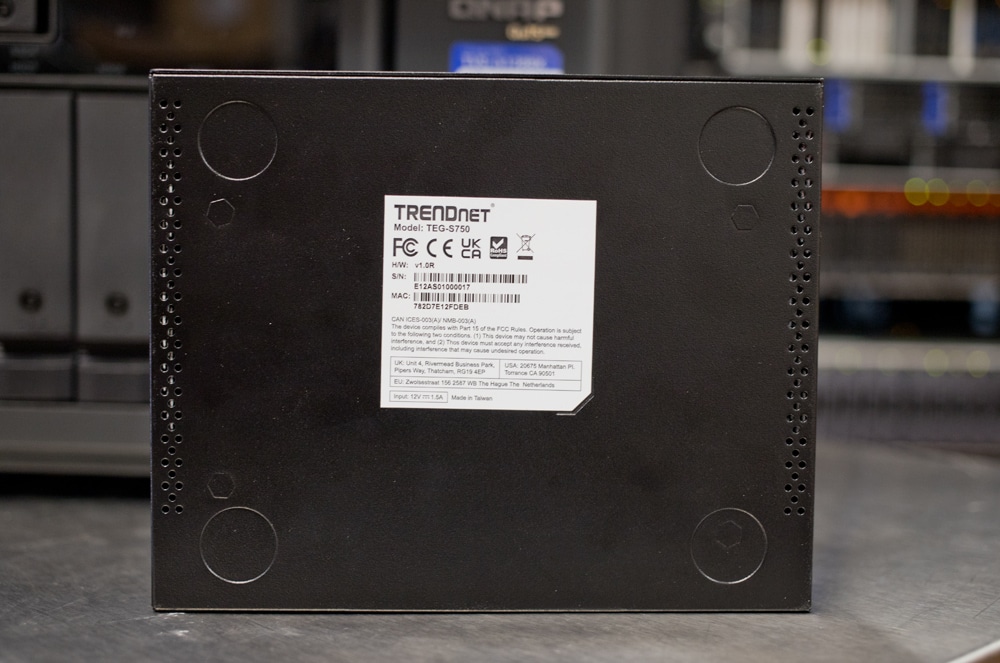 The limited lifetime warranty included with the TEG-S750 is just another example of the versatility of this powerful economical switch. TRENDnet gives a one-year warranty on the powers supply, however on just about anything else, TRENDnet will do their best for the customer and either repair or replace the TEG-S750.
TRENDnet TEG-S750 Performance
For the performance aspect of this review, since this is a switch, we thought it was best to deploy it in an environment that it was meant for. We ended up using a QNAP NAS TVS-h1288x connected over four 2.5G ports, to show the number of ports that the TEG-S750 is able to handle leaving one for uplink. The QNAP supports up to four connections with Intel Controllers so we used all the ports and had a direct link to another 10G switch in the lab.
We then went ahead and made sure that all the connections were being reported on the QNAP side of the configuration. Sure enough, the QNAP showed all the connections were stable and supported up to 2.5G network speed.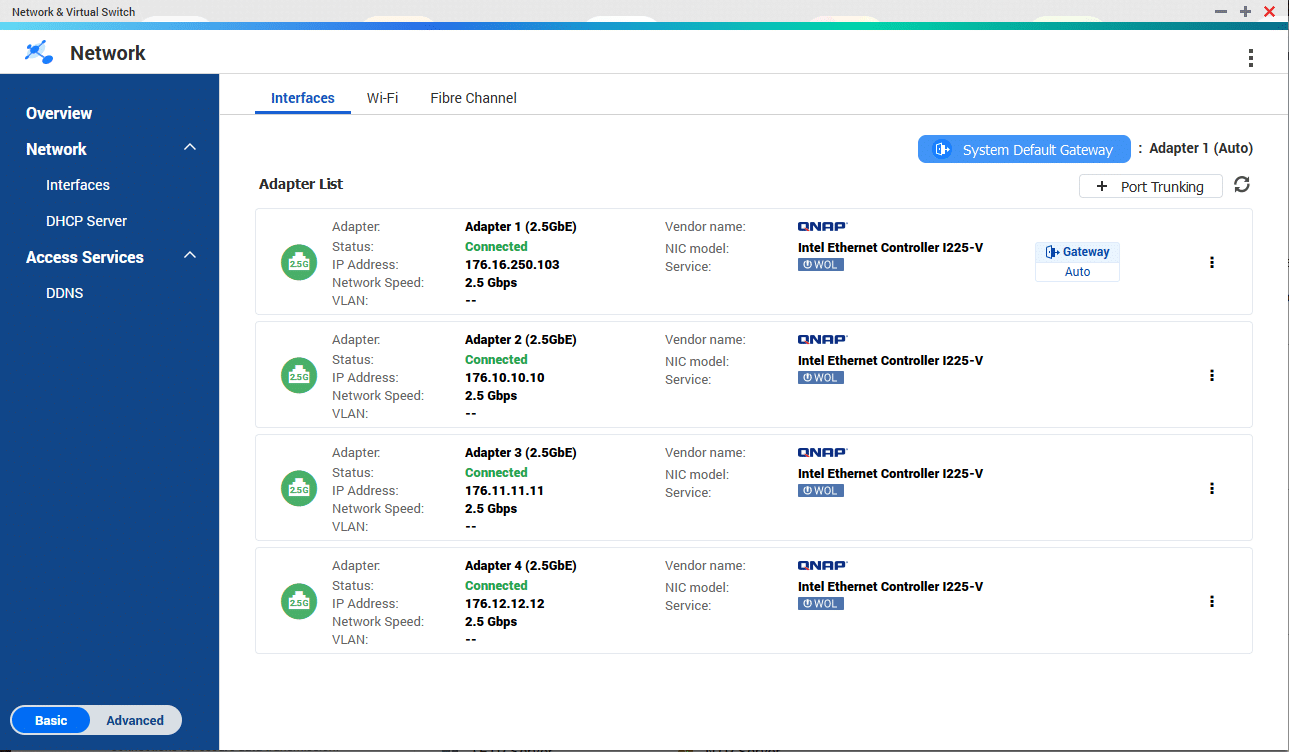 After establishing our connections and verifying that the correct speed is up, we wanted to saturate the links, so we decided to monitor speeds during the copy actions. The QNAP NAS showed us that we were getting 275MB/s per link and then at the top, we got a 1.1GB/s aggregate. This solid connection gives us a real-world example of the transfer speed of a platform leveraging multi-gig connections.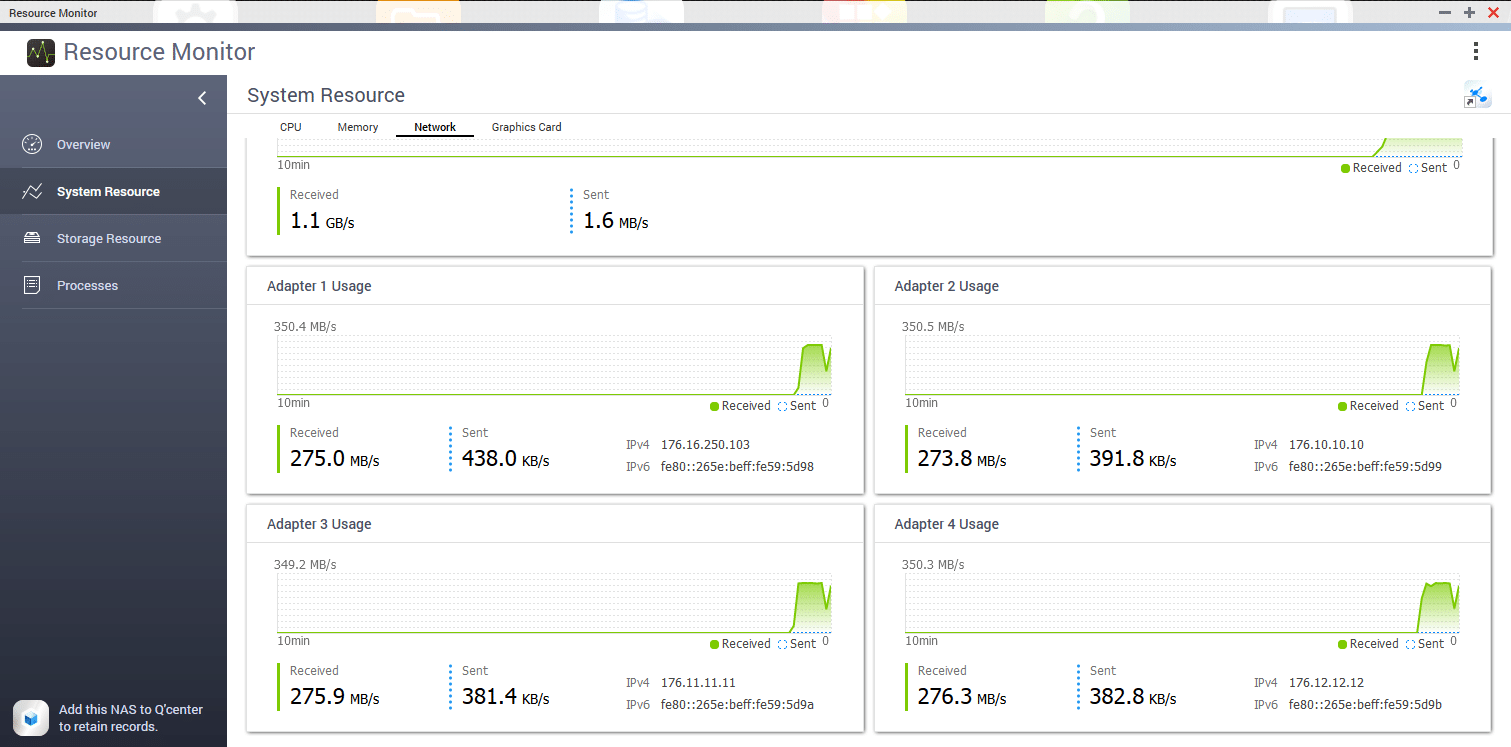 Lastly, we took a look at the Performance within Windows Server Task Manager. In this case, we were monitoring the transfer speeds during an SMB transfer.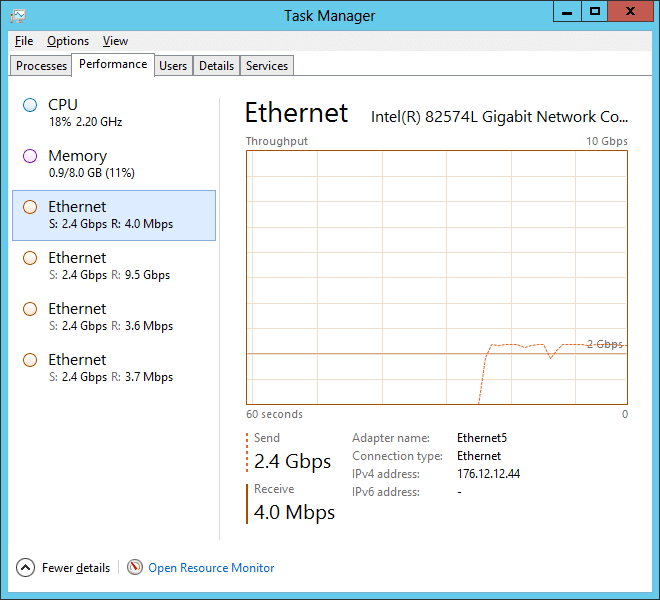 Conclusion
In terms of performance, we saw the TEG-S750 saturate four 2.5GbE ports driven off our QNAP TVS-h1288x which then were uplinked via 10G to another switch. Which is pretty much the point. You have an existing environment that you need to add multi-gig ports into and then you can uplink that over 10G to push the bandwidth across your existing infrastructure. Another similar use case around 2.5GbE support is newer wireless networking access points, which need 2.5GbE for peak performance.
Overall, the TEG-S750 is a solid choice if you are looking for multi-gig connections on your network. As an unmanaged switch this won't push VLANs or other advanced elements across its ports, for many uses cases it's still very capable. In many of its deployments it most likely won't be the only switch being leveraged, but instead is offers additional high-speed ports that complement an existing Ethernet infrastructure.
The TRENDnet TEG-S750 comes with enough versatility and functionality to be deployed in many settings. Whether it be in the office, a lab environment, or out at the edge, the TEG-S750 will work for many use cases. The TEG-S750 5-port 10G unmanaged switch comes with a limited lifetime warranty and can be found on Amazon for $309.99.
TRENDnet TEG-S750 Product Page on TRENDnet
Engage with StorageReview
Newsletter | YouTube | Podcast iTunes/Spotify | Instagram | Twitter | Facebook | RSS Feed