The BLUETTI AC200P is a 2,000W/2,000Wh portable power station meant for those who need an off-the-grid power source during camping vacations, road trips, or long hiking ventures in the woods, although we will be exploring its use in our lab with datacenter equipment.
The BLUETTI AC200P is a 2,000W/2,000Wh portable power station meant for those who need an off-the-grid power source during camping vacations, road trips, or long hiking ventures in the woods, although we will be exploring its use in our lab with datacenter equipment.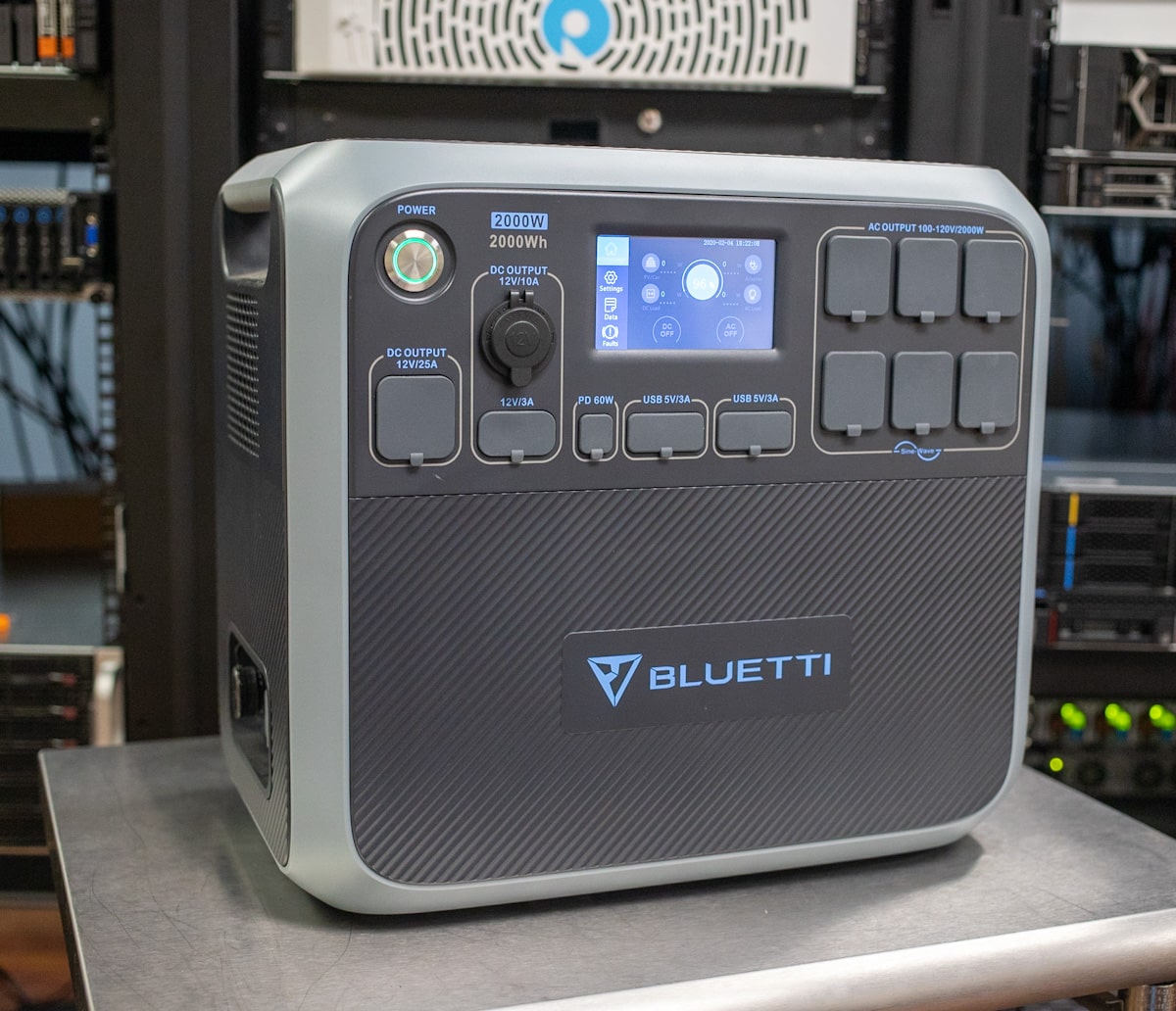 The BLUETTI AC200P uses a Lithium Iron Phosphate (LiFePO4) battery, which is specced at over 3,500 life cycles with a lifespan of almost 10 years (when using one cycle per day). It also uses an advanced Battery Management System (BMS) that monitors everything that goes on within the power station.
BLUETTI designed the AC200P so you can charge it no matter where you might be; via an AC wall outlet, solar panels (max current of 12A), a car lighter/charger port (8.2A maximum current), gasoline, propane, or diesel-powered generator, or a lead acid battery (maximum current of 8.2A). BLUETTI indicates that you can use any type of solar panels (not just their own brand), as long as they have MC4 connectors and the voltage is between 35V to 150V (as well as a maximum of 700W) when wired together. Charging will also automatically stop once it reaches 100%.
The AC200P goes for about $1400 on Amazon right now, after the coupon.
BLUETTI AC200P Design and Build
The front panel is home to most of the connectivity. From right to left are the six AC outputs, LCD display, two groups of dual 5V/3A USB-A ports, two DC 12V/3A ports, one DC 12V/25A port, one DC 12V/10A port and the on/off button. The only thing really missing from the AC200P inputs is a line-voltage AC input that we've seen on competing large power stations.
BLUETTI leverages an external power supply with the AC200P, which simplifies the internal design of the unit, but misses out on fast charging speeds. The AC charger included with the AC200P is limited to 400W and is a pretty significant item to carry around with the system.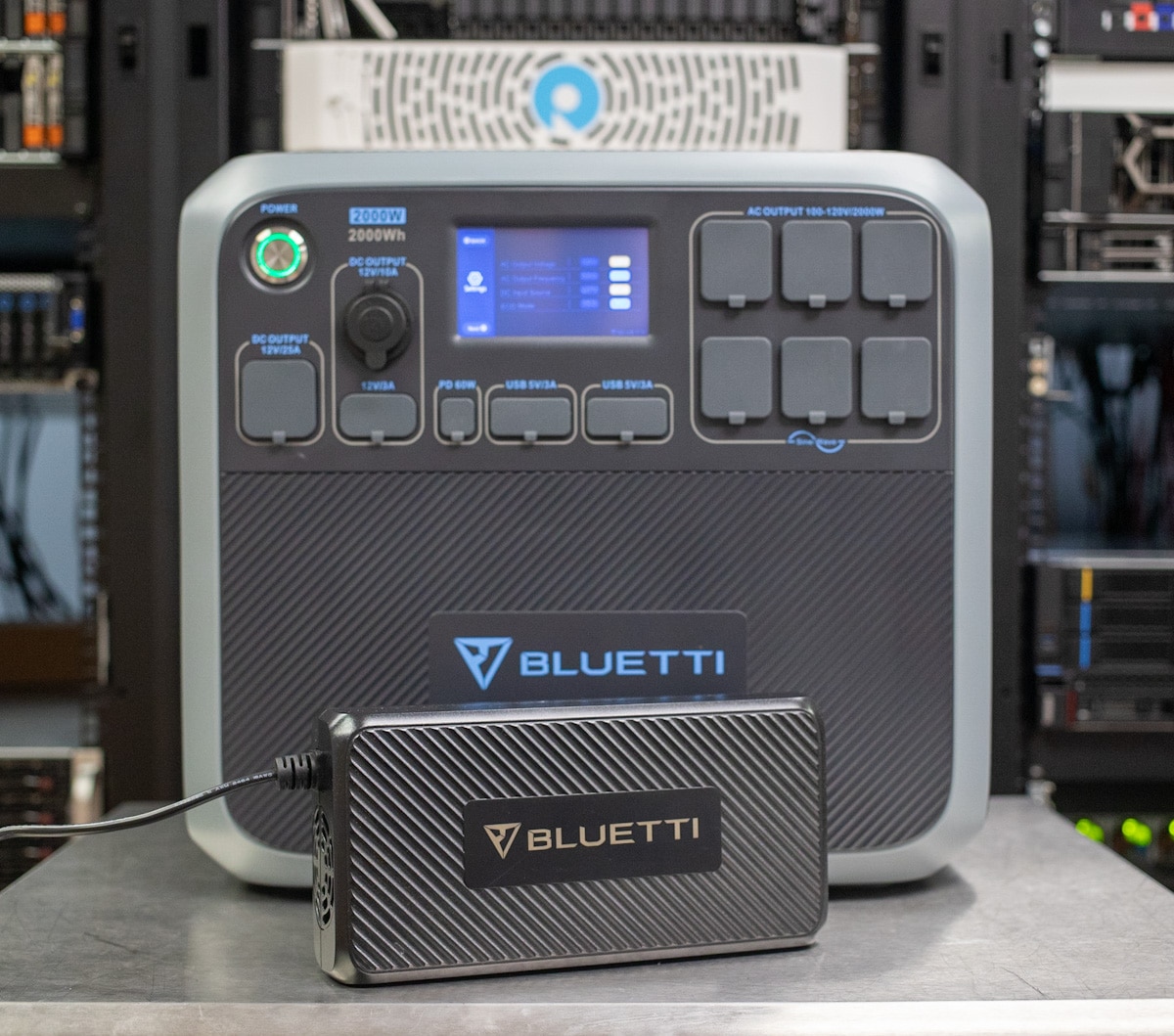 On the left panel are the PV/car input port and the AC adapter input port. Above them is the fan, which sucks in cool air to help keep the power station cool.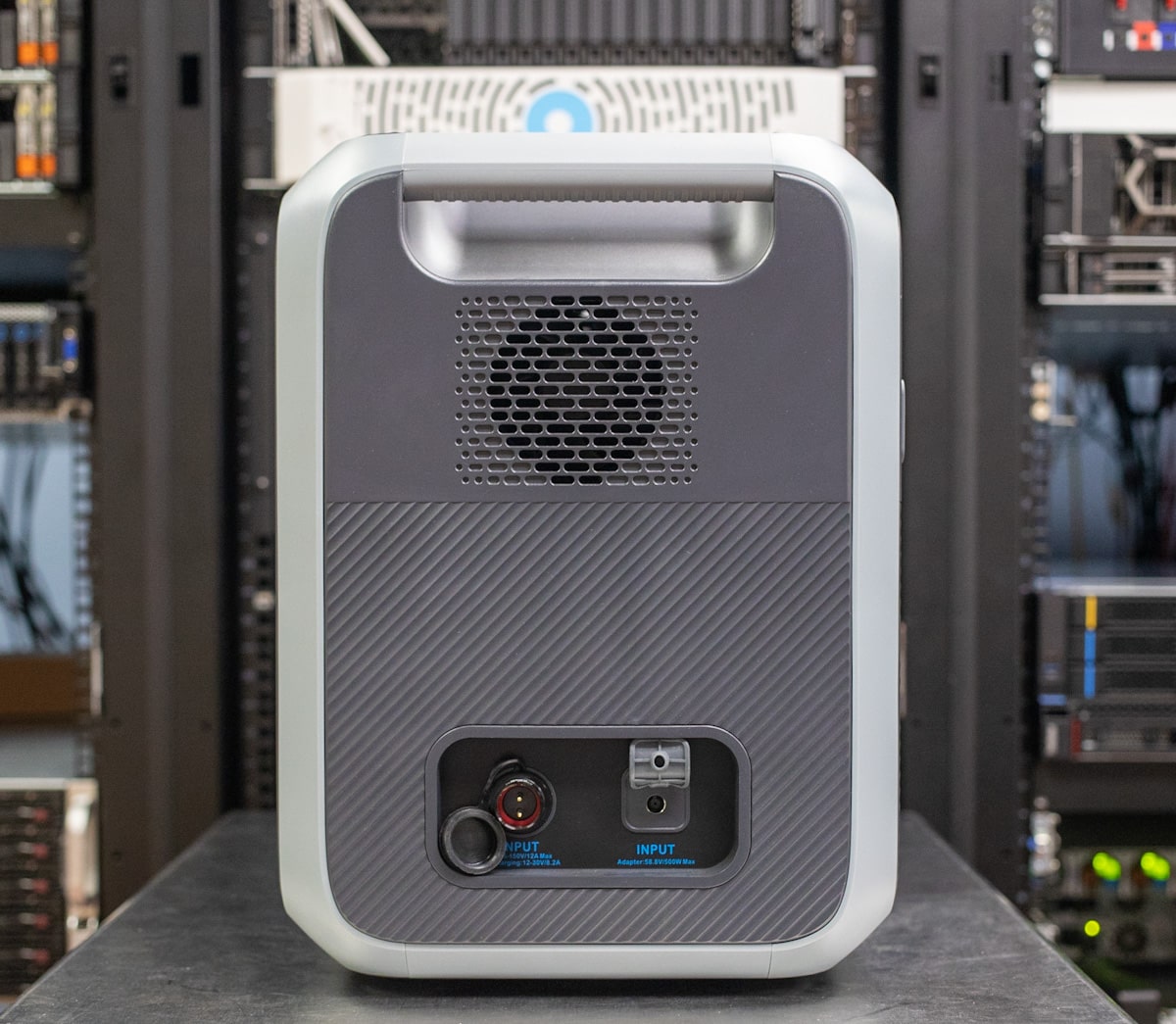 Each group of ports/outlets is clearly labeled and easy to read, which makes it seamless when trying to find the right outlet to plug in your appliances. All outputs and ports have silicone covers (which can be removed by simply pulling on the bottom tab) to help keep them safe from the elements. These protective covers are very snug and will certainly help with the longevity of the device.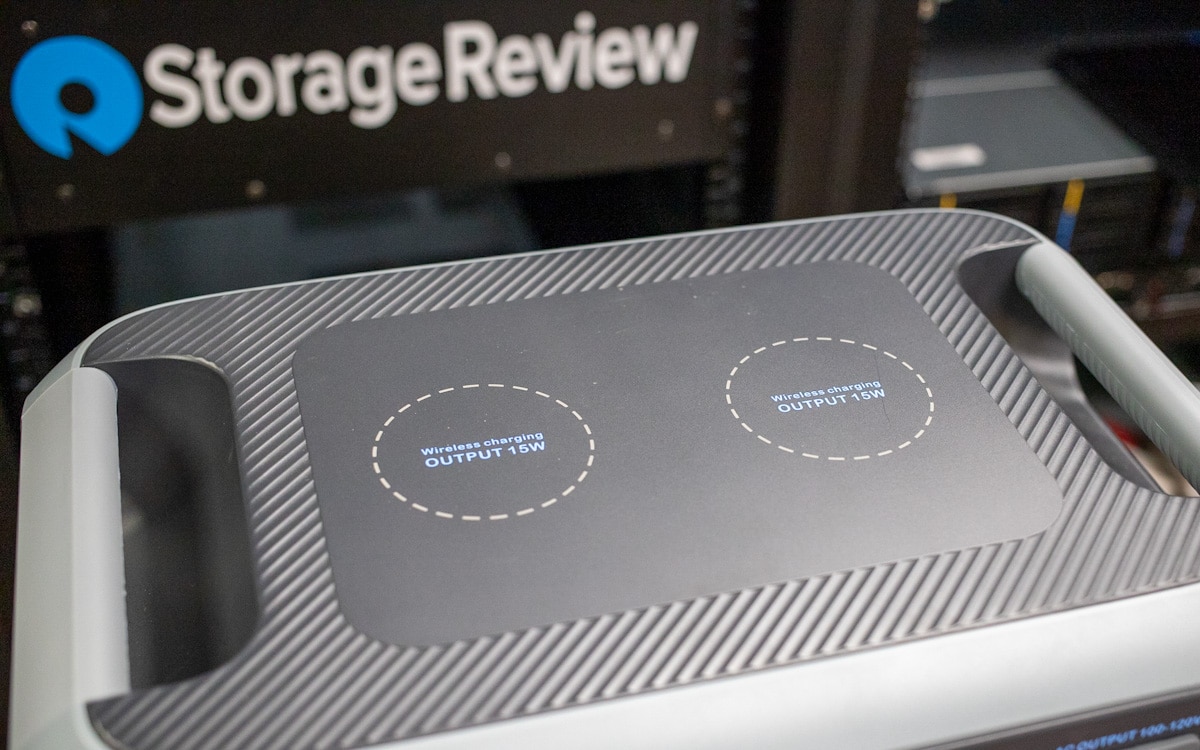 One of the more unique features of the BLUETTI AC200P are the integrated wireless charging areas located (and clearly marked) on the top of the power station. These two pads feature a single maximum output of 15W, which is the same wattage as you would see as premium super-fast wires charging solutions from Samsung. We tested it on our phone and it seems to charge our phones just fine.
Using the BLUETTI AC200P
Starting up and shutting down the AC200P was simple. Simply short press the power button for the former and a 2-second-long press for the latter.
The LCD uses a nice blue and white interface that we found fairly intuitive to navigate. It features "resistance screen" technology, which means that it is touch sensitive vs. heat sensitive, so you need to apply pressure to the interface buttons to use it. Nonetheless, we found it responsive when trying to navigate the menu system to find and adjust settings such as the state of charge and discharge, output voltage, frequency, charging mode, power consumption mode, and time. The downside to a screen though is its fragile nature compared to physical buttons.
As for the layout of the LCD "Homepage" itself, it uses a left menu nav bar system to access the settings, data, and fault sections. In the right pane of the main dashboard are the PV/Car charging display button, BMS information display button, date/time (at the top right), DC load information display button, DC ON/OFF button, AC ON/OFF button, adapter charging display button and AC load information display button.
It should be noted that the AC200P has no wireless radio or app control. It was the only large power station we've had in recently without this support built in.
BLUETTI AC200P Specifications
Battery information
Capacity
2000Wh(50V,40Ah)
Cell Chemistry
LiFePO4 (Lithium Iron Phosphate)
Lifecycle
3,500+ Cycles to 80% of Original Capacity
Shelf-Life
Recharge to 80% Every 3-6 Months
Management System
MPPT Charge Controller, BMS, etc.
Output
AC Outlets
6 x 120V/20A Receptacle, 2,000W In Total
Inverter Type
Pure Sine Wave
Surge Power
4,800W
USB-C Port
1 x 60W Max.
USB-A Port
4 x 5V/3A
12V DC Outlets
1 x 12V/25A (RV Outlet)
1 x 12V/10A (Car Outlet)
2 x 12V/3A (5.5mm Outlet)
Wireless Charging Pad
2 x 15W Max. (For Each)
Input
AC Adapter Input
400W Max
Solar Input
700W Max., VOC 35-150V, 12A.
Car Input
12/24V from Cigarette Lighter Port
Maximum Input
1100W, with AC and Solar Input Simultaneously
Recharge times
AC Adapter (400W)
≈5.5~6 Hours
Solar (700W)
≈3.5~4 Hours (With prime sunshine, ideal orientation and low temperature)
12V/24V Car Outlet (100W/200W)
≈10 or 20 Hours
AC + Solar (1100W)
≈2.3~2.8 Hours (With prime sunshine, ideal orientation and low temperature)
Solar + Solar (1200W)
≈2.1~2.5 Hours (With Optional D050S DC Charging Enhancer)
Dual AC (800W)
≈3~3.5 Hours (With Optional Dual Adapters)
General
240V Split Phase Bonding
No
Scalability
No
Simultaneous Recharge & Discharge
Yes
Weight
60.6 lbs (27.5kg)
Dimensions (LxWxD)
16.5 x 11 x 15.2 in (42 x 28 x 38.65cm)
Operating Temperature
32-104℉ (0-40℃)
Storage Temperature
14-113℉ (-10-45℃)
Certification
UL Standard, CEC, DOE, FCC, CA Prop 65
Warranty
48 Months
BLUETTI AC200P In Use
The BLUETTI AC200P power station is a versatile source of power that offers many benefits when used in a data center. One of the key advantages of using the AC200P in a data center is its ability to provide a significant amount of backup power during outages or other disruptions.
With a maximum output of 2kW, the AC200P can keep servers running and prevent data loss or other problems that can arise from a sudden lack of electricity. This use case is similar to a UPS, but could be used in locations where extended runtime is needed for a prolonged outage. In addition to providing backup power, the AC200P can also be used to power servers or gear moving around the data center.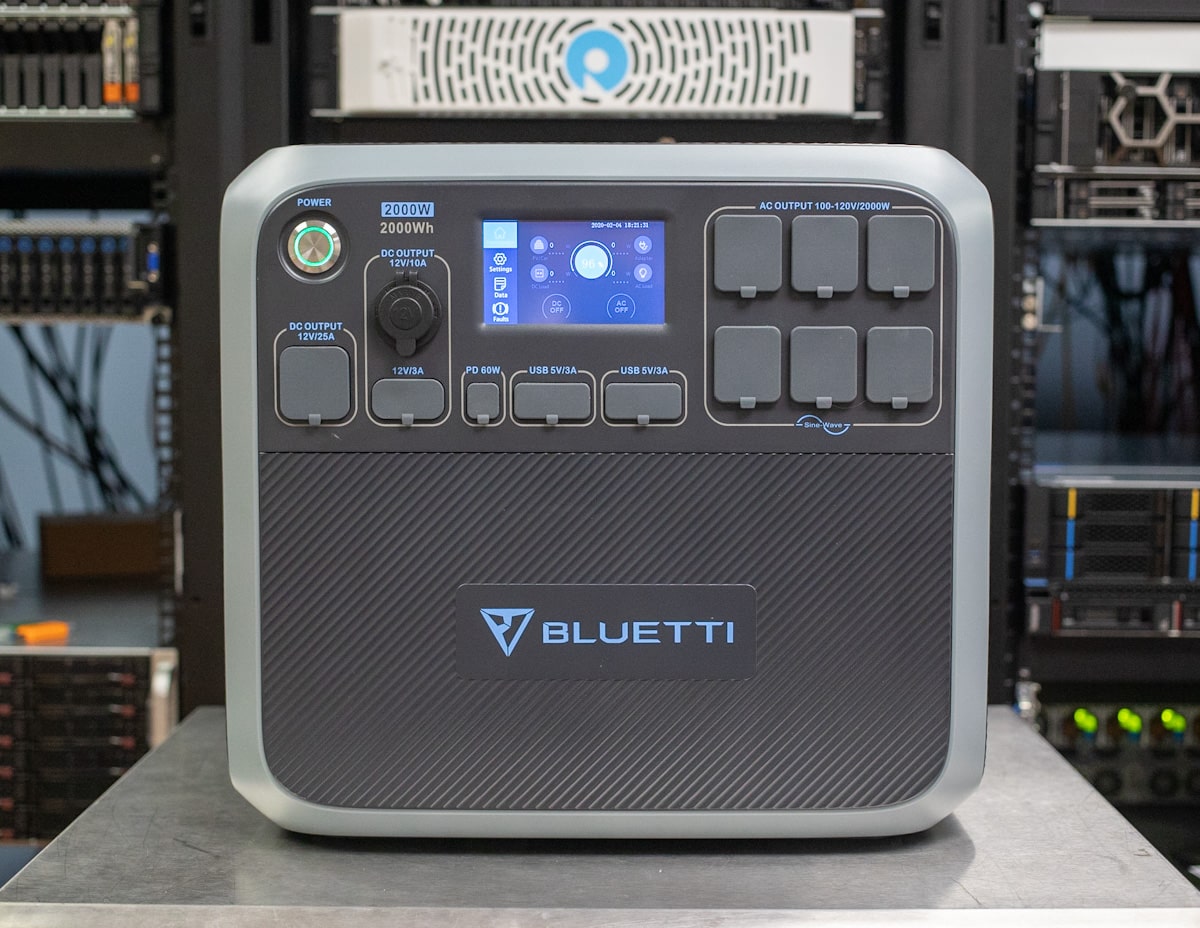 During our battery rundown test with a 350W load applied, we measured a total power output of 1.76kWh. BLUETTI rates the AC200P at 2000Wh, putting our discharge pretty close to that claim. To charge the unit fully, we drew 2.47kWh from the wall.
Another benefit of using the AC200P in a data center is its compact size and portability. Measuring just 16.5 x 11 x 15.2 in, the AC200P is easy to transport and can be easily moved around a data center as needed. Again this is a bit different than the use case of a traditional UPS that is designed to stay in one spot, bolted to a rack for most of its life. A portable power station can be moved between different situations pretty easily.
Overall, the BLUETTI AC200P power station can be a valuable tool for data centers that need a reliable source of backup power and a versatile source of electricity for moving and servicing servers. Its compact size, high output, and portability make it an ideal choice for IT admins who need to keep hardware operational through a multitude of different situations.
Conclusion
The BLUETTI AC200P is a portable power station designed to help consumers power their appliances and electronics during outages or off-the-grid situations. It uses a Lithium Iron Phosphate battery and an advanced Battery Management System and can be charged via various methods including AC outlets, solar panels, and car chargers. Leveraging LiFePO4 batteries enables the system to offer an extended lifetime of 3,500+ cycles before hitting 80% of its rated capacity.
The AC200P is very easy to use, with an LCD interface and ports for easy connectivity. BLUETTI goes the way of using a touch-screen only for all of its control with simplifies things but does take some durability away compared to physical buttons for certain operations. The only downside we really ran into is the lack of a built-in AC charger since the current design leverages an external power adapter and is limited to just 400W.
Overall, The BLUETTI AC200P is a useful portable power station that combines a 2kW inverter alongside a 2kWh battery to offer a very dense power solution for a wide range of use cases.
Engage with StorageReview
Newsletter | YouTube | Podcast iTunes/Spotify | Instagram | Twitter | TikTok | RSS Feed