The OWC Envoy Pro Mini is a bus-powered, flash-drive-sized portable SSD that leverages USB 3.2 Gen 2 (10Gb/s) with a built-in USB Type-A to Type-C converter. Its flash-drive form factor is its main appeal, claiming full SSD performance in a thumb drive package.
The OWC Envoy Pro Mini is a bus-powered, flash-drive-sized portable SSD that leverages USB 3.2 Gen 2 (10Gb/s) with a built-in USB Type-A to Type-C converter. Its flash-drive form factor is its main appeal, claiming full SSD performance in a thumb drive package.
Overall, the drive does what you'd expect, but there are expectations to be tempered, as far as its best use cases. I'll be looking at the 1TB variant, though it is available in a variety of capacities. This iteration is OWC's latest take on the Envoy Pro mini, having previously sold different versions, but all with the same ethos of "flash drive, but make it an SSD."
The 500GB model sells on Amazon for $99, the 1TB goes for $149.99.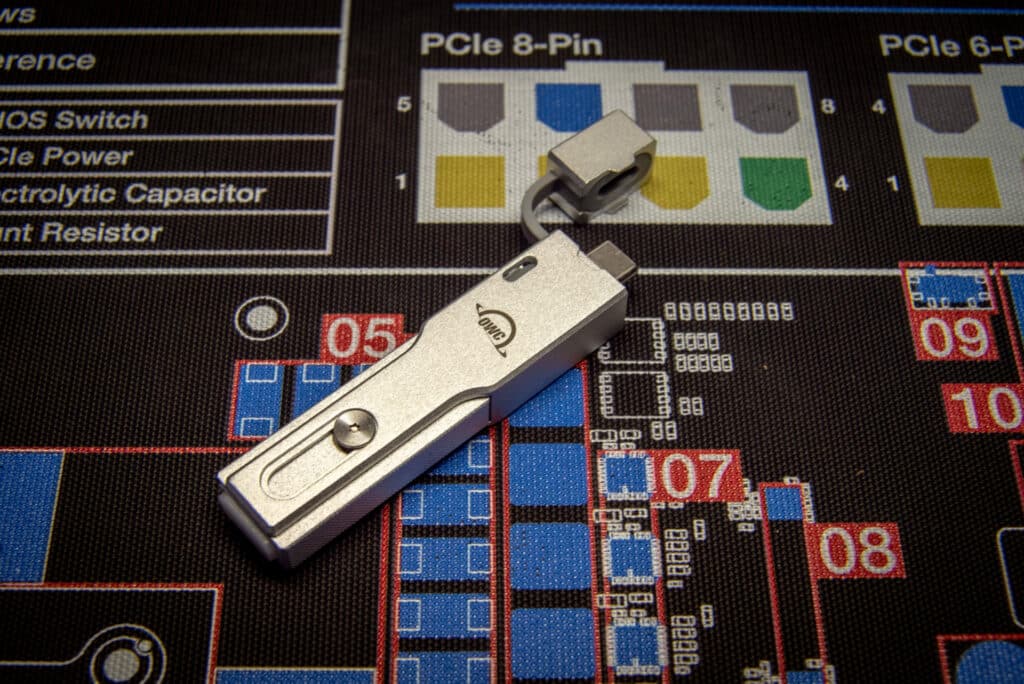 OWC Envoy Pro Mini Specifications
| | |
| --- | --- |
| Available Capacities | 250GB, 500GB, 1TB |
| External Interface | USB 3.2 Gen 2 (10Gb/s, USB-A or USB-C) |
| Ingress Protection | None Listed |
| Dimensions (L x W x H) | 3.1in x 0.7in x 0.4in (8cm x 1.7cm x 1.1cm) |
| Weight | 26g (0.06lbs) |
| Operating Conditions | 0C to 70C (32F to 158F) |
| Non-Operating Conditions | -40C to 85C (-40F to 185F) |
| Warranty | 3-Year OWC Limited Warranty |
OWC Envoy Pro Mini Design and Build
The OWC Envoy Pro Mini is a sleek-looking little drive. Its all-aluminum enclosure is both tough and good-looking and will fit well with any Mac computer or any other aluminum-encased workstation. The drive's main appeal is its flash-drive form factor.
With provisions for a lanyard, this device is portability focused, with the road warrior in mind. Having both a USB Type-A and Type-C interface built into the device, eliminating the need for dongles, it does a good job of being ready to go at any given time.
The LED on the back is a nice blue, too, situated behind frosted plastic; not the kind of blue LED that hurts your eyes and it won't blind you when you're working late at night.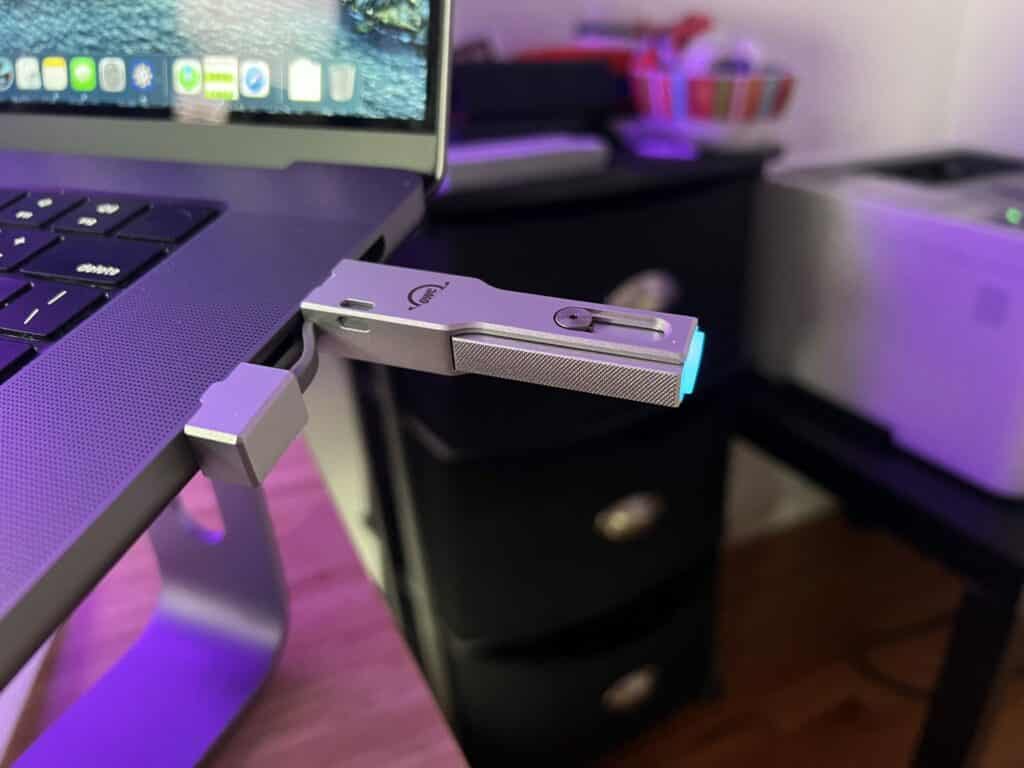 As far as repairability goes, it gets a generous two out of ten from me. There are two screws to free the actual SSD from its Type-C adapter and that's all you get. If you're creative with a Dremel, you could repurpose the adapter for any other device; however, despite my penchant for hackery, I don't actually recommend doing that.
To be fair to OWC, this class of device is rarely, if ever, repairable, and provisions for repairability would likely compromise the form factor.
OWC Envoy Pro Mini Performance
The OWC Envoy Pro Mini performs just about as well as it can, given its form factor. OWC claims SSD-type performance from this drive and for the most part, it delivers. It does, however, have some unavoidable downsides.
In a package this small and at a 1TB capacity, I doubt there's room for a DRAM cache on this drive, and my suspicions are all but confirmed in real-world use where extended writes diminish performance. As alluded to in the intro, you will be disappointed if you expect this device to have the same sustainable performance as a larger portable SSD.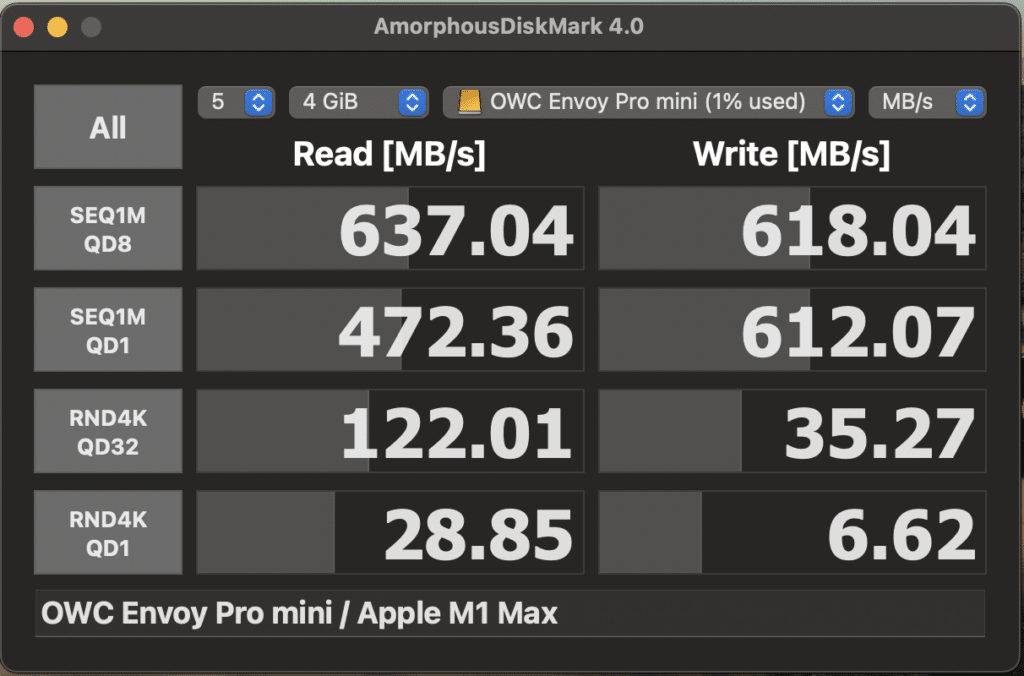 On macOS (2021 MacBook Pro M1 Max connected directly via Thunderbolt 4 port), I saw about 620MB/s write and 640MB/s read in AmorphousDiskMark (the macOS equivalent to CrystalDiskMark on Windows). In Blackmagic Disk Speed Test, I saw a slightly slower ~590MB/s write and ~540MB/s read. I get very similar sequential results in Windows 10, also connected directly via a USB-C 10Gb/s port. It is worth noting, I do get significantly better 4K random performance on Windows.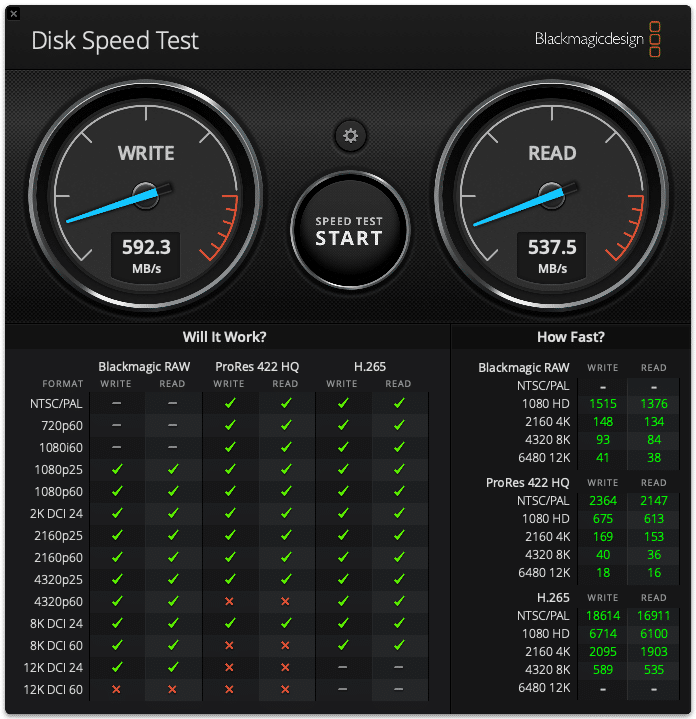 I wasn't able to reach OWC's top performance claim of over 1000MB/s, but the rest of my testing matched most of their other results. I don't know their exact testing environment and there is likely a very specific set of circumstances where the drive can perform that well. I tested both Type-A and Type-C USB ports on a few different computers with very consistent results. I never saw that speed in any of my "real world" tests either, so I wouldn't put too much stock into it.
At the end of the day, getting this kind of performance consistently out of a drive this small is still impressive. As a brief aside, I also have to give a ton of props to OWC for being one of the few, if not the only, companies to post real benchmark results on their product pages.
Conclusion
The OWC Envoy Pro Mini is a great little portable and performs better than SATA-based portable SSDs. While it doesn't quite live up to all of OWC's performance claims, I have no major complaints about how it actually performed. If you want something faster but still tiny, I can highly recommend the OWC Envoy Pro Elektron now that the price has dropped since I first reviewed it. Another small disadvantage of this drive vs the Elektron is throttling. In real-world use where I was transferring large amounts of data, I would regularly see 600MB/s+ for about 10-15 minutes before it'd drop down to about 150MB/s.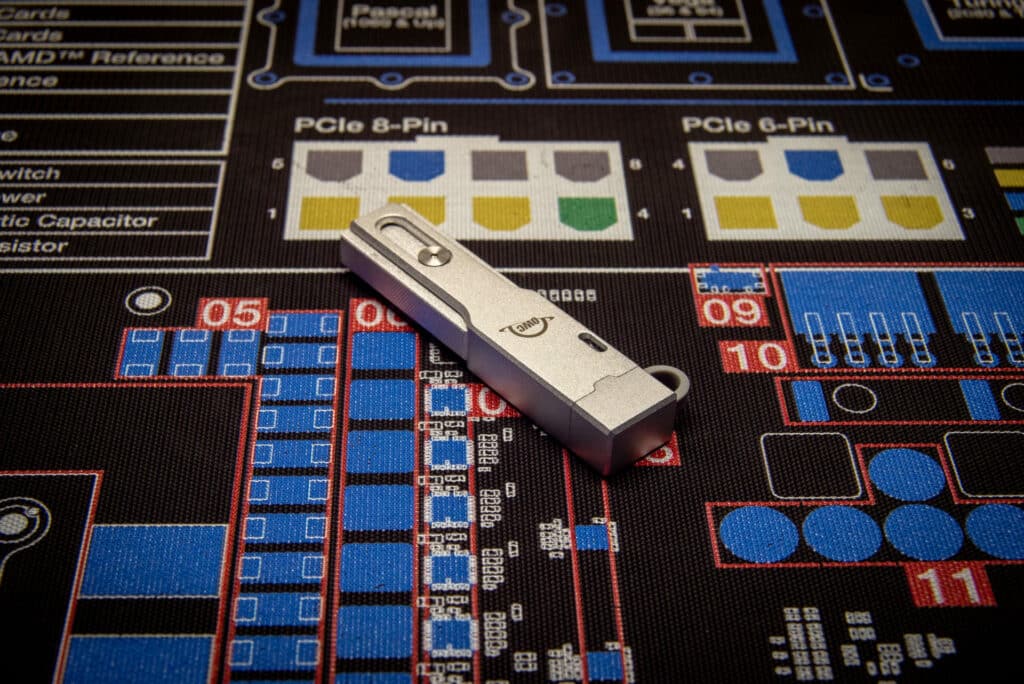 That leads me to my final thoughts on this. It's a great drive and a great form factor, and getting 1TB of storage this quick and this portable is impressive. If you temper your expectations, you'll find yourself very satisfied with this. If you expect high-performance SSD results over sustained workloads, you will be disappointed. Think of it more as a flash drive on some serious steroids than a miniaturized SSD.
Engage with StorageReview
Newsletter | YouTube | Podcast iTunes/Spotify | Instagram | Twitter | TikTok | RSS Feed