The Dell PowerEdge R720 12th Generation is a 2-socket, 2U server that features the Intel Xeon E5-2600 processor family and supports up to 768GB of DDR3 memory. Dell offers the R720 in various backplane configurations with up to 16 2.5-inch internal hard drives or 8 3.5-inch drives. A new optional feature though, designed to take the performance compute server market by storm, are 4 hot-plug front-access 2.5-inch Express Flash PCIe SSDs geared for high throughput and incredibly low latency. The PowerEdge R720's Express Flash connectivity makes it unique among servers of its class and is one of the reasons we have added two R720 units to the lab.
The Dell PowerEdge R720 12th Generation is a 2-socket, 2U server that features the Intel Xeon E5-2600 processor family and supports up to 768GB of DDR3 memory. Dell offers the R720 in various backplane configurations with up to 16 2.5-inch internal hard drives or 8 3.5-inch drives. A new optional feature though, designed to take the performance compute server market by storm, are 4 hot-plug front-access 2.5-inch Express Flash PCIe SSDs geared for high throughput and incredibly low latency. The PowerEdge R720's Express Flash connectivity makes it unique among servers of its class, and is one of the reasons we have added two R720 units to the lab.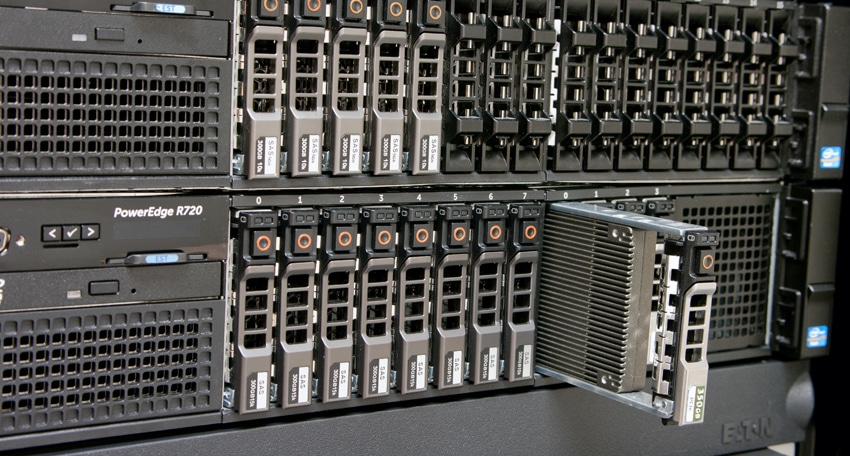 It's not just storage technology itself that is a moving target – other critical components of enterprise storage infrastructure like interconnects and compute platforms are also continually evolving. Compute servers are not our primary focus, but performance and scalability differences between similarly-spec'd servers from different manufacturers or different generations from the same manufacturer can have important consequences for storage performance. It is also important to understand how factors like chassis construction and layout will affect long-term routine maintenance of a server.
StorageReview's two new PowerEdge R720 servers feature Xeon E5-2640 2.50GHz processors with 15M cache and 7 PCIe slots to power real-world enterprise testing environments as well as see how storage devices perform when used in conjunction with compute servers from various manufacturers. One of our R720 servers is configured with 8 2.5-inch SFF internal drive bays and 4 front-accessible Express Flash bays. The other R720 features 16 2.5-inch SFF internal drive bays. Our review will focus on the PowerEdge R720 with Express Flash, noting key differences between the two when appropriate. The PowerEdge R720 is also available with a chassis configured for 8 3.5-inch LFF drives.
Dell PowerEdge R720 Specifications
Processor: Intel Xeon processor E5-2600 family
Processor sockets: 2
Form Factor: 2U rack
Internal Interconnect: 2 x Intel QuickPath Interconnect (QPI) links; 6.4 GT/s; 7.2 GT/s; 8.0 GT/s
Chipset: Intel C600
Memory: Up to 768GB (24 DIMM slots) 2GB/4GB/8GB/16GB/32GB DDR3 up to 1600M T/s
Hot-plug hard drive options:

2.5" PCIe SSD, SAS SSD, SATA SSD, SAS (15K, 10K), nearline SAS (7.2K), SATA (7.2K)
3.5" SAS (15K), nearline SAS (7.2K), SATA (7.2K)
Self-Encrypting Drives available

Maximum Internal Storage: 32TB
Drive Bays: Up to eight 3.5″ drives or up to sixteen 2.5″ drives
PCIe slots:

One x16 full-length, full-height
Three x8 full-length, full-height
Three x8 half-length, half-height

Internal RAID Controllers:

PERC S110 (SW RAID)
PERC H310
PERC H710
PERC H710P

External HBAs (RAID): PERC H810
External HBAs (non-RAID): 6Gbps SAS HBA
Communications:

Broadcom 5720 Quad Port 1GbE BASE-T (no TOE or iSCSI offload)
Intel I350 Quad Port 1GbE BASE-T (no TOE or iSCSI offload)
Intel X540 Dual Port 10GbE BASE-T with 2 x 1GbE (FCoE capability enabled on the 10GbE ports)
Broadcom 57800S Dual Port 10GbE Base-T with 2 x 1GbE (TOE and iSCSI offload available on 10GbE ports)
Broadcom 57800S Dual Port 10GbE SFP+ with 2 x 1GbE (TOE and iSCSI offload available on 10GbE ports)

Power:

Titanium efficiency, hot-plug redundant 750W power supply
Platinum efficiency, hot-plug redundant 495W, 750W or 1100W power supplies
Auto-ranging power supplies

Availability: High-efficiency, hot-plug, redundant power supplies; hot-plug drive bays; TPM; dual internal SD support; hot-plug redundant fan; optional bezel; luggage-tag; ECC memory, interactive LCD screen; extended thermal support; ENERGY STAR® compliant, extended power range; switch agnostic partitioning (SWAP)
Remote Management:

iDRAC7 with Lifecycle Controller
iDRAC7 Express (default), iDRAC7 Enterprise (upgrade option)
8GB vFlash media (upgrade option), 16GB vFlash media (upgrade optional)

Systems Management:

IPMI 2.0 compliant
Dell OpenManage Essentials and Dell Management Console
Dell OpenManage Power Center
Dell OpenManage Connections: Dell OpenManage Integration Suite for Microsoft® System Center
Dell plug-in for VMware vCenter
HP Operations Manager, IBM Tivoli Netcool, and CA Network and Systems Management
Hardware Options
The most notable option offered by the PowerEdge R720 is a chassis that supports up to four front-access 2.5-inch PCIe Express Flash drives. The PowerEdge R720 uses a x16 PCIe breakout board for Express Flash connectivity, each drive requiring four lanes. Express Flash storage can be configured as cache or as a primary storage, offering lower latency and much greater performance than an SSD connected via SAS or SATA. Express Flash drives supplied in our R720 are 2.5-inch Micron P320h models, which use 34nm SLC NAND and are engineered for write-heavy applications. Dell warrants the lifetime of Express Flash drives in terms of bytes written; current 175GB and 350GB models offer 12.5 and 25 petabytes of drive writes, respectively. Dell software management applications can be configured to notify the server administrator when these wear limits are nearing. Our Express Flash R720 shipped with four 350GB drives.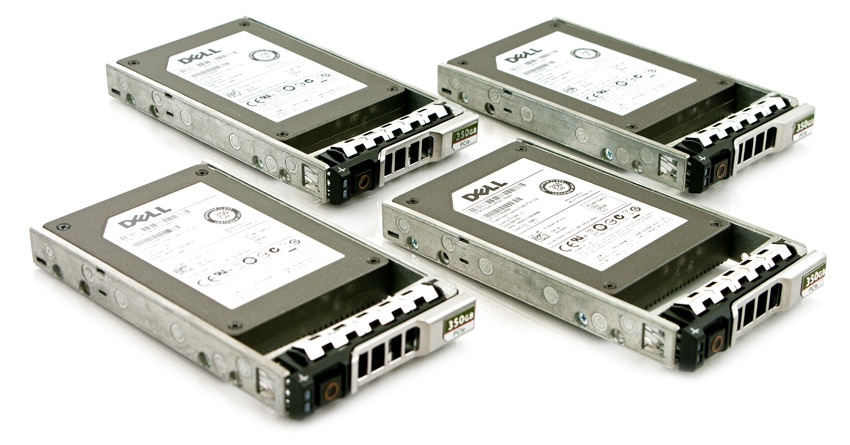 Express Flash PCIe SSDs support orderly insertion, when a drive is added to a running system in a bay where an Express Flash drive has not been previously inserted since booting. Express Flash also supports orderly removal, where the system is notified prior to drive removal, and orderly swap, when a drive can be replaced with prior system notification. PowerEdge R720 servers also support Dell's CacheCade technology, which provides automated storage tiering on SSDs when using PERC H810 and H710P controllers. The R720 can employ redundant failsafe hypervisors, and can be used as part of Dell's Virtual Integrated System (VIS) solution.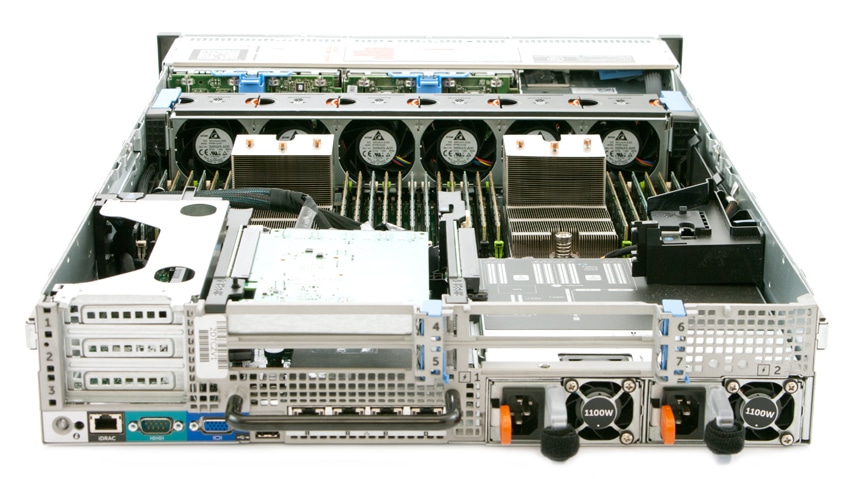 The PowerEdge R720 supports Dell's Select Network Adapters daughter cards to house the server's LOM subsystem without requiring a PCIe slot. Network connectivity options for the R720 include 1000 Base-T, 10Gb Base-T, and 10Gb SFP+ interfaces from Intel and Broadcom. It can be configured to operate with a single 495W, 750W, or 1100W AC power supply module, or can be equipped with a redundant power supply. As a top-tier option, Dell offers an 1100W DC power supply for the PowerEdge R720. In the default redundant configuration, power is supplied equally from both supplies, but may be reconfigured via iDRAC to enable a hot spare feature which switches one power supply to sleep unless needed.
The R720 can support up to four passively-cooled graphics processing units (GPU) to accelerate virtual desktop infrastructure and high performance computing applications. Breaking it down by power capabilities, the R720 can support two 300W, full-length, double-wide internal GPUs or up to four 150W, full-length, single-wide GPUs. Each GPU can support up to 6GB of dedicated GDDR5 memory. Actively-cooled GPU cards are not supported as they interfere with and are not designed for forced-air cooling inside a server. The R720 can also connect to PowerEdge C410x external GPUs through a host interface card (HIC) with an iPass cable. Both the NVIDIA and Dell x16 HICs require the R720s single x16 PCIe slot to support up to four external GPUs.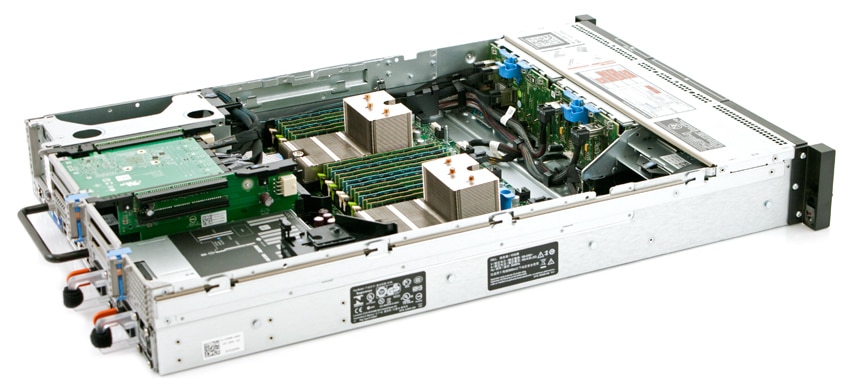 As with StorageReview's Gen8 HP ProLiant DL380p, the R720 supports up to 768GB of memory across 24 DIMMs when equipped with dual-processors. Each processor has 4 memory channels, each channel supporting up to 3 DIMMs. In addition to supporting unbuffered DIMMs (UDIMMs) and registered DIMMs (RDIMMs), the R720 supports load reduced DIMMs (LRDIMMs). In our configurations Dell supplied 24 8GB RDIMMs to populate all memory channels inside the R720 providing 192GB of system memory.
Monitoring and Management
12th generation PowerEdge servers are part of Dell's OpenManage platform, built around the Integrated Dell Remote Access Controller 7 (iDRAC7) with Lifecycle Controller, which provides agent-based and agent-free management. To integrate with agent-based solutions, Dell provides the OpenManage Server Administration (OMSA) which provides one-to-one systems management with a CLI interface or Web-based GUI. iDRAC7 can also provide remote access to the system whether or not there is an operating system installed. Through the iDRAC7 interface, users can quickly learn vital system information in many categories including storage, thermals, power and others. When first logged in to, iDRAC7 presents the user with health stats in all categories, as well as a preview of the iKVM.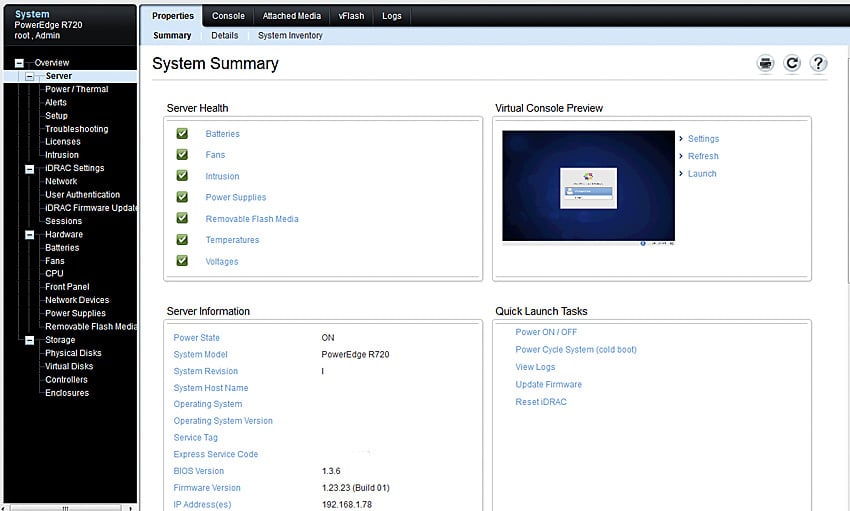 Drilling down into the storage category, users can view information on the current disk configuration, as well as individual drive stats. Shown below is the RAID10 disk array we configured utilizing eight 300GB Seagate Cheetah 15K.3 enterprise hard drives connected through the Dell PERC H710p on-board RAID controller. Through this screen users would be able to quickly find out information about a drive failure remotely as well as narrow it down to which slot has the defective drive.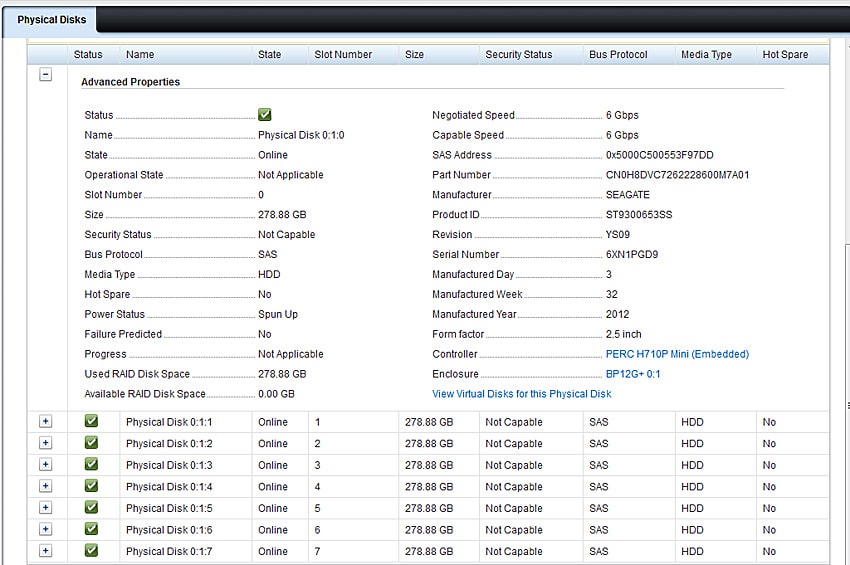 For remote system access where Remote Desktop or SSH might not be feasible, iDRAC7 includes a virtual console that gives users access to the system through a standard web browser with JAVA. This window also has useful features for remotely triggering power controls to restart a frozen system or even turn on a system without local access. Users can also mount local media to be accessible by the remote system, or map ISOs to quickly provision systems over the network.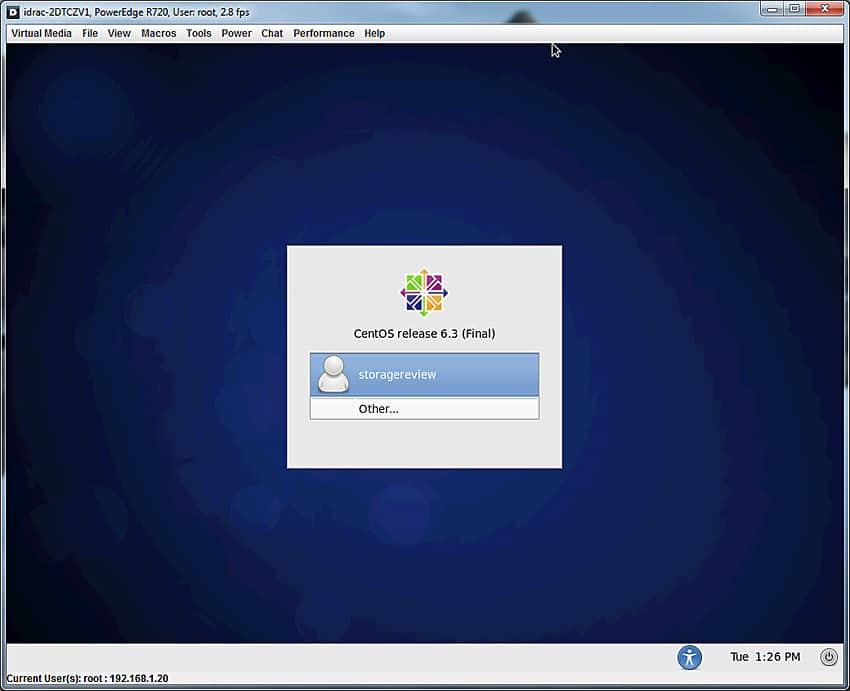 Design and Build
The PowerEdge R720 debuts a new PowerEdge chassis design intended to support greater scalability compared to 11th generation PowerEdge servers, with an increased number of DIMMs, PCIe slots, and hard drives. Also unique to the 12th generation R720 are the four ExpressFlash slots, which currently support 175GB and 350GB Micron RealSSD P320h PCIe SSDs. When we reviewed the HHHL Micron P320h last year, we found it to offer class-leading performance.

The front of the server features a power button and indicator, recessed non-maskable interrupt (NMI) button to troubleshoot software and device driver errors, two USB connectors, Dell's vFlash SD media reader (activated with iDRAC7), video connector, and a simple LCD control panel interface for local management. The vFlash media SD card reader is used for configuration, scripts, imaging, and other local management tasks. Dell's 12th generation PowerEdge servers feature a model-specific QR code that links to video overviews of system internals and externals, task-oriented videos and installation wizards, reference materials, LCD diagnostics, and an electrical overview. This code appears several places on the chassis.

The rear of the unit offers access to up to two hot-plug power supplies and associated indicators, network connectivity via Dell's Select Network Adapter family, two USB ports, iDRAC7 Enterprise port, video connector, and serial connector. Also visible are the available PCIe slots, rear carrying handle, as well as the two redundant 1,100 watt power supplies.

The R720 supports ReadyRails II sliding rails for tool-less mounting in 4-post racks with square or unthreaded round holes, or tooled mounting in 4-post threaded hole racks. The R720 is also compatible with ReadyRails static rails for tool-less mounting in 4-post racks with square or unthreaded round holes or tooled mounting in 4-post threaded as well as 2-post Telco racks.

For improved cable management, Dell offers a toolless cable management arm compatible with the PowerEdge R720. In our lab evaluation, the sliding ReadyRails II were quick to clip into position in our Eaton S-Series Rack, and offered a secure fit with minimal slack.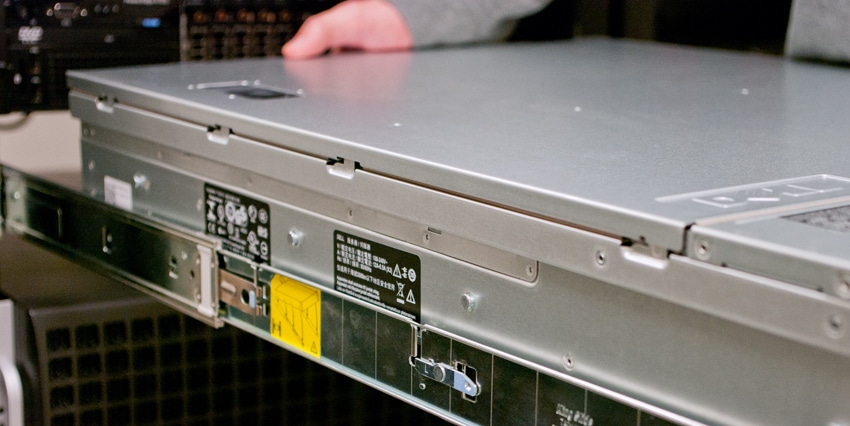 To install the R720 in the rails, users hold the server by the front and the rear carrying handle and carefully lower it into the extended rails while aligning the mounting pins with their appropriate slots. We found this process to be very intuitive and easy to nail on the first try, which quickly sped up the time required to get the server into production status.
Cooling
The PowerEdge R720 supports hot-swappable cooling fans in an N+1 configuration, allowing a technician to replace any one fan at a time. Supporting newer environmental conditions, the R720 also incorporates Dell's Fresh Air cooling design, allowing the server to operate above 35°C/95°F to reduce power consumption and related cooling expenses. This is also beneficial should a user want to deploy the R720 outside of traditional datacenter environments, where temperatures may be more variable.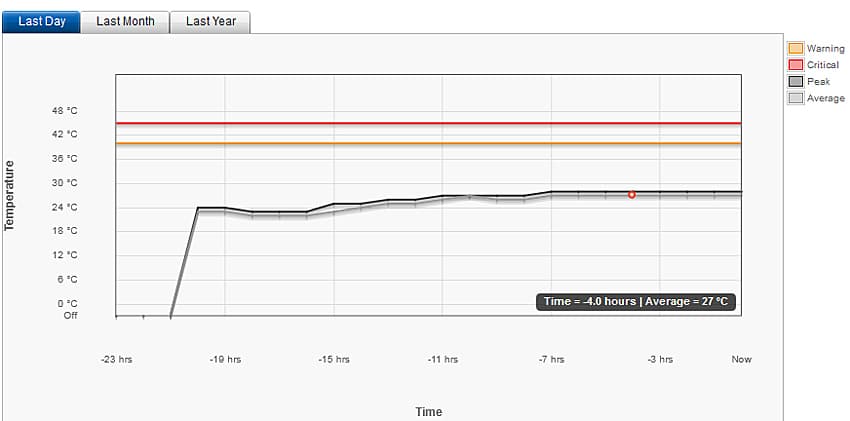 When it comes to servicing components, the R720 can be operated temporarily without one of its cooling fans, allowing hot-swap replacement. The design of the cooling fan assembly makes it straightforward to remove and replace individual fans or the entire assembly. When replacing an individual fan, you grip the fan's release button and lift the fan out of position, which also releases the power connection in one easy step. For more expansive repairs requiring the removal of the entire cooling assembly, users can lift latches on both sides of the server and lift out the entire unit in one piece.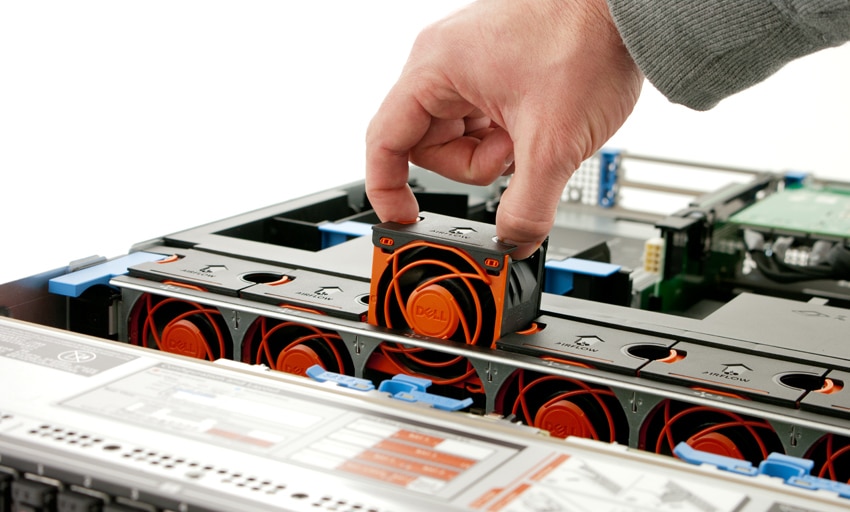 When it comes to managing airflow, Dell allows the user to select the appropriate cooling mode for that specific environment. These user-selectable modes are invaluable to servers with additional equipment, such as PCIe Application Accelerators, which can overheat when certain automatic cooling modes. This happens because the server incorrectly throttles fan speeds based on chassis temperatures while local temps of the AA are still high. In these cases, being able to modify the cooling parameters to run faster than normal can allow better performance and increase reliability.

Utilizing our high-I/O FIO synthetic benchmarks we stressed the four Express Flash PCIe SSDs with a chassis inlet temperature of 27C. We found PCIe SSD temperatures dropped from 62C to 49C by switching the cooling profile from Auto to Maximum performance, and enabling the High Fan Speed Offset. To put it another way, without having that adjustment the PCIe SSDs would have been operating 26.5% hotter, which might affect long-term reliability. The downside is this changes the R720's acoustic profile (increased fan noise) but given their production environments, datacenter noise levels for high-performance servers aren't greatly impacted. In the tier-one server market right now, HP allows users to customize the fan speeds through the BIOS in the ProLiant DL380p Gen8 although Lenovo with their ThinkServer RD630 does not.
Power Modes and Efficiency
Dell goes to great lengths to optimize the new 12th generation PowerEdge R720 for power efficiency. For the R720, Dell offers four AC 100-240v PSUs, ranging from 495W up to 1,100W. By gearing the known load to a given power supply, users can achieve up to 96% efficiency with some models, which helps to lower overall power and thermal demands inside a datacenter. In this same category, HP offers power supplies ranging from 460 to 1,200 watts with their most efficient models rated at 94% for the DL380p Gen8, while Lenovo offers just one 800W 80Plus Gold option for their RD630.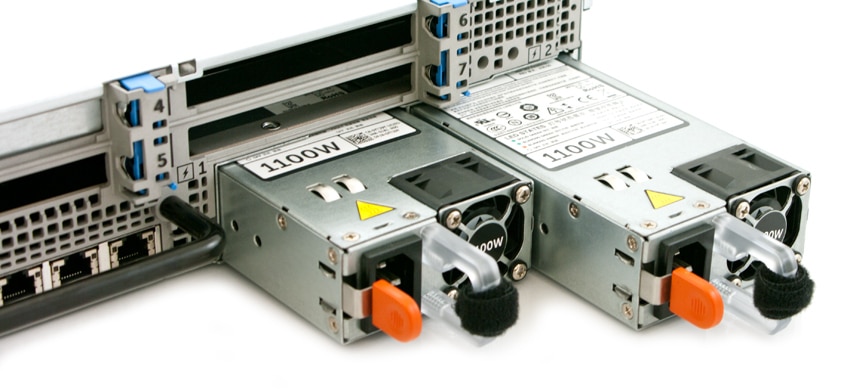 Our review unit came equipped with Dell's 1,100W Platinum-class PSU, which offers efficiency ranging from 89% at 10% load up to 94.5% at 50% load.

Another way the Dell PowerEdge R720 can reduce power consumption inside a datacenter is by capping the system at a user-defined limit. When this limit is reached, the processors are throttled to lower system power usage until the target is reached. This can be useful when introducing new servers into an environment that is designed around strict power or thermal limits.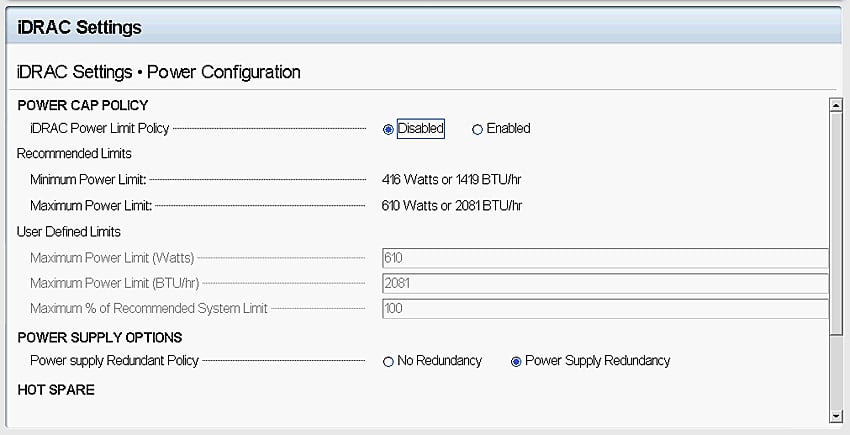 After the R720 has been customized for a specific environment by choosing the best PSU to fit the requirements and adjusting the power cap policy to fit the datacenter needs, Dell offers excellent monitoring tools for tracking power usage through iDRAC7.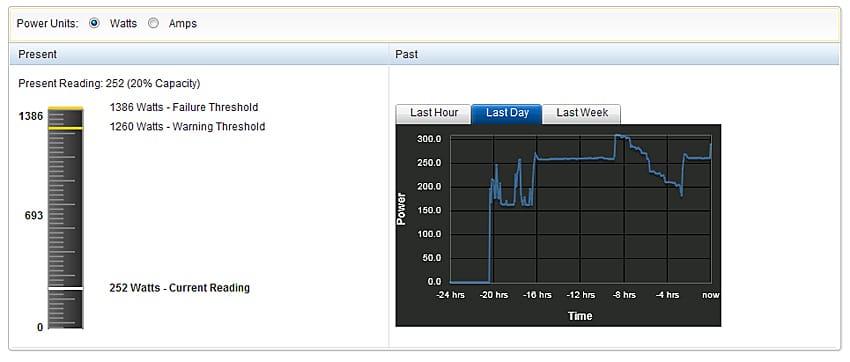 Storage Performance
When it comes to describing the performance advantage of front-mounted hot-swappable PCIe storage, the paradigm shift of transitioning from rotating media to 2.5″ SATA or SAS SSDs comes to mind. Random I/O and sequential bandwidth is on a much higher level, which would require many of the industry's fastest SAS SSDs in RAID to match the performance of one Express Flash PCIe SSD… let alone four of them.
We've included a quick performance comparison of four Express Flash PCIe SSDs up against eight 15k SAS HDDs and one Smart Optimus Enterprise SAS SSD in our 8k 70/30 synthetic benchmark. We chose the SMART Optimus for this comparison, since at the time of this review it offered the highest 8k 70/30 performance in the SAS/SATA category. And note, this is a small tease of what's to come, a detailed storage performance breakdown will take place in a second review highlighting the Express Flash technology.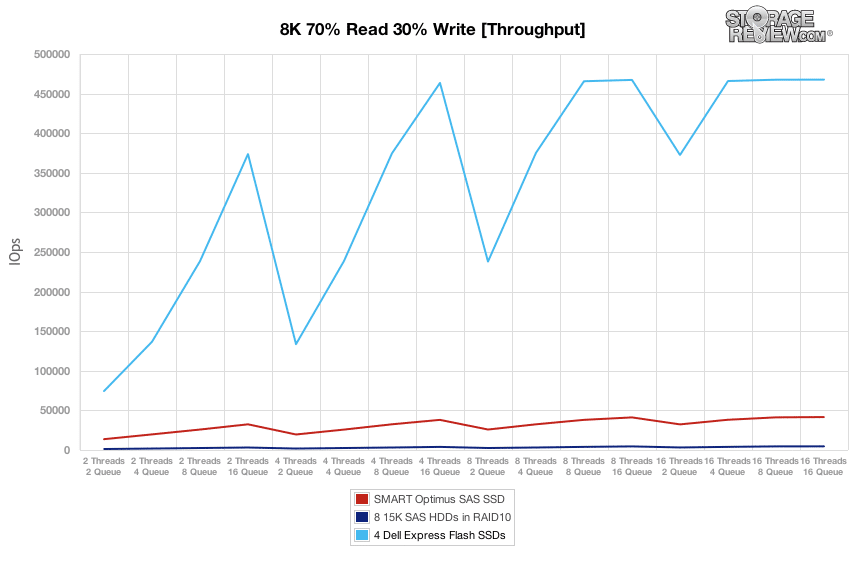 Breaking it down by the numbers, at peak performance with a load of 16T/16Q per drive/array, the Dell Express Flash solution offered 467,644 IOPS, the SMART Optimus measured 41,586 IOPS, and the eight-drive 15K SAS RAID10 array came in with 4,617 IOPS. To match the performance of four Express Flash SSDs, you'd need 12 of the industry's fastest SAS SSDs, or more than 800 15K SAS HDDs in RAID. In either of those situations, even if you were able to match the performance by scaling out, you'd lose the benefits of reliability, power consumption, and footprint, since you'd be dramatically increasing the components inside (or outside) the system.
With Dell's Express Flash layout on the PowerEdge R720, you can still have your cake and eat it too. You don't have to trade capacity for performance, since you still keep eight SFF bays on the front of the chassis to populate with your favorite SAS or SATA drives. You also gain an edge over other compute server platforms, since four x4 PCIe devices only consume one x16 slot. To exceed the performance of four Express Flash SSDs, you'd need to install three x8 HHHL Micron P320h cards, taking up three out of the seven available slots. That performance-density gives Dell a distinct advantage over the HP ProLiant DL380p Gen8 (6 PCIe 3.0 slots) or Lenovo ThinkServer RD630 (5 PCIe 3.0 slots), which would have to scale out Application Accelerators to match a four-drive Express Flash configuration, taking up valuable PCI-Express slots where Dell needs just one x16 slot.
Conclusion
The Dell PowerEdge R720 12th Generation marks more than just a progressive step in mainstream 2U server technology. Dell has been the first to embrace front-mounted, hot-swappable PCIe storage technology in the new R720. For enterprise users who want maximum performance with all the serviceability benefits of traditional SFF drives, the new Express Flash design is a savior for so many reasons. As we've seen in our cursory performance look, the Micron Express Flash drives simply dominate the best in class 15K and SAS SSD options in the market today, while still providing a total capacity of up to 1.4TB in the four bays. Should additional storage be needed, users can deploy SFF hard drives in capacities up to 1.2TB now that provide a great backstop to the flash drives in caching use cases and anywhere else where a platter tier makes sense. And because the Express Flash drives in aggregate only take up a single PCIe slot, there's still plenty of expandability in the 6 available risers for additional PCIe storage if needed. As noted, we'll dive more into storage performance within the R720 specifically in subsequent content.
While we certainly appreciate the storage aspects of the R720, there are a ton of other reasons to be excited about the platform as well including management, hardware design and thermal controls. The R720 provides an intuitive package dubbed iDRAC7 for remotely monitoring and managing the server, while providing a landing page with every health stat readily available. Turning to hardware design, the R720 packs plenty of mounting and serviceability options, where almost all frequently accessed components are easy to swap out if servicing is required. For cooling and power needs, Dell offers a wide range of PSU options to tailor the system for the best efficiency. Dell then takes things a step further by allowing users to adjust the cooling profiles for high-end devices like PCIe storage that require higher airflow requirements than the automatic mode can provide. Overall buyers can effectively use the Dell PowerEdge R720 as a blank slate, customizing it exactly for their needs, versus trying to shoehorn in an option-fixed model that might not be best in all situations.
As we compare the Dell PowerEdge R720 to other 2U servers on the market that we have reviewed previously from HP and Lenovo, one point is very clear; the R720 currently offers the fastest storage platform on the market in a 2U form factor. While you could try to match it by scaling out with multiple Application Accelerators in other server platforms, you'd lose potentially valuable PCIe real-estate. Dell's thoughtful design is evident throughout, and the Express Flash components are even upgradable as newer iterations of that technology come out, like NVM Express.
Pros
Fastest storage option available in a mainstream 2U server
Highly customizable chassis and BIOS to configure exactly for your environment
Excellent monitoring and management features
Cons
Express Flash configuration trades 8 SATA/SAS SFF bays for 4 PCIe bays
Bottom Line
The Dell PowerEdge R720 12th Generation server is not only well-designed with loads of great management features, it's also the best performing server on the market in this class. Sure, it's great as a garden variety standard compute server, but with Express Flash technology the R720 really shines, easily lapping all others. Dell has put the definitive stake in the ground by adopting new technology, giving their users a best of breed solution.