Dot Hill's AssuredSAN Ultra48 is the capstone of Dot Hill's lineup of high density storage arrays, with a unique chassis layout that houses 48 2.5-inch hard drives, SSDs or a combination of such across three rows of trays in a 2U rack mount form factor. The Ultra48 leverages dual AssuredSAN 4004 controllers and can be deployed with swappable Fibre Channel and iSCSI transceivers, including deployments that incorporate both transceiver types. The Ultra48 is also available with 12Gb SAS connectivity, adding to the flexibility in storage deployment.
Dot Hill's AssuredSAN Ultra48 is the capstone of Dot Hill's lineup of high density storage arrays, with a unique chassis layout that houses 48 2.5-inch hard drives, SSDs or a combination of such across three rows of trays in a 2U rack mount form factor. The Ultra48 leverages dual AssuredSAN 4004 controllers and can be deployed with swappable Fibre Channel and iSCSI transceivers, including deployments that incorporate both transceiver types. The Ultra48 is also available with 12Gb SAS connectivity, adding to the flexibility in storage deployment.

According to Dot Hill, internal benchmarks pegged the AssuredSAN Ultra48's performance at 100,000IOPS sustained from disk with 6,400MB/s for sustained reads and 5,300MB/s for writes. Dot Hill also engineered the Ultra48 for responsiveness to random workloads in high performance computing, cloud storage, and virtual server environments. Dot Hill's proprietary SimulCache technology mirrors controller cache between RAID controllers to improve performance.
Dot Hill also had the media and entertainment industries in mind when developing the AssuredSAN Ultra48 and incorporated functionality to support applications including editing, rendering, and broadcast. Ultra48 systems can be integrated with StorNext and Xsan to provide storage services for multiple simultaneous streams of 2K, 4K, HD, and 3D video content. Of course other industries can benefit from the novel enclosure too; the raw spindle count provides more HDD IOPS in 2U than just about any other chassis available. For those who need more throughput, the Ultra48 can also be configured in SSD and hybrid configurations.
Ultra48 arrays can be expanded by adding high-density AssuredSAN 4004 arrays or standard-density AssuredSAN 4144 and 4124 arrays for up to 192 total drives. Dot Hill's modular hardware architecture allows the company to also make the Ultra48 is available as a RAID controller. The array can be configured to serve as an expansion shelf for another controller and the Ultra48 chassis can itself be used with other small form-factor 4004-series controller models.
Our review unit of the Dot Hill Ultra48 is configured with 48 10K HDDs and carries a list price of $79,000. This pricing includes one year of support along with licensing for Dot Hill's snapshot, volume copy, and replication functionality. Thin provisioning is also expected for the Ultra48 in October 2014 at no additional charge. Dot Hill products are offered with a standard three year warranty with "advance exchange" for all field-replaceable units, meaning that if a problem is confirmed by Dot Hill, replacement parts are shipped to the customer in advance of the return of the failed components. Standard warranty support includes 7×24 help desk support. Additional support offerings are available for 7x24x4 on-site support, 8x5x4 on-site support, and 8x5xNBD (next business day) on-site support.
Dot Hill AssuredSAN Ultra48 Specifications
Models: 4844 (Fibre Channel or iSCSI), 4544 (SAS), and 4144 (Expansion Array)
Drives per chassis: Up to 48
Maximum capacity per chassis: 57.6TB
Drive Support: SAS, Nearline SAS, SSD
RAID Levels Supported: 0, 1, 3, 5, 6, 10, and 50
Maximum Expansion: 1 RAID array plus 3 JBOD arrays for 192 total drives
Network Ports: 4 per controller/8 total
Fibre Channel Connectivity Option

Host speed: 16Gb
Interface Type: SFP+

iSCSI Connectivity Option

Initiators: 10Gb NIC or 10Gb iSCSI
Interface Typ : SFP+

SAS Connectivity Option

Initiators: 12Gb SAS 2.0
Interface Type: Mini-SAS (8643/8644)

Hot Standby Spare
Automatic Failover
Multi-Path Support
Redundant Hot-Swap Controllers
Redundant Hot-Swap Disk, Fans, Power Supplies
Cache Memory: 6GB per controller
Virtual disks per System: 32
Volumes per virtual disk: 256
Volumes per System: 1024
Mirrored Cache: Yes – SimulCache
Supercapacitor Cache Backup: Yes
Cache Backup to Flash: Yes – Non-volatile
Management

Interface Types: 10/100 Ethernet, Mini USB
Protocols Supported: SNMP, SSL, SSH, SMTP, SMI-S Provider, HTTP(S)
Management Consoles: GUI, CLI
Management Software: RAIDar 2.0

Input Power Requirements: 100-240VAC 50/60Hz
Max Input Power: 640W continuous
Heat Dissipation: 2,245 BTUs/hour
Depth (excluding cables): 30.6″/ 77.724cm
Height: 3.5″/8.9cm
Width: 17.6″/44.7cm
Chassis weight: 48lb/21.8kg
Chassis weight w/drives: 74.9lb/34kg
Software Warranty: 90 days
Standard Hardware Warranty: 3 years
Build and Design
The AssuredSAN Ultra48 can house up 48 2.5-inch drives in its 2U chassis. The Ultra48 can be configured with all hard drives, all SSDs, or any mixture of both. For deployments that require encrypted storage, the Ultra48 supports 1.2TB encrypted hard drives from HGST and Seagate. In terms of storage density, its by far the most HDD-dense we've worked with in the 2U form-factor.

The Ultra48 is composed of three drawers, each which hold 16 drives. Each drawer is held in place by a locking screw and all drawers open toward the inside of the array. Drawers can be opened while the system is active and allow 'warm swap' replacements during operation.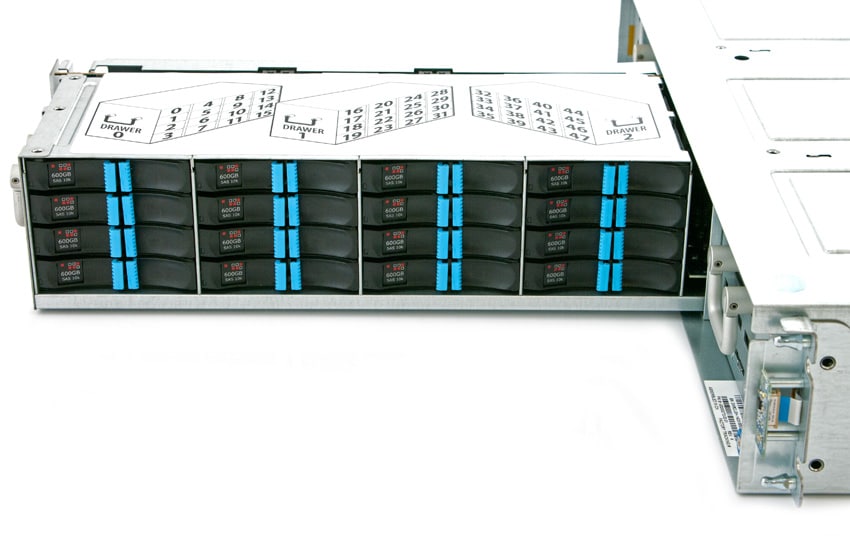 The rear of the array provides access to the dual controllers and dual power supplies. The controllers, power supplies, and fans are field-replaceable.

The Ultra48 uses a four-port converged interface on each controller with four Dot Hill SFP+ transceivers for 16Gb and 8Gb Fibre Channel or 1Gb and 10Gb iSCSI. Fibre Channel and iSCSI can be mixed on the same array. SFPs are offered by Dot Hill in four-packs. Ultra48 arrays with 12Gb SAS connectivity are also available.
Management
The Ultra48, like other Dot Hill AssuredSAN solutions, is managed with the web-based RAIDar utility. Both controller modules incorporate the RAIDar web server, and all functions can be managed from either controller including situations when one controller is unavailable.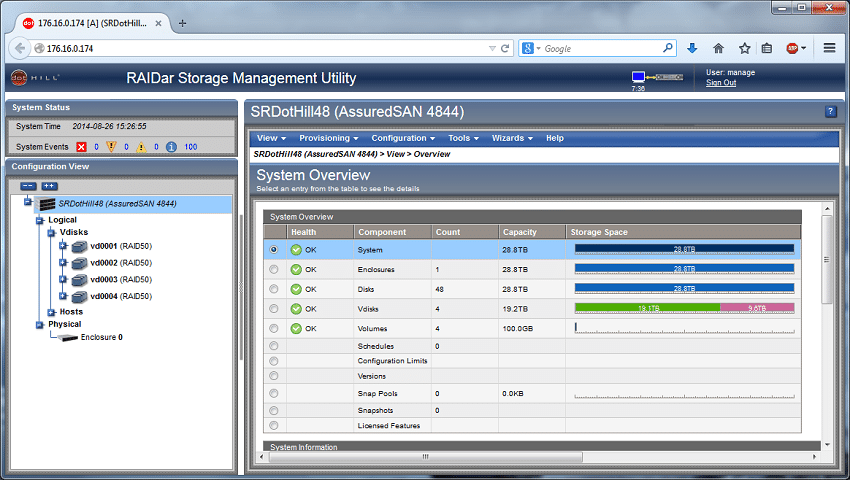 RAIDar uses vdisks as the basic logical unit of storage. Vdisks are composed of one or more physical drives and can contain different models of drives, including drives with different capacities, however all storage within a vdisk must be of the same type: SAS SSD, enterprise SAS HDD, or midline SAS HDD.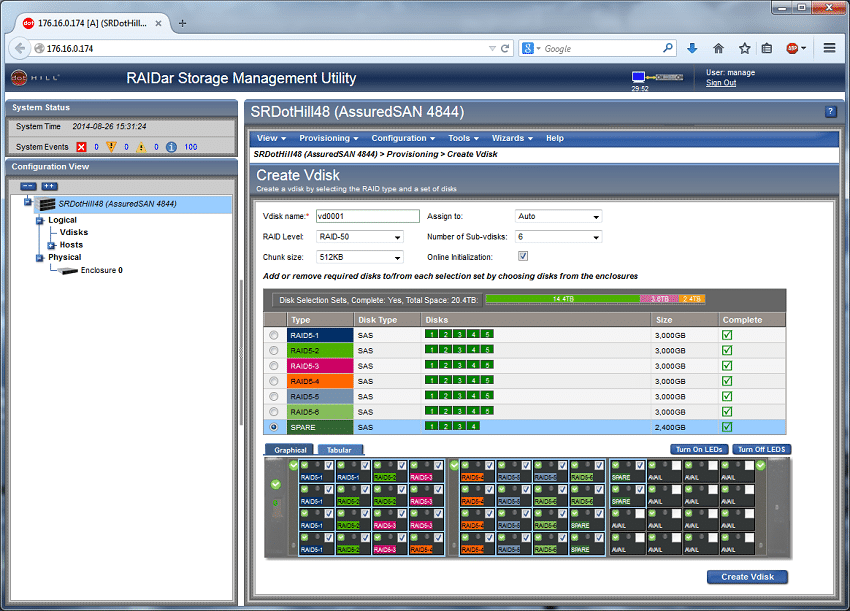 The Ultra48 allows the designation of up to 16 global spare drives for use with vdisks configured for RAID1, 3, 5, 6, 10, and 50. If a drive within the vdisk fails, a global spare is automatically used to reconstruct the vdisk.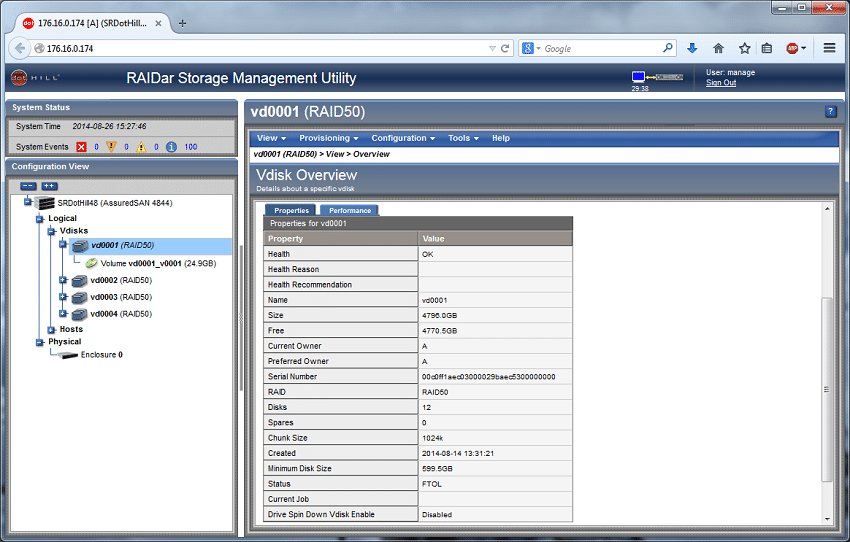 Volumes can be created once one or more vdisks have been established within the Ultra48. Volume are logical subdivisions of a vdisk, and can be mapped to controller host ports and presented to hosts over the network.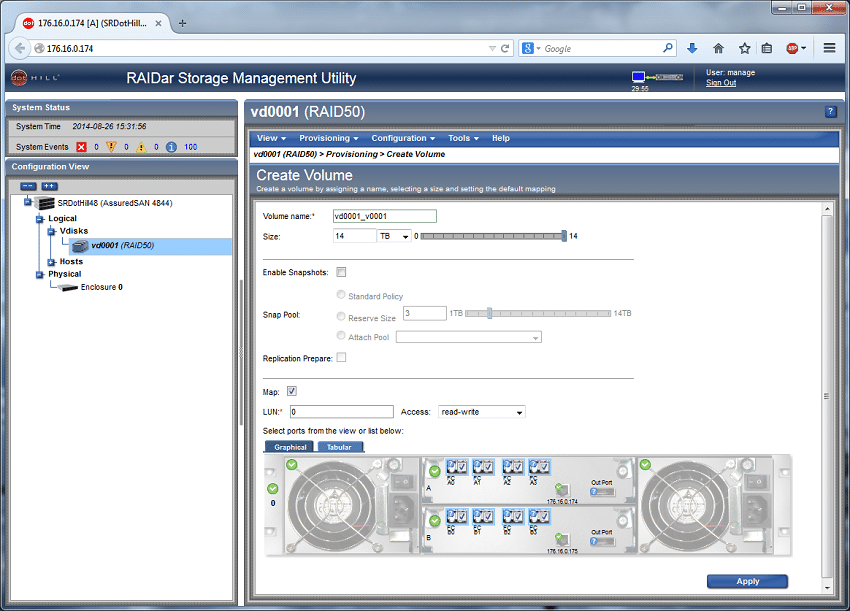 AssuredSAN administrators can take advantage of AssuredRemote remote replication software for backup, disaster recovery, and continuity. The Ultra48 supports VMware's Site Recovery Manager for automatic site failover as well as supporting snapshot and volume copy software for point-in-time and complete volume copies. AssuredSAN's RealTier tiering solution identifies hotspots and automatically move data between up to three tiers: a high performance SSD tier, a middle SAS tier, and nearline SAS archival storage. Dot Hill's thin provisioning technology is expected to be available for the Ultra48 later this year. Dot Hill consultants are available to assist with installation and configuration of AssuredSAN storage systems as well as data-in-place migration and replication configuration.
Testing Background and Comparables
We publish an inventory of our lab environment, an overview of the lab's networking capabilities, and other details about our testing protocols so that administrators and those responsible for equipment acquisition can fairly gauge the conditions under which we have achieved the published results. To maintain our independence, none of our reviews are paid for or managed by the manufacturer of equipment we are testing.
Because the Dot Hill AssuredSAN Ultra48 is designed for a different set of use cases than other arrays which have been benchmarked by the StorageReview Enterprise Test Lab we are not presenting its benchmark results along with comparable arrays at this time. It's important to note before going into the performance section that this Dot Hill AssuredSAN Ultra48 configuration being reviewed with 100% HDD, while hybrid arrays in a similar price range include SSDs for caching frequently used data, but much lower overall capacity.
Dot Hill AssuredSAN Ultra48

List price: $79,000
14.4TB HDD ((4) 600GB 10K HDD x 12 RAID10) or 24TB HDD ((4) 600GB 10K HDD x 12 RAID50)
Network Interconnect: 16Gb FC, 4 x 16Gb FC per controller

Lenovo ThinkServer RD630 Testbed

2 x Intel Xeon E5-2690 (2.9GHz, 20MB Cache, 8-cores)
Intel C602 Chipset
Memory – 16GB (2 x 8GB) 1333MHz DDR3 Registered RDIMMs
Windows Server 2008 R2 SP1 64-bit, Windows Server 2012 Standard, CentOS 6.3 64-Bit

Boot SSD: 100GB Micron RealSSD P400e

LSI 9211-4i SAS/SATA 6.0Gb/s HBA (For boot SSDs)
LSI 9207-8i SAS/SATA 6.0Gb/s HBA (For benchmarking SSDs or HDDs)
Emulex LightPulse LPe16202 Gen 5 Fibre Channel (8GFC, 16GFC or 10GbE FCoE) PCIe 3.0 Dual-Port CFA

Mellanox SX1036 10/40Gb Ethernet Switch and Hardware

36 40GbE Ports (Up to 64 10GbE Ports)
QSFP splitter cables 40GbE to 4x10GbE

Brocade 6510 16Gb/s FC Switch

Aggregate bandwidth: 768Gb/s end-to-end full duplex
Application Performance Analysis
Our first two benchmarks of the Dot Hill AssuredSAN Ultra48 are the VMware VMmark Virtualization Benchmark and the Microsoft SQL Server OLTP Benchmark which both simulate application workloads similar to those which the Ultra48 and its comparables are designed to serve.
The StorageReview VMmark protocol utilizes an array of sub-tests based on common virtualization workloads and administrative tasks with results measured using a tile-based unit. Tiles measure the ability of the system to perform a variety of virtual workloads such as cloning and deploying of VMs, automatic VM load balancing across a datacenter, VM live migration (vMotion) and dynamic datastore relocation (storage vMotion).
During the VMmark benchmark the Ultra48 reached its highest normalized application score at 9.2 and highest overall score was 7.8, both with eight tiles.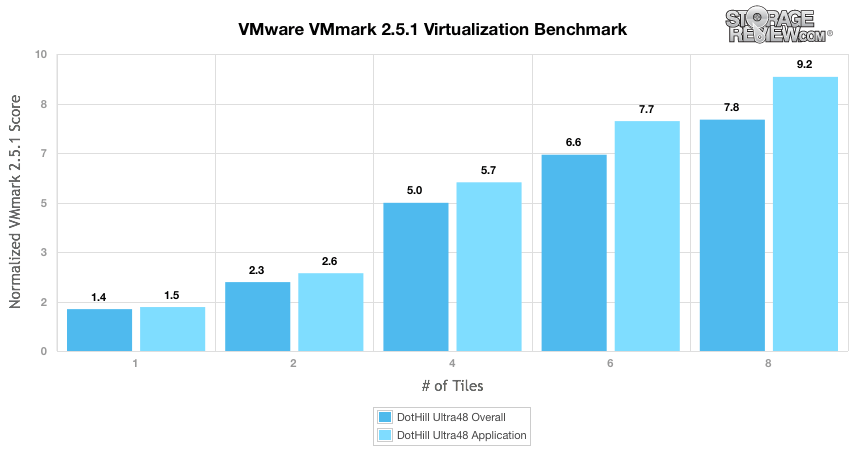 StorageReview's Microsoft SQL Server OLTP testing protocol employs the current draft of the Transaction Processing Performance Council's Benchmark C (TPC-C), an online transaction processing benchmark that simulates the activities found in complex application environments. The TPC-C benchmark comes closer than synthetic performance benchmarks to gauging the performance strengths and bottlenecks of storage infrastructure in database environments. Our SQL Server protocol for this review uses a 685GB (3,000 scale) SQL Server database and measures the transactional performance and latency under a load of 30,000 virtual users and then again with a half-size database of 15,000 virtual users.
The Ultra48 performed at 3,663 TPS when configured for RAID10 with 30,000 virtual users.

Reflecting the all-HDD configuration of our review array, the average latency results during the 30k user SQL Server benchmark placed the Ultra48 at 3,447ms when configured for RAID10.

The Dot Hill AssuredSAN Ultra48 was better equipped to take on a workload of 15,000 virtual users during the SQL Server benchmark. Configured for RAID10, the Ultra48 reached 3,098TPS.

The Ultra48's latency results for the 15k virtual user benchmark also improved dramatically with RAID10 volumes.

Enterprise Synthetic Workload Analysis
Prior to initiating each of the fio synthetic benchmarks, our lab preconditions the device into steady-state under a heavy load of 16 threads with an outstanding queue of 16 per thread. Then the storage is tested in set intervals with multiple thread/queue depth profiles to show performance under light and heavy usage.
Preconditioning and Primary Steady-State Tests:
Throughput (Read+Write IOPS Aggregated)
Average Latency (Read+Write Latency Averaged Together)
Max Latency (Peak Read or Write Latency)
Latency Standard Deviation (Read+Write Standard Deviation Averaged Together)
This synthetic analysis incorporates four profiles which are widely used in manufacturer specifications and benchmarks:
4k – 100% Read and 100% Write
8k – 100% Read and 100% Write
8k – 70% Read/30% Write
128k – 100% Read and 100% Write
During the 4k synthetic benchmark, the Dot Hill AssuredSAN Ultra48 reached a throughput performance of 24,376IOPS for read operations and 16,620IOPS when configured with four RAID10 volumes.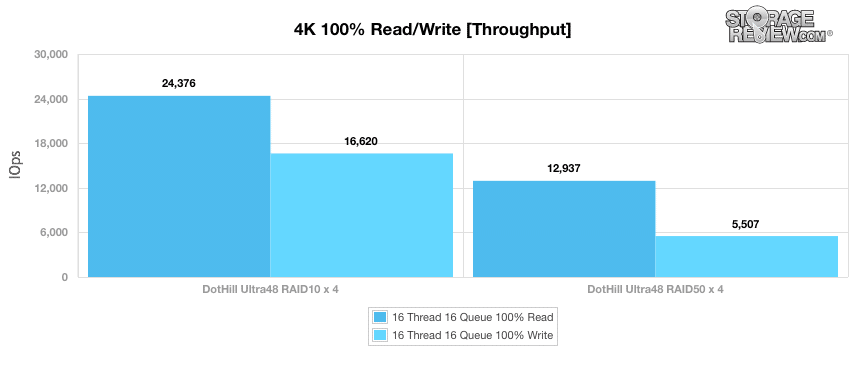 The Ultra48's average 4k latencies nearly double for read operations when moving from RAID10 to RAID50, while average write latencies more than double.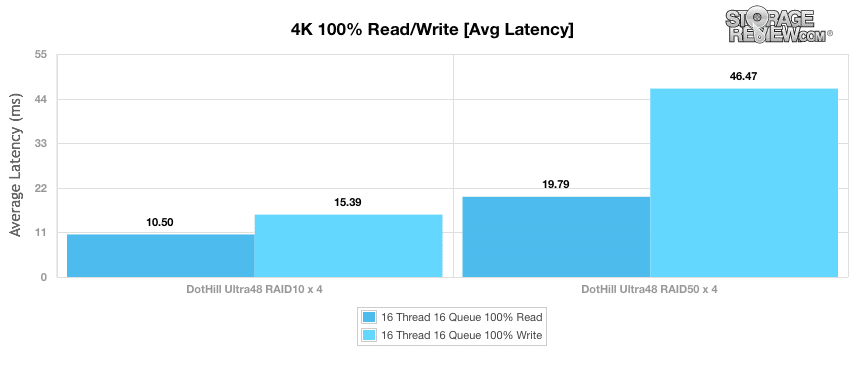 The Ultra48 hit maximum latencies of 405.6ms with 4k read operations and 142.6ms for write operations when configured with RAID10 volumes. With RAID50, the Ultra48 reached 1,377ms for read operations and 251.7ms for write operations.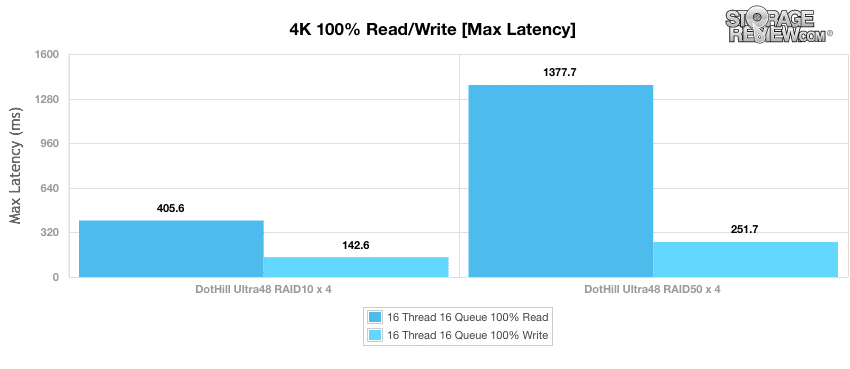 Standard deviation results help identify devices and configurations which experience a greater than average range of latencies during the synthetic benchmarks. The Ultra48 maintained standard deviations of 11.70ms with 4k write operations and 14.82ms for read operations while configured for RAID10.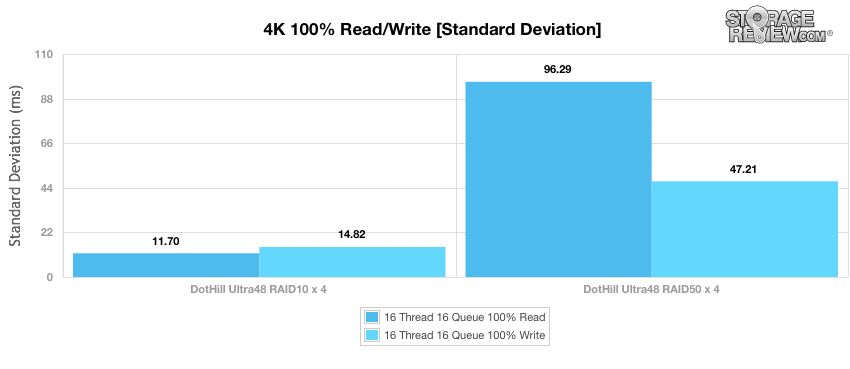 After reconditioning the array for 8k workloads, we measured the Ultra48's throughput with a load of 16 threads and a queue depth of 16 for 100% read and 100% write operations. The RAID50 volumes outperform the RAID10 configuration in write throughput while read throughput is nearly equal across both RAID levels.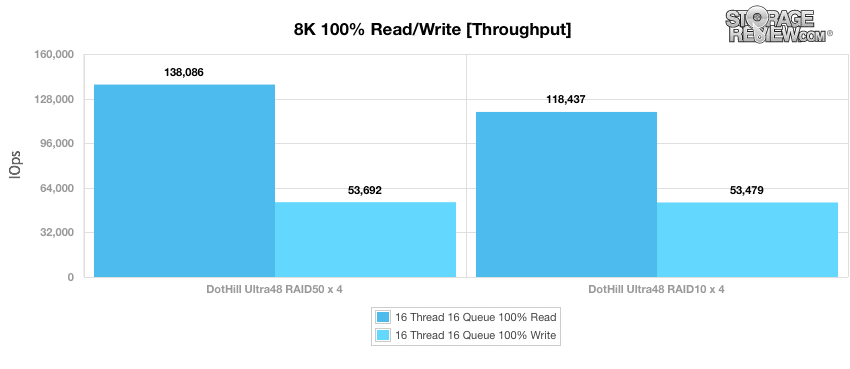 The next results are derived from a protocol composed of 70% read operations and 30% write operations with an 8k workload across a range of thread and queue counts. In terms of throughput, the Ultra48 RAID10 configuration consistently edged out the RAID50 for top position although the difference was not pronounced with shallow queues.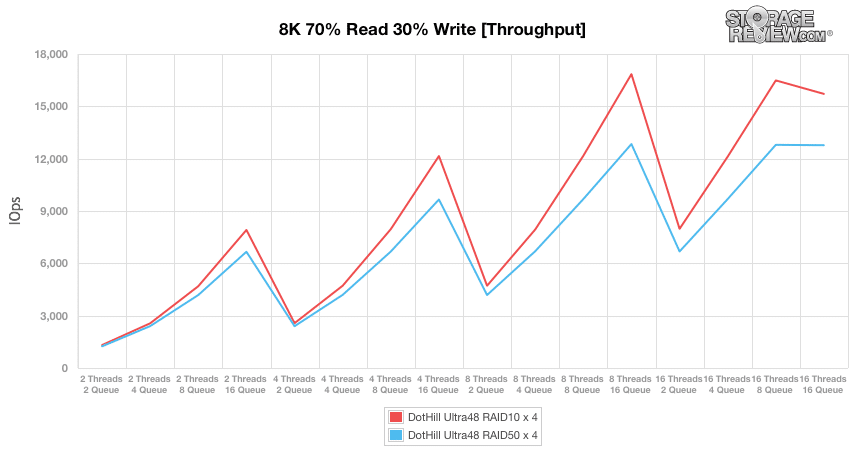 The average latency results during the 8k 70/30 benchmark mirror the throughput results. The Ultra48 struggled with the toughest workload of 16 threads and a queue depth of 16.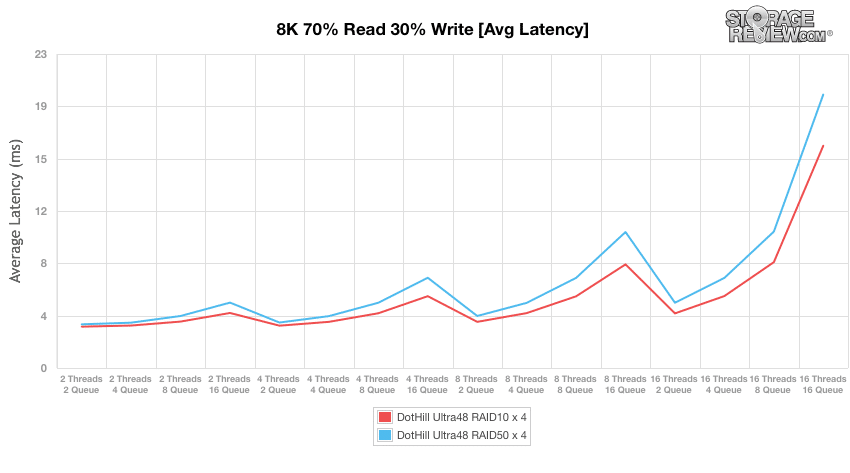 The RAID10 volumes had much more trouble with maximum latency at the top end of the workloads, with a latency spike up to 1,431.1ms with 16 threads and a queue depth of 16.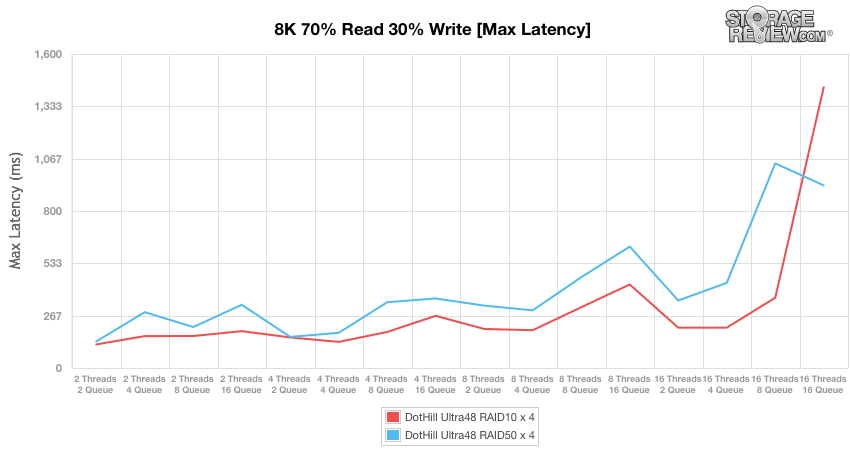 Standard deviation calculations for the 8k 70/30 benchmark reveal no surprises but underscore the spike in latencies experienced by the RAID10 configuration when presented with 16 threads and a queue depth of 16.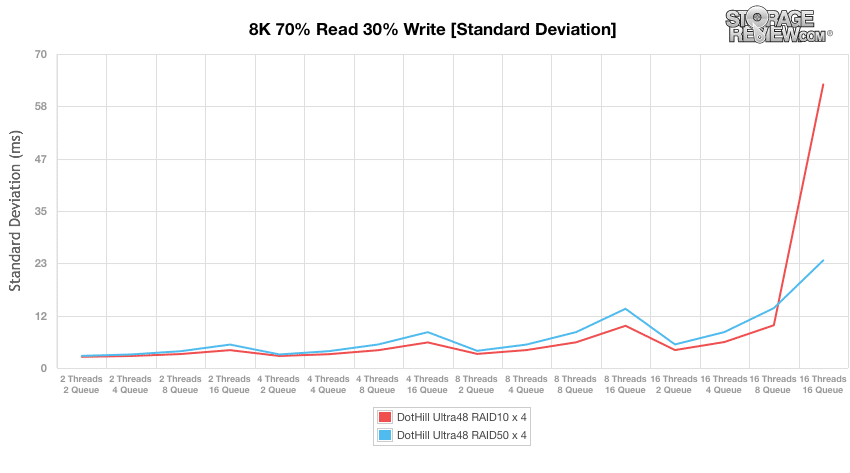 Our final synthetic benchmark is based on 128k transfers with 100% read and 100% write operations. The RAID50 configuration experienced slightly better read throughput at 684,368KB/s, while the RAID10 configuration edged out RAID50 during the other half of the protocol with a write throughput at 3,759,309KB/s.

Conclusion
Dot Hill's AssuredSAN Ultra48 sets a new bar for storage density in a 2U rack form factor. The Ultra48's selling points are primarily focused on density and price-to-performance. Leveraging the AssuredSAN's modular architecture, the Ultra48 array can be deployed in a wide variety of configurations suited for different use cases which lends additional value to the platform. To that end, should a user prefer a configuration that's more suited to pure performance, Dot Hill offers hybrid and more flash-heavy configurations for those use cases.
The density issue cannot be understated, while there are other 48-bay 2U chassis out there, most are designed for 7mm drives, where the Ultra48 uses standard drive height, and none have the storage controller history that Dot Hill offers. To say anything in enterprise storage is one of a kind can be dangerous, but the Ultra48 is at least exceedingly unique and backed by a public company with lengthy (and proven) engineering prowess. Of course 48-bay configurations can be found in other, less efficient rack space ways; the Ultra48 is really intended for those who appreciate the density benefits and are willing to pay a bit of a "footprint miniaturization" fee to get there.
Because the Ultra48 uses Dot Hill's standard RAID stack, it also supports the company's data management software portfolio including AssuredSnap for point-in-time snapshots, AssuredCopy for volume copies, and AssuredRemote for offloaded array-to-array remote replication. Dot Hill is seeking certifications for VMware vSphere, Microsoft Hyper-V, Citrix XenServer, and Veeam Backup and Replication (the system performed as it should during our VMware-centric testing). AssuredRemote can be paired with VMware Site Recovery Manager to implement a complete site failover solution.
Looking at performance, the Ultra48 is able to crank out impressive results due to brute force and good controller design. The array performance was most visible in the virtualization testing, the HDD Ultra48 was able to post an 8 tile score in VMmark which is a point where hybrid arrays with a similar footprint can start to falter. While most aren't cross-shopping hybrids and a high-density HDD array, the point is salient in terms of base-lining what the Ultra48 can do. Given the density vs. the footprint required for other all-HDD configured systems, the Ultra48 offers a performance per rack U profile that may not be able to be achieved with any other storage system.
Pros
Extremely dense form factor
Long history of storage controller engineering
Flexible drive/interconnect options based on use case needs
Intuitive management
Cons
Could benefit from deeper virtualization integration
The Bottom Line
The Dot Hill AssuredSAN Ultra48 packs an unprecedented blend of capacity, performance and cost into a 2U form factor, enabling administrators to deploy flexible storage configurations ranging from all hard drive to hybrid to all flash. The density and proven controllers make the Ultra48 a unique and well engineered solution that can handle most any task.
Dot Hill AssuredSAN Ultra48 Product Page