With the availability of Intel's Xeon E5-2600 v3 family of processors, a variety of server vendors are launching compute platforms that take advantage of the performance increases of the new Xeon architecture. The DL360 Gen9 is the new mainstream 1U compute platform in the HP ProLiant family, and in addition to featuring new E5-2600 v3 processors and DD4 memory, the DL360 Gen9 reflects several progressive advancements in HP's server technology portfolio and the company's overall vision for converged data centers.
With the availability of Intel's Xeon E5-2600 v3 family of processors, a variety of server vendors are launching compute platforms that take advantage of the performance increases of the new Xeon architecture. The DL360 Gen9 is the new mainstream 1U compute platform in the HP ProLiant family, and in addition to featuring new E5-2600 v3 processors and DD4 memory, the DL360 Gen9 reflects several progressive advancements in HP's server technology portfolio and the company's overall vision for converged data centers.

Like the larger 2U DL380 Gen9, the DL360 leverages new Intel Xeon E5-2600 v3 processors and up to 768GB of HP's DDR4 Smart Memory at speeds of up to 2,133MHz, up from the maximum 1,866MHz DDR3 transfers rate of its Gen8 predecessors. The new E5-2600 v3 processors are available with up to 18 cores and offer a theoretical performance improvement of up to three times per Watt over Gen8 ProLiant servers. HP's latest 12Gb/s Smart Array Controllers and PCIe accelerators are also available for the DL360 Gen9. Unlike its DL360p Gen8 predecessor, the DL360 Gen9 supports GPUs: up to two single-wide and active cards up to 9.5 inches in length.
The unit being benchmarked during this review utilizes the 1U DL360 chassis with eight SFF drive bays and is configured with two Intel Xeon E5-2697 v3 2.6GHz processors, 256GB DDR4 RAM (16 DIMMs of 16GB 2Rx4 PC4-2133) and five SFF 400GB SAS SSDs. The Universal Media Bay is not filled in our testing unit, but can optionally be used to house two additional SFF drive bays or an optical drive and front-accessible VGA port. We utilize HP's two-port PCA FLR 10GbE SFP+ interface card for network connectivity.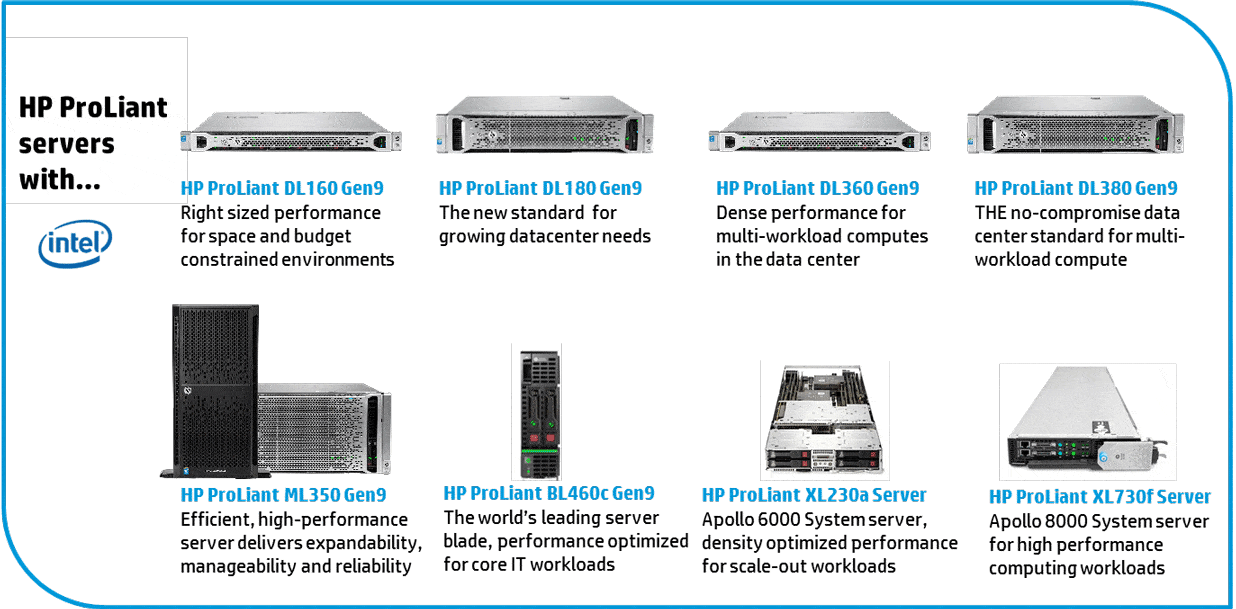 HP ProLiant DL360 Gen9 Specifications
Processors: Intel Xeon E5-2600 v3 product family
Number of processors: 2
Processor cores available: 4, 6, 8, 10, 12, 14, 16, 18
Form factor: 1U
Power supply type: (2) Flex Slot
PCIe expansion slots: Up to 3
Memory, maximum: 768GB DDR4 HP SmartMemory
Memory slots: 24 DIMM slots up to 2,133MHz
Storage drives: (8) SFF SAS/SATA + Universal Media Bay or (4) LFF SAS/SATA
Networking: 4 x 1GbE embedded + FlexibleLOM slot
Network controller options: Broadcom 5720 and/or 10Gb 533FLR-T FlexFabric Adapter
Storage controller options:

Dynamic Smart Array B140i
H240ar Host Bus Adapter
Smart Array P440ar/2GB FBWC

Flash-backed write cache (FBWC): 2GB DDR3-1,866MHz, 72-bit wide bus at 14.9GB/s on P440ar
Battery: HP DL/ML/SL 96W Smart Storage Battery
VGA/serial/USB ports: Front VGA option, rear VGA standard, serial option, 5x USB 3.0
GPU support: Two single-wide and active to 9.5" in length, up to 150W each
On-Premise management: HP OneView and HP iLO Advanced
Cloud management: HP Insight Online with mobile app
Power and cooling: Up to 94% efficient (Platinum Plus) with HP Flexible Slot FF
Hot plug fans with N+1 redundancy, optional high performance fans
Industry compliance: ASHRAE A3 and A4, lower idle power
Form factor/Chassis depth: Rack (1U), 27.5'' (SFF), 29.5'' (LFF)
Operating System Support:

Microsoft Windows Server: 2008 R2 (x64 only), 2012, 2012 R2
Red Hat Enterprise Linux 6.5 and later
SUSE Linux Enterprise Server 11 SP3 and later
Ubuntu Server 14.04 and later
VMware vSphere 5.1 U2 and later
Citrix XenServer
Solaris 11.1 and later

Warranty: 3/3/3
Build and Design
Our review unit uses a chassis with eight front-accessible SFF drive bays plus a blank in the Universal Media Bay at the top-right which can be configured with two additional SFF drives or a combination of an optical drive and a front-accessible VGA port. A status panel with the power button and LED indicators for power status, system health, unit ID, and network status is available at the far right along with one USB port. A DL360 Gen9 chassis with four LFF drive bays is also available.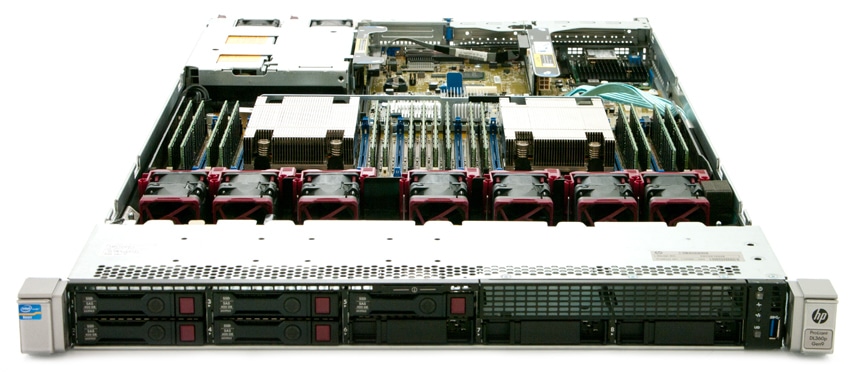 The fan grid provides cooling at the front of the system. Our configuration uses two Intel Xeon E5-2697 v3 2.6GHz processors and fills 16 of the 24 DIMM slots. This system uses 16GB 2Rx4 PC4-2133 DDR4 DIMMs for a total of 256GB DDR4 memory. A MicroSD slot lies between the power supplies and the DIMM slots. A secondary PCIe riser with a third PCIe slot can be utilized for DL360 configurations like this with dual CPUs, and a FlexibleLOM slot and two SATA ports are also located at rear.
DL360 Gen9 servers are equipped with one standard PCIe riser offering two PCIe slots, while an optional second riser enables a third PCIe slot for dual-CPU configurations. The rear of the server incorporates a VGA port, an embedded four-port 1GbE network adaptor, iLO management port, serial port, two USB 3.0 ports, unit ID LED, and access to the FlexibleLOM card, in this case configured with a two-port PCA FLR 10GbE SFP+ network interface.
Our server is equipped with dual 800W Flexible Slot Platinum hot plug power supplies rated at 94% efficiency. HP Flex Slot power supplies share a design that allows for hot plug, tool-less installation into HP ProLiant Gen9 servers and are currently available for the DL360 Gen9 in 500W, 800W, and 1400W variations.
Management
HP ProLiant Gen9 servers ship configured for deployment with Unified Extensible Firmware Interface (UEFI) but also offer a legacy boot mode. HP Integrated Lights-Out (iLO) is an embedded intelligence and management system built into ProLiant servers for agentless management. Agentless Management communicates using the Direct Media Interface (DMI) and can be used in conjunction with HP's Intelligent Provisioning to deploy and update servers without configuration media with reusable deployment profiles. New provisioning features for ProLiant Gen9 include the ability to access to 1TB of HP StoreVirtual virtual storage appliance (VSA) storage at no additional cost and new scripting to automate server setup.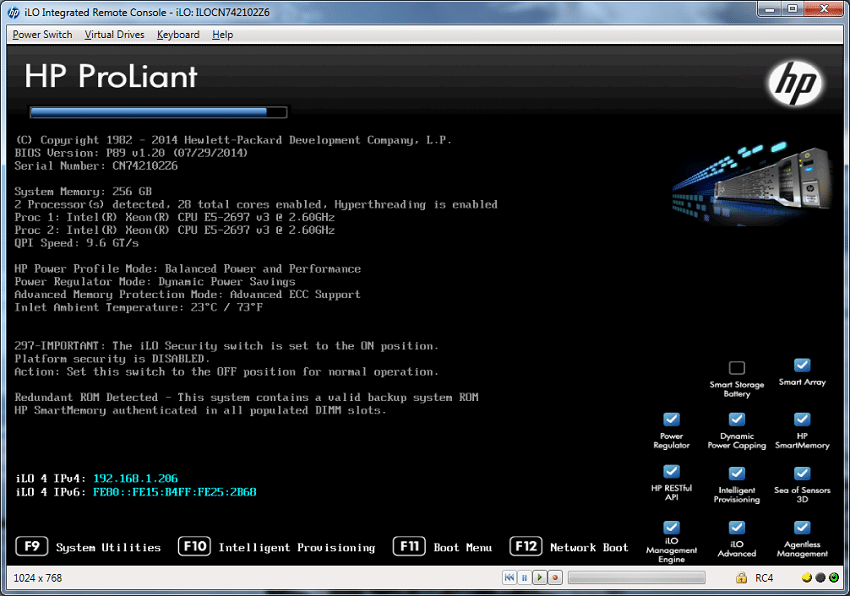 Standard iLO capabilities include Agentless Management, Active Health System, Embedded Remote support, and the new Adaptive ProLiant Management Layer (APML) abstraction layer to improve thermal to update system health and fan data without flashing the system ROM and to permit non-disruptive online updates for fan and thermal data. For ProLiant Gen9 servers, iLO has added iLO Federation, a key enablement feature to discover and manage numerous servers and a 1GB Embedded User Partition is accessible for additional utilization of storage when 4GB of iLO NAND is installed in the server. Various iLO licensing schemes are available which enable various aspects of the new Federation functionality.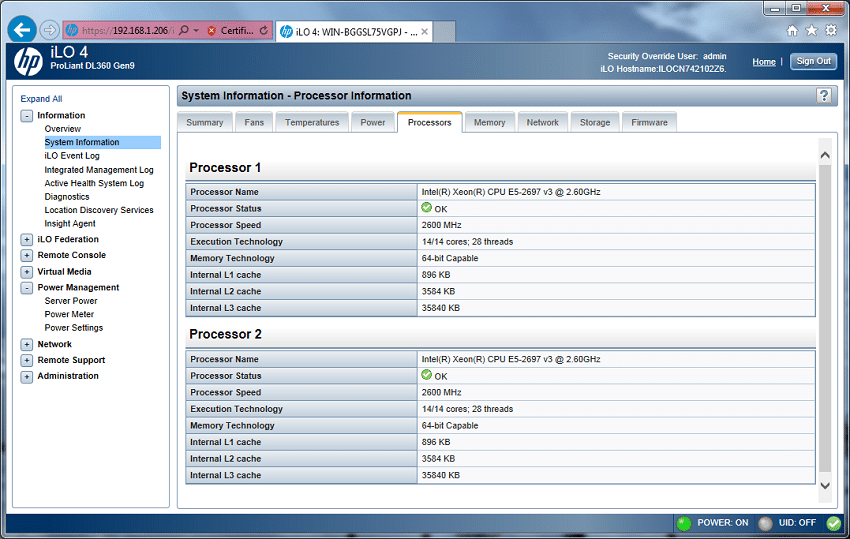 HP Active Health System (AHS) is an integrated component of HP iLO Management for self-diagnostics. AHS monitors server activities and logs health, configuration, and real-time telemetry from iLO 4, system ROM, complex programmable logic devices (CPLDs), smart arrays, BladeSystem Onboard Administrator, the Agentless Management Service, and network interface cards. It provides synchronized monitoring and logging across systems and solutions to speed diagnoses and can be automatically sent for HP analysis via Insight Online direct connect or Insight Remote Support 7.x.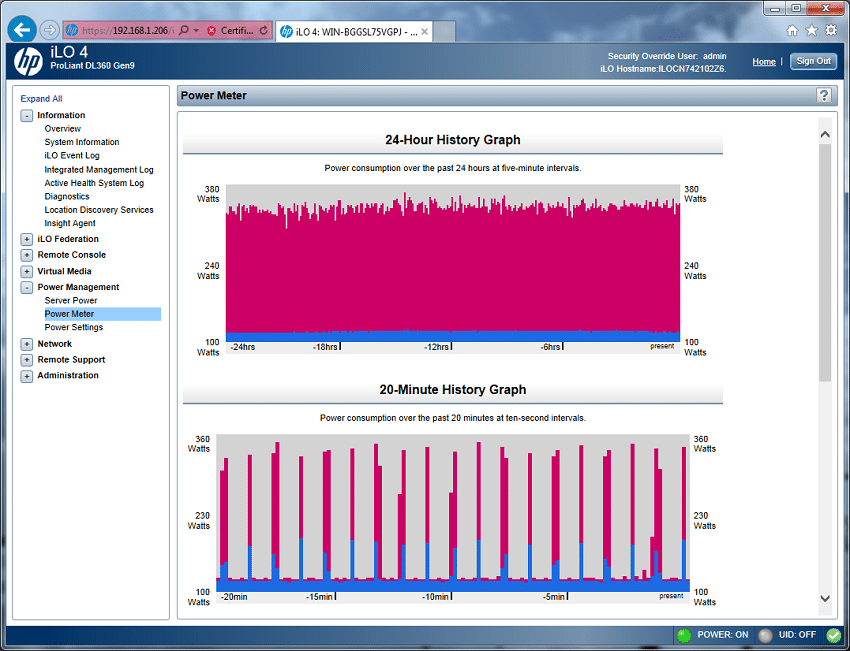 An iLO mobile app for iOS and Android can interact directly with the iLO processor on ProLiant servers to provide access to system status and logs along with scripting and virtual media. The new HP RESTful Interface Tool for HP ProLiant Gen9 servers uses an API that can script configuration for rapid deployment of multiple ProLiant servers while also configuring servers with heterogeneous operating systems. HP ProLiant Gen9 Servers also support management via HP Systems Insight Manager 7.4 and HP Virtual Connect Enterprise Manager 7.4.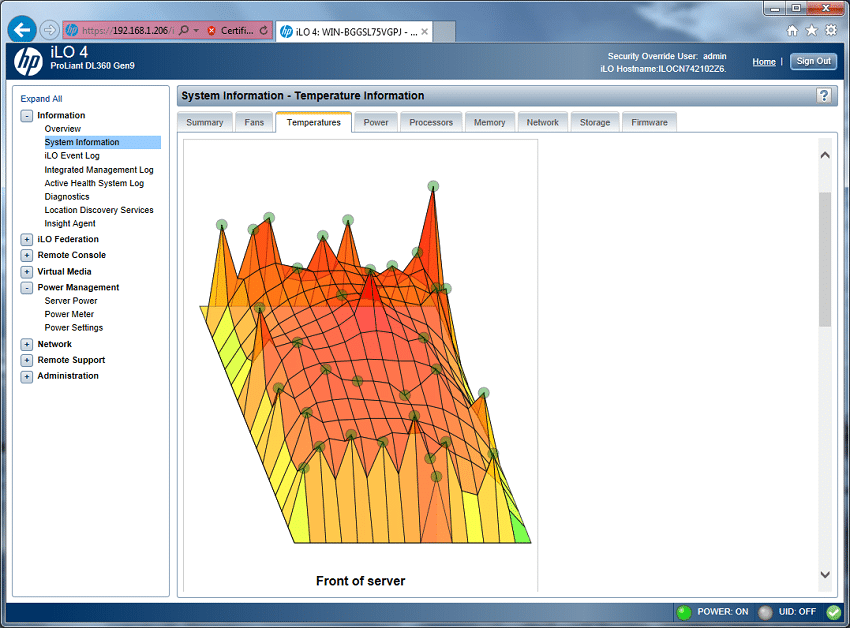 HP Gen9 servers currently ship with Insight Control management software. HP Insight Control incorporates automated server deployment and generational migration tools along with virtual machine management integration with VMware ESX, Microsoft Hyper-V, Citrix XenServer, and Xen on Linux VMs. Its performance management tools detect and analyze hardware configuration issues and performance bottlenecks.
Insight Control includes centralized monitoring and management tools for server power consumption and thermal output. HP Insight Control is accessed via Systems Insight Manager (HP SIM) via a web GUI. HP Insight Control runs on a Windows-based central management server (CMS) and can manage Windows and Linux nodes. Remote management features include graphical remote access (Virtual KVM), team collaboration, server boot and fault video footage, on-demand video record and playback, and remote access to virtual media.
License keys for both HP OneView and HP Insight Control are provided for use on the same system for customers planning to transition to OneView once it is available later in 2014. OneView is designed to unify HP management across servers, storage, and networking by offering software-defined templates, a centralized automation hub, and other features designed to underlay a transition to Infrastructure-as-a-Service (IaaS) and hybrid cloud architectures.
HP OneView can be integrated with VMware vCenter, Microsoft System Center, Red Hat Enterprise Virtualization (RHEV), HP Universal Configuration Management Database (UCMDB), and HP Operations Orchestration. HP Insight Online is available at no additional cost with HP warranty and contract services. Insight Online is a cloud-based management and support portal with a dashboard that tracks service events and support cases, displays device configurations, and monitors HP contracts and warranties. An HP Support Center app provides access to Insight Online information for mobile devices.
HP Insight Online Direct Connect is a remote service offering oriented towards small and medium businesses, allowing ProLiant Gen8/9 servers and BladeSystem c-Class enclosures to transmit hardware failure and diagnostic information directly to support professionals for analysis, case generation, and automated parts replacement.
In contrast, HP's Insight Remote Support uses on premise hosting devices to aggregate monitoring data and deliver it to HP and is engineered for IT environments with up to 2,500 devices. Insight Remote Support can monitor pre-Gen8 HP ProLiant servers as well as HP Storage and Networking products. Insight Remote Support is available both through an on-site console and the Insight Online dashboard.
Testing Background and Comparables
We publish an inventory of our lab environment, an overview of the lab's networking capabilities, and other details about our testing protocols so that administrators and those responsible for equipment acquisition can fairly gauge the conditions under which we have achieved the published results. To maintain our independence, none of our reviews are paid for or managed by the manufacturer of equipment we are testing.
Our first set of results will present the ProLiant DL360 Gen9 as shipped, with a RAID10 volume utilizing four of the installed SSDs and the fifth as a boot drive. The second set of results measure the performance of the DL360's FlexibleLOM PCA FLR 10GbE SFP+ network interface card when connected to an all flash array to illustrate network storage performance.
Enterprise Synthetic Workload Analysis
Prior to initiating each of the fio synthetic benchmarks, our lab preconditions the device into steady-state under a heavy load of 16 threads with an outstanding queue of 16 per thread. Then the storage is tested in set intervals with multiple thread/queue depth profiles to show performance under light and heavy usage.
Preconditioning and Primary Steady-State Tests:
Throughput (Read+Write IOPS Aggregated)
Average Latency (Read+Write Latency Averaged Together)
Max Latency (Peak Read or Write Latency)
Latency Standard Deviation (Read+Write Standard Deviation Averaged Together)
This synthetic analysis incorporates four profiles which are widely used in manufacturer specifications and benchmarks:
4k – 100% Read and 100% Write
8k – 100% Read and 100% Write
8k – 70% Read/30% Write
128k – 100% Read and 100% Write
With workloads composed of random 4k operations, the ProLiant DL360 Gen9 reached 244,058IOPS for read operations and only 41,021IOPS for write operations using the internal RAID10 volume. Paired with our all flash array, the DL360's 10GbE card is able to sustain 253,984IOPS for read operations and 300,743IOPS for write operations.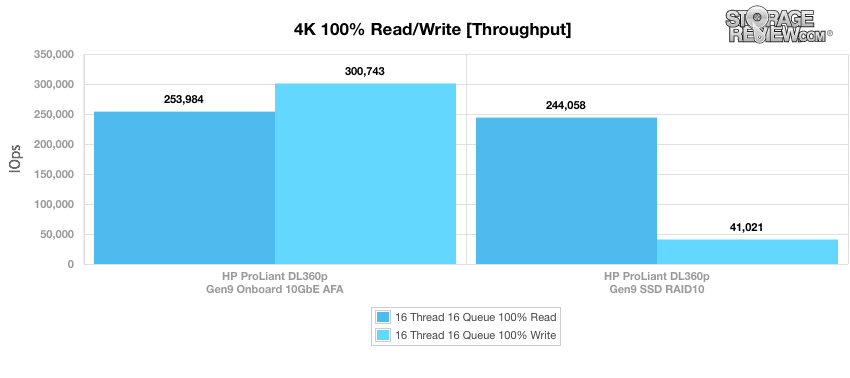 The internal RAID10 volume experienced an average latency of just 1.05ms for read operations with 6.24ms for write operations. The 10GbE interface was able to keep its 4k average latency to 10.1ms for read operations with the all flash array and 0.85ms for write operations.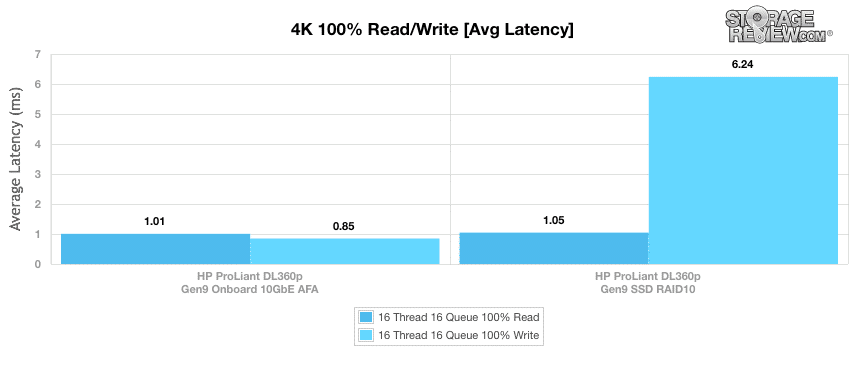 The DL360 Gen9 hit a maximum latency of 86.6ms during random 4k read operations, while the maximum latency for 4k write operations was only somewhat higher at 112.3ms. The DL360's 10GbE network interface kept its maximum 4k read latency to 60.9ms and maximum write latency to 28.4ms when we tested it with the all-flash array.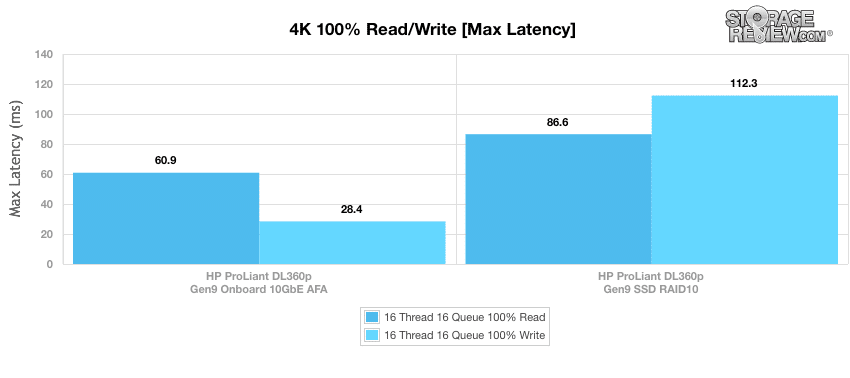 Standard deviation results reveal that there was a greater variation in latency results for 4k write operations with the RAID10 SSD volume, which is consistent with the 4k results up to here.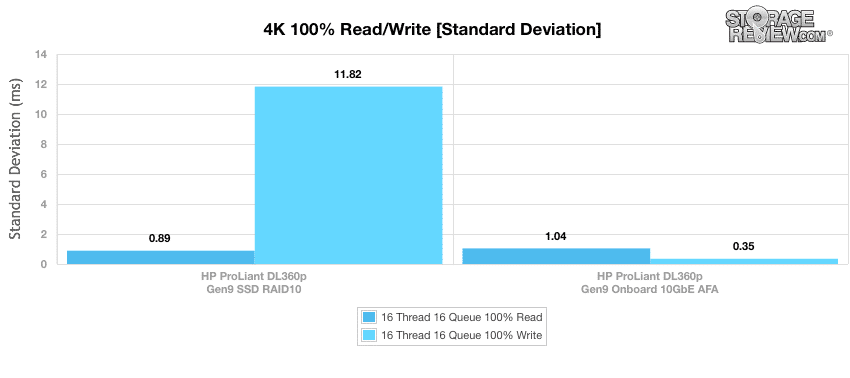 After reconditioning the server and all flash array for sequential 8k transfers, we measured throughput with a load of 16 threads and a queue depth of 16 for 100% read and 100% write operations. The DL360 Gen9's internal RAID10 storage hit 147,178IOPS for sequential read operations along with a score of 36,786IOPS for write operations. The 10GbE interface and the all flash array were able to reach 159,158IOPS for read operations and 217,183IOPS for write operations.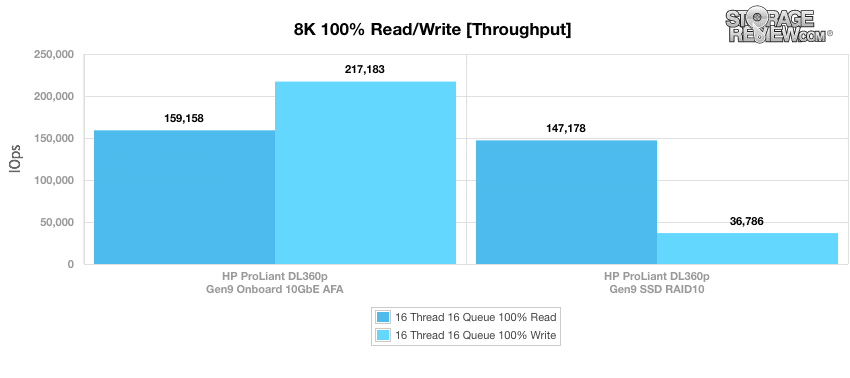 The next results are derived from a protocol composed of random 70% read operations and 30% write operations with an 8k workload across a range of thread and queue counts. The DL360 Gen9 with an internal RAID10 volume experienced no unexpectedly difficult combinations of thread count and queue depth. The RAID10 volume's throughput appears to be approaching its maximum at 75,147IOPS with a thread count of 16 and a queue depth of 8. Throughput to the all flash array via the 10GbE interface at 16 threads and a queue depth of 16 hits 218,801IOPS.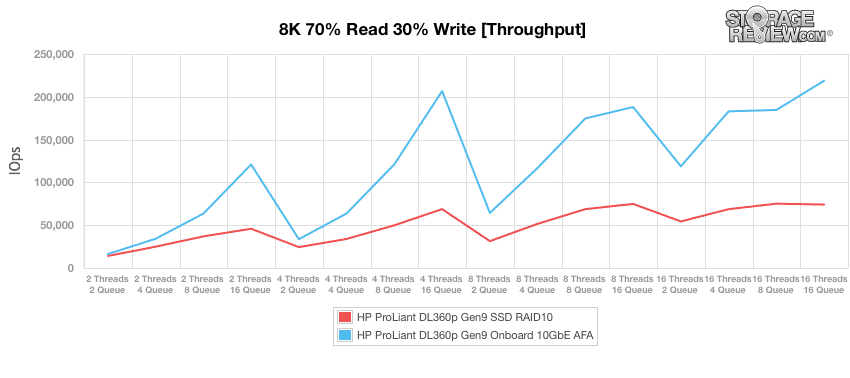 During the first few workload iterations of the 8k 70/30 benchmark, the 10GbE all flash array configuration kept its average latencies near the theoretical minimum of this configuration at approximately 0.23ms. Neither configuration experienced any unexpected trouble spots in terms of average latency during this protocol.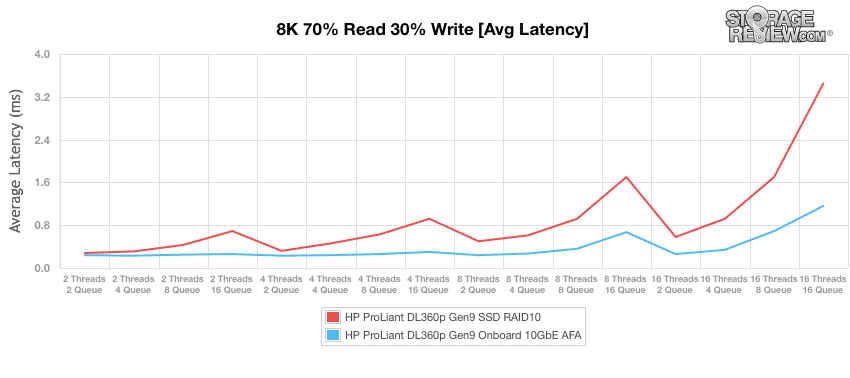 The internal RAID10 volume experienced a few notable maximum latency spikes for workloads with a heavy queue depth. During the heaviest 8k 70/30 workload the network interface benchmark hit a latency spike which interrupted that configuration's otherwise consistent maximum latency scores.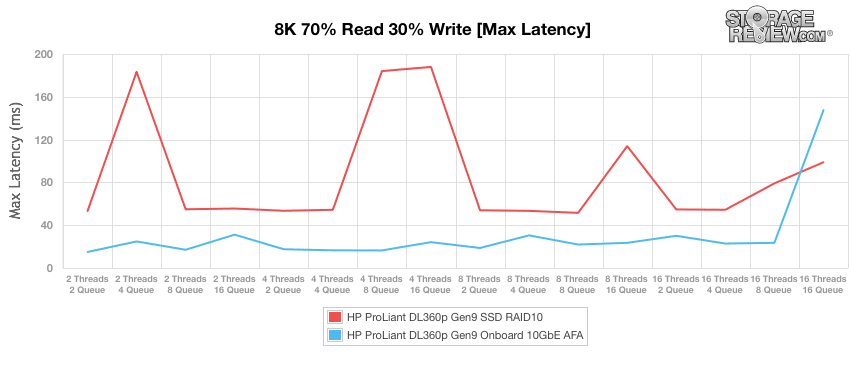 The standard deviation plots for the 8k 70/30 benchmark also reflect the larger maximum latencies experienced by the RAID10 configuration with large queues. Standard deviation calculations show how the RAID10 array has its most trouble producing consistent latency at the top end of the workloads.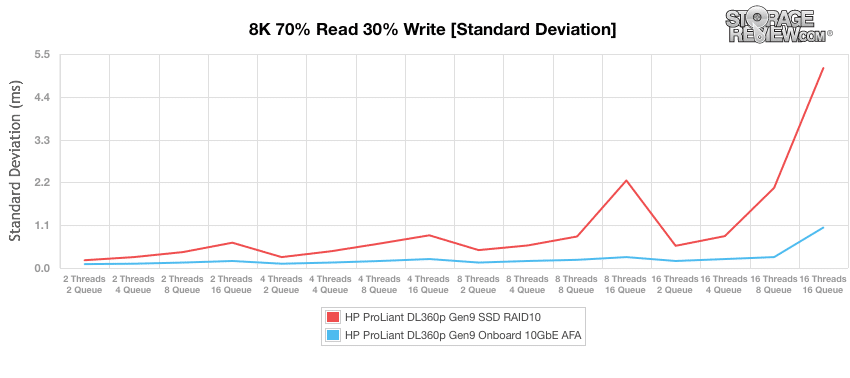 Our final synthetic benchmark is based on sequential 128k transfers with 100% read and 100% write operations. The ProLiant DL360 Gen9's internal RAID10 volume is able to sustain 1,678,541KB/s for read operations and 637,581KB/s for write operations. Our benchmark of the DL360 Gen9's optional dual-10GbE network interface maxed out the protocol at 2,311,475KB/s for read operations and 2,310,042KB/s for write operations.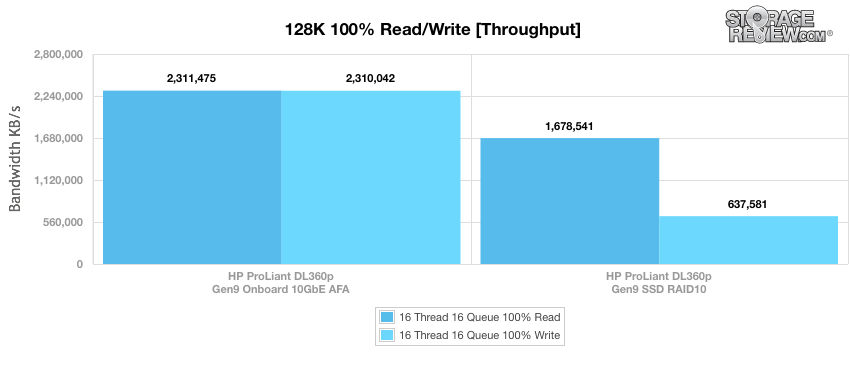 Conclusion
The HP ProLiant DL360 Gen9 has the engineering to serve as a useful component in a converged enterprise or data center architecture in conjunction with HP's OneView platform and the company's other innovations in management that makes coordinating hundreds or thousands of servers easy. For those with more modest computing goals, the DL360 Gen9 has the storage density and compute power to serve as a flexible and powerful addition to a variety of environments. HP has embraced the core advancements in technology with the DL300 family, including Intel's latest chipset, DDR4 DRAM, 10GbE and SAS3 drive support. In our case the server is paired with 2.5" SSDs, though the DL360 could be used with four 3.5" drives instead if capacity over performance is preferred. Overall, there's nothing revolutionary about the DL300 family, but there's a reason HP has shipped more servers than anyone else, and with this update HP continues to deliver core computing functionality that addresses the concerns of an overwhelming majority of the market.
In our configuration with five "legacy" SanDisk Pliant-based SAS2 SLC-based SSDs, we saw what we'd expect in regards to proven and stable performance. In addition to strong performance from its internal storage, the availability of high performance 10GbE interfaces means that the DL360 Gen9 can be placed in front of high-speed storage arrays in order to drive huge IO with minimal network-induced latency and fewer cables. In many installations where the DL360 will find itself, load generation against performance storage will be a popular use case. In our testing we paired the DL360 Gen9 with a Windows Server 2012 R2-based all flash array and saw numbers that easily saturated the twin-10GbE connectivity. We drove strong mixed workload I/O, topping 218kIOPS 8k 70/30 random, as well as over 2.3GB/s large-block sequential. Since this leveraged the internal FlexibleLOM slot, we were able to leave all of the additional PCIe slots open for future expansion.
The revamped Gen9 ProLiant family continues to be the Steady Eddie of servers. HP took all of what's new, applied the features across the family and paused there. While we've seen other server vendors getting creative with storage density in 1U and 2U form factors, HP is playing a larger numbers game, providing their buyers with exactly what they're requesting. While others are putting emerging technology to work in some cases, HP's stance is more pragmatic; when there's a large enough calling for new tech, they'll put it in. For now, they're banking on a solid history of build quality, management and cost structure to keep them ahead of the crowd in the core server business.
Pros
Dual-port 10GbE network option provides high-speed network connectivity ideal for diving high performance storage arrays
A broad range of management choices inside and outside the HP management ecosystem
Improved storage options including support for SAS3 SSDs
Cons
Support contract required for long-term non-critical software/BIOS updates
The Bottom Line
The HP ProLiant DL360 Gen9 offers data centers that are driven by dense computing a 1U server that builds on HP's server pedigree and delivers gains in both performance and power efficiency over the prior Gen8 family.
HP ProLiant DL360 Gen9 Product Page