The EnGenius ECW336 is the newest addition to the company's line of access points. The AP brings support for WiFi 6E and easy management via a web browser or mobile app.
The EnGenius ECW336 is the newest addition to the company's line of access points. The AP brings support for WiFi 6E and easy management via a web browser or mobile app.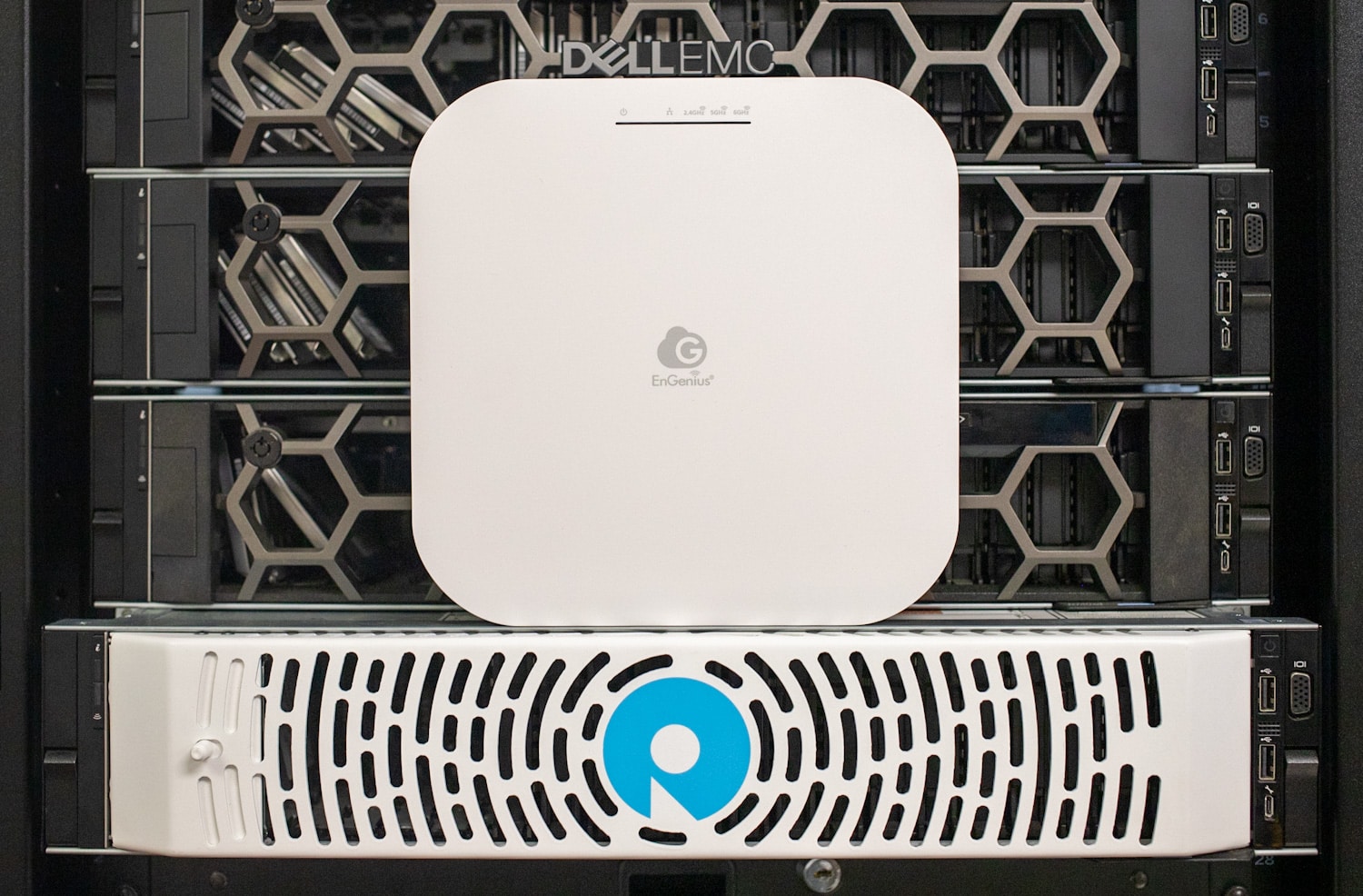 This access point supports up to 8.4Gbps using 2.4 GHz, 5GHz, and the newly-released 6GHz bandwidth. It comes equipped with a Qualcomm Networking Pro 1210 Platform. It also comes with a PoE 5Gbps RJ-45 Ethernet Port, a DC jack, and a reset button. The access point also supports up to eight SSID connections.
The EnGenius ECW336 is ideal for expanding WiFi coverage in large offices, retail, hospitals, or other commercial environments.
You can order the ECW336 for $699 on Amazon.
EnGenius ECW336 Specifications
Category
Description
Standards

IEEE 802.11ax on 2.4 GHz
IEEE 802.11ax on 5 GHz
IEEE 802.11ax on 6 GHz
(Backward compatible with 802.11b/g/n/ac)

Processor
Qualcomm® Networking Pro 1210 Platform
Antenna

4 x 2.4 GHz: 5 dBi
4 x 5 GHz: 6 dBi
4 x 6 GHz: 5 dBi

Physical Interface

1 x 10/100/1000/2500/5000 BASE-T, RJ-45 Ethernet Port
1 x DC Jack
1 x Reset Button

LED Indicators

1 x Power
1 x LAN
1 x 2.4 GHz
1 x 5 GHz
1 x 6 GHz

Power Source

Power-over-Ethernet: 802.3at Input
12VDC / 2A Power Adapter (Not Included)

Maximum Power Consumption
22.5W
Wireless & Radio Specifications

Operating Frequency: Dual-Radio Concurrent 2.4 GHz, 5 GHz, & 6 GHz
Operation Modes: AP, Mesh
Frequency Radio:

2.4 GHz: 2400 MHz ~ 2835 GHz
5 GHz: 5150 MHz ~ 5250 MHz, 5250 MHz ~ 5350 MHz, 5470 MHz ~ 5725 MHz, 5725 MHz ~ 5850 MHz
6 GHz: 5.925GHz ~ 6.425GHz, 6.425GHz ~ 6.525GHz, 6.525GHz ~ 6.875GHz, .6875GHz ~ 7.125GHz

Transmit Power:

Up to 23 dBm on 2.4 GHz
Up to 23 dBm on 5 GHz
Up to 23 dBm on 6 GHz
(Maximum power is limited by regulatory domain)

Tx Beamforming (TxBF): Increasing signal reliability and transmitting distance.
Radio Chains/Spatial Stream: 4×4:4
Supported Data Rates (Mbps):

802.11ax:

6 GHz: 18 to 2400 (MCS0 to MSC11, NSS = 1 to 4)
5 GHz: 9 to 1148 (MCS0 to MCS11, NSS = 1 to 4)

802.11ac: 6.5 to 1733 Mbps (MCS0 to MCS9, NSS = 1 to 4)
802.11n: 6.5 to 600 Mbps (MCS0 to MCS15)
802.11a/g: 6, 9, 12, 18, 36, 48, 54
802.11b: 1, 2, 5.5, 11

Management

Multiple BSSID
8 SSIDs for 2.4GHz, 5GHz, & 6 GHz radios
VLAN Tagging
Supports 802.1q SSID-to-VLAN Tagging
Cross-Band VLAN Pass-Through
Management VLAN
Spanning Tree
Supports 802.1d Spanning Tree Protocol
QoS (Quality of Service)
IEEE 802.11e compliant
WMM

Wireless Security

WPA3 Enterprise
WPA3-PSK (SAE)
WPA3/WPA2-PSK Mixed
WPA2 Enterprise
WPA2 AES-PSK
Hide SSID in Beacons
MAC Address Filtering, up to256 MACs per SSID
Wireless STA (Client) Connected List
SSH Tunnel
Client Isolation
L2 Isolation

Environment & Physical

Temperature Range: Operating: 32ºF~104ºF (0ºC~40ºC)
Humidity (non-condensing): Operating: 90% or less

Dimensions & Weights
ECW336 Device
Weight: 1.34 lbs. (607 g)
Length: 8.27″ (210 mm)
Width: 8.27″ (210 mm)
Height: 1.31″ (33.2 mm)
Warranty
2 Year
EnGenius ECW336 Design and Build
The ECW336 seamlessly attaches to the ceiling of homes or businesses, mostly out of sight. The device has a clean plastic and metal build which blends in with most environments.
The front side has a neat white plastic cover with a small EnGenius logo. The front also has five indicator lights, four of which are blue and indicate the bands are in order, and one light for the power.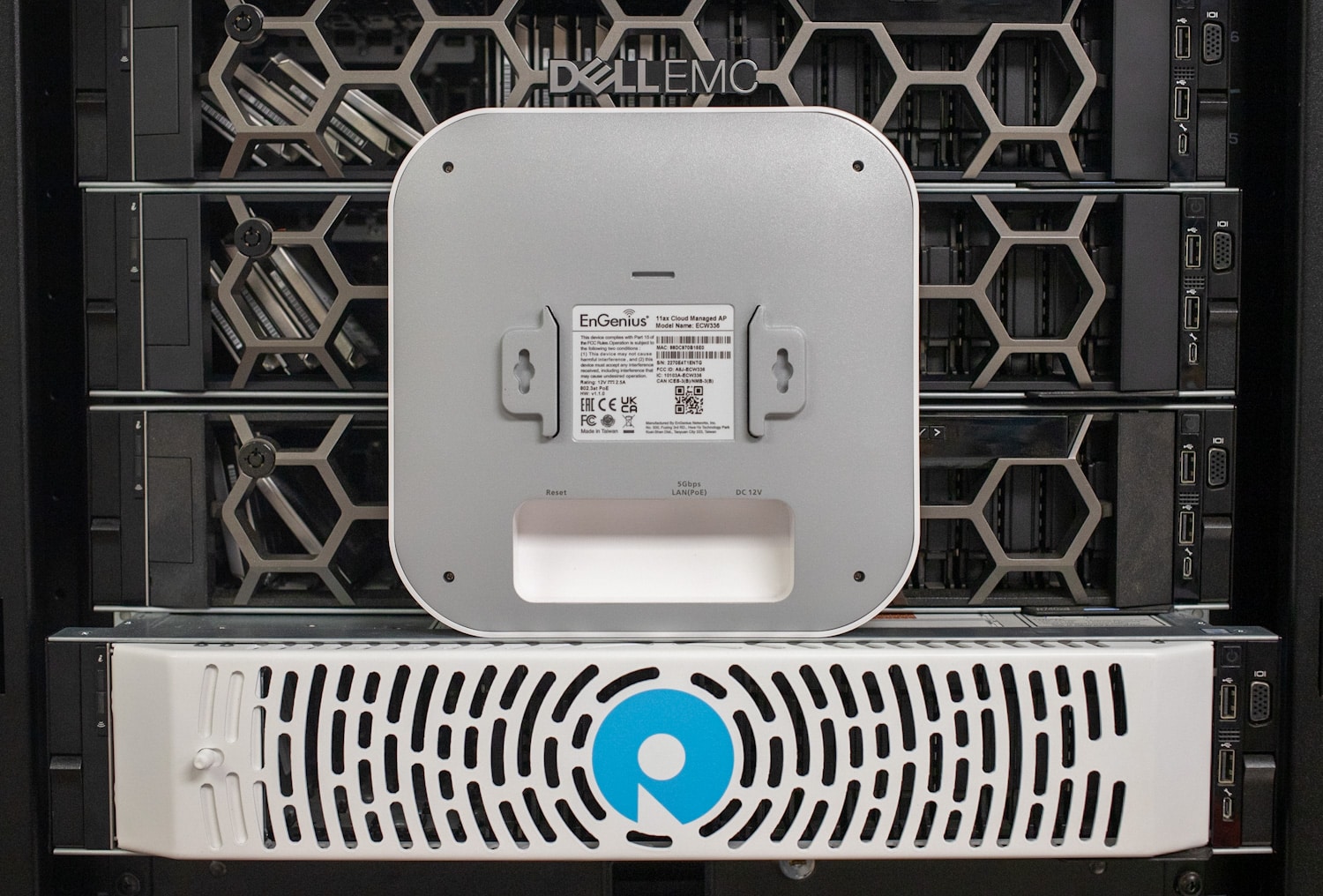 The backside has an RJ-45 Ethernet Port, a reset button, and a 12V DC jack. Also on the back are the ceiling mounts, and useful information about the access point.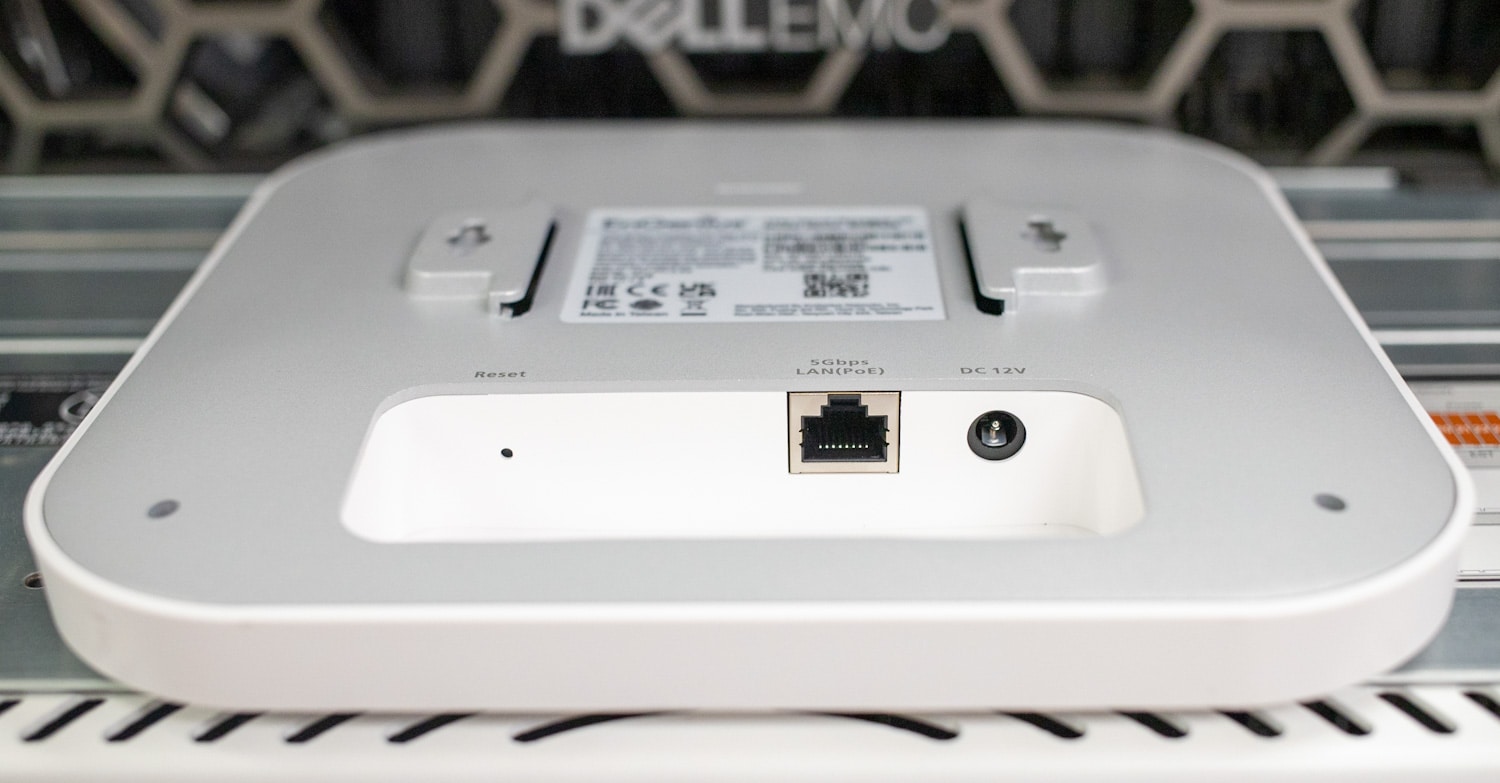 EnGenius Mobile App Management
The ECW336 Cloud To-Go app is a large selling point for this product. With the app, users rarely have to fiddle with the access point itself. Cloud To-Go is an umbrella app that is compatible with all new EnGenius products, meaning users can do everything in one place. The app is easy and quick to install. All users have to do is create a username and password to log in.
Once logged in, users will be brought to the home screen of the app. Clicking on network will allow the user to see all registered EnGenius devices.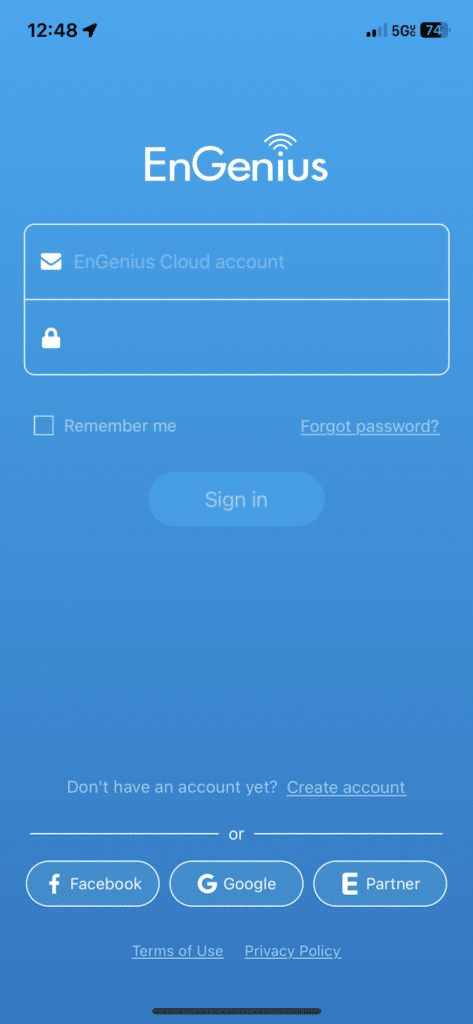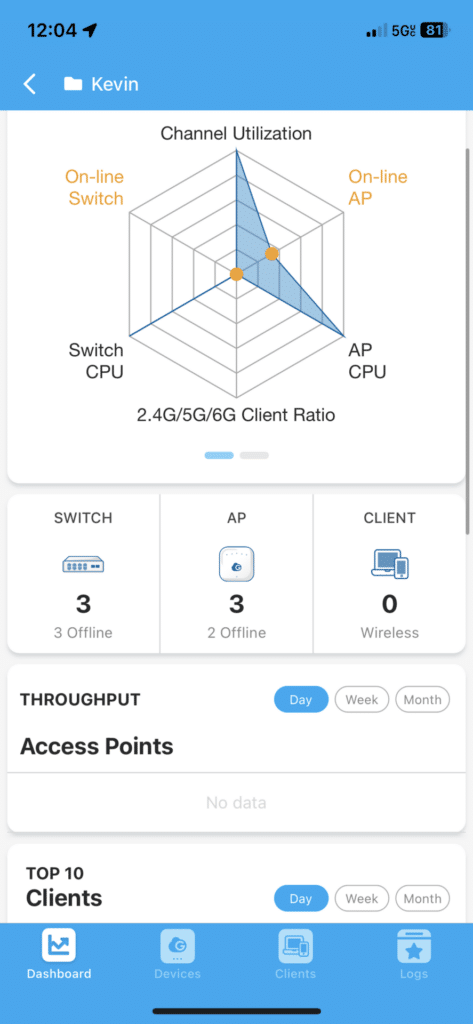 From there, clicking on the devices tab allows the user to manage each device individually. Keep in mind that this tab groups all of your gateways, switches, and APs separately. Selecting the ECW336, we are first given lots of useful information about the device such as the model number and serial number. Under this, the SSID list for the user's devices is listed. These can be further managed by clicking on each connection.
Scrolling down, we can find other information such as the radio, IP addresses, and tools. The user can see important information such as the logs and statistics of the access point. There is also a reboot device button in this section.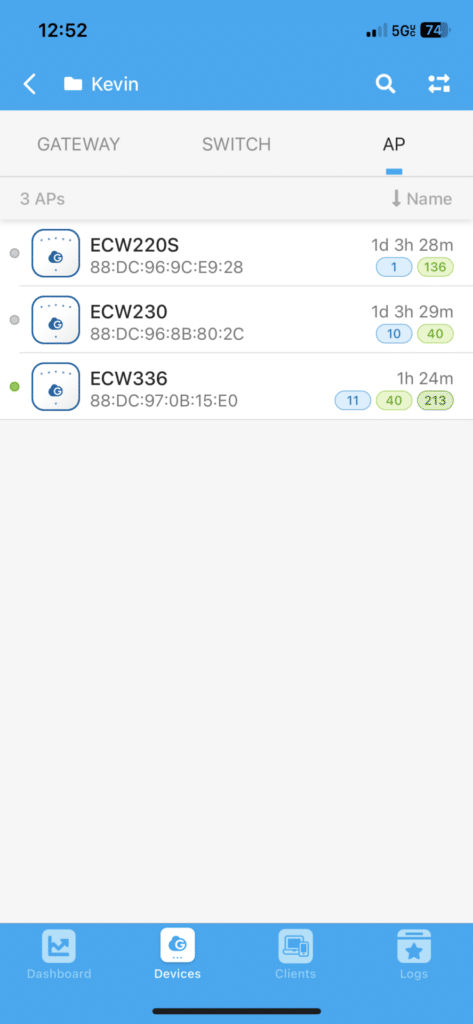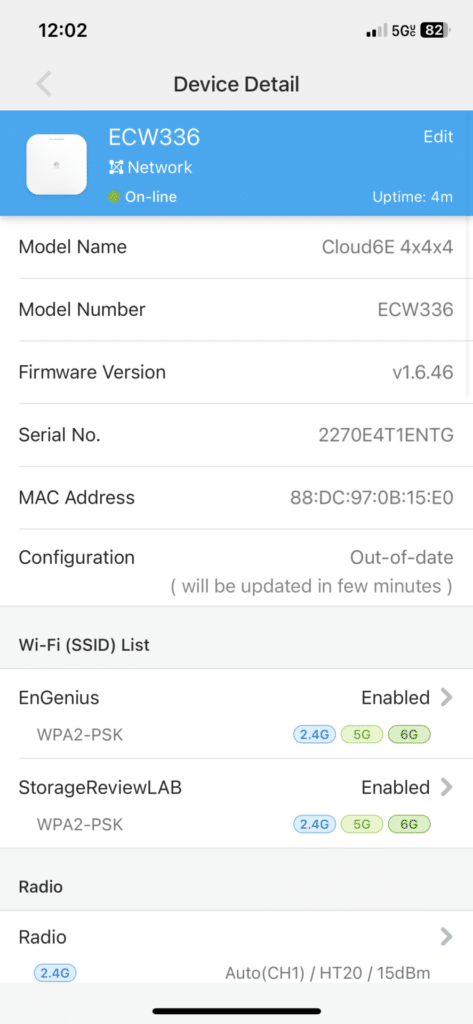 EnGenius Cloud Network Management
Cloud network management is accessed via the web. Like the app, it is easy to use and has a similar layout.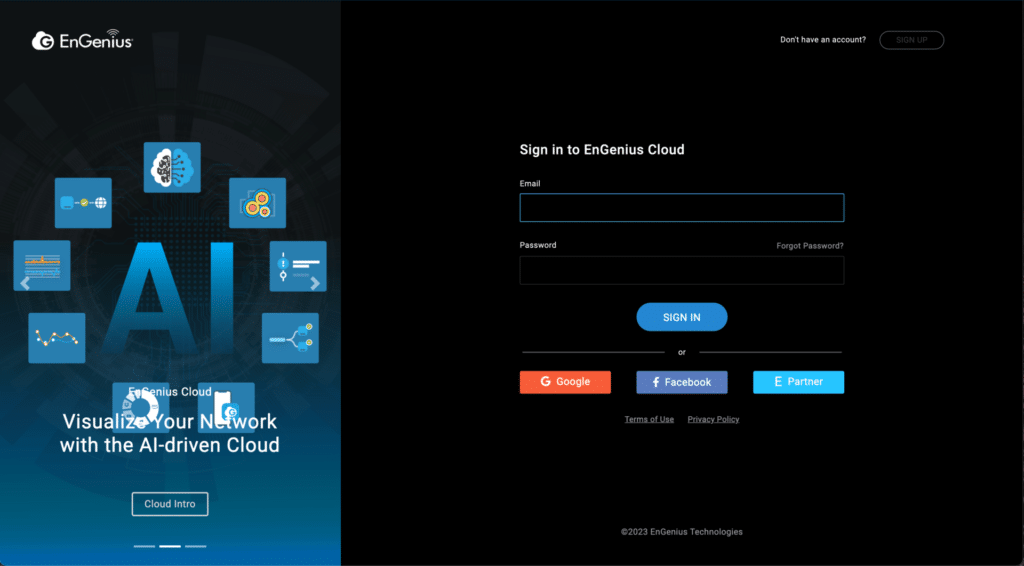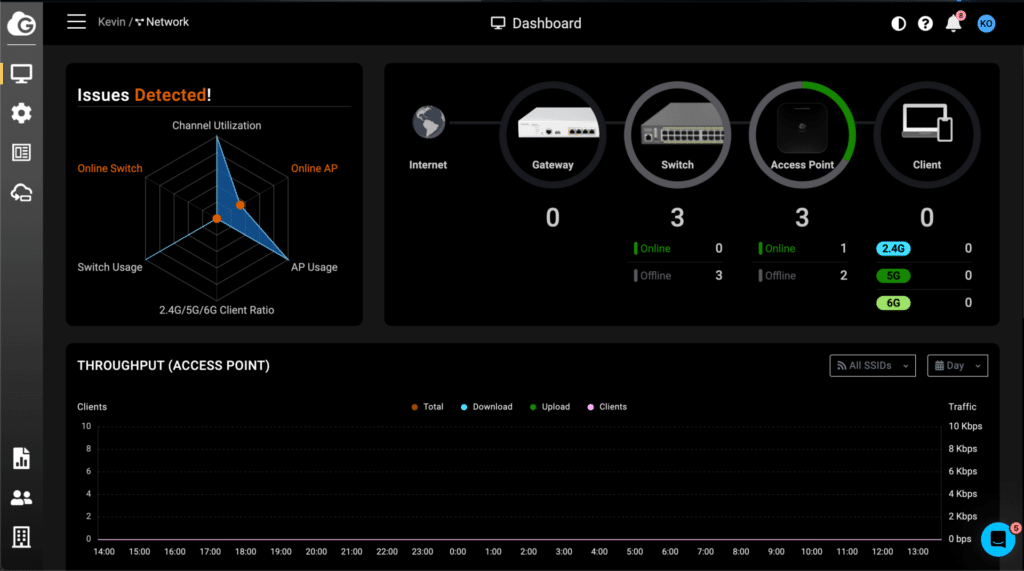 Once again, users can access their list of EnGenius devices. Clicking on each device will show more details on each system just like the app.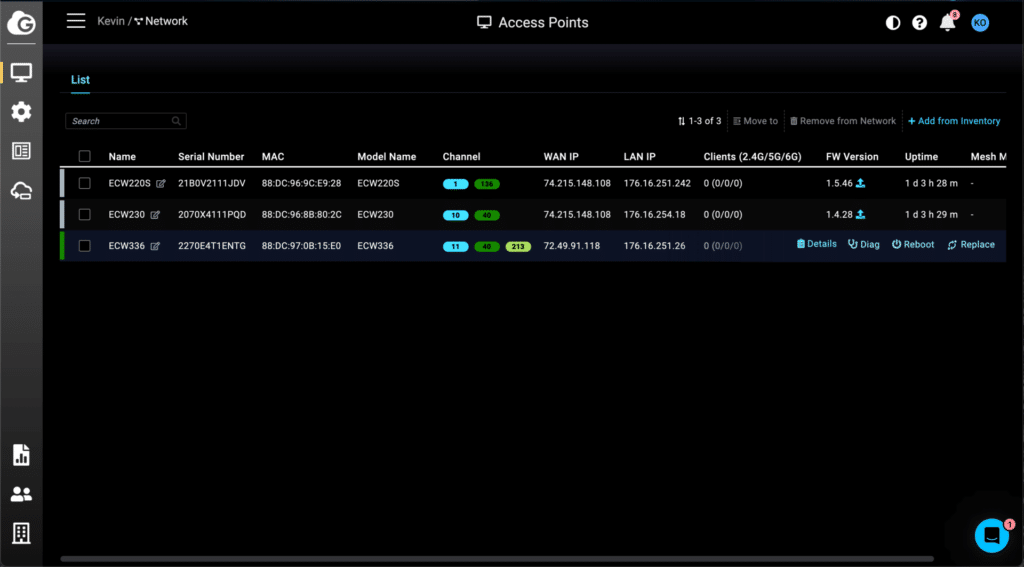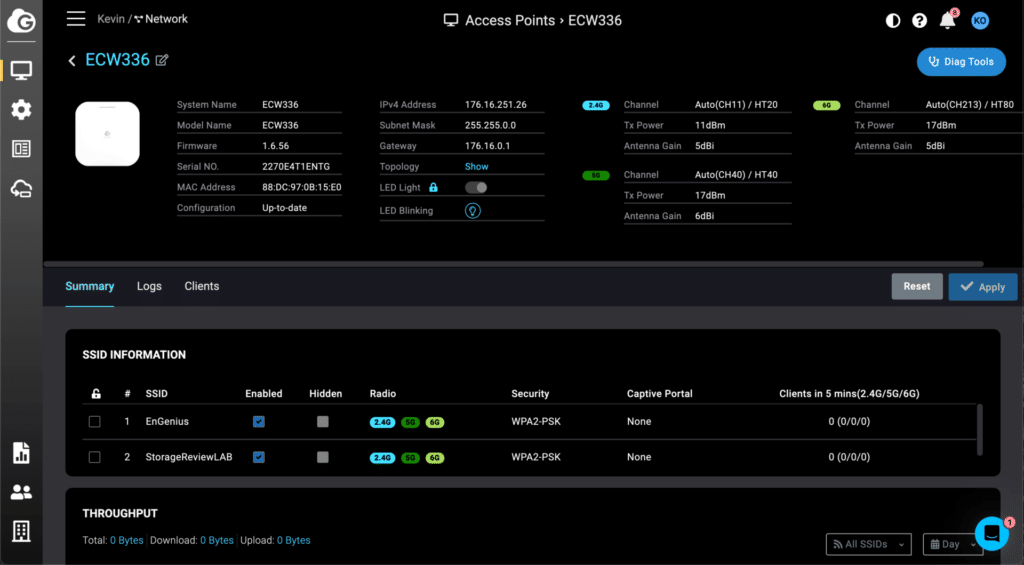 Both options provide an easy way for the user to access their EnGenius systems.
Conclusion
The EnGenius ECW336 is a powerful access point meant for high-tech professional environments. The new addition of 6E makes it perfect for businesses that need higher speeds in the workplace. Whether it is employees or interactions with customers, speed makes a huge difference in everyday processes, especially with modern 6E-enabled laptops and other devices.
Something we liked about the access point was its ease of use. Both the app and the web browser cloud network management were very straightforward. I have confidence that people who have even moderate knowledge regarding access points would do pretty well with the EnGenius Cloud Network.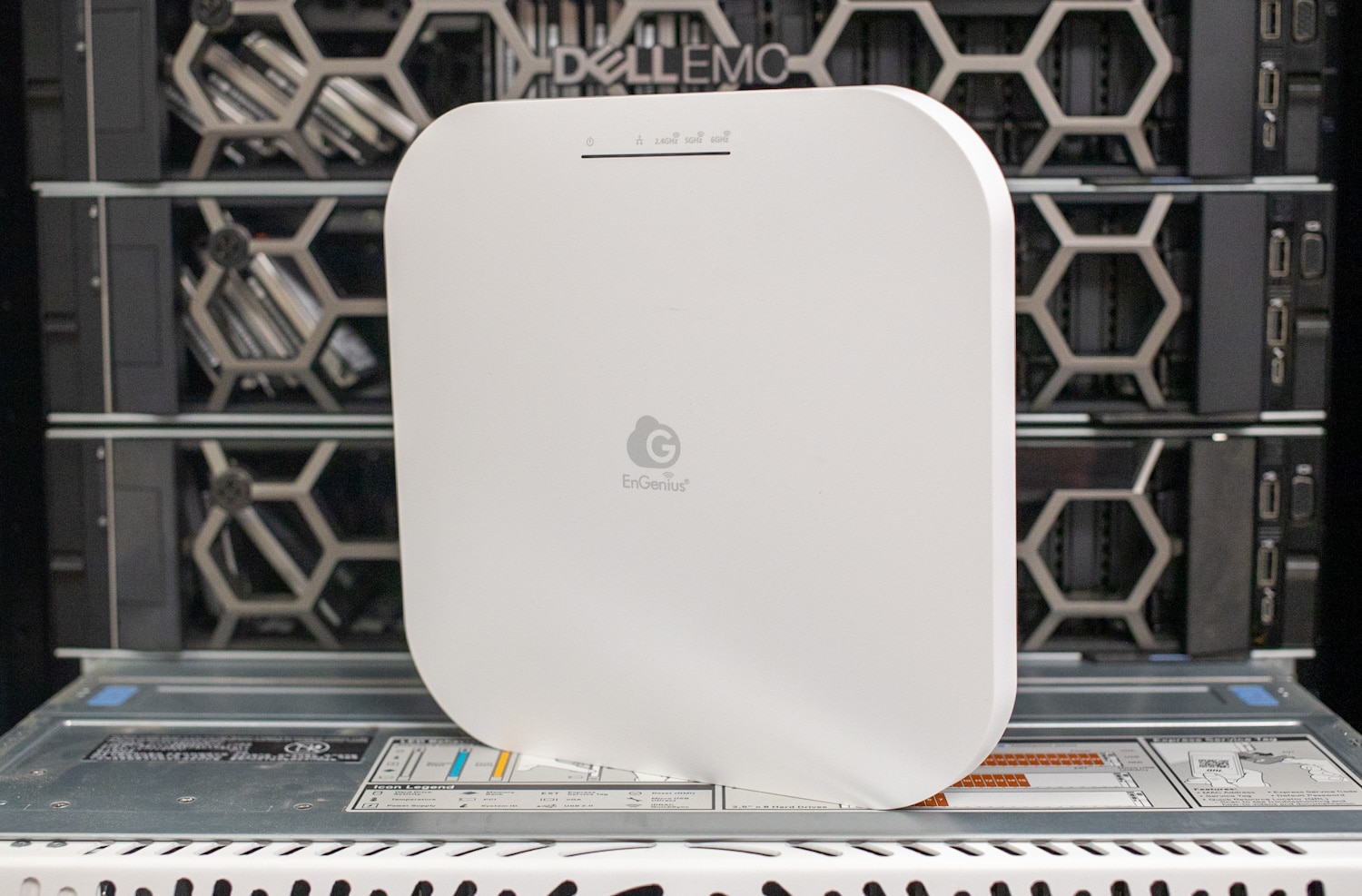 This does come at a cost, however, since these APs go for $700 each in retail. To be fair though, some competitive 6E APs top $1000 looking at CDW. Ultimately it comes down to a cost-benefit analysis depending on what the company needs. For those who want to take advantage of a faster AP and are already on an EnGenius platform, the ECW336 is compelling.
Engage with StorageReview
Newsletter | YouTube | Podcast iTunes/Spotify | Instagram | Twitter | TikTok | Discord | RSS Feed