It's Judgement day here in the lab, and today we have the GRECELL T-1000 Portable Power Station 1000W up for review and testing. The GRECELL T-1000 is a 1000W, 999Wh portable power station, touting quick AC charging, solar charging, and charging from your vehicle's 12v cigarette lighter style power outlet.
It's Judgement day here in the lab, and today we have the GRECELL T-1000 Portable Power Station 1000W up for review and testing. The GRECELL T-1000 is a 1000W, 999Wh portable power station, touting quick AC charging, solar charging, and charging from your vehicle's 12v cigarette lighter style power outlet.
With 1000w of power output, and 999Wh rated capacity it has the ability to power some serious equipment for short sprints or use it as a source to sip from all night long on a camping trip and top up during the day with solar.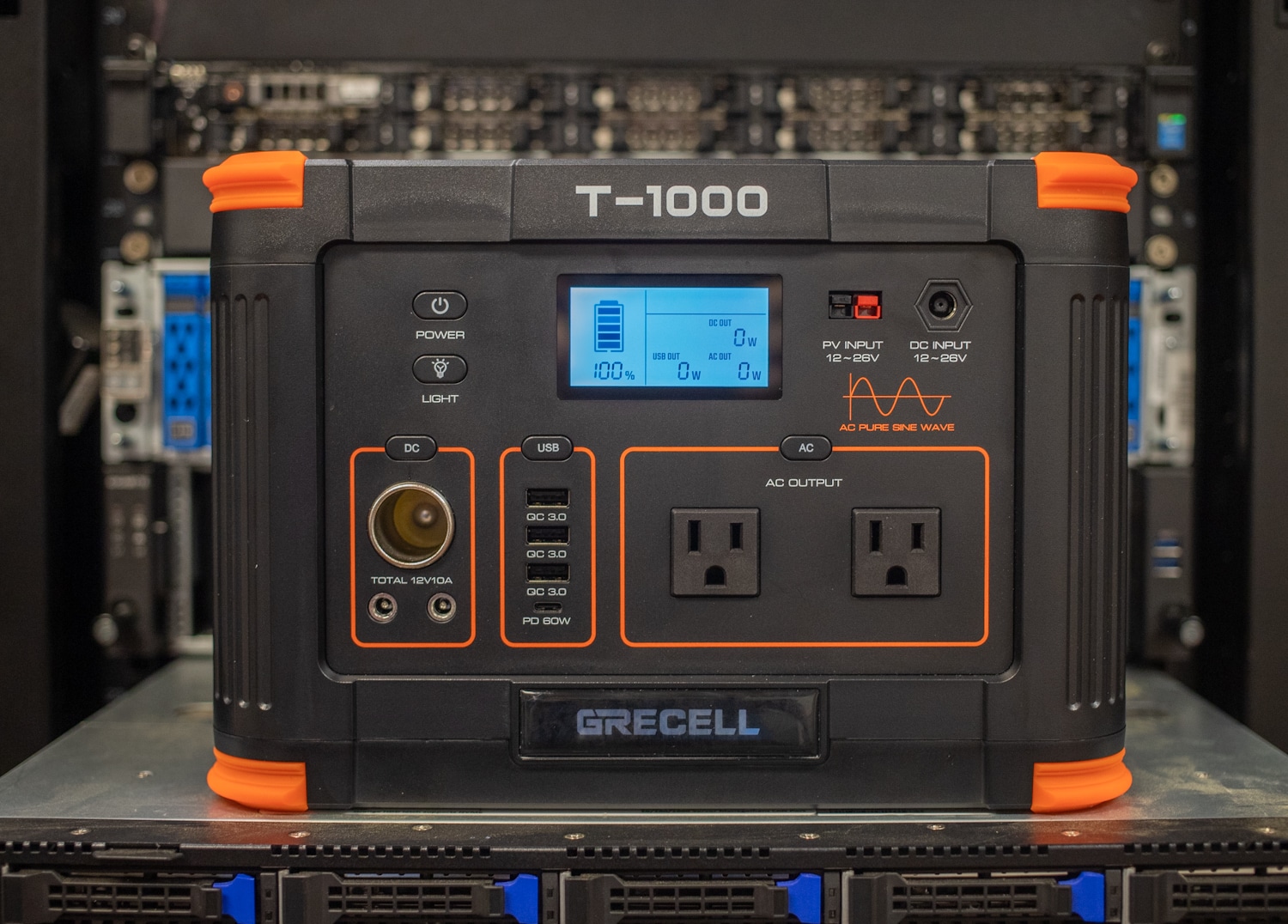 The GRECELL Portable Power Station 1000W is marketed for utilization in a short-term, off-grid scenario, or as a backup power supply for low-power devices at home in the event of power outages. Weighing in at 17 pounds for the power station alone, it has a decent power density for its size and weight due to the use of Lithium-Ion NCM battery technology, which is more energy dense than the other LiFePO4 packs that are on the market at the expense of longevity.
We were able to tell that they made use of durable lightweight plastics however we were unable to detect any mimetic polyalloys. Combining the power station with a pair of GRECELL's 100W solar panel offerings, you would be looking at the better part of 30 pounds of gear to haul out for continuous power on a long weekend if you were a conservative user during the day. It is boxy in design and will stack or pack nicely for a trip, and is guaranteed not to morph or travel back in time (sorry, we can't avoid The Terminator references).
You could use the T-1000 as a UPS at home in continuous inverting or passthrough mode. You would be limited to a constant draw of fewer than 150 watts, due to the external power adapter being rated at 150 watts. However, for something critical like maybe a modem and a router, it would be sufficient.
Included with the unit is a 150-watt AC Adapter for charging, a DC cigarette lighter style charging cable for charging in the car, and an MC4 to 7909 solar charging cable, all of these cables use the barrel jack type input. They also include a handy canvas zipper pouch for storing all of the accessories, something that is often overlooked by other manufacturers and is a much-appreciated inclusion.
This unit retails for $899 on Amazon. They do offer smaller T-500 and T-300 units in this family should your needs be a bit smaller.
GRECELL T-1000 Specifications
| | |
| --- | --- |
| Rated power: | 1000W (2000W peak) |
| Actual capacity: | 22.2V, 45Ah, 999Wh 270000mAh |
| Overload protection: | 1100±80W |
| AC output AC: | 110V±10%/60HZ |
| Output waveform: | pure sine wave |
| USB output: | QC3.0/18W |
| Type-C output: | PD60W |
| Cigarette lighter output: | 14V/8A |
| DC55*2.5 output: | 12V/10A |
| Wireless charging: | 10W |
| Charging input voltage: | 12-26V |
| Color: | black + orange |
And here is the specifications as reported on the bottom of the unit.
| | |
| --- | --- |
| Brand | GRECELL |
| Model | T-1000 |
| Battery Capacity | 22.2V, 45Ah, 999wh |
| DC Input | 12V-26V (Max 8.5A & Max 155W) |
| PV Input | 12V-26V (Max 8.5A&Max155W) |
| DC5525 Output | 2x 12V DC- 5A (each) total 10A |
| Car outlet output | 12V DC 10A |
| DC Output | DC5525 Output × 2 + car outlet output: total 10A |
| USB-A output | 5V DC-3.0A, 9V DC 2A, 12V =1.5A |
| USB-C output | 5V/9V/12V/15V/20V DC -3A (Max 60W) |
| Wireless charger | 9V DC 1.1A (10W) |
| AC output | 2x pure sine wave 110V~60Hz, total 1000W |
| Discharging temperature | 14 to 113°F (-10 to 45°C) |
| Charging temperature | 32 to 104°F (0 to 40°C) |
GRECELL T-1000 Build and Design
The unit has silicone-type rubber bumpers on all 8 corners, yielding a bit of impact protection, and slip prevention for smoother surfaces. The handle folds down flush and out of the way to allow unobstructed access to the wireless 10-watt charging pad at the top.
On the front you have a plethora of the standard ports and plugs you find on the market these days, with a notable exception of missing a LED lantern/light(more on this later). There are 2 AC output plugs rated at 110v 60hz pure sine wave, a Type-C USB rated at 60W and 3 Quick Charge 3.0 USB Type A plugs, an 8 amp 14v Cigarette Lighter port, and two DC5521 (5.5 x 2.5 mm) barrel jacks rated at 12v and sharing 10 amps between the two. Grecell advertises an "Upgraded BMS" Battery Management System, with overload, overcharge, and short-circuit protections.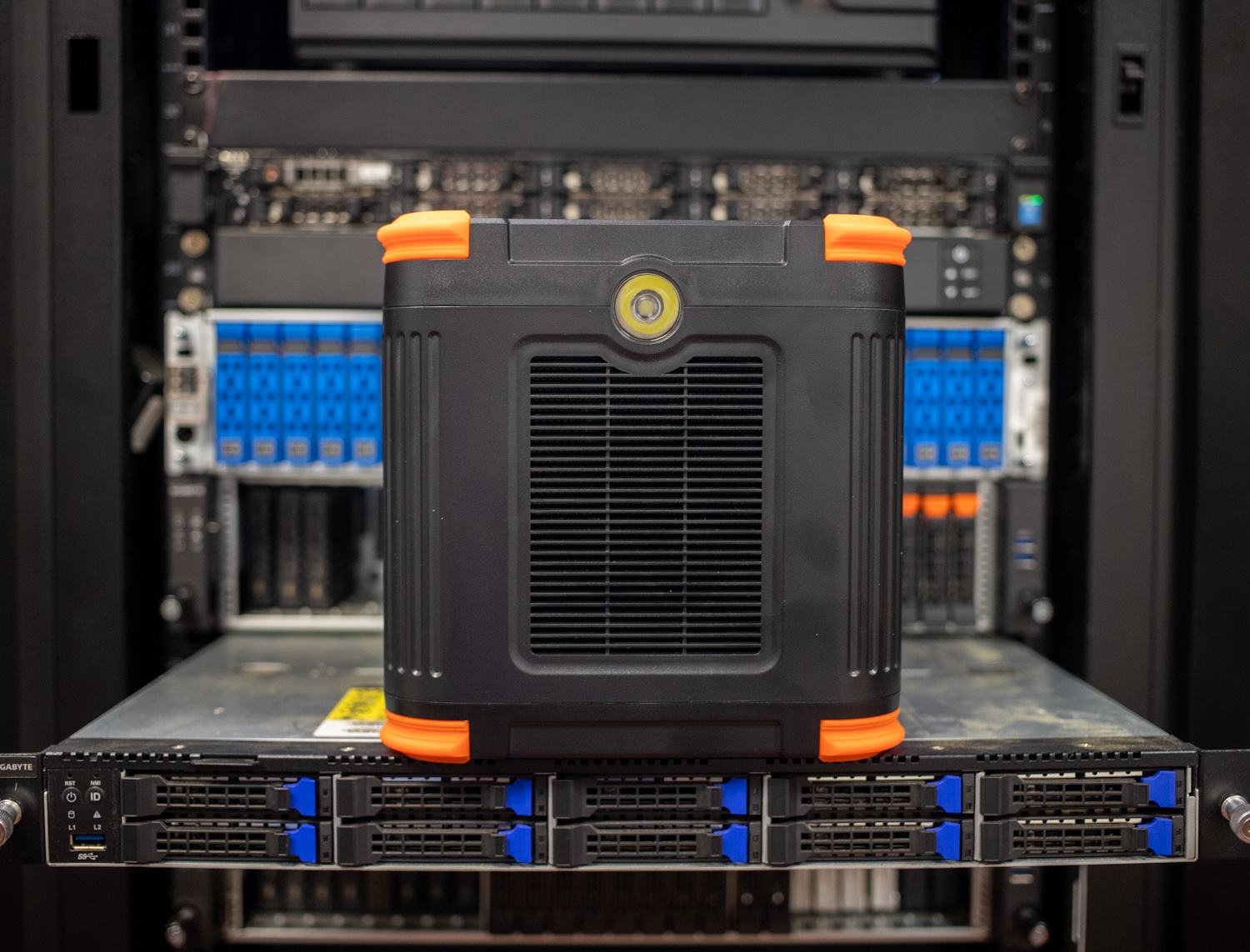 The backlit LCD Screen on the GRECELL T-1000 Portable Power Station 1000W is basic and includes no app control or other integrations, so all of your information will come from the screen. Handy if you are using it tabletop at camp, or on a nightstand, and limiting in that there are no alerts or remote control if you have it in places that may be distant or harder to get to. The screen shows you all of the relevant things, with a 5-segment Battery level display with percentage, indicators for the LED light, cooling fan, and overload warning. 
You also get data displayed on the wattage of Input, and Output of DC, USB, and AC power. There are a few tactile buttons to turn on the unit as a whole, and then each section independently, DC, USB, and AC. There is a button also for the light, which is conveniently on the left side of the unit, so it will not directly burn your retinas out when you are trying to plug in or unplug something, or simply looking to turn the light off after using it.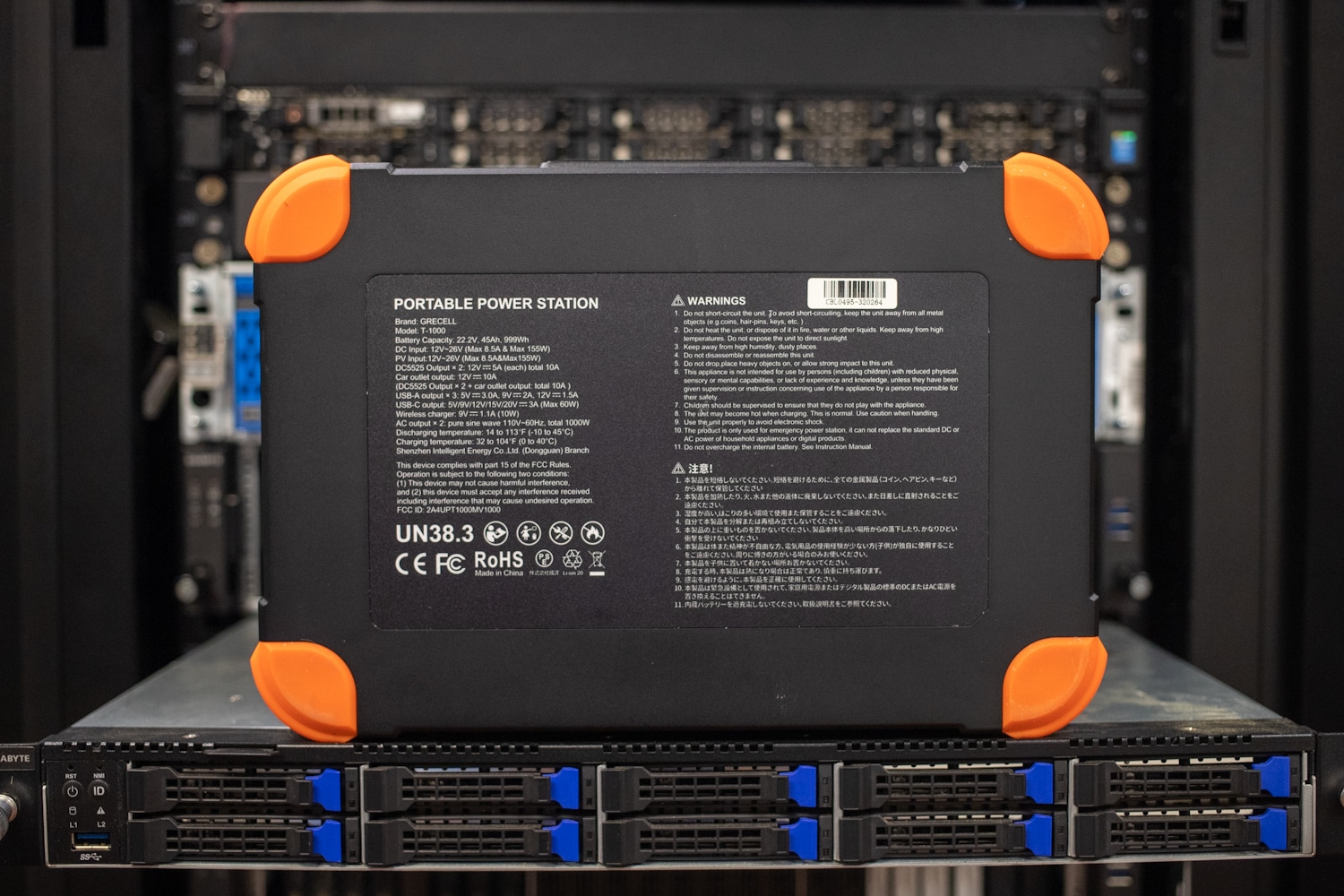 Around the bottom, you get a full spec sheet for all of your ratings of the unit as far as capacities, input and output voltages and currents, and the regulatory and warning copy.
Usage and Full Load Operation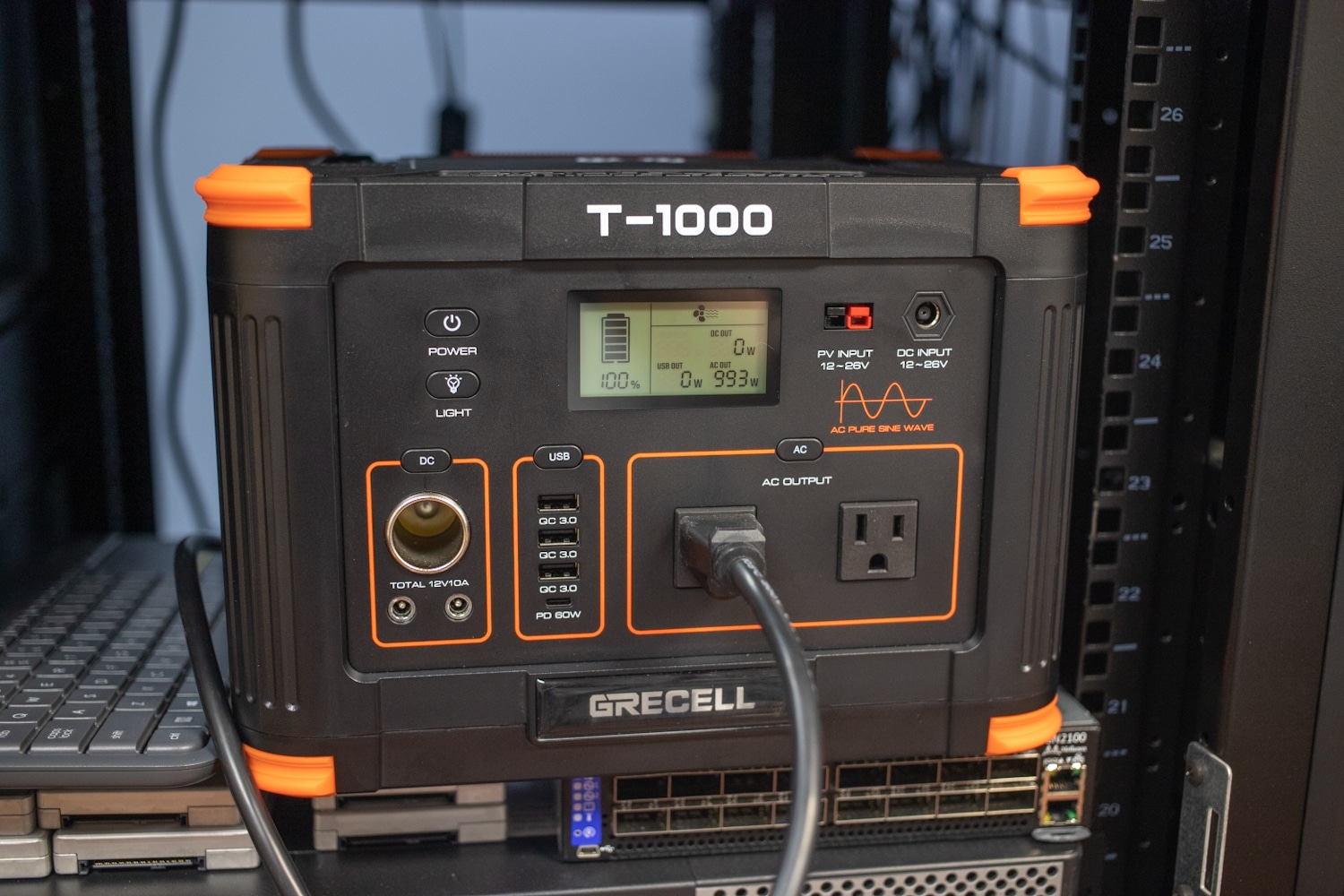 Bench testing in the lab, we were able to pull right up to the rated power from the T-1000. We were able to burst above 1000 watts, although this was limited to a shorter duration. After 10-15 seconds in the range above the T-1000's limits, it shut down the AC segment with its overload protection. So it was nice to see it had a solid buffer for spiking loads, even above the fractional second range.
To measure the battery capacity, we performed a full load discharge test after a charge to full capacity. With a 300-watt load supplied by a large fan, we were able to measure a total of 0.84kWh drawn from the Grecell T-1000, 84.1% of the rated 999Wh. It's expected to see some efficiency loss, but it performed to our expectations. Measuring the power to perform a full charge we measured 1.11kWh through our Kill-A-Watt.
Conclusion
The Grecell T-1000 Portable Power Station is just what the name suggests. It offers a basic power station experience, with a large 1000W inverter that can peak to 2000W under high loads, with a 999Wh battery. It does what it says it does, nothing more and nothing less.
All of the marketing and pictures that are advertised along with the device are representative of it, and the Grecell T-1000, for all intents and purposes can be taken for its word. It has no fancy App gimmicks to be life-cycled out of existence, no obscene overstatement of capacity or specifications, and no promises to be something revolutionary.
In our tests, we didn't run into issues during charging or discharging processes and even enjoyed the small add-ons like the included accessory bag. Overall the Grecell T-1000 performed well in our lab, offering a very no-frills experience.
T-1000 Power Station at Amazon
Engage with StorageReview
Newsletter | YouTube | Podcast iTunes/Spotify | Instagram | Twitter | TikTok | RSS Feed