Verge.io was borne from YottaByte, founded in 2010 as a replacement for on-premises infrastructure. Eventually, YottaByte rebranded to Verge.io to deliver software-defined data center solutions running on commodity hardware, providing server virtualization for integrated storage, networking, and compute.
Verge.io was borne from YottaByte, founded in 2010 as a replacement for on-premises infrastructure. Eventually, YottaByte rebranded to Verge.io to deliver software-defined data center solutions running on commodity hardware, providing server virtualization for integrated storage, networking, and compute.
We were introduced to Vergio.io via Leostream, which has found the Vergio.io platform to be an excellent fit for VDI solutions. Coming across a new-to-us SDS platform isn't entirely new, there's a lot going on in that market segment. But the depth to which Vergio.io delivers makes them potentially one of the most interesting platforms that not enough people have heard of.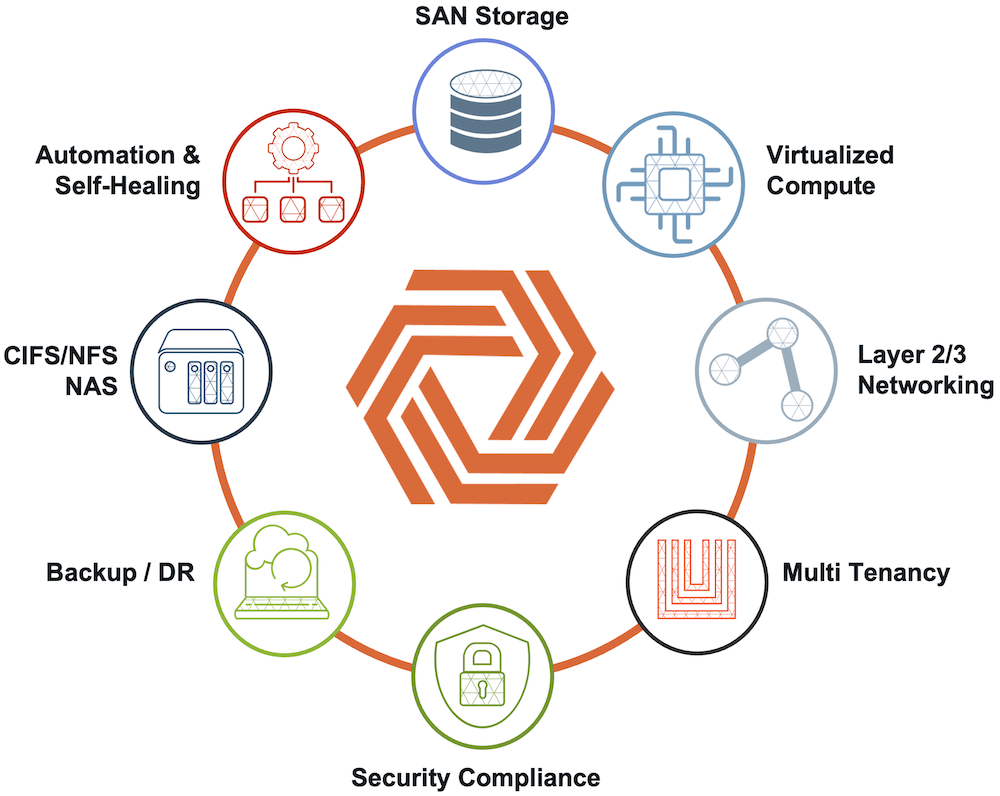 What is Vergio.io?
Verge.io is a single piece of hyperconverged virtualization software that makes it easy to use existing resources to create secure multi-tenant private clouds. Verge.io virtualizes the components needed to run Windows and Linux workloads, and virtualizes compute, network, storage, and GPUs from bare metal servers allowing customers to use these resources to create multi-tenant nested data centers.
Verge.io key features include:
System
Multi-tenant/cluster/site platform
Create multiple virtual datacenters
Intuitive web-based dashboard
Recipe based automation
Monitoring, managing and alerting
Statistics & Accounting
Rest-like API
Storage
Scale-out vSAN
No 3rd party software required
Global inline deduplication
Corruption detection & correction
Dedupe-aware data replication
Automated health scanning
Multi-Tiered Storage Levels
Live maintenance software updates
256 Bit Encryption
Compute
Built-in hypervisor (QEMU/KVM)
Intel / AMD CPU support
Linux and Windows Guest Support
Live VM migration – zero downtime
Web-based machine management
Web-based VM Guest console
GPU and vGPU pass-through
Bare metal-like performance
Automated VM snapshot & retention
Network
Built-in web-based firewall
IPsec and WireGuard VPN
External/Internal network
NAT/PAT rules engine
Packet rate throttling
Real-time and historical metrics
BGP; OSPF; vLAN; vXLAN
DHCP/DNS server
IP address management
Authoritative DNS
Verge OS
Automatic non-disruptive updates
Secure OS Firmware
Automated install supports PXE
Linux based kernel
Hands-on with Verge.io
Our test environment included two Dell R740xd servers connected by a direct 100G link, eliminating any switches. The storage consisted of 4 960GB SAS SSDs per server. Following the installation and licensing, our goal was to kick the tires, create a couple of VMs, perform ease-of-use feature tests, run some networking tests and check out the multi-tenancy features. We may complete a full performance review in the future, the goal here was to get familiar with the software on gear we had readily available in the lab. The setup was completed in tandem with the Verge.io team through a setup chat.
Recipes
A beneficial feature of the Verge.io system is something referred to as recipes. The Verge.io Recipe Engine can be used to streamline and simplify VM deployments, allowing automation of tasks such as resource allocation, host and application configuration, network assignments, IP addressing, licensing, etc.
Of course, creating a VM Recipe is just as simple as the other parts of this system. Recipes can be configured for Machines, Tenants, and Catalogs.
Management via a single dashboard
Managing the virtualized environment is just as simple as the installation process. Once the software is installed and the environment configured, users can access a single dashboard to navigate the system.
The main dashboard provides access to all information relating to the virtualized system. The home screen is the main dashboard for the Verge.io cloud. From there, it is simple to navigate to:
Overall statistical information for the Verge.io Cloud
Main system logs
A Navigation menu to access subsections of the application
Quick links within the Dashboard section to drill down to sub-sections for more details
Breadcrumbs at the top of the screen with a history of sections visited (allows for quick access back to a previous section)
The Management Dashboard is very easy to understand. Each primary dashboard section takes the user to a list of specific topics related to the dashboard.
Below is the Verge.io Home Dashboard. From here, it is easy to navigate to storage, networks, machines, etc. Each subtopic can be accessed through the side panel or by clicking on the appropriate box along the top. There is a lot of information on this screen, providing everything you need to know from a top-level perspective. If required, clicking the verge.io icon at the top of the display will take the user back to the home dashboard.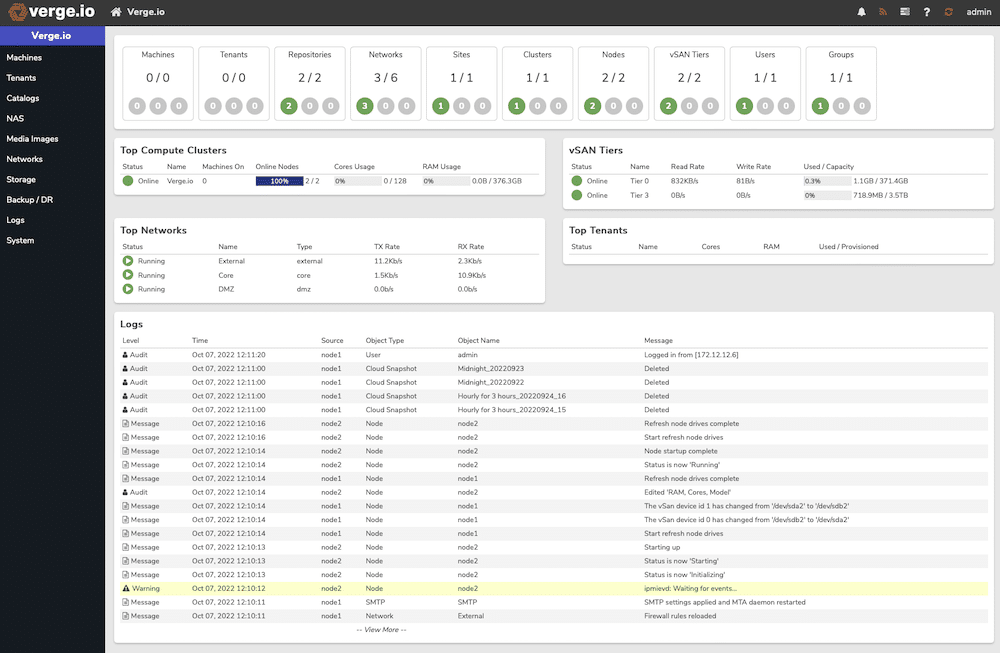 The System Dashboard display provides options to view system resources and performance and drills down into details for clusters, permissions, snapshot details, etc.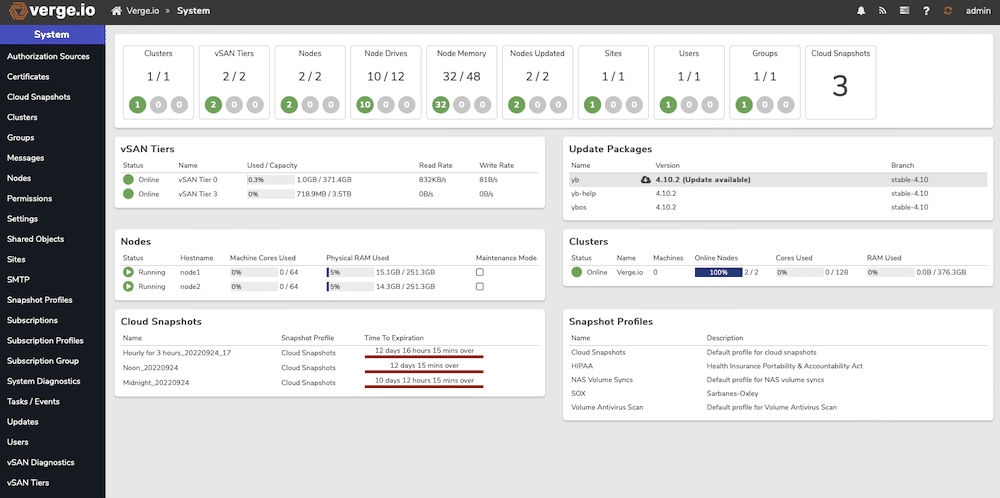 The Updates Dashboard is displayed from the System Dashboard. Here it is possible to check if any updates are pending or have already occurred.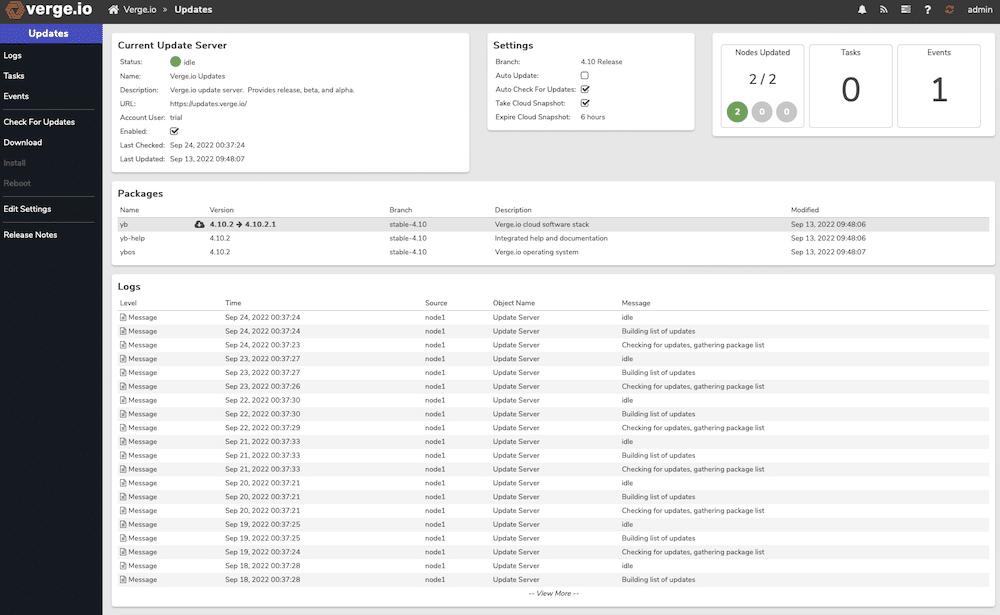 The Network Dashboard displays all networks, traffic, logs, and NIC performance. The side panel on the left will give a more granular detail for each topic, from IP addresses to permissions.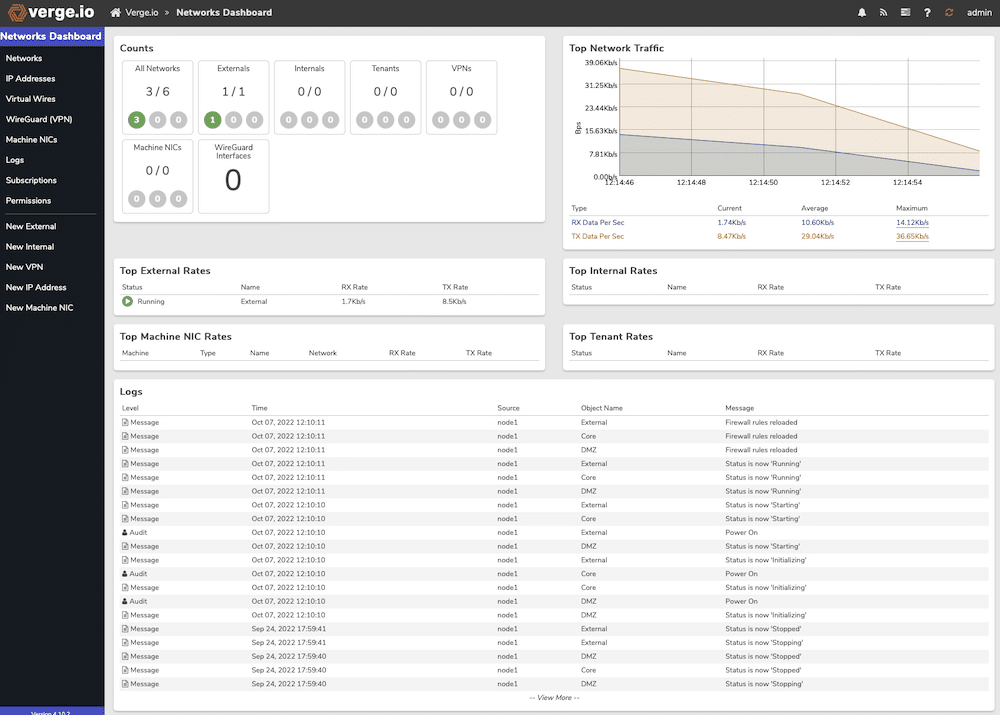 The Tenants dashboard shows nodes and snapshots. There is also an option to add a new Tenant, Tenant Node, and Tenant Recipe.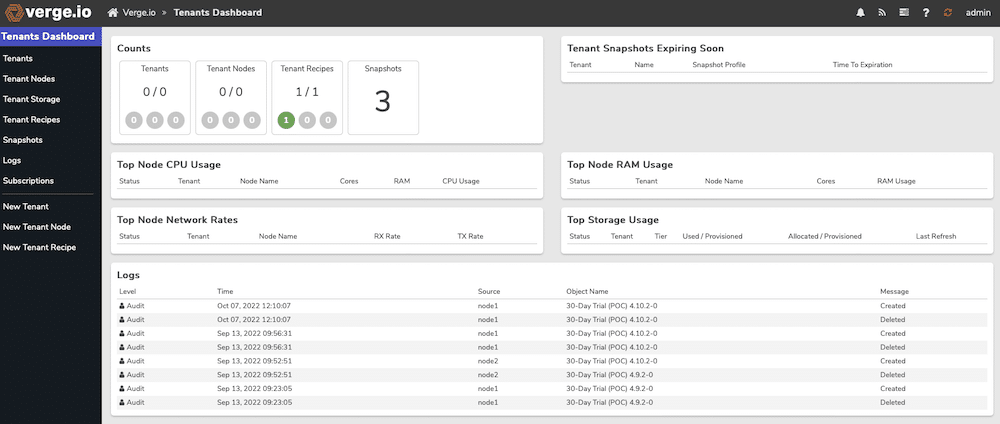 The NAS Dashboard details services, NFS systems, Volumes, etc.

The main Catalogs Dashboard displays a high-level overview of catalog usage. Selecting any options in the side panel will change the display to more specific content based on the selection. As with most other dashboards, it is possible to create new repositories, recipes, and catalogs.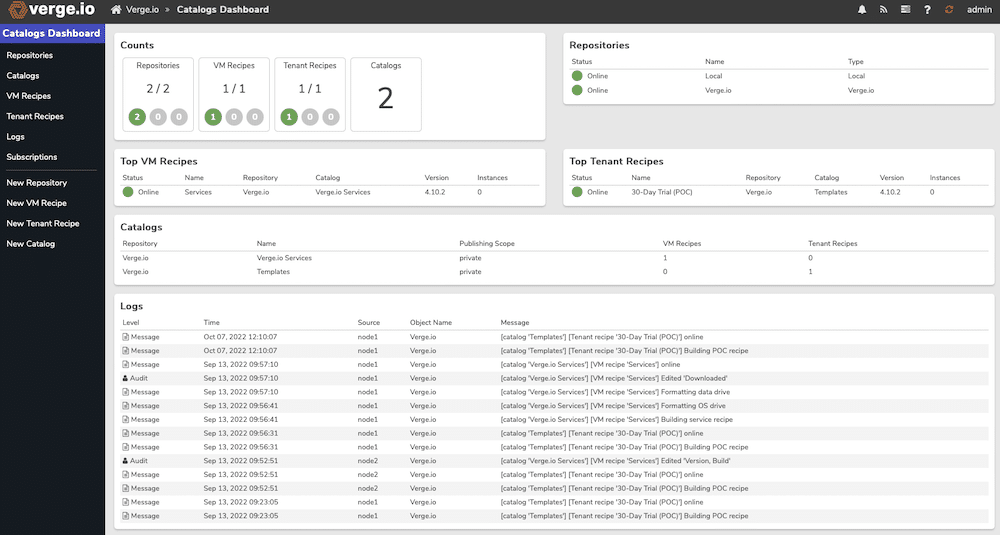 Final Thoughts
Verge.io has done an excellent job of creating an alternative to other virtualization environments. This is easy to install, is a single piece of software, and runs on commodity hardware. The website, verge.io, is packed with information, such as a Wiki with FAQs and a Knowledge Base. The support group posts training videos and updates for self-paced training.
Should you decide you would like to give Verge.io a try, they offer a trial version to play with, and they support you during the trial. That said, we'd like to see the trial a little more easily accessible, having access to a trial license without having to go through the sales process would be nice.
In terms of our experience, we set up a small sandbox on two servers just to see what Verge.io had to offer. Overall we found the installation process to be straightforward and the depth of features to be much more robust than we expected. Ultimately, many organizations are looking for alternatives, with uncertainty surrounding VMware's future plans, especially for smaller customers. We need to explore Verge.io further to investigate the feature set more deeply, but given our work to date, we feel like there's good reason to check it out, especially for service providers and others looking to explore their options.
Engage with StorageReview
Newsletter | YouTube | Podcast iTunes/Spotify | Instagram | Twitter | TikTok | RSS Feed