With the surge of remote work and an increasing reliance on tech-powered home setups, a seamless and reliable power supply has never been more vital. For those searching for a robust, versatile, and user-friendly energy solution, the Renogy LYCAN 5000 Power Box is worthy of attention. This energy storage system is meticulously engineered to provide backup power for emergencies, off-grid locations, and even daily usage.
With the surge of remote work and an increasing reliance on tech-powered home setups, a seamless and reliable power supply has never been more vital. For those searching for a robust, versatile, and user-friendly energy solution, the Renogy LYCAN 5000 Power Box is worthy of attention. This energy storage system is meticulously engineered to provide backup power for emergencies, off-grid locations, and even daily usage.
Renogy LYCAN 5000 – Stellar Build and Performance
Built with state-of-the-art Renogy LiFePO4 batteries, the LYCAN 5000 Power Box sports a robust construction that promises a lifespan of up to 4500 cycles. If used daily, this translates to almost ten years of dependable service without dropping below 80 percent capacity.
The build and design of the LYCAN 5000 Power Box is nothing less than extraordinary. It is the most robust and durable portable power station we've seen. While it may not be as mobile as other portable power stations on the market, the industrial design can be deployed in the open and take a beating from whatever weather is thrown at it. The case is powder-coated steel, and every input and output connection has a gasket. The design also allows for servicing and future upgrades, whereas other portable power stations have a finite lifespan. The breakers, inverter/charger, and battery assemblies within the metal chassis are all replaceable.
Regarding performance, the Renogy LYCAN 5000 Power Box punches well above its weight. With a rated voltage of 120VAC and a continuous output of 3500W—peaking at an impressive 7000W—this unit can easily power most home appliances, from refrigerators to high-powered computers. This could mean uninterrupted operations, a critical feature for businesses, especially when downtime can result in substantial financial losses.
Beyond the hard specs, the device's performance is further augmented by its pure sine wave technology, which provides AC output equivalent to grid power. This is a significant advantage for those running sensitive electronics, as it assures the longevity of your devices by delivering cleaner energy.
Renogy LYCAN 5000 – Fast Charging and Monitoring
The LYCAN 5000 features fast charging capability, allowing the battery to charge from 0 percent to 80 percent in just one hour when connected to solar panels and AC outlets. This makes it incredibly efficient for rapid deployment in emergency scenarios or for regular use. Real-time monitoring is facilitated through its built-in Renogy BT-2 Bluetooth Module, enabling users to keep track of the charging status via the DC Home app.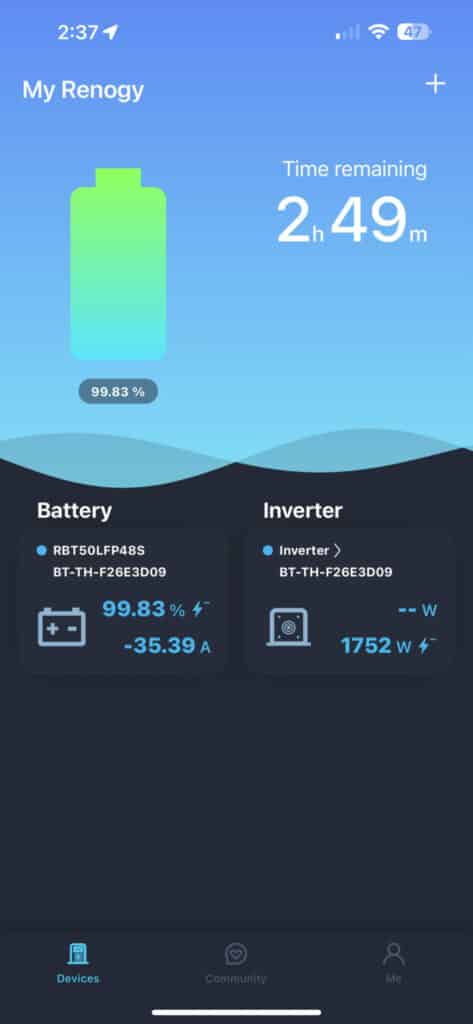 To enable its fast charging, the Renogy offers a 20A 120V input and works with solar arrays sized up to 4,400W. For most users, a large solar array will charge the Renogy 5000 faster than plugging into AC. This makes it optimal for off-grid locations as a primary use case.
RENOGY LYCAN
General
Dimension: 32.9 x 20.0 x 28.5 inch / 835 x 508 x 724 mm
Weight: 264.6 lbs. / 120 kg
Protection Rating: IP55
Operating Temperature Range: 14°F~122°F / -10°C~50°C
Operating Relative Humidity Range: 5%~95%
Expansion Connector: Anderson 120A Connector, RJ45 Female Connector
Expansion Capability: 19.2KWh
Bluetooth Module: DC Home APP. Communication Range 82 ft / 25 m
Self Consumption: 25W (Power Saving Mode)
Installation Environment: Indoor/Outdoor
Battery
Battery Type: Lithium Iron Phosphate
Nominal Battery Voltage: 48VDC
Rated Battery Capacity: 100Ah
Rated Battery Energy: 4.8KWh
Cycle Life: 4500 Cycles (80% DOD, 80% EOL, 0.2C, 25°C)
Power Output
Rated AC Output Voltage: 120VAC
Rated AC Output Frequency: 50Hz/60Hz (Adjustable)
Rated Output Power: 3500W
Peak AC Output Power: 7000W
Power Input
Rated AC Input Voltage: 110VAC/120VAC
Rated AC Input Frequency: 50Hz/60Hz
Maximum AC Bypass Current: 20A
Maximum Solar Input Power: 4400W
Maximum Battery Charge Current (Solar): 80A
Maximum Battery Charge Current (Total): 100A
Certifications
48V 50Ah Smart Lithium Iron Phosphate Battery: UN38.3, MSDS. FCC, PSE, CE
Accessories
Handle: 1
Handle Installation Screws (4): 4 X M8 x 1.25 x 20 mm
IEC C19 to NEMA 5-20P Power Cable: 10ft., 12AWG
Keys: 2
Scalability
The LYCAN 5000 Power Box offers quite a range of power capacity expandability. If the baseline 4.8kWh capacity isn't sufficient, users can scale up to a whopping 19.2kWh by connecting it to additional Renogy 48V 50Ah Smart Lithium Iron Phosphate Batteries. This benefits longer-term power independence, from brief power outages to extended off-grid adventures.
Field Servicing and Lifecycle Management
Regarding long-term ownership, the Renogy LYCAN 5000's modular construction is hard to beat. Designed for serviceability, this significantly reduces the downtime and headaches often associated with system repairs. Instead of proprietary components that require specialized service, the LYCAN 5000 employs common off-the-shelf parts, making it incredibly user-friendly from a maintenance perspective.
This design choice has two significant advantages: first, it makes repairs quick and straightforward since you're not hunting for rare or specialized components. Second, it drastically reduces the overall cost of maintaining the system over its lifecycle. Including standard circuit breakers is a prime example, making it easier to isolate any electrical issues and ensure that replacements are easily accessible and affordable.
Off-the-Shelf Circuit Breakers
The Renogy LYCAN 5000 incorporates standard off-the-shelf Suntree circuit breakers. More than just a convenience, it's a must-have for long-term maintenance. Imagine, if you will,  the scenario where a breaker fails in a proprietary system. You're left sifting through specialized vendors, navigating long wait times, and paying a premium. With the LYCAN 5000, a trip to the local hardware store or a rush order from an online outlet is all you need to get your system up and running again. This welcomed approach from Renogy lowers your total cost of ownership and reduces downtime.
Industry-Standard Batteries
The battery compartment is another area where the LYCAN 5000 shines. It employs Lithium Iron Phosphate batteries that comply with industry standards. What does this mean for you? Longevity and adaptability. As battery technologies evolve or your existing batteries reach the end of their life cycle, you won't be chained to a discontinued or hard-to-find model. Simply purchase the new industry-standard batteries, and you're back in business. Plus, the system's modularity allows for a hassle-free swap, making it a DIY-friendly affair that doesn't demand specialized skills or tools.
User-Replaceable Controller/Charger
Even the brains of the operation, the controller/charger unit, is designed with modularity in mind. Unlike other systems where a controller failure could mean replacing the entire unit, with the Renogy LYCAN 5000, it's just another component that can be easily sourced and swapped. This feature ensures that your system remains state-of-the-art, as you can easily upgrade to a more efficient or feature-rich controller down the line, thus extending the lifespan of your investment.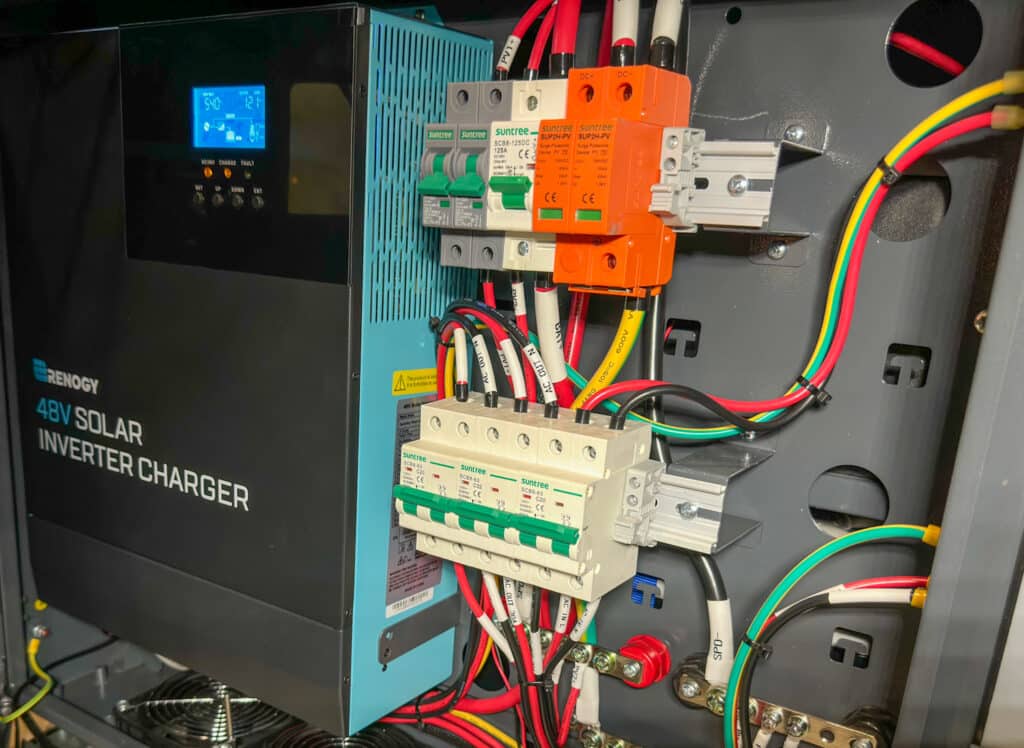 Its inverter/charger brings a deep level of customization. Gone are the days when you had to adapt your power needs to the limitations of your backup power source. The LYCAN 5000 allows you to tailor the system's operation based on your specific requirements. Critical settings such as "Battery to Utility Setpoint" and "Utility to Battery Setpoint" can be adjusted within a broad range of granular options. This flexibility allows you to create an optimal setup that aligns seamlessly with your home's unique power dynamics. Navigating these settings is challenging and requires the use of the manual. We recommend printing a spare copy of the settings pages and keeping it with the unit, which is standard in these types of controllers.
Renogy LYCAN 5000 – Built to Last
The enclosure is nothing short of stout, meeting an IP55 protection rating. This ensures it's built to withstand the elements and the test of time.
With other portable battery systems, you might need to replace the entire unit every few years due to wear and tear on the cells, or the technology has become obsolete. However, the LYCAN 5000 is engineered with longevity at its core. With its user-replaceable components and rugged build, there's little to prevent this system from serving your power needs for years.
Combine this with the modularity of its circuit breakers, batteries, and controller/charger, and you have a platform that is not just a purchase but an investment in sustainable technology. No other portable battery system in the market today offers this level of sustainable, long-term reliability. It truly sets a new industry standard for what a portable battery system should be—durable, adaptable, and evergreen.
This isn't just a power solution for the next couple of years; it's a solid power solution investment. In an era when sustainability is not just a buzzword but a necessity, the long-term viability of the Lycan 5000 places it head and shoulders above the portable power station competition.
Integrating a Transfer Switch: A Necessary Step
For a seamless installation of the LYCAN 5000 Power Box as a whole home UPS, integrating a generator transfer switch is imperative. This device facilitates the safe transition from utility power to generator power, ensuring the home remains powered during an outage.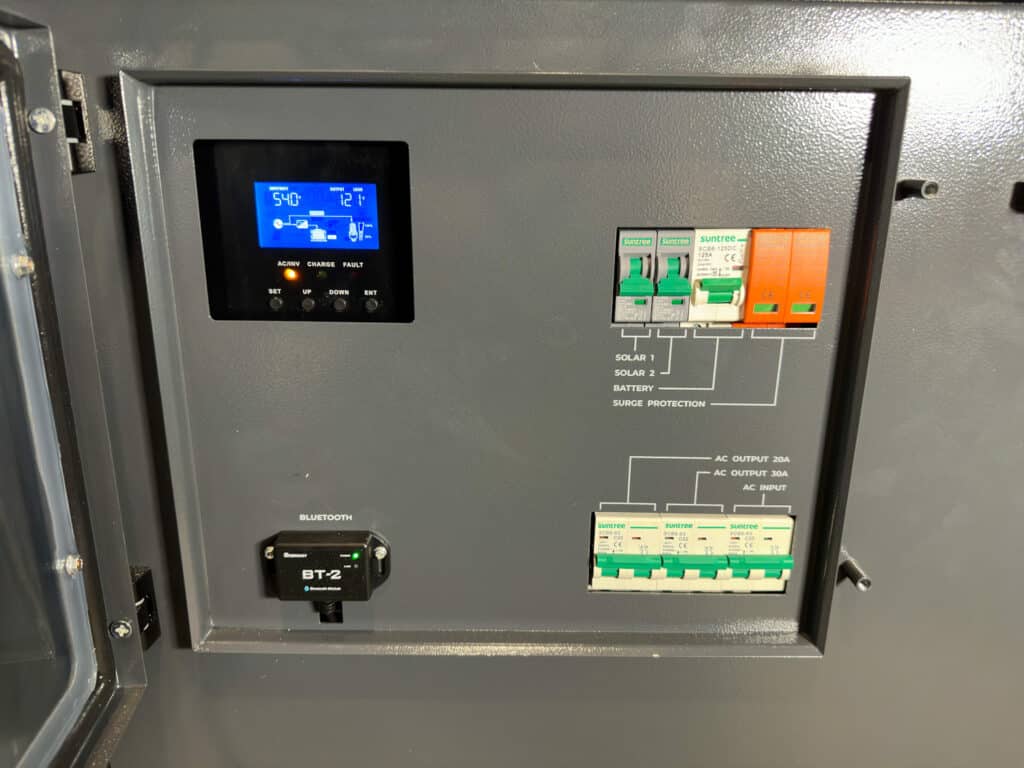 This review will focus on two operational modes: a UPS mode or a reserve with a transfer switch. In a more typical scenario, like using a generator, the LYCAN 5000 takes on the power load, and the transfer switch acts as a bridge, allowing a smooth shift between power sources.
For our testing, we integrated the LYCAN with an existing transfer switch and operated it continuously to handle minor power outages and blips. In this scenario, the total load on the LYCAN is limited by the 20A input current. While the unit can output 50 amps, it will output less current operating in this UPS mode and may throw a fault. We were able to be selective with the 6-pole transfer switch and only move over critical circuits of the home, such as the LED lighting, refrigerator, and a couple of rooms of outlets, leaving the heavy loads on-grid until needed in an emergency when other load-sheading can be done to get them on the battery.
Setting up a transfer switch requires a level of electrical know-how. It's advisable to consult a professional electrician for the installation to ensure it's done correctly and safely. This step is crucial to protect your home's electrical system and comply with local electrical codes and standards.
Home Lab Equipment Considerations and Cutover Time
During the transition to the Renogy LYCAN 5000 Power Box from grid power, a brief, visible single dip in lighting can be observed, signifying the cutover. While most household electronics remain unaffected, sensitive equipment may require additional consideration.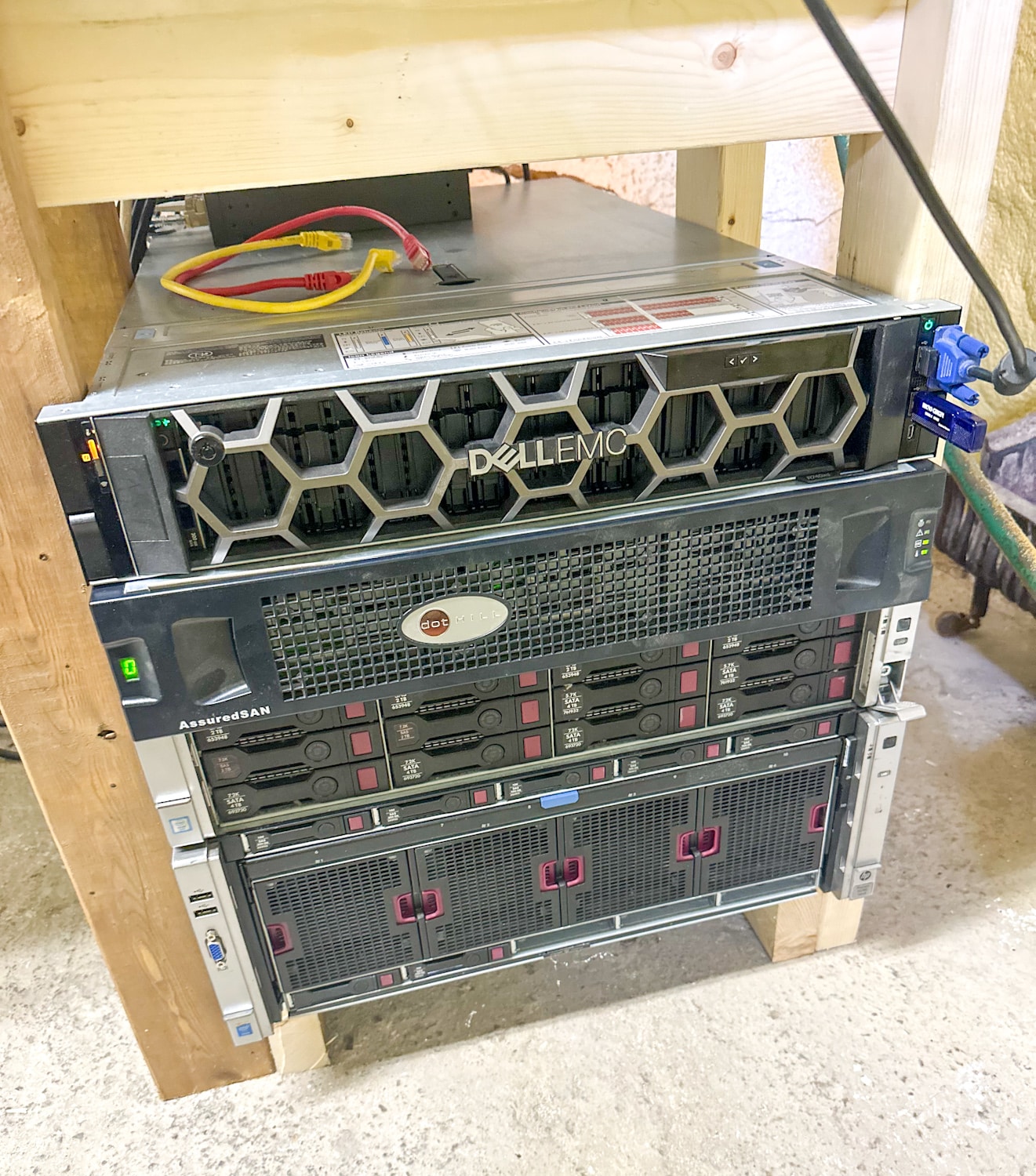 A UPS with a faster transfer time could be employed with the LYCAN 5000 for such equipment, ensuring an even smoother power transition and safeguarding delicate electronics from transient power disturbances. It is worth noting that desktop computers, monitors, and televisions were unaffected by this in our extensive testing.
Through both simulated and actual power outages, pulling 2200w from the edge lab makeshift rack, the LYCAN 5000 was able to power the lab for just over 2 hours. There was a noticeable flick of the lights but the servers under moderate load were able to handle it without issue.
When tied in with an Eaton UPS between the LYCAN and the rack, the UPS did beep to indicate the momentary blip but was happily running from the LYCAN 5000. Changing back to the grid is graceful as the LYCAN matches the waveform up and cuts over seamlessly.
Solar Generator Capability
Diving into the specifications, the LYCAN 5000 supports an input voltage range of 60VDC-145VDC with its Maximum Power Point Tracking (MPPT) capability. For those unfamiliar, MPPT is an advanced technique used in photovoltaic (PV) solar systems to maximize power extraction from the solar panels. It ensures that the system always operates at the most efficient voltage, which translates to faster battery charging times and a prolonged lifespan.
From a general perspective, the device boasts a protection rating of IP65, thanks in part to using MC4 connectors to withstand dust and low-pressure water jets. This is crucial, as solar setups are often exposed to various environmental factors. Furthermore, its operating temperature range from -10°C to 50°C ensures that the LYCAN 5000 remains functional across diverse climates, from chilly winters to scorching summers.
The Slight Hitch: Weight
While the LYCAN 5000 excels in many areas, its substantial weight of 264.6 lbs might pose a challenge for some, especially when navigating stairs or tight spaces. Getting it up or down a small set of stairs requires disassembly and removal of the batteries or a group of strong friends. This minor inconvenience seems justifiable considering the peace of mind, steel construction, and reliability.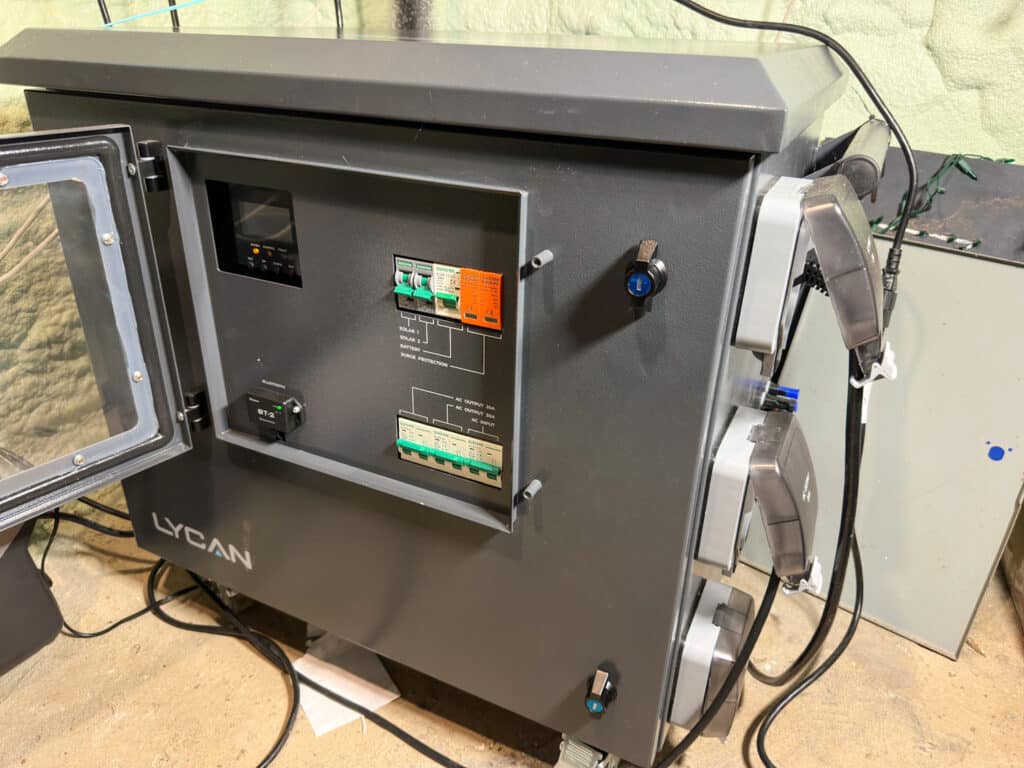 Conclusion
Investing in the Renogy LYCAN 5000 Power Box isn't just a purchase; it's a long-term strategy for ensuring uninterrupted work and lifestyle continuity. Its stellar build, versatile performance features, and scalability make it an excellent choice for anyone looking to protect against power outages or achieve power independence. And while it may weigh heavy on the scales, it promises to be lightweight when it comes to your worries about power supply interruptions.
Engage with StorageReview 
Newsletter | YouTube | Podcast iTunes/Spotify | Instagram | Twitter | TikTok | RSS Feed