The HP t640 thin client is geared towards remote users that use up to three independent 4K monitors. It has various advanced security features such as AMD Memory Guard to ensure that the data on the device is as safe as possible. To give a brief overview of its specifications, the HP t640 is a small thin client that has multiple USB and video ports, is powered by an AMD Ryzen CPU with a Vega integrated GPU iGPU. The device runs HP ThinPro or Windows 10 IoT Enterprise operating system. It supports all the major VDI environments as well some niche ones such as HP ZCentral Remote Boost (HP RGS).
The HP t640 thin client is geared towards remote users that use up to three independent 4K monitors. It has various advanced security features such as AMD Memory Guard to ensure that the data on the device is as safe as possible. To give a brief overview of its specifications, the HP t640 is a small thin client that has multiple USB and video ports, is powered by an AMD Ryzen CPU with a Vega integrated GPU iGPU. The device runs HP ThinPro or Windows 10 IoT Enterprise operating system. It supports all the major VDI environments as well some niche ones such as HP ZCentral Remote Boost (HP RGS).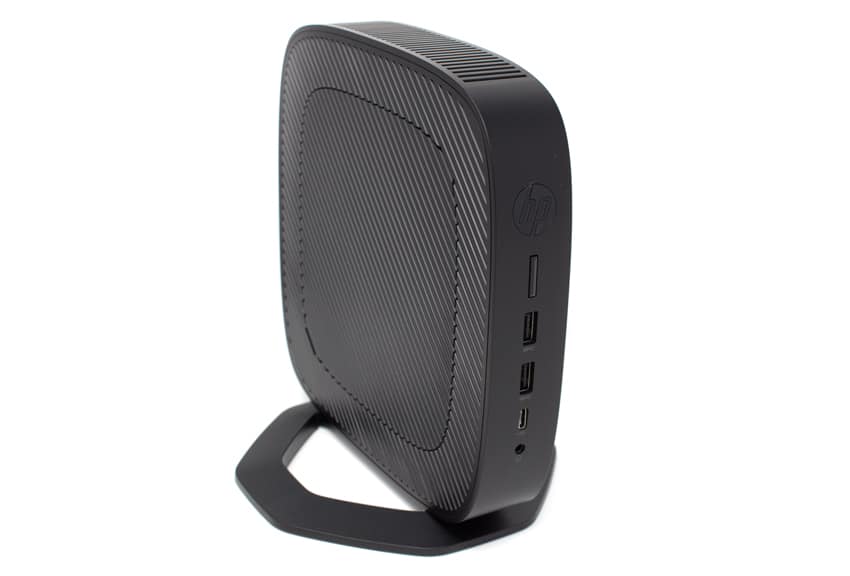 The market for VDI clients that are powerful enough to run multiple 4K monitors yet affordable for widescale deployment is becoming more important as many companies have adopted a work-at-home policy, or need to house the servers and workstation that users need to connect to in a separate location for security and environmental (heat and sound) reasons. The users that need to use multiple 4K displays work in media and entertainment (M&E), financial, and product design and engineering.
In this article, we will give an in-depth overview of the t640 VDI client's specifications, design and build quality, and a summary of the testing that we carried out on it. We will then lay out the key findings from those tests and provide our thoughts about the device and briefly discuss who would benefit from using this product.
HP t640 Thin Client Specifications
Below are the specifications of the t640 VDI Client we used in this review. Other configurations of the t640 are available.
Model: HP t640
Part Num: M5R76AA
MSRP: $561 USD – Street price $651 USD
Client type: Desktop thin client
Form factor: Small desktop
OS: Windows 10 IoT LTSC 2019 (HP ThinPro optional)
Supported remote display protocols: Microsoft RDP; HP RGS; VMware Horizon RDP/PCoIP, Blast Extreme; Citrix ICA/HDX (not all OS support all protocols), TTWin, TTerm and others
CPU: AMD Ryzen R1505G with Radeon Vega 3 Graphics
Memory: Hynix 8 GB DDR4L-2400 SODIMM (2 x 4 GB)
Storage: Phison 128 GB Flash memory
Speaker: Internal amplified speaker system for basic audio playback.
Display: Three displays at up to UHD/4K (3840 x 2160 @ 60 Hz) resolution
Power: 19.5V, 4.62A external power adapter
Ports:

1 x USB Type-C 3.1 Gen 2
3 x USB-A 3.1 Gen 1
1 x USB-A 3.1 Gen 2
2 x USB-A 2.0
1 x RJ45
6 x full size DisplayPort 1.2
1 x 3.5 mm headphone/microphone Combo
1 x AC power

Network connectivity:

RJ45 – Realtek RTL8111HSH Gigabit Ethernet (GbE) Controller with support for DASH out-of-band remote management
Intel Wireless-AC 9260 Wi-Fi/Bluetooth combo; 2×2 802.11ac Wi-Fi and Bluetooth
Bluetooth 5

Physical size: 3.5 x 19.6 x 19.6 mm
Physical weight: 1 Kg
Color: black
Keyboard: HP USB Slim Business Keyboard with built-in smart card reader (TPC-S001K)
Mouse: HP USB Optical Mouse (MOFYUO)
Compliant standards: UL, CSA, FCC, Energy Star, EPEAT 2019, and many others
Package Contents: t640, Power Adapter, HP mouse and keyboard, base stand, warranty and setup guide
1 & 3-year parts and labor warranty available
HP t640 Thin Client Design and Build
The cardboard packaging box that the device came in was heavy and well designed, the device itself was nestled between two black foam blocks and wrapped in a plastic bag. The keyboard was in its own cardboard box and the mouse was in a plastic bag. The box also contained the power supply, a warranty and setup guide and the base stand.
The front of the device has the power on button with indicator lights, as well as a 3.5 mm headphone/microphone combo, a USB 3.1 Gen 1, a USB 3.1 Gen 2, USB Type-C 3.1 Gen 2 downstream facing (DFP), USB Type-A 2.0 ports.
The back of the device has two RJ-45 (network) jack, two USB Type-A 2.0, 3.5 mm audio out, DisplayPort over USB Type-C with USB power delivery, cable lock slot, power connector, three DisplayPort, two USB Type-A 3.1 Gen 1 ports.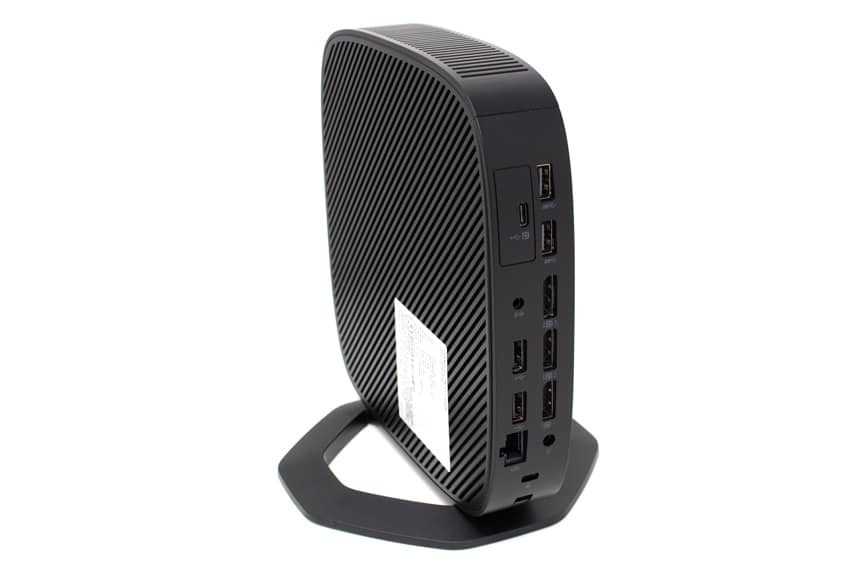 The back of the device can be removed by pressing a latch and then removing the back cover.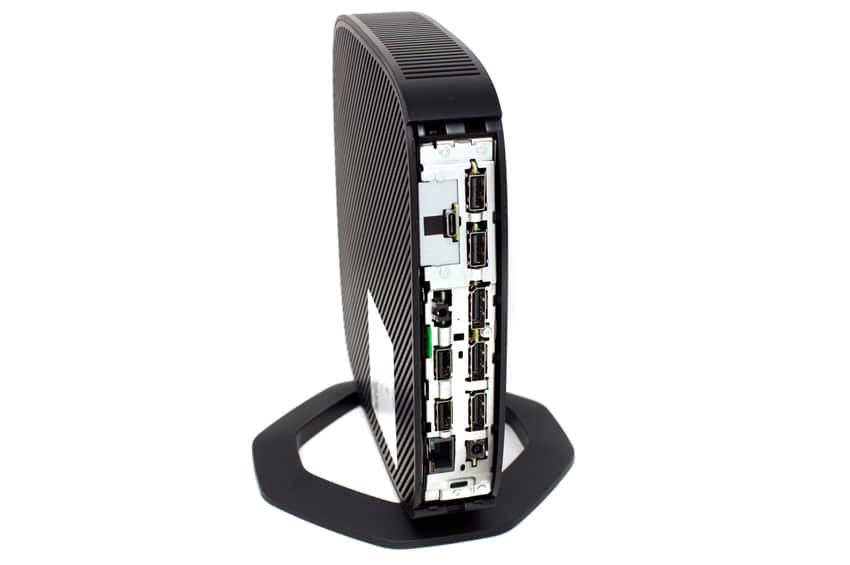 The left side of the device has a cover that can be removed to display the devices certifications, regulatory labels, and serial number. You will need the serial number if you need to contact HP customer service for assistance. This also revealed a standoff that can be used with a VESA 100 mounting bracket.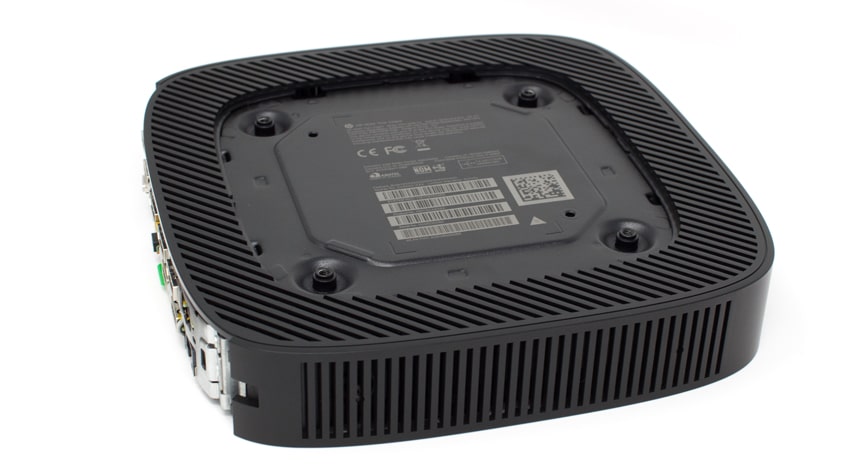 The stand (included) is attached to device by position the stand over the bottom of the thin client and line up the captive screws in the stand with the screw holes in the thin client and then tightening the screws.
The right side of the device can be removed to expose the devices motherboard and CPU. The motherboard is of high quality. The RAM is covered with a perforated metal case. The M.2 flash storage, Wi-Fi module and other components are located on the top of the motherboard.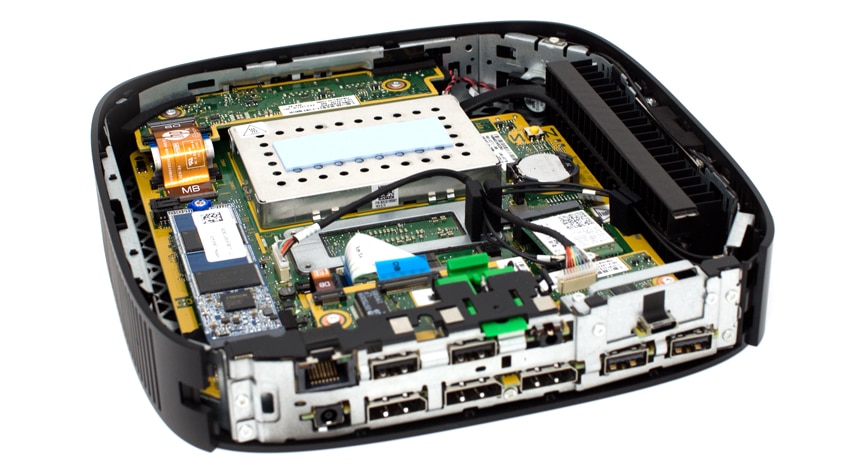 The entire case is made of black plastic with ventilation slots on the top and the bottom. The case is well made and is designed with serviceability in mind.
The device uses the AMD Ryzen R1505G with integrated Radeon Vega 3 Graphics. This CPU is a 2 core, 4 thread. The Processor had an integrated 3 execution unit GPU chip.  The processor has a base frequency of 2.4 GHz and a boost frequency of 3.3 GHz.
We were pleasantly surprised with the quality of the keyboard and mouse that came with the device. Usually if a keyboard and mouse is included with a VDI client they are of acceptable but unremarkable quality, the keyboard that came with this device was of better than average quality and had a built-in card reader.
Documentation
The startup guide had a URL to the VDI client's documentation. The documentation web site had links to the devices Maintenance and Service Guide, User Guide, and Regulatory, Safety and Environmental Notices User Guide. The Hardware Reference Guide was written in English, 61 pages in length and explained how to set up the device but it does not explain how and configure it to work with a VDI environment. To see how to configure it use the major VDI protocols you will need to see the documentation for the operating system that you have running on the system; HP ThinPro or Windows 10 IoT Enterprise.
Microsoft Windows 10 IoT
We are starting to see more and more VDI clients that use Microsoft Windows 10 IoT Enterprise operating system. Windows 10 IoT comes in two editions; Windows 10 IoT Core which only allows a single application to run, and Windows 10 IoT Enterprise which is a full version of Windows 10 that has been designed to be locked down to a specific set of applications and peripherals. Our device came with Windows 10 IoT Enterprise.
HP t640 Thin Client Usability and Device Setup
The real test of a virtual desktop client is its usability; to test the usability of the t640, we used the client for two weeks in our Pacific northwest lab with various configurations. Below are the key results we noted during this time.
For system configuration and our initial testing and we connected it to a Dell U3219Q monitor to the DisplayPort on device marked DP1. We like using the Dell U3219Q as we find its built-in KVM switch extremely useful as it allowed us to switch between the VDI client and our laptop with the push of a button.
We powered on the device by pressing the power button on the front of the device. There was an HP splash screen and then we were automatically logged in as User (default password User) and presented with the Window IoT screen. The screen looked like any other Windows 10 system. The Windows start menu had icons for the Citrix Receiver and VMware Horizon Client as well as other common Windows tools. Many of the common tools such as the command prompt were disabled and could only be run by the Admin account.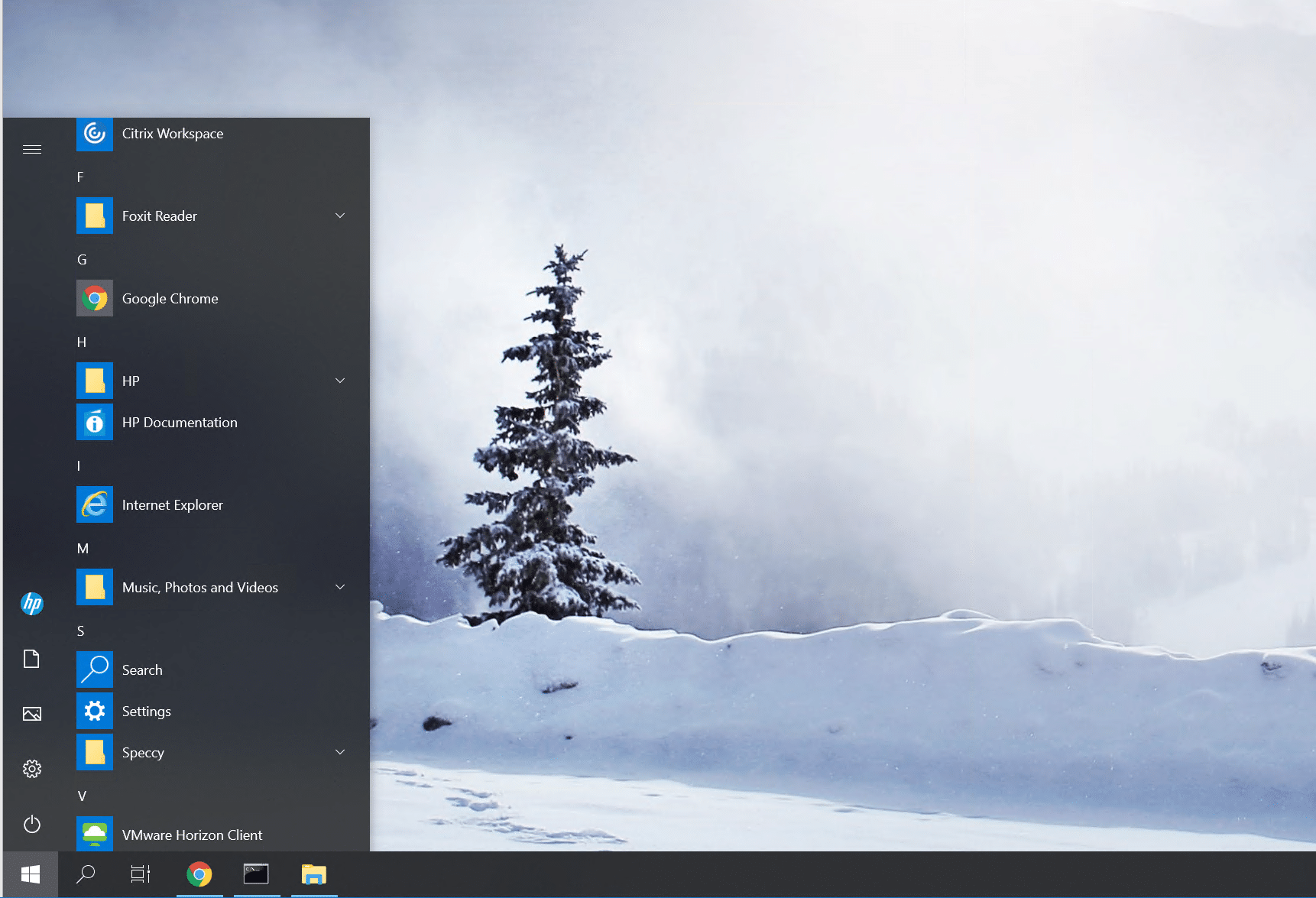 The t640 is designed with a security in mind and as such HP Write Manager which protects the contents of, and decreases wear of the flash drive of a thin client. It does this by redirecting and caching writes to a virtual storage space in RAM. When a system restart occurs, the cache is cleared, and any changes made since the last system startup are lost permanently. This protects the device from malicious code and unsecured configurations. As this was a test system, we disabled the HP Write Manager during our testing by going to the Control Panel and using the HP Write Manager Configuration tool. We needed to make the changes as the user Admin (default password Admin). The system required a reboot after the changes were made.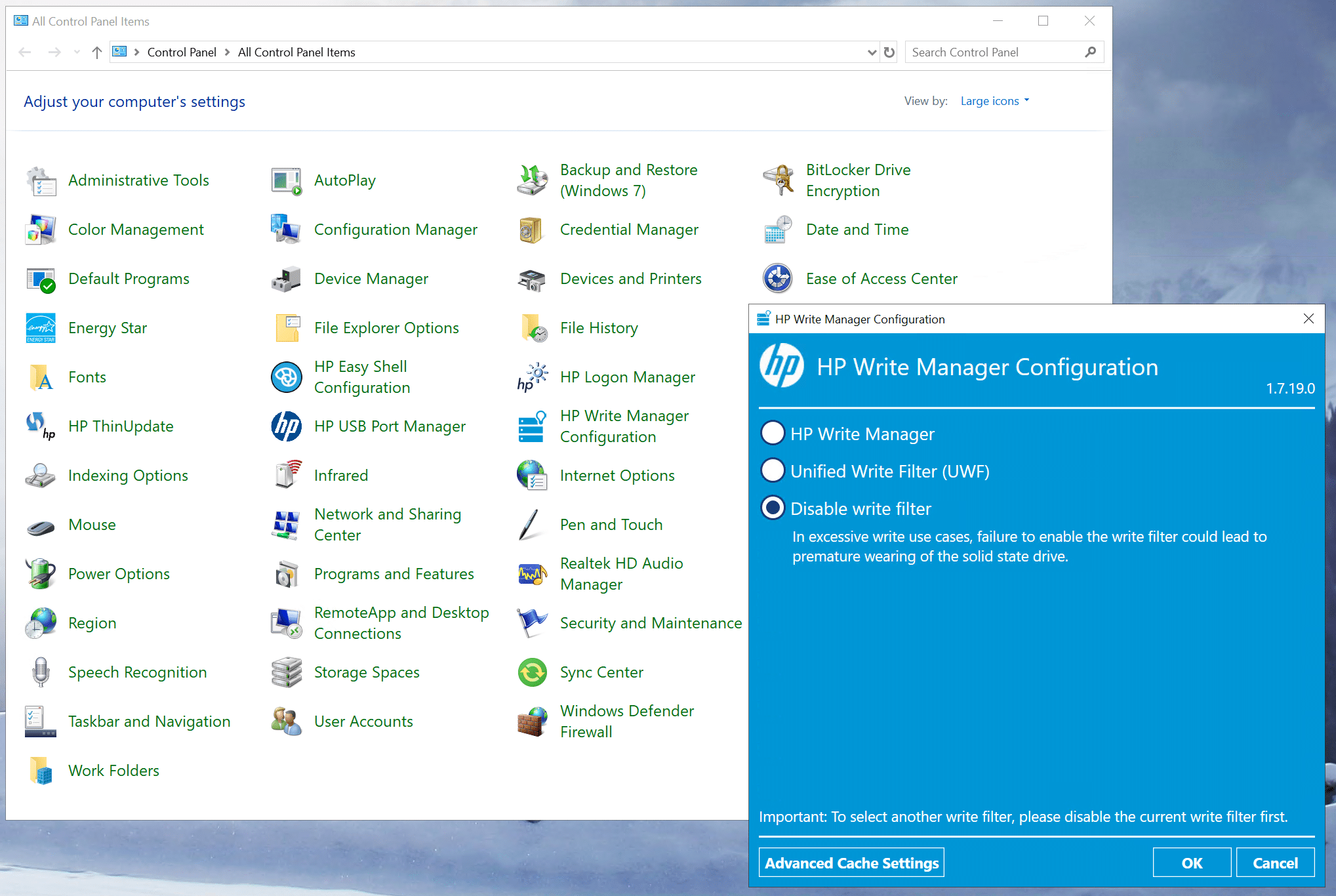 The configuration of the device was the same as other Windows 10 systems but only the Admin user can make permanent changes to the device. The User account only has access to a limited number of tools. Common tools such as File Explorer are not available to regular users.
The device has two local drives: C and Z. The C drive (which is protected by the HP write filter) is a flash drive where the OS and apps are installed. The Z drive is a virtual RAM drive. This drive behaves like a physical drive, but it is created at system startup and destroyed at system shutdown.
We installed Speccy on the device and used it to verify the hardware on the device and that the resolution of the monitor was 4K.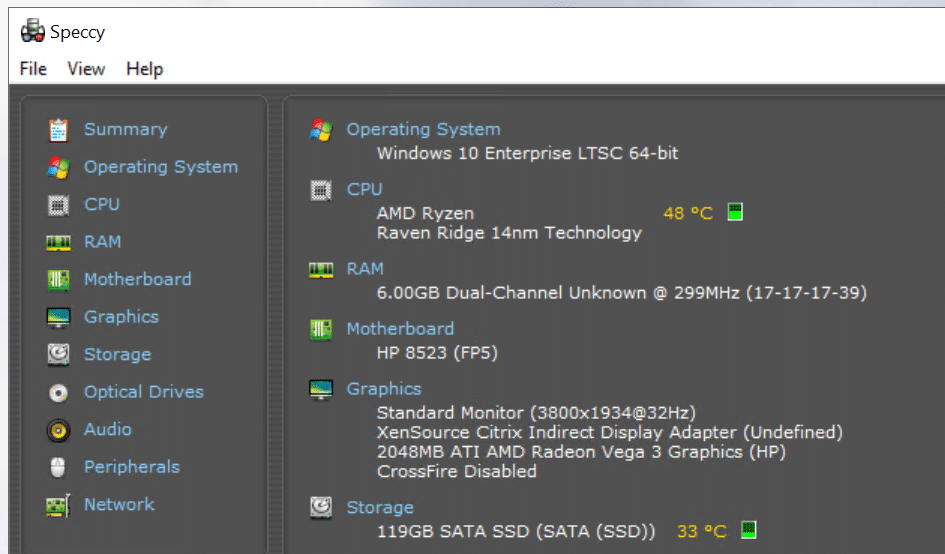 Local Horizon Desktop
To get an idea on how well the device worked in the real world we used the device with a local Horizon virtual desktop to do our daily tasks for two weeks.
We tested the t640 with a local virtual desktop by connecting it to our network via a Cat 6 cable to our network via a 1Gb network through a switch that was connected to either a server or a WAN router. The server was hosting our local VMware Horizon virtual desktop while the WAN router was used to connect to cloud based virtual desktops. To create a controlled environment, the network was monitored during testing to ensure that no other traffic was present on the network.
The virtual desktop that we used ran Windows 10 (1607), had 2 vCPUs, 8 GB of memory, and 128 GB of NVMe-based storage.
We brought up the Horizon client and configured it to connect to a local Horizon desktop. We were connected to the virtual desktop at the monitors native 4K resolution.
The first test we conducted was to use VLC to play a 640×360 30fps video that was stored on the virtual desktop. First, we played the video in its native resolution, and then in full screen mode. In native and in full screen mode the video played without any frames dropping. The audio played flawlessly through the devices built-in speaker in both native and full screen mode. The devices built in speaker was loud enough for us to hear it but in an office environment you would need to use a headset or external speakers to hear it.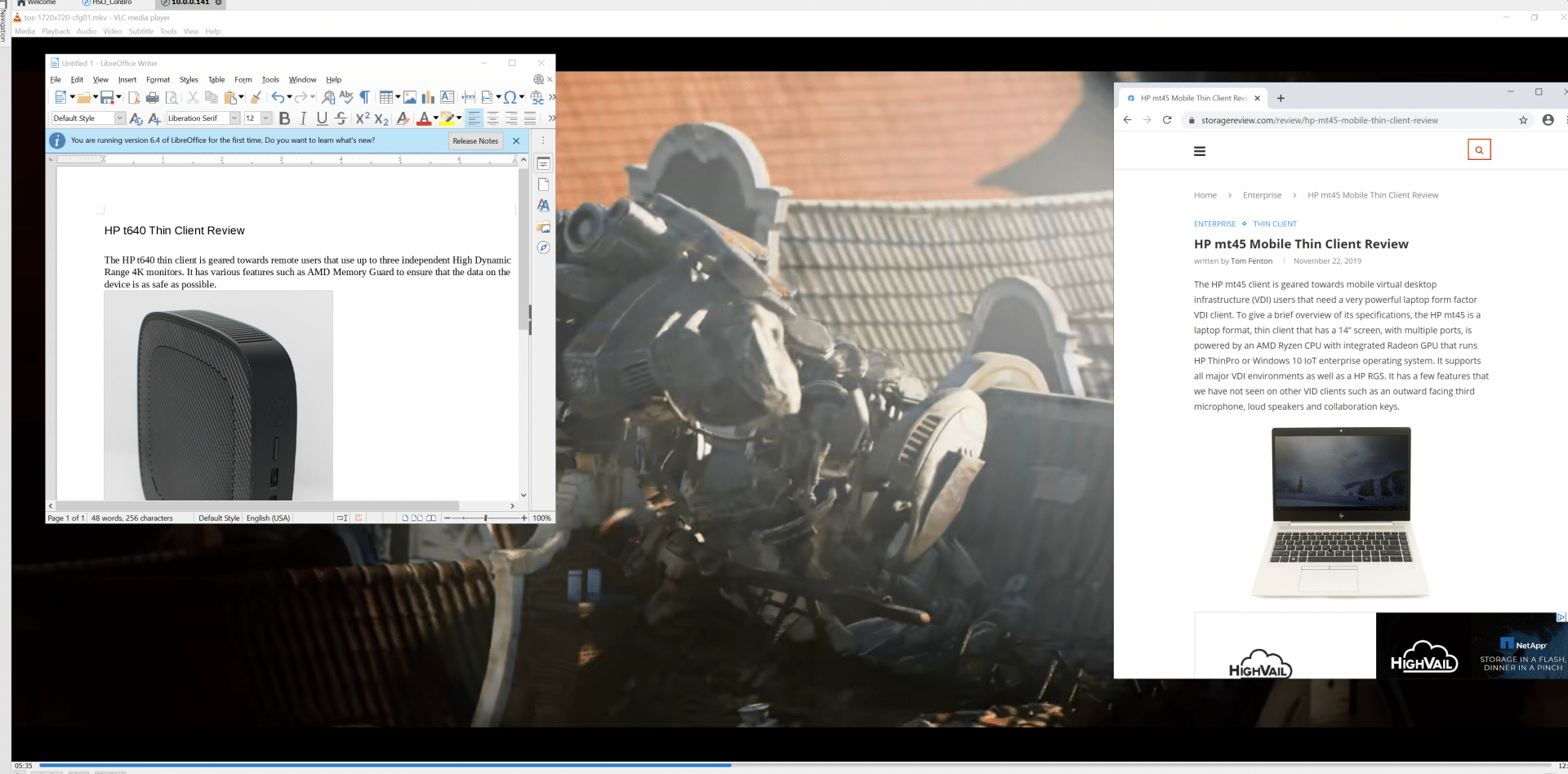 We connected a Jabra voice 150 headset to one of the USB port on the front of the unit; the Jabra headset was discovered by the virtual desktop and worked without any issues and sounded good.
We used the client for our daily activities for two weeks without any problems. This included using office applications, Chrome web browser, playing internet-streaming music, etc. During this time, the device performed flawlessly.
Using Multiple Monitors
For multi-monitor usage we connected the t640 to a Dell 43 Ultra HD 4K multi-client monitor (P4317Q). We like using this monitor as it can simultaneously display content from up to four different inputs in FHD (1920×1080) or from a single input at a resolution of 4K (3,840 by 2,160). This allows it to do the work of four independent monitors. The monitor has two HDMI/MHL inputs, a Mini DisplayPort input, a full-size DisplayPort input, a VGA input as well as a pair of 8-watt speakers.
We used the ports marked DP1 and DP2 on the t640 to connect to the Dell P4317Q. We used the monitor's picture-by-picture (PBP) feature to display 2 x FHD displays. The device attached to our local Horizon desktop without any issues, we played a 640×360 30fps video on both screens and worked with LibreOffice documents to stress the device. We played the videos in native resolution and in full screen without any jitter and we were able to work with our documents at the same time without any issues.


HP ZCentral Remote Boost
The device came with HP RGS, but we downloaded and installed the latest iteration of HPs remote protocol – HP ZCentral Remote Boost Receiver (Version 2020.0).
HP ZCentral Remote Boost is a client-server remote desktop protocol that was first developed by HP in 2003 and was marketed as RGS until 2020. It uses a propriety algorithm for the compression and transmission of data. The software supports screen sharing between multiple users, remote USB connectivity and audio output. It is used by graphics-intensive industries such as CAD, oil and gas exploration, animation, architecture engineering and construction and product design.
We connected to a HP Z2 mini Gen3 Workstation located in our Midwest lab via a VPN from the device without any issues.
From our desktop we used the Chrome to browse the internet and LibreOffice to edit documents with virtually the same experience as using our local virtual desktop.
We were able to display streaming videos and work with office applications without any issues. When we were streaming videos, the connection took 8.3 Mbps when we had HP Velocity enabled and 11Mbps after we disabled it. We couldn't detect any difference on the quality of the videos when had HP Velocity enabled and disabled.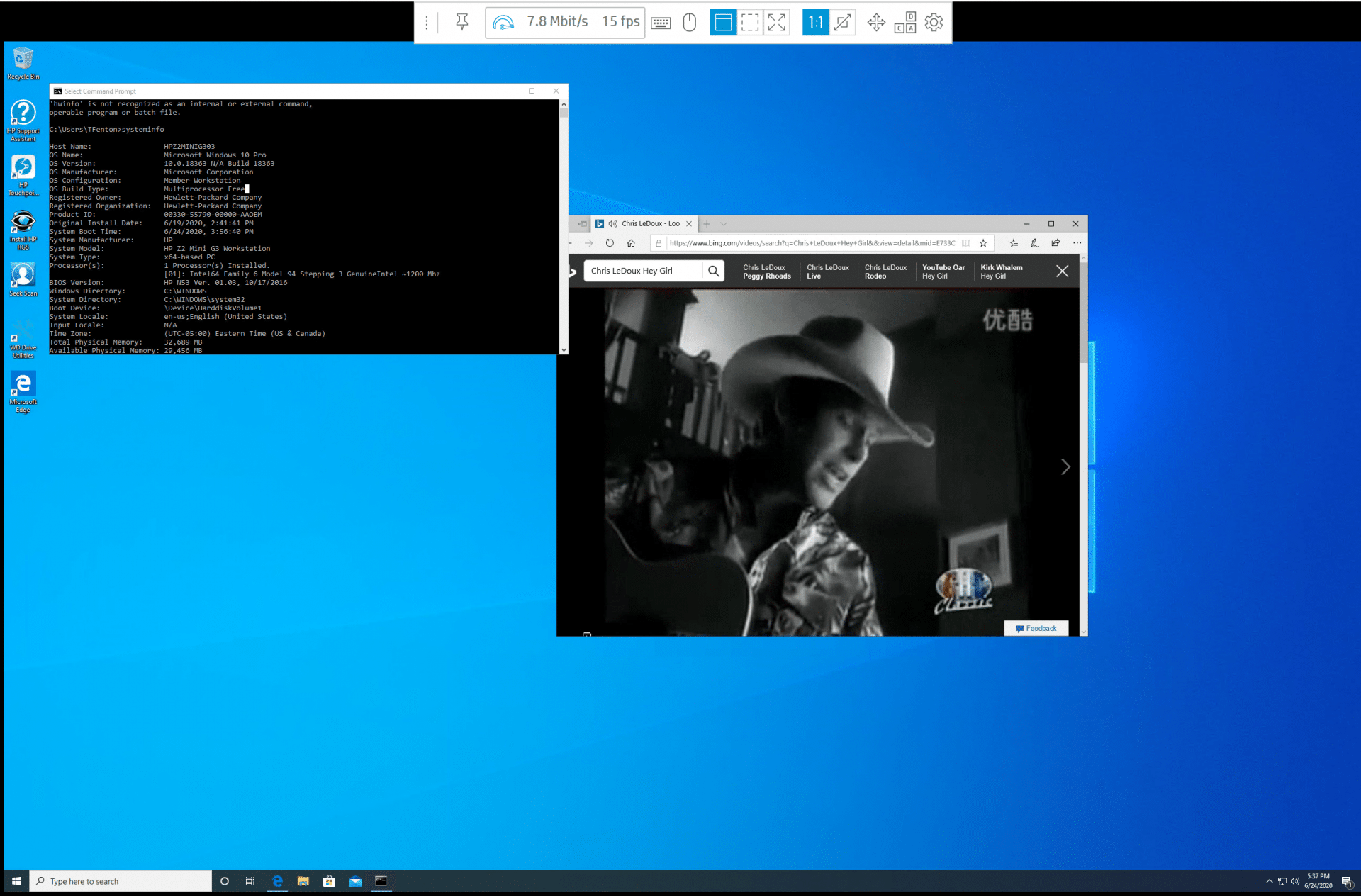 After disconnecting from the virtual desktop, we pinged the IP address of the server and found that the round-trip time (RTT) was 85ms. Given the fact that the virtual desktop was in a datacenter located in the Midwest, and the client was running in the Pacific Northwest, we were pleasantly surprised to find that our remote desktop performed just as well as a virtual desktop that was hosted on-premise.
HP t640 Thin Client Management
The device can be used with HP Device Manager (HPDM) for centralized, server-based administration of HP thin clients. Using HPDM is beyond the scope of this review.
Conclusion
Obviously, the ability to display content on multiple monitors is the most important feature of the t640 but there were many other items that we liked about the t640 including that it came with a quality keyboard with a built-in card reader, It supports enterprise futures such as out of bound management via Desktop and mobile Architecture for System Hardware (DASH).
When VDI clients first came out with Windows 10 IoT as the operating system we were a little leery but after using a few different VDI clients with it on it we can see no issues using it, and it should ease device  administration as it uses the same configuration workflows and management tools as a standard Windows 10 system.
In summary the t640 is a very powerful VDI client that supports all the major VDI protocols as well as some niche ones. During our heaviest testing the device performed admirably and would make a fine VDI client for users that need to use multiple 4K monitors.
Engage with StorageReview
Newsletter | YouTube | Podcast iTunes/Spotify | Instagram | Twitter | Facebook | RSS Feed