The Icy Dock MB994SP-4S allows you to fit up to 4TB additional storage in your desktop. In just one 5.25″ device bay it fits four 2.5" hard drives or SSDs, including 15mm height SAS and SATA drives.
The Icy Dock MB994SP-4S is a four-bay hard drive cage that fits in a single 5.25" device bay. It accommodates four 2.5-inch hard drives with up to 15mm height, including 15,000RPM SAS drives. It is actively cooled via two 40mm fans and has a full metal construction.
A full list of the drive's features is as follows:
Fits 4 x 2.5″ SATA I / II / III and SAS HDD/SSD
Accommodates Drives with up to 15mm Height
Fits 4 Drives into a Single 5.25″ Device Bay
Status LED on Front for Each Drive
Full Metal EZ Slide Mini Tray System with Full Cage Design
Small Form Factor Perfect for IPC, Servers, and Small Form Factor Cases
Front, Rear, Top, and Bottom Ventilation Slots
Dual 40mm Fans with Active Power Technology
Heavy Duty Full Metal Construction
Support SATA 6Gbps
Top Cover for the Tray Adds Extra Drive Protection
MSRP of $59.99.
Design and Build Quality

The MB994SP-4S is the same size as an internal desktop CD/DVD drive and takes up one 5.25" device bay. The construction is all-metal and has the weight to prove it, weighing a hefty 1.77 pounds without any drives installed; it feels as solid as a brick. The exterior is painted black while inside parts are gray. Fit and finish of this backplane is excellent; there are no unfinished or sharp edges.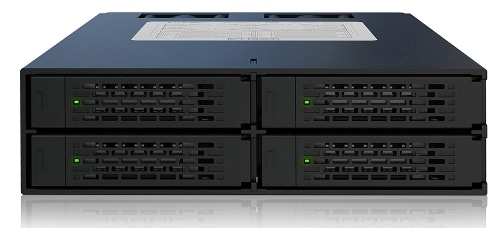 The front of the MB994SP-4S (above) shows the drive cages. The drive cages have a mesh front so air can pass through, sucked across the drives by the rear fans. There is a tiny green status light in each cage, which indicates it has power; it turns an amber color when there is drive activity.
Pushing in the tab on the left side of each cage swings out the metal front piece, which acts as a handhold to remove the drive cage.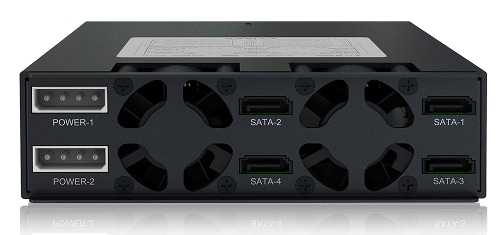 The back of theMB994SP-4S is where the SATA/SAS connectors are located as well as the 4-pin Molex power connectors and the two 40mm fans.
In Use

Installing the MB994SP-4S was just like installing a regular desktop optical drive – simply slide it into a 5.25″ device bay. I had to move some cables around to get two 4-pin Molex connectors up top; once that was done it was a cinch to attach the SATA cables.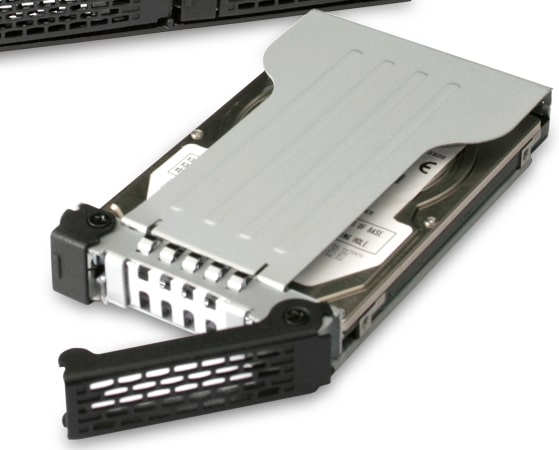 Installing 2.5" drives into the cages is also easy; it requires four screws (16 are included). Then, simply slide the cage into the enclosure and push the metal piece in to lock it. Only a small amount of pressure is required to push the drives in. The drive cages slide in securely – there is no wiggle room. Also see our review of the ICY Dock SATA 2.5" Rack for 3.5" Drive Bays – it uses the same drive trays. My only complaint about the MB994SP-4S is that there is no way to lock drive trays in for security purposes.
The two 40mm fans push a respectable amount of air out the rear. The fans are quiet and did not add any noise to my desktop over and above what my cooling fans were already producing.
Conclusion
The Icy Dock MB994SP-4S is an innovative way to expand a desktop's storage capabilities. Some desktops only fit a couple of standard 3.5" drives, which is a problem for those requiring a lot of storage. With the MB994SP-4S, up to four 1TB 2.5" drives can be added with no external add-ons.
The MB994SP-4S has excellent build quality, is easy to install and swap drives, and has good cooling. Other than the fact that drives cannot be locked in for security, it is a no-compromises device and I give it my full recommendation.
Pros
Great way to add extra storage to a desktop
Easy to install and use
Supports 9.5mm, 12.5mm, and 15mm SAS and SATA drives
Actively-cooled
High-quality metal construction
Cons
Drives cannot be locked in for security purposes