The Infortrend EonStor DS S16F-R2651 is a dual-controller, 16Gb/s Fibre Channel storage system that offers 16 internal drives with 6Gb/s SAS connectivity and is scalable to 240 drives via a JBOD expansion unit. EonStor DS is Infortrend's lineup of entry-level family of SAN storage solutions for small and medium businesses, providing SAN counterparts to the company's EonNAS product line which we examined in our October 2013 review of the EonNAS 3510.
The Infortrend EonStor DS S16F-R2651 is a dual-controller, 16Gb/s Fibre Channel storage system that offers 16 internal drives with 6Gb/s SAS connectivity and is scalable to 240 drives via a JBOD expansion unit. EonStor DS is Infortrend's lineup of entry-level family of SAN storage solutions for small and medium businesses, providing SAN counterparts to the company's EonNAS product line which we examined in our October 2013 review of the EonNAS 3510.

The ESDS S16F-R2651 is built on Infortrend's G7i architecture, which incorporates high availability functionality including redundant, hot-swappable RAID controllers, power supplies, and cooling fans to a platform which is straightforward to deploy and manage in SMB environments. Infortrend's Java-based SANWatch management software exposes the platform's firmware features and offers script-based configuration and event notifications for multiple storage arrays over TCP/IP. Acknowledging increasing expectations for power efficiency from even smaller and medium-sized enterprises, EonStor DS G7i arrays are also equipped with high-efficiency power supplies and intelligent multi-level drive spin down.
The result of this approach is a storage platform that offers a balance of performance and functionality that is straightforward for SMBs to add to an existing SAN environment or to use as the basis of a new storage environment with room to scale. For this review, we will use an ESDS S16F-R2651 unit outfitted with Sandisk Optimus 400GB SAS SSDs and configured in two RAID5 or RAID10 arrays. In our benchmarks, the EonStor DS S16F-R2651 demonstrates capable performance across common synthetic benchmarks as well as strong performance in StorageReview's new VMmark virtualization protocol.
Infortrend EonStor DS S16F-R2651 Specifications
Host Ports: Four 16Gb/s Fibre Channel ports (2 per controller)
Storage Controller: Dual redundant controllers
Cache Memory (may vary by region): Default 8GB (2x4GB), up to 16GB (4x4GB) or 32GB (4x8GB)
Drive Connectivity:

6Gb/s SAS connectivity
Accommodates 3.5-inch disk drives
S.M.A.R.T. support
Automatic bad-sector reassignment
Dedicated bandwidth to each connected drive
Drive buffer on/off switch

Supported Drives:

2.5″ SAS SSDs – 200GB or 400GB
2.5″ SATA SSDs – 100GB, 200GB or 300GB (with MUX board)
2.5″ 10,000RPM SAS drives – 300GB, 450GB, 600GB or 900GB
3.5″ 15,000 RPM SAS drives – 300GB, 450GB or 600GB
3.5″ 7,200 RPM Nearline SAS drives – 1TB, 2TB,  3TB or 4TB
3.5″ 7,200 RPM SATA drives – 2TB, 3TB or 4TB (with MUX board)

Maximum Number of Drives:

Per system: 16
Via JBOD: 240

Form Factor: 3U
RAID Functionality:

Global, delicated or enclosure hot-spare
RAID levels supported: RAID 0, 1 (0+1), 3, 5, 6, 10, 30, 50, 60
Online expansion by:

Adding new drives
Copying and replacing drives with drives of larger capacity

RAID migration
Configurable stripe size and write policy per system
Intelligent drive handling

In degraded mode: skips irreparable blocks to continue rebuild
In normal operation: data-block verification and repair

Data Services:

Thin provisioning
Local replication (with Standard license and optional Advanced license)

Snapshot
Volume copy/ mirror

Green Design:

80 PLUS-certified power supplies delivering more than 80% energy efficiency
Intelligent multi-level drive spin-down

Availability and Reliability:

Redundant, hot-swappable hardware modules
CacheSafe technology
Multi-pathing support (EonPath)
Device mapper support

Management:

Java-based SANWatch management software
RS232 serial port for local access to firmware-embedded utility
Automated cache flush and caching mode operation per enclosure status
Telnet and SSH system monitoring via Ethernet
Platform-independent firmware management GUI
LCD keypad panel for monitoring and access to all configuration options
Module status LED indicators: component presence detection & thermal sensors via I2C bus

OS Support:

Windows Server 2003
Windows Server 2008, 2008 R2 (including Hyper-V)
RedHat Enterprise Linux
SUSE Linux Enterprise
Sun Solaris
Mac OS X
VMware
Citrix
IBM AIX
HP-UX

Service and Support:

3-year Standard Service: Hardware warranty and software updates; 8×5 phone, web and email support
Upgrade/Extension service: Replacement part dispatch on the next business day (up to 5 years)

Advanced Service: 24×7 phone, web and email support + onsite diagnostics on the next business day
Premium Service: 24×7 phone, web and email support + onsite diagnostics in 4 hours

Power:

Power supplies: Two 530W DC
AC voltage: 100VAC @ 10A to 240VAC @ 5A with PFC (auto-switching)
Frequency: 47-63 Hz

Environmental:

Non-operating Temperature: -40 to 60°
Operating Temperature: 0 to 40°C without BBU or CBM / 0 to 35°C with BBU or CBM
Altitude: Sea level to 3660m (12,000ft) operating / sea level to 12,192m (40,000ft) non-operating
Relative humidity: 5 to 95% non-condensing, operating and non-operating

Dimensions (without chassis ears / protrusions): 445mm (W) x 130mm (H) x 550mm (D)
Weight (without HDDs): 21.66kg (47.75lbs)
Design and Build
As part of the EonStor DS G7i family, the ESDS S16F-R2651 is a 3U array featuring redundant controllers, PSUs, and fans. In the event of a power outage, Infortrend's CacheSafe technology uses the ESDS S16F-R2651's Battery Backup Unit to write cached data to the flash module.

The EonStor DS S16F-R2651 is among the first SAN storage arrays to offer 16 Gb/s Fibre Channel connectivity, offering four ports total from both controllers.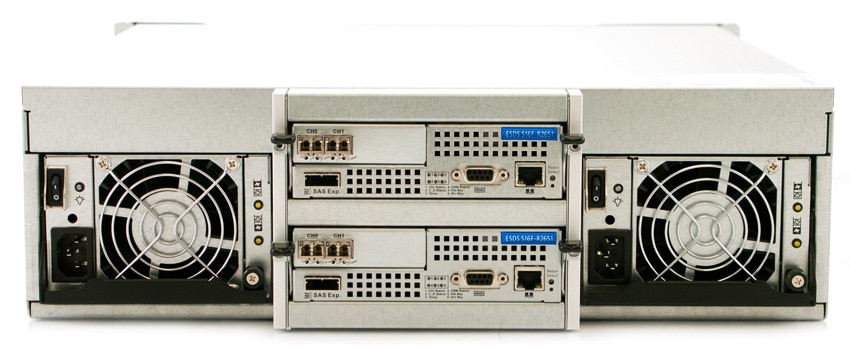 The rear backplane offers easy access to components, which are held in place with quick-release levers. Both power supplies as well as array controllers can be quickly removed in the event of a failure.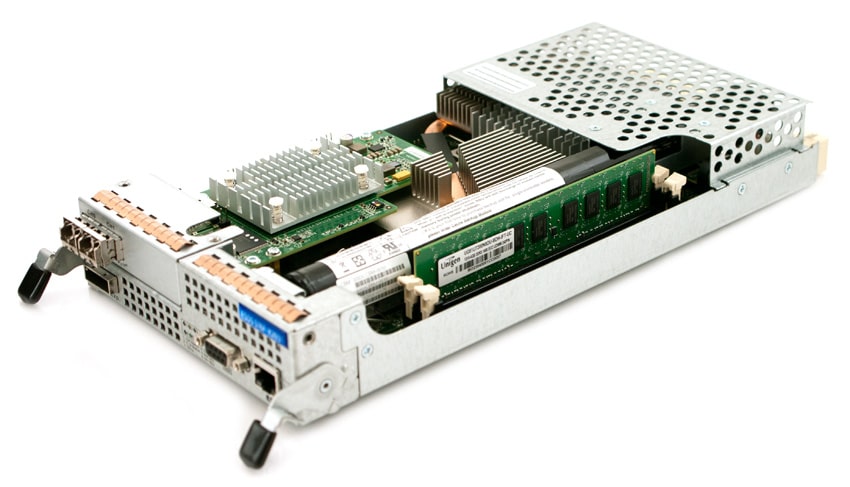 Management and Operating System
Infortrend's SANWatch is a modular management suite that can be used to administer storage solutions across the company's ESVA, EonStor DS, and EonStor product lines, including the ESDS S16F-R2651. SANWatch is a Java-based, providing cross-platform support for both CLI and GUI administration over an encrypted TCP/IP connection, with role-based access levels.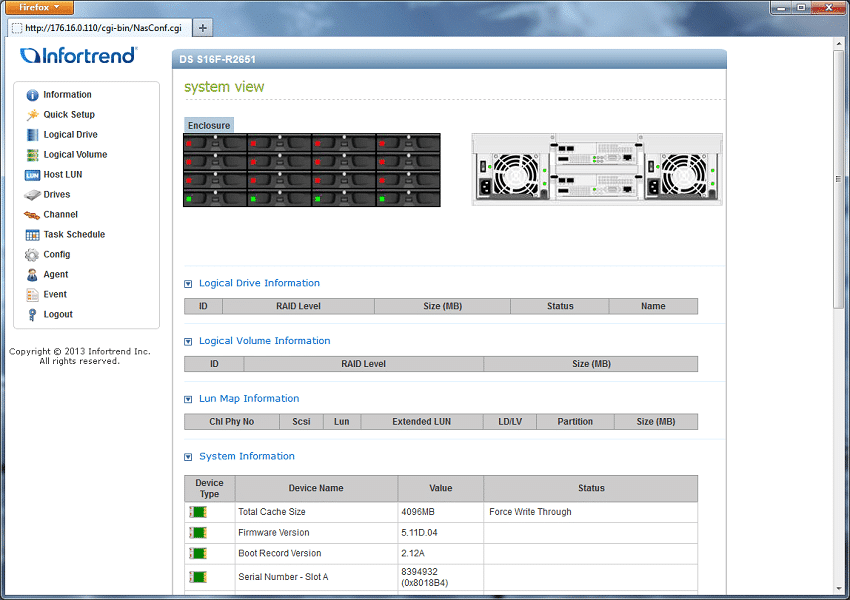 Storage Manager is the SANWatch module which manages individual RAID subsystems, with three levels of access based on user role: Information, Maintenance, and Configuration. Storage Manager is also the means to activate additional data service feature licenses. Storage Manager offers Quick Installation and Installation Wizard functions for streamlined configuration, or more granular configuration for complex deployments.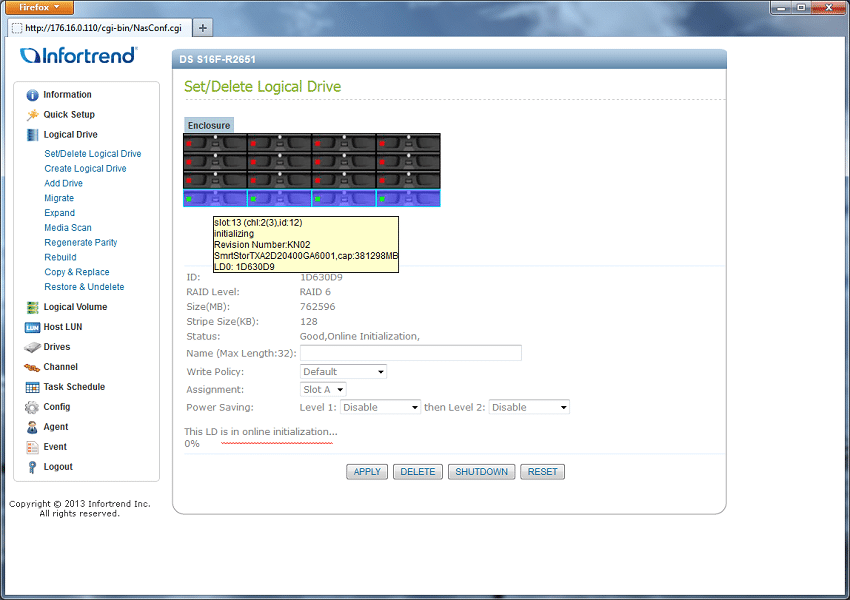 Storage Manager's Enclosure View presents a graphical representation of the front and rear of the array with information for each drive in addition to system operation status. A System Information window provides the status of hardware components and details including cache size, firmware version, internal temperatures, and voltage. Logical Drive Information and Logical Volume Information windows allow users to examine details for logical volumes along with event messages. The Statistics window offers the percentage of cache blocks in use and read/write performance in MB/s of each controller with real-time graphs.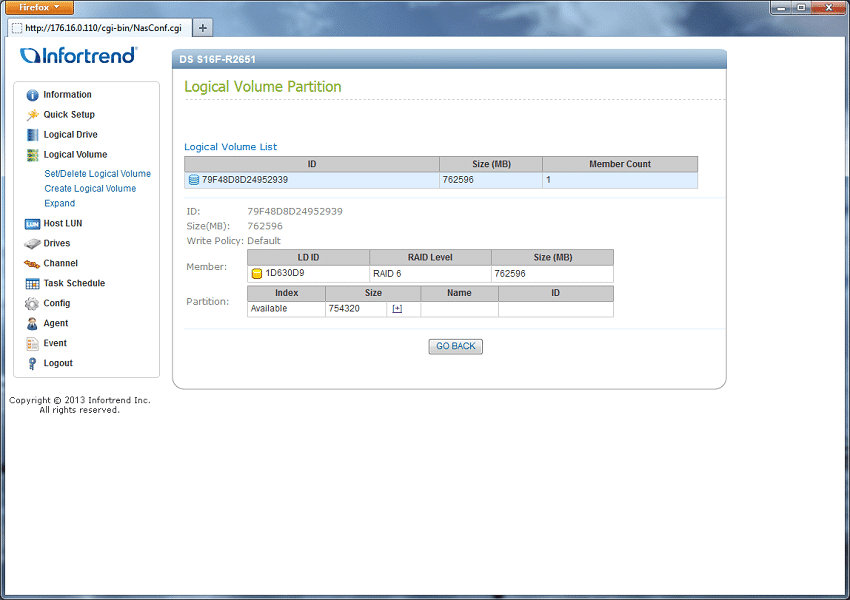 Data Service is an expandable management module which can be configured to meet customer requirements by enabling specific functions using a license key. Data Service applications include solutions for backup/restore, data replication, and migration.
SANWatch's disk performance monitor module tracks the performance of individual drives to proactively identify problematic latency or throughput. The GUI graphs the performance of each drive for Read/Write latency and Mbps transfer rate. Clicking on a graph provides more detailed numerical values and allows the user to reconfigure the graph's monitoring interval and duration. A performance recording feature can create a log which can be replayed to track drive performance over a longer period.
Application Performance Analysis
The StorageReview Enterprise Lab employs a VMmark-based virtualization benchmark in order to evaluate compute and storage devices that are commonly used in virtualized environments. The EonStor DS S16F-R2651's specifications make it an appealing choice for SMB customers who are making the transition to virtualized applications or are planning to replace older storage platforms with a solution that can leverage current-generation enterprise SAN technology.
Our VMmark protocol utilizes an array of sub-tests based on common virtualization workloads and administrative tasks with results measured using a tile-based unit that corresponds to the ability of the system to perform a variety of virtual workloads such as cloning and deploying of VMs, automatic VM load balancing across a datacenter, VM live migration (vMotion) and dynamic datastore relocation (storage vMotion).
For both the VMmark benchmark and the enterprise synthetic benchmarks which follow, we will compare the performance of the ESDS S16F-R2561 to our recent results using the Fusion's ION Data Accelerator with four 3.2TB ioScale PCIe cards. These two solutions represent competing approaches to virtualized storage: EonStor DS with a dedicated SAN storage array and ION Data Accelerator with a pool of high-performance, host-based PCIe flash.
The ESDS S16F-R2651's highest normalized VMmark 2.5.1 application score was 15.39 with 10 Tiles and the highest overall score was 12.66 at 10 Tiles. At one tile, the normalized application score was 1.7 while the one-tile overall score reached 1.58. These results put the EonStor DS on equal footing with our ION Data Accelerator solution.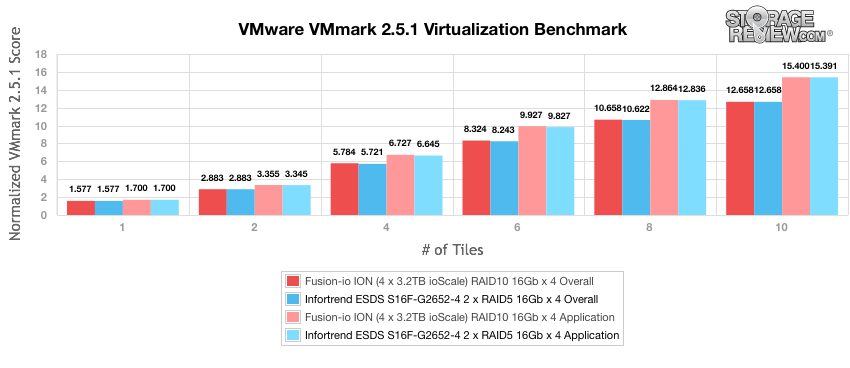 Enterprise Synthetic Benchmarks
Prior to initiating each of our enterprise synthetic benchmarks, StorageReview's Enterprise Test Lab preconditions the device into steady-state under a heavy load of 16 threads with an outstanding queue of 16 per thread. Then, the devices are tested in set intervals with multiple thread/queue depth profiles to show performance under light and heavy usage.
Preconditioning and Primary Steady-State Tests:
Throughput (Read+Write IOPS Aggregate)
Average Latency (Read+Write Latency Averaged Together)
Max Latency (Peak Read or Write Latency)
Latency Standard Deviation (Read+Write Standard Deviation Averaged Together)
Our analysis of the Infortrend EonStor DS S16F-R2651 includes four profiles comparable to our past enterprise storage benchmarks and widely-published values such as max 4k read and write speed and 8k 70/30, which are also commonly used in manufacturer specifications and benchmarks.
4k
8k

100% Read and 100% Write
70% Read/30% Write

128k
After preconditioning for the 4k test, the EonStor DS S16F-R2651 realized a throughput of 218,348 read IOPS and 139,409 write IOPS, both well below the performance of the ION Data Accelerator solution in RAID10 or RAID0.

The EonStor array maintained an average read latency of 1.171ms in the 4k benchmark, remaining competitive with the ION comparable, but had more trouble keeping up with both of the ION Data Accelerator RAID configurations in terms of average 4k write latency.

Our comparison of maximum 4k latencies reveal an advantage for the EonStor DS array over the ION Data Accelerator with tighter maximum latency values for both read and write operations.

Charting the standard deviation for latency results in our 4k synthetic benchmark suggests that the EonStor DS S16F-R2651 is almost as consistent as the Fusion-io ION solution in read latencies. Because the ION comparable suffered from an exceptionally high write latency when configured for RAID10, the EonStor attained a better standard deviation than the RAID10 ION Data Accelerator.

Moving to larger 8k transfers, the EonStor DS is able to notably outpace the ION Data Accelerator comparable in read throughput with 429,732 IOPS. 8k write performance remained lower than either of the ION's RAID configurations.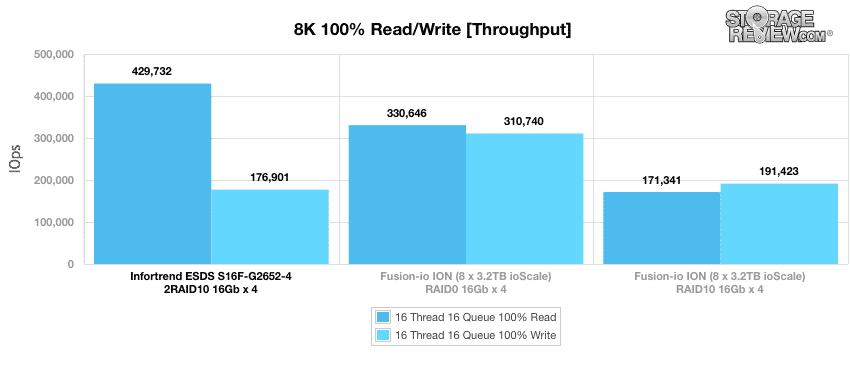 The next four charts are based on a protocol which combines read and write operations with an 8k transfer size. Throughput results for the 8k 70/30 benchmark reveal no surprises; while the EonStor's hardware does not have the performance to keep up with the ION solution, the ESDS S16F-R2651 does not suffer from any trouble spots and holds its own as the workload scales upward with thread count and particularly with queue depth.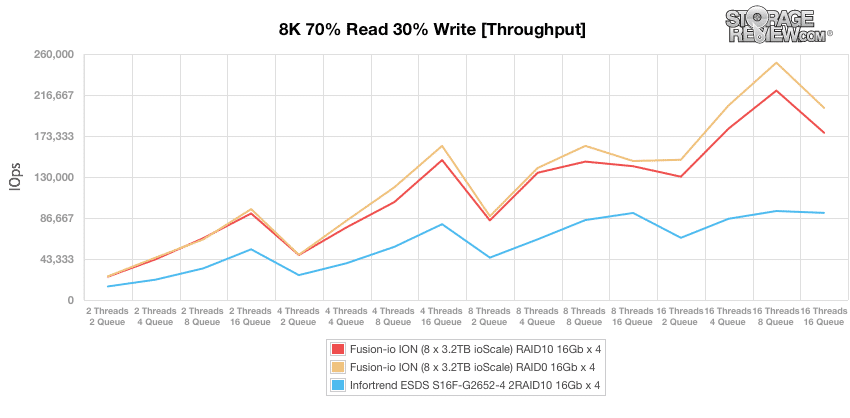 At lower queue depths the EonStor DS S16F-R2651 maintains average latencies of approximately double the ION Data Accelerator, but offers improved results at higher queue depths.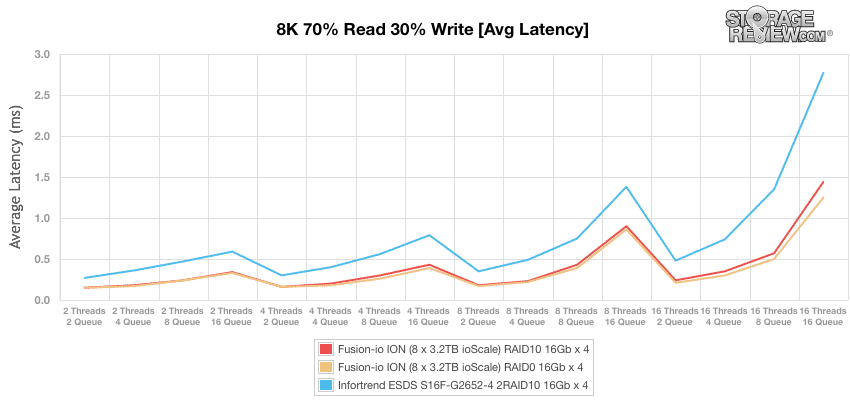 Charting the EonStor's maximum latencies during the 8k 70/30 benchmark do not suggest any noteworthy bottlenecks, with the ESDS S16F-R2651 occasionally outperforming the ION Data Accelerator solution for maximum latency on lighter workloads.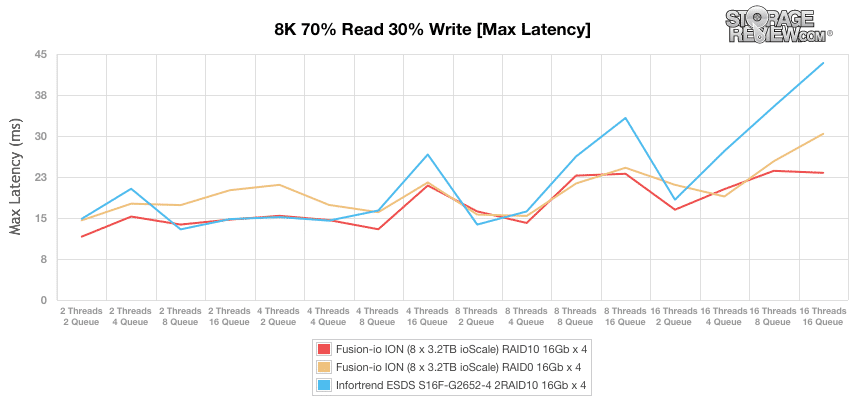 Standard deviation calculations for the 8k 70/30 benchmark highlight less consistent latency results at greater queue depths for the EonStor, with the largest variations at the upper end of our workload with both 16 threads and a queue depth of 16.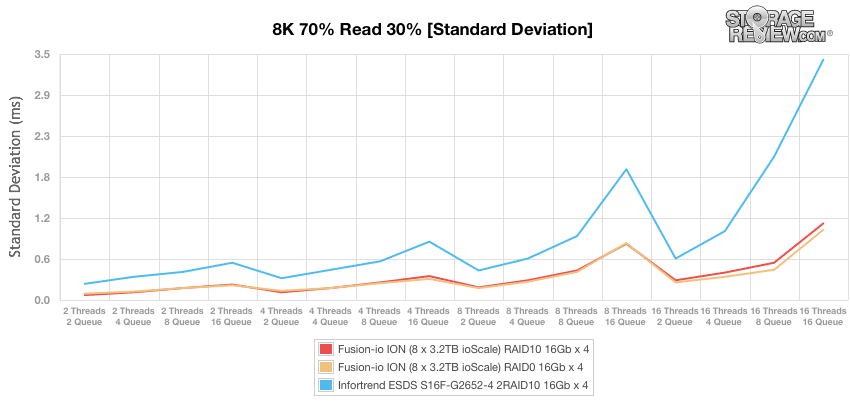 The final synthetic benchmark for the EonStor DS S16F-R2651 utilizes much larger 128k transfer sizes with 100% read and 100% write operations. Under these conditions, the EonStor performed well below the ION Data Accelerator solution, with 2,232,422 IOPS in the read benchmark and 2,476,851 IOPS for the write benchmark.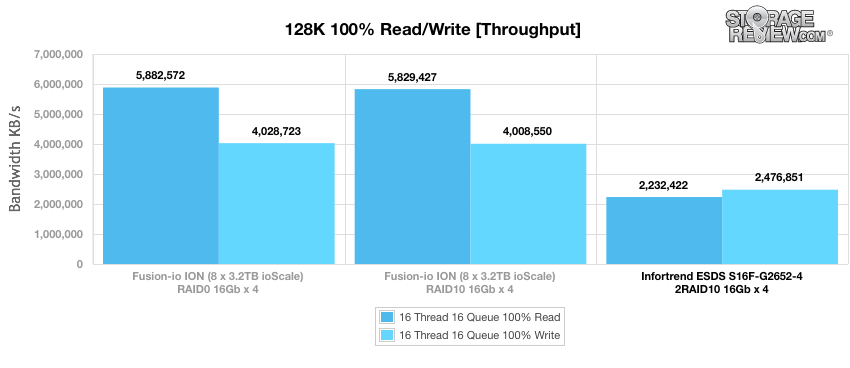 Conclusion
The EonStor DS S16F-R2651 is designed for use by small and medium businesses to provide high-performance SAN storage suitable for virtualized environments as well as other deployments which require streamlined configuration and administration workflows. In our suite of virtualization benchmarks, the EonStor went toe-to-toe with a solution utilizing Fusion's ION Data Accelerator and ioScale PCIe flash.
Having achieved this impressive result in an application-centric benchmark protocol, the ESDS S16F-R2651 went on to perform consistently throughout our suite of enterprise benchmarks, without many positive or negative surprises. For a storage solution that emphasizes affordability and accessibility to smaller enterprises, we find the ESDS S16F-R2651 to offer a robust performance profile with management that provides a satisfying variety of storage functionality and integration.
Pros
Early support for 16Gb/s Fibre Channel connectivity in the SMB SAN marketplace
Pricing accessible to SMB customers
Strong performance in virtualized environments
Cons
GUI is functional but basic
Bottom Line
The EonStor DS S16F-R2651 delivers on its goal of providing consistent and robust SAN storage performance for SMB deployments with leading edge 16 Gb/s Fibre Channel connectivity.
Infortrend EonStor DS S16F-R2651 Product Page
Discuss This Review