In Q4 of 2019 Intel launched its latest NUC system; the Intel NUC 10  NUC10i7FNH, which comes equipped with a 10th generation Intel i7 Core Processor. The computer community tend to call NUCs by their code name, and I have seen this NUC referred to by not only its system code name Frost Canyon but also as Comet Lake which is the code name of the CPU that it using. As the product name (Frost Canyon) also covers systems powered by i3 and i5 Intel Core processors, and the Comet Lake family of Intel processors are used in a wide variety of systems in this article I will be calling it by its proper name NUC10i7FNH.
In Q4 of 2019 Intel launched its latest NUC system; the Intel NUC 10  NUC10i7FNH, which comes equipped with a 10th generation Intel i7 Core Processor. The computer community tend to call NUCs by their code name, and I have seen this NUC referred to by not only its system code name Frost Canyon but also as Comet Lake which is the code name of the CPU that it using. As the product name (Frost Canyon) also covers systems powered by i3 and i5 Intel Core processors, and the Comet Lake family of Intel processors are used in a wide variety of systems in this article I will be calling it by its proper name NUC10i7FNH.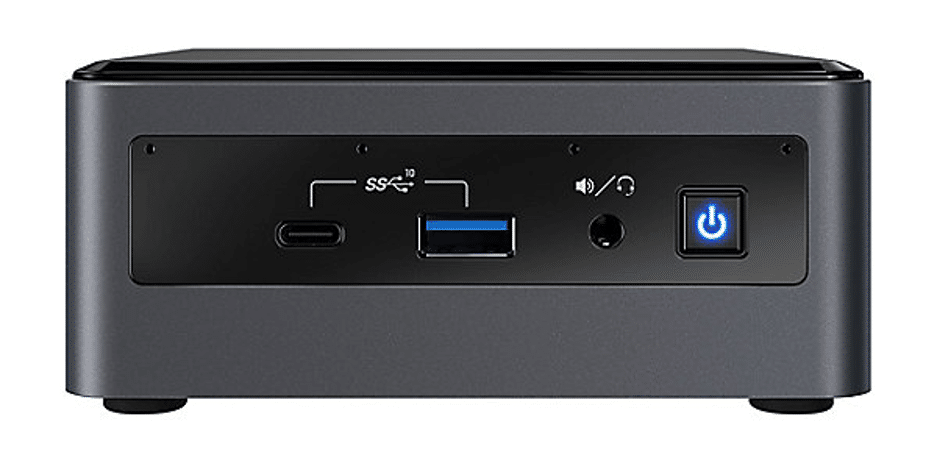 Intel has another Comet Lake NUC called the NUC10i7FNK. Whereas the NUC10i7FNH has 2" tall case and a 2.5" SATA drive slot the NUC10i7FNK case is slightly shorter at 1.5" and does not have a SATA drive slot. The mainboard and the CPU are the same in both of these systems.
Intel NUC systems are used by enthusiast that want to build a home lab that take up a minimal amount of space, custom builders that configure them for a specific purpose such edge computing or to build up powerful entertainment systems, and others that are looking for a quiet, system that take up a minimal amount of space.
Last year we had the chance to review two other Intel NUCs; NUC7CJYSa, low priced system powered by an Intel Celeron J4005 processor that we ended up installing IGEL and Wyse VDI client software on and used to connect to our virtual desktops. The other NUC was a more powerful NUC, the NUC8i7BEH, that we installed ESXi on after our review and we used it as an ESXi host for another project that we are working on. Both of the systems have been working extremely well for their assigned roles. This shows the flexibility and range of uses that NUCs can be used for. You can read our review of these systems here, here and here.
The Intel NUC10i7FNH that we will be reviewing is the NUC10i7FNHAA Performance Mini PC which comes 16 GB of RAM, a 256 GB M.2-based SATA SSD, a 7mm 1TB SATA3 HDD, a Core i7-10710U CPU with an integrated Intel UHD Graphics 620 GPU and Windows 10 Home. Connectivity into it very good as it has 6 USB ports, WiFi, and an 1Gb RJ45 port.
Intel NUC NUC10i7FNH Specifications
Below are the Intel NUC10i7FNH specifications:
Manufacturer: Intel
Model: NUC10i7FNHAA
NUC10i7FNHAA- MSRP: $1093 USD (street price $940 USD) – with RAM and storage
NUC10i7FN – MSRP: $688 USD (street price $598 USD) – without RAM and storage
Form factor: Mini
OS: Windows 10 Home
CPU: Intel Core Intel Core i7-10710U CPU (hexa-core with HT, 25W TDP, 12M Cache, up to 4.70 GHz)
GPU: Intel UHD Graphics 620 GPU (up to 1.15 GHz, 24 EUs)
Memory: 2 x DDR4-2666 SO-DIMM RAM – Max Memory 64 GB

Populated with 2 x 8GB Kingston ValueRAM KVR26S19S8/8 DDR4 SODIMM

Internal storage options:

One SATA ATA-600 port for connection to a 2.5″ HDD or SSD

Populated with Seagate ST1000VT001 1TB 5400RPM 2.5″ Video HDD

One M.2 slot with PCIe X4 lanes (2242 or 2280), Optane support

Populated with Kingston U-SNS8154P3/256GJ PCIe 3.0 x2 NVMe SSD

Full sized SDXC slot

Display:

HDMI 2.0a port with 4K @ 24 Hz
USB Type-C port with DisplayPort* 1.2 (supports two 4K monitors @ 60 Hz)

Power consumption: 19V, 6.32A AC-DC power brick adapter
Ports:

3 x USB 3.1 Gen 2
1 x Thunderbolt 3
2 x USB 2.0 (internal header)

Multimedia:

Quad array microphone, IR receiver

Network connectivity:

Wired 1Gb via Intel Ethernet Connection I219-V
Intel Wireless-AX (Intel Wi-Fi 6 AX201)

Supports 802.11a/b/g/n/ac/ax
Maximum transfer speed up to 2.4 Gbps

Bluetooth v5

Physical size: height 2" x width 4.5" x depth 4.5"
Physical weight: N/A
Color: blue-gray
Compliant standards: the product meets numerous safety, regulations, EMC/RF, and environmental standards
Package contents: NUC, power adapter, VESA mount and mounting screws
Support for Instantly Available PC technology, LAN Wake, Wake from USB, Wake from CIR, Microsoft Modern Standby, Intel Platform Trust Technology
3-year warranty
NUC10i7FNH Design and Build
The NUC comes packaged in a heavy cardboard box, with the device itself being nested between two black foam blocks and is wrapped in an electrostatic plastic bag. The box also contains a power brick adapter, an offset screw, and quick start, regulatory and safety guides.
On the rear of the device is a HDMI port, two 3.1 USB ports, a Thunderbolt type-C port, RJ45 ethernet port, Anti-theft lock hole, and electric power inlet.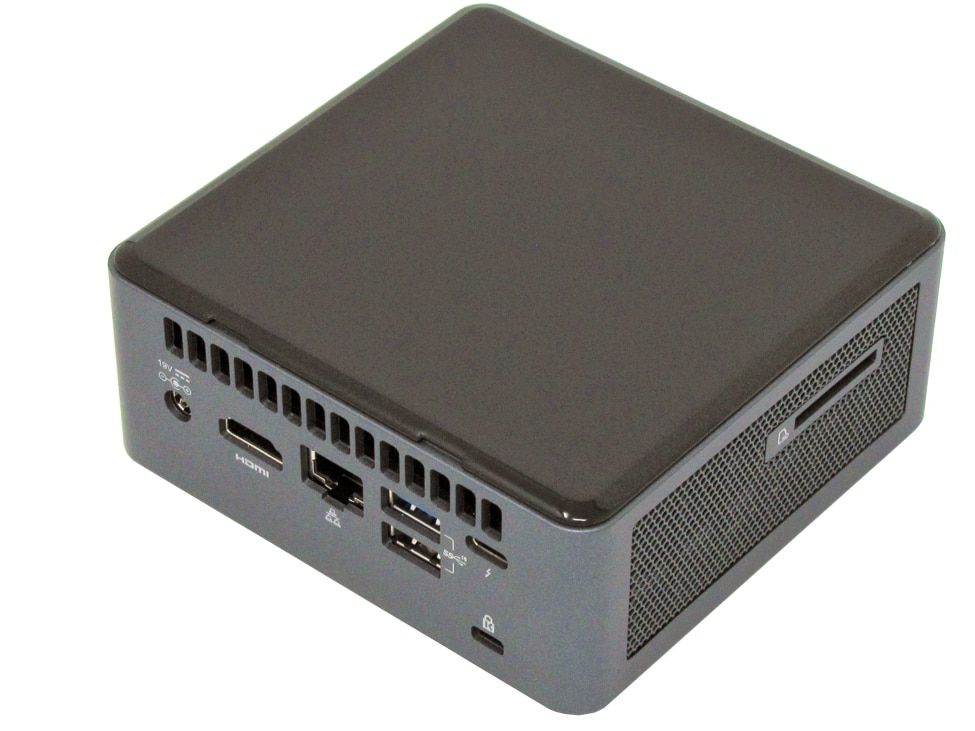 The front of the device has the power button/LED, USB 3.1 port, USB-C port, four DMICS digital microphones, a 3.5mm speaker/headset jack, HDD LED, consumer infrared (CIR) sensor. The left side of the device has an SD card slot.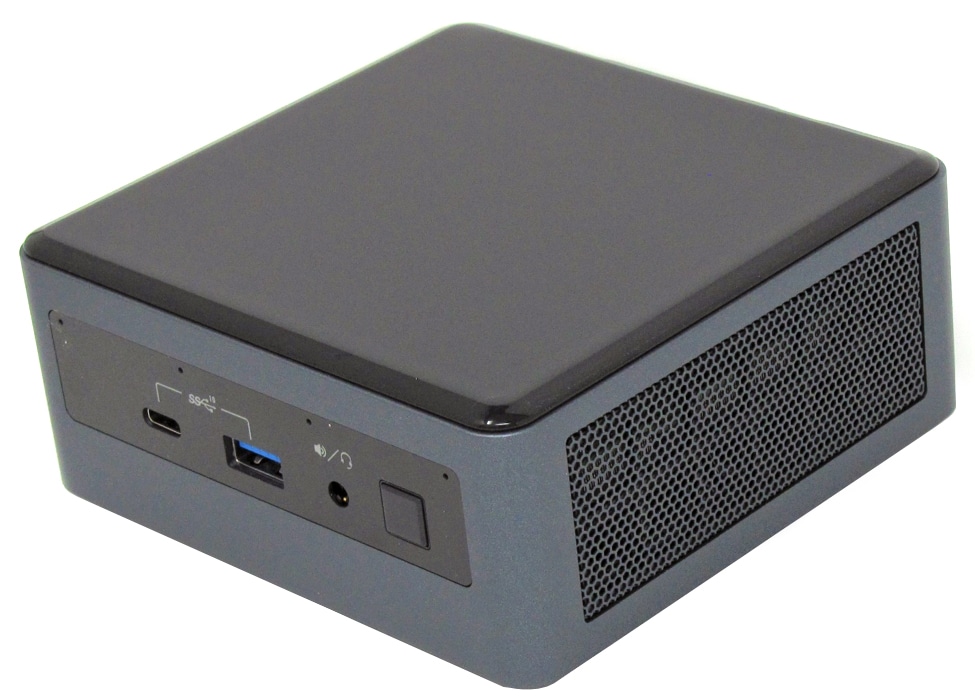 The sides and top of the device's case are made of strong plastic with inlet metal panels with ventilation holes on the two sides, while the upper third of the back has 14 slots molded into the back for airflow. The bottom of the device is made of metal and has two threaded holes where a VESA mount can be attached. The top of the device has slight indentation and can easily pried off. Overall, the case on this device is very durable and should hold up well in a home, office, or datacenter.
The bottom of the case is attached by four captive Phillips-head screws. By removing these screws, you will expose a well-constructed motherboard. The bottom of the device has a ventilated metal slot that can house a single 2.5 HDD or SSD drive. The motherboard also has a connector for a 2242 or 2280 M.2 Device. The CPU/GPU of the device is not visible as it is mounted on the underside of the motherboard. The motherboard has connectors for two DDR4 SO-DIMMs. All the visible components and ports are surface-mounted to the motherboard. The build quality of the device is above-average. The RAM that the device came with was Kingston KVR26S19S/8/8, the M.2 2280 device was a Kingston E8FK11.C and the HDD device was a Seagate Video ST1000VT001-1RE172 1TB drive.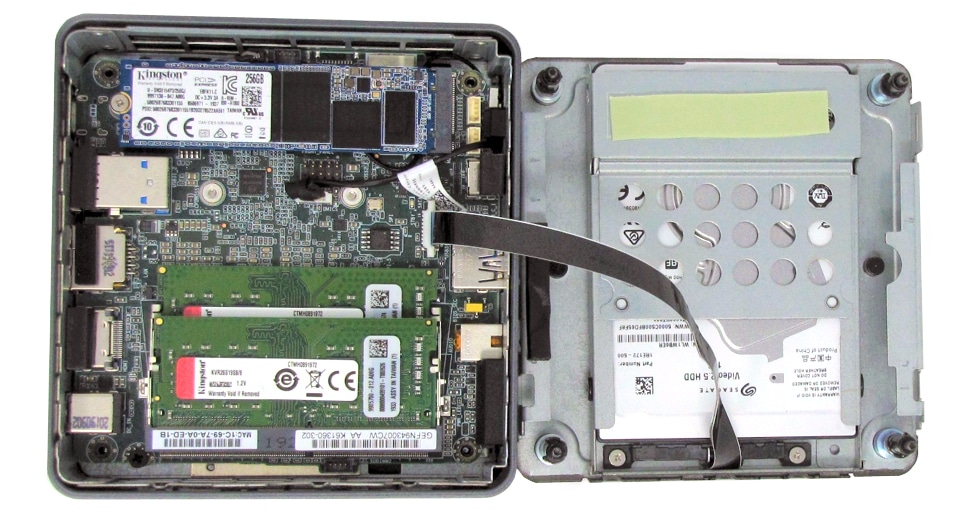 A block diagram of the device shows that both the SATA and M.2 have 6.0 Gbps connectivity.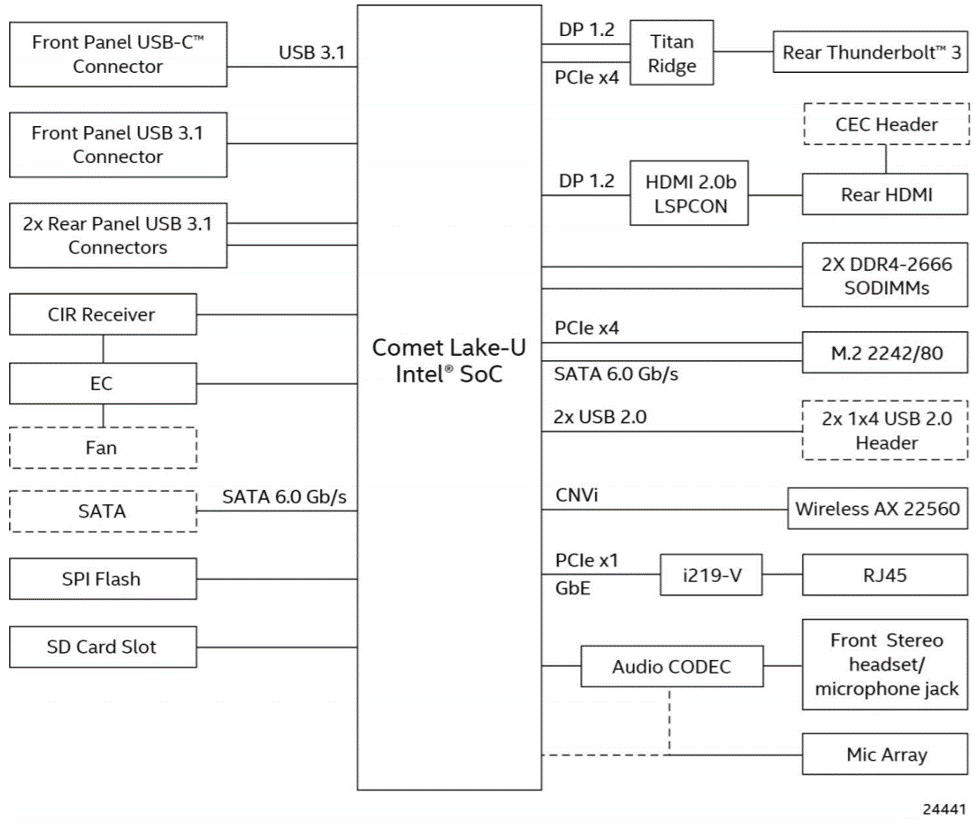 The unit has a single 10th Generation Intel Core i7-10710Ui7 processors. This CPU is a 64-bit six-core performance mobile x86 microprocessor with 12 MB Intel Smart Cache. It has support for Hyper-threading so a total of 12 threads can be running at a given time. The processor operates at normal speed of 1.1 GHz with a Turbo Boost of up to 4.7 GHz. It has a TDP (Thermal Design Power) rating of 15 W. It supports up to 64 GB of dual-channel DDR4-2666 memory.
The CPU has integrated Intel UHD Graphics 620 operating at 300 MHz with a burst frequency of 1.15 GHz. The GPU has 24 Execution Units (EU) and can support up to 3 4K displays; one through the HDMI port and two through the Thunderbolt 3 connector. The TPD and RAM are shared between the CPU and GPU.
The WLAN module in the NUC10i7FNH is the Intel Wi-Fi 6 AX201 which is capable of transfer rates of up to 2.4 Gbps.
The USB-C port supports Thunderbolt 3 which allows it to drive two external 4K displays at 60 Hz or other Thunderbolt 3 compatible periphery.
Initial Boot
For the initial boot and testing of the device, we connected the device to a Dell UltraSharp 32" 4K Monitor (U3219Q) via HDMI. The Dell monitor has a keyboard, mouse, and video (KVM) switch built into it. The monitors built-in KVM switch was extremely useful during our testing as it allowed us to switch between the NUC10i7FNH and our laptop with the push of a button. was used throughout our testing. We plugged a Dell wireless keyboard and mouse (part number KM636) keyboard/mouse's dongle into the monitors upstream USB port.
We booted up the system and were presented with the Windows 10 Home (1903 build 18362.295) installation wizard. It took less than 5 minutes to install Windows and have the system running.
Configuration for Testing
Ideally, we would have liked to install Windows Server 2016 on this system unfortunately, Intel only provides drivers for Windows 10; Windows Server is not a supported OS on this NUC. When we tried to install Windows Server 2016 on this system, we were able to boot the Windows 2016 install media from a USB drive but got a "Loading Files" prompt twice and then a blank screen. Other have been able to install various versions of Windows servers on NUCs but had to build their own driver pack.
Rather than struggle with an unsupported OS on this system, we installed Window 10 Enterprise on the system, updated Windows and the BIOS to latest version, and installed all the suggested drivers on it.
NUC10i7FNH Performance
To evaluate the performance of the device we ran SPECworkstation 3 benchmarking test on it and compared the results to a NUC8i7BEHthat we recently tested. The full reviews of the NUC8i7BEHsystem can be found here.
SPECworkstation 3
SPECworkstation 3 is a specialized test designed for benchmarking the key aspects of workstation performance; it uses over 30 workloads to test CPU, graphics, I/O, and memory bandwidth. The workloads fall into seven broad categories; Media and Entertainment, Product Development, Life Sciences, Energy, Financial Services, General Operations, and GPU Compute. We are going to list the broad-category results for each, as opposed to the individual workloads. The results are an average of all the individual workloads in each category.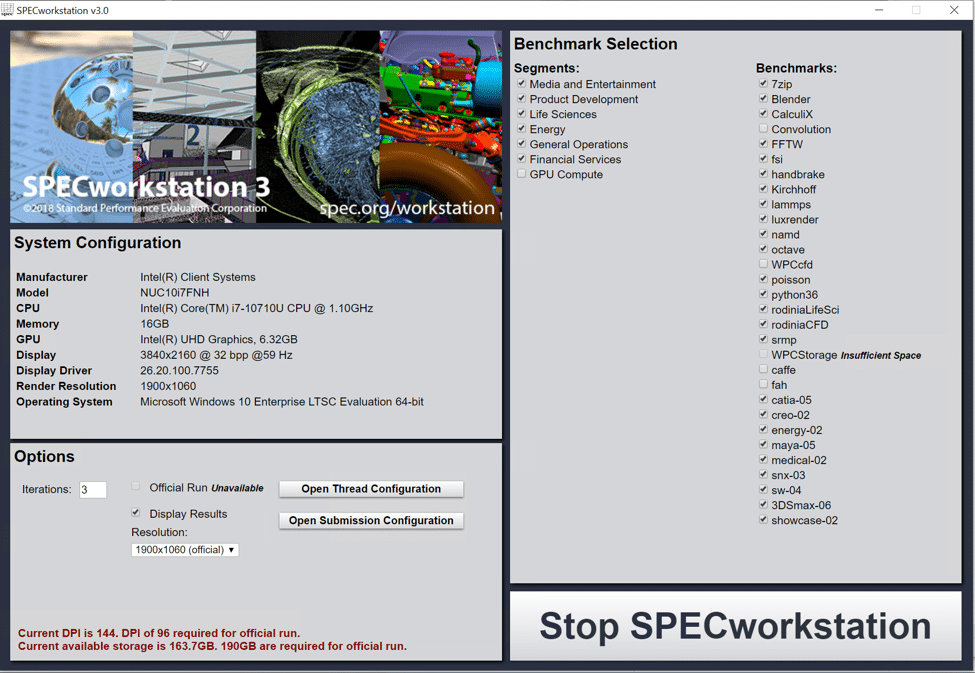 The results (Table1) show that the NUC10i7FNH system with its Intel i7-10710U hexa-core processor was more performant than the NUC8i7BEH system which had a quad-core i7-8559U CPU. We did have the SPECworkstation 3 GPU Compute category timeout due to an issue with the Caffe application on the NUC8i7BEH systems. Overall the results are inline, and what we would expect for a system with an Intel i7-10710U CPU that has 2 more cores which equates to 50% more cores and threads than the i7-8559U processor in the NUC8i7BEH.
 
SPECworkstation 3
 
NUC8i7BEH
NUC10i7ZFNH
M&E
0.93
1.34
ProdDev
1.09
1.42
LifeSci
0.78
1.40
Energy
0.70
0.70
Financial Services
1.04
1.40
General Operations
1.38
1.38
GPU Compute
Timed out
0.46
Table 1- SPECworkstation3
SPECviewperf 12.1
SPECviewperf 12 benchmark, which is the worldwide standard for measuring graphics performance based on professional applications was run on the NUC10i7FNH. The SPECviewperf test runs 9 benchmarks called "viewsets," which represent graphics content and behavior from actual applications and include categories such as 3D Max, CATIA, Creo, Energy, Maya, Medical, Showcase, Siemens NX, and Solidworks.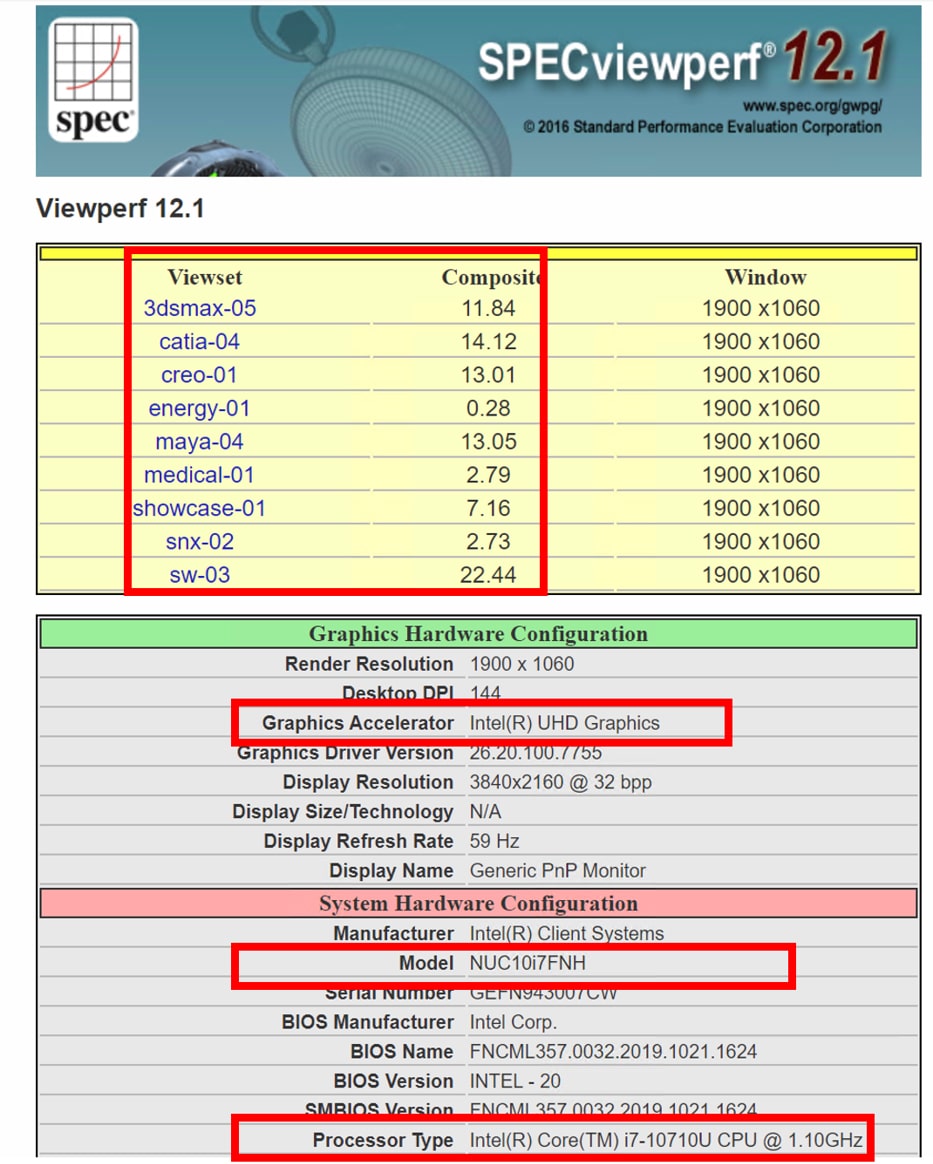 The NUC10i7FNH SPECviewperf was less performant than NUC8i7BEH which has a more powerful GPU. When viewing the SPECviewperf test on the NUC10i7FNH the output looked fine and our ad-hoc testing proved that the NUC10i7FNH is very usable in normal day-to-day usage, however for heavy graphics such as video editing or CAD work the NUC8i7BEH would be a better choice.
 
SPECviewperf 12
Viewsets
NUC8i7BEH
NUC10i7FNH
3dsmax-06
20.74
11.84
catia-05
21.33
14.12
creo-02
17.57
13.01
energy-02
0.39
0.28
maya-05
24.55
13.05
medical-02
5.32
2.79
showcase-02
12.68
7.16
snx-03
2.96
2.75
sw-04
35.13
22.44
Table 2SPECviewperf compared
PCMark 10
Earlier this year we reviewed a Lenovo ThinkCentre M90n Nano and Lenovo ThinkCentre M90n-1 Nano IoT (reviews located here and here). Below is a comparison of the Nano system to the NUC10i7FHN using PCMark 10. We tested the NUC10i7FNH using both the HHD and the SSD drive.
PCMark 10
ThinkCentre M90n-1 Nano IoT
ThinkCentre M90n Nano
NUC10i7FNH
SSD / HDD
Total Score
3,033
3,825
 4,268 /4,093
Essentials
7,140
8,684
 8,472 /7,405
Productivity
5,756
6,217
6,837 /6,657
Digital Content Creation
1,843
2,813
3,643 /3,775
Processor
8 Gen i3-8145U
2 cores 4 threads
Clock speed 2.2/3.9GHz
Intel UHD Graphics 620
8 Gen i7-8665U
4 cores 8 threads
Clock speed 1.9/4.8GHz
Intel UHD Graphics 620
10 Gen i7-10710U
6 cores 12 threads
Clock speed 1.1/4.7GHz
Intel UHD Graphics 620
This was an interesting comparison as each of the systems had a different processor with a different number of cores but all of the systems had the same integrated GPU. As expected, the Intel NUC 10 NUC10i7FNH with its 6 cores had the highest total score, followed by the 4 core M90n Nano and then the 2 core M90n-1 Nano IoT. What was unexpected was that the Digital Content Creation score was slightly higher when we used the HDD on the NUC10i7FNH than when we used the SSD.
Ad-Hoc Testing
Benchmarks are useful to quantify the performance of a device, but to get a better feel for how the device would perform for a typical home user we conducted other, less quantifiably tests on the systems. The first of these ad-hoc test that we conducted was using the MS Office suite, the second was using a web browser, and the third was based on video viewing.
In our MS Office testing, we edited a 23-page document that had imbedded graphics, an 8 sheet Excel spreadsheet and a 50 slide PowerPoint slide deck. The performance of the MS Office applications was very good and we did not notice any delay when going from the start to the end of the PowerPoint slide deck or any slow down when we had multiple documents open.
To test how well a web browser performed on the device we opened 10 tabs in Chrome browser to various sites and then switched between them without any lag or issues.
To test the performance of a streaming video on the device we played a 1080p YouTube video on the system in quarter scale mode and then in full screen mode. In quarter scale mode and in full screen mode we didn't notice any dropped frames. The audio played flawlessly through a headset plugged in to the device.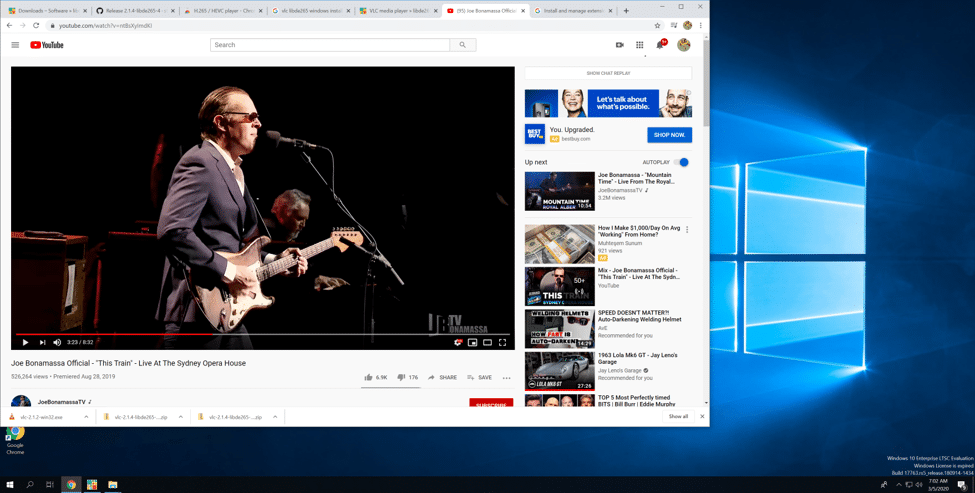 To test the performance of local video and audio we used the libde265 player to play a 640 x 360 30 fps video that was stored locally on the system in quarter scale mode and then in full screen mode. We didn't notice any frame drops in either mode. We also played a 4K (4096 x 1720 @ 24 fps) video and found that it played with only a barely noticeable jitter. The audio played flawlessly through a headset plugged in to the device during all the tests.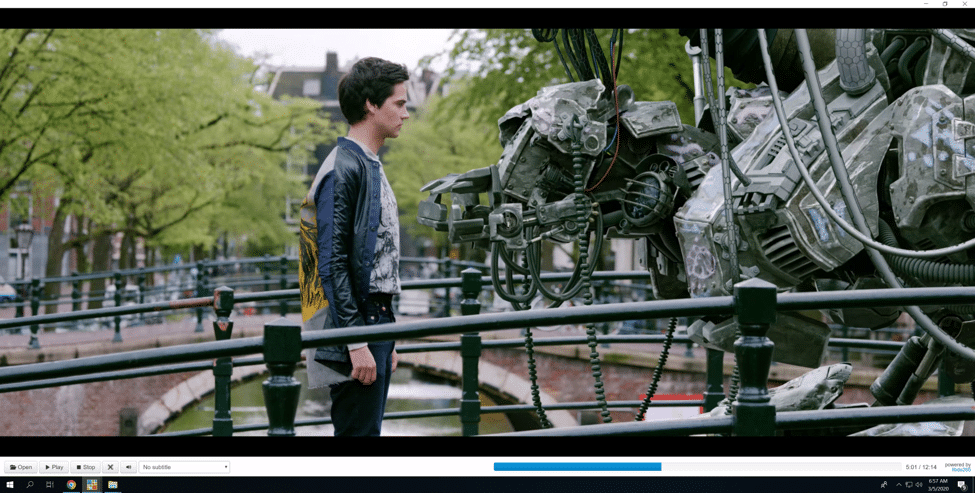 NUC10i7FNH vs. NUC8i7BEH
Invariable Intel's new NUC10i7FNH will be compared to the 8th generation NUC8i7BEH. Below is comparison of the key hardware components. As this chart shows, and our testing proves out the NUC10i7FNH with its 6 cores, higher max clock speed and support of 64GB of DDR4 2666 RAM can handle simultaneous processes and heavily multi-threaded applications better than the NUC8i7BEH. It also has a more advanced WiFi chip. Its GPU is less powerful that the one in the NUC8i7BEH however if you are not doing GPU intensive applications, such as gaming, CAD, or video editing the GPU in the NUC10i7FHN should be fine.
Feature
NUC8i7BEH
NUC10i7FNH
Processor
i7-8559U
4 cores and 8 threads
Clock speed 2.7/4.5 GHz
MAX TDP 28W
i7-10710U
6 cores and 12 threads
Clock speed 1.1/4.7 GHz
MAX TDP 15W
GPU
Iris Plus Graphics 655
48 Execution Units
Intel UHD Graphics 620
18 Execution Units
RAM
2 x DDR4 2400
Support for 32 GB
2 x DDR4 2666
Support for 64 GB
WiFi
Intel Wireless-AC 9560
Max speed 1.73 Gbps
Intel AX 201
Max speed 2.4 Gbps
One oddity that we found on the NUC10i7FNH is that it's LED on indicator is a lot dimmer than that one on the NUC8i7BEH. It was a minor thing but in bright light it did make it difficult to tell if it was on.
Conclusion
We continue to be impressed by the NUC build quality and by how much power Intel can put into these small form factor systems. The Intel NUC 10 NUC10i7FNH can be purchased as a kit and the purchaser can equip it as they see fit or it can be purchased fully configured with RAM and storage. For those that are willing to sacrifice the 2.5" drive slot they can get the slightly shorter NUC10i7FNK system. The NUC10 family can also be purchased with a i3 or i5 processor.
It does have very good connectivity with its 3 external USB 3.1 ports and single USB Type-C Thunderbolt connector. It supports a single SATA drive, and a single M.2 drive. This is the first NUC system that supports 64GB of RAM.
Although not extensively tested we did find that the built-in Wi-Fi worked well, and the WLAN module is capable of up 2.4 Gbps. The system has a three-year international limited warranty.
Based on the performance of the benchmarks and the ad-hock testing that we performed on the system we feel that it would make a very good power-user system for demanding office users that use typical office applications, does demanding web browsing, and plays streaming videos. With its 6 cores and support for 64 GB of RAM it will be able to crunch through complex calculations from multi-threaded programs.
The more adventurous have found that they can install a hypervisor such as ESXi on it, in fact NUC systems have found quite a following in home labs.
Engage with StorageReview
Newsletter | YouTube | Podcast iTunes/Spotify | Instagram | Twitter | Facebook | RSS Feed