The Intel SSD 320 is the much anticipated follow-up to the Intel X25-M, easily the most popular consumer SSD to date. The SSD 320 (commonly referred to as the X25-M 3rd Generation) is a mainstream SSD, letting the big brother SSD 510 go after the enthusiast space. Mainstream doesn't mean boring though, the SSD 320 posts quoted sequential read speeds of 270MB/s and writes of 220MB/s, which is still quite respectable. And while the SSD 320 is more of an evolution of the X25-M, there's still a lot that's new, like Intel 25nm NAND and capacities up to 600GB, a first for consumer SSDs.
The Intel SSD 320 is the much anticipated follow-up to the Intel X25-M, easily the most popular consumer SSD to date. The SSD 320 (commonly referred to as the X25-M 3rd Generation) is a mainstream SSD, letting the big brother SSD 510 go after the enthusiast space. Mainstream doesn't mean boring though, the SSD 320 posts quoted sequential read speeds of 270MB/s and writes of 220MB/s, which is still quite respectable. And while the SSD 320 is more of an evolution of the X25-M, there's still a lot that's new, like Intel 25nm NAND and capacities up to 600GB, a first for consumer SSDs.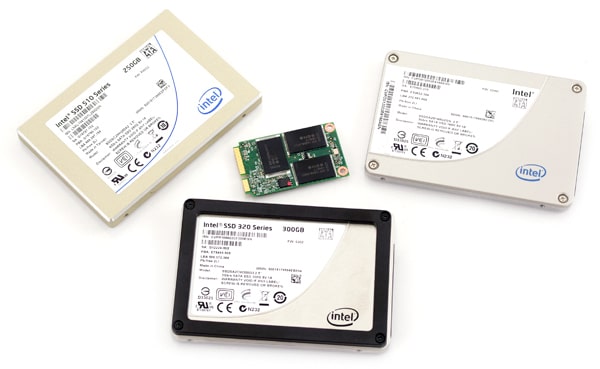 The capacity is a pretty big deal for many. The 2.5″ form factor (7mm drive height with 2.5mm shim) of the Intel SSD 320 comes in 40GB, 80GB, 120GB, 160GB, 300GB and 600GB capacities, essentially a flavor for everyone from boot drives through massive (by SSD standards) system drives. Intel is also offering the SSD 320 in a 1.8″ form factor for smaller notebooks, tablets and the like. These will be available in 80GB, 160GB and 300GB capacities. All of the capacities feature Intel's own 25nm NAND, which has a long history of Tier 1 performance and reliability.
The NAND issue is important. It gives Intel total control of the components, from controller to flash, on top of which Intel layers their own firmware. Intel has also added a new twist on the board, including power loss protection. Rarely seen in a consumer SSD, Intel uses an array of capacitors to make sure data gets saved to the drive in the event of an unsafe shutdown as the result of power loss.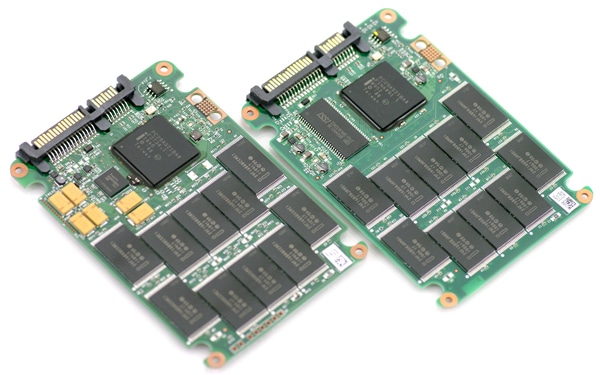 The other big bonus around the 25nm Intel NAND is price. We've talked a good deal on StorageReview.com about the cost savings 25nm NAND offers, but we're yet to see much savings in retail. Intel's taking the pretty bold stance of promoting up to a 30% costs savings with the SSD 320 series. While at the time of this review we didn't have retail street pricing, Intel does offer some guidance, posting 1,000-unit quantities prices as follows: 40GB at $89; 80GB at $159; 120GB at $209; 160GB at $289; 300GB at $529 and 600GB at $1,069. If we assume the price list doesn't get bumped too much at retail, that $209 for the 120GB SSD 320 looks pretty appealing against the current street price of $230 for the same capacity X25-M.
Of course the Intel SSD 320 is also compatible with Intel's excellent SSD Toolbox, which offers several easy to use tools for consumers including drive optimization, secure erase, drive health reporting and more. Intel also offers a free migration tool to help transition from an old system drive to a new Intel SSD.
Intel's certainly put a lot of effort into making the SSD 320 a nice improvement over the X25-M. The feature set certainly will appeal to consumers, but the SSD 320 should find its way into several enterprise deployments as well, with corporate-friendly features like power loss protection and AES 128-bit encryption. At the end of the day though, the SSD 320 still has to perform. Let's dive in to see how it stacks up against the venerable X25-M and the latest set of next generation SSDs.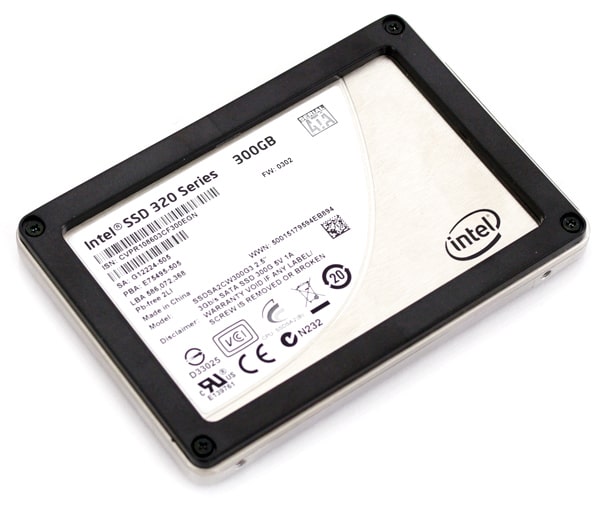 Intel SSD 320 Specs
Form Factors: 1.8-inch and 2.5-inch
Capacity — 80/160/300 GB (1.8-inch), 40/80/120/160/300/600 GB (2.5-inch)
Intel
Intel 25nm NAND MLC Flash Memory
SATA 3Gb/s interface
Sustained sequential read: Up to 270 MB/s
Sustained sequential write: Up to 220 MB/s
AES 128-bit Encryption
Intel SSD Toolbox
OS-aware hot plug/removal
Enhanced power-loss data protection
Power – Active – Up to 4W (TYP), Idle: 700 mW (non-DIPM)
Uncorrectable Bit Error Rate (UBER): 1 sector per 1016 bits read
Mean Time Between Failures (MTBF): 1,200,000 hours
Lifetime Endurance – Up to 60 TBW
Weight: 1.8-inch: up to 49 grams, 2.5-inch 7mm: up to 82 grams, 2.5-inch 9.5mm: up to 88 grams
3-year warranty
Aesthetics
The new Intel SSD 320 looks a heck of a lot like the X25-M before it, but given how much SSD designs don't really change through the iterations, this isn't really surprising. The case is the same silver alloy design, based around a 7mm height with an added shim to allow it to be mounted in enclosures expecting a 9.5mm tall body. As you can see below, it's a simple matter of using shorter screws and no shim, and you have a smaller drive in your hands without any other changes.

The bottom is bare metal without any stickers present. The top sticker is all that Intel has used over the years, listing the various important pieces of information such as model number, capacity, serial number, firmware version, and the like. They didn't even change the curved radius shape of the sticker, let alone color!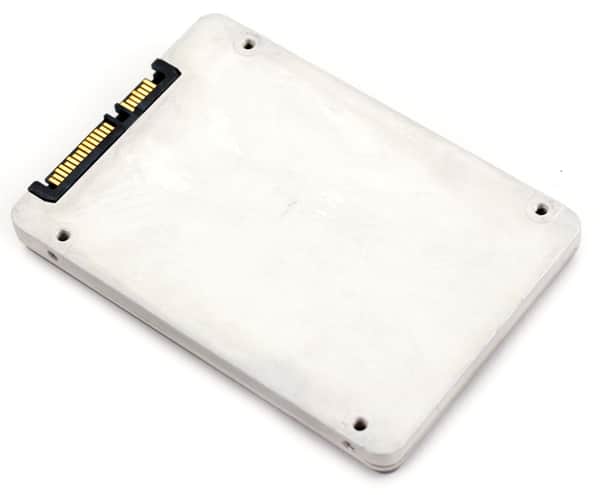 The front of the SSD 320 has the same SATA power and data connection without any service-mode pins located near it. All firmware updating takes place through software only, without any hardware intervention.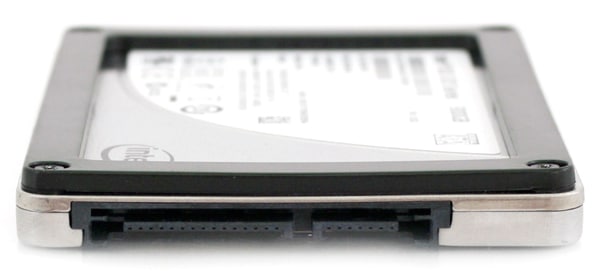 Disassembly
Taking the 300GB Intel SSD 320 apart is very easy with a simple Phillips head screwdriver. After removing the four screws located at the corners, which also hold the shim in place, the shim and top cover easily lift up. Once that is removed you are greeted with the underside of the circuit board, which in this case only includes NAND pieces. On the previous 160GB X25-M, the underside was bare.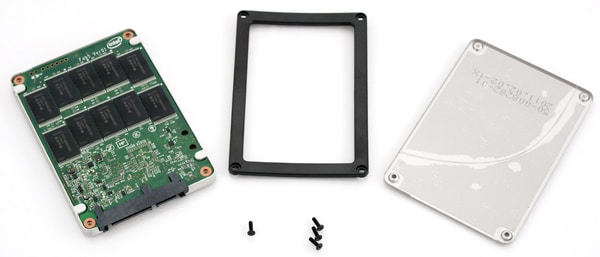 With the way things are going in the SSD market, you might almost start off by saying "out with the old in with the new". In the case of the Intel SSD 320, Intel stuck with what worked best; the good ole PC29AS21BA0 controller, with updated firmware to work with newer 25nm flash. This controller has proved itself to be extremely reliable and versatile over the years, and proves itself yet again to have plenty of life left in it.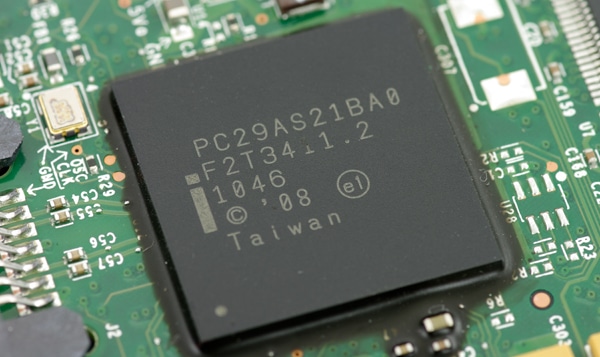 The flash is comprised of twenty 25nm Intel 29F16B08CCME1 16GB pieces, which according to Intel are the "cream of the crop" when it comes to selection from the Intel NAND Factory. When you make the stuff yourself, you can dictate who gets what, and in this case Intel picks the highest grade pieces for themselves. What this means for the consumer is no matter what, if you buy Intel gear you get the best Intel components.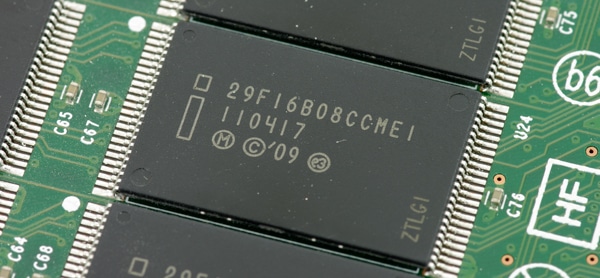 There are two additional features of the Intel SSD 320 that haven't been seen on previous consumer models. The first is the 64MB Hynix Mobile SDR 666Mhz H55S5162EFR-60M, which if you squint close enough you might be able to tell that it is much smaller than previous RAM offerings. This is because unlike using notebook/desktop grade DDR memory, they went with Mobile SDR, which as you can see takes up much less space. It was surprising to see this RAM debut on the 320 and not the much, much smaller SSD 310, which had physical size constraints with the mSATA form factor.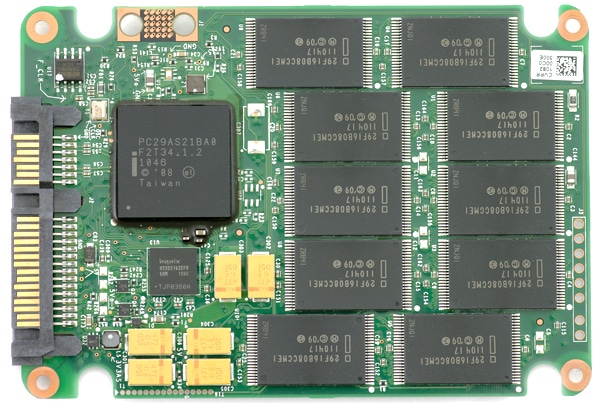 The next change, which we will go into further detail in the power section, is the addition of capacitors to allow the SSD to continue writing data stored in cache to the NAND in the event of a power failure. While not exactly the latest super-capacitor technology as we have seen on other enterprise-class SSDs, this is still said to be enough to write the entire cache contents to NAND when the power is lost.

The bottom of the SSD is pretty bare, not counting the ten 25nm 16GB NAND pieces soldered to it. All of the cool stuff is located up on top.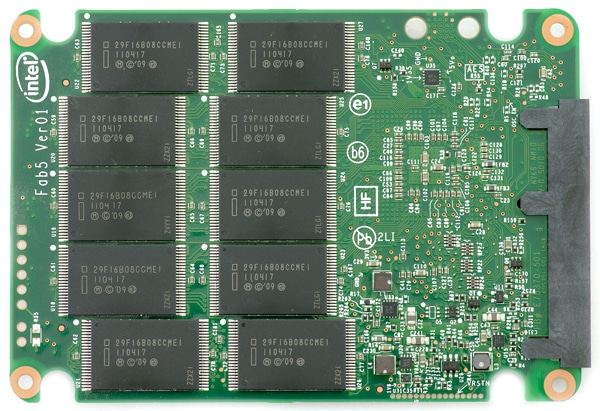 Synthetic Benchmarks
To test the 300GB Intel SSD 320, we used the standard Intel ICH10R AHCI interface on our Dell XPS 9000 test bed, and compared it to current-generation SSDs. While some might come out to claim we are making an unfair comparison putting it up against drives like the Vertex 3 or Intel SSD 510, they're all part of the new slate of releases this year, and some buyers are considering SATA 6Gb/s drives even for legacy SATA 3Gb/s interfaces. The best comparison though is the second generation X25-M, which the SSD 320 replaces. And what a replacement it is, if you remember back to the spec sheet on the X25-M you might recall the rather paltry 100MB/s sequential write speeds advertised; the SSD 320 more than doubles that. We're eager to see how this plays out in our benchmarks.
To directly compare against the advertised sequential read speeds of 270MB/s and write speeds of 220MB/s we turn to IOMeter with our 2MB sequential transfer profile. This test relates closely to if you took a file from one drive and copied it on another.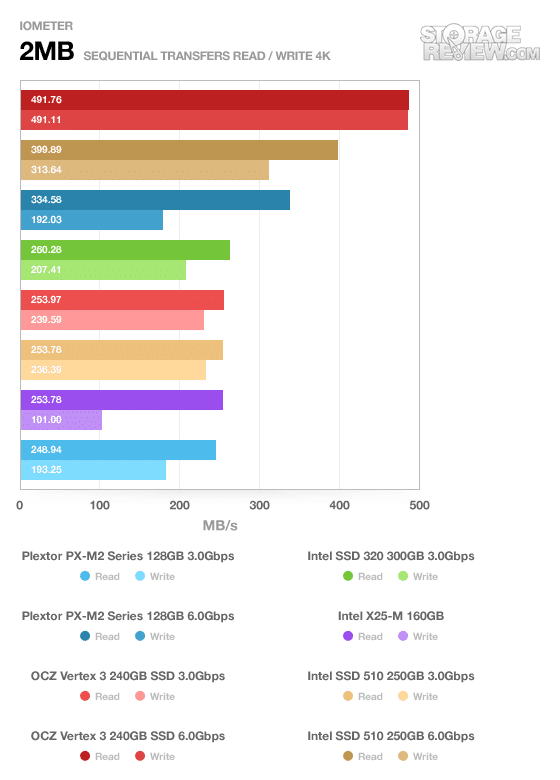 In the sequential file transfer test the Intel SSD 320 came very close to its advertised speeds of 270/220MB/s with a recorded 260MB/s read and 207MB/s write. Write speeds doubled over the previous generation 160GB X25-M.
In the next test we look at the random transfer speeds of the Intel SSD 320, but keeping the same 2MB transfer size.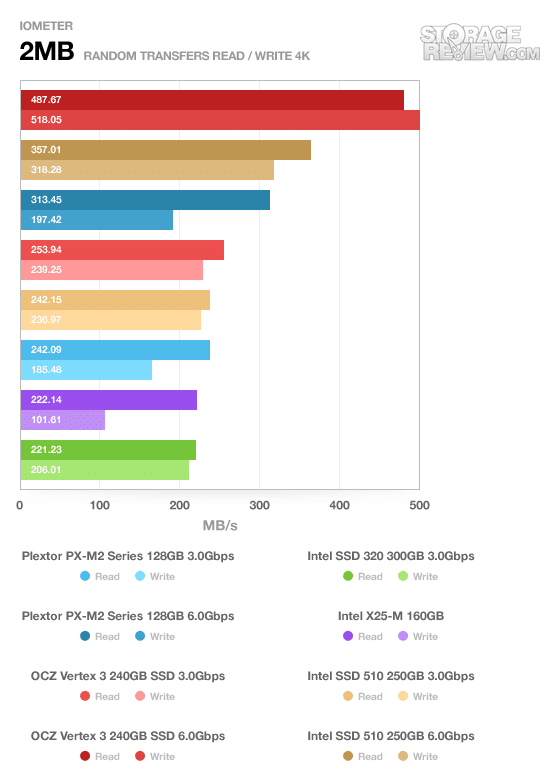 The newer SSD 320 slipped just 1MB/s behind the X25-M, coming in with a read speed of 221MB/s. Write speeds demolished the old X25-M though, coming in more than double at 206MB/s.
The next synthetic benchmark covers random read/write performance on the 4K level, which for SSDs is a big selling point. Higher numbers means better performance in theory, although sometimes it doesn't carry over into real-world benchmarks as much as the differences in numbers might imply. In this test we stick with IOMeter, using 4K transferred aligned to 4K sector boundaries.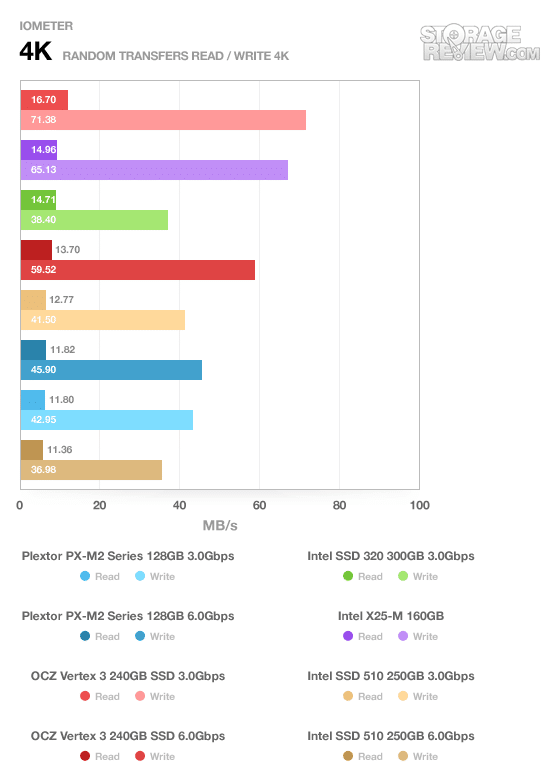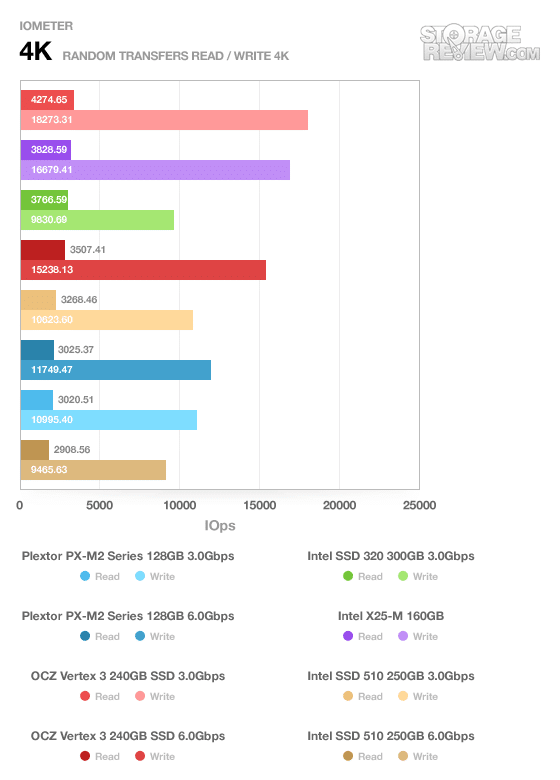 Random 4K transfer performance at a queue depth of 1 was actually slower than the previous X25-M, although not by much on read. The area that it did drop though was random write speed. The newer 25nm-based SSD 320 got 38MB/s while the older 34nm-based X25-M posted 65MB/s.
In the next section we look at 4K write latency, which looks at the average and maximum response times for the 4K-write activities. In this area the drives that scored higher write speeds will show lower (faster) response times.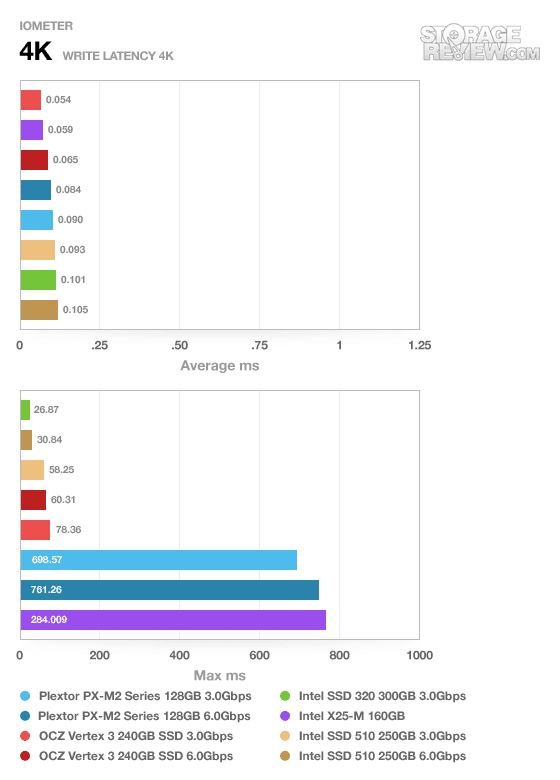 The 25nm Intel SSD 320 came in right under the SSD 510 with an average response time of 0.101ms. This was much slower (relatively speaking) than the 160GB X25-M which measured 0.059ms. Max latency on the newer SSD 320 was the best of the entire bunch, coming in with a peak response time of 26.8ms, whereas the X25-M before it spiked upwards of 284ms.
Using CrystalDiskMark 3.0, we measured the 300GB Intel SSD 320's performance with randomized data. In this area the results were very much in line with what we measured using IOMeter.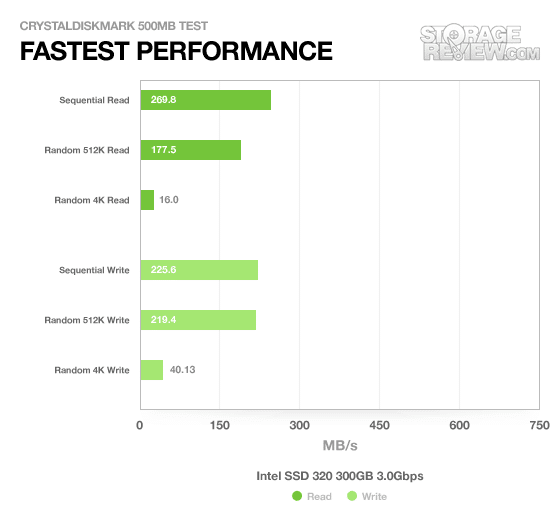 In the last group of IOMeter tests, we look at specific user-scenarios ranging from database performance to workstation loads. These tests aren't as realistic as real-world traces, but they do work very well to show off how certain drives cope with varying degrees of queued demands. This stressed NCQ-abilities and shows how well certain controllers handle greater workloads. In these tests the Intel SSD 320 performed very much in line with the older 160GB Intel X25-M.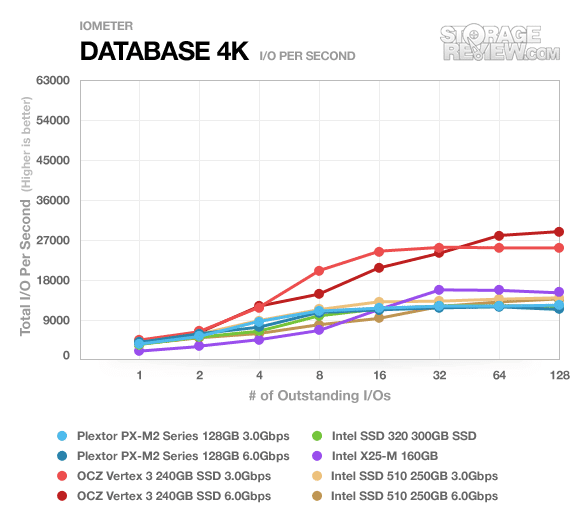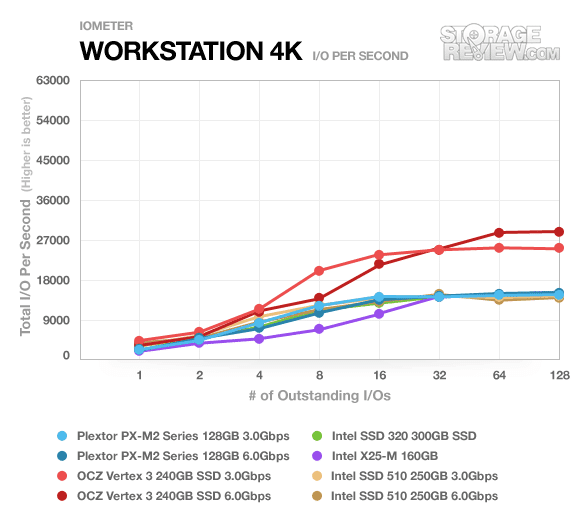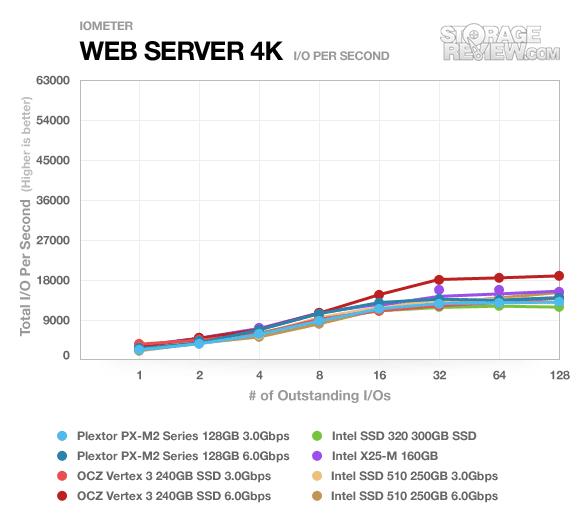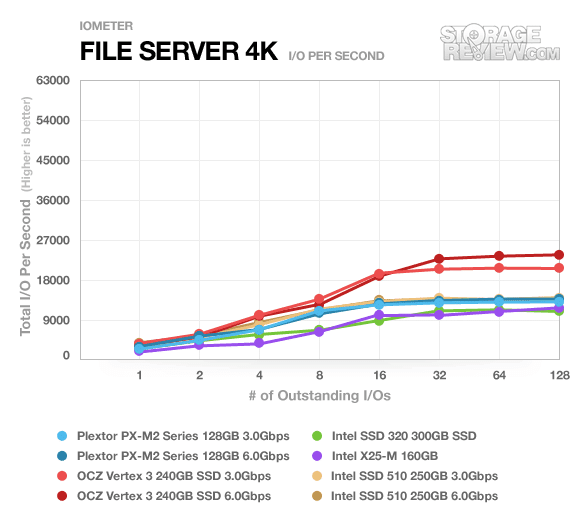 Real-World Benchmarks
If you are new to StorageReview, one thing we try to focus on is how any given drive might perform under real-world conditions. For the average user, trying to translate high random 4K write speeds into an everyday situation is pretty difficult. It also doesn't make sense to assume that a drive with very high sequential speeds is going to perform great in the real-world if it can't cope with mixed random activity. To really see how drives perform under normal work-loads you need to record the exact traffic being passed to and from the device, and then use that to compare drives against one another. For this reason we turned to our StorageMark 2010 traces, which include HTPC, Productivity, and Gaming scenarios to help our readers find out how well a drive might perform under their conditions.
Just as with the synthetic benchmarks, we tested the Intel SSD 320 against the Plextor M2, OCZ Vertex 3, Intel X25-M and Intel SSD 510. For drives capable of SATA 6.0Gbps speeds, we used a LSI MegaRAID 9260-8i as the interface, with 3.0Gbps speeds being tested through the Intel ICH10R interface in AHCI mode.
The first real-life test is our HTPC scenario. In this test we include: playing one 720P HD movie in Media Player Classic, one 480P SD movie playing in VLC, three movies downloading simultaneously through iTunes, and one 1080i HDTV stream being recorded through Windows Media Center over a 15 minute period. Higher IOps and MB/s rates with lower latency times are preferred. In this trace we recorded 2,986MB being written to the drive and 1,924MB being read.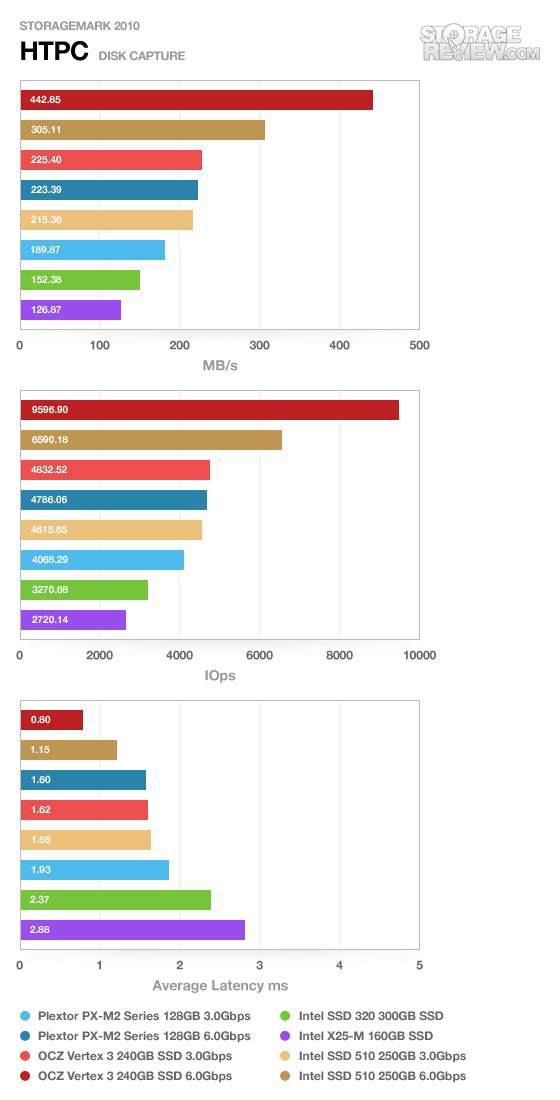 We didn't expect to see chart-topping performance from the Intel SSD 320, but instead we were looking for notable increases compared to the X25-M. In that regard the SSD 320 performed well, coming in 20% faster in the HTPC trace than the previous generation model. It still couldn't come close to the level of performance of the Intel SSD 510 over SATA 3.0Gbps though, falling 41% behind it.
Our second real-life test covers disk activity in a productivity scenario. For all intents and purposes this test shows drive performance under normal daily activity for most users. This test includes: a three hour period operating in an office productivity environment with 32-bit Vista running Outlook 2007 connected to an Exchange server, web browsing using Chrome and IE8, editing files within Office 2007, viewing PDFs in Adobe Reader, and an hour of local music playback with two hours of additional online music via Pandora. In this trace we recorded 4,830MB being written to the drive and 2,758MB being read.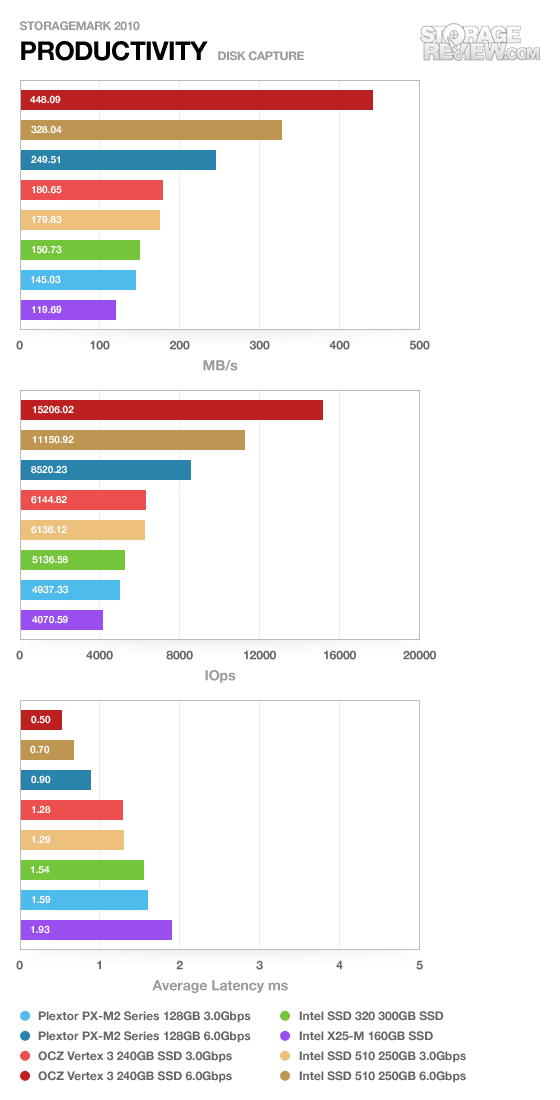 Keeping in line with the results we saw in the HTPC trace, the Intel SSD 320 improved by 26% compared to the X25-M before it. It still trailed the Intel SSD 510 by 19% though over the same 3.0Gbps interface.
Our third real-life test covers disk activity in a gaming environment. Unlike the HTPC or Productivity trace, this one relies heavily on the read performance of a drive. To give a simple breakdown of read/write percentages, the HTPC test is 64% write, 36% read, the Productivity test is 59% write and 41% read, while the gaming trace is 6% write and 94% read. The test consists of a Windows 7 Ultimate 64-bit system pre-configured with Steam, with Grand Theft Auto 4, Left 4 Dead 2, and Mass Effect 2 already downloaded and installed. The trace captures the heavy read activity of each game loading from the start, as well as textures as the game progresses. In this trace we recorded 426MB being written to the drive and 7,235MB being read.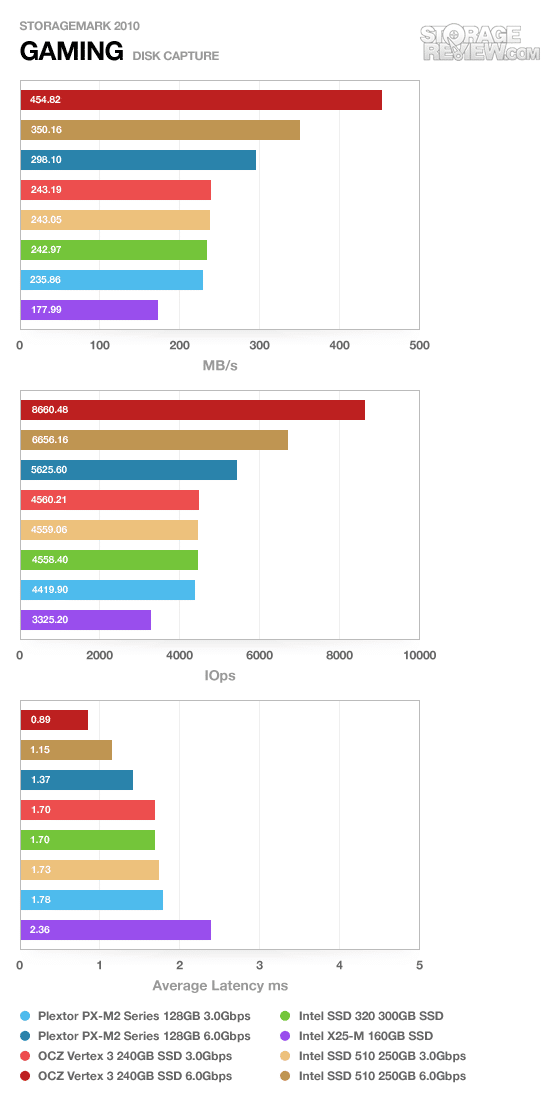 In the read-heavy Gaming trace the new 300GB Intel SSD 320 had no problem coming close to saturating the SATA 3.0Gbps bus with an average speed of 243MB/s. This came in 36% higher than the 160GB X25-M, and finally was on parity with the 250GB Intel SSD 510 over 3.0Gbps.
Power Consumption
As we mentioned up above, the Intel SSD 320 adds an array of capacitors to the mix, to help prevent data corruption in the event of power loss. To make this happen, especially on a consumer-grade budget, Intel went with six tantalum-based KEMET Organic Capacitors (KO-CAP) instead of a super-capacitor this is generally seen on enterprise SSDs. These are less expensive, but more importantly, get the same intended job done. Paired with mobile SDR memory, the power requirements for the cache are low enough that six caps with a combined storage capacity of about 0.003F (compared to the 0.18F capacitor on the Viking Modular SSD). Overall if it gets the job done, it doesn't matter what the capacity is as long as it works.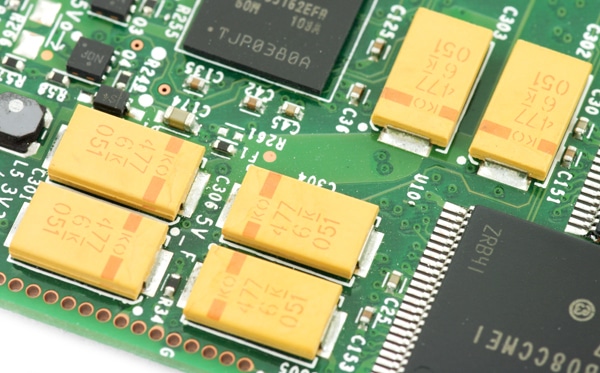 The other job of the capacitor array is protect the drive in the event of being hot-swapped. In hot-swap situations, it is possible that under certain conditions the onboard components can draw more power than what the device is rated for, and fail. These capacitors pull double-duty to provide some backup power and to soften the startup currents during normal conditions. The end results of both areas equals data and device integrity for the end user.
Intel rates the SSD 320 with a maximum active power consumption rate of 4W and an idle rating of 0.7W. To test these claims and see how well the drive performed under constant write, constant write, and random read conditions we used IOMeter as the workload generator and measured the power draw from the SATA-power rail during the test. The following are the average values we recorded.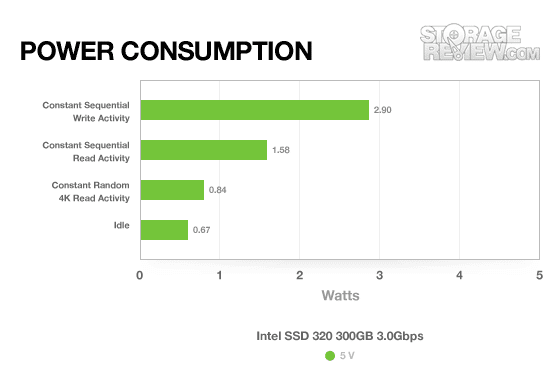 The peak power rate measured was 2.9 watts during the sequential write test. This came up slightly under the maximum spec provided, although the findings on the 300GB drive might be lower than that of the largest 600GB capacity version. Power consumption during read activity measured 1.58 watts, with random read dropping to 0.84 watts. Idle power was in line with the 0.7 watt claim, measuring 0.67 watts when sitting at idle. These values were very similar to what we measured on the older 160GB X25-M shown below.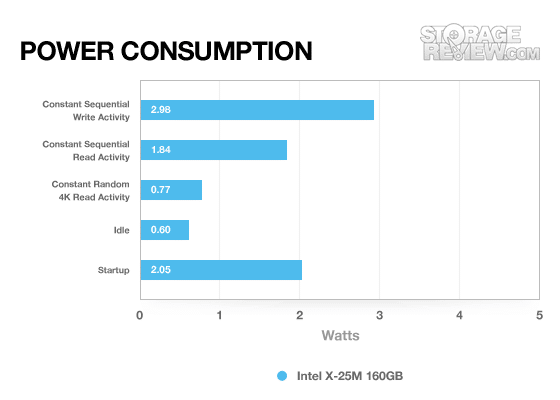 Warranty
Intel provides the same industry standard 3-year warranty on the 300GB SSD 320 as it did on the X25-M before it. Intel also includes an extremely helpful Intel SSD Toolbox, which lets users optimize their systems for an SSD, maintain performance through weekly free-space "sanitations" to keep up write speeds, gives access to SMART data including total writes, as well as a feature to wipe drives fo all data.
Conclusion
Intel makes a very good argument as to why consumers and business users should consider purchasing the new SSD 320 over similar priced, higher performance 6.0Gbps models. They have been able to substantially improve write performance over the previous generation Intel X25-M, which played out in our StorageMark 2010 tests as gains ranging from 19% to 36% faster.
Intel has also made the huge push into data and device integrity by including capacitors to soften incoming start-up currents during hot-swap conditions and protect data during power outages by keeping the drive on long enough to write out the contents of the onboard cache to NAND. They go on further to claim that buyers of Intel SSDs get the best available 25nm NAND, since Intel has first dibs on product coming out of their own factories. Overall we see the Intel SSD 320 posts a big improvement over the previous generation X25-M on almost all fronts.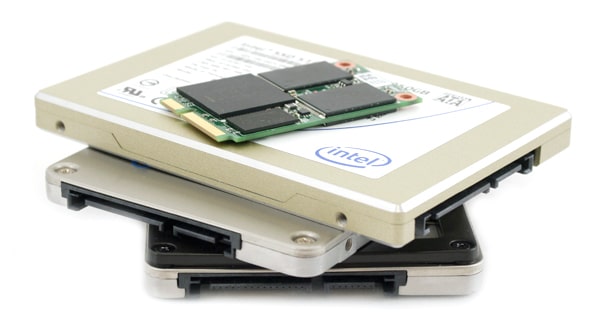 Considering the massive SATA 3.0Gb/s installed-base isn't going anywhere in the immediate future, Intel has a huge market to sell the SSD 320 in to. We also need to remember that the SSD 320 is just one part of Intel's portfolio, which includes the mSATA SSD 310, SATA 6.0Gb/s SSD 510, and X25-M/V models still being sold in stores. For the most consumers and workplace warriors, the SSD 320 is still much faster than the fastest hard drive. And while it isn't as fast as other enthusiast SSDs, Intel scores major points for reliability, compatibility and the little things, like their SSD toolbox.
Pros
Very high reliability
Strong performance gains over X25-M
Enterprise-class data protection
Huge capacities offered
Intel passed NAND savings along to buyers
Cons
Still not as fast as other performance-based SSDs
Bottom Line

At the end of the day, the Intel SSD 320 needed to best the X25-M in SATA 3Gb/s performance, which it did handily. Intel tossed in some new goodies along the way with the power protection and massive 600GB capacity, without hitting the buyer where it counts – the wallet. While the SSD 320 can't hang with the new SATA 6Gb/s models, that's not the point. The 320 will find itself a happy home within enterprise SSD deployments as well as in consumer machines that are still using the SATA 3Gb/s interface.