The Plextor PX-M2 series of SSDs marks Plextor's second effort in the SSD space. And what an effort it is, Plextor has pretty much upgraded every component from the SATA 6Gb/s interface to the Marvel 88SS9174 processor to the 25nm NAND and 128MB DDR3 cache. The PX-M2 is available in 64GB (PX-64M2S), 128GB (PX-128M2S) and 256GB (PX-256M2S) capacities, with increasing performance as they grow, topping out at sequential reads of 480MB/s and writes of 310MB/s.
The Plextor PX-M2 series of SSDs marks Plextor's second effort in the SSD space. And what an effort it is, Plextor has pretty much upgraded every component from the SATA 6Gb/s interface to the Marvel 88SS9174 processor to the 25nm NAND and 128MB DDR3 cache. The PX-M2 is available in 64GB (PX-64M2S), 128GB (PX-128M2S) and 256GB (PX-256M2S) capacities, with increasing performance as they grow, topping out at sequential reads of 480MB/s and writes of 310MB/s.
Our review unit is a 128GB model, with slightly more modest quoted reads of 420MB/s and writes of 210MB/s. In terms of performance, the read speeds drop a little as the capacities get smaller, but it's the writes where the drive really gets knee-capped; the 128GB drive loses 68% on that front, compared to the 256GB. This isn't exactly anything new, but it's worth noting as most of our SSD reviews are done on the largest, best performing models. Plextor opted to send a more value-minded drive instead.
The value message is interesting though, as most SSD buyers aren't going for the $700+ biggest and fastest, though there's certainly a segment of enthusiasts who can do that. Plextor will generally be playing more to the mainstream audience, as they did with the first generation, trying to win more on price and reliability than 0 to 60 speed. This value message is pretty clear when you consider that they include a free copy of Acronis True Image, which is a $50 piece of software, great for migrating from one drive to another.
Plextor's in a competitive space with a lot of big brands though. Intel switched to the same Marvell S9174 family processor for their performance oriented SSD 510, Corsair uses it in their P3 series and Crucial is days away from releasing the m4 SSD. So the battle is in full swing to find room to play in both the Marvell SSD world and the more cramped SSD space at large. We explore the Plextor PX-M2 in full detail in this review to help you decide if it's the right SSD for you.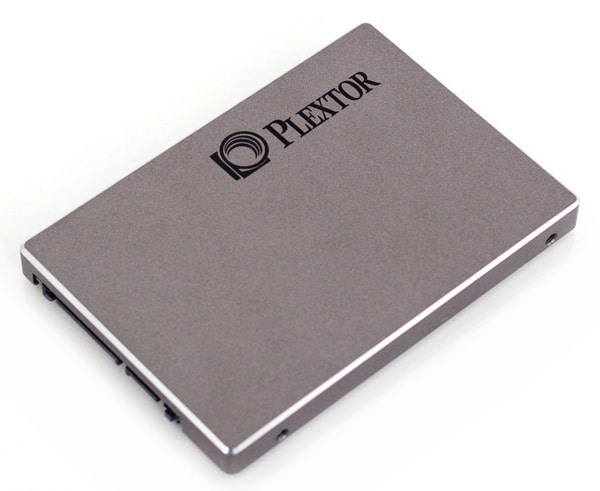 Plextor PX-M2 Specs
64GB (PX-64M2S), 128GB (PX-128M2S) and 256GB (PX-256M2S) capacities
SATA 6Gb/s interface
Marvel 88SS9174 processor
25nm NAND
Sequential Read (MB/S) 370 (64GB),  420 (128GB), 480 (256GB)
Sequential Write (MB/S) 110, 210, 310
Sequential Read (IOPS 4K) 15,000 (all capacities)
Sequential Write (IOPS 4K) 6000, 9000, 9000
Buffer – 128MB DDR3 Cache
2.5″ form factor
Power Consumption (Typical) 0.25W (Idle); 0.75W (Active)
Temperature (Operating) 32 ºF to 158 ºF (0 ºC to 70 ºC)
Temperature (Non-operating) -40ºF to 185 ºF (-40 ºC to 85 ºC)
MTBF 1.5 million hours
Warranty 3 year
Acronis True Image included
Aesthetics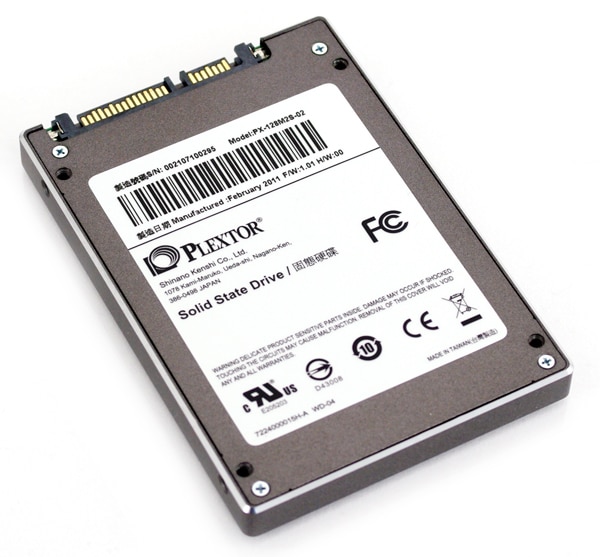 There is something that could be said about designs that just work; if it isn't broke don't fix it. Plextor sticks with this mentality with the PX-M2, which is an external carbon copy of the PX-M1 before it. The body is metal alloy top and bottom, with a smooth beveled edge around the perimeter of the body that adds a silvery sparkle to the SSD. The entire case is painted with a textured grey/brown finish, which adds a touch of style compared to most manufacturers that leave just the bottom plate plain and unpainted.

The front of the PX-M2 has just the standard SATA power and data interface without any service pins visible. More than likely this means all firmware updates can be done without even opening up the computer.
Disassembly
The Plextor PX-M2 is very easy to take apart with a precision Phillips head screwdriver. The bottom of the drive is held in place with four screws and the lack of warranty voiding stickers should let those curious see what the insides are like without throwing away the three-year coverage.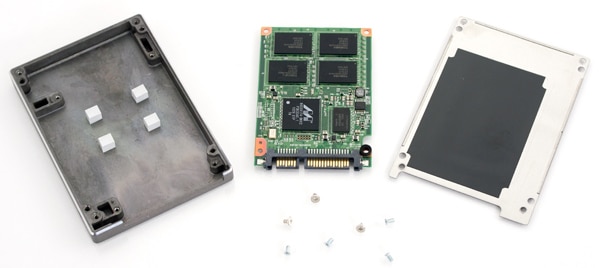 After removing the bottom cover we see a 1.8-inch form factor circuit board inside the larger 2.5-inch body. We have seen this in other models, like the Samsung 470 Series SSD. For the buyer, nothing about this is bad or good, since the drive operates and functions like any other would. On the manufacturing side it can help lower costs, since they only have to swap out the drive's connector to let this design work in other form-factors.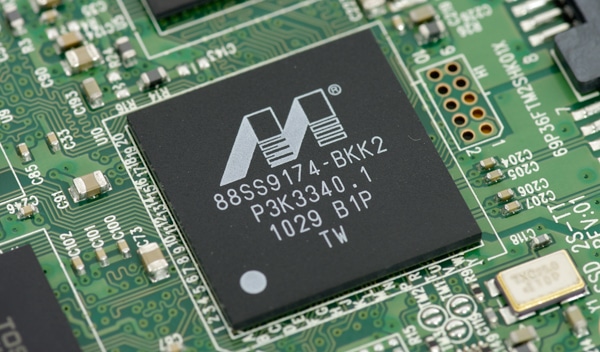 Looking at the rather compact circuit board we see the Marvell 88SS9174-BKK2 SATA 6.0Gbps controller as the largest component on the board, eight 34nm 16GB Toshiba TH58TVG7D2FBA89 NAND chips and a one 1333MHz DDR3 128MB Hynix RAM piece for cache.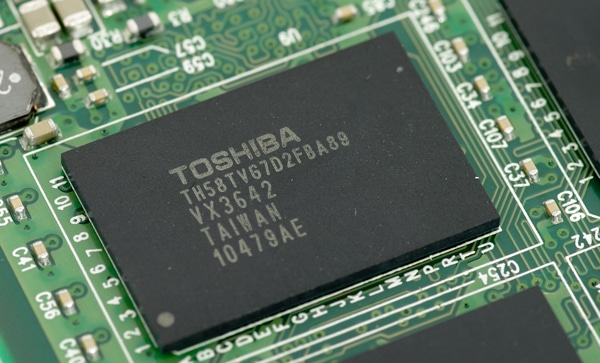 Note that unlike the 250GB Intel SSD 510 with 16 NAND chips, this model has half the channels filled, which will account for slower access speeds.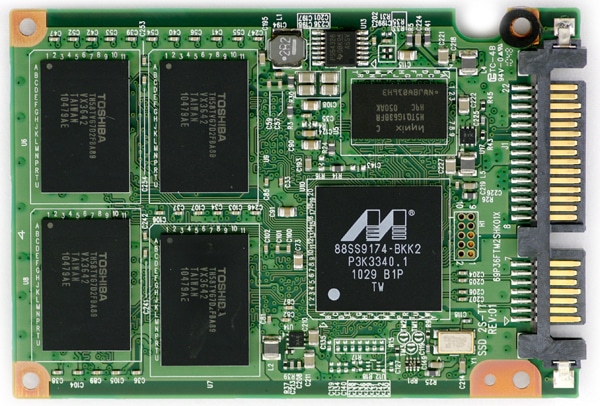 On the bottom of the circuit board you can make out four dark blotches on the bottom NAND pieces, which are from small thermal pads stuck to the inside of the body. These help draw heat away from the circuit board during operation.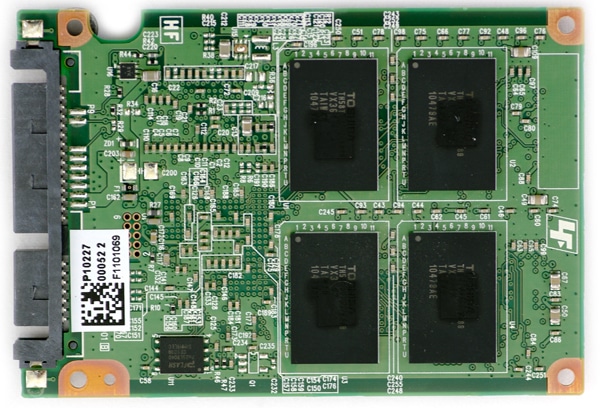 Synthetic Benchmarks
To test the performance of the 128GB Plextor PX-M2 we turned to our trusty Dell XPS 9000 test rig. While we work out the final kinks on our two new testing platforms, we still rely on this "older" Intel ICH10R 3.0Gbps platform for testing drives. In this review we measured the performance of the PX-M2 connected to the legacy Intel SATA II connection as well as SATA III through an LSI MegaRAID 9260-8i interface. We also chose the Intel SSD 510, Crucial RealSSD C300, and OCZ Vertex 3 as the closest competing drives.
For the 128GB capacity, Plextor claims a peak read speed of 420MB/s and a peak write speed of 210MB/s. To put these numbers to the test we turned to IOMeter and our trusty 2MB sequential transfer test.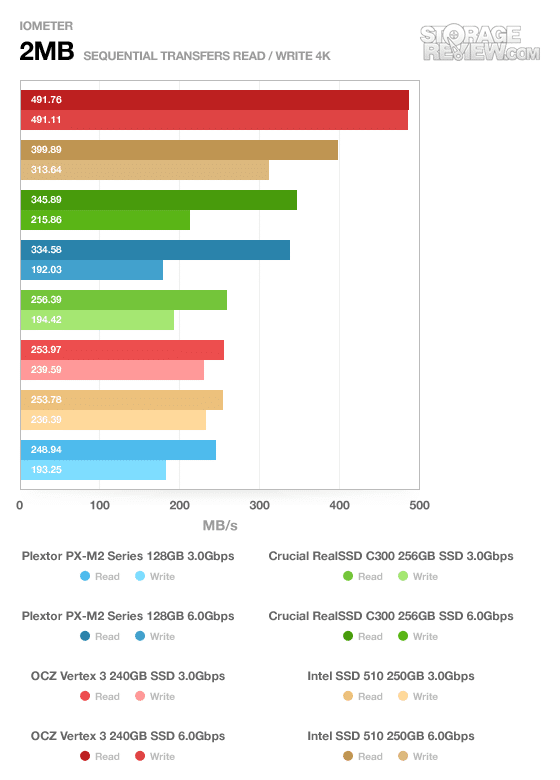 In its faster SATA III 6.0Gbps mode, the Plextor PC-M2 averaged 334MB/s read and 192MB/s write, a bit under the advertised amounts. In a legacy SATA II 3.0Gbps mode it measured 249MB/s read and 193MB/s write. For most users this means that the drive should still offer great performance in systems not designed around the newer interface, and offer even more speed if you have the right equipment.
In this next section we move from sequential to random transfers using IOMeter. We still keep the same 2MB transfer size though.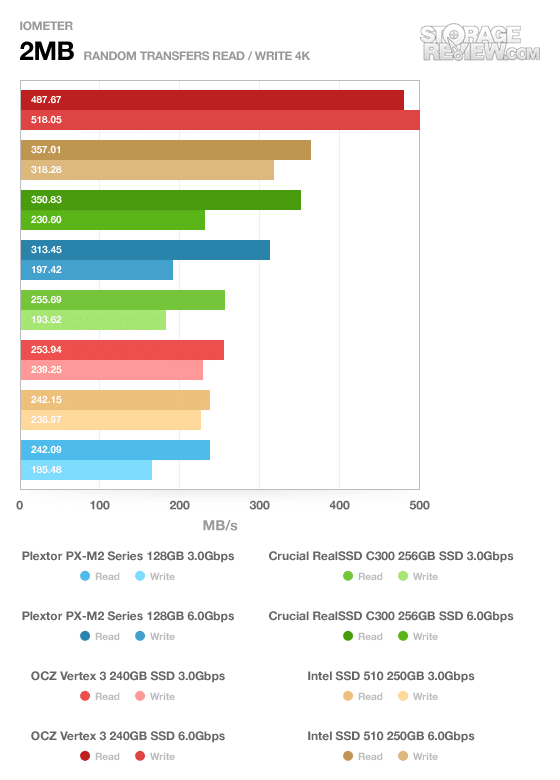 In the random transfer test we measured 313MB/s read and 197MB/s write over SATA 6.0Gbps and 242MB/s read and 185MB/s write over SATA 3.0Gbps. In both areas the drive stayed at the back of the group, although we weren't terribly surprised given the fewer internal memory channels from the smaller capacity.
Plextor was rather conservative with its claimed 4K random transfer speeds, listing 6,000 or 9,000 write depending on the capacity and 15,000 read for all sizes. Our findings are listed below, with a tested queue depth of 1.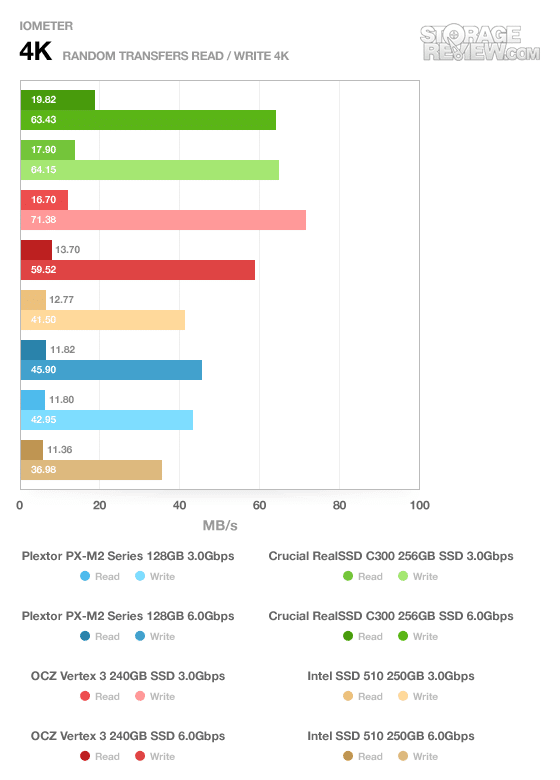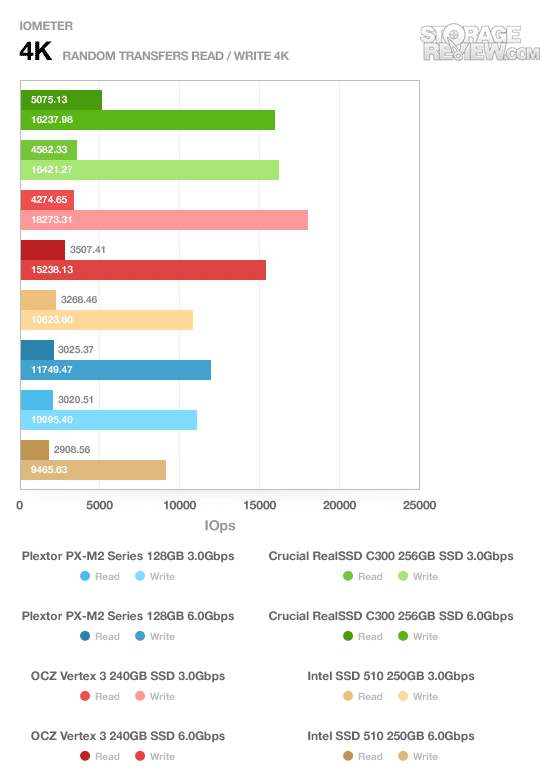 We measured roughly 3,000 IOps write in both SATA 3.0 and 6.0Gbps modes. Read IOps ranged from 11,000 on the Intel SATA II connection to almost 12,000 on the LSI SATA II connection.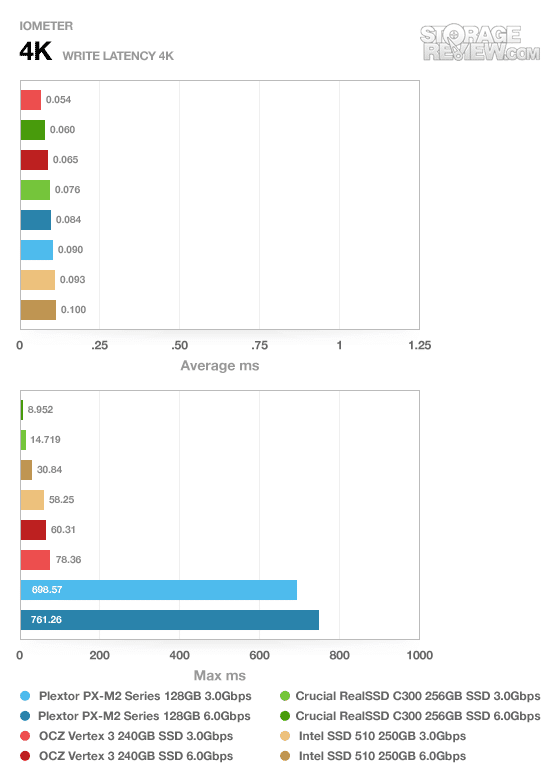 The one semi-alarming detail we found while testing the Plextor PX-M2 was its abnormally high max response time. Average write latency times didn't indicate any abnormalities, so it could just be a fluke with our particular review sample.
Using CrystalDiskMark we performed a speed test on the Plextor PX-M2 with a 500MB sample size and random data. Speed results were pretty close with our IOMeter tests, although the ranrom 4K write speed shown with CDM reported slightly higher speeds over SATA III.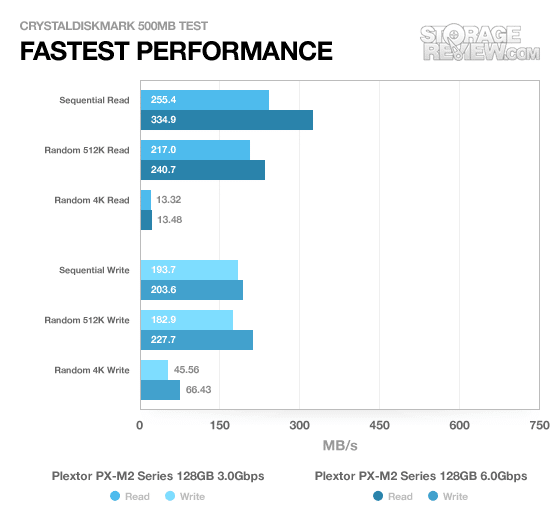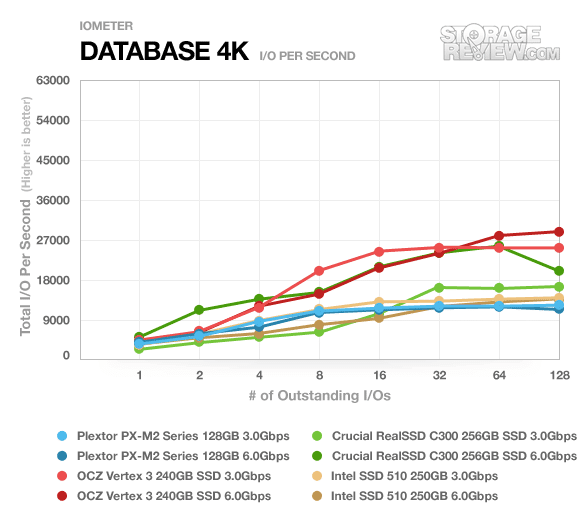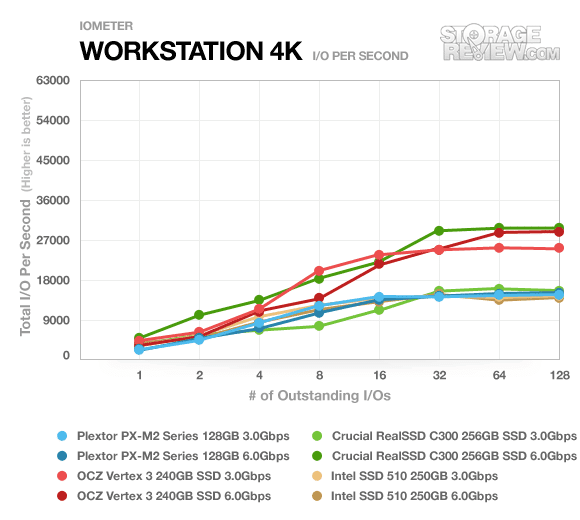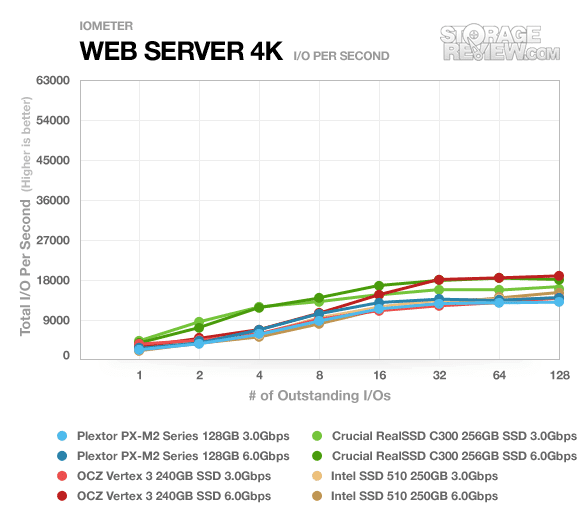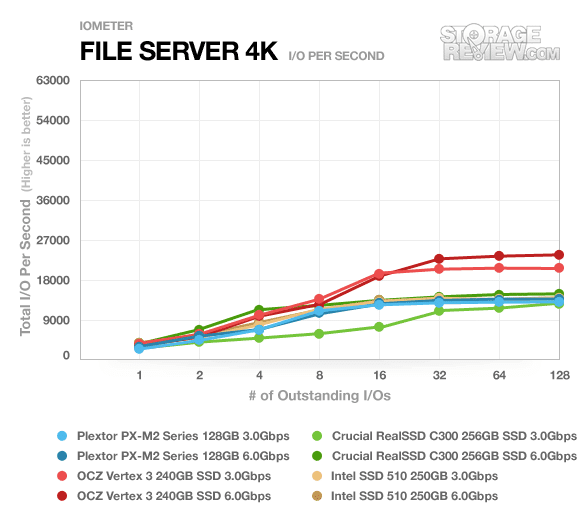 Real-World Benchmarks
If you are new to StorageReview, one thing we try to focus on is how any given drive might perform under real-world conditions. For the average user, trying to translate random 4K write speeds into an everyday situation is pretty difficult. It helps when comparing drives in every setting possible, but it doesn't exactly work out into faster everyday usage or better game loading times. For this reason we turned to our StorageMark 2010 traces, which include HTPC, Productivity, and Gaming benchmarks to help readers find out how a drive might perform under their conditions.
We put the Plextor PX-M2 head to head with the Intel SSD 510, Crucial RealSSD C300, and the OCZ Vertex 3 in these tests, since they are its closest competitors in the SATA 6.0Gbps market.
The first real-life test is our HTPC scenario. In this test we include: playing one 720P HD movie in Media Player Classic, one 480P SD movie playing in VLC, three movies downloading simultaneously through iTunes, and one 1080i HDTV stream being recorded through Windows Media Center over a 15 minute period. Higher IOps and MB/s rates with lower latency times are preferred. In this trace we recorded 2,986MB being written to the drive and 1,924MB being read.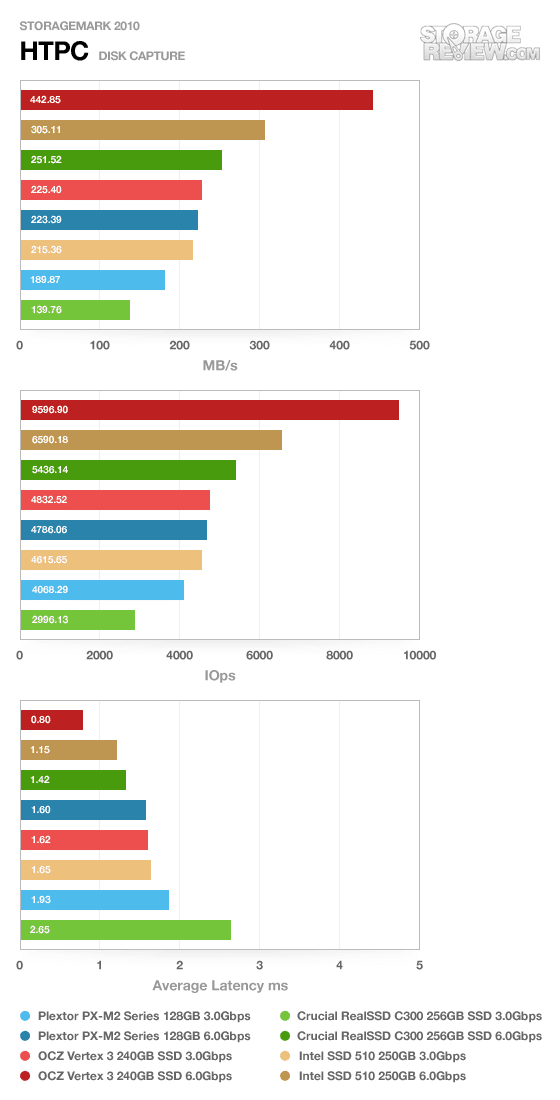 The 128GB Plextor trailed behind the 250GB Intel SSD 510 by about 13% when both were operating over the Intel SATA II interface, which isn't that bad considering the Plextor had half the NAND channels working in its favor. In the faster SATA III mode the Plextor lagged behind the 510 by 37%, showing its weakness with its lesser capacity.
Our second real-life test covers disk activity in a productivity scenario. For all intents and purposes this test shows drive performance under normal daily activity for most users. This test includes: a three hour period operating in an office productivity environment with 32-bit Vista running Outlook 2007 connected to an Exchange server, web browsing using Chrome and IE8, editing files within Office 2007, viewing PDFs in Adobe Reader, and an hour of local music playback with two hours of additional online music via Pandora. In this trace we recorded 4,830MB being written to the drive and 2,758MB being read.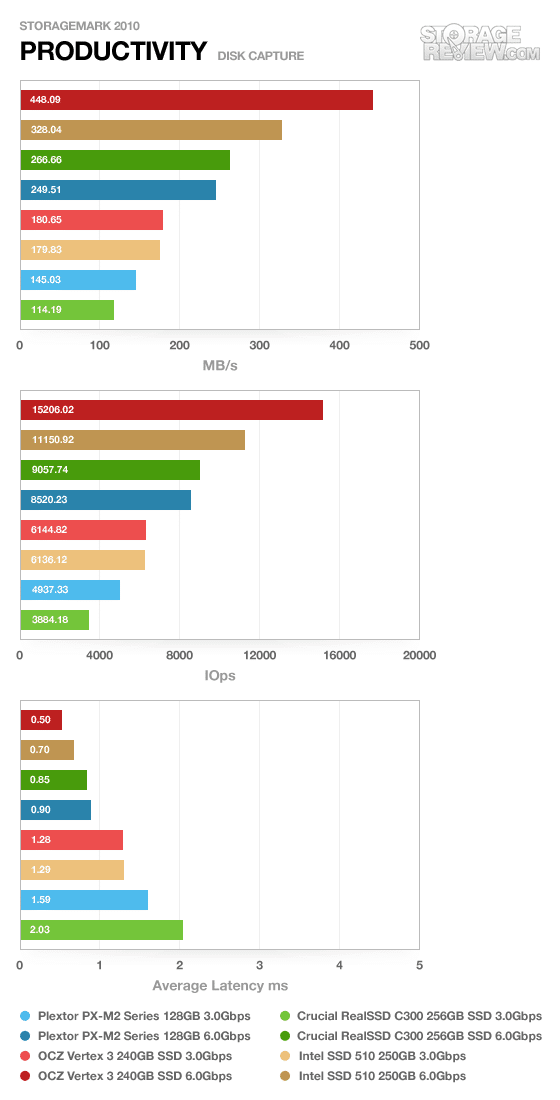 With the higher levels of random access, the Plextor M2 lagged behind even further in the Productivity trace, with a 24% drop compared to the Intel 510 over SATA II. Surprisingly that gap narrowed to only 30% over the faster SATA III connection.
Our third real-life test covers disk activity in a gaming environment. Unlike the HTPC or Productivity trace, this one relies heavily on the read performance of a drive. To give a simple breakdown of read/write percentages, the HTPC test is 64% write, 36% read, the Productivity test is 59% write and 41% read, while the gaming trace is 6% write and 94% read. The test consists of a Windows 7 Ultimate 64-bit system pre-configured with Steam, with Grand Theft Auto 4, Left 4 Dead 2, and Mass Effect 2 already downloaded and installed. The trace captures the heavy read activity of each game loading from the start, as well as textures as the game progresses. In this trace we recorded 426MB being written to the drive and 7,235MB being read.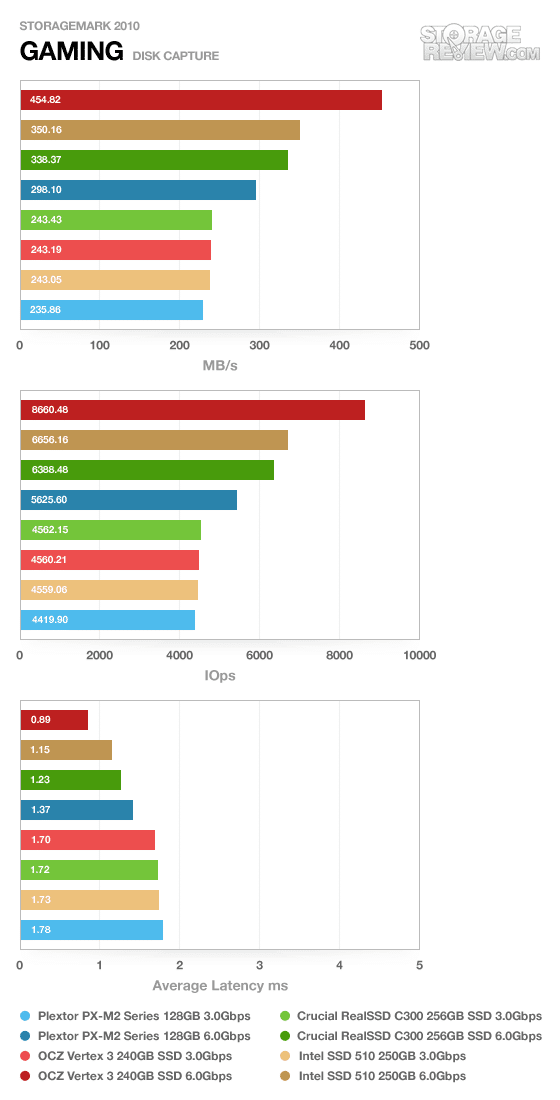 If you are looking for a drive that can perform well in a scenario with plenty of read-only traffic, most of the current generation drives will group together very closely. This is because most SSDs right now can max out SATA II connections while reading from the drive. This test shows that every single drive being tested scored the same on the 3.0Gbps interface. Opening it up to 6.0Gbps through the LSI MegaRAID card, the gaps widened, with the Plextor M2 falling towards the bottom of the pack. The fact that it was able to stay so close to the current crop of next-gen SSDs though is note-worthy in itself.
Power Consumption
One trend we have seen as SSDs mature through the generations is improved power consumption levels across the board, especially when looking at idle performance. With SSDs, the huge advantage is compared to a hard drive, they can complete the tasks on hand faster, and get back to a almost off state much quicker. For many users this can play out as increased battery life. Plextor lists the operating power requirements of the M2 as 0.75W active and 0.25W idle.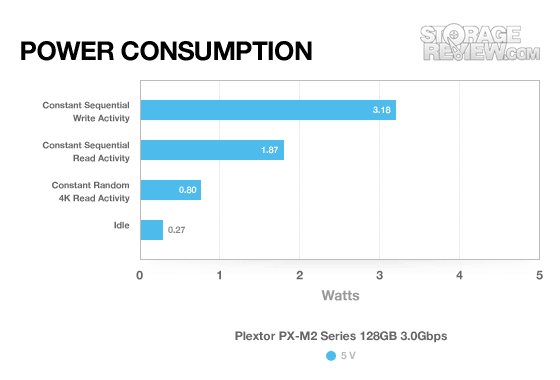 The 0.75W figure is a bit of a stretch, considering even the most mild random 4K read amount required 0.80 watts, with heavier sequential tasks using more than double or triple that amount. Idle power consumption though was right on the mark, measuring in at 0.27 watts. The only SSD we have reviewed with a lower idle rate was the Kingston V100+.
Warranty
Plextor offers an industry-standard three year warranty with the PX-M2 SSD. This is matched by all major SSD vendors on the market today.
Conclusion
It really looks like 2011 is going to be an interesting year for the Marvell SSD controller with so many manufacturers adopting the 88SS9174-BKK2 for its SATA 6.0Gbps compatibility and strong performance. Plextor isn't a newcomer to the Marvell family, with the previous M1-series SSD using the 88SS8014 controller. While the first generation wasn't exactly topping our charts, it offered strong performance and a very good price. This second generation SSD is looking to replicate that model, by offering mainstream performance for a modest pricetag.
To make the deal sweeter and try to adopt customers, Plextor is offering Acronis True Image to buyers to gracefully transition between drives with as little downtime as possible. This method has also been seen by Kingston with most models sold including everything users need to upgrade drives, although Plextor doesn't go as far as including the external USB enclosure. Overall the Plextor M2 offers a very solid value with its mix of mid-level performance, good starting price, and ease of upgrade.
Pros
Impressive results compared to the fastest SSDs currently on the market
Very low idle power consumption
Huge upgrade compared to previous M1-series SSD
Cons
128GB capacity uses half the memory channels of other Marvell-based SSDs
Noticeably high max latency times
Bottom Line
The Plextor PX-M2 SSD fills an interesting space – kind of a SATA 6Gb/s mainstream/performance drive, if that makes sense. It won't hang with the new generation of SandForce drives, but it won't cost as much either, filling the need for those who want the benefits of SATA 6Gb/s throughput, but don't need the interface saturating performance or cost. In the end, we're pretty happy with Plextor's second SSD effort and for a street price of $279, it looks like a good value too.