Intel consistently releases firmware updates to their SSDs to correct issues that may arise with operation, and perhaps more importantly for consumers, to occasionally deliver even greater performance and reliability to their SSDs. Intel has an advantage in the space by engineering some of their components in-house such as their NAND and controllers, and when you couple this with their vast industry knowledge, experience and IP, Intel is in a highly advantageous spot for producing SSDs. Almost all of those SSDs can be upgraded and managed with a single application called the Intel SSD Toolbox.
As always, we'll note that firmware updates are generally non-destructive, but can sometimes adversely affect your data (e.g., unexpected errors or faults). While updates will specify if they are destructive, step number one when updating the firmware is to always backup important data just to be safe. After we complete this step, it was time for us to move on to running the client.
For those that prefer a video walkthrough of Intel's SSD Toolbox, please see below from our YouTube channel.
How To Update Intel SSD Firmware
For the purposes of this guide, we're managing an Intel SSD 545s Series. We downloaded the Intel SSD Toolbox and got started. From the outset, you can select any installed SSD. If you select an Intel SSD, you can utilize the Intel SSD Optimizer, perform diagnostic scans, run the firmware updates and execute a Secure Erase. (Note: Only Windows 7 supports secure erase, newer operating systems like Windows 8/8,1 and 10 block Secure Erase.) To secure erase through a newer operating system users will need to create a bootable thumbdrive to perform the task outside of the OS.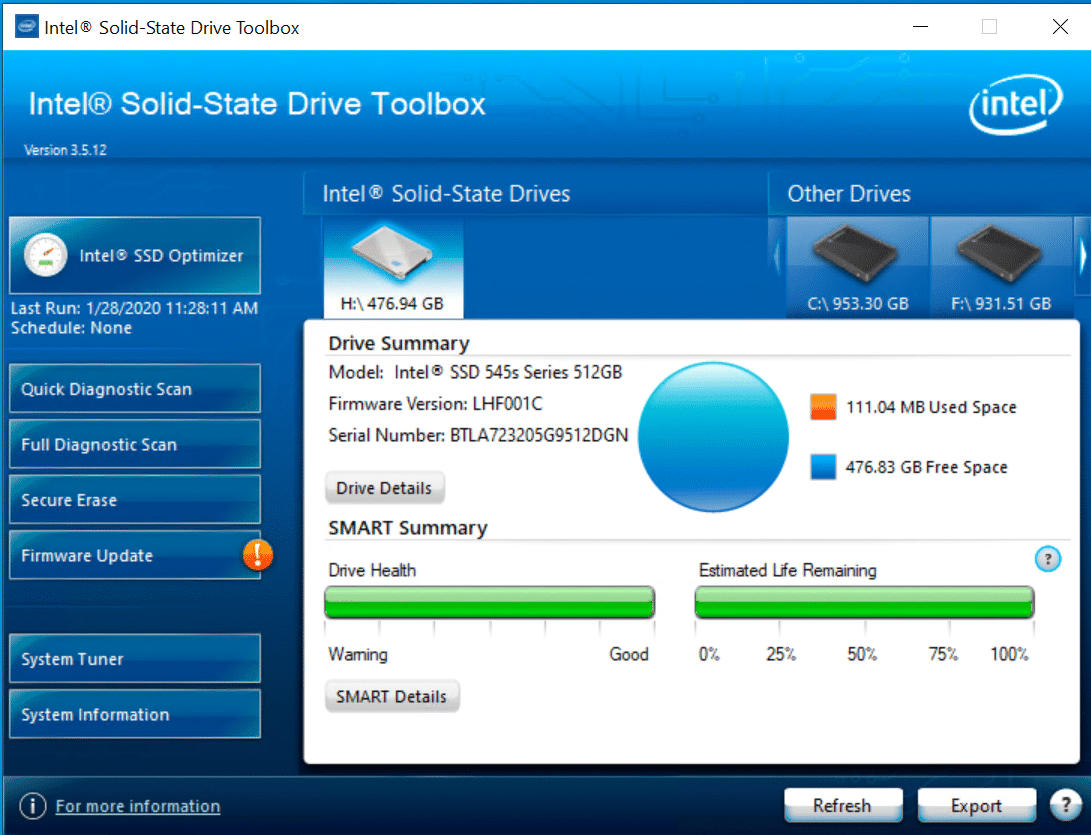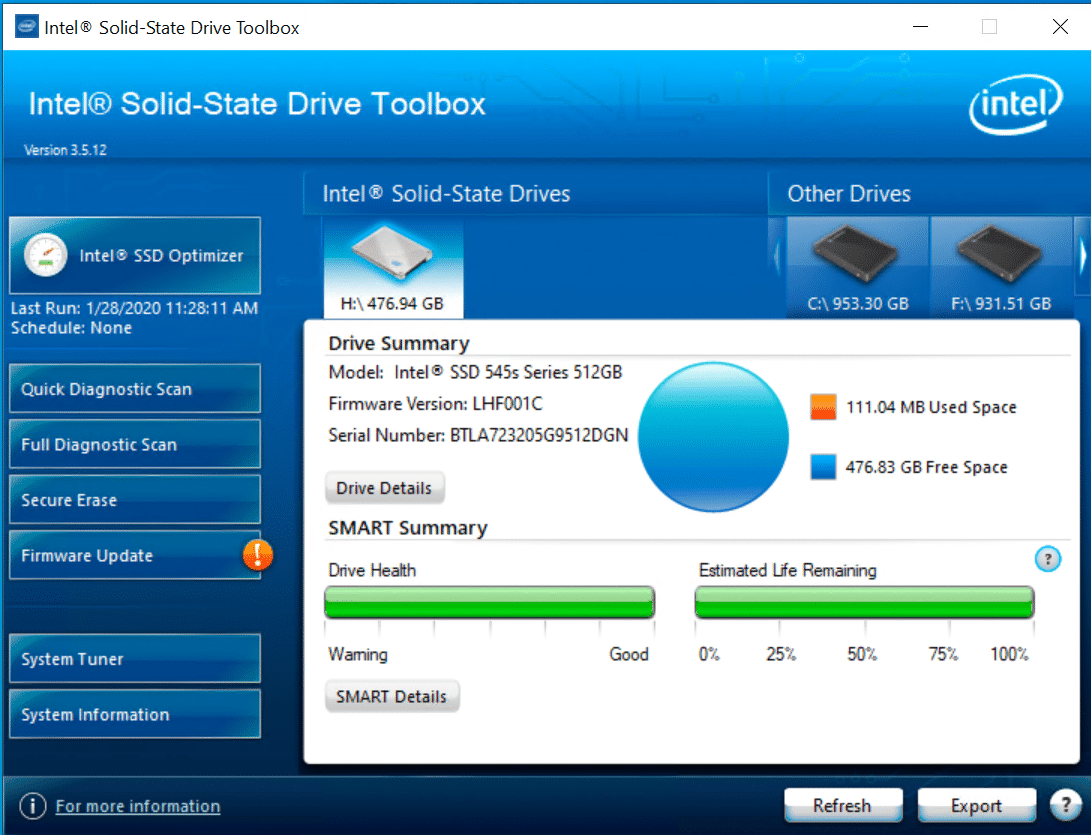 A "!" icon displays on the Firmware Update button if an update is available, as seen above.
Even if you have non-Intel SSDs installed, you can still look at the Drive and SMART details, which isn't always an option in other firmware upgrade applications (e.g., the Kingston SSD Manager). Our Intel SSD 545s was auto-selected. When we clicked on firmware update, Intel alerts you to back up your data, which we already had done on another SSD (see below).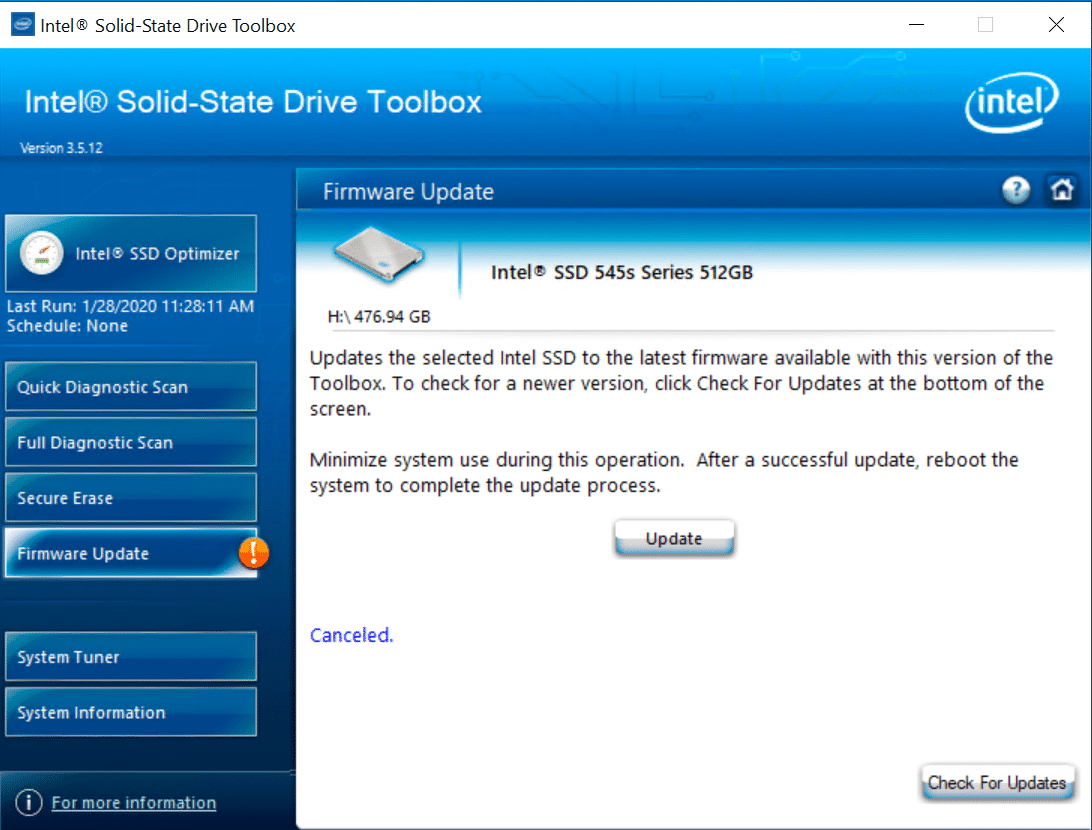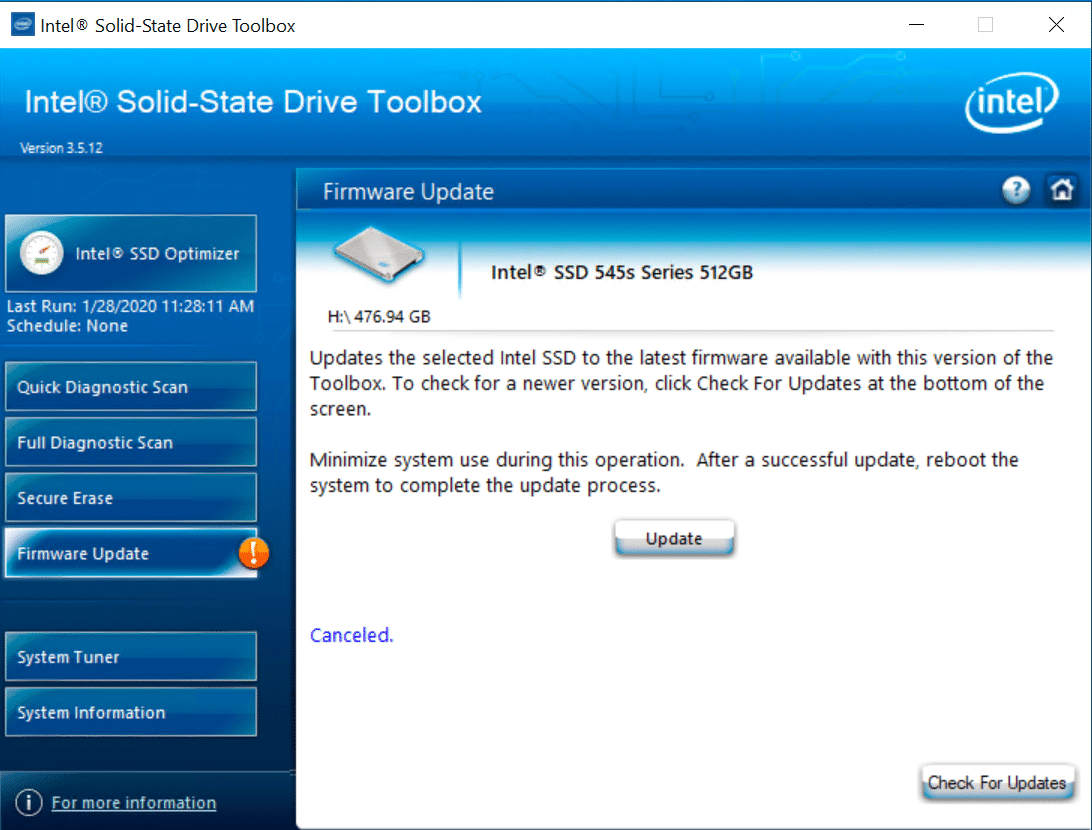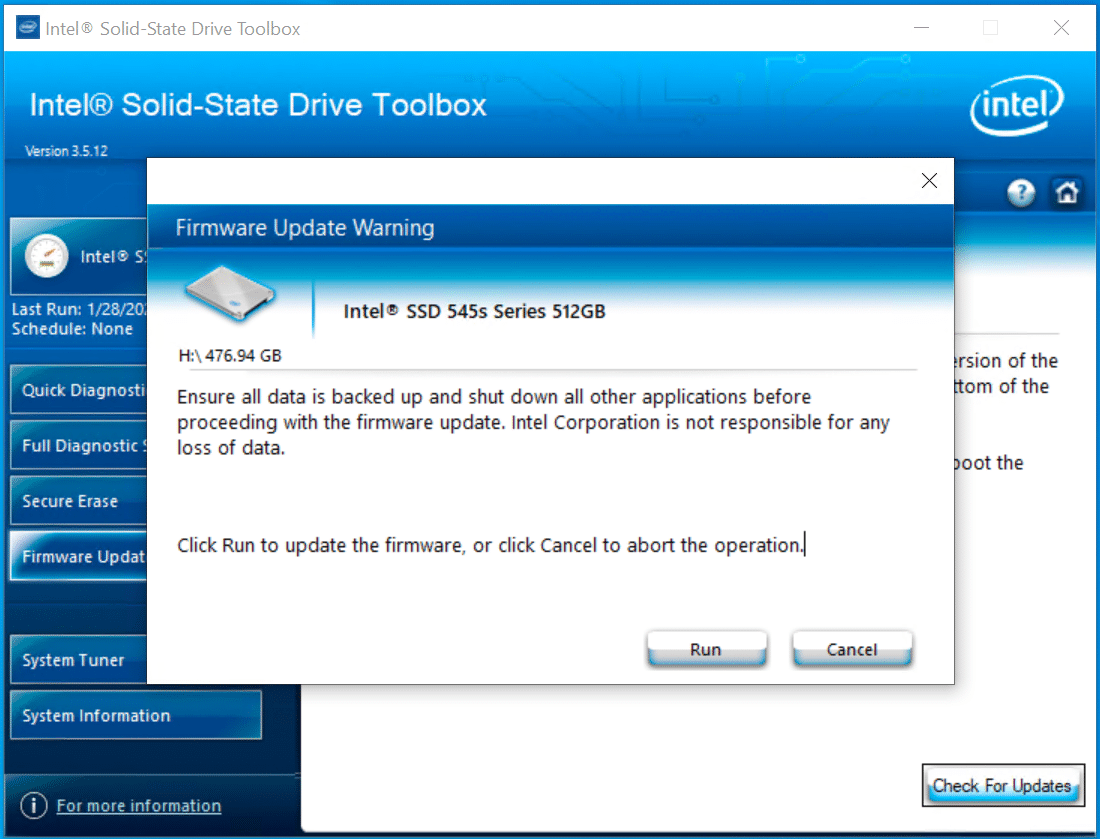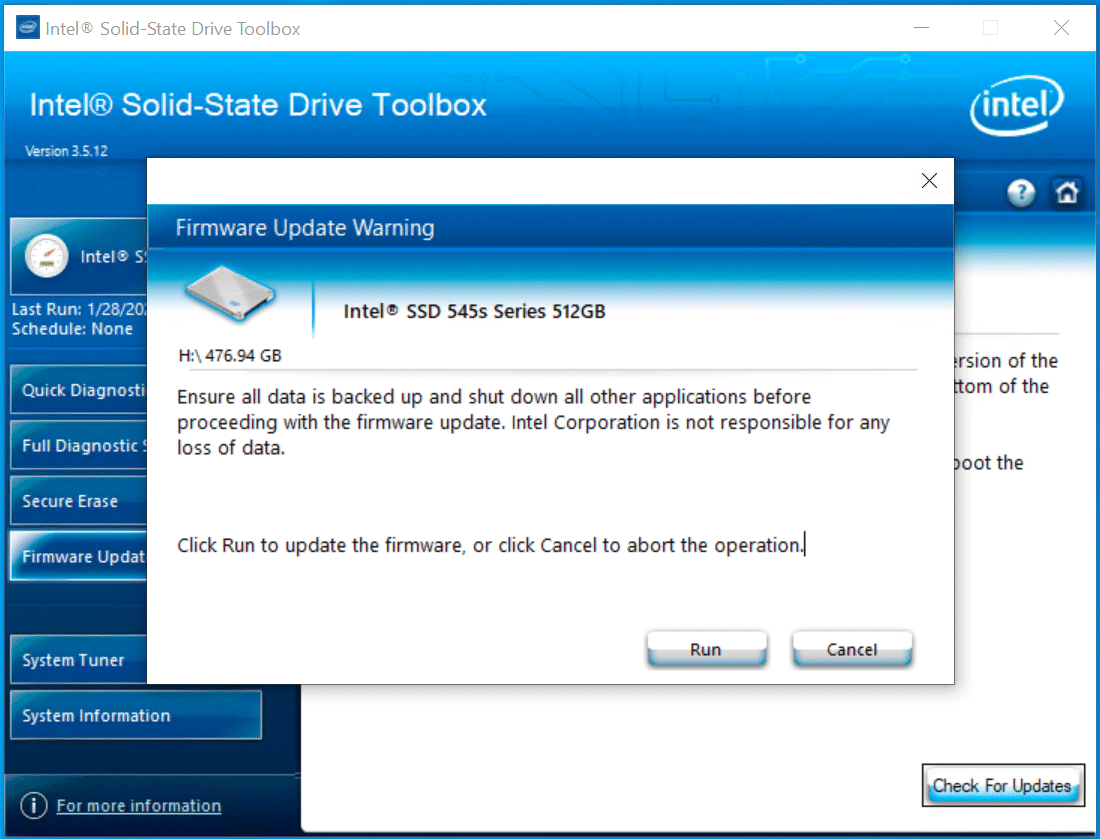 After clicking Run, the update took roughly a couple to complete. The system needs to restart for the process to complete. In some firmware update clients, the restart is performed immediately and automatically. Thankfully, Intel provides the option to restart manually.
After the restart, the SSD has the latest firmware on it, and you're all set. The process Intel provides users is highly intuitive and can be completed without any hassle. Even for someone without any experience doing so previously, it should only take a few minutes (outside of data backup if that has yet to be done). Though the Toolbox's GUI hasn't been updated in quite some time, it is still fairly clean and provides features for users who want to tune their drive or view information such as the SMART details.
Overall, the experience was simple; Intel has done well to create a good application that works across almost all of both their consumer and enterprise SSDs.
There's a lot more you can do other than updating the firmware. When you first load the SSD Toolbox,  it scans your computer for hard drives, including non-Intel SSDs and HDDs. You can easily scroll through all your "other drives" by clicking the arrow icons. Click refresh to re-scan.
The Drive Summary displays information about your drive including the firmware version, used/free space, serial number, and a SMART summary.
The Intel SSD Optimizer removes deleted data files from NAND flash management blocks on supported SSD (via the Trim functionality), to help retain its out-of-the-box performance. Besides manually. You can also have it run automatically on a daily, weekly or monthly schedule, Intel recommends weekly.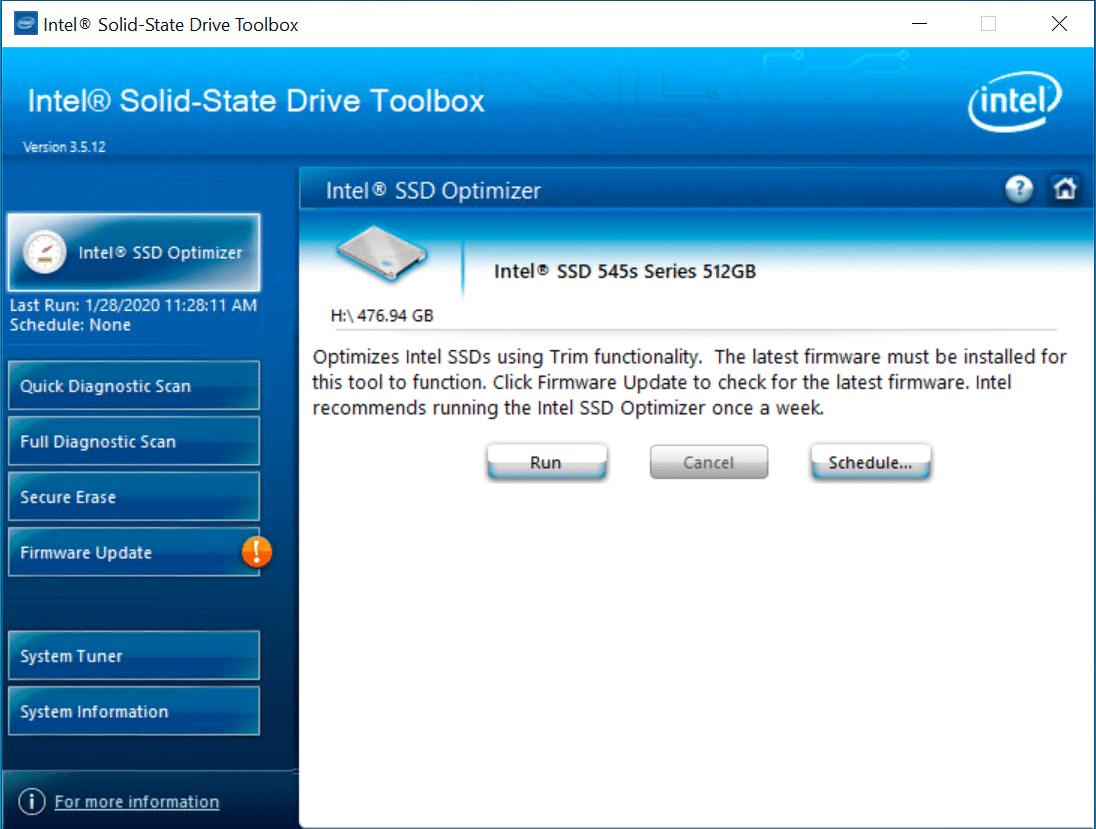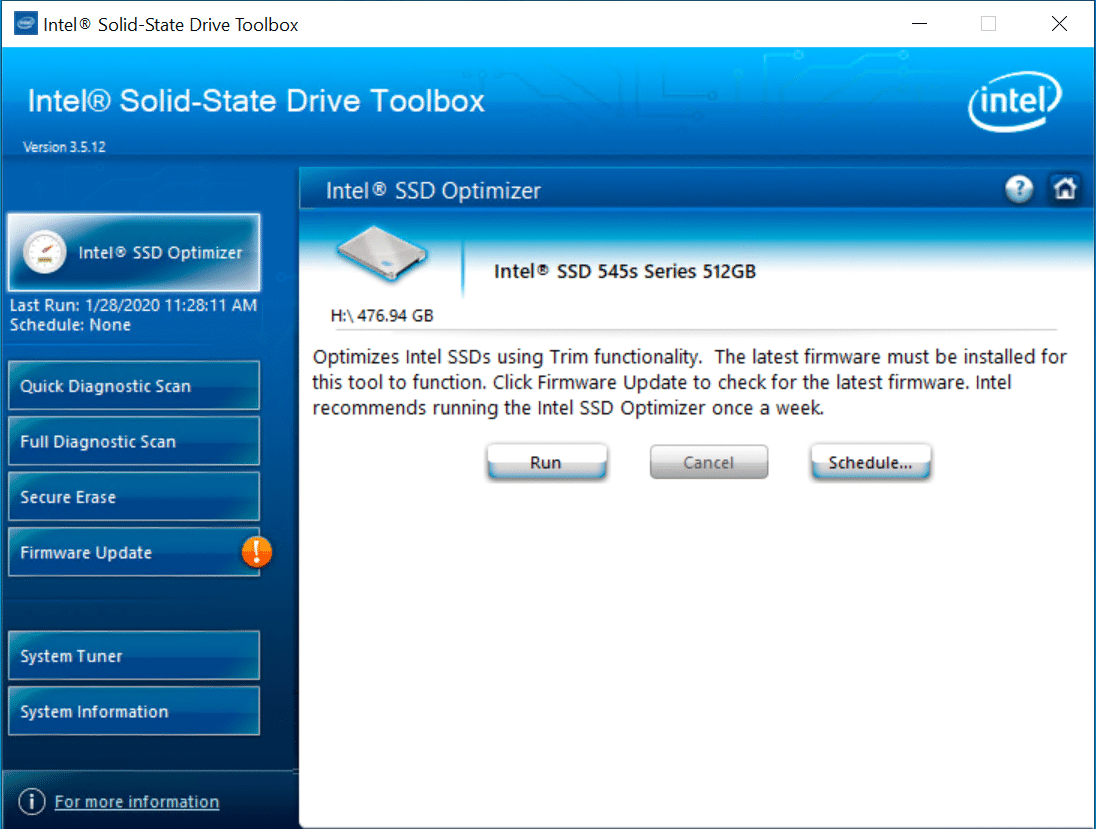 The Quick Diagnostic Scan tests and analyzes the basic functionality of a drive. The read scan checks 1.5GB of data for read errors, while the data integrity scan creates 1GB of random data and then writes it to unused areas of an Intel SSD. It then compares it for data integrity.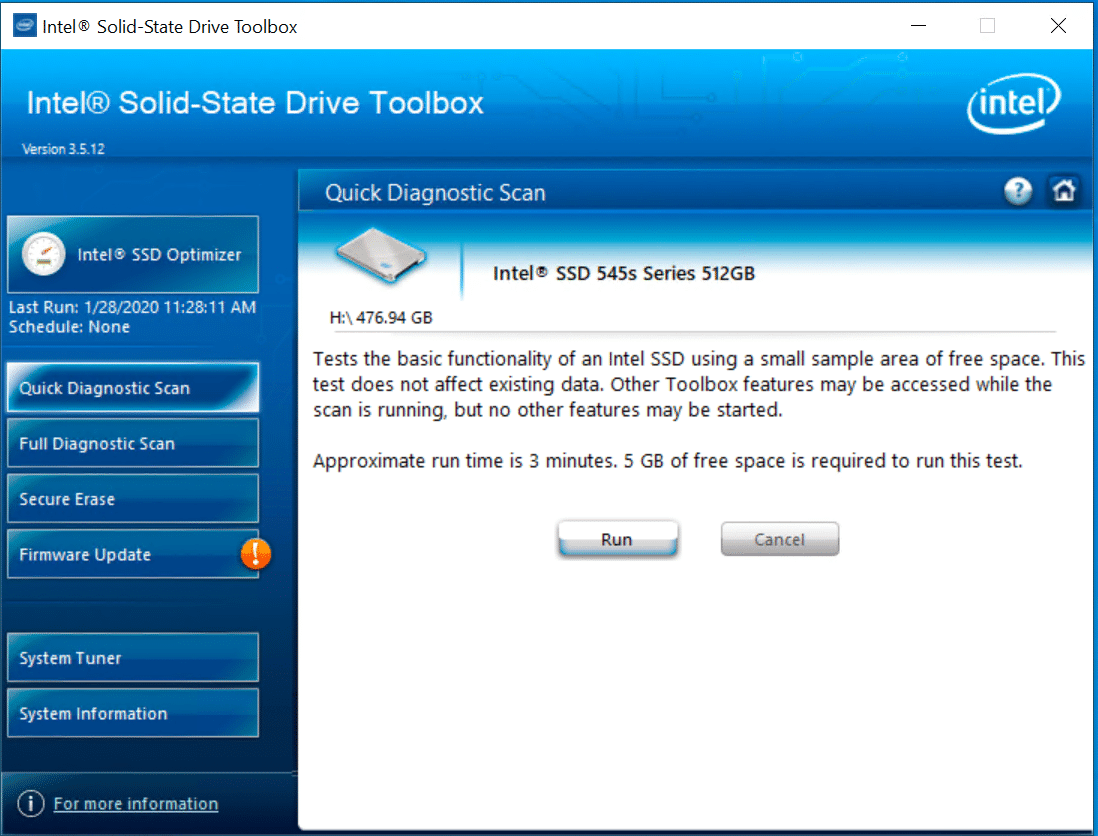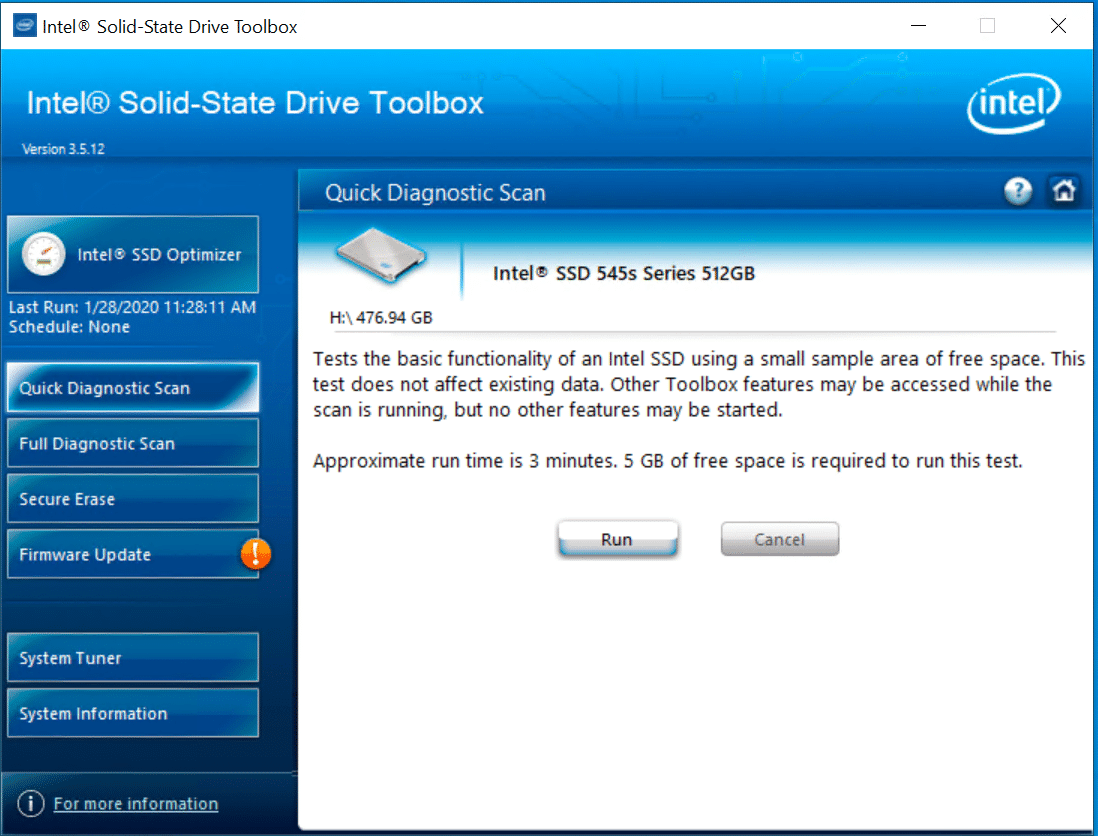 The Full Diagnostic Scan puts Intel SSDs through an overall health evaluation. This includes two tests; the read scan, which checks every logical block address for read errors; and the data integrity scan, which uses free space on the drive to write random data then checks its integrity during the read back.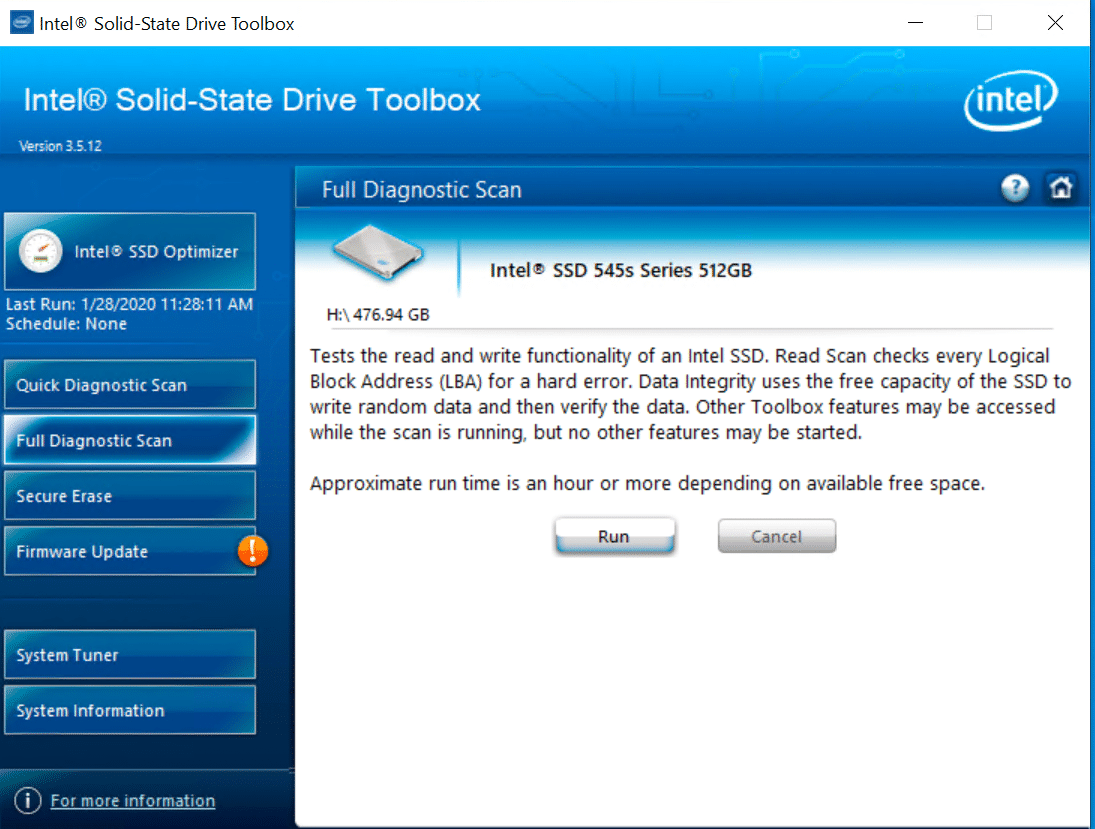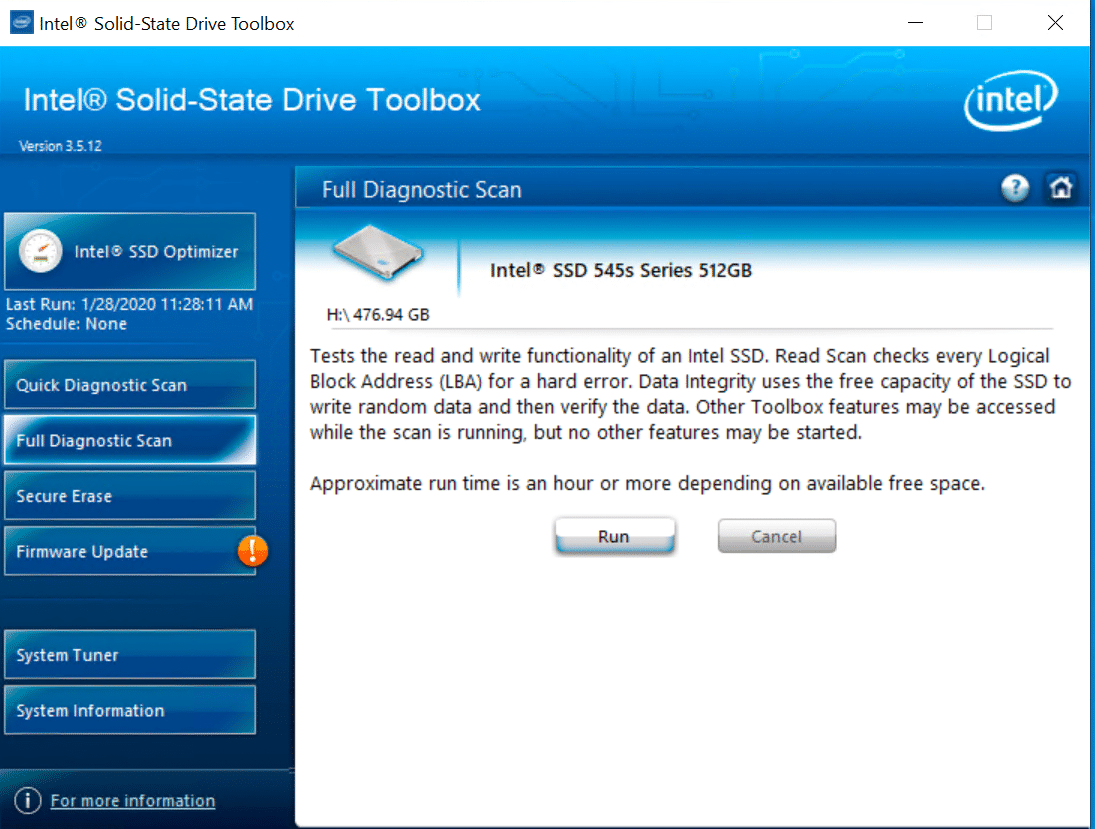 Secure Erase permanently deletes all files on non-boot SSDs; partitions also must be removed before this action can take place.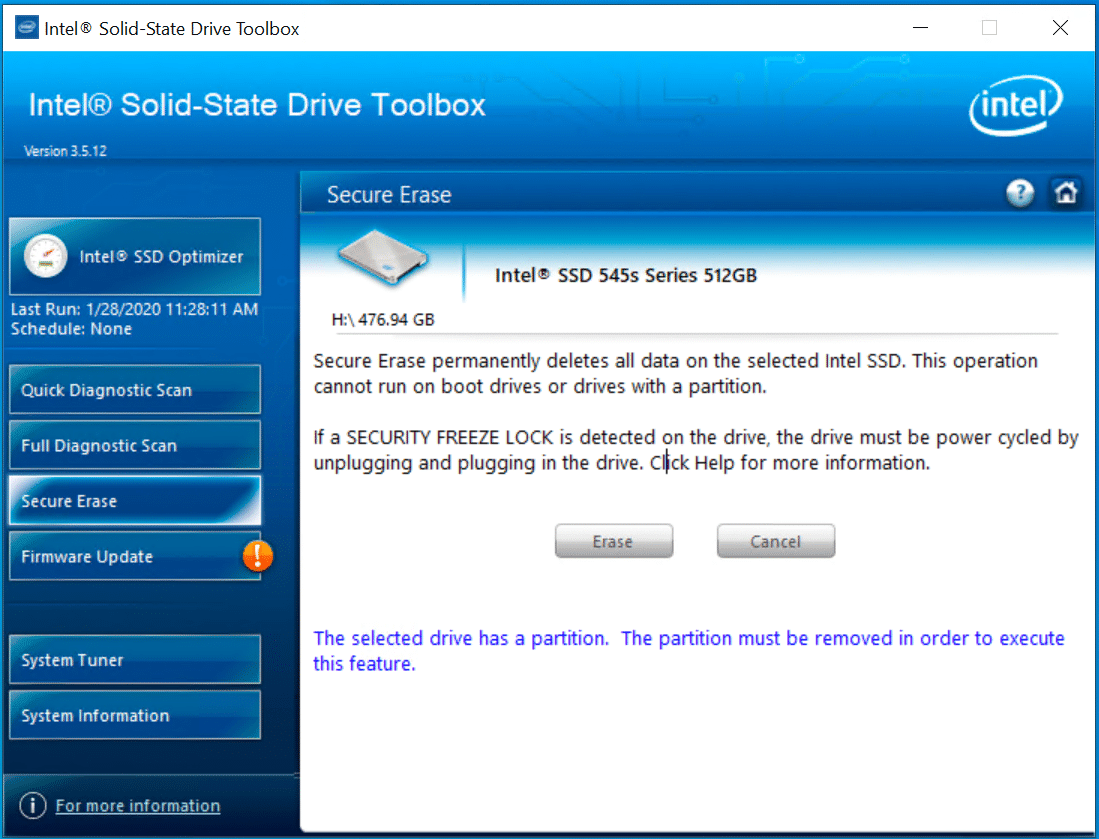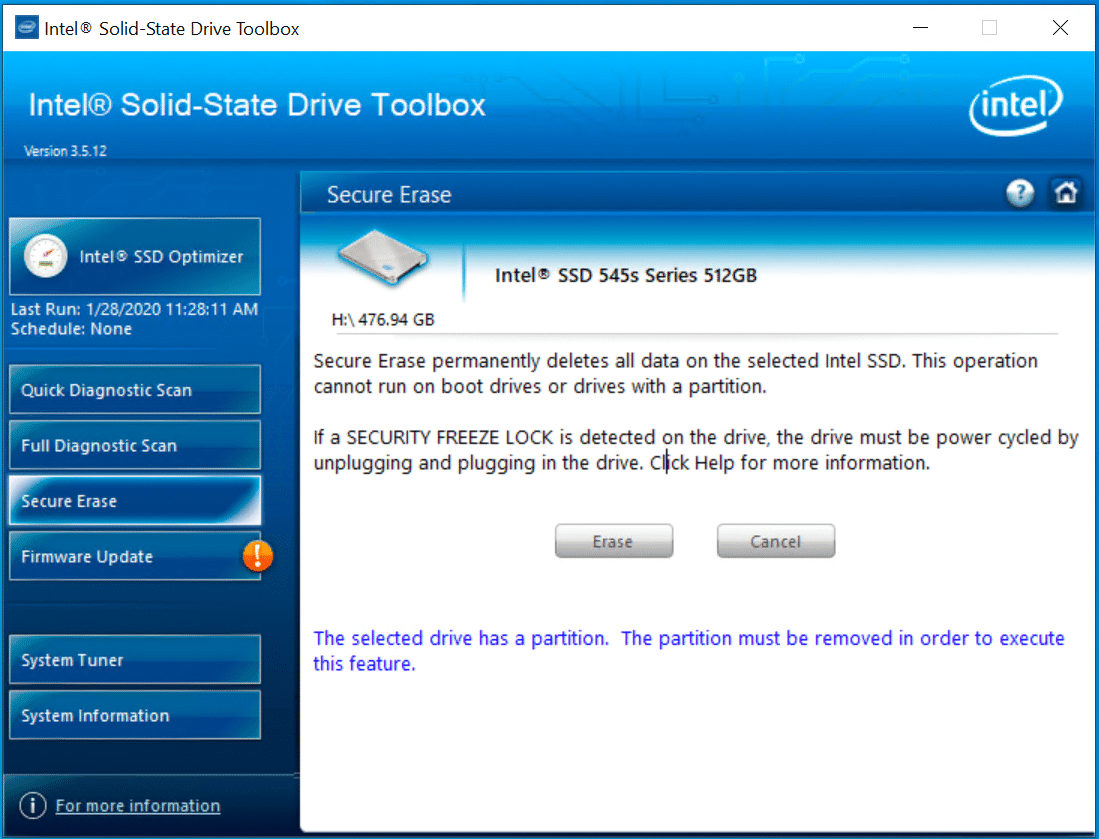 The System Tuner allows users to adjust settings to improve performance, power and endurance of their Intel SSDs. This option is only available if your system requires it, and will be noted by a "!" on the left nav bar like when a firmware update is needed.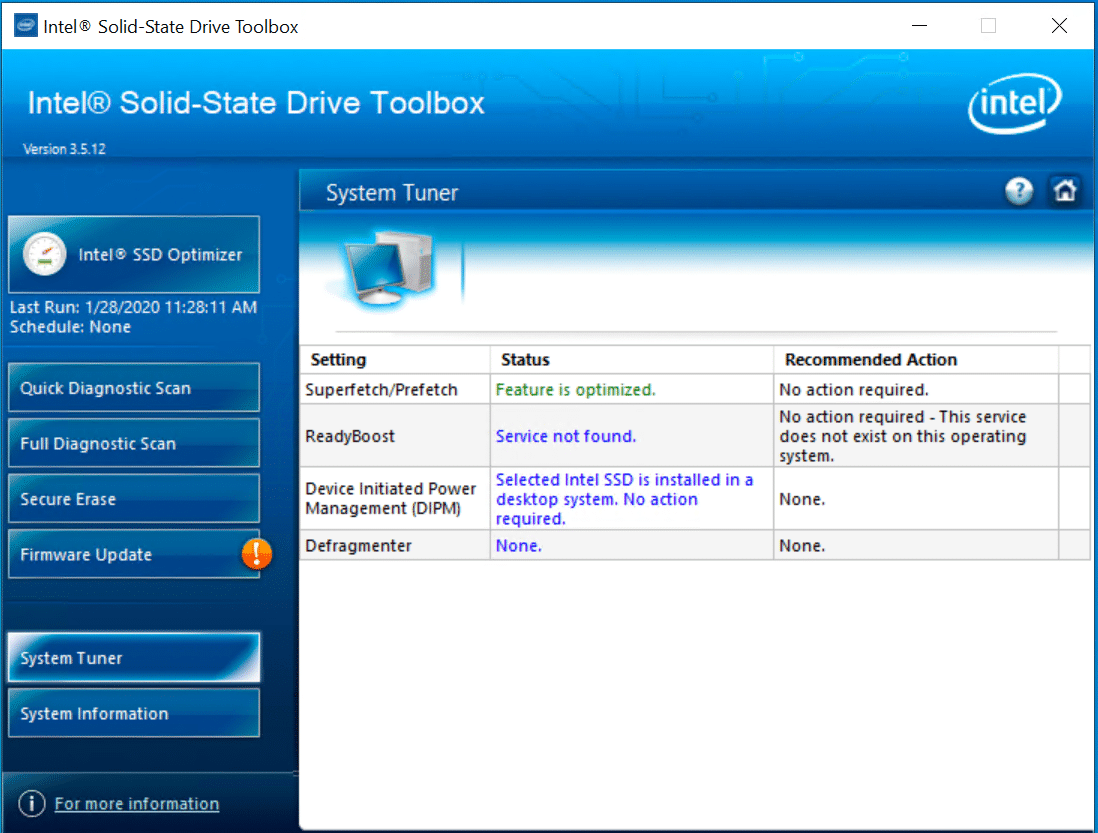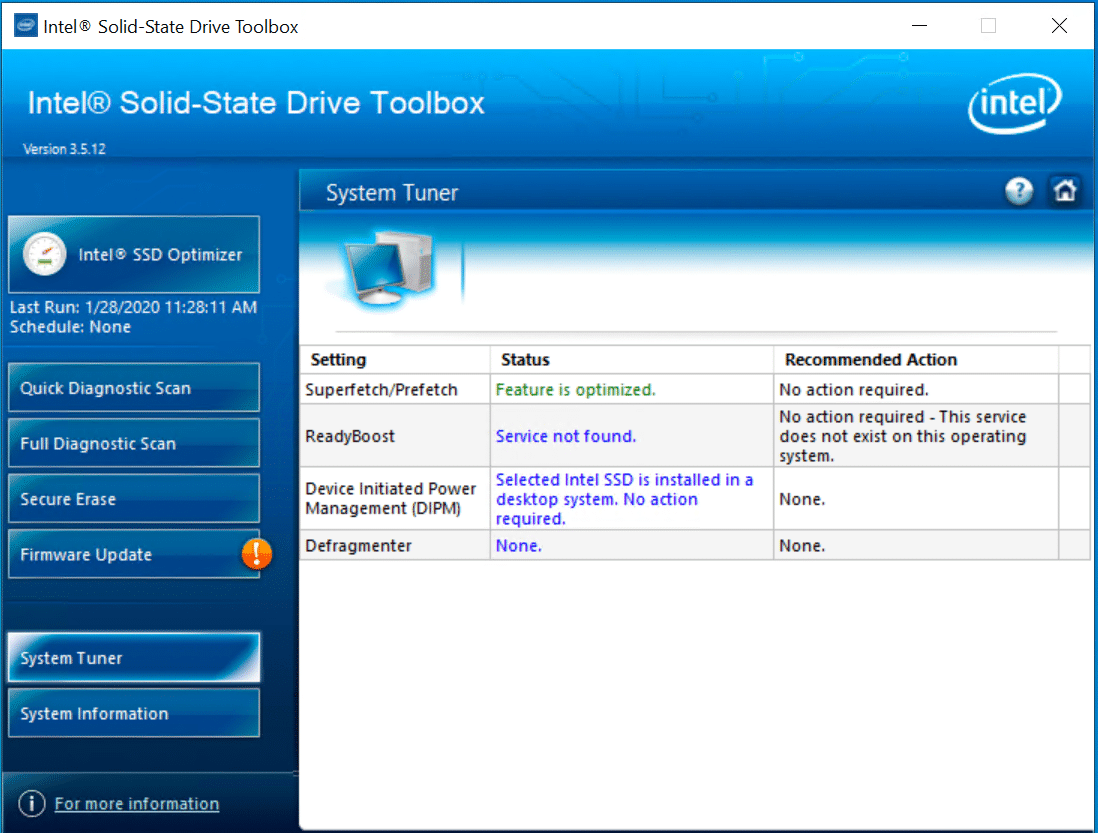 The System Information section displays detailed information of the computer the Intel SSD is installed on, including the operating system, model and manufacturer, processor(s), and controller.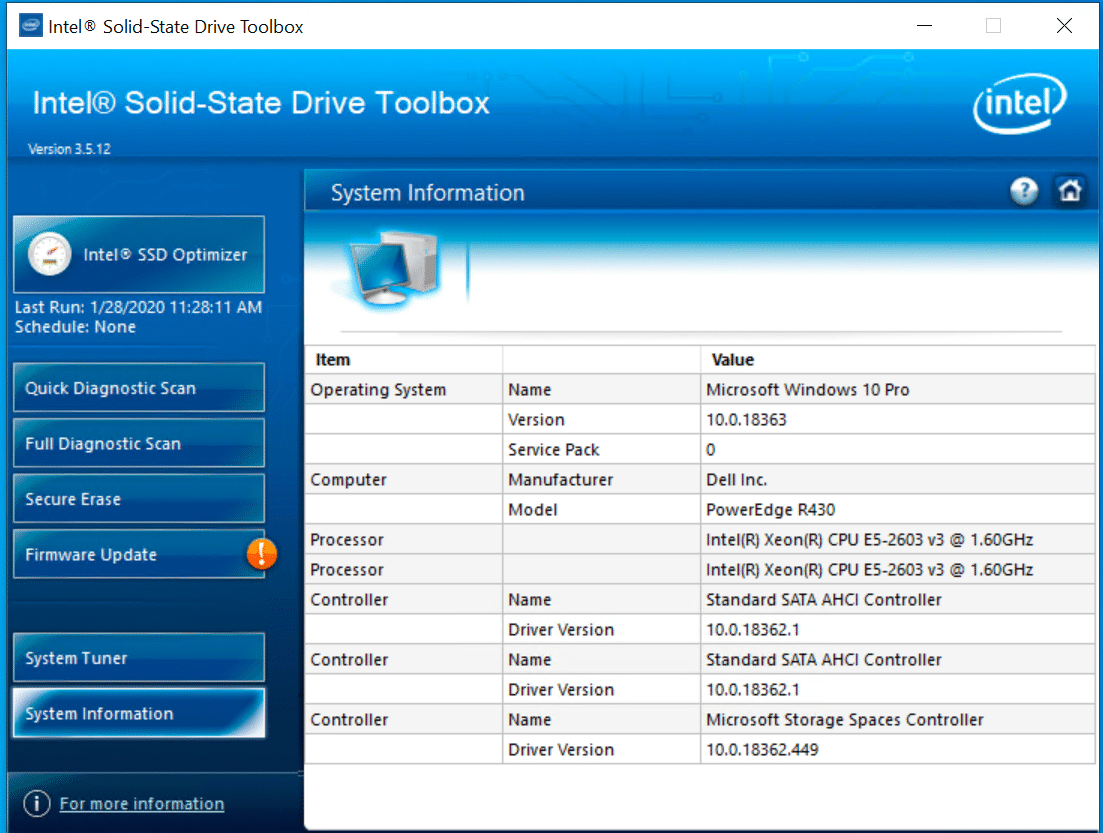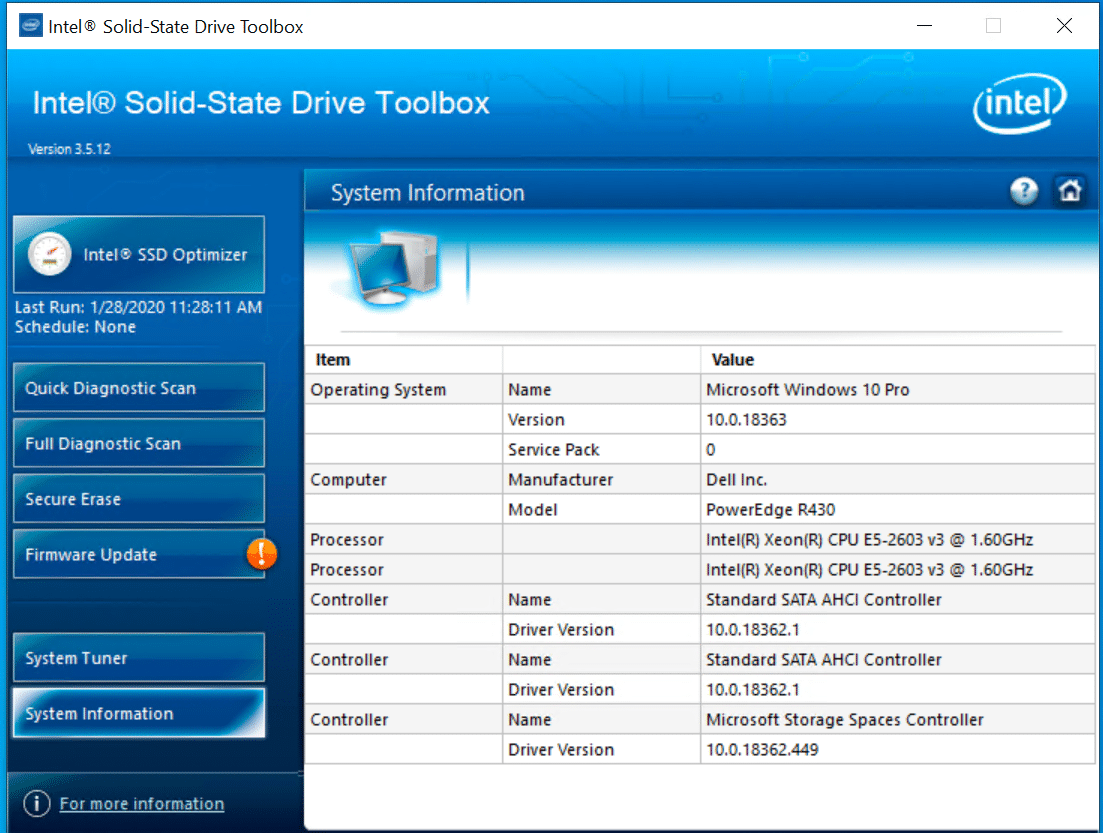 Conclusion
The Intel SSD Toolbox is functional, it takes care of most tasks the competitive tools offer, outside of a couple of small things like the performance testing tool Samsung provides. SSD Toolbox isn't pretty or modern though, it hasn't fundamentally been updated from a UI perspective, since Intel released it many years ago. At this point the SSD Toolbox could definitely use a facelift, the quality of Intel's SSDs doesn't really align with the software. Even so, it's quite a bit better than other competitive offerings and at the end of the day gets the job done, just with very little fanfare.
Editor's note: Intel Toolbox was replaced by Intel MAS Tool in 2020.
Engage with StorageReview
Newsletter | YouTube | Podcast iTunes/Spotify | Instagram | Twitter | Facebook | RSS Feed