Netgear offers a tremendous range of storage products – from 248GB enterprise rack units to the little two-bay ReadyNAS designed for home, small office use. Few companies can say they bring Enterprise-level experience to the job when designing home or small business gear, but for Netgear it's the truth. Today we're looking at something in between, the ReadyNAS Ultra 6, a six-bay unit that we must say, is built like a tank. This bruiser of a NAS is powered by a dual-core 1.66Ghz Intel Atom processor and 1GB of DDR2 RAM – which is good enough for the Ultra 6 to deliver up to 15 concurrent streams.
Netgear offers a tremendous range of storage products – from 248GB enterprise rack units to the little two-bay ReadyNAS designed for home, small office use. Few companies can say they bring Enterprise-level experience to the job when designing home or small business gear, but for Netgear it's the truth. Today we're looking at something in between, the ReadyNAS Ultra 6, a six-bay unit that we must say, is built like a tank. This bruiser of a NAS is powered by a dual-core 1.66Ghz Intel Atom processor and 1GB of DDR2 RAM – which is good enough for the Ultra 6 to deliver up to 15 concurrent streams.
The ReadyNAS Ultra 6 is billed as a 'tweener unit, ready for duty either as a high end unit in the home, or a smaller NAS for the office. Either way Netgear has users covered with support for both types of use cases. On the media side, the Ultra 6 is DLNA certified and supports Skifta media shifting, Orb transcoding and is compatible with TiVo, all major video game consoles, networked Blu-ray players and of course Netgear's line of media streamers. Netgear also offers a series of mobile apps to make things like photo viewing on the go a seamless experience.
For more serious tasks, the backup server includes Time Machine support, 2GB for 2 years of online backup services, Memeo Premium Backup, single touch USB backup button for external devices and Rsync server & client. Of course the main draw to a product like this is the six hard drives it supports, whereas most of the competitors in this space top out at four. This means using cheaper 1TB drives to meet similar space goals, or using 2TB or 3TB drives for gigantic arrays. The Ultra 6 supports RAID 0 ,1 ,5 and 6 as well as X-RAID2 automatic volume expansion, iSCSI Support and iSCSI target. No matter if you plan on streaming video to an xbox or want to provide double-drive failure redundancy to a small-business workgroup, the ReadyNAS Ultra 6 is prepared for the job.
Of course there's much more on the software side, we'll dig into much of that, along with setup and configuration of the ReadyNAS Ultra 6 as we dive in deeper with this review. It's also worth noting that Netgear also sells two and four bay versions of this NAS as well, dubbed the ReadyNAS Ultra 2 (RNDU2000) and ReadyNAS Ultra 4 (RNDU4000). All three versions are available diskless, or with varying disk configurations.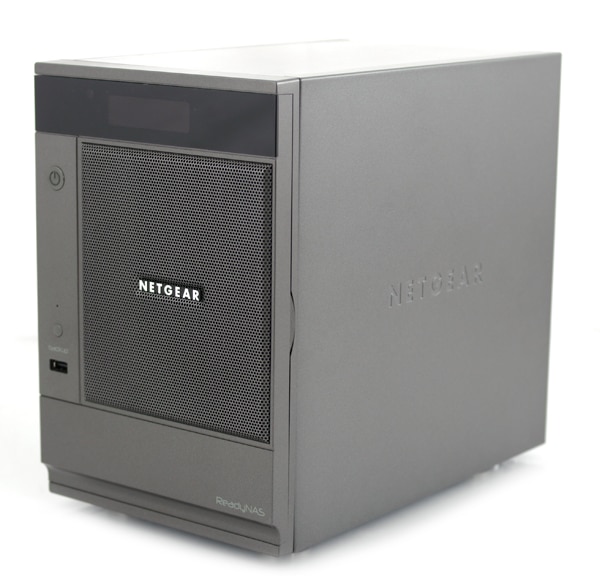 ReadyNAS Ultra 6 Specs
Concurrent Use – <15 Streams
Processor – Dual-core 1.66 GHz Intel Atom
Embedded 128 MB Flash Memory for OS
Memory – 1GB DDR2 UDIMM (expandable)
Ports – 1 USB 2.0 (front), 2 USB 2.0 (back)
Disk Management – X-RAID2 / RAID 0, 1, 5, 6
Six hot-swappable drive bays
Dual Gigabit RJ-45 Ethernet Ports
Dimensions (W x H x D) – 6.70 x 10.0 x 11.20 in
Weight – 14.90 lb without disks
Software controlled 120 mm chassis cooling fan
Power Consumption – 74W Typical (with 6 x 2 TB), 68W idle, 33W disks spun down
300W server-rated 100-240V AC power supply
Warranty – 3 years
Aesthetics
At a time when many consumer and even business-grade devices are turning to low-cost materials, the Netgear ReadyNAS Ultra 6 stands out with its tough steel body. From the moment you haul this NAS out of the shipping box, you realize this thing is seriously overbuilt. Without even six drives installed the Ultra 6 tips the scales at 15lbs with every component feeling as if it is straight out of an enterprise environment.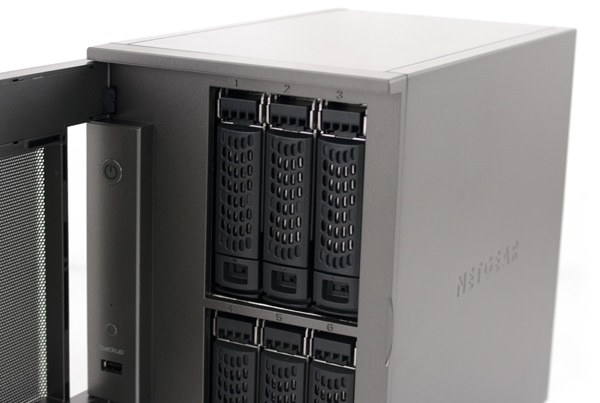 The front of the ReadyNAS Ultra 6 will appease gadget geeks with its LCD display giving information on network status and array integrity among other things. Compared to most storage units that only offer blinking LEDs, the ReadyNAS Ultra 6 really sets the bar for what high-end network storage should be. The display is also helpful when shutting the NAS down, giving an indication of when to press the power button to do a safe shutdown, or to know free space with a quick glance.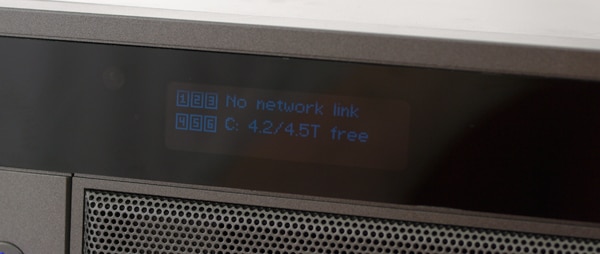 Netgear also includes a front-mount USB port with a dedicated backup button for quickly pulling content from another source and dumping it into your RAID.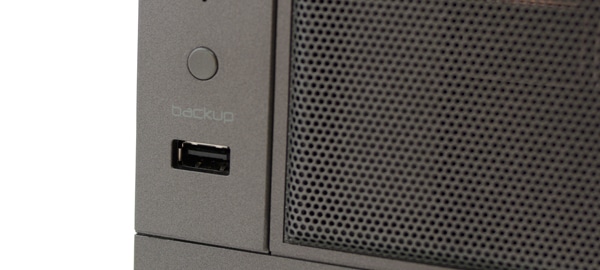 The back is interesting besides just the dual-Ethernet hookups and two USB ports. Netgear decided to use a 300-watt ATX power supply inside the ReadyNAS Ultra 6, instead of a custom internal version or AC-power brick. Given the larger size of this model, supporting 6 3.5-inch drives, it's clear that Netgear wanted to make sure all the power requirements were handled properly.
Two other items that will not go unnoticed are the massive cooling fans for the power supply and NAS body. Both fans offer plenty of cooling capacity, with the ability to scale down speeds (and noise) when not needed. At startup you can hear the main fan spin up to full speed and gracefully go back to idle speeds as the startup processes reach a fully booted state.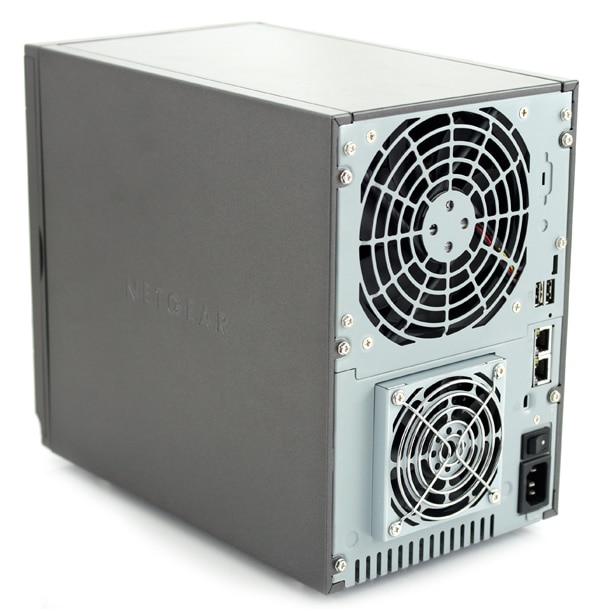 The NAS design is very user-friendly, especially when it comes to hot-swapping drives. Some models might require you to unscrew covers to access the drive bays, while on the ReadyNAS you simply swing the front cover open and unlatch a drive.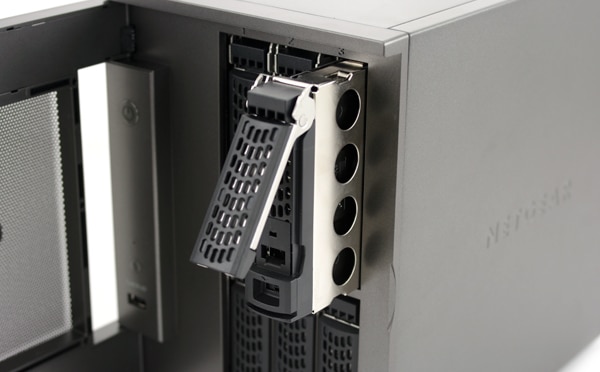 The metal rails easily line up in the NAS body without requiring much hassle to get the drive inserted properly. Even the latch makes a satisfying "ker-chunk" when releasing or installing a new drive in each individual bay. As someone who is used to seeing thin metal or plastic drive sleds in most home or small business gear, you can definitely see how some of Netgear's enterprise expertise has rubbed off on the ReadyNAS's design.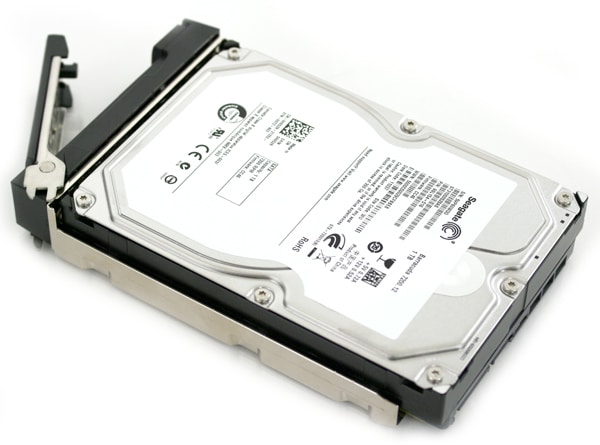 The drive sleds themselves are very durable and keep their shape when pulling out or pushing back in. The sleds also have a small slide to lock the release bar to prevent accidental drive removal.
Disassembly
The Netgear ReadyNAS Ultra 6 is very user-friendly when it comes to accessing internal components. During the normal course of use, no one should really have to open it up, but if for whatever reason you need to, it's pretty simple.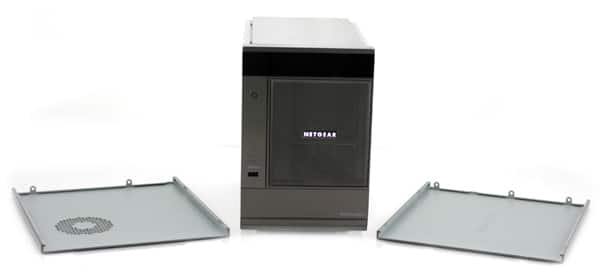 To access the motherboard and see the power supply, the side covers of the Ultra 6 slide off once you remove two or three screws from the back that hold the panels in place. Once those are removed, slide the panel back about 1cm, and pull it away from the frame.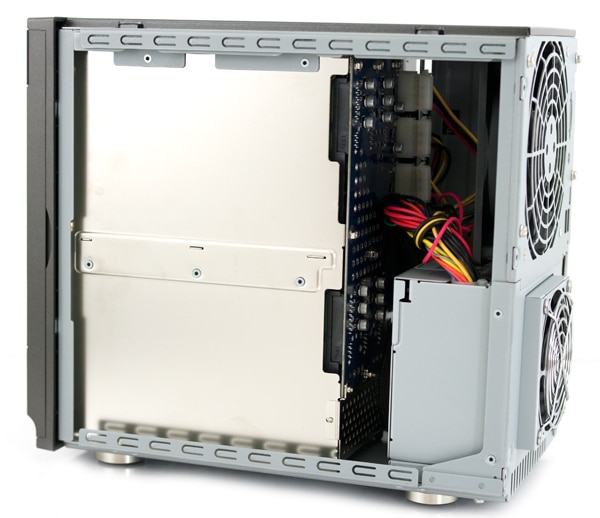 Inside we see the backplane, SeaSonic power supply, and more metal acting as the backbone of the NAS unit. This model really is the best built NAS we have ever reviewed. Even the side panels are thicker than what you find on most high-end desktop cases.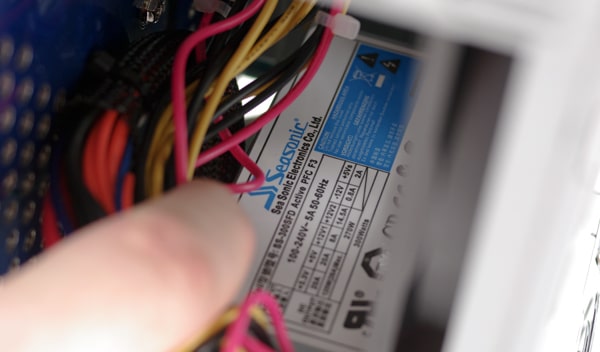 After removing the cover on the other side, you are greeted with the back of the motherboard, with all the fun stuff on the other side. Once a handful of Phillips head screws are removed, you are able to carefully pry the motherboard out of the chassis. Just make sure you remember where the wires go, since none of them are keyed to give an indication of how they plug back in.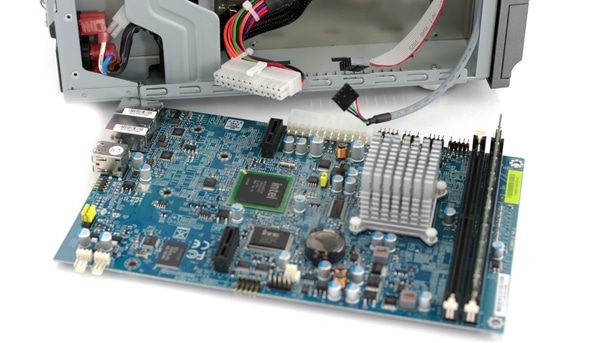 The motherboard is a custom design, based around the Intel Atom processor. Its main I/O connectors are two Ethernet ports, support for 6 SATA drives, three USB 2.0 ports, and a spare fan connector.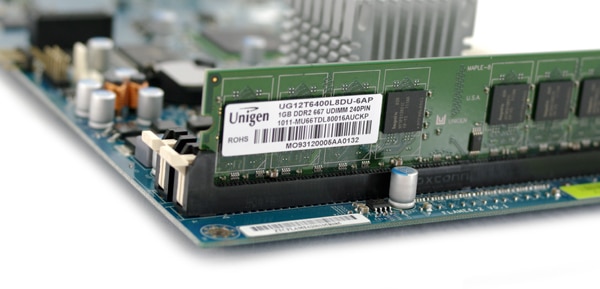 Its nice to see that the RAM is also user-upgradable… Netgear even includes an un-used slot for expansion! The RAM is standard desktop-sized 240-pin DDR2, so it should be easy to find compatible memory if you really need to increase RAM capacity.
Software
The Netgear ReadyNAS Ultra 6 doesn't have the best looking software interface, but it does get the job done in the functionality department. Designed with the mindset of "set it once and never have to deal with it again," some changes like RAID configurations require a full factory restart to switch types. That means you need to completely start fresh to switch from the default X-RAID2 to RAID 0 ,1 ,5 and 6 for example. However, unless you are a product reviewer who frequently switches RAID modes though, the average user probably won't mind this process.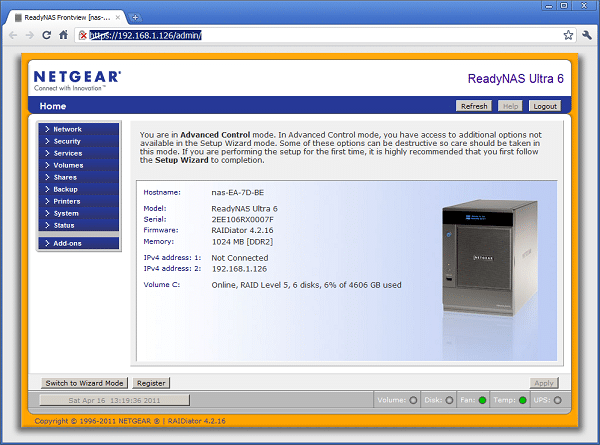 You also have to install client software on your PC to discover the NAS during some of these operations and handle certain setup procedures, although other manufacturers like Synology also use this approach for initial setup.

The management software Netgear provides is aptly called RAIDar, which handles discovery of available Netgear models on the network, as well as providing an overview of important statistics on discovered models. Some of the stats like drive and volume health are very handy to have at a moment's notice if you want to check up on the server without logging into the admin. The interface also shows the status of the cooling fans, operating temperature, battery backup, and installed software version.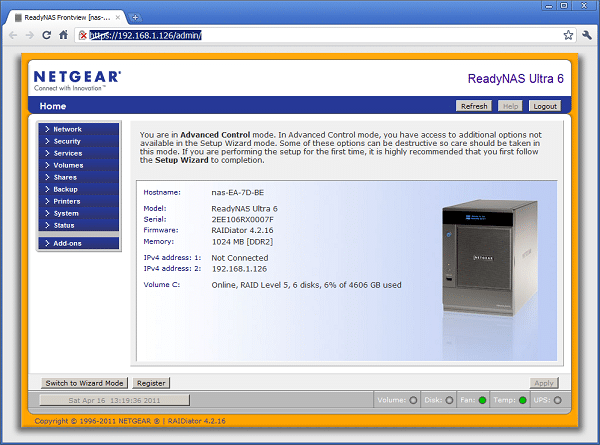 For what it lacks in Web 2.0 style, the interface makes it all back, with interest, in options and features. This was the first model we have seen that included data integrity tools to check for consistency and fix problems before they cause issues in other areas. The software includes a Disk Scrubbing tool that can be scheduled to go out and find parity issues and automatically correct them if found. There is also an online version of this tool which will check for issues and notify you, since to correct the problems requires the volumes to temporarily go offline.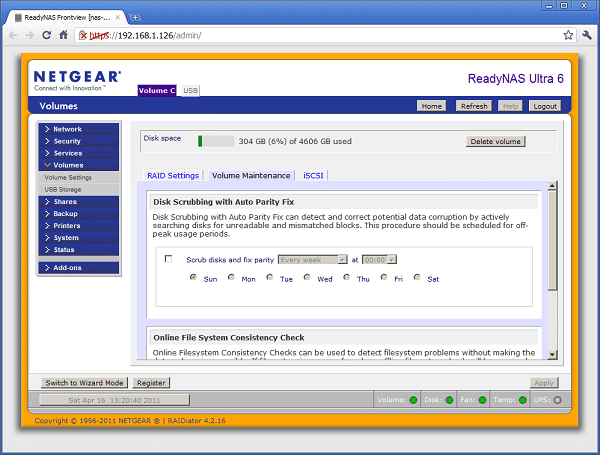 Overall there is definitely not a lack of information through the software interface, although there is room for improvements to make it more user-friendly or visually appealing. In some ways this is the type of interface most would come to expect in a business or enterprise environment, whereas most home or small business users might expect something iOS-esque these days.
Performance
I have to admit that having six drive bays on hand easily gives the Netgear ReadyNAS credibility in the network storage department. One of the limiting factors of 2 or 4 bay NAS models is that, generally speaking, drive redundancy is limited to a single drive that can fail. Most 4-bay models will support 2-drive redundancy with RAID5+spare or RAID6, but you sacrifice a ton of storage space in the process. With 6-bays at your disposal though, your options open up dramatically, with the space-cost of dedicating another drive to parity information lessening. Below is a little chart outlining some of these differences assuming we use RAID5 and 2TB drives:
| | | |
| --- | --- | --- |
| Drives Installed | RAID Mode / Drive Redundancy | Usable Capacity |
| 4 | RAID5 / 1 | 5.5TB |
| 4 | RAID5 / 2 | 3.7TB (33% drop) |
| 6 | RAID5 / 1 | 9.3TB |
| 6 | RAID5 / 2 | 7.4TB (20% drop) |
With the 4-bay model you lose 33% of the storage capacity by adding another level of drive redundancy. Using four 2TB drives, you only come out with 3.7TB of usable space. With the 6-bay model you lose just 20%, with the array still being twice the capacity by just having two additional drives on hand. In this case it might not be that big of a compromise to add in that extra level of protection, whereas on the smaller models you have a significant drop in storage space. From the cost perspective, it is much cheaper buying more drives than it is buying another NAS. This is one of the biggest arguments you might find from users running a NAS for a home theater, where storage space is the key driving force behind upgrades.
We used both a 6-drive RAID5 and X-RAID2 array in our tests, using Samba and iSCSI to interface with the NAS over a gigabit network. With smaller NAS units, it might be plausible for the user to not make use of all the drive bays, but given the nature and target audience of this model, we tested it with all six-bays in use. The drives supplied with the ReadyNAS Ultra 6 are Seagate Barracuda 7200.12 1TB models, with a spindle speed of 7200RPM.
To benchmark the ReadyNAS Ultra 6 we used IOMeter with a 5GB sample size, testing speeds over Samba and iSCSI. The first test we look at is using a 2MB sequential transfer.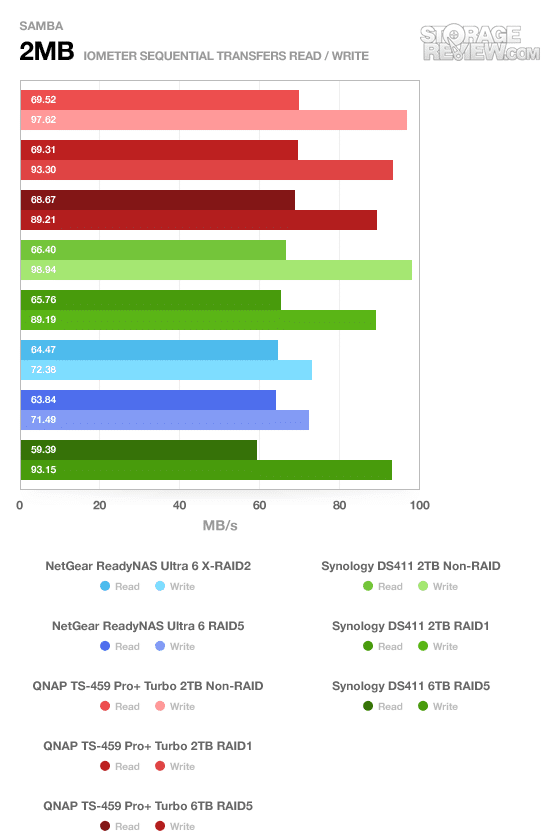 In both X-RAID2 and RAID5 the Netgear ReadyNAS measured around 64MB/s read and roughly 72MB/s write.
Switching to 2MB random transfers, which is closer to standard traffic loads serving multiple users, the ReadyNAS Ultra 6 comes in the middle of the pack.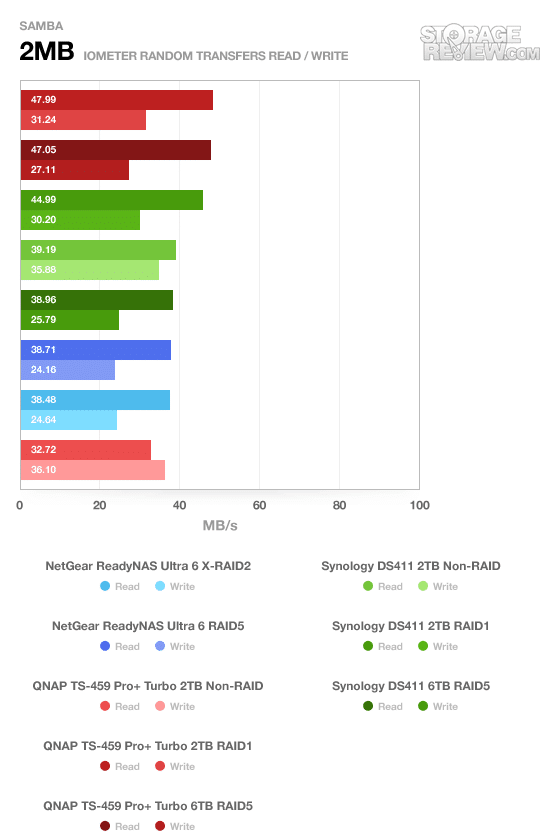 We measured 38MB/s read using both X-RAID2 and RAID5 and 24MB/s write.
Looking at smaller 4K random transfers, the Netgear ranked low on read speeds but very high on write speeds.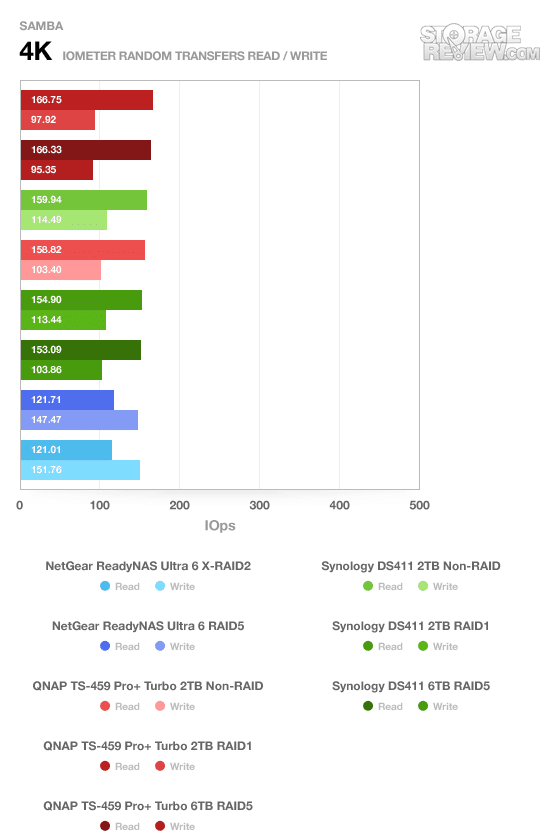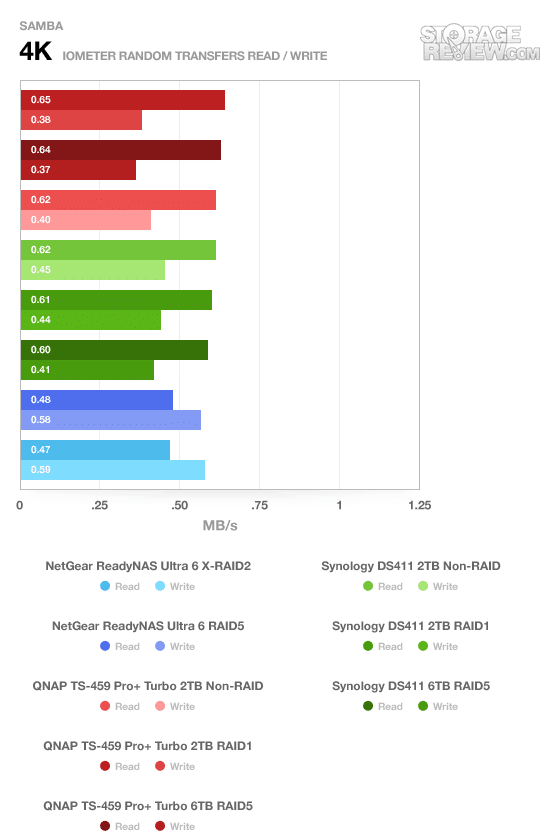 Measuring 0.47 and 0.48MB/s for X-RAID2 and RAID5 respectively, the Netgear came in towards the bottom on read speeds, but came in well above the others with its impressive 0.59 and 0.58MB/s random write speeds.
With its strong random 4K write speeds, it was no surprise to see the Netgear ReadyNAS Ultra 6 at the top of our latency charts.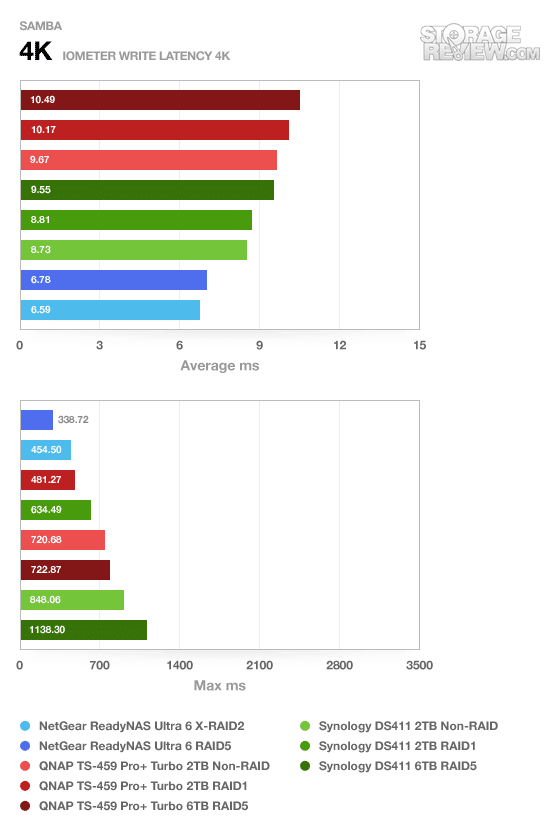 Measuring 6.59ms latency with X-RAID2 over six drives with a max latency of 454ms, the Ultra 6 easily came out on top in responsiveness.
Next we switch from Samba to iSCSI where the Netgear continues with its strong write performance.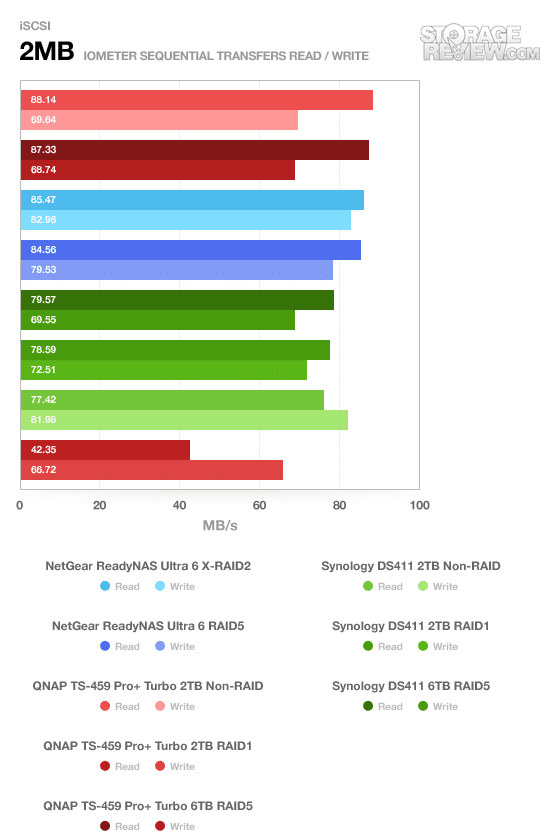 In the 2MB sequential transfer test the Netgear measured an impressive 85MB/s read and 79 to 82MB/s read for RAID5 and X-RAID2 respectively.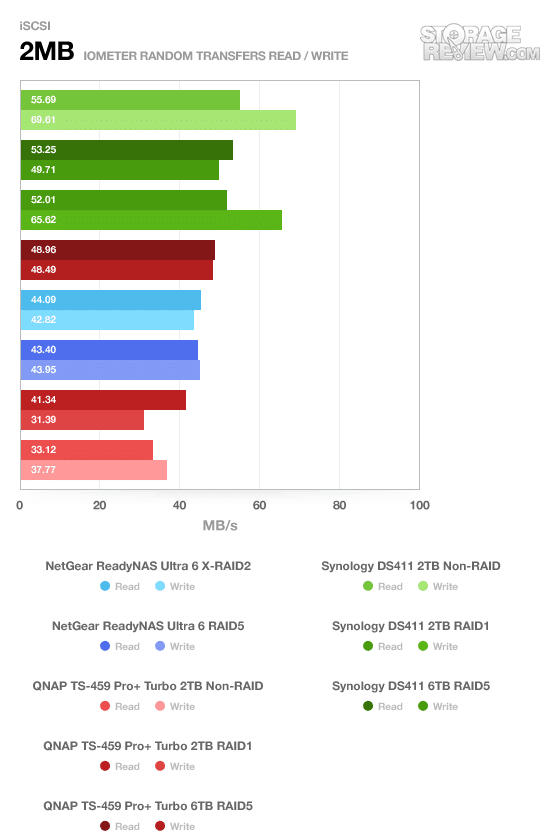 2MB random transfer speeds dropped to 43-44MB/s read and 43-44MB/s write, moving towards the bottom of the pack.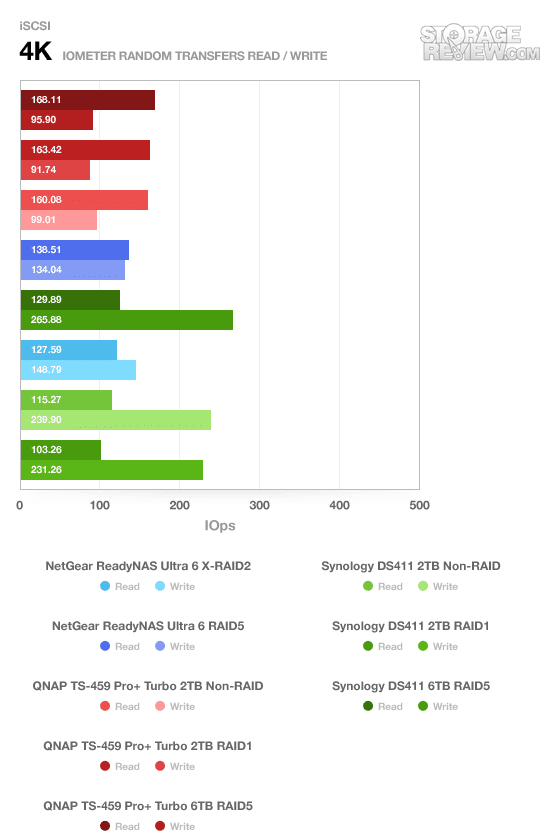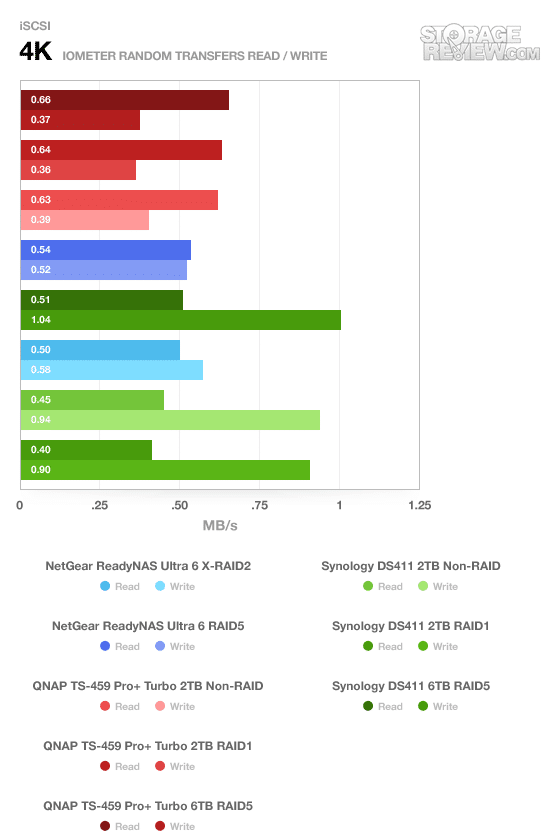 The ReadyNAS Ultra 6 was a mid-range performer in the 4K random transfer test, getting 0.54MB/s read over RAID5 and 0.50MB/s over X-RAID2. Write speeds measured 0.52MB/s and 0.58MB/s respectively.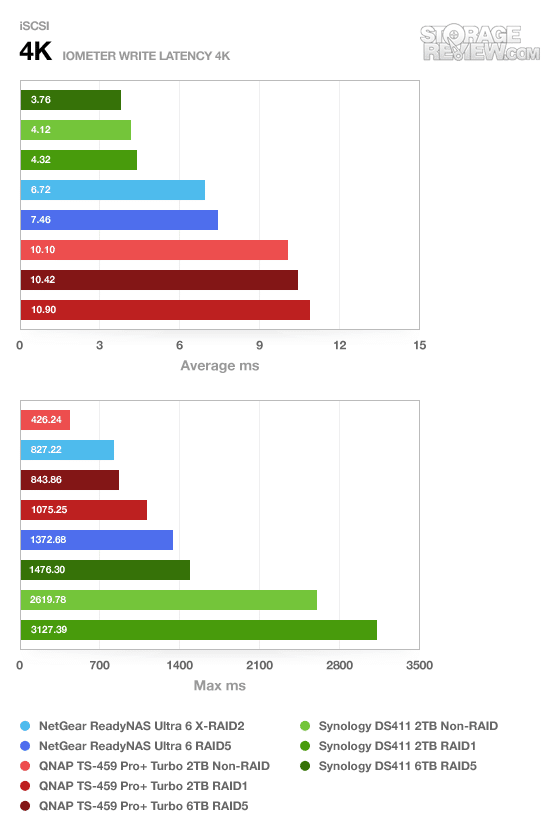 Similar to the performance we saw in the Samba write latency test, in iSCSI the Ultra 6 stayed in the 6.7-7.4ms range in both arraies, with a max response time measuring 827 to 1,373ms.
Power Consumption
It wasn't a surprise that the Netgear ReadyNAS Ultra 6 used more power than any other NAS we have reviewed… it had to power two additional drives. Netgear rates the ReadyNAS Ultra 6 with very realistic power figures based on operating the unit with six 2TB drives. They list an average active rate of 74W, and idle rate of 68W, and a rate of 33W with the disks spun down. We saw very similar rates, although ours may be off slightly given the smaller 1TB drives supplied with our review model.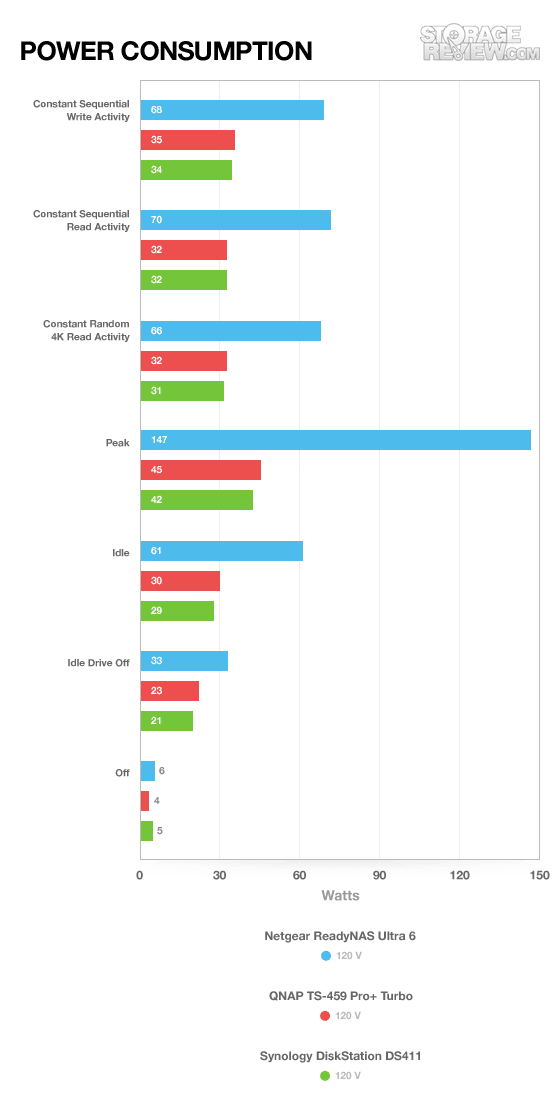 At startup we measured a peak power consumption rate of 147 watts at the outlet. With its 300W power supply, Netgear had no trouble spinning each drive up simultaneously instead of staggered. Once the ReadyNAS went through its boot cycle, things calmed down and dropped to a more reasonable 61 watts. During normal operation we saw power rates vary between 66 and 70 watts, just under what the rated value was for a ReadyNAS Ultra 6 loaded with six 2TB drives.
Warranty
Netgear offers a three year warranty on the ReadyNAS Ultra 6. Secondary support is also given through an expansive online community hosted by Netgear and dedicated to the ReadyNAS lineup.
Conclusion
The Netgear ReadyNAS Ultra 6 brings a taste of enterprise to the home and small business network storage market, without layering excessive complexity. Offering features such as a rugged six-bay enclosure, auto RAID-expansion, server-quality parts, and top notch build quality, it is hard to find much fault with this NAS. Performance ranked middle of the pack in most areas over both Samba and iSCSI connections, which is fine for the expected duty of this machine.
The one area we would like to see some improvement in is the design of the user interface. Given the home and small business target, most buyers in that area expect slick Web 2.0 interfaces. The Ultra 6 feels slightly dated by comparison to other NAS units we've tested. The current interface is fairly simple to use and provides plenty of information for power-users, but it could use a modern look and feel. That's a solvable problem though, we're confident Netgear will continue to improve the ReadyNAS interface over time.
With the price starting at $899 for the diskless version and $1,349 for a model half-loaded with 2TB drives, the ReadyNAS Ultra 6 is competitively priced against same-class models from Synology and QNAP.
Pros
Built like a tank
Enterprise-grade components through and through
Six drive bays for massive home media or business storage array
DLNA certified, Orb transcoding and series of mobile apps
Cons
 Web interface could be improved to make it more visually appealing
Bottom Line
The Netgear ReadyNAS Ultra 6 is extremely well built, stocked with enterprise-grade materials and components throughout. In either home or small business duty, the Ultra 6 is well-equipped and ready to deliver, making it one of our favorites in the small NAS category.