The NETGEAR WAX630E is the company's first tri-band WiFi 6E access point highlighted by a new 6Ghz band and enterprise-grade security features. It can deliver up to 7.8Gbps in total WiFi throughput, which is supported by a 2.5Gbps PoE and 1Gbps Ethernet ports. NETGEAR dubs the WAX630E as the industry's most powerful SMB access point to date and indicates it works best in high-density client device environments like schools, hotels, restaurants, and conference centers. It comes in two models, one with a power adapter included and one without.
The NETGEAR WAX630E is the company's first tri-band WiFi 6E access point highlighted by a new 6Ghz band and enterprise-grade security features. It can deliver up to 7.8Gbps in total WiFi throughput, which is supported by a 2.5Gbps PoE and 1Gbps Ethernet ports. NETGEAR dubs the WAX630E as the industry's most powerful SMB access point to date and indicates it works best in high-density client device environments like schools, hotels, restaurants, and conference centers. It comes in two models, one with a power adapter included and one without.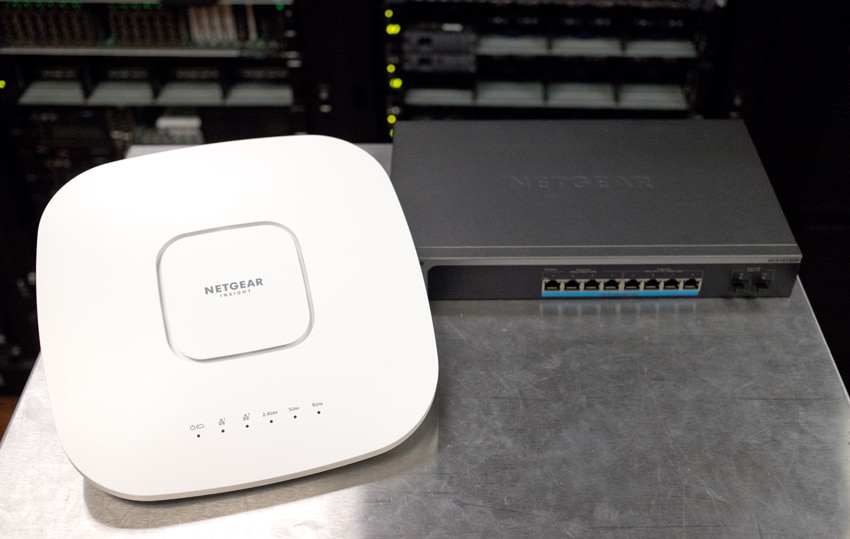 The WAX630E is a tri-band device, which means it offers three levels of wireless technology:
2.4GHz, which is for devices that require light data consumption such as surveillance cameras, and smart appliances (e.g., light bulbs and residential temperature consoles).
5GHz, which is meant devices that have a bit more (i.e., moderate) data consumption like printers and fax machines, tablets, phones, and cable/satellite boxes.
6GHz (WiFi 6E, the newest wireless band technology), which is designed mainly for high data-consumption devices such as desktop PCs, laptops, and phones.
With the new 6GHz band, the WAX630E offers up to 3.5 times more channels for WiFi communication compared to the previous generation. This means more efficient performance, lower latency, and expanded spectrum capacity. As a result, businesses will be able to support more client devices without having to worry about network congestion or blind spots.
For example, whereas Wi-Fi 6 Release 1 only uses 80MHz channelization, Wi-Fi 6 Release 2  (i.e., WiFi 6E) uses 160MHz channelization in the 5GHz and 6GHz bands. That said, the 6GHz range is a little bit weaker than 5GHz, and support for the new Wi-Fi spectrum is limited at the moment.
The NETGEAR WAX630E offers enterprise-grade security features. For example, you can add up to 8 WiFi SSIDs so you can customize your connections depending on who needs access WiFi network. Users can also control VLAN separately for each SSID while offering the latest industry security standard, WPA3.
NETGEAR stresses that they want to give businesses the ability to manage their wireless network without having to use an IT expert. To accomplish this, NETGEAR offers its Insight management software, which gives SMBs an easy, yet powerful way to set everything up and manage their network. They offer a web-based software option as well, which we will briefly go over below.
Backed by a 5-year warranty, the WAX630E is also compatible with WAC510, WAC540, WAC564, WAX610, WAX620, and WAX630 Insight Managed Access Points to form a scalable wireless network and part of the AXE7800 speed family of products.
The WAX630E is available in the channel now and goes for $349.99 at popular retailers like Amazon.
NETGEAR WAX630E Specifications
WiFi Standards

6.0GHz: 802.11ax
5.0GHz: 802.11a/n/ac/ax
2.4GHz: 802.11b/g/n/ax

Wireless Mode (Transmit x Receive)

2×2 in 6.0GHz
4×4 in 5.0GHz
2×2 in 2.4GHz

Channelization

5GHz: 20/40/80/160MHz
6GHz: 20/40/80/160MHz

OFDM/OFDMA
OFDM/OFDMA
BSS Coloring
Yes
Security

WiFi Protected Access (WPA/WPA2 WPA3), 802.11i
MAC address filtering with access control
802.1x RADIUS support with EAP TLS, TTLS, PEAP
Neighbor AP detection
Block SSID Broadcast
VLAN Support
Guest Network/Captive Portal
Bandwidth management
Link Layer Discovery

Multi-User MIMO
Bidir and MU-MIMO
Weight
2.31 lbs (1050g)
Target Wake Time (TWT)
Yes
Maximum Theoretical Throughput
AXE7800 7.8Gbps
Maximum Theoretical Throughput

per Band

6.0GHz: 2400Mbps
5.0GHz: 4800Mbps
2.4GHz: 600Mbps

Antenna Gain
Internal 4.4/6.3/3.1 dBi (2.4GHz/5GHz/6GHz)
Power over Ethernet (PoE)
802.3bt/at
PoE Power Consumption
27.64W
Centralized Management
Insight App
Wireless Distribution System (WDS)

Repeater
Bridge Point-to-point/Multi-point
Simultaneous Bridge and Wireless Client Association

Wireless backhaul to form Mesh Network
Yes
Standards

IEEE 802.11ax WiFi 6 standard
WMM Wireless Multimedia
Prioritization
WDS Wireless Distribution System
Power over Ethernet (PoE) IEEE 802.3at (Max throughput will reduce by 50%) on 5GHz
Power over Ethernet (PoE) IEEE 802.3bt
OFDM/OFDMA

Dimensions W x D x H
266.6 x 268.3 x 55.5 mm (10.49 x 10.56 x 2.18 in)
Weight
1050 g (2.31 lb)
NETGEAR WAX630E Design and Build
At 10.56 x 10.49 inches, the WAX630E is one of the bigger wireless access points we've seen, so it might be a little tricky to install in smaller spaces. That said, it sports a nice modern-looking build that would look great wherever you end up putting it.
On the front panel, the status indicators are located just below the NETGEAR branding. This includes Power/Cloud LED, LAN 1 LED, LAN 2 LED, 2.4 GHz WLAN LED, 5.5 GHz WLAN LED, and 6.6 GHz WLAN LED.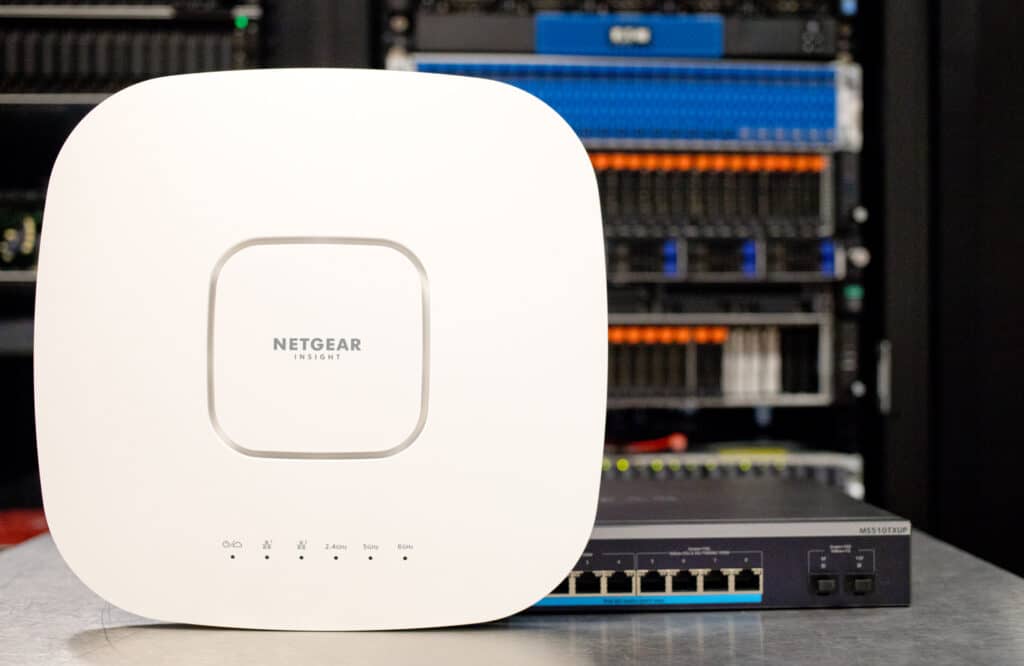 When the LAN indicators are solid green, they are functioning at their maximum speeds, while a solid red means that it detects less than 2.5Gps for LAN 1 and either 100 or 10 Mbps for LAN 2. This means you'll know if you're properly leveraging your maximum connectivity speeds.
The back panel is home to the power port (which is for the optional AC adaptor) as well as the 1 Gigabit port and 2.5 Gigabit Ethernet port with PoE++.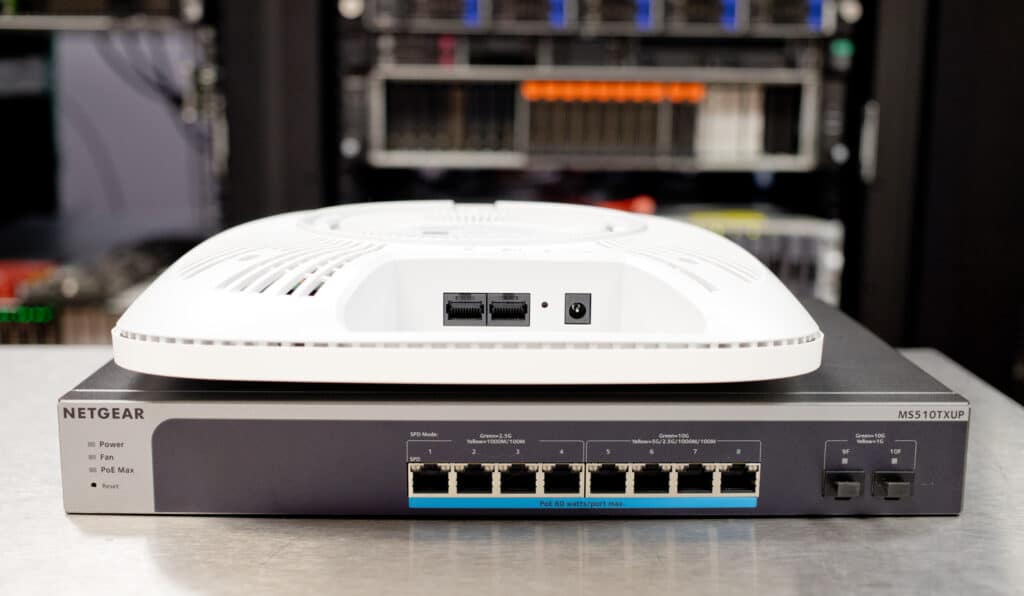 The WAX630E also comes with a mounting plate if you need to install it on a wall or ceiling. Simply secure the plate via the Philips head screws and anchors, then you just twist the WAX630e clockwise to lock it into place. There's a handy "unlock" latch underneath the WAX630E to unmount the device. Press and hold the latch down and turn the WAX630E counter-clockwise to release it.
You can also mount the WAX630E to a T-bar via the bundled metal bracket. This is also fairly easy to do.
The WAX630E is powered by connecting it to a PoE++ switch or power adapter, so you have options depending on your use case and available outlets.  For a little extra, you can buy the WAX630EP model, which is bundled with a power adapter; however, you can purchase one separately when needed.
NETGEAR WAX630E Management
The WAX630E is managed by both NETGEAR's Insight Management software and the web-browser mode, the latter of which we will be going over. It's pretty comprehensive yet easy to use, and we found navigating through the settings fairly intuitive. Essentially, you can view or change the settings of your WiFi networks (SSID or VAP) and view things like traffic analytics, logs, and other useful information.
Accessing this management system is easy: just type the IP address assigned to the WAX630E in a browser and then enter the login credentials.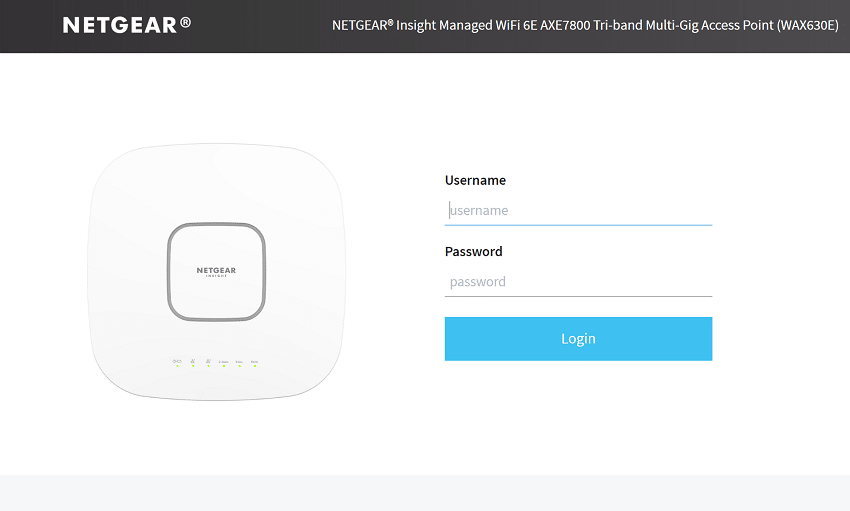 We were immediately taken to the management dashboard, which displays a range of useful at-a-glance information like WAP's serial number, firmware version, and how long it has been online. You can also find the IP and gateway addresses, basic traffic analytics, and information on your 2.4, 5, and 6 GHz wireless networks.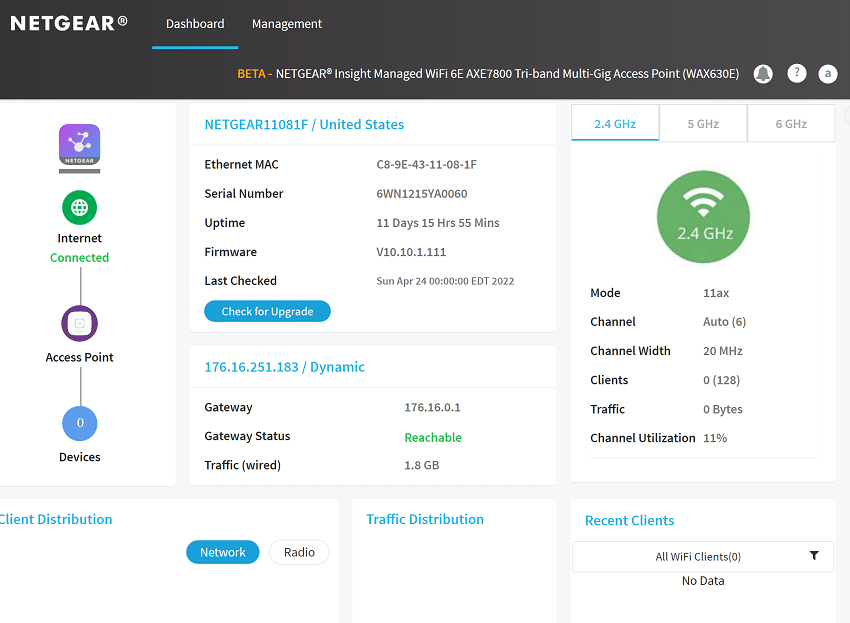 The Management section (accessed from the tab top left) is where most of the customization and settings are found, including wireless, security, monitoring, maintenance, diagnostics and support tools.
The System page has both basic and advanced settings. The Basic section allows you to change the name, time zone, and management mode of the WAP. In the latter setting, you can switch between NETGEAR Insight or web-browser mode (which we are using).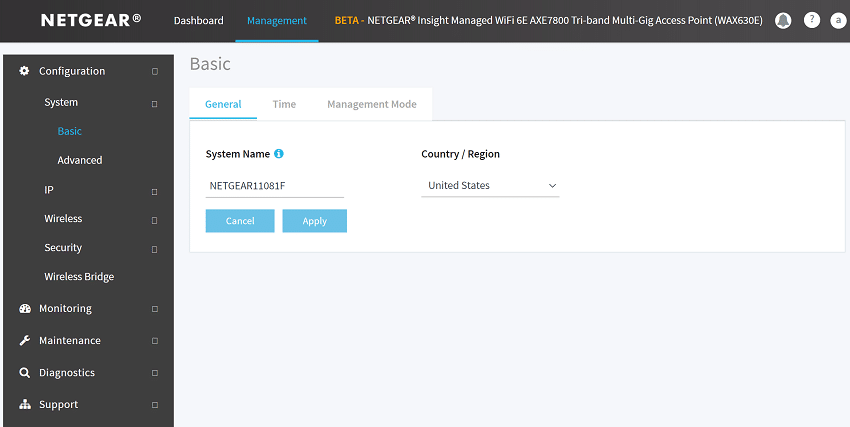 The Advanced section has quite of settings to go through, including the ability to enable Syslog–the network-based logging protocol. You can view and/or change Ethernet LLDP, UPnP, user account, and LED control settings as well.
In the LAN section, you can enable or disable DHCP Client. When disabled, you can customize the IP address, subnet mask etc., though you likely wouldn't do this unless you need a static IP address.
The Wireless page features an extensive set of customization options for the 2.4GHz, 5GHz and 6GHz bands, including the wireless mode, channel, width, output power and more. You can also register for Facebook Wi-Fi on the basic settings page, which allows your wireless network to be seen by users searching for Wi-Fi via Facebook. We haven't tested the Facebook Wi-Fi, but it looks fairly intuitive and can be more convenient for your customers.  It also has secure password-sharing features.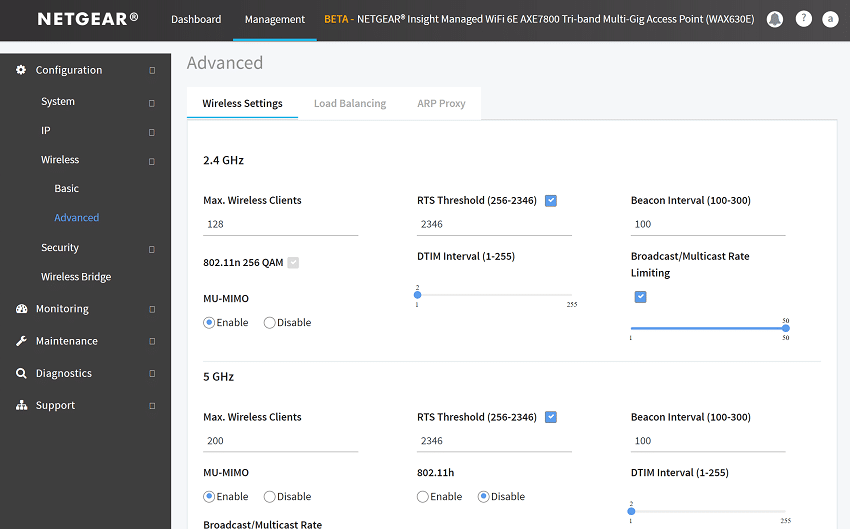 The advanced wireless settings page is also where you configure load balancing and ARP proxies and is home to the security settings like URL filtering, RADIUS, neighbor AP, and MAC ACL.
In the Monitoring section, you can find detailed system information, the interface status of the WAX630E, and the current wireless settings. Moreover, it shows the neighboring access points, connection clients, statistics (wireless, ARP and Ethernet), URL tracking, and wireless bridge.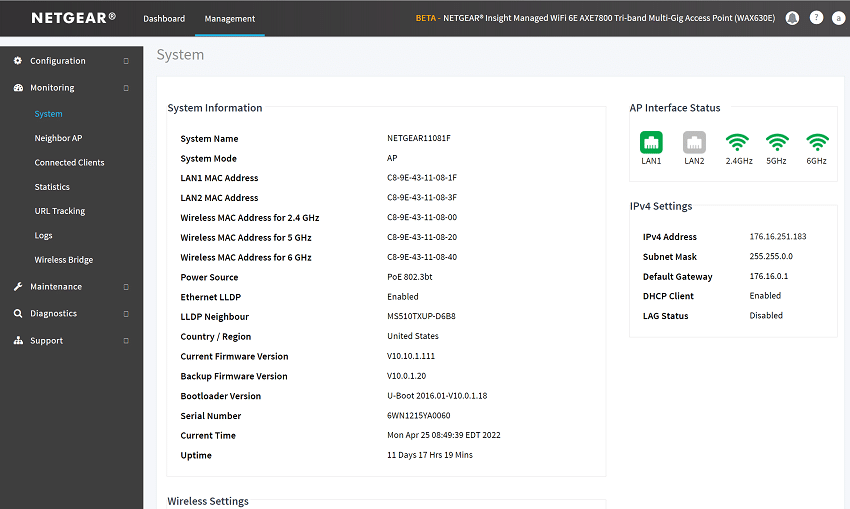 You can also view and download detailed activity logs in the Logs section.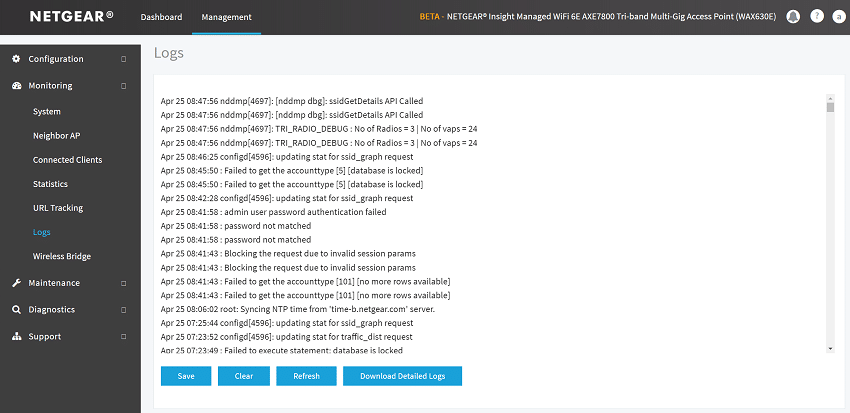 The Maintenance section allows you to reboot the access point and restore its default settings. You can also upgrade the firmware, back up and restore settings, and enable remote management.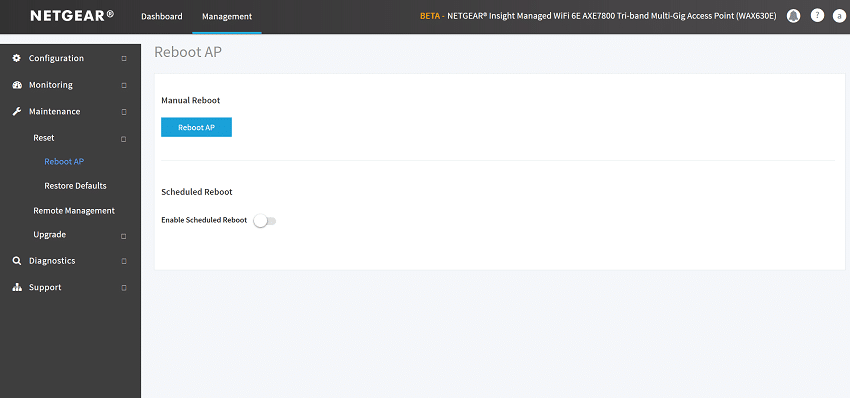 On the Diagnostics page, you can run packet capture, ping, and speed tests.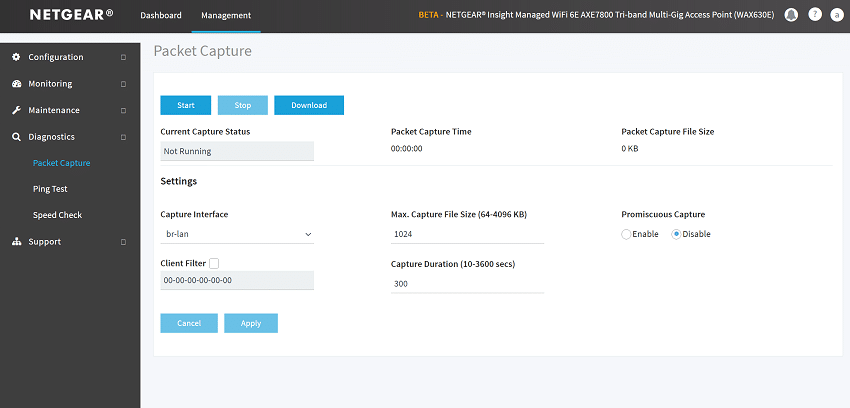 The support page simply displays terms and links you to the NETGEAR downloads page.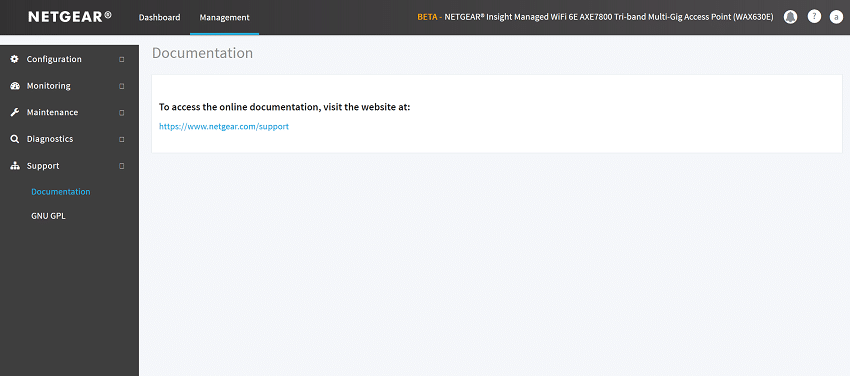 Conclusion
Overall, the WAX630E is a solid tri-band wireless access point from NETGEAR and an effective wireless networking solution for SMBs and general consumers. Though fairly large in size, it features some versatile wall/ceiling mount capabilities to make installation easy if you have the space available. The WAX630E is also PoE-powered, which is handy for businesses that do not have available power outlets in the area they need wireless coverage. For those that do, NETGEAR offers a model that comes with a power adaptor.
This is NETGEAR's first Wi-Fi 6E WAP, which means the 6GHz band is available to the WAX630E. Though this wireless technology doesn't offer any improvements in raw connection speed and has less range compared to 5GhZ devices, it does offer more effective and efficient throughput and has wider channel availability.
Moreover, Wi-Fi 6E devices are still limited due to other reasons. For example, Wi-Fi 6E (i.e., 6Hz band) was only recently approved for more comprehensive unlicensed use in the US, while other countries are still waiting for approval. So, this is more about future-proofing your network at the moment (though it's only a matter of time before it becomes widely adopted). The good news is that the WAX630E supports all three bands (2.4Ghz, 5Ghz, 6GHz) and is backward compatible, so you can customize the WAP based on your needs.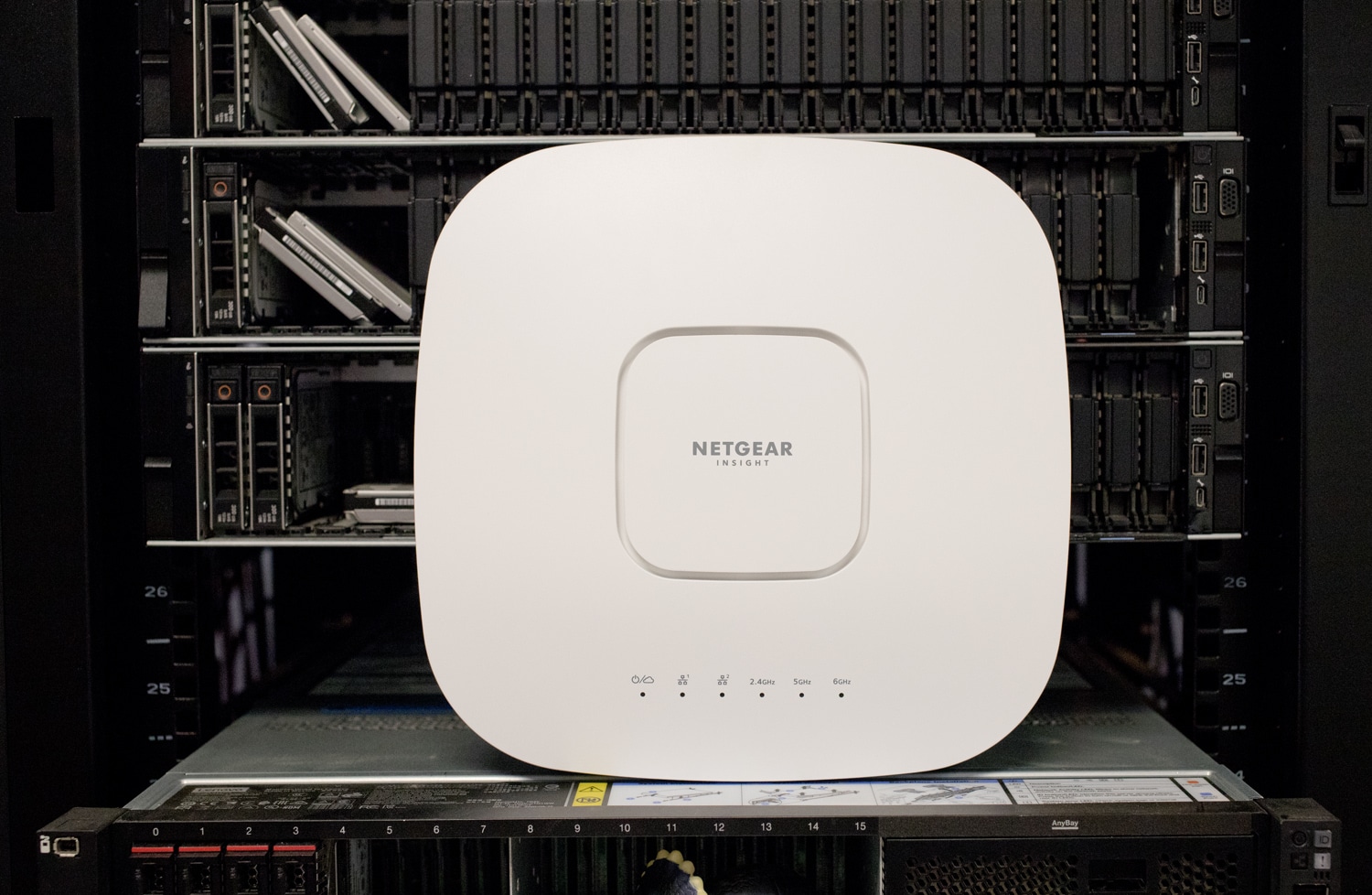 The NETGEAR WAX630E is an extremely versatile device. Users can easily create a secure, customizable network for SMBs and their on-site customers.  It supports up to eight separate, dedicated SSIDs, allowing admins to easily separate network traffic from business and personal use cases. All of this is managed through NETGEAR's remote, web-based GUI, with the option of using their Cloud-based Insight Management software. Smaller businesses like restaurants, schools and conference centers will be able to easily create a customized and secure wireless network via a comprehensive set of management tools.
Engage with StorageReview
Newsletter | YouTube | Podcast iTunes/Spotify | Instagram | Twitter | Facebook | TikTok | RSS Feed