OCZ was first to market with an SSD based on the SandForce SF-2281 processor. The Vertex 3 ripped through our benchmarks and easily topped all other SSDs in the market. Just two weeks ago, they let us know about the Vertex 3 Max IOPS, which uses a change in NAND to drive IOPS performance from 60,000 in the Vertex 3 to a quoted 75,000 in the Max IOPS edition. While not exactly billed as "faster" than the original, the Max IOPS version does handle 4KB IOPS better, along with general improvements to incompressible data performance.
OCZ was first to market with an SSD based on the SandForce SF-2281 processor. The Vertex 3 ripped through our benchmarks and easily topped all other SSDs in the market. Just two weeks ago, they let us know about the Vertex 3 Max IOPS, which uses a change in NAND to drive IOPS performance from 60,000 in the Vertex 3 to a quoted 75,000 in the Max IOPS edition. While not exactly billed as "faster" than the original, the Max IOPS version does handle 4KB IOPS better, along with general improvements to incompressible data performance.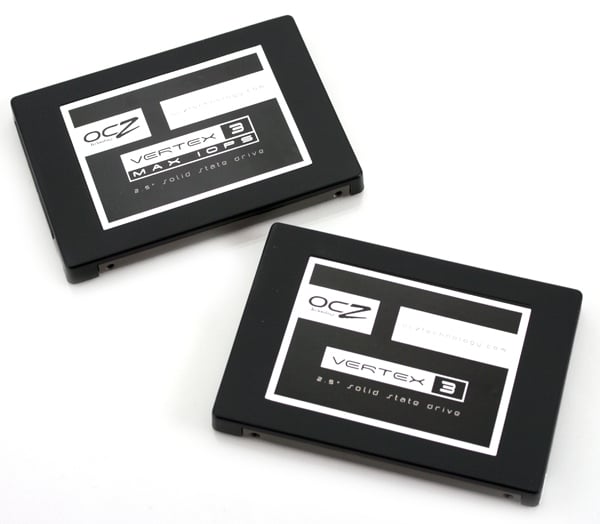 These improvements are due entirely to the fact that OCZ is using a different set of NAND in the Max IOPS version of the Vertex 3. Where the original leverages 25nm NAND from the Intel/Micron partnership, the Max IOPS drive uses 32nm toggle mode NAND from Toshiba. Boiling it down to the basic points, the Toshiba NAND is up to three times faster and also consumes less power, something we'll dive into later in this review.
The good news doesn't stop at power and performance though. The street price of the Vertex 3 Max IOPS is only marginally more expensive than the original, making it an easy step up for those looking for every drop of performance out of their system. As much as we loved the Vertex 3 though, the real question is how Max IOPS delivers on the testbed. We pair off the Vertex 3 and Vertex 3 Max IOPS in this review to see how it plays out.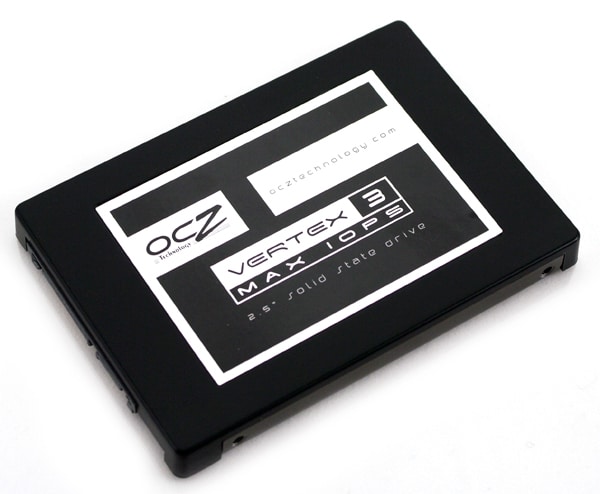 OCZ Vertex 3 Max IOPS 240GB Specifications
SandForce SF-2281 processor
Formatted Capacity: 223.5GB
SATA 6Gb/s interface
32nm Toshiba Toggle Mode NAND
Max read – 550 MB/s
Max write – 525 MB/s
4KB random write – up to 75,000 IOPS
120GB and 240GB capacities
Enhanced BCH ECC capability
Supports SATA-7 Security Erase
MTBF – 2 million hours
3 year warranty
2.5″ form factor (3.5″ bracket included)
Aesthetics
From the time we reviewed the pre-release Vertex 3, OCZ has made some changes to the case body on the new Vertex 3 and Vertex 3 MAX IOPS models. The new design makes use of a plastic cover and metal plate, where the older model had a metal body with a flat metal plate screwed into place. Both designs look very attractive.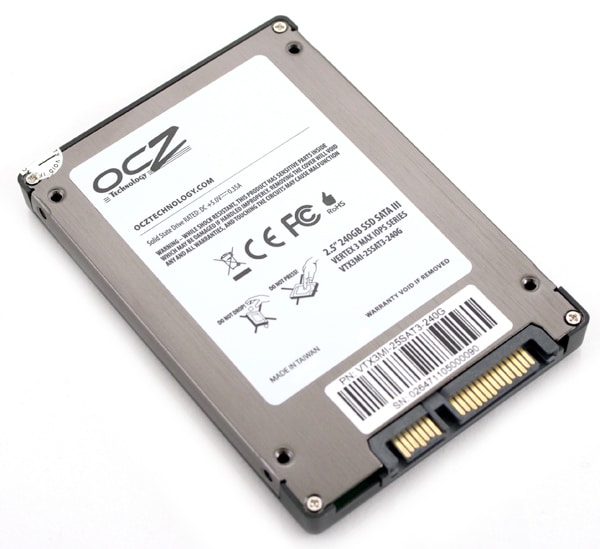 Besides the case itself changing, nothing else from the outside seems to indicate these drives are any different than the past models. The stickers and branding are identical, as well as the information stickers on the back.

The front of the drive features a standard SATA power and data connection, with no debug pins next to the connector.

Disassembly
As a warning for those thinking about tearing into their new OCZ Vertex 3, know that you void your warranty in the process. Besides trying to get a physical confirmation on what the internals are, there really is no reason to open one of these up during normal usage.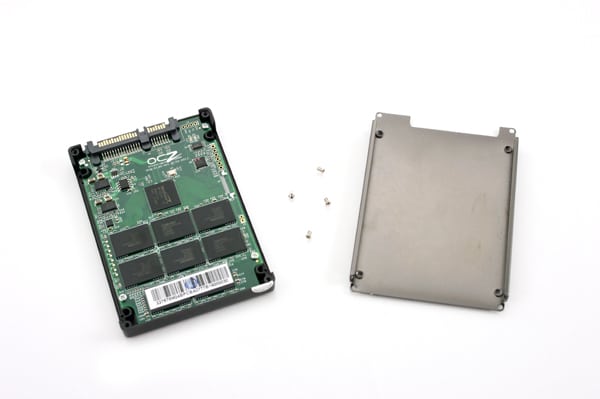 The OCZ Vertex 3 is very easy to take apart with a Phillips-head screwdriver. After removing four screws around the perimeter and breaking through the warranty sticker, the top cover comes loose exposing the PCB inside. The circuit board is held in place with four additional screws, although the primary guts of the drive are on top.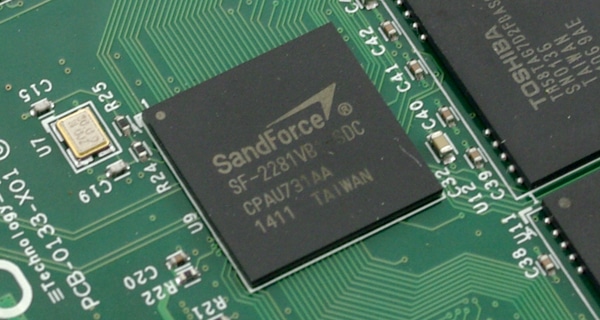 At the heart of the OCZ Vertex 3 MAX IOPS SSD is a SandForce SF-2281VB1-SDC controller. SandForce processor SSDs interact directly with the flash modules, without a buffer, meaning no board space is taken up by RAM. This also helps save on power and also helps reduce overall size when you shrink the entire layout down to micro-levels.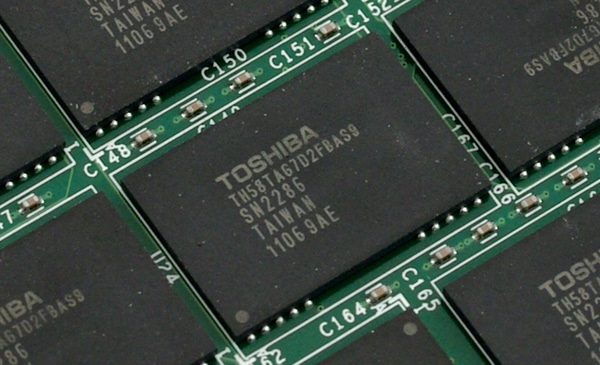 Compared to the regular OCZ Vertex 3 which uses 25nm IMFT NAND, the new Vertex 3 MAX IOPS makes use of sixteen Toshiba TH58TAG7D2FBAS9 3xnm toggle NAND, which also happens to be found on the enterprise-class Vertex 3 Pro. While some might be quick to jump and claim the faster speeds are a result of falling back to 3xnm technology, make note that this is not run of the mill NAND. The toggle mode NAND is up to three times faster and uses less power than standard flash, while having minimal impact on the overall device cost.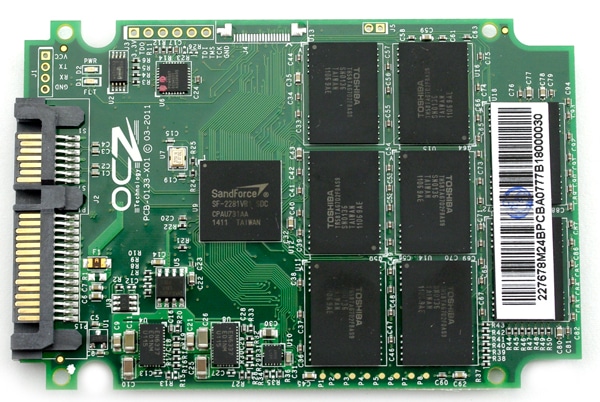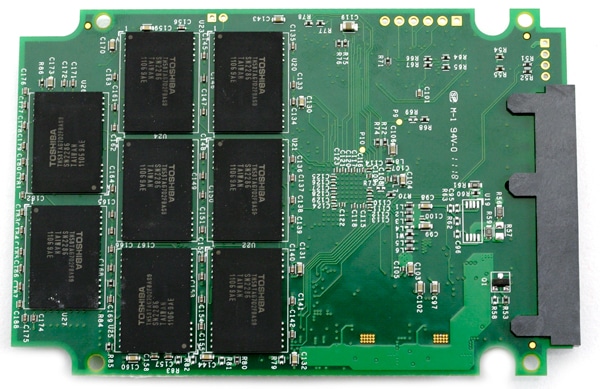 Synthetic Benchmarks
The OCZ Vertex 3 MAX IOPS SSD marks the first drive tested on our new Intel Sandy Bridge P67 test rig. While our full hardware debut will be out soon, we decided to put the retail Vertex 3 head to head with the Vertex 3 MAX IOPS on our new rig. The primary difference between our older test rig and the new one is we can finally test SATA 6Gb/s drives over Intel AHCI, instead of through an HBA or RAID card with cache that can improve results. We strive to show as realistic results as possible, and we understand most of our readers don't have hardware RAID cards (not that we won't still show results from them time to time). Using the latest version of IOMeter, we are now going to include benchmark results using repeating and random data on drives that can compress data. This covers both our synthetic benchmarks as well as power tests. Since the real-world is neither fully random or fully repeating, users can get a better idea of where normal results might fall.
To see how the Vertex 3 MAX IOPS stands up in straight line performance we test it using a 2MB sequential transfer test. OCZ rates the Vertex 3 MI at 550/525MB/s, giving us a good starting point of what to expect.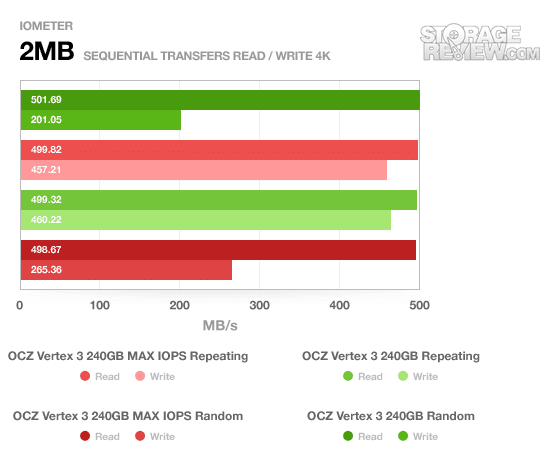 We measured 499MB/s read and 457MB/s write with repeating data patterns, and 498MB/s read and 265MB/s write with random data. The standard Vertex 3 performed with similar numbers, although with random data its drive speed dropped to just 201MB/s.
In this next test we switch from sequential to random 2MB transfers.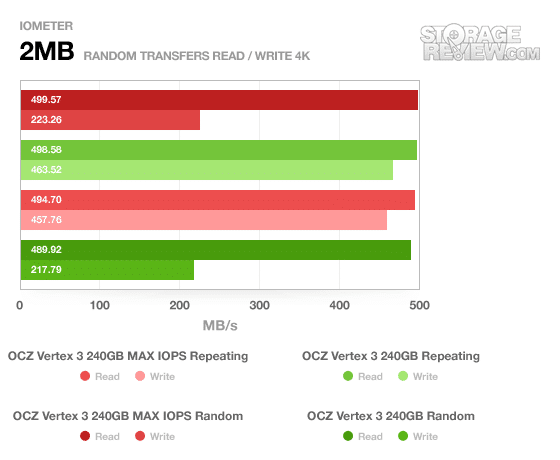 Unlike in the sequential file trasfer test, the MAX IOPS version didn't really stand out with a significant lead with random data.
Looking at even smaller 4K random transfers in IOMeter at a queue depth of 1, both drives are still looking very similar in terms of performance, with a slight edge to the MAX IOPS model in write speeds.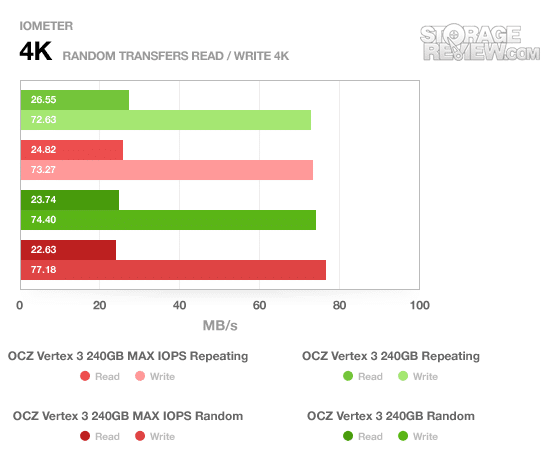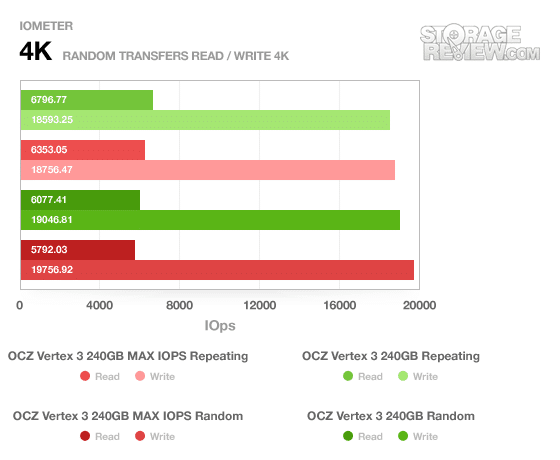 In this next test we expand our 4K random transfer tests to measure performance with a queue depth of 1 to 64. In this section the MAX IOPS model starts to live up to its name and really separate itself from the standard Vertex 3. While the Vertex 3 leveled off around 43-45k read IOPS, the Vertex 3 MAX IOPS jumped ahead to 62-65K IOPS.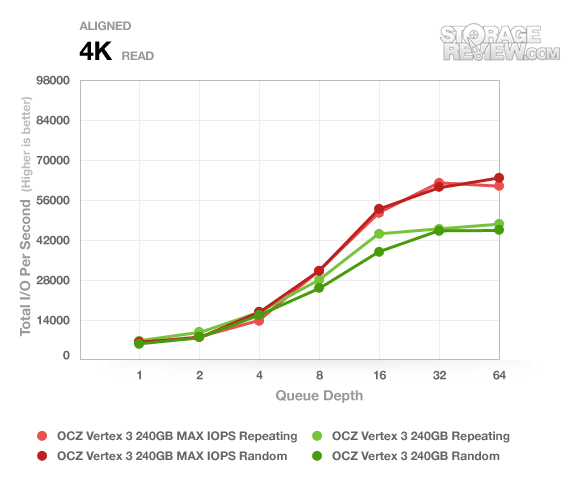 Looking at the write performance, the MAX IOPS model shows a strong lead topping out at 85.6K write IOPS with repeating data, but slips behind the standard Vertex 3 when it switches to random data. At the queue depth of 2 it still had a lead over the V3, but it slipped below after 4 and stayed at the 55K range for the remainder of the test.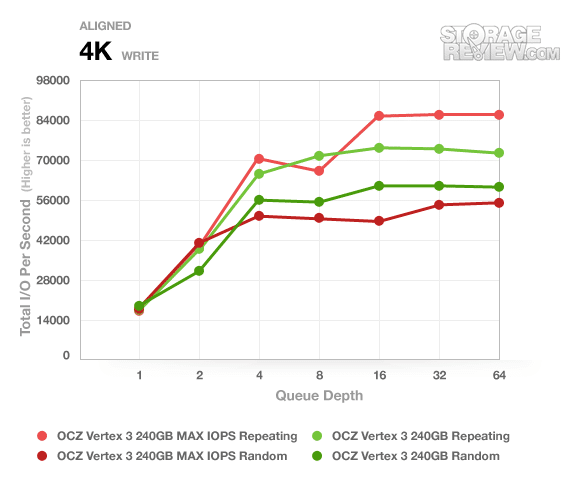 The Vertex 3 MAX IOPS came away with ever so slightly faster average response times, measuring 0.050ms with random data compared to 0.052ms of the standard Vertex 3. Both drives were matched at 0.053ms with repeating data. One interesting difference which might play a factor given the different types of flash used in each drive is the higher peak latency scores on the MAX IOPS model compared to the 25nm-equipped Vertex 3.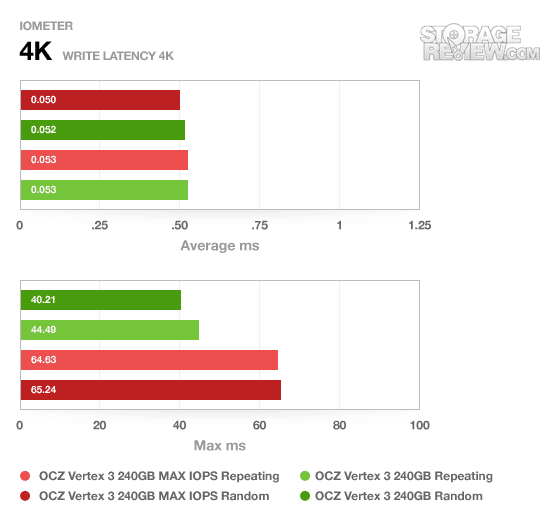 CrystalDiskMark showed very similar results to IOMeter when measuring the performance of the drive with fully random data.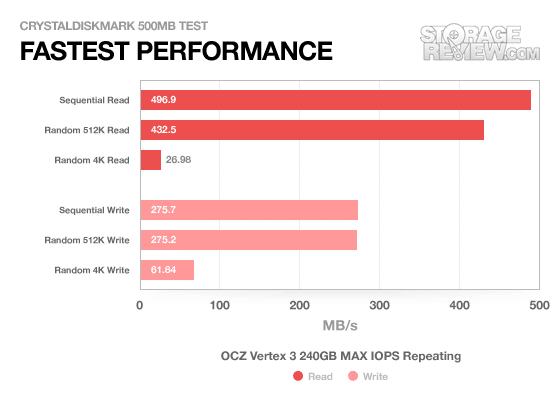 Our last section of synthetic benchmarks includes four server profile tests using IOMeter to stress both drives under industry-standard scenarios. Similar to the ramped 4K read and write test, the Vertex 3 MAX IOPS model maintained a consistent lead over the original Vertex 3. Seeing that this flash trickled down from the enterprise-grade Vertex 3 Pro, its not a surprise to see it performing very well in these tests.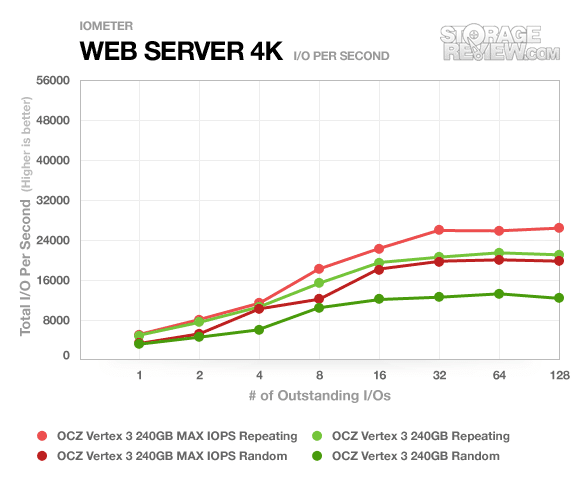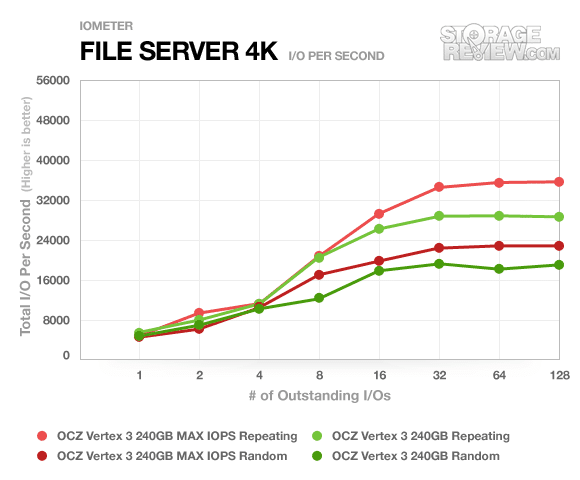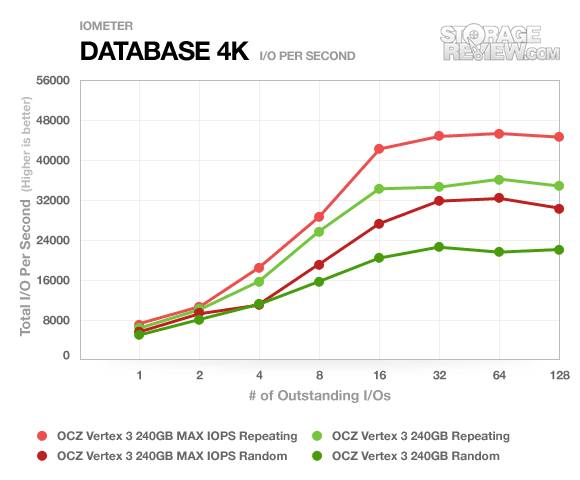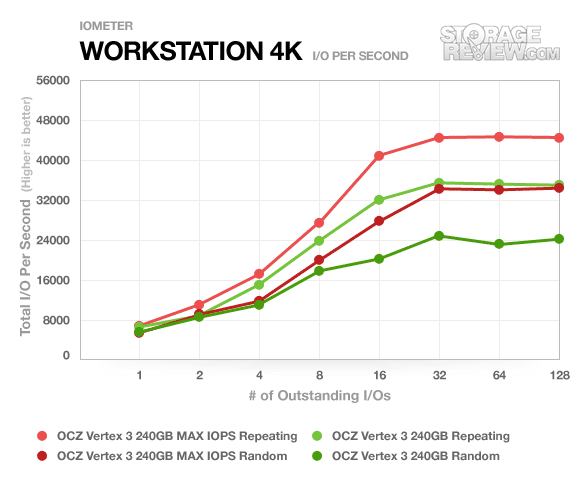 Real-World Benchmarks
If you are new to StorageReview, one thing we try to focus on is how any given drive might perform under real-world conditions. For the average user, trying to translate random 4K write speeds into an everyday situation is pretty difficult. It helps when comparing drives in every setting possible, but it doesn't exactly work out into faster everyday usage or better game loading times. For this reason we turned to our StorageMark 2010 traces, which include HTPC, Productivity, and Gaming traces to help readers find out how a drive might rank under their conditions.
To keep things simple we kept the comparisons down to just the Vertex 3 versus the Vertex 3 MAX IOPS. As we mentioned above with our new testing platform, the results will be on a different scale than prior tests. Without the caching from the RAID card, final results will be slightly lower or higher than past runs.
The first real-life test is our HTPC scenario. In this test we include: playing one 720P HD movie in Media Player Classic, one 480P SD movie playing in VLC, three movies downloading simultaneously through iTunes, and one 1080i HDTV stream being recorded through Windows Media Center over a 15 minute period. Higher IOps and MB/s rates with lower latency times are preferred. In this trace we recorded 2,986MB being written to the drive and 1,924MB being read.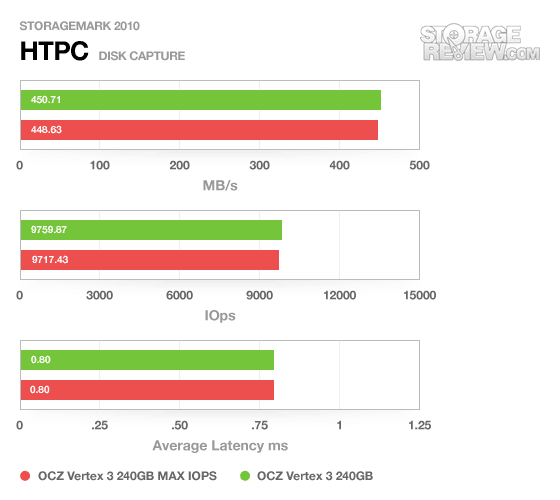 Both drives came in at a dead heat, with the normal Vertex 3 having a small lead of 2MB/s.
Our second real-life test covers disk activity in a productivity scenario. For all intents and purposes this test shows drive performance under normal daily activity for most users. This test includes: a three hour period operating in an office productivity environment with 32-bit Vista running Outlook 2007 connected to an Exchange server, web browsing using Chrome and IE8, editing files within Office 2007, viewing PDFs in Adobe Reader, and an hour of local music playback with two hours of additional online music via Pandora. In this trace we recorded 4,830MB being written to the drive and 2,758MB being read.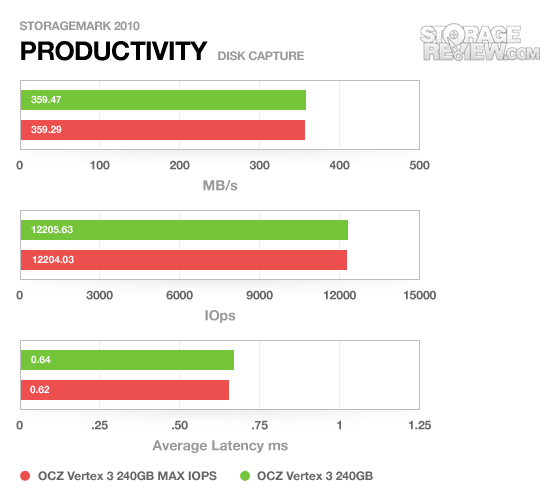 In the productivity trace the difference between each drive dropped to just 0.18MB/s, with the MAX IOPS model having a slightly lower average latency of 0.62ms compared to 0.64ms.
Our third real-life test covers disk activity in a gaming environment. Unlike the HTPC or Productivity trace, this one relies heavily on the read performance of a drive. To give a simple breakdown of read/write percentages, the HTPC test is 64% write, 36% read, the Productivity test is 59% write and 41% read, while the gaming trace is 6% write and 94% read. The test consists of a Windows 7 Ultimate 64-bit system pre-configured with Steam, with Grand Theft Auto 4, Left 4 Dead 2, and Mass Effect 2 already downloaded and installed. The trace captures the heavy read activity of each game loading from the start, as well as textures as the game progresses. In this trace we recorded 426MB being written to the drive and 7,235MB being read.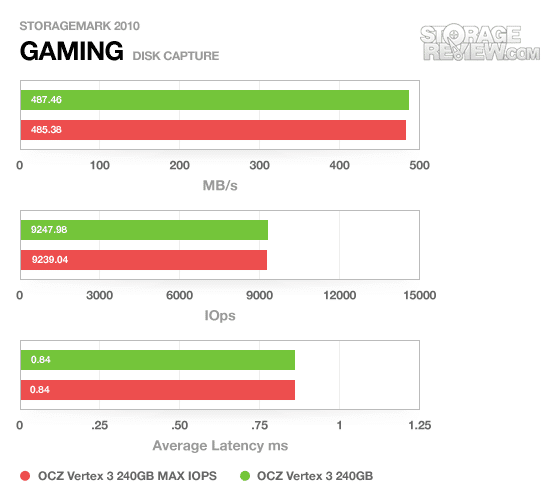 In the gaming trace the Vertex 3 kept its small lead, this time just under 2MB/s. Given how close both of these drives scored, its really hard to say one drive is any faster than the other.
Power Consumption
After feedback from one of our past reviews on the way we tested power consumption on SandForce-based drives with compressible data, we decided to show results using repeating and random data in this review. As you can see below, the 2MB write test got a significant bump in power used, with the read operations staying nearly static.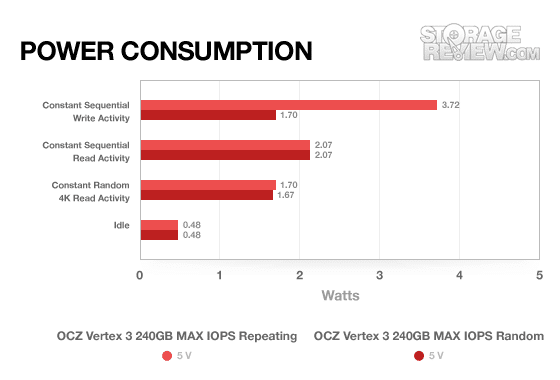 One interesting fact is how the MAX IOPS measured up against the retail version of the standard Vertex 3. Just comparing the repeating data power figures, the standard Vertex 3 used 1.81 watts of power under write activity compared to 1.70 on the MAX IOPS and idled at a close to double 0.87 watts compared to 0.48 watts. In the read tests the 25nm Vertex 3 came up using less power, measuring 1.59 watts in the constant read and 1.73 watts under  random read.
Warranty
OCZ keeps the same three-year warranty on the Vertex 3 MAX IOPS, which is matched by other manufacturers in the SSD market. The only drives we have seen with longer warranties are enterprise-class which top out at five years.
Conclusion
The OCZ Vertex 3 MAX IOPS SSD offers the perfect blend of enterprise and consumer hardware. By bringing the 32nm Toshiba toggle NAND to the new revision of the Vertex 3, OCZ was able to pick up speed when working with incompressible data while dropping power consumption in some tests. All of this is presented to the buyer at a very low cost premium, with online retailers putting a $20 premium on the 120GB Vertex 3 MAX IOPS Edition. Depending on which benchmark you look at, the new drive offers a substantial boost in performance or is able to at least match the original version. The MAX IOPS edition makes perfect sense for enthusiasts looking for that slight edge with their high-end system, without having to worry about breaking the piggy bank with an enterprise-class SSD.
Pros
Better incompressible data performance than the original Vertex 3
Uses less power than the original
Tips the scales at 85.6K max 4K write IOPS
Very little price premium over the Vertex 3
Cons
Not much difference in speed in our real-world traces
Bottom Line
You can't go wrong with either Vertex 3 – both get an Editor's Choice nod from this site. But as much as we love the Vertex 3, for just $20 more, we think enthusiasts will crave the little extra boost that the Vertex 3 Max IOPS offers, which is incidentally more than OCZ promises on the spec sheet. At the end of the day, doing laps at 180 MPH is a blast; but isn't 195 a little more fun?

Discuss This Review