Crucial announced their next generation SSDs at Storage Visions in January of this year. The enthusiast class Crucial m4 SSD offers capacities up to 512GB, a speedy SATA 6Gb/s interface, home-grown 25nm Micron NAND and an exclusive Marvell 9174-BLD2 processor. The combination nets 415MB/s read speeds and 260MB/s writes with support for up to 72TBW.
Crucial announced their next generation SSDs at Storage Visions in January of this year. The enthusiast class Crucial m4 SSD offers capacities up to 512GB, a speedy SATA 6Gb/s interface, home-grown 25nm Micron NAND and an exclusive Marvell 9174-BLD2 processor. The combination nets 415MB/s read speeds and 260MB/s writes with support for up to 72TBW.
Before we get too far along, it's important to clarify a branding change. Micron owns the Crucial brand and has re-worked the way they're marketing SSDs. The former RealSSD branding has been moved to Micron with the new version being the RealSSD C400. The C400 is being sold as Micron's OEM client SSD and will pop up in branded notebooks, desktops and the like. Crucial will market and sell the m4 SSD in the consumer retail channel. Both drives are fundamentally the same, though the C400 firmware will go its own way based on OEM requirements.
Either way, with a Crucial m4 or a Micron RealSSD C400, you end up with an SSD with a good pedigree. The RealSDD C300 was the first mainstream SSD to offer a SATA 6Gb/s interface, at the time making it the fastest kid on the block. It didn't take long however for other companies to catch on, and now there's an ever expanding list of drives that use SATA 6Gb/s. But Micron maintains several advantages, many of them surrounding the fact that the drive offers home grown firmware, tier 1 NAND and a tweaked Marvell processor.
The Crucial m4 comes in four capacities; 64GB (CT064M4SSD2), 128GB (CT128M4SSD2), 256GB (CT256M4SSD2) and 512GB (CT512M4SSD2) with street pricing of roughly $150, $250, $500 and $1000 respectively. That pricing is pretty aggressive, making the m4 cheaper than both the Marvell and SandForce SATA 6Gb/s competition – an interesting spot in the market for a high-quality, high-performance drive. We'll dig into the m4 further in this review to see if the quality, price and performance add up to a buy for consumers looking for a high-end SSD.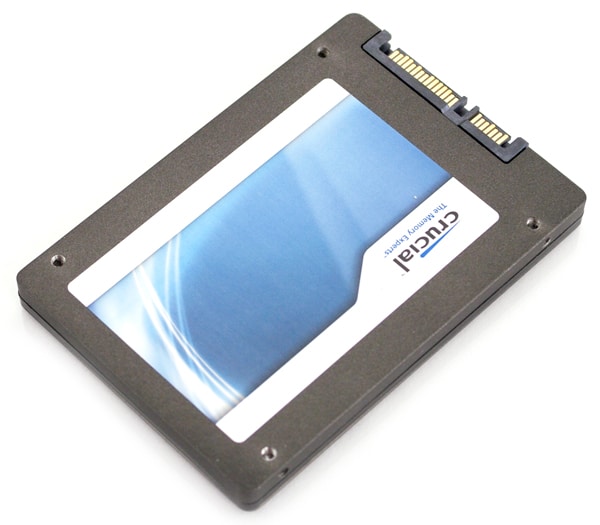 Crucial m4 Specs
Formatted Capacity – 238.47GB
SATA 6Gb/s interface
Marvell 88SS9174-BLD2 processor
415MB/s read, 260MB/s write
25nm Micron MLC NAND
72TBW
3 year warranty
2.5″ form factor
Aesthetics
The 256GB Crucial m4 has a design mirroring the look of the family of drives from Crucial and Micron. The case is very simple, with a metallic gray paint covering a metal alloy body. Our review model included branding from both Micron and Crucial, with the top cover aimed at the consumer market and the bottom cover showing what OEMs would receive.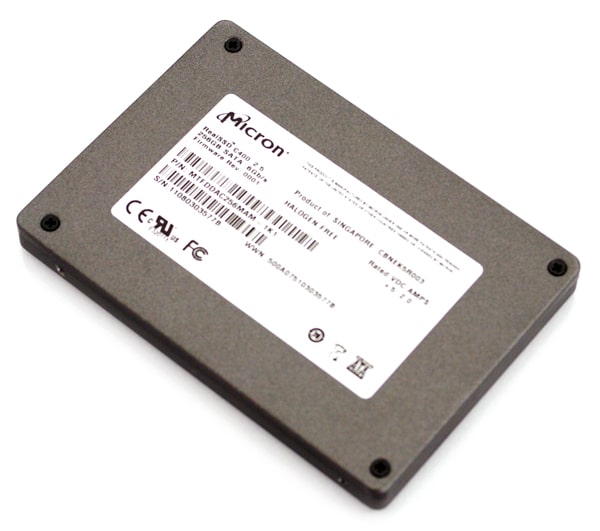 The multi-use case can be setup in both 9.5mm and 7mm heights by removing plastic shim between the top and bottom cover. With shorter screws the drive can be instantly converted to handle different mounting configurations. The 2.5-inch spec confirming body fit into all the drive sleds we had around our office, including 2.5 to 3.5-inch adapters as well as sleds inside notebooks.

The front of the Crucial m4 offers the industry-standard SATA power and data connection, with no service pins exposed for firmware flashing modes. All updates are handled through burning an ISO image to a CD or DVD (or USB stick) and flashing the firmware through low-level operating system.

Disassembly
The 256GB Crucial m4 is very easy to take apart after removing four Phillips head screws from the top of the drive. With the screws taken out, the top cover lifts off, allowing you to remove the shim and carefully lift out the circuit board. We should note that while our review model doesn't have a "Warranty Void if Removed" sticker on it, all of the retail and OEM drives will.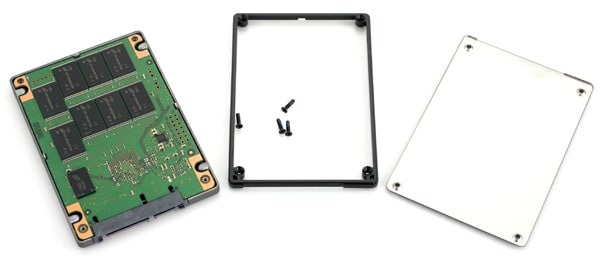 With the circuit board outside of the drive, we can get a good look at the new Marvell SATA 6Gb/s controller at the heart of the Crucial m4. With Micron's close partnership with Marvell, they are able to get access to controller variations not offered to other companies. The new m4 is powered by the 88SS9174-BLD2 processor, which is an update to the BJP2 model found in the older C300. Paired up with Micron-sourced 1CD22-D9LGQ DDR RAM, the m4 sports a buffer size of 128MB.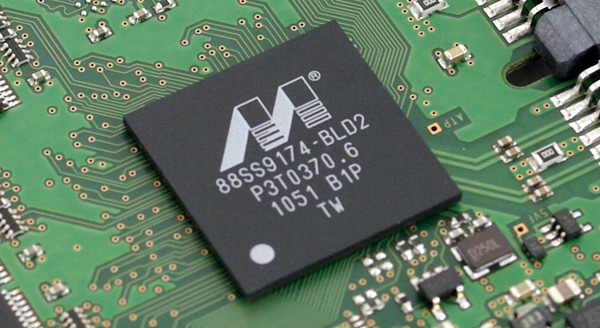 The muscle behind the m4 is Micron's own 25nm flash. The 256GB model includes sixteen 16GB Micron 29F128G08CFAAB NAND pieces, split up with eight soldered to each side of the circuit board.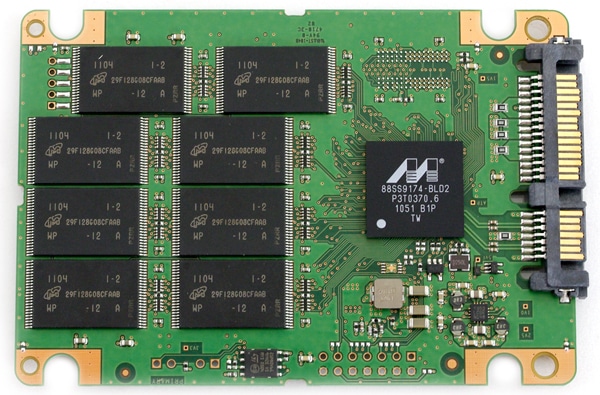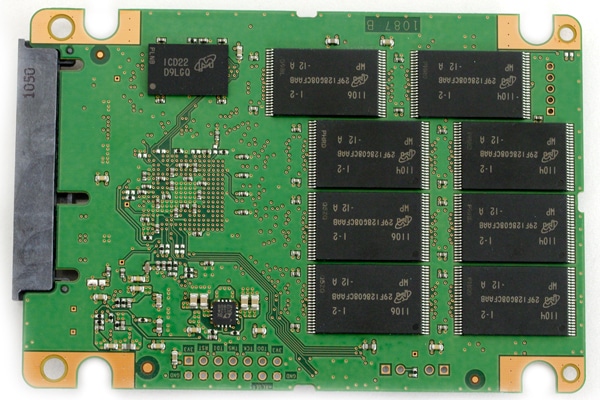 Synthetic Benchmarks
In straight line performance the Crucial m4 picked up some speed compared to the older RealSSD C300. The C300 specced at 355/215MB/s was pretty fast for its day, but now that most current-generation drives can match that, Crucial had to step it up a notch. The new m4 is rated for 415MB/s read and 260MB/s write, improving in both transfer modes. In our first test we look at the sequential transfer speeds in our 2MB IOMeter transfer test.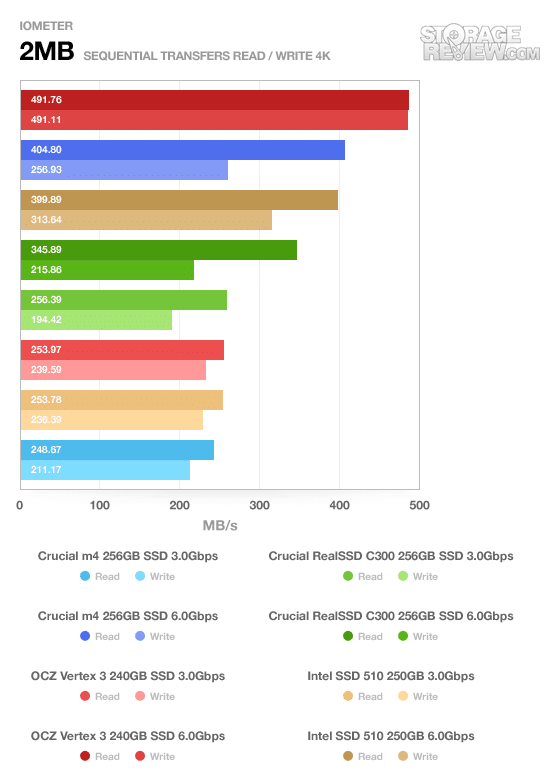 The Crucial m4 measured 404MB/s read and 256MB/s write, just shy of its advertised speeds. Its legacy 3.0Gb/s speeds measured 248MB/s read and 211MB/s write.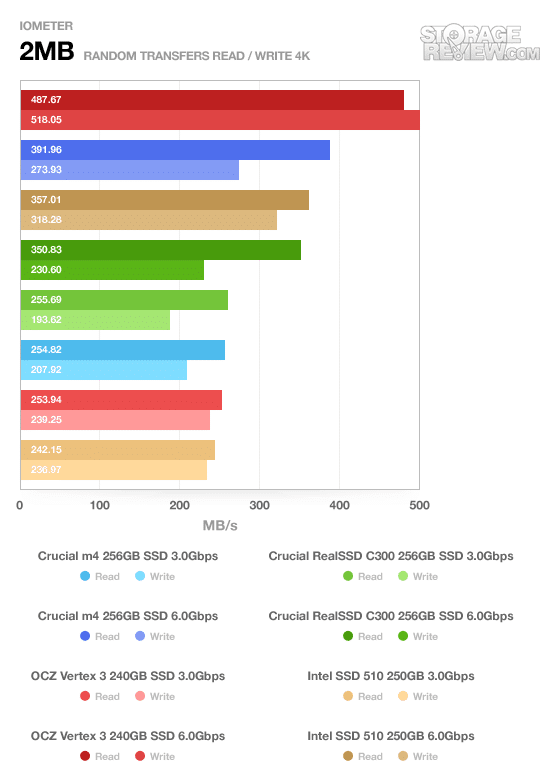 In our random transfer test we saw the read speeds drop slightly to 391MB/s but the write speeds pick up to 273MB/s over SATA 6Gb/s. Over SATA 3Gb/s speeds measured 254MB/s read and 207MB/s write.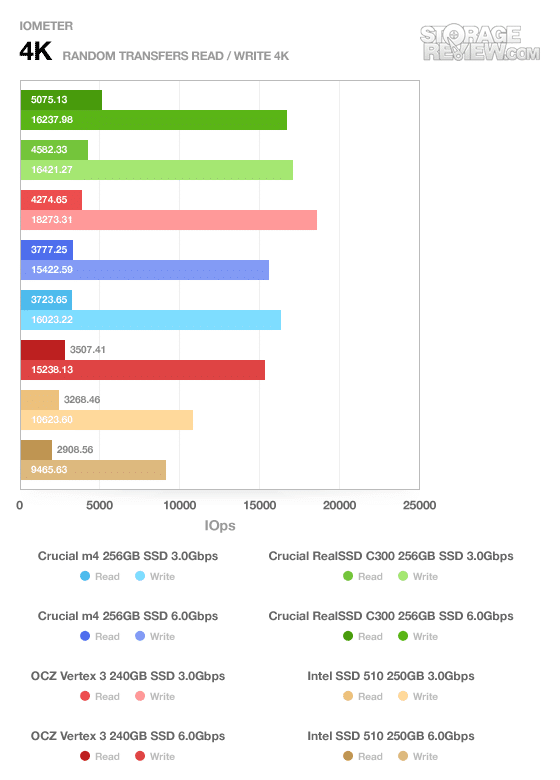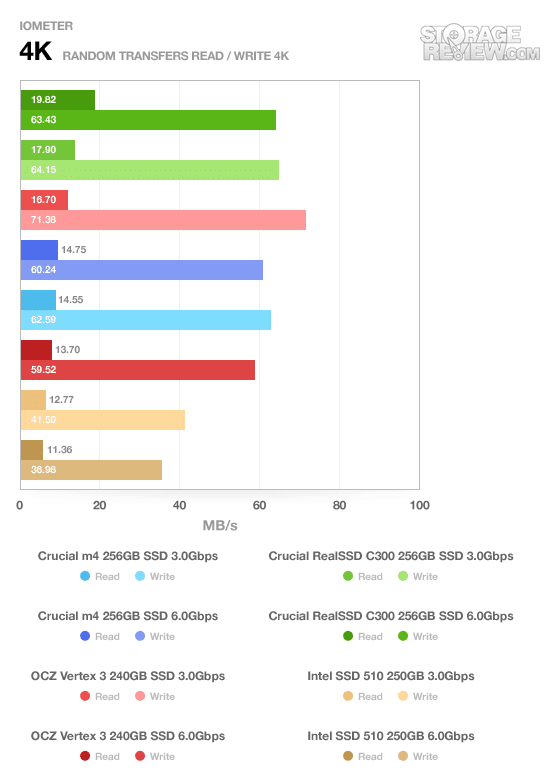 It was interesting to see little change and a drop when looking at the 4K random transfer speeds at a queue depth of 1 on the m4 compared to the older C300. The older C300 measured 19.82MB/s read and 63.43MB/s write, while the newer m4 only managed 14.75MB/s read and 60.24MB/s write over SATA 6Gb/s.
Expanding the 4K read and write tests out to a queue depth of 64 showed slightly different behavior.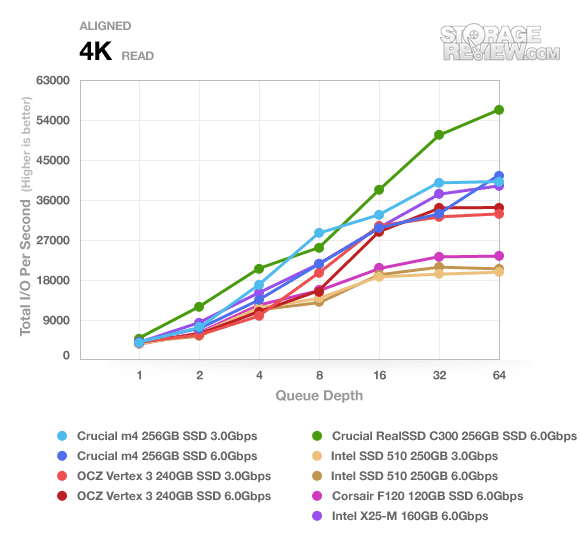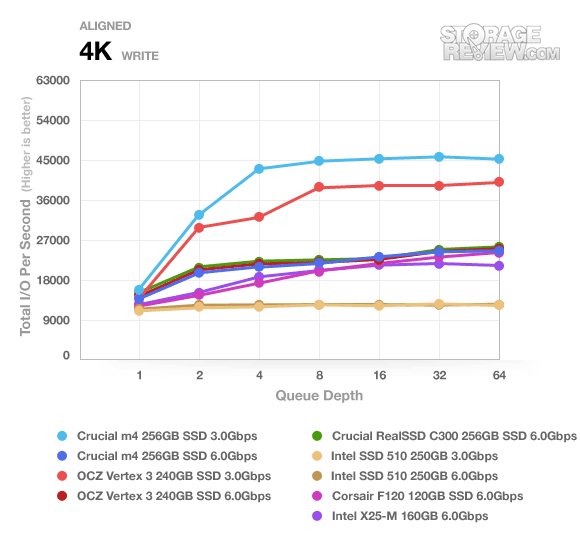 The C300 still maintained a clear advantage in read speeds, but the m4 was able to pick up the slack as it turned to write speeds.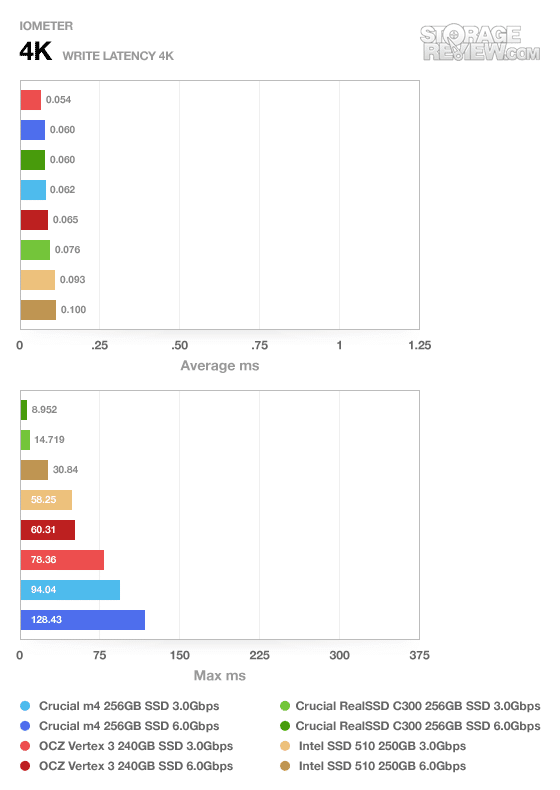 CrystalDiskMark showed similar speeds to what we found using IOMeter. The one noted change though were the slightly higher recorded random 4K write speeds.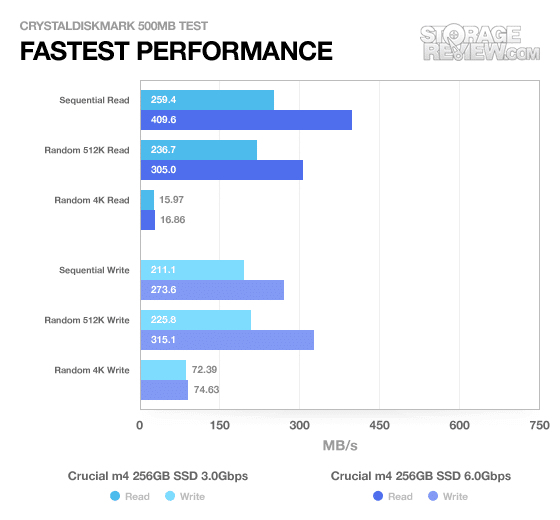 Looking at our server profile tests the Crucial m4 still lagged behind the C300 in every scenario. Performance was comparable between the m4 and Intel SSD 510, with each drive playing leapfrog between tests. One interesting performance trait of both the C300 and m4 on the database benchmark is they both sharply drop off between the 32 and 64 queue depth mark.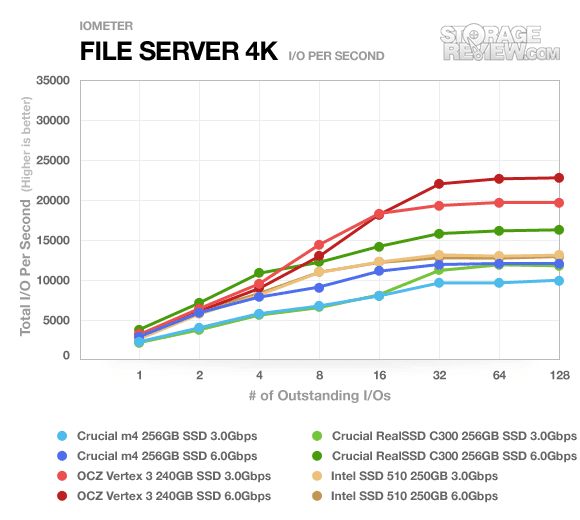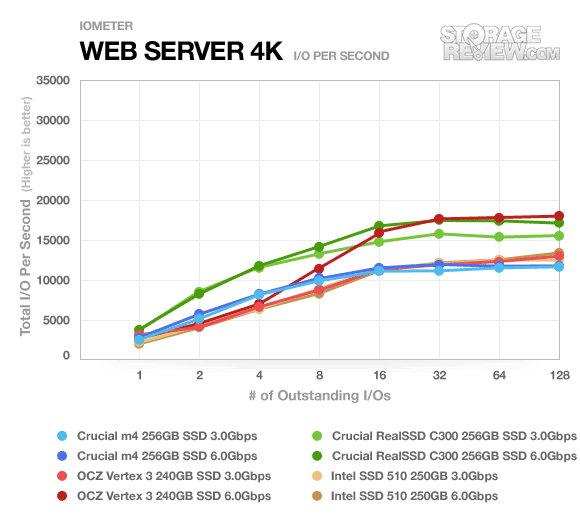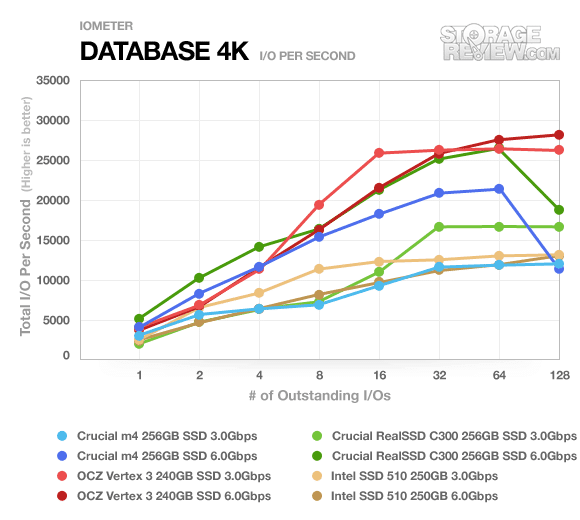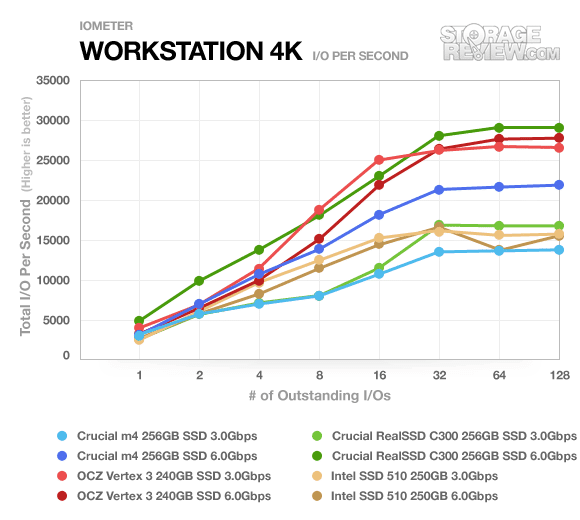 Real-World Benchmarks
If you are a first time visitor on StorageReview, one thing we try to focus on is how any given drive might perform under real-world conditions. For the average user, trying to translate high random 4K write speeds into an everyday situation is pretty difficult. It also doesn't make sense to assume that a drive with very high sequential speeds is going to perform great in the real-world if it can't cope with mixed random activity. To really see how drives perform under normal work-loads you need to record the exact traffic being passed to and from the device, and then use that to compare drives against one another. For this reason we turned to our StorageMark 2010 traces, which include HTPC, Productivity, and Gaming scenarios to help our readers find out how well a drive might perform under their conditions.
To see how well the 256GB Crucial m4 stacked up against its peers, we put it head-to-head with the OCZ Vertex 3, Crucial RealSSD C300, and the Intel SSD 510. We tested each drive at their native SATA 6Gb/s speed, as well as their fallback SATA 3Gb/s compatibility speed. We used our LSI 9260-8i to test drives at 6Gb/s and an Intel ICH10R chipset in AHCI mode for SATA 3Gb/s.
Before continue with our real-world benchmarks, one area we need to address surrounds our Productivity trace. Originally captured from a Sony TZ running Windows Vista, it is not 4K-aligned. In the past most SSDs have charged through this trace providing valuable and worthwhile information, although that is heavily dependent on how the drive can cache 512-byte aligned information. On the Crucial m4, Micron made changes to the firmware to put more emphasis on 4K-aware operating systems, dropping support for legacy systems with the goal of improving 4K-aligned performance. The result is much slower performance on legacy systems and slower numbers in our Productivity trace. We are transitioning to a newer 4K-aligned trace in this category soon, to go along with our HTPC and Gaming traces for newer drives.
The first real-life test is our HTPC scenario. In this test we include: playing one 720P HD movie in Media Player Classic, one 480P SD movie playing in VLC, three movies downloading simultaneously through iTunes, and one 1080i HDTV stream being recorded through Windows Media Center over a 15 minute period. Higher IOps and MB/s rates with lower latency times are preferred. In this trace we recorded 2,986MB being written to the drive and 1,924MB being read.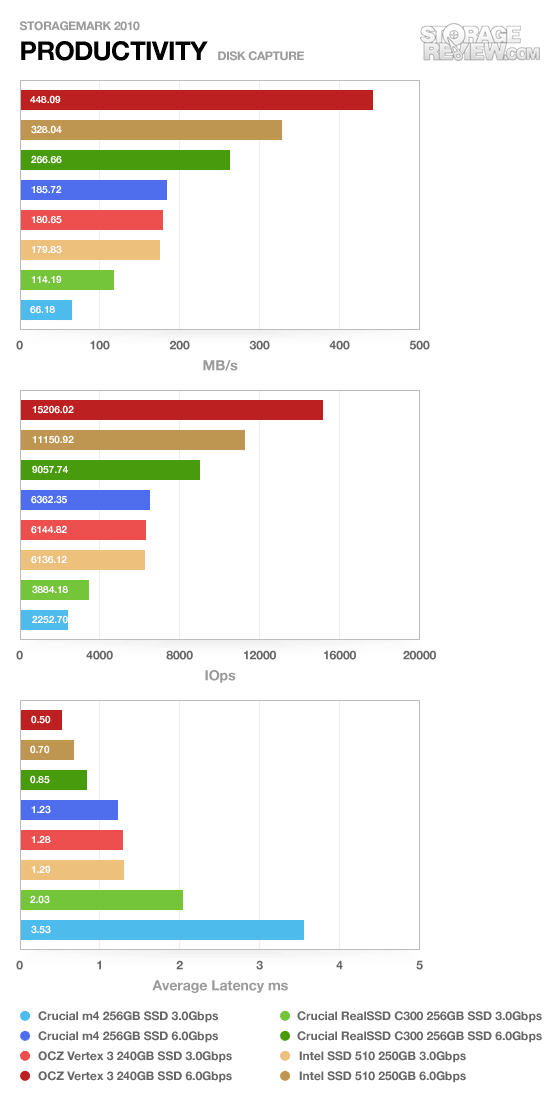 As we mentioned above, performance in this non-4K optimized dropped well below the performance of other SSDs, including the C300. Luckily for most buyers of the m4, using it with Windows 7 or other 4K-aware operating systems will put it in an optimal setting where it can perform much better than in this trace. The downside is buyers who still use Windows XP or Vista will see far worse performance on the m4 than if they used a different model
Our second real-life test covers disk activity in a productivity scenario. For all intents and purposes this test shows drive performance under normal daily activity for most users. This test includes: a three hour period operating in an office productivity environment with 32-bit Vista running Outlook 2007 connected to an Exchange server, web browsing using Chrome and IE8, editing files within Office 2007, viewing PDFs in Adobe Reader, and an hour of local music playback with two hours of additional online music via Pandora. In this trace we recorded 4,830MB being written to the drive and 2,758MB being read.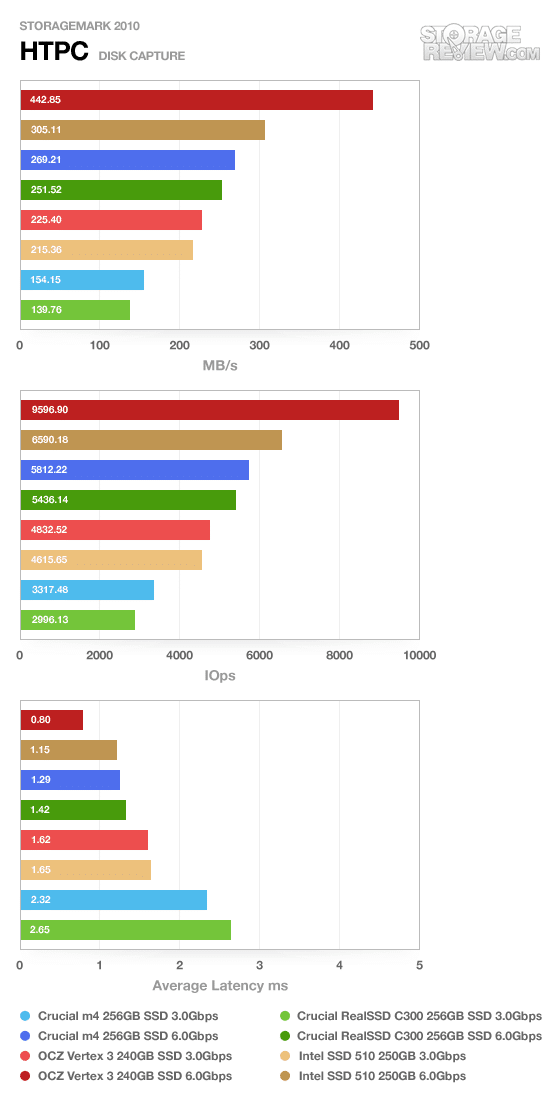 In the HTPC trace the gap we saw in our Productivity trace dramatically shrank, with the m4 right on the tail of the Intel SSD 510. In both SATA 6Gb/s and 3Gb/s modes the m4 performed above the older C300.
Our third real-life test covers disk activity in a gaming environment. Unlike the HTPC or Productivity trace, this one relies heavily on the read performance of a drive. To give a simple breakdown of read/write percentages, the HTPC test is 64% write, 36% read, the Productivity test is 59% write and 41% read, while the gaming trace is 6% write and 94% read. The test consists of a Windows 7 Ultimate 64-bit system pre-configured with Steam, with Grand Theft Auto 4, Left 4 Dead 2, and Mass Effect 2 already downloaded and installed. The trace captures the heavy read activity of each game loading from the start, as well as textures as the game progresses. In this trace we recorded 426MB being written to the drive and 7,235MB being read.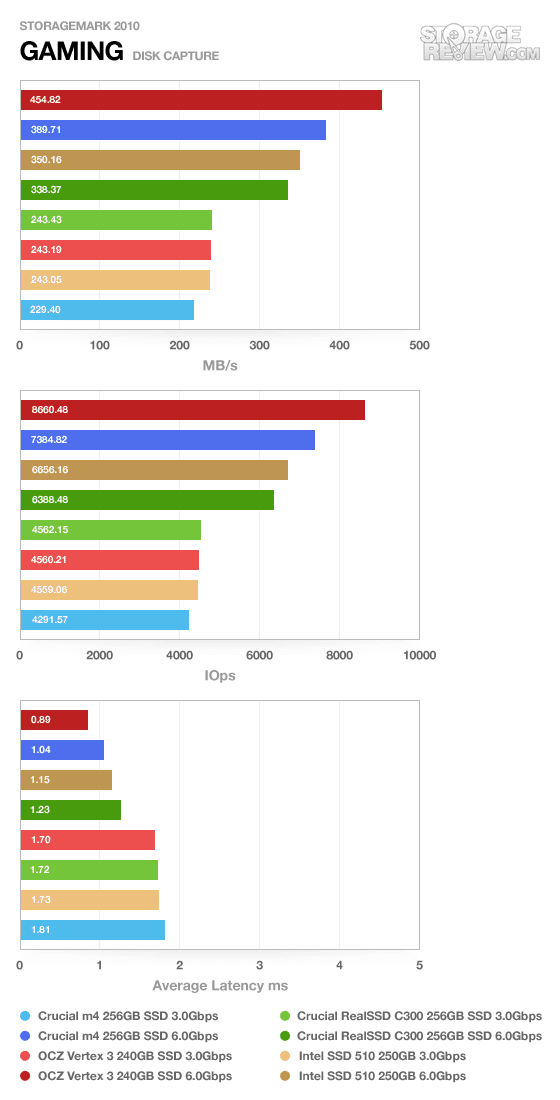 In the Gaming trace the Crucial m4 surged in front of the Intel SSD 510, showing a strong lead over the older C300. In SATA 3Gb/s mode though, unlike in the HTPC trace the C300 was able to over-take it in legacy conditions.
Power Consumption
The 256GB Crucial m4 handled itself well in the power department, improving in almost every category compared to the RealSSD C300 before it. With more stress being put on power consumption these days, companies put as much optimization into the firmware as possible to try and cut down on power to lower energy costs or squeeze extra minutes out of a notebook's battery life.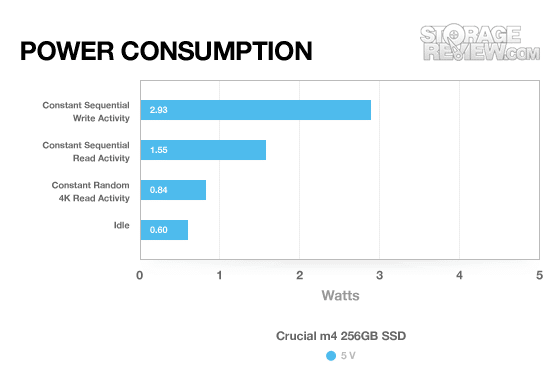 We found the m4 to lower its power consumption in every category except sequential read, which was only a hair above the C300. We measured 2.93 watts write, 1.55 watts read, 0.84 watts during random 4k read, and 0.60 watts at idle.
Warranty
Crucial stands behind the 256GB m4 with an industry-standard three year warranty. They also claim that the m4 is good for a total of 72TB of total data written to the drive over its lifespan. This translates out to roughly 40GB of data written to the drive per day over the expected 5-year lifespan.
Conclusion
Micron promised a 17% performance increase in the Crucial m4 over the C300. They delivered on that promise and more, showing 17% gains in sequential read speed and 19% gains in write speed. Real-world benchmarks also showed similar gains, with a 15% boost in speed over the C300 in our Gaming trace. Overall the m4 is a nice progressive upgrade over the C300 with the exception of legacy 512-byte alignment performance.
Micron also gets a nod for using largely home grown parts, except the controller, which generally means consumers can expect a tightly integrated SSD with little chance for internal compatibility issues. Micron even develops the firmware in-house, giving them a leg up when it comes to tweaking they way they want and offering a path for continued development in a timely manner.
The Crucial m4 finds itself in a competitive space though, the enthusiast-class SATA 6Gb/s SSDs are becoming more numerous by the week it seems. The m4 can't quite hang with the new SandForce controlled drives, but Crucial does have an ace up its sleeve…price. The m4 is priced well below the SandForce drives, up to $1000 less at the 512GB capacity. The m4 is also generally cheaper than it's Marvell-based competition as well, giving it a pretty attractive value proposition.
Pros
Very attractive pricing
Faster in most areas than the C300
Proven Micron design with in-house NAND
Cons
Loses legacy 512-byte optimization compared to C300
Bottom Line
The Crucial m4 is based off of a proven controller and backed by high-quality Micron NAND and firmware. While not the fastest of the new group of SATA 6Gb/s SSDs, the m4 does find itself to be one of the most cost effective and the SSD should also be near the top in terms of endurance and reliability. In total Micron earns enough points with the Crucial m4 for us to recommend it for the buyer wanting reasonable SATA 6Gb/s performance without the high price.
Update – Crucial m4 Firmware 0009 Available
Update 8/30/11 – Crucial m4 Review Updated