Well, it's on now – SandForce has announced their new client SSD processor and OCZ is the first to jump – with their new Vertex 3 SSD. While the SF-2281 is the centerpiece, delivering quoted sequential speeds of up to 550MB/s read and 525MB/s writes, the updated SATA 6Gb/s interface deserves credit too. By comparison to the Vertex 2, those top line read and write speeds are about 90% faster with the Vertex 3. The spec sheet makes it sound fast, but is it the fastest SSD to be seen by our test bench?
Well, it's on now – SandForce has announced their new client SSD processor and OCZ is the first to jump – with their new Vertex 3 SSD. While the SF-2281 is the centerpiece, delivering quoted sequential speeds of up to 550MB/s read and 525MB/s writes, the updated SATA 6Gb/s interface deserves credit too. By comparison to the Vertex 2, those top line read and write speeds are about 90% faster with the Vertex 3. The spec sheet makes it sound fast, but is it the fastest SSD to be seen by our test bench?
To be fair, there are a few caveats with the Vertex 3 and it's best to lay those out up front. While the SSD is backwards compatible, the Vertex 3 really wants to be run in a Sandy Bridge (P67) 6Gb/s native SATA interface to achieve maximum performance. We have not yet updated our testbed to include a Sandy Bridge platform, so our tests are run through a LSI MegaRAID 9260 card to best recreate the desired environment. We should also note that our review drive is a late generation beta, but beta nonetheless. We will update the review as OCZ issues firmware updates.
Beta firmware or not though, the Vertex 3 is a scorcher. We'll get into the details later in the review, but our numbers show it as clearly the fastest SATA SSD to hit our bench. While that shouldn't be entirely surprising, it's not just faster like, "Woo, it edged out the prior generation SF-1200 SSDs, yeah!" It's faster like, "Holy @&#% that's fast," boasting 69% faster results in some of our real-world tests.
Perhaps this is all the more impressive too because OCZ is using 25nm MLC NAND. While the initial implementations of 25nm in the Vertex 2 were not good (the jury is out still on the re-done Vertex 2), there's no performance hiccup with the Vertex 3. Any drive reliability concerns should also be assuaged with TBW numbers ranging from very high to just insane. The Vertex 3 also carries a 3-year warranty and MTBF of 2 million hours.
Perhaps one of the most interesting things about the Vertex 3 though isn't on the spec sheet, it's the price. the 120GB capacity carries a suggested retail price of $249.99, the 240GB, $499.99. Compare those to the current street price for the Vertex 2 of $229.99 and $449.99 respectively and that's pretty impressive considering the performance surge. Of course $249.99 and $499.99 are the Vertex 3 starting prices too, we would expect those to slide some over time.
As exciting as the Vertex 3 is, buyers are going to have to hold tight for a little bit. Production units aren't expected to be ready for two to three weeks, making the Vertex 3 part of a huge month of March, which is key in the enthusiast SSD space. There are a handful of new SATA 6Gb/s SSDs due out over the next few weeks. While OCZ is first and the fastest it will be interesting to see how the Intel and Marvell-based SSDs match up. Frankly, it's hard to imagine they'll be able to hang with the Vertex 3, but consumer choice is a good thing and we'll always rejoice at a new super speedy SSD in the office.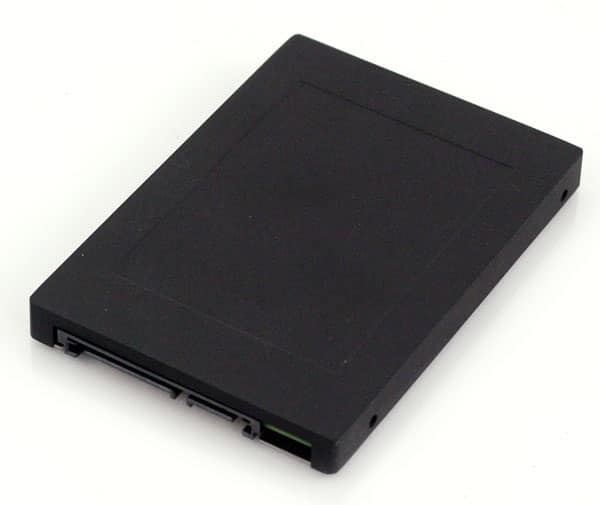 OCZ Vertex 3 240GB Specifications:
SandForce SF-2281 processor
Formatted Capacity: 223.5GB
SATA 6Gb/s interface
25nm NAND
Max read – 550 MB/s
Max write – 525 MB/s
4KB random write – up to 60,000 IOPS
120GB and 240GB capacities
Enhanced BCH ECC capability
Supports SATA-7 Security Erase
TBW – 232TB up to 1.44 PB depending on workload
MTBF – 2 million hours
3 year warranty
2.5″ form factor
Aesthetics

The new OCZ Vertex 3 looks very reminiscent of the 120GB Vertex 2 we reviewed last year, minus the sticker. These pre-release models haven't gone through the final marketing stage yet, so we don't know what that sticker will look like, but we are pretty sure it will include "OCZ" and "Vertex 3" in massive letters. The back is also missing any normal branding of its own, with just a simple barcode sticker on the bottom. The case has a durable finish, feeling almost like bead-blasted metal and nearly impervious to scratches and smudges.
The case is metal alloy, not plastic like the 60GB Vertex 2 we reviewed before. The backing plate is also metal, with nice flush-mount screws holding everything in place. The side profile is very basic, with nothing out of the ordinary with appropriate fine-pitched screw holes for mounting in horizontal and vertical positions.

The front of the drive has just the standard SATA power and data connector. There were no debugging pins present next to the SATA connection, although solder points on the PCB did show that some engineering samples would support that.
Disassembly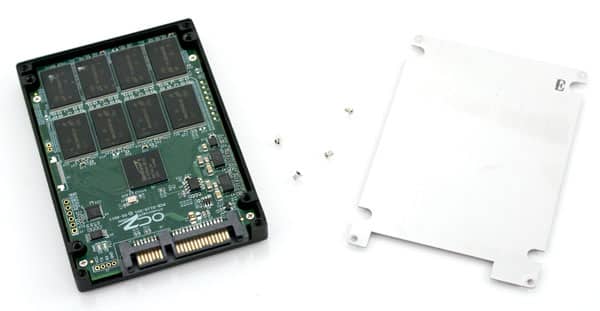 The OCZ Vertex 3 is very easy to take apart, and without any worry of "Warranty Void if Removed" stickers on our pre-release sample we didn't even break a sweat, though we don't recommend doing so at home. The case is held together with four small Phillips head screws. Once the back is removed you find the circuit board inside without much else. To remove the circuit board from the inside, there are four additional screws to remove.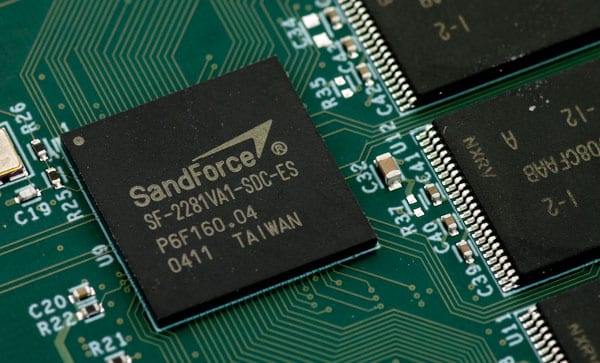 Our 240GB Vertex 3 includes sixteen 25nm 16GB Micron 29D128G08CFAAB NAND ICs, all routed to the SandForce SF-2281VA1-SDC-ES controller displayed front and center. The circuit board layout is very clean, with no RAM needed with the SandForce controller. This helps save on power and also helps reduce overall size when you shrink the entire layout down to micro-levels.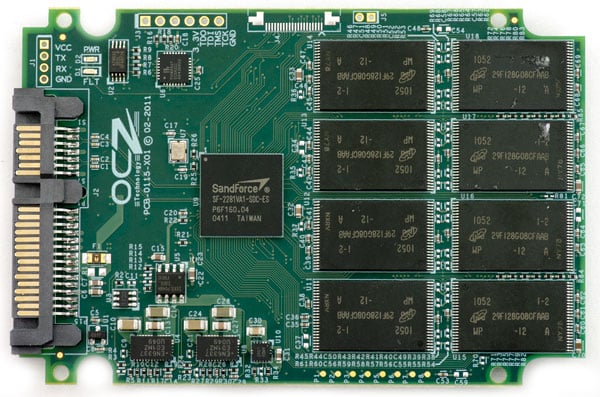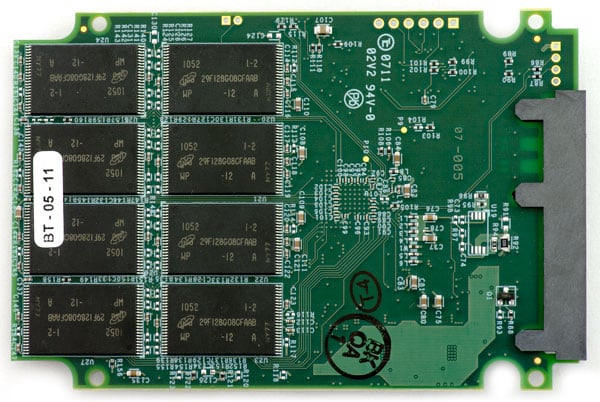 Synthetic Benchmarks
With all of the latest and greatest SSDs hitting the market supporting SATA 6Gbps, you really need the right hardware to get these drives to perform at their advertised speeds. Currently we are still developing our next-gen Sandy Bridge testbed, meaning for this review we used our Dell XPS 9000 with its Intel ICH10R chipset for compatibility SATA 3Gbps tests and a LSI MegaRAID 9260-8i SATA 6Gbps card for native speed tests. As a result of using a RAID card, some results may vary, although we plan to issue an update when we have our next-gen testbed finished.
The manufacturer claims of the new SandForce-equipped models like the OCZ Vertex 3 look outrageous. This generation doesn't just boost performance by 15-25%… no it pretty much doubles the performance of the older SATA 3Gbps SSDs. It seems like just yesterday that saturating the SATA II bus with 285/275MB/s speeds seemed quick, while now we are looking at 550MB/s read and 525MB/s write speeds. Random 4K-write performance has also skyrocketed from an impressive 50,000 IOps to an eye-scorching 60,000 IOps. In many ways to put it simply, its an unfair fight.
In all of our drive reviews, we use IOMeter for read and write tests, CrystalDiskMark for a drive speed snapshot, and IOMeter again for server profile tests. These tests help to show how any given drive might perform under perfect environments, which most users will never see in the real-world, but are handy to see how drives rate up against each other.
Our first test is a 2MB sequential file transfer showing peak read and write speeds. OCZ claimed 550MB/s read and 525MB/s write, although burst speeds will vary from sustained speeds.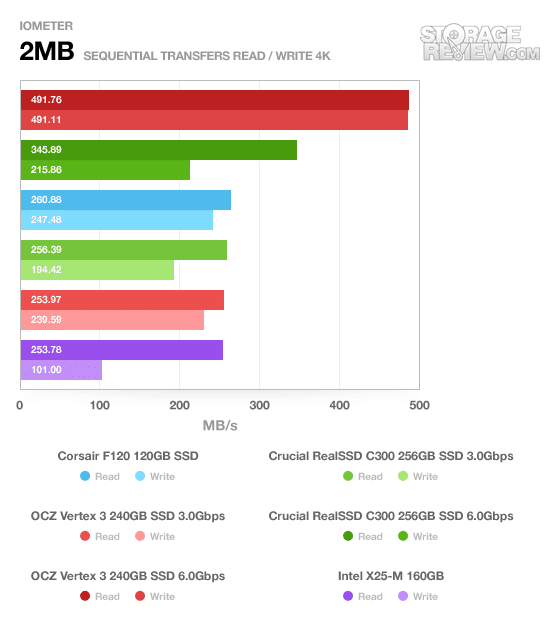 As you can see in the chart above we measured 491MB/s read and 491MB/s write when connected through the LSI MegaRAID 9260-8i card supporting SATA 6Gb/s speeds. The one thing that did stand out at us though were the legacy SATA II 3Gbps speeds measuring slower than the SF-1200 Corsair F120. This could be a firmware issue at this point, but it's too early to say. We aren't too worried though, as this drive is being marketed to users with the latest hardware including SATA III 6.0Gb/s interfaces.
The next test we performed looked at random 2MB transfers, which in this case as you can see below actually increased in speed over sequential speeds.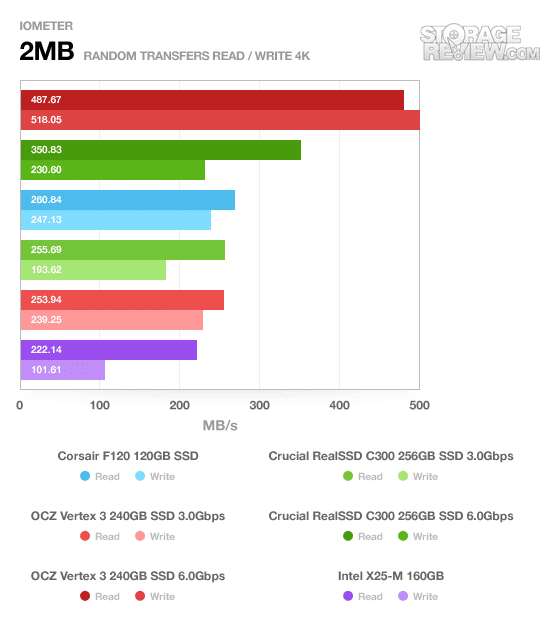 The OCZ Vertex 3 over our LSI MegaRAID card measured 487MB/s read and 518MB/s write when testing the random 2MB transfer speeds. Over the legacy Intel ICH10R connection those speeds dropped to 253MB/s read and 239MB/s write.
In our next test we look at random 4K transfers using IOMeter. In this area we start to see where our LSI MegaRAID 9260 interface might not be optimal for pure 4K random traffic even with 4K-alignment. The speeds indicated below are a queue depth of 1, where in the following section we show performance between a queue depth of 1 and 64.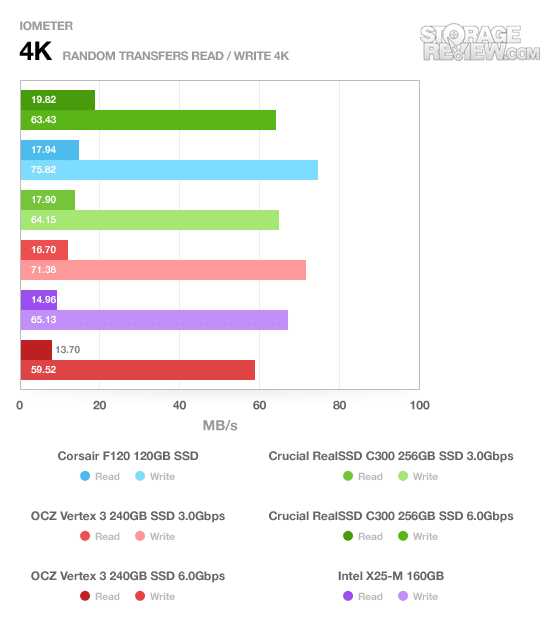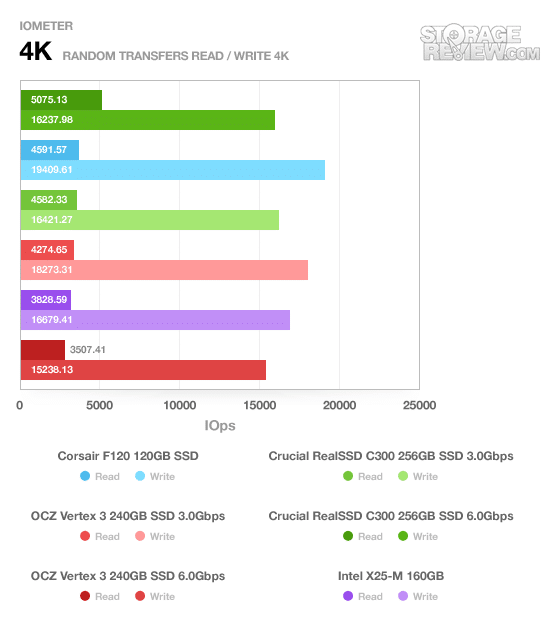 At a queue depth of one, the OCZ Vertex 3 measured speeds of 13.7MB/s read and 59.52MB/s write over the MegaRAID card. Over the Intel ICH10R SATA connection it measured 16.7MB/s read and 71.38MB/s write.
When putting all other comparable drives through the same connection, measuring a queue depth ranging from 1 to 64, we found the C300 to peak slightly higher in pure 4K random read traffic over the LSI MegaRAID card with a rough tie on 4K random write traffic. On the random write chart you can also see how the Intel ICH10R achieves much higher peaks than the MegaRAID interface.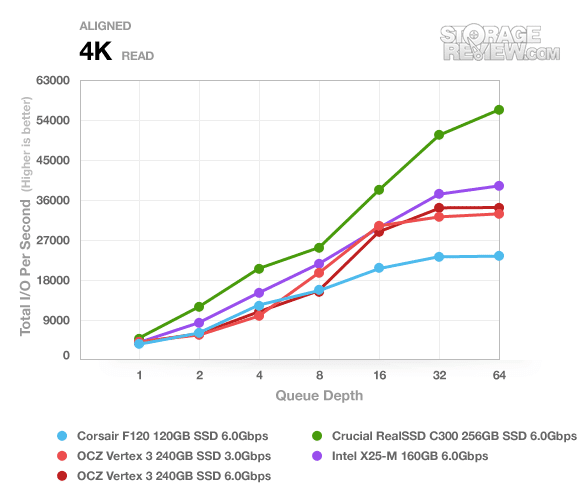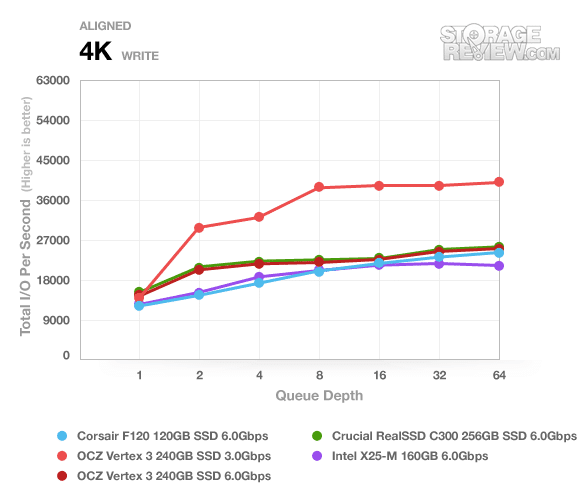 Write latency on the OCZ Vertex 3 was very low, although in SATA 3.0Gbps mode it fell just slightly below the original SF-1200 equipped Corsair F120. Through our LSI MegaRAID card values dropped a bit more, but this appears to be the case for most SSDs routed through the RAID interface. If you have a native Intel AHCI connection or a high-performance HBA you should see slightly better latency times.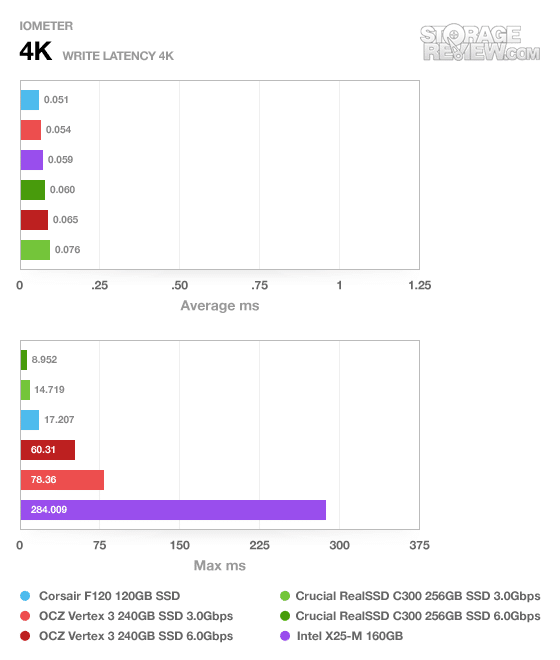 Using CrystalDiskMark with the random-fill setting, we measured read and write speeds comparing the SATA II to SATA III performance differences. Its pretty clear that this drive enjoys life at its native SATA 6Gb/s speeds.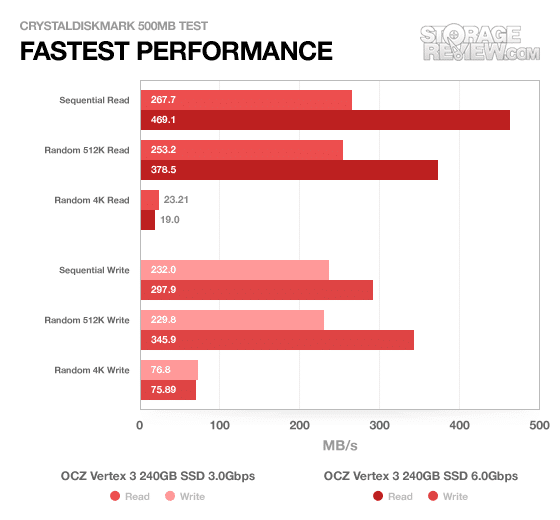 Looking at our IOMeter server profile tests the OCZ Vertex 3 played leap-frog with the Crucial RealSSD C300 over SATA III, and when connected in legacy mode it was on par with the 120GB Corsair F120. As with previous SandForce models, the Vertex 3 has no trouble scaling performance with demand. A queue depth of 32 seemed to be this drives peaking point before results started to level off.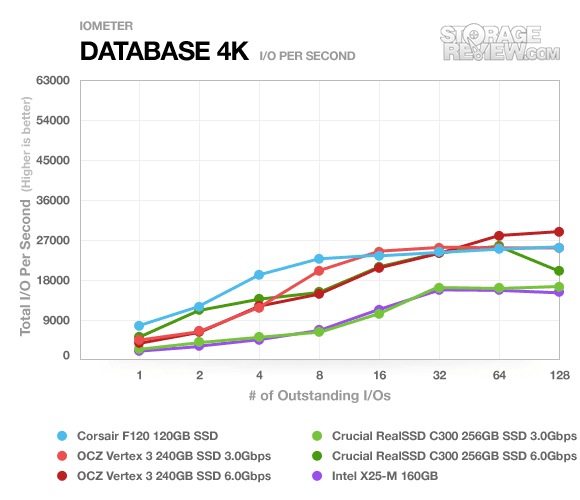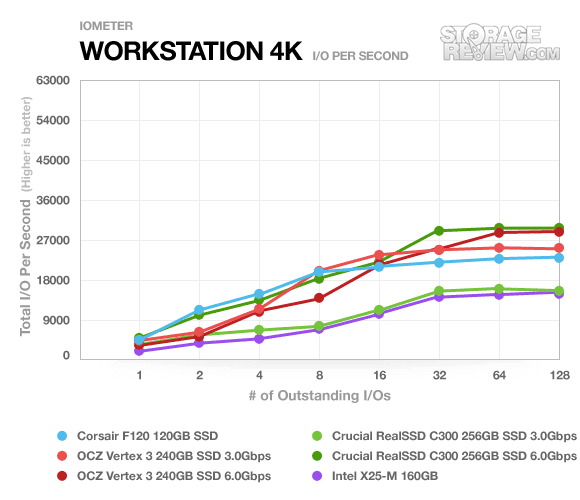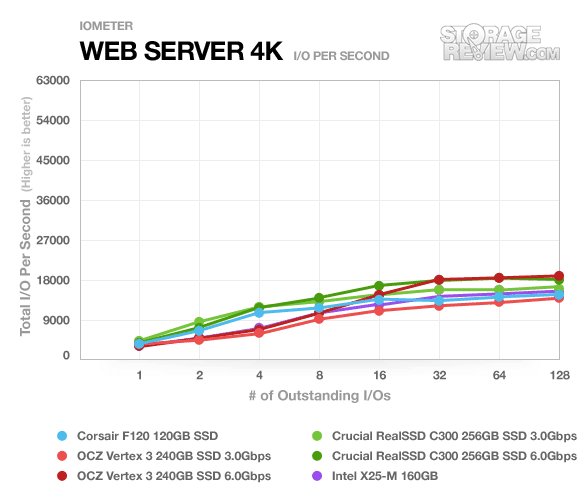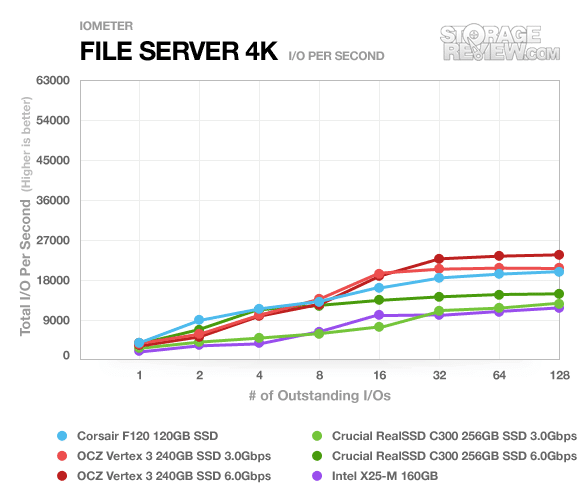 Real-World Benchmarks
If you are new to StorageReview, one thing we try to focus on is how any given drive might perform under real-world conditions. For the average user, trying to translate random 4K write speeds into an everyday situation is pretty difficult. It helps when comparing drives in every setting possible, but it doesn't exactly work out into faster everyday usage or better game loading times. For this reason we turned to our StorageMark 2010 traces, which include HTPC, Productivity, and Gaming traces to help readers find out how a drive might rank under their conditions.
For the real-world traces we put OCZ Vertex 3 up against the Crucial RealSSD C300 and Corsair Force F120. We included both 3Gbps native speeds through an Intel ICH10R AHCI connection as well as 6Gbps native speeds through an LSI MegaRAID 9260. This puts each drive on a level playing field and helps to show how each drive might perform under optimal conditions. We knew the OCZ Vertex 3 was going to be fast… but not this fast.
The first real-life test is our HTPC scenario. In this test we include: playing one 720P HD movie in Media Player Classic, one 480P SD movie playing in VLC, three movies downloading simultaneously through iTunes, and one 1080i HDTV stream being recorded through Windows Media Center over a 15 minute period. Higher IOps and MB/s rates with lower latency times are preferred. In this trace we recorded 2,986MB being written to the drive and 1,924MB being read.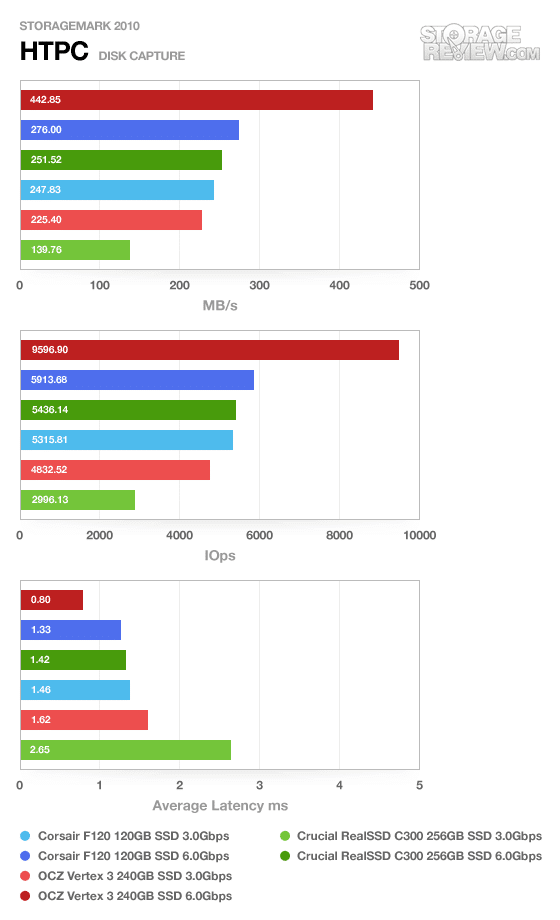 Up against the previous generation 120GB SandForce-based Corsair F120, the OCZ Vertex 3 blew it out of the water. Under optimal conditions the Vertex 3 averaged an astounding 442.85MB/s average transfer speed compared to the Corsair F120 that peaked with 276MB/s. For those who are counting, that worked out to a 60% jump in speed. The tables are slightly turned when you put the Vertex 3 on a legacy 3Gb/s connection though, where it only musters 225MB/s average.
Our second real-life test covers disk activity in a productivity scenario. For all intents and purposes this test shows drive performance under normal daily activity for most users. This test includes: a three hour period operating in an office productivity environment with 32-bit Vista running Outlook 2007 connected to an Exchange server, web browsing using Chrome and IE8, editing files within Office 2007, viewing PDFs in Adobe Reader, and an hour of local music playback with two hours of additional online music via Pandora. In this trace we recorded 4,830MB being written to the drive and 2,758MB being read.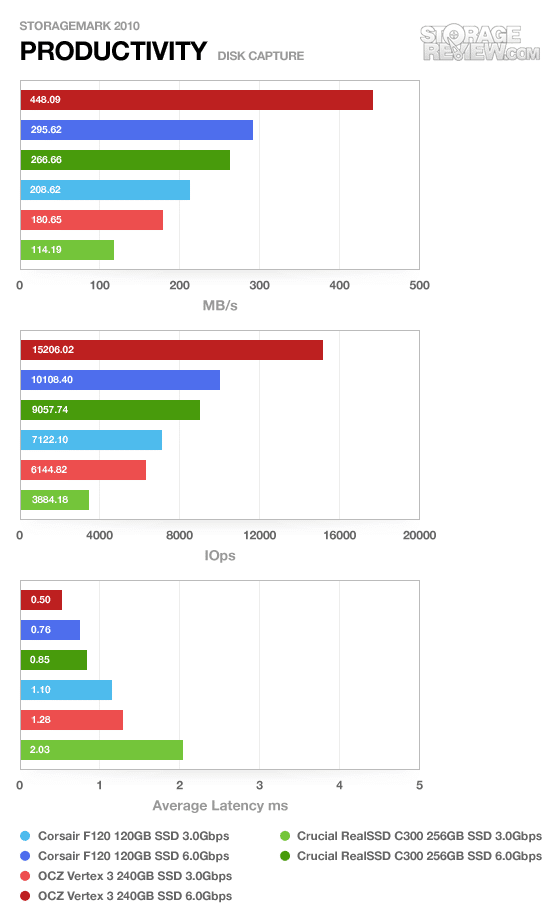 Even under normal everyday usage, the Vertex 3 still screams against the previous generation drives. While not as high as the 60% jump in the HTPC trace, it still had a 51.5% lead over the second fastest drive.
Our third real-life test covers disk activity in a gaming environment. Unlike the HTPC or Productivity trace, this one relies heavily on the read performance of a drive. To give a simple breakdown of read/write percentages, the HTPC test is 64% write, 36% read, the Productivity test is 59% write and 41% read, while the gaming trace is 6% write and 94% read. The test consists of a Windows 7 Ultimate 64-bit system pre-configured with Steam, with Grand Theft Auto 4, Left 4 Dead 2, and Mass Effect 2 already downloaded and installed. The trace captures the heavy read activity of each game loading from the start, as well as textures as the game progresses. In this trace we recorded 426MB being written to the drive and 7,235MB being read.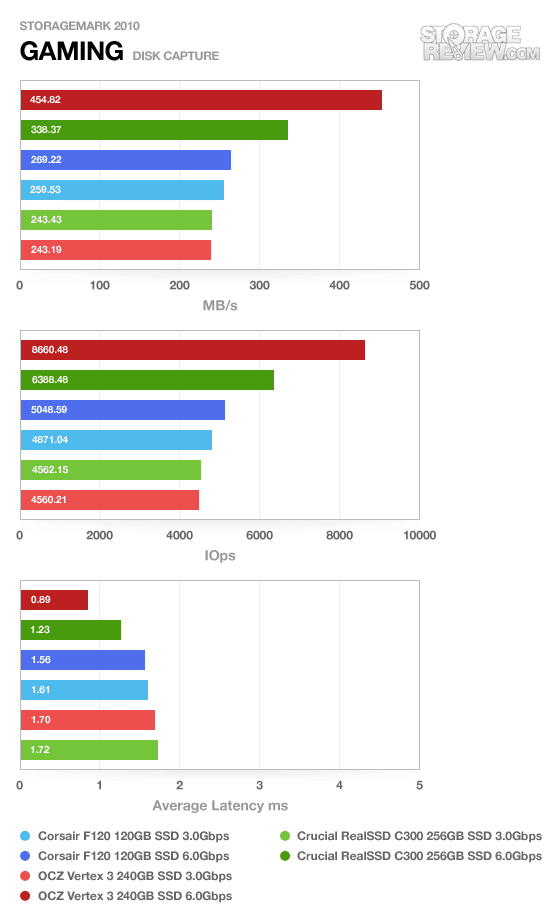 In the third and final gaming trace, the Vertex 3 shows its massive improvement with the latest-generation SandForce controller. While the Crucial RealSSD C300 was able to stay ahead of the F120 in this trace, it was still 35% slower than the Vertex 3. When you look at the Corsair F120 though it really becomes clear just how much things have improved compared to older SF-1200-equipped SSDs; the 240GB OCZ Vertex blew the doors off it with a 68.9% lead.
Power Consumption
As we have brought up in past reviews, power consumption is a key topic these days with notebooks and netbooks operating at lower and lower wattages. A big part of what makes SandForce models different from the competition is how they remove DRAM from the equation which helps drop power consumption of the drive and help battery life on notebooks. To see how the OCZ Vertex 3 stacks up against the previous generation SF-1200 models, we put it head to head with the Corsair Force F120.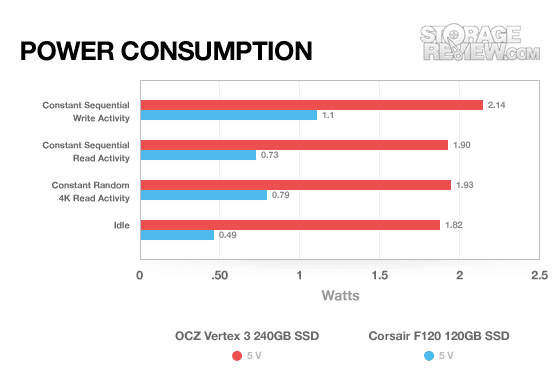 It's clear from looking at our results that something has changed, although we aren't entirely sure if its beta-firmware related or a downside of the newer SandForce chipset at this point. The spread between idle and peak rates are roughly the same, but the shelf has increased by more than a watt. We hope to get a better picture of this as we see more SandForce SF-2200 models hit the market or as we get closer to full production on the Vertex 3 and get access to shipping firmware.
Conclusion
The OCZ Vertex 3 is an impressive SSD to say the least, thanks to the SandForce SF-2281 processor at its heart, faster 6Gb/s interface and top-tier NAND. In one generation OCZ has managed to nearly double its speed in synthetic benchmarks and blow the socks off older drives in real-world scenarios. Given the intended market of performance enthusiasts, the Vertex 3 will no doubt be a huge success with its very reasonable starting price of $250 for the 120GB model and $500 for the 240GB version we reviewed today. The one caveat is to see this great performance you need the proper 6Gb/s interface, since an older 3Gb/s SATA connection just won't cut it. In legacy mode the Vertex 3 falls behind SF-1200 models in some cases, but honestly, who would buy this drive for an old SATA interface without the intention of rapidly moving to a platform that would support it fully.
Power consumption was the one area where the new OCZ Vertex 3 slipped behind. We can't fully explain the jump right now, it appears that it might be an early firmware bug, or a combination of firmware and the price of performance. We'll see as the firmware is updated and we benchmark more SF-2200 drives on our power testing rig. We will of course be updating this review when a final firmware revision is released to determine the firmware's impact on power consumption.
Overall though, if you're in the market for a new enthusiast-class SSD, the OCZ Vertex 3 is currently the fastest SATA-connected drive we have tested to date.  With its competitive pricing, expect to see this drive talked about everywhere in the coming months.
Pros
Puts other SSDs to shame in our real world benchmarks
Pricing makes top-tier performance available for only a moderate premium
Went from saturating SATA II with the Vertex 2 to saturating SATA III
Cons
Not shipping until mid-March
Small performance drop compared to SF-1200 drives when connected over SATA 3Gb/s
Higher power consumption versus older SF-1200 models
Bottom Line
The OCZ Vertex 3 is truly a unique and exciting SSD. This drive marks the next generation of a family that was already showing speeds that put it at the top of the SATA 3Gb/s heap; and now with a new controller, interface and top-tier NAND it's not even a fair fight. The OCZ Vertex 3 spanks the competition with up to 69% faster speeds in real-world conditions and has firmly established itself as the fastest SATA SSD we've seen.