The Seagate Enterprise Performance 15K is a 2.5" SAS HDD, Seagate's sixth generation of the 15K drive. This time around Seagate has made a drive with up to 900GB of capacity and a 50% increase in performance over the previous generation. The drive is designed to meet the performance demands of several applications while having a small physical footprint and a lower total cost of ownership versus other high-performance options.
The Seagate Enterprise Performance 15K is a 2.5" SAS HDD, Seagate's sixth generation of the 15K drive. This time around Seagate has made a drive with up to 900GB of capacity and a 50% increase in performance over the previous generation. The drive is designed to meet the performance demands of several applications while having a small physical footprint and a lower total cost of ownership versus other high-performance options.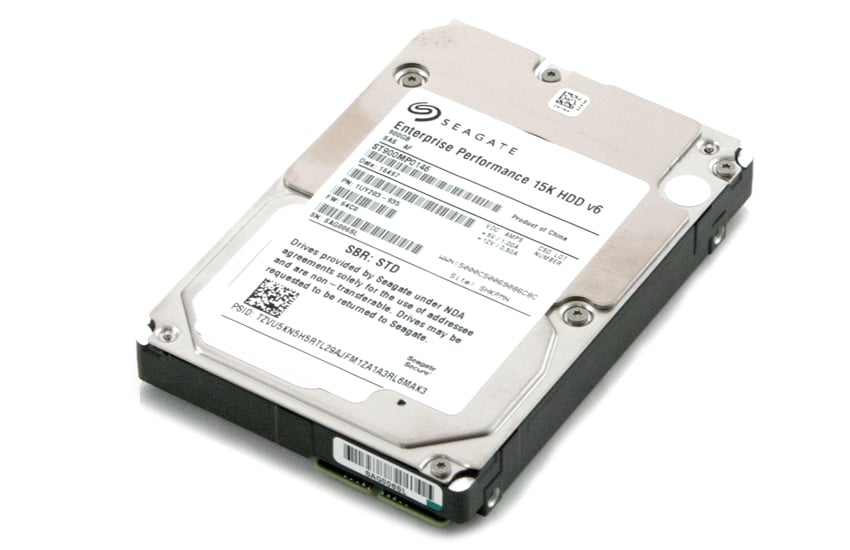 As far as storage performance goes, flash is king. It has higher performance, lower power usage, and more recently, can have tremendously higher density than spinning disks. However, in the data center where thousands of drives are deployed, spinning disks is still the majority (though shrinking rapidly). Capitalizing on this, Seagate has produced its highest performance 15K, 2.5" drive to date. The 15K v6 cannot only deliver better performance but also more consistent performance than previous models. The new drive is ideal for mission-critical enterprise servers, blade, pedestal, rack and tower servers, OLTP, databases, HPC and big data analytics, and power/space-constrained data centers.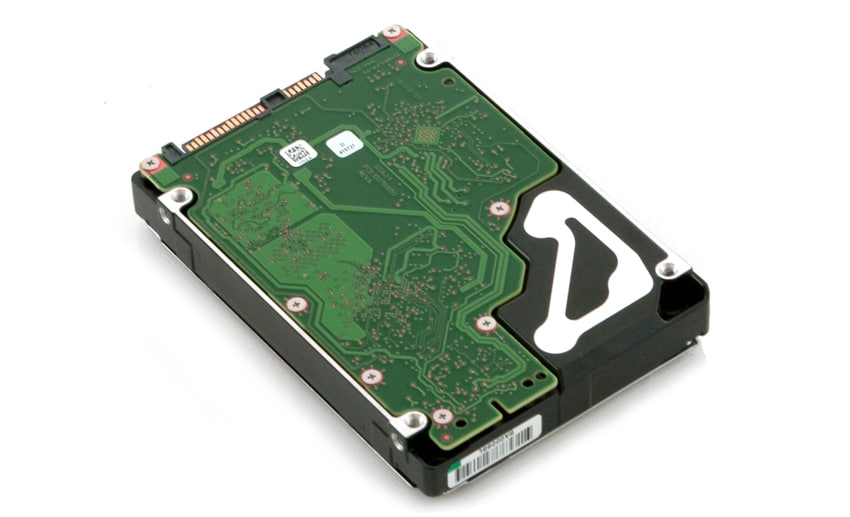 The Seagate Enterprise Performance 15K HDD v6 comes in various security models including none, SED, and FIPS 140-2 and has a 5-year limited warranty.
Seagate Enterprise Performance 15K HDD v6 specifications:
Capacity

512e: 300GB, 600GB, 900GB
4k Native: 300GB, 600GB, 900GB

Form Factor: 2.5"
Interface: SAS 12Gb/s
Encryption: None, SED, FIPS 140-2
Spindle speed (RPM): 15,000
Cache buffer, Multi-segmented: 256MB
Performance

Average latency: 2ms
Sustained transfer rate: 300MB/s
Max. Instantaneous Transfer Rate (SAS dual port):  2,400MB/s

Configuration/Reliability

Disks/Heads: 3/6
Nonrecoverable Read Errors per Bits Read, Max: 1 per 10E16
AFR: 0.44%
Warranty: 5-year limited

Power Management

Typical Op +5V/+12V: 7.6A
Average Idle Power: 5.7W
Average Operating Power: 7.6W

Environmental

Ambient Temperature, Operating: 5°C – 55°C
Ambient Temperature, Nonoperating: -40°C – 70°C
Temperature Change Rate/Hr, Max: 20°C
Relative Humidity, Noncondensing: 5% – 95%
Shock, Max. Operating: 11ms: 40Gs
Shock, Max. Nonoperating: 2ms: 400Gs
Vibration, Operating: <400Hz: 0.5Gs
Vibration, Nonoperating: <500Hz: 2.4Gs

Physical

Height: 15.00mm/0.591in
Width: 69.85mm/2.750in
Depth: 100.45mm/3.955in
Weight: 230g/0.507lb
Testing Background and Comparables
The StorageReview Enterprise Test Lab provides a flexible architecture for conducting benchmarks of enterprise storage devices in an environment comparable to what administrators encounter in real deployments. The Enterprise Test Lab incorporates a variety of servers, networking, power conditioning, and other network infrastructure that allows our staff to establish real-world conditions to accurately gauge performance during our reviews.
We incorporate these details about the lab environment and protocols into reviews so that IT professionals and those responsible for storage acquisition can understand the conditions under which we have achieved the following results. None of our reviews are paid for or overseen by the manufacturer of equipment we are testing. Additional details about the StorageReview Enterprise Test Lab and an overview of its networking capabilities are available on those respective pages.
Comparable drives for this review:
For this review, we will be testing the drives on the Dot Hill AssuredSAN 4824. The 16 drives then combined into one volume of 8 mirrored pairs (SQL Server and MySQL test) or in two groups of 4 mirrored pairs (VMMark).
Application Workload Analysis
In the enterprise market, there is a huge difference between how products claim to perform on paper and how they perform in a live production environment. We understand the importance of evaluating storage as a component of larger systems, most importantly how responsive storage is when interacting with key enterprise applications. To this end, we've rolled out application tests including our proprietary MySQL performance via SysBench, SQL Server performance via Benchmark Factory as well as VMmark virtualization performance by VMware.
The Percona MySQL database test via SysBench application test measures the performance of OLTP activity. This test measures average TPS (Transactions Per Second), average latency, as well as average 99th percentile latency over a range of 2 to 32 threads. Percona and MariaDB are using the Fusion-io flash-aware application APIs in the most recent releases of their databases, although for the purposes of this comparison we test each device in their "legacy" block-storage modes.
During our average transactions per second benchmark, the 15Kv6 was able to hit 705 TPS placing it fourth overall. This put it ahead of the 10K spindle models, but not the 10/15K spindle models with TurboBoost flash cache.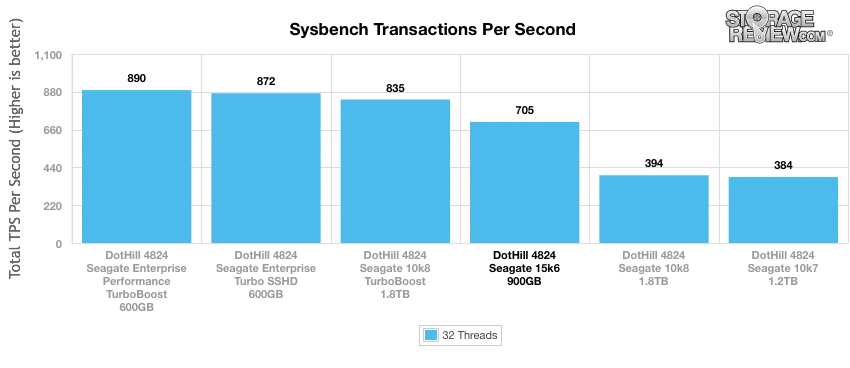 With average latency in our Sysbench MySQL, the 15Kv6 had a latency of 45.4ms, once again taking fourth.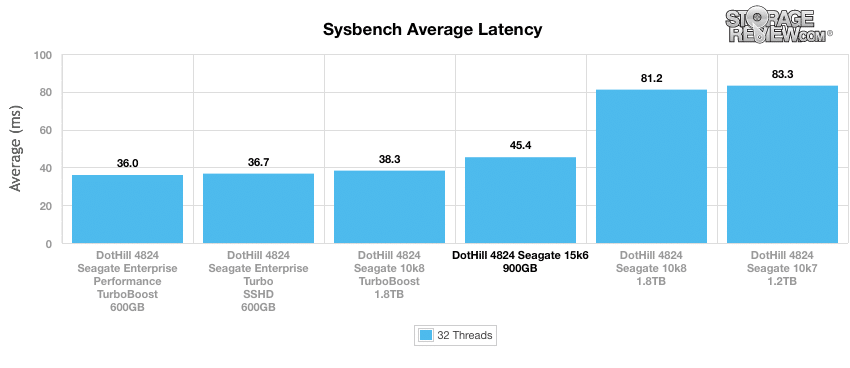 Looking at our worst-case MySQL latency scenario (99th percentile latency), the 15Kv6 once again found itself in fourth with 99ms.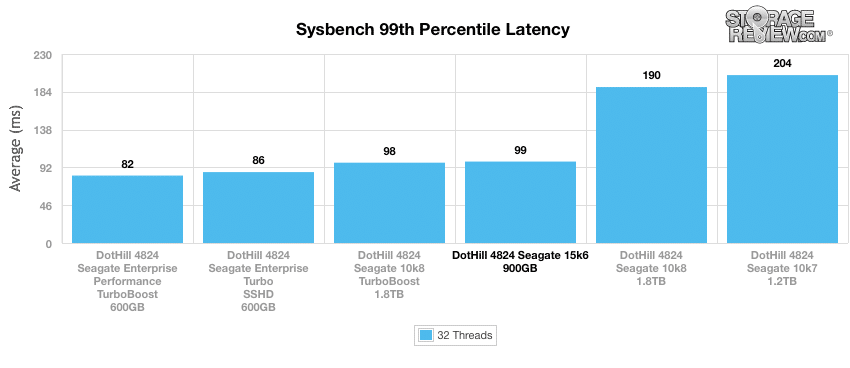 StorageReview's Microsoft SQL Server OLTP testing protocol employs the current draft of the Transaction Processing Performance Council's Benchmark C (TPC-C), an online transaction processing benchmark that simulates the activities found in complex application environments. The TPC-C benchmark comes closer than synthetic performance benchmarks to gauging the performance strengths and bottlenecks of storage infrastructure in database environments. Our SQL Server protocol for this review uses a 685GB (3,000 scale) SQL Server database and measures the transactional performance and latency under a load of 30,000 virtual users and then again with a half-size database of 15,000 virtual users.
With the smaller (15k) database size, the 15Kv6 drive took the lead with a TPS score of 3,115.3, 13 TPS higher than the next closest drive, the Enterprise with TurboBoost.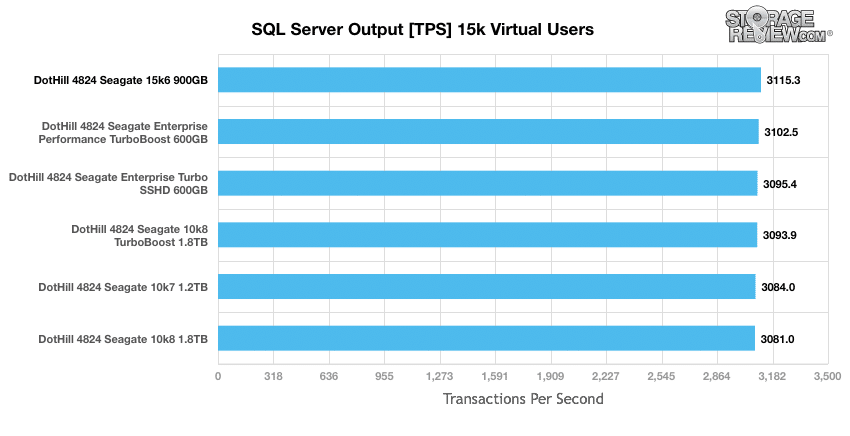 Average latency of the smaller database size also showed the 15Kv6 drive as the top performer. The 15Kv6 had the best latency at 73ms, 20 lower than the next closest drive, again the Enterprise with TurboBoost.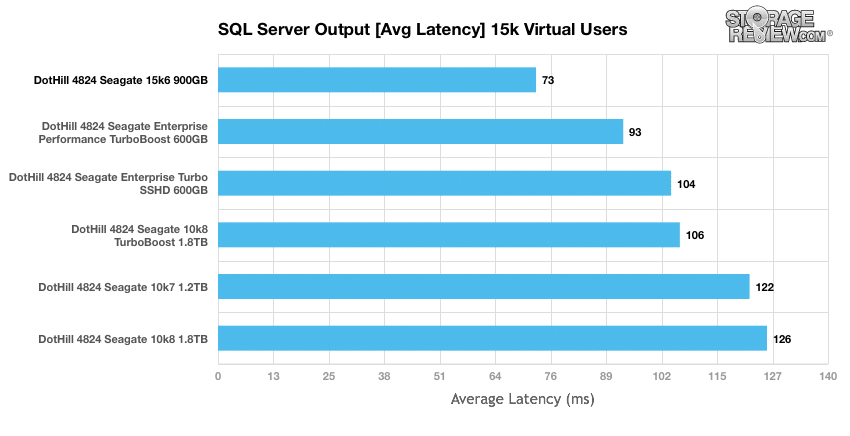 Switch over to the larger (30k) database size, the 15Kv6 continued to stay ahead of the other drives with a performance of 5635.8 TPS. This time almost 300 TPS higher than the next closest in performance.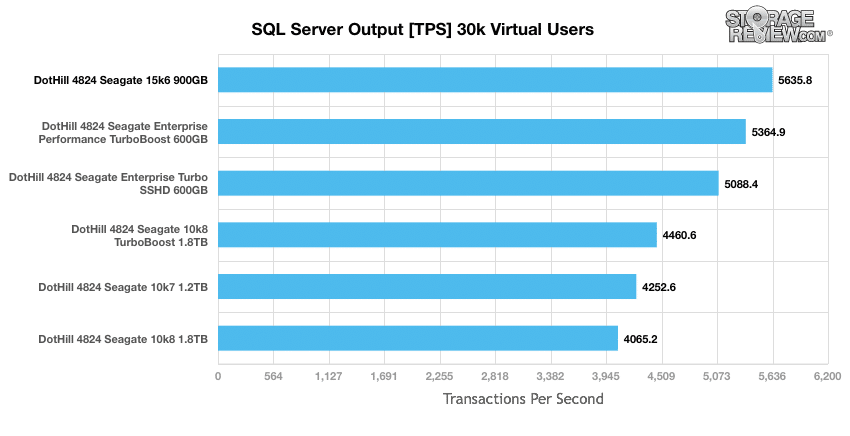 Average latency also showed the 15Kv6 as the clear leader with 580ms, 270ms lower than the next closest drive.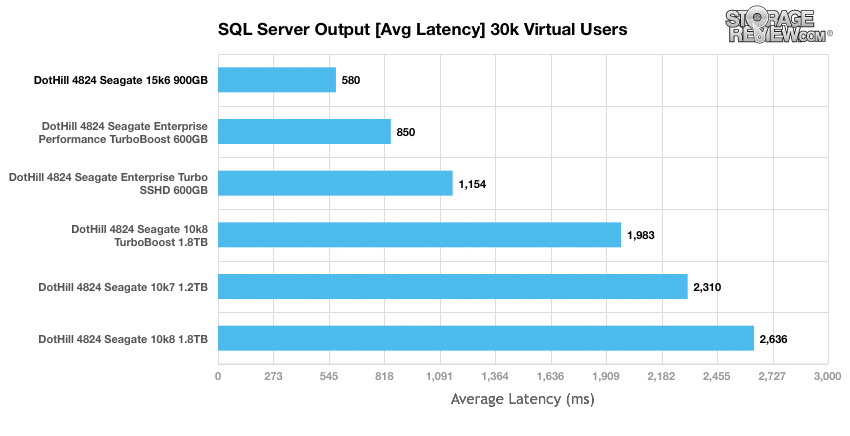 Our VMmark protocol utilizes an array of sub-tests based on common virtualization workloads and administrative tasks with results measured using a tile-based unit that corresponds to the ability of the system to perform a variety of virtual workloads such as cloning and deploying of VMs, automatic VM load balancing across a datacenter, VM live migration (vMotion) and dynamic datastore relocation (storage vMotion).
Comparing the normalized VMmark 2.5.1 performance, the 15Kv6 was able to make it to 8 tiles before topping out. This puts it behind older versions with TurboBoost that were able to hit 10 tiles.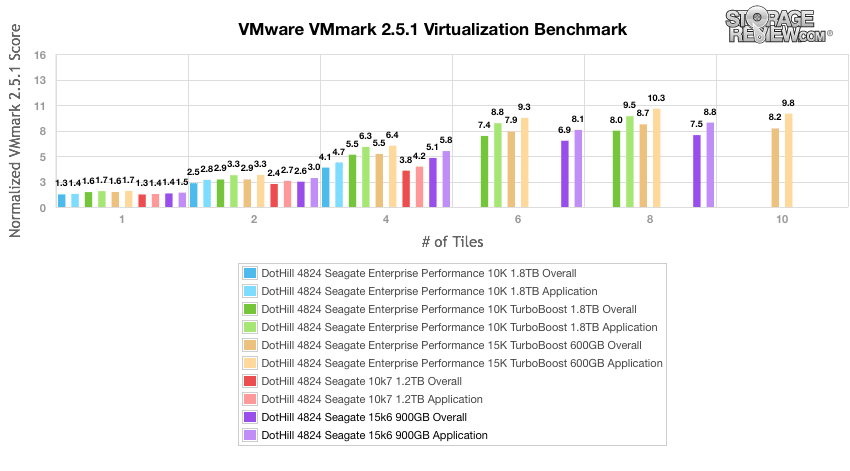 Conclusion
The Enterprise Performance 15K HDD v6 is Seagate's newest 15K drive, built off of Seagate's proven and reliable technology. Seagate was been able to increase the capacity to 900GB this go round, enabling data centers to store more information in a much smaller footprint. Along with its increase in capacity, Seagate also made several performance claims about their new drive we'll address in the next paragraph. The drive is designed for use cases such as OLTP and Big Data Analytics. The drive features Seagate's Secure Technology as well as other security options.
Performance was quite strong in the arena of hard disks, showing great in our SQL test, but fell behind in MySQL and VMmark compared to models with flash cache capabilities. The 15Kv6 dominated the SQL benchmarks with the best TPS scores (3,115 TPS for the 15k and 5636 TPS for the 30k) and the lowest latency (73ms for the 15k and 580ms for the 30k). For the rest of our enterprise application benchmarks the 15Kv6 performed average and lower. In our Sysbench the 15Kv6 came in fourth in all three tests. With VMmark the 15K6 did a bit better with the ability to hit 8 tiles, though it placed third overall.
Capable as it may be, clearly the high-performance disk segment is in a downward trend. That said however, flash isn't everywhere just yet despite the marketing excitement. For some use cases 15k disk still has an opportunity and Seagate is looking to control the lion's share of that market. The 15k v6 is probably the last part of the bridge that gets holdouts moving from 15k HDDs to flash. With a big bump in capacity and a trusted technology platform, Seagate will still move more units than most would expect.
Pros
900GB of capacity in a 2.5" form factor
Proven Technology
Strong SQL performance
Cons
While modest gains compared to previous 15K HDDs help, overall the drive falls behind quickly when flash is added into the equation
The Bottom Line
The sixth generation of Seagate's Enterprise Performance 15K HDD offers up to 50% more capacity in the same small footprint, lowering TCO, and delivering needed performance to applications.
Seagate Enterprise Performance 15K HDD v6 product page
Sign up for the StorageReview newsletter