The ReadyNAS 4312 series packages Netgear's latest storage technologies into a 2U rackmount form-factor. The ReadyNAS 4312X features an Intel Xeon E3-1245v5 quad-core processor with 16GB DDR memory and dual 10GbE interfaces for network throughput, while ReadyNAS OS 6 provides the administrative interface to a wide range of functionality. The result is a general-purpose workhorse NAS that can take on most common SMB scenarios including shared storage, backup, and virtualization.
The ReadyNAS 4312 series packages Netgear's latest storage technologies into a 2U rackmount form-factor. The ReadyNAS 4312X features an Intel Xeon E3-1245v5 quad-core processor with 16GB DDR memory and dual 10GbE interfaces for network throughput, while ReadyNAS OS 6 provides the administrative interface to a wide range of functionality. The result is a general-purpose workhorse NAS that can take on most common SMB scenarios including shared storage, backup, and virtualization.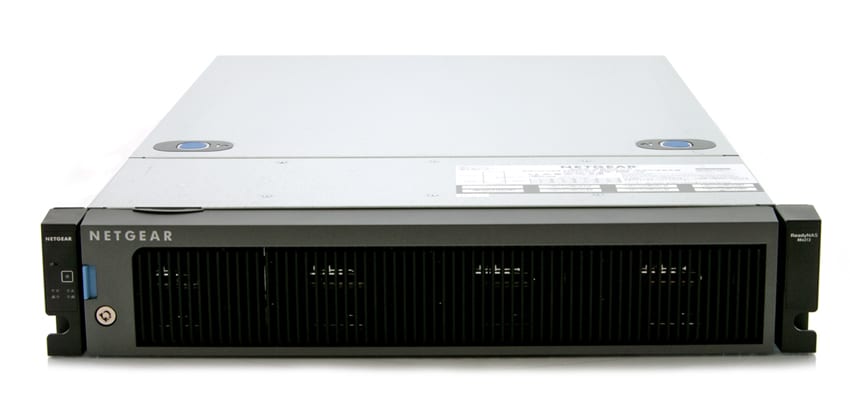 With a full complement of 10TB drives, the ReadyNAS 4312X can serve up to 120TB of raw internal HDD storage, with expansion options that make it possible to manage up to 48 additional bays via two EDA4000 chassis. Some of its most attractive services and features include unlimited snapshots, thin provisioning, replication, encryption, and real-time antivirus. In terms of support, Netgear offers a five-year warranty and a next business day hardware replacement guarantee.
Netgear ReadyNAS 4312X Specifications
Model Description Copper: ReadyNAS 4312X 2U 12-bay
Model Description SFP+: ReadyNAS 4312S 2U 12-bay
VMware vSphere ESXi 6.0 Certified
CPU: Intel Xeon E3-1245v5 3.5GHz Quad Core Processor
Memory: 16GB DDR4 with ECC
Number of Bays: 12
Number of Users: 60-160
Maximum Capacity: 120TB (up to 600TB using two EDA4000 Expansion Chassis)
Drive Types Supported: SATA/SSD 2.5″ or 3.5″
Hot Swappable Drives: Yes
eSATA Expansion Ports: Two (2) Compatible with EDA4000 (24-bay) and EDA2000 (12-bay)
Gigabit LAN Ports: 4
10Gbps LAN Optical SFP+: 0(4312X), 2(4312S)
10Gbps LAN Copper 10gBase-T: 2(4312X), 0(4312S)
USB Ports: Two (2) USB3.0 ports rear
Software and Functionality

Cloud-discovery, Setup and Management
Data Protection with Unlimited Snapshots
Web-managed Replication for Disaster Recovery
Real-time Antivirus
iSCSI and Thin Provisioning
Single DLNA Server for Local and Remote Streaming

Power Supply: Dual Redundant Internal 550 W; input 100-240V AC, 50-60Hz
Hardware Warranty: 5-year
Fan (mm): 80mm
Dimensions DxWxH (mm): 707mm x 445mm x 88mm
Weight (kg): 11.96kg
Design and Build
The ReadyNAS 4312X front panel sports a sleek and understated design that blends seamlessly into rack mount enterprise environments, with a control panel at left and access to the drives bays secured behind a lockable cover. The control panel incorporates power and reset switches along with six indicator lights for system health including drive and network status information. With the locking cover removed, the 4312X's 12 hot-swappable drive bays are accessible.

The rear panel of the 4312X provides access to the system's dual 550W power supplies, at left. Four Gigabit Ethernet interfaces are available along the bottom of the center section, which are supplemented by two 10Gbps Ethernet interfaces farther to the right. The ReadyNAS 4312S model variations feature dual 10Gbps SFP+ interfaces instead of 10GbE. The rear panel is rounded out by two eSATA expansion ports and two USB 3.0 ports.

Management
Setup for the ReadyNAS 4312X begins with accessing ReadyCLOUD, Netgear's online service that discovers and configures ReadyNAS systems. The ReadyCLOUD setup wizard helps administrators move quickly through the process to bring the array online. The ReadyCLOUD service can also be used to access and manage data on the array once it is online as an alternative to direct access to the 4312X via ReadyNAS 0S 6.
ReadyNAS OS 6 provides a streamlined administrative dashboard that provides essential information about how the system is configured. Nested horizontal menus provide the structure for navigating within ReadyNAS OS. These horizontal menus are complemented by hot links within the bodies of individual pages which help admins jump directly between sections of the interface.

The Volumes section provides information and management tasks for the ReadyNAS 4312X. In this case we have configured the array of twelve 8TB Seagate Enterprise NAS HDDs as a single RAID10 pool.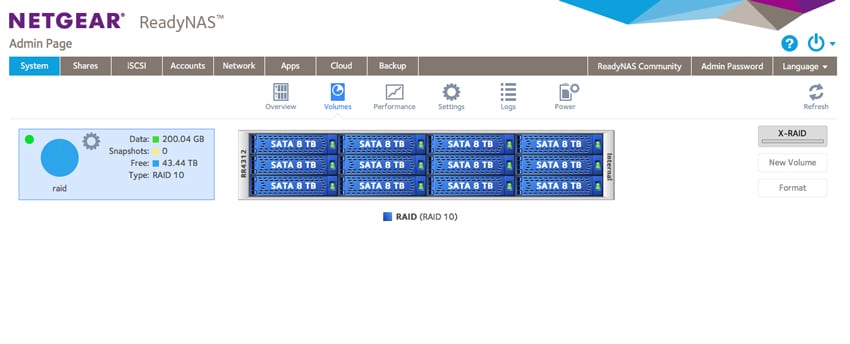 The Performance section of ReadyNAS OS 6 provides quick insight into the thermal management systems of the ReadyNAS 4312X, including temperature readings from each of the installed drives. This screen also allows administrators to review the 4312X's own measurements of its data transfer performance.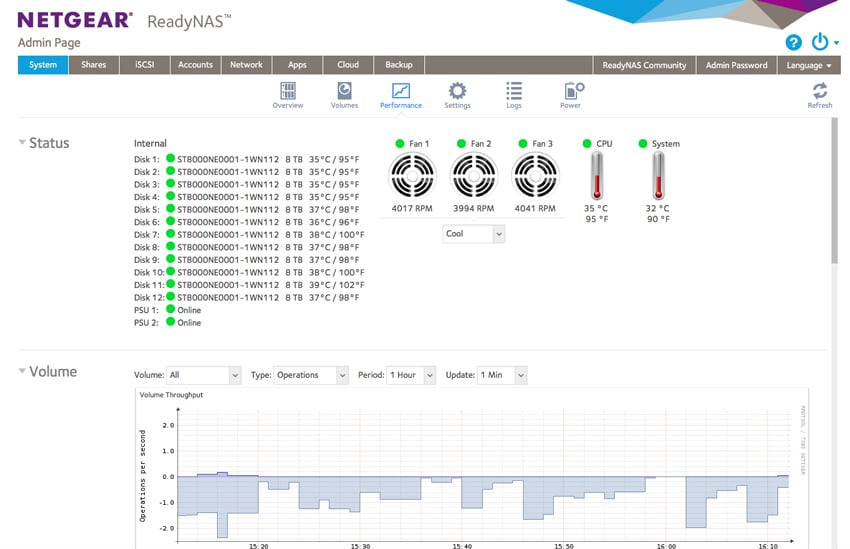 A more detailed look at the ReadyNAS OS 6 administrative interface is available in our review of the ReadyNAS 212.
Testing Background and Comparables
We populated the ReadyNAS 4312X with 12 Seagate Enterprise NAS 8TB HDDs which we have found to offer strong performance in addition to NAS-oriented reliability and endurance specifications. Consumers and businesses that chose to go with the diskless model can use their drives of choice; however, we recommend reading our Pick The Right Drive For The Job article, as desktop drives are not ideal in a 24/7 NAS environment.
We tested both CIFS and iSCSI performance with the 12 drives configured as a RAID10 array.
Enterprise Synthetic Workload Analysis
Our enterprise hard drive benchmark process preconditions each drive into steady-state with the same workload the device will be tested with under a heavy load of 16 threads with an outstanding queue of 16 per thread, and then tested in set intervals in multiple thread/queue depth profiles to show performance under light and heavy usage. Since hard drives reach their rated performance level very quickly, we only chart the main sections of each test.
Preconditioning and Primary Steady-State Tests:
Throughput (Read+Write IOPS Aggregate)
Average Latency (Read+Write Latency Averaged Together)
Max Latency (Peak Read or Write Latency)
Latency Standard Deviation (Read+Write Standard Deviation Averaged Together)
Our Enterprise Synthetic Workload Analysis includes four profiles based on real-world tasks. These profiles have been developed to make it easier to compare to our past benchmarks as well as widely-published values such as max 4k read and write speed and 8k 70/30, which is commonly used for enterprise drives.
4k

100% Read or 100% Write
100% 4k

8k (Sequential)

100% Read or 100% Write
100% 8k

8k 70/30
128k (Sequential)

100% Read or 100% Write
100% 128k
Our first enterprise workload consists a long sample of random 4k transfers with 100% write and 100% read operations. In terms of 4k throughput, the ReadyNAS 4312X performed better with writes than reads. Between the two access protocols, iSCSI outperformed CIFS, at 332IOPS for read operations and 3,318IOPS for write operations.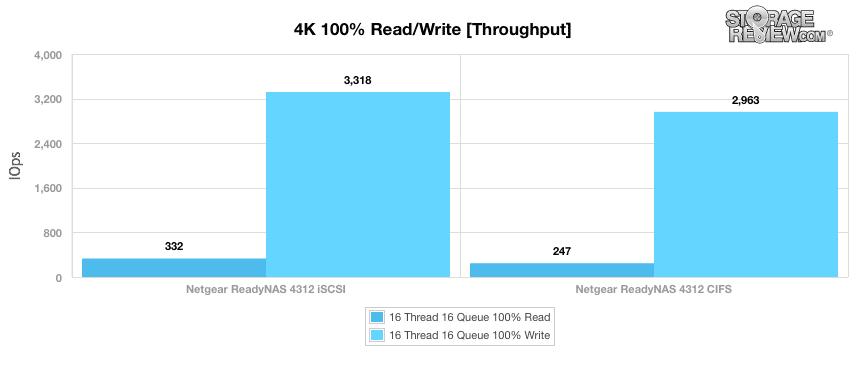 The ReadyNAS 4312X also experienced the lowest 4k latency results when accessed via iSCSI, with 768.81ms latency during read operations and 77.15ms during write operations.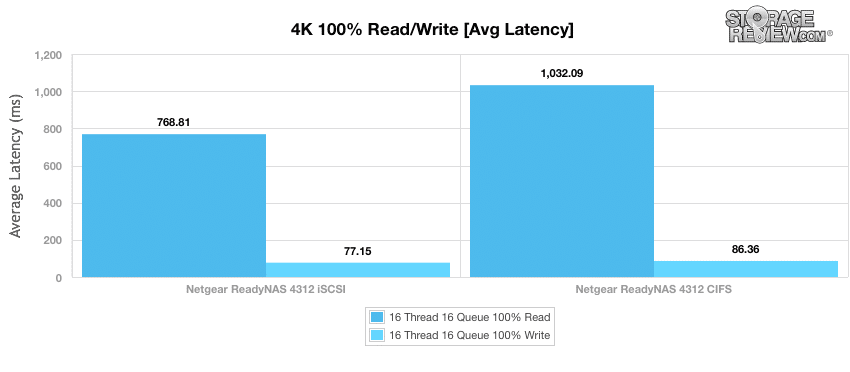 The 4312X's maximum 4k latency in iSCSI mode bested its CIFS performance, although the difference was relatively small. Accessed via iSCSI, the 4312X's maximum latency for read operations was 2611.4ms, and its maximum write latency clocked in at 77.15ms.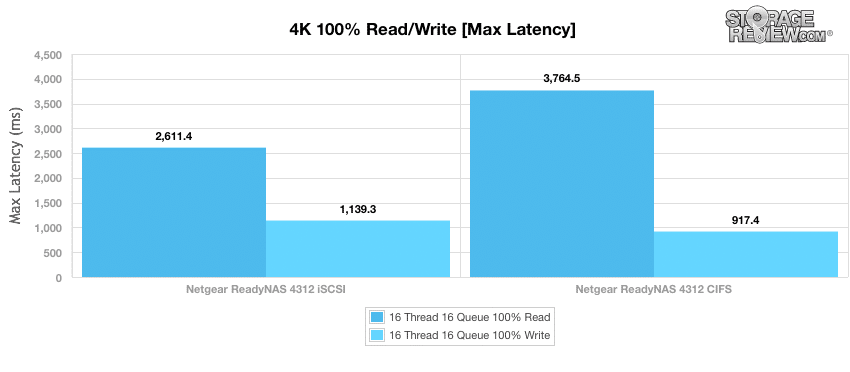 Standard deviation calculations for the 4k latency measurements show the iSCSI protocol experienced more consistent latencies for read operations than access via CIFS. The standard deviation results for 4k transfers from the ReadyNAS 4312X measured at 382.42ms for iSCSI  compared to 869.34ms for CIFS.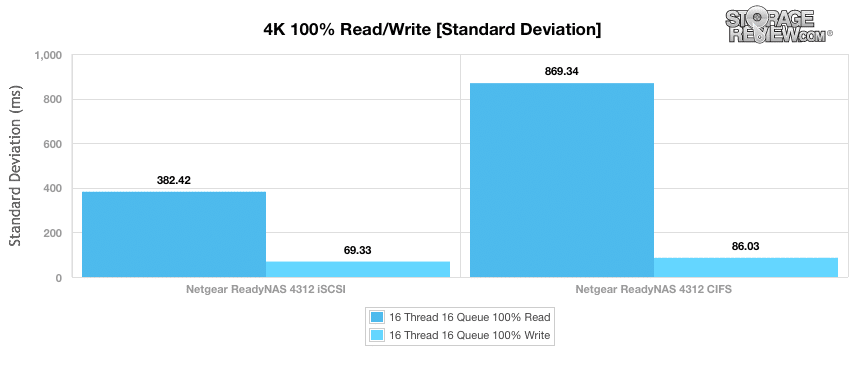 Our next results are taken from a workload with 100% 8k sequential throughput with a 16T/16Q load in 100% read and 100% write operations. During this benchmark, read performance was similar regardless of which protocol was used to access the 4312X. When configured for iSCSI, the 4312X reached 114,971IOPS, edging out 102,561IOPS with CIFS. iSCSI write throughput is superior to CIFS, at 68,525IOPS versus 53,009IOPS.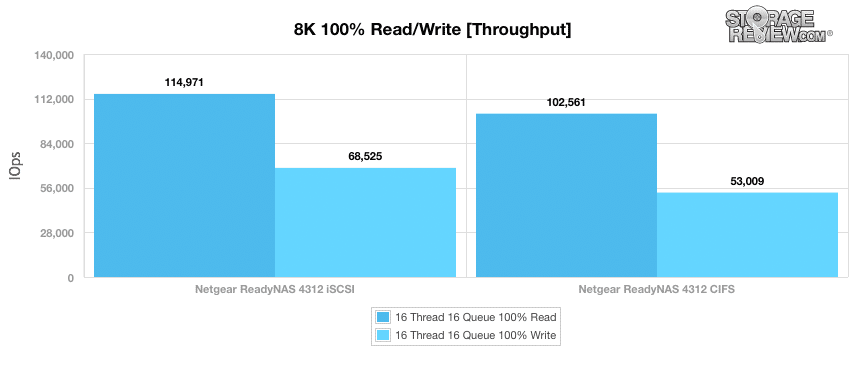 The next four charts are based on a protocol consisting of 70% read operations and 30% write operations with an 8k transfer size. The workload is then varied from 2 threads and a queue depth of 2 up to 16T/16Q. In terms of throughput, iSCSI transfers outperformed CIFS across the board during the 8k 70/30 benchmark, topping out at 473IOPS with a 16T/16Q workload. iSCSI's best overall performance occurred with deep queues.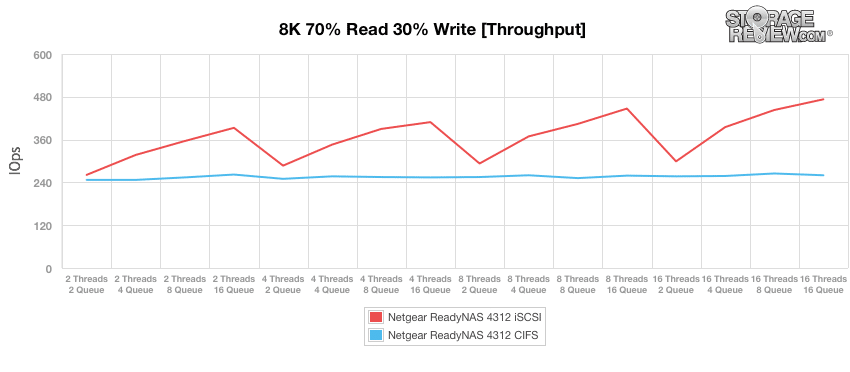 The overhead of handling CIFS transfers is apparent when comparing the average transfer latency for the 8k 70/30 workloads. At the top end of the scale with 16 threads and a queue of 16, the CIFS protocol experienced an average latency of 997.46ms compared to 540.45ms for iSCSI transfers.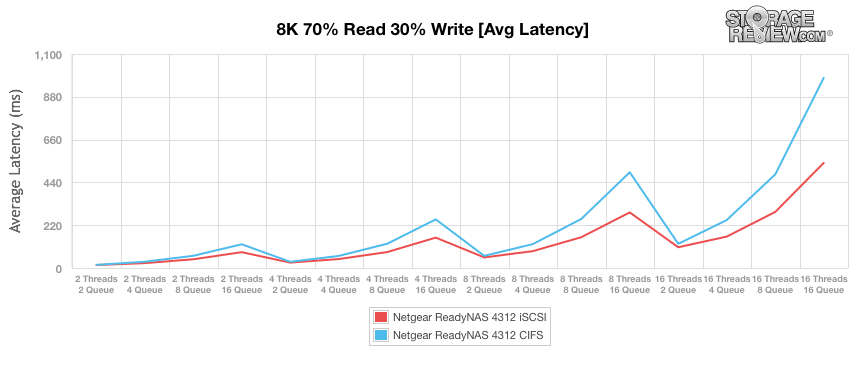 There were no surprises when we reviewed the maximum latencies that were measured during the 8k 70/30 benchmark, although this was one measurement in which CIFS access did not always correlate to lower performance than iSCSI. The greatest latencies across the board were measured with the most intense workloads, peaking at 2,3417.14ms with iSCSI transfers under a 16T/16Q load.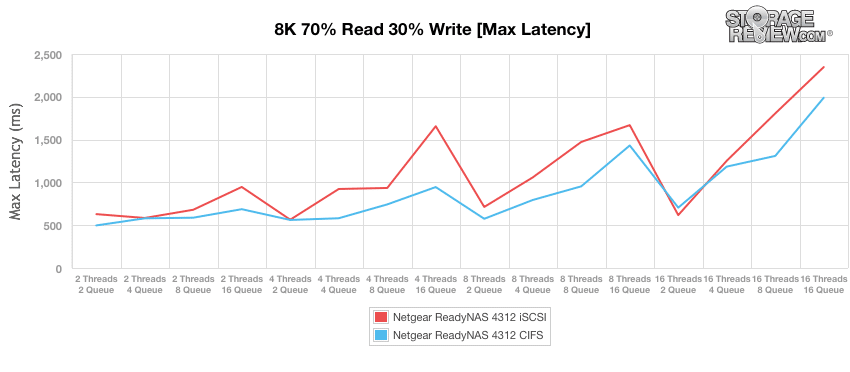 Standard deviation calculations for the 8k 70/30 benchmark reveal that CIFS transfers experienced more consistent latencies throughout the protocol than iSCSI transfers. While iSCSI offers more throughput for these synthetic workloads, CIFS transfers are executed in a more predictable amount of time.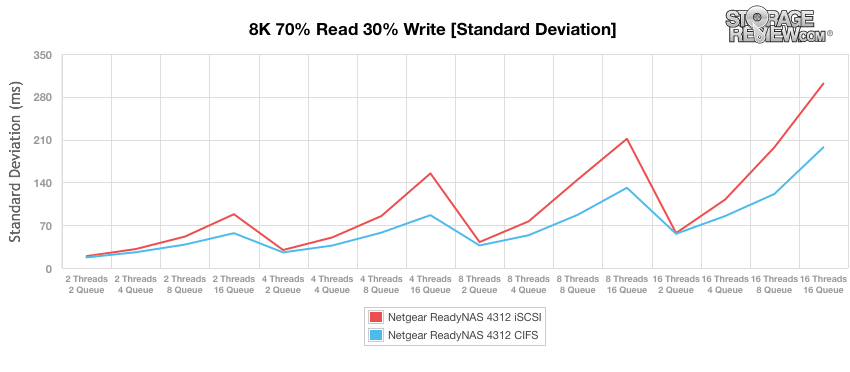 The final synthetic workload which we measured for the ReadyNAS 4312X is based on a transfer size of 128k. This benchmark uses a relatively a large block in a sequential test designed to the highest sequential transfer speed for a platter drive. The 4312X's iSCSI transfer mode was able to read and write more data during the benchmark than CIFS, edging up as high as 1,153,843KB/s for read operations over the iSCSI protocol. We measured greater CIFS performance for sequential write operations (709,252KB/s) than with read operations (620,787KB/s).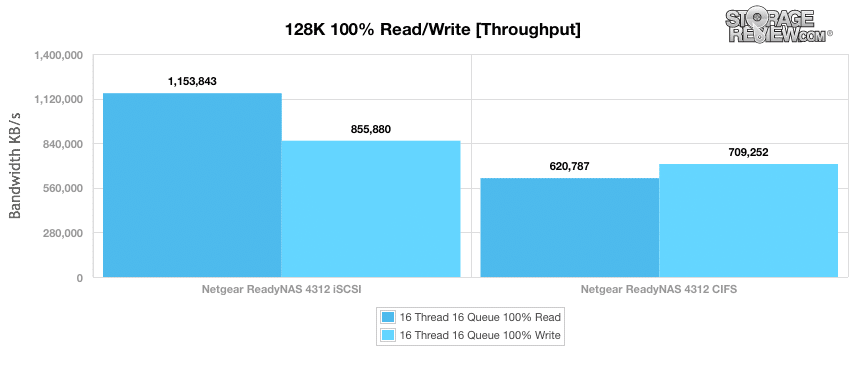 Conclusion
Just a few years ago, it would have been hard to imagine a system like the ReadyNAS 4312X that consolidates and commoditizes an array of 12 storage bays and a full suite of enterprise services at a price under $10,000. ReadyNAS OS 6 brings a comprehensive suite of storage and administrative functionality to the table, allowing the 4312X to be deployed into a variety of environments without the need for complex manual configuration. Under the hood, the NAS sports a Intel Xeon E3-1245v5 3.5GHz Quad Core Processor, 16GB of DDR4 memory, and can have up to 120TB of capacity (expandable to 600TB with expansion units) all within a 2U form factor.
Looking at performance, the 4312X showed good numbers in most of our benchmarks. In our 4k tests we saw numbers as high as 332 IOPS read and 3,318 IOPS write with an average latency as low as 769ms read and 77ms write. In our 8k testing we saw throughput numbers as high as 115K IOPS read and 69K IOPS write. And with our large block sequential benchmark we saw speeds as high as 1.15GB/s read and 856MB/s write. In every case the iSCSI performance was superior to the CIFS configuration.
Pros
Up to 120TB of internal storage, with 12-bay and 24-bay expansion chassis options via the 4312X's eSATA ports
A comprehensive suite of enterprise storage functionality that is readily accessible via ReadyNAS OS 6
Cons
Limited options for hardware upgrades
The Bottom Line
The ReadyNAS 4312X makes the most of Netgear's ReadyNAS technology portfolio and a 2U form factor. The result is a powerful and flexible NAS with straightforward deployment and configuration workflows.
NETGEAR ReadyNAS 4312X on Amazon
Sign up for the StorageReview newsletter