Many organizations are looking for low-cost, high-density, "enterprise-ready" storage options that offer additional data services, operational benefits, and advanced features over and above typical JBOD systems. Seagate Exos CORVAULT delivers all that and more with an easy-to-consume, high-capacity solution that bridges the gap between storage arrays and JBODs, providing a powerful combination of availability, efficiency, and management.
Many organizations are looking for low-cost, high-density, "enterprise-ready" storage options that offer additional data services, operational benefits, and advanced features over and above typical JBOD systems. Seagate Exos CORVAULT delivers all that and more with an easy-to-consume, high-capacity solution that bridges the gap between storage arrays and JBODs, providing a powerful combination of availability, efficiency, and management.
Seagate gave us the opportunity to closely examine the Exos CORVAULT in their laboratory. We went through the setup process and conducted our performance tests to evaluate the platform's capabilities.
Seagate Exos CORVAULT Hardware Overview
Seagate has been in the disk drive business for over three decades covering commercial, enterprise, and consumer products. It's safe to say they know a thing or two about the storage game, and Seagate is also familiar with building storage systems that can take advantage of the technology internal to the disks.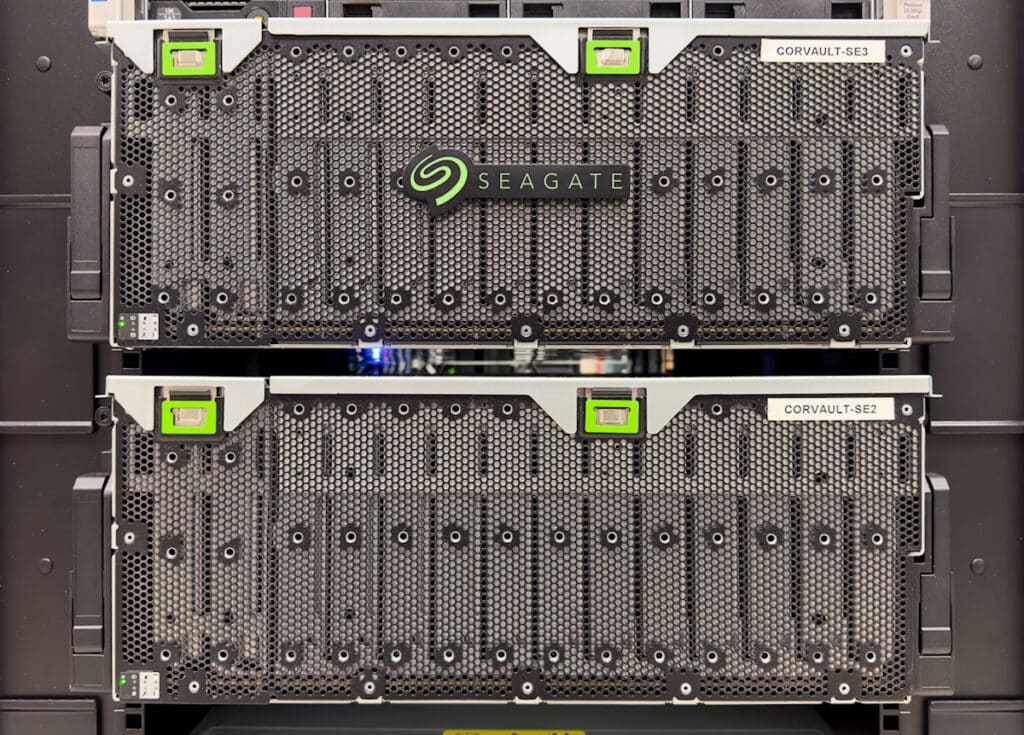 The latest storage technology out of Seagate is CORVAULT, a fully-integrated, modular system that includes drives, power supplies, cooling, and other components that deliver a single package that supports over 2.0PB of storage. CORVAULT is a high-performance, self-healing block storage system that provides multi-petabyte capacity, five-nines availability, and hyperscale efficiencies for data center and macro-edge environments.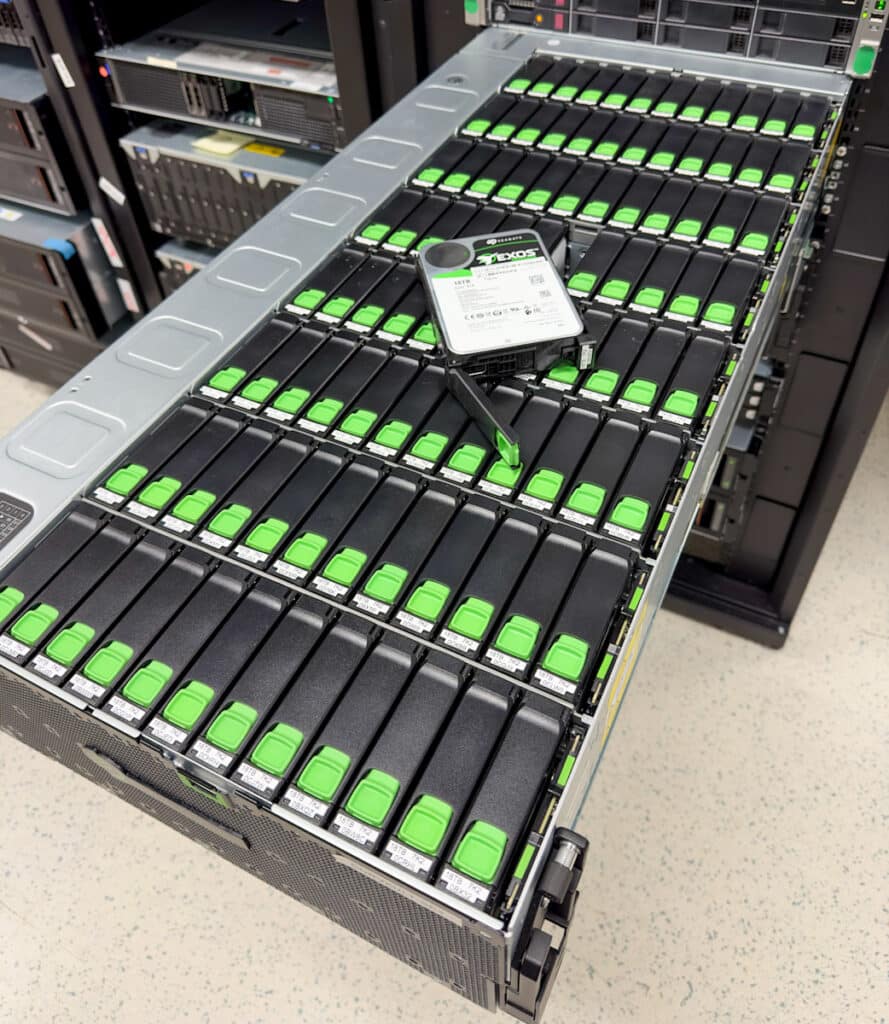 CORVAULT is built on the Exos 4U106 platform and supports 106 drives in a 4U form factor. Seagate's 6th generation VelosCT ASIC-based architecture powers the systems' redundant, active-active dual controllers. CORVAULT includes features like Advanced Distributed Autonomic Protection Technology (ADAPT) erasure encoding data protection and Autonomous Drive Regeneration (ADR), reducing human intervention and addressing the environmental impact associated with discarded drives.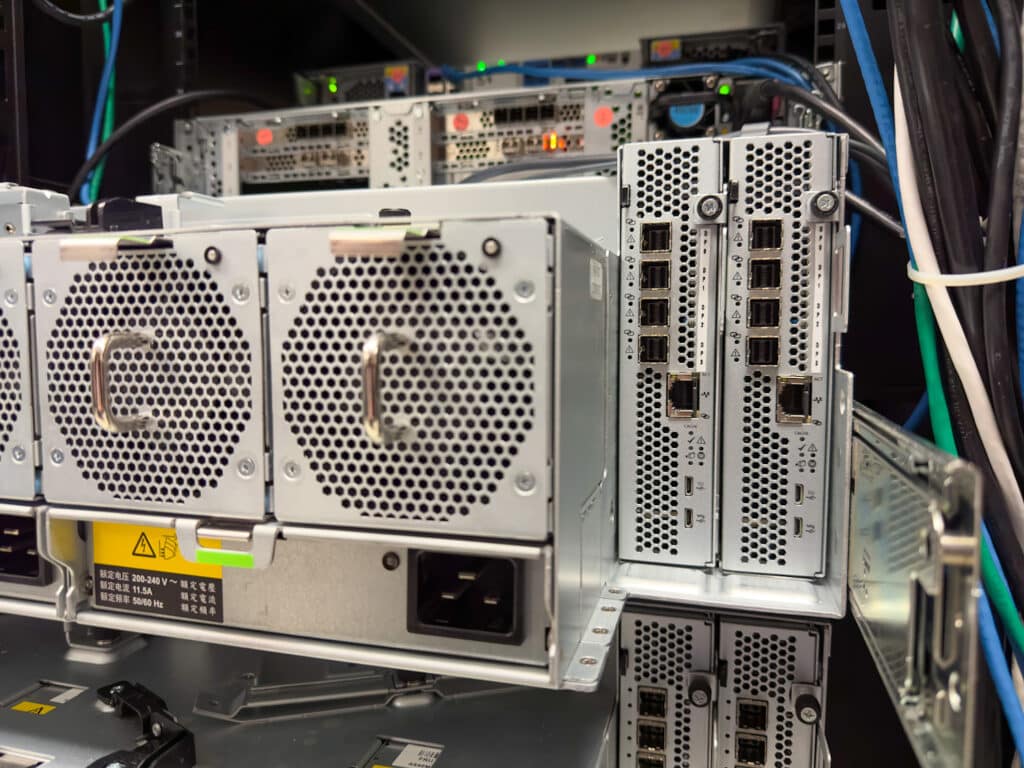 In addition to ADAPT and ADR, CORVAULT delivers mass-capacity block storage designed to provide hyperscale efficiencies, rapid deployment, and simple data management for data centers and macro-edge environments. CORVAULT delivers cloud-class performance, reliability, and maximum data density with efficient HDD technologies.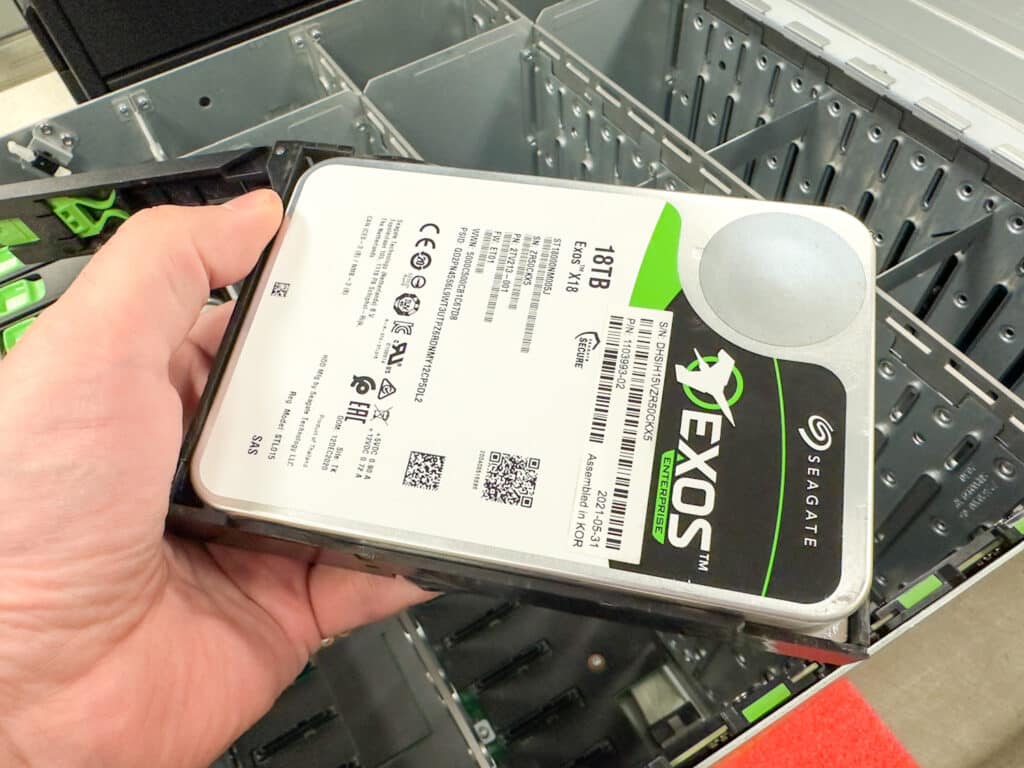 Using 20TB drives (our test system had 18TB HDDs), CORVAULT supports over 2.0PB raw in a 4U system utilizing the latest storage-efficient hard drive technology. The self-encrypting drives deliver maximum security without the controller-level overhead and support secure file transfer using SFTP. The platform is completely flexible though and can accommodate new Seagate HDD technologies as they come to market.
Typical high-density storage arrays can exhibit a variety of factors that will degrade In-System Performance (ISP) at the drive level—things like fan disturbance, normal tracking, rattling components, and transmitting energy from adjacent drives.
Seagate addresses these anomalies with optimization features for drive performance that integrate throughput, from the chassis to the controller, to the hard drives. Seagate AcousticShield™ minimizes external disturbances that contribute to throughput degradation, maximizing system-level density.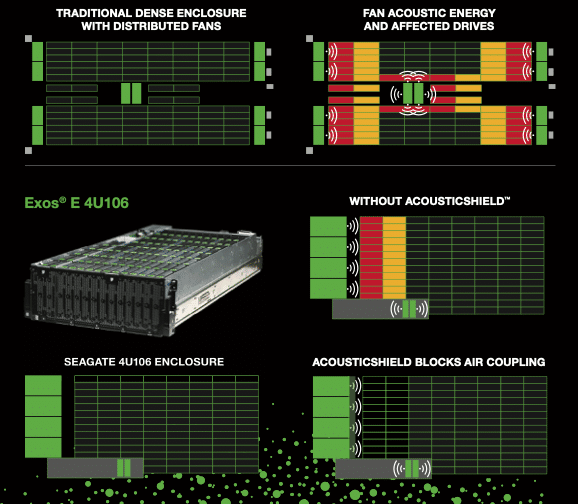 AcousticShield allows high-density chassis like CORVAULT to pack data in a smaller space while ensuring the drives deliver the intended performance. AcousticShield reduces performance degradation by up to 90 percent by removing the line of sight from fan to drive and dampening acoustic energy. An example of this is visible when you remove the rear fan modules to reveal the rear baffles.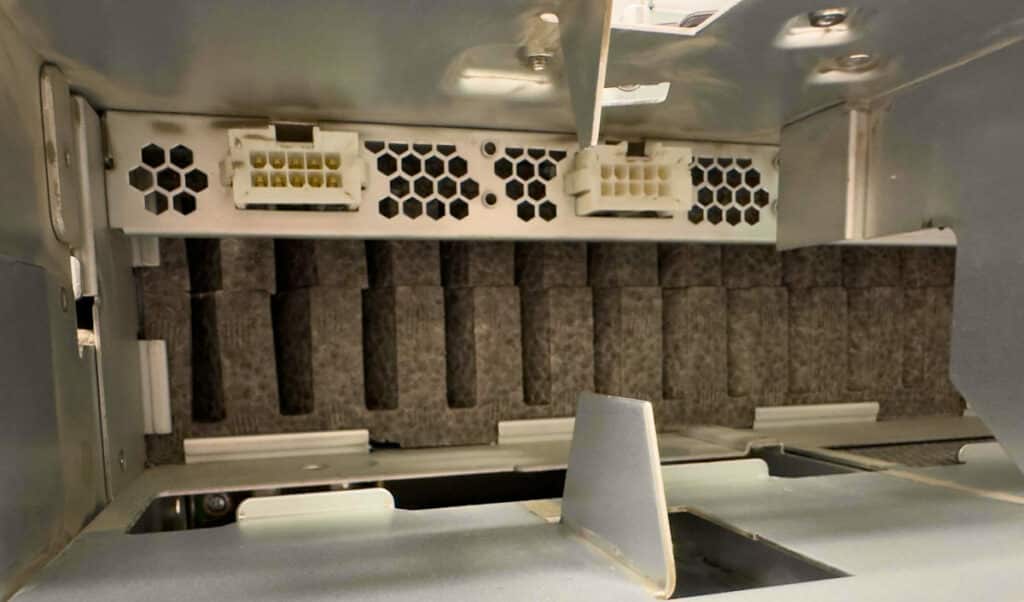 AcousticShield also enables rear drive rows in approximately 13 inches of space that would typically be unusable.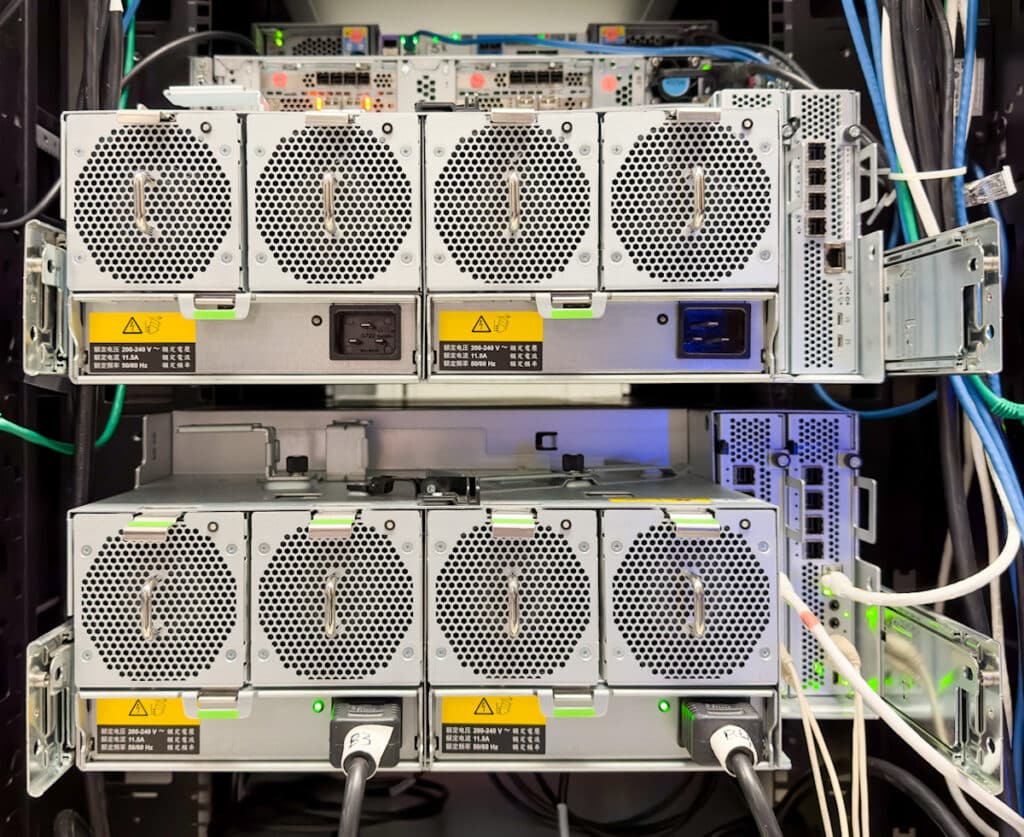 CORVAULT's modular chassis is tuned to maximize drive performance and endurance by protecting against vibration and acoustic interference, heat, and power irregularities. The design and built-in features make this system a fit for a macro-edge or core data center.
ADAPT Data Protection
CORVAULT is built to provide high availability and durability, with features like dual-ported disk drives and redundant power supplies that deliver "five-nines" enterprise-grade uptime. Seagate's latest erasure encoding data protection software, ADAPT, streamlines overhead, throughput, management, and recovery and replaces traditional RAID types with a protection scheme that distributes the parity across a larger set of HDDs.
ADAPT is not just another acronym. System administrators will benefit from a system that is easier to maintain and expand. ADAPT's parallel architecture reduces rebuild time by up to 95 percent, meaning a rebuild that used to take days can be completed in minutes. The self-healing system automatically allocates spare capacity to recover common device failures. Although the drives must be the same type, mixed drive capacities are supported to maximize usable capacity and reduce the cost per TB.
Self-Healing With ADR
Seagate's Autonomous Drive Regeneration (ADR) is a system that heals itself on the fly. ADR is only possible with Seagate's ADAPT data protection, designed as a solution to reduce human intervention. By automatically renewing instead of discarding hard drives, ADR reduces the environmental impact of computer e-waste. ADR minimizes the need to swap disk drives and, in many cases, returns them to dependable service by reconfiguring the drive to bypass problematic components.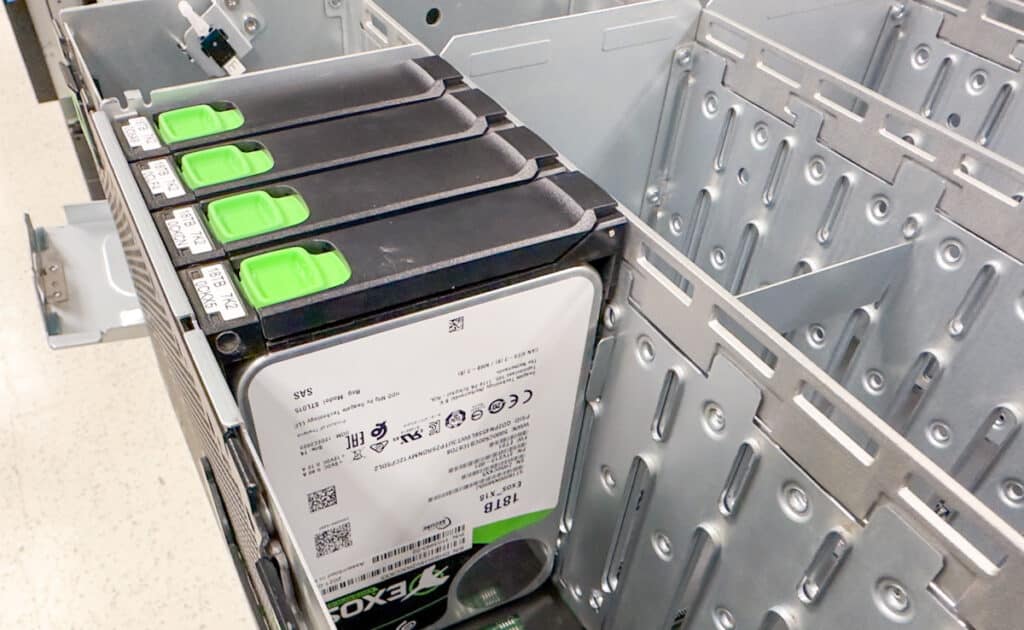 ADR self-healing is contained to a single drive on failures limited to a single head or surface. In the event of a failure, the drive exhibiting errors is taken offline and "remanufactured." A set of low-level commands removes the bad surface from the list of available blocks, and the disk (minus the bad surface) is re-formatted and scanned for errors.
The drive is reintroduced into the array when the ADR process is complete, less the five percent overall capacity. In this case, a 20TB HDD having gone through ADR will become a 19TB HDD without human intervention, and ADAPT allows this process to happen transparently.
So how does this work, really? With ADAPT, the concept of "hot spare" does not exist. Instead, a parameter called "spare capacity" gets allocated when the disk pool is created. CORVAULT drives are split between the two controllers, 106 x 20TB HDDs, creating two disk pools of 53 drives in each pool. The default spare capacity in each pool is set to 40TB; however, this is not a fixed value and can be set based on user demands. This configuration provides adequate storage capacity should a drive on each controller fail during the same interval.
Should a failure occur, the data from the questionable drive is spread across the disk pool, and the repair is attempted on the drive. If the drive can be repaired, the new capacity is added back into the pool, and usable capacity is then leveraged again. In the event of an entire disk failure, the failed disk is taken offline, and ADAPT immediately begins regenerating the data from the failed drive, distributing it across the "spare capacity" over the entire disk pool.
Seagate Exos CORVAULT Specifications
Specifications
Controllers
Redundant, active-active, hot-swappable controllers powered by gen 6 VelosCT ASIC
System Performance
14 GB/s sequential read throughput, 12 GB/s sequential write throughput
Device Support
Up to 106 Exos self-encrypting SAS HDDs
Data Protection
Seagate ADAPT erasure coding
Self-healing technology
Autonomous Drive Regeneration (ADR)
Hot-Swappable Components
Eight removable expander cards, two per 24 HDD baseplane | Redundant hot-swap drives, fans, power supplies
System Capacity
(1.908PB raw) or (2.120PB raw)
Physical
Height: 176.4mm / 6.94 in | Width (excluding ears and rails): 441mm / 17.36 in | Depth (including handles, excluding cables): 1139 mm / 44.84 in | Weight: 44.9kg / 99 lb | Weight (with drives): 131.5kg / 290 lb
Host I/O Ports
Four mini-SAS HD ports, no expansion
Management
Interface Types
10/100/1000 Ethernet
Protocols Supported
SNMP, SSL, SSH, SMTP, HTTP(S)
Management Consoles
Web-based GUI or Command Line Interface (CLI)
Management Software
Seagate Systems storage management console | One-button configuration | remote diagnostics | nondisruptive updates |
Power Requirements—AC Input
Input Power Requirements
200V-240V AC, 50Hz-60Hz
Max Power Output per PSU
2000W
Environmental/Temperature Ranges
Operating/Nonoperating Temperature
5°C to 35°C (41°F to 95°F, derated by 1°C per 300m above 900m) / –40°C to +70°C (–40°F to +158°F) (max rate of change: 20°C)
Operating/Nonoperating Humidity
–12°C DP/10 to 80% (max) (noncondensing) / –12°C DP/5 to 100% (max) (noncondensing)
Operating/Nonoperating Shock
3.0 g, 11 ms (per axis) / 20.0 g, 7ms, 10 shock pulses (2 shocks per axis X, Y in positive and negative direction, and 2 shocks in positive Z axis) OR ISTA 3H (mounted in a rack, horizontal
impact on all sides, 4-in drop tests)
Operating/Nonoperating Vibration
0.18Grms, 5 Hz to 500 Hz, 30 min per axis / 0.54 Grms 6Hz to 200 Hz (ISTA 3E)
Standards/Approvals
Safety Certifications
UL 60950-1 (United States) | CAN/CSA-C22.2 No.60950-1- 07 (Canada) | EN 60950-1 (European Union) | IEC 60950-1 (International) | CCC (China PRC – CCC Power Supplies) | BIS (India – BIS Power Supplies)
Ecodesign
Commission Regulation (EU) 2019/424 (Directive 2009/125/EC)
Emissions (EMC)
FCC CFR 47 Part 15 Subpart B Class A (USA) | ICES/NMB-003 Class A (Canada) | EN 55032:2012 Class A (EU) |AS/NZS CISPR 22/CISPR 32 Class A (Australia/New Zealand) | VCCI Class A (Japan) | KN 22/KN 32 Class A (S. Korea) | CNS 13438 Class A (Taiwan)
Harmonics
EN 61000-3-2 (EU)
Flicker
EN 61000-3-3 (EU)
Immunity
EN 55024 (EU) | KN 24/KN 35 (S. Korea)
Environmental Standards
The RoHS Directive (2011/65/EU) | The WEEE Directive (2012/19/EU) | The REACH Directive (EC)No. 1907/2006
Standard Marks/Approvals
United States, Canada, European Union (EU), Australia/New Zealand, Japan, China (PRC), Russia, Mexico, Germany, South Korea, Taiwan, India
Easy to Manage, Energy Efficient, and Secure
Seagate provides well-documented procedures to install and set up CORVAULT. The system is designed to be easy to get up and running, with an intuitive web-based management interface and various monitoring and diagnostic tools. There is also a command line interface used for the initial setup.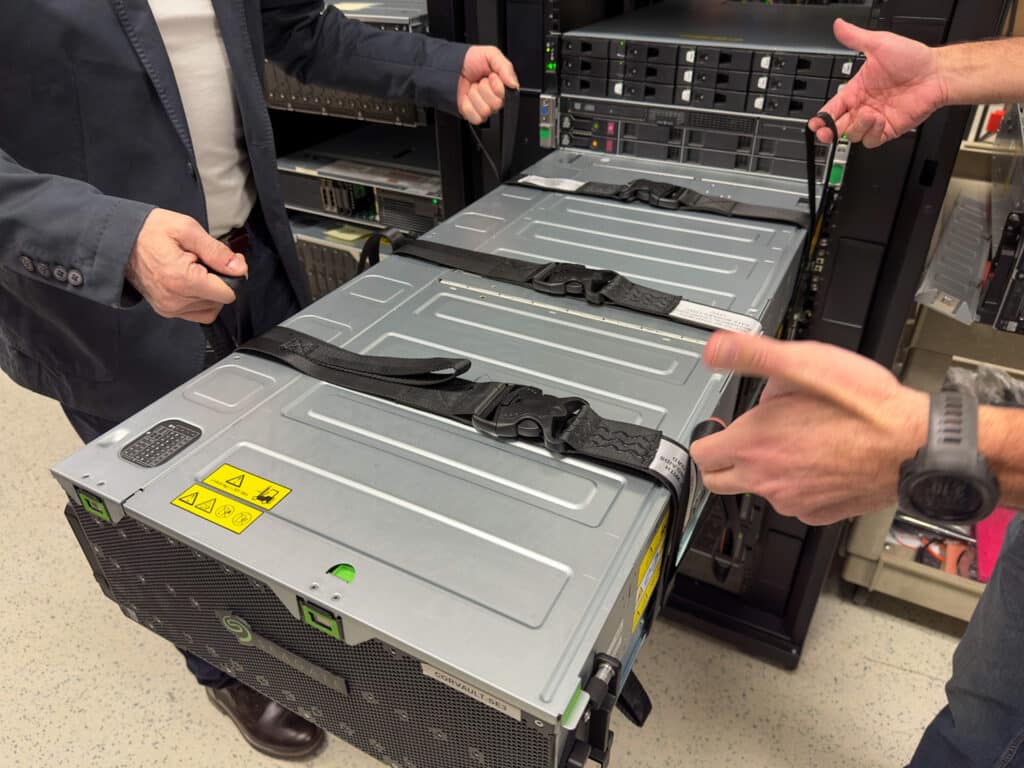 Intuitive Management Interface
Seagate provides precise details for rack mounting CORVAULT, connecting cables, powering up, and logging in. After the unit is racked and ready to power up, there are some initial tasks to connect to and configure the system, such as setting up a user, logging in, and setting a valid IP address for each controller module (CM) serial COM port.
There are three options for accessing CORVAULT:
Connect to the controller module (CM) using a serial cable directly connected to the COM port allowing access to the Storage Management Console (SMC).
Connect remotely via the network to the serial port for access to the SMC using the factory default IP addresses.
Connect remotely via the network using secure shell (SSH) to the default IP addresses.
If the default IP address is not compatible with the network, it will be necessary to manually set a valid IP address for each network port.
Storage Management Console (SMC)
The user-friendly SMC interface provides the means to configure, monitor, and manage the storage system. You can access the SMC through a supported browser to complete the initial configuration to provide monitoring and management of the storage enclosure.
Accessing the Web-Based Management Interface
Once the initial configuration is complete, the controller module's web-based management interface is available. It is a user-friendly interface that provides the means to configure, monitor, and manage the storage system.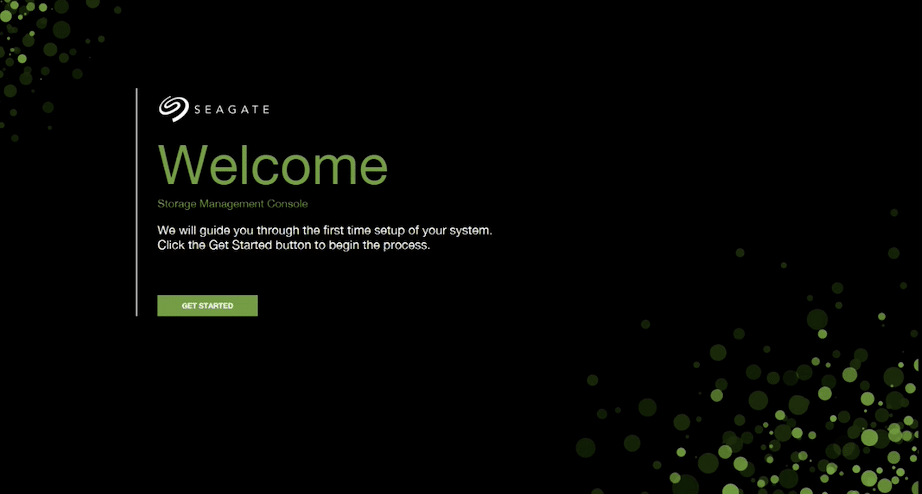 To access the web-based management interface:
Launch a web browser on the computer connected to the controller module.
Enter the IP address of the controller module's network port, either the default address of 10.0.0.2/3 or the address just configured; then press Enter.
To log in to the SMC, perform the following actions:

In the web browser address field, type https://<controller-network-port-IP-address>.
At the prompt, enter the username and password just created.
Select Log In. If the user authentication fails, a message indicates if the system is unavailable or unable to authenticate the login.

Details on the SMC are available in the Storage Management Guide.
To end the session, select Log Out from the banner rather than simply closing the browser.
Completing the Preboard and Onboard Processes
During the initial connection, a wizard in the Storage Management Console (SMC) guides the user through the first-time setup of the system: the preboard and onboard process.
To complete the preboard and onboard process, complete the following steps:
Agree at the prompt to the end-user license agreement (EULA).
Create your profile username and password for all future access.
Update the controller firmware as required.
To complete the onboard process, complete the following steps:
Configure system settings: network settings, date and time, user definitions, and system notifications.
Complete the storage system configuration, choosing the key features that pertain to the storage enclosure, ensuring
the system achieves optimal capacity and performance.
Provision the storage enclosure by creating hosts and host groups, and create volumes and attach them to hosts.
Continue to use the SMC to monitor and manage the storage enclosure. Online help is available.
To illustrate how easy it is to set up CORVAULT using Seagate's configuration wizard, we've pulled a few screenshots to provide some visual content. There are other screens to go through to complete the initial configuration, but this provides the basis for what can be expected.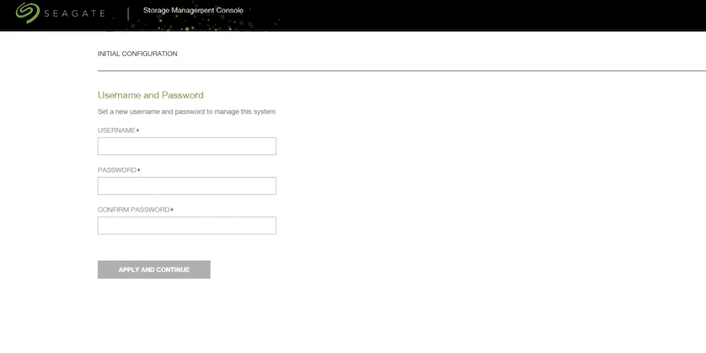 Create the username and password to access the account.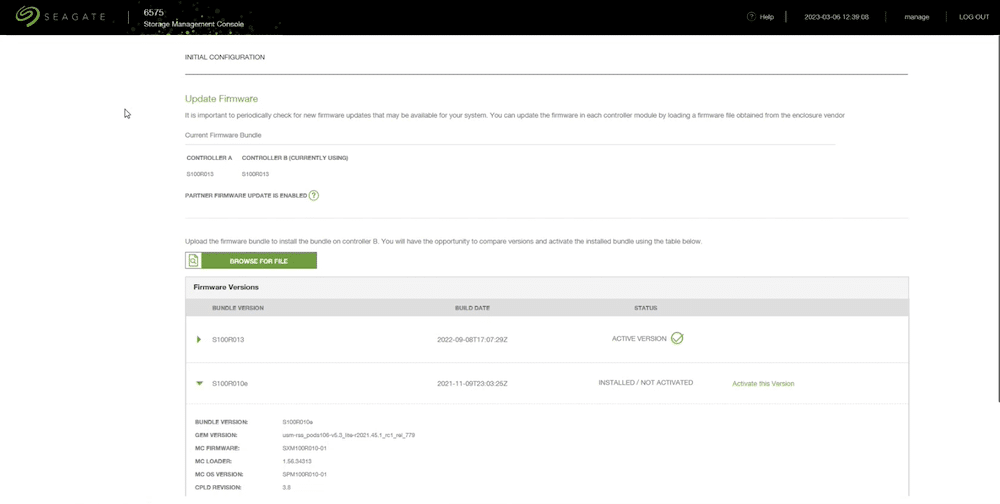 The next step asks if there is a firmware update, and Seagate recommends running the latest released firmware version. This is an intuitive process using the GUI to check for firmware and update the system.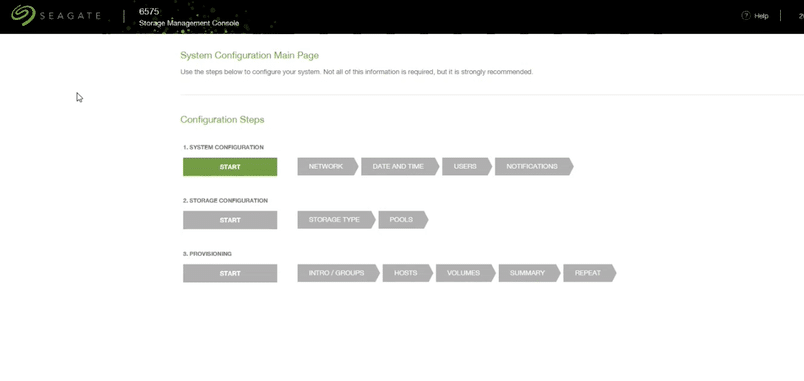 The Configuration Main Page will step through the system setup beginning with the network details.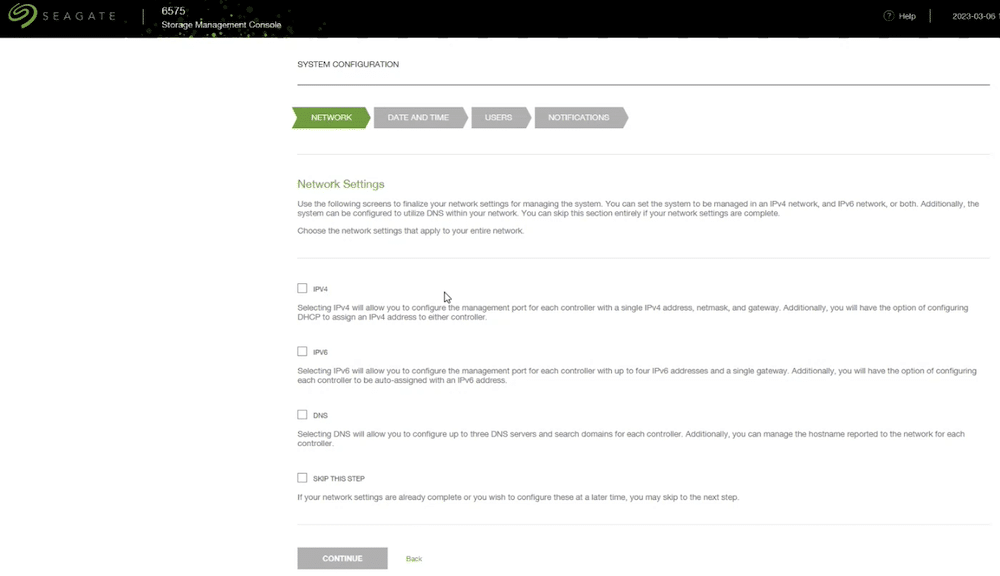 Have your networking information on hand to assign static or DHCP IP addresses for each controller inside CORVAULT.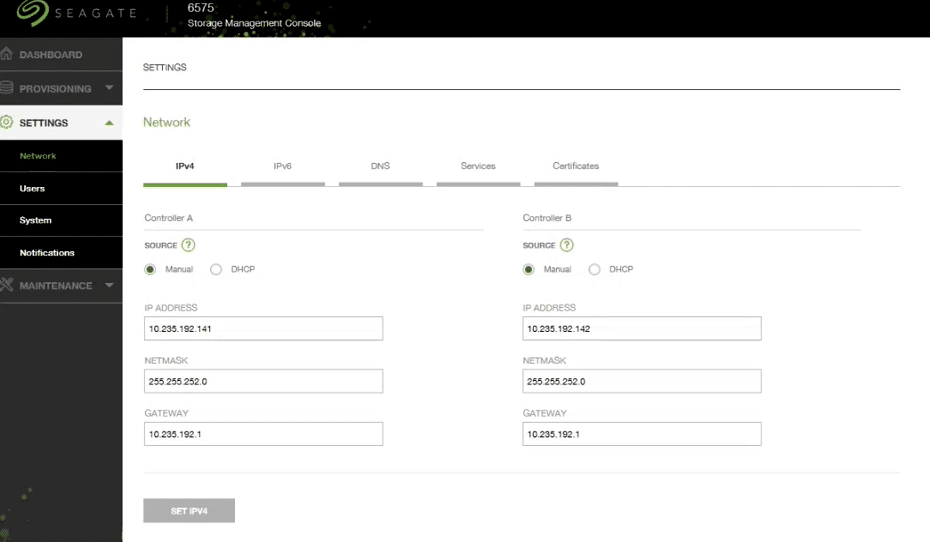 Complete the network fields with addresses, DNS, etc., to ensure the enclosure is reachable on the network.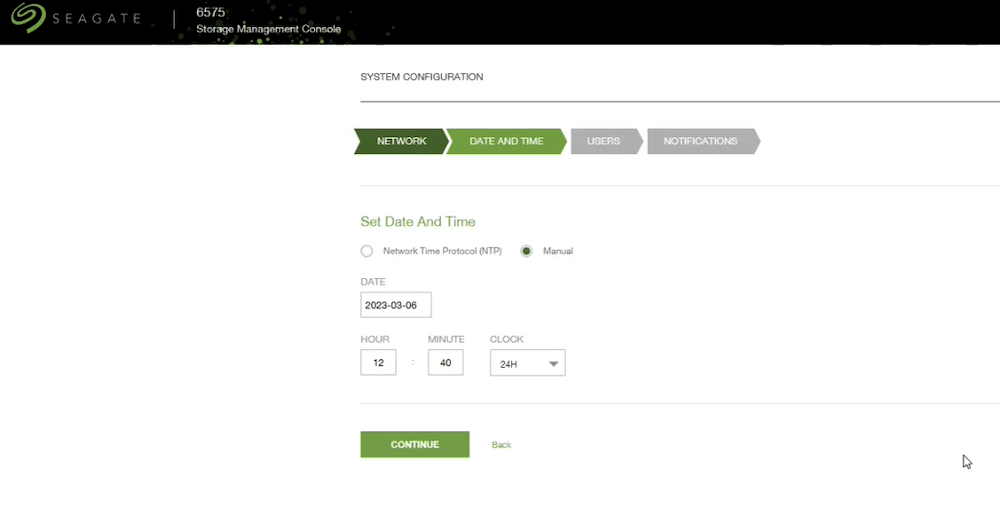 The date and time screen allows for NTP or manual time settings. The other system settings include adding users and setting notifications.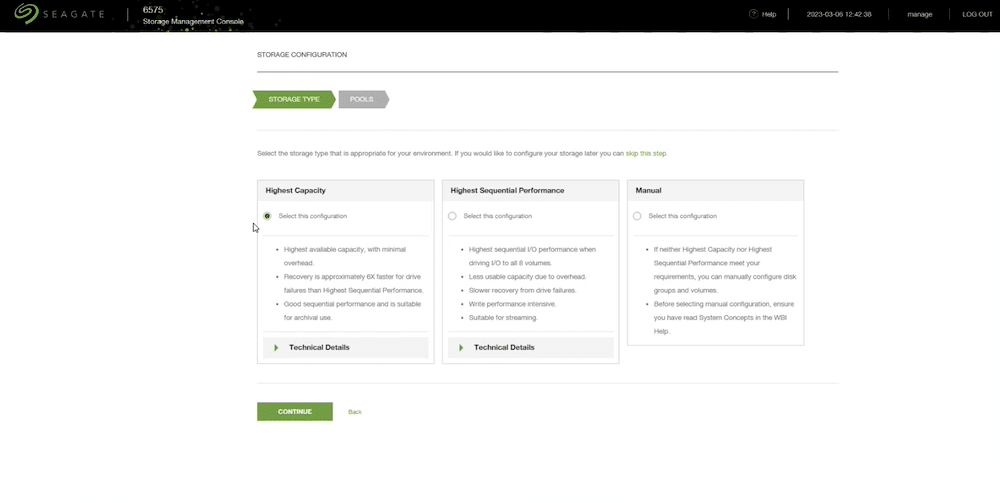 The following section is about storage configuration. There is the option for capacity, performance, or manual.  Once configured, selecting continue will take the user to the storage pool configuration.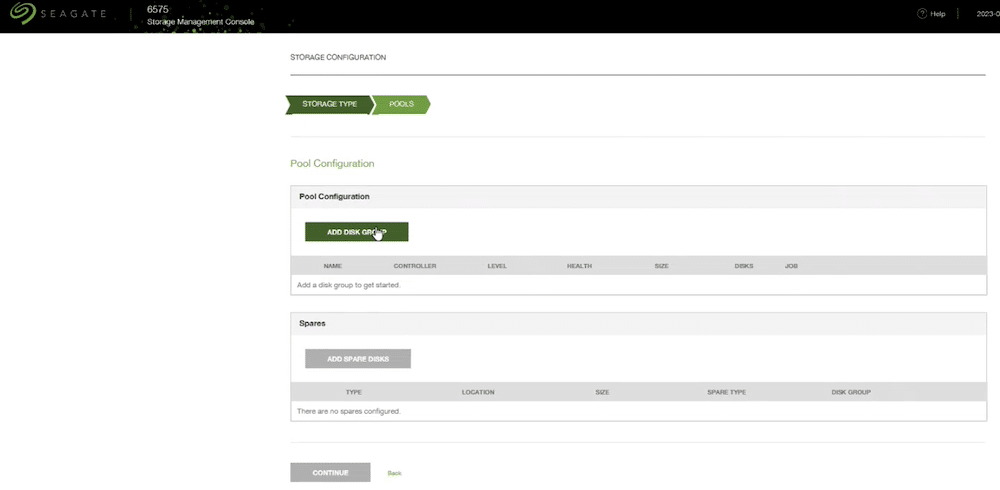 The Seagate Configuration tool provides several options to configure CORVAULT to meet deployment requirements. While Adaptive is highly recommended, selecting the Manual option provides more traditional RAID choices.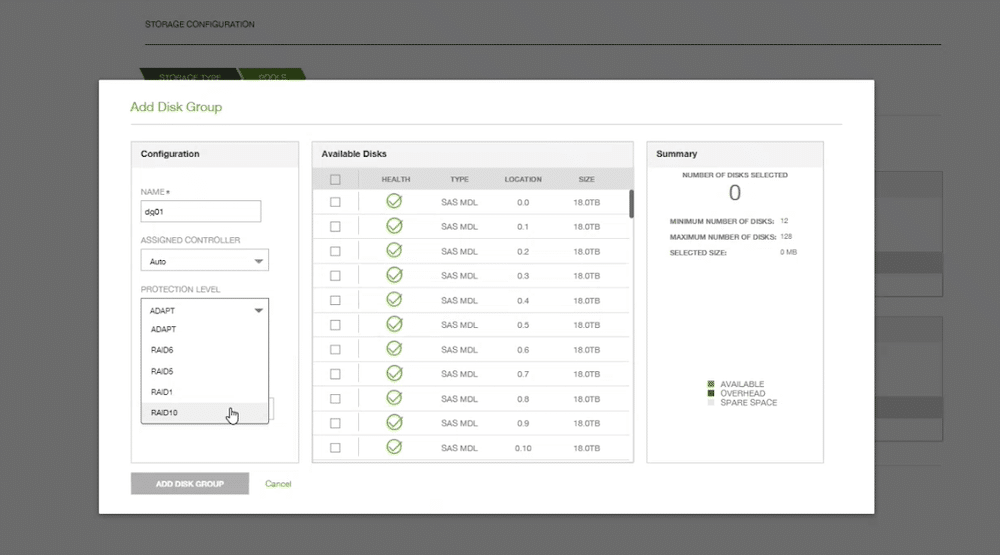 It is easy to go through the process by creating the group name, controller, protection, and then a display of all available disks. Once the "ADD DISK GROUP" button is pressed, a notification screen will pop up over the group window.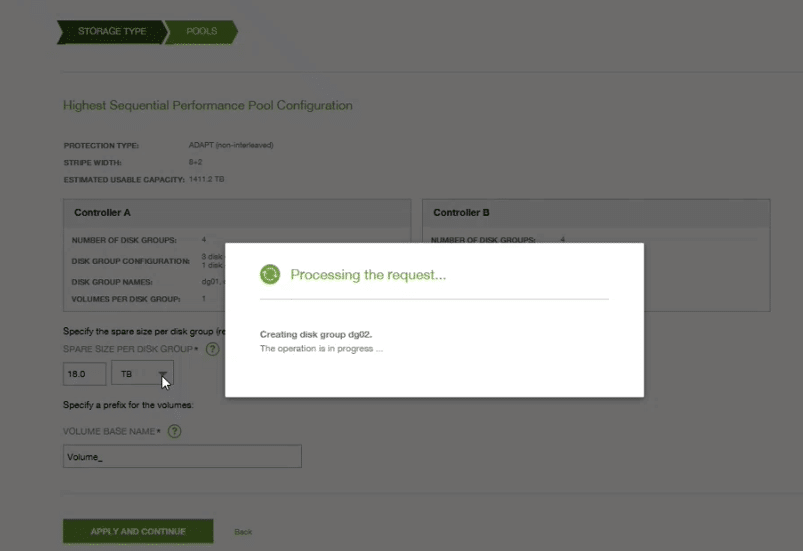 There will be a notification screen indicating success or failure. This is also the section to set up DiskGroups. Selecting the dashboard option opens the Configuration Main Page. Selecting the Provisioning option will open the Host Group section.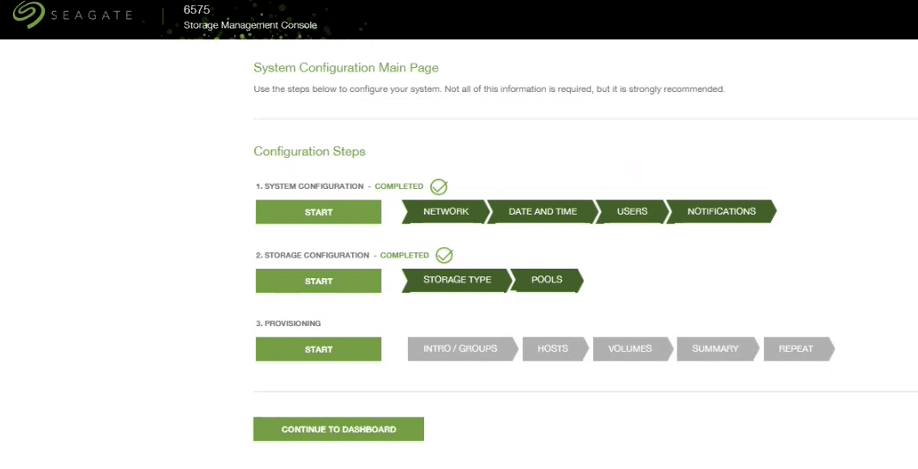 The first step to provisioning the storage is to build a host for the storage to be assigned. After creating the hostname, pull in the initiator IDs and click continue.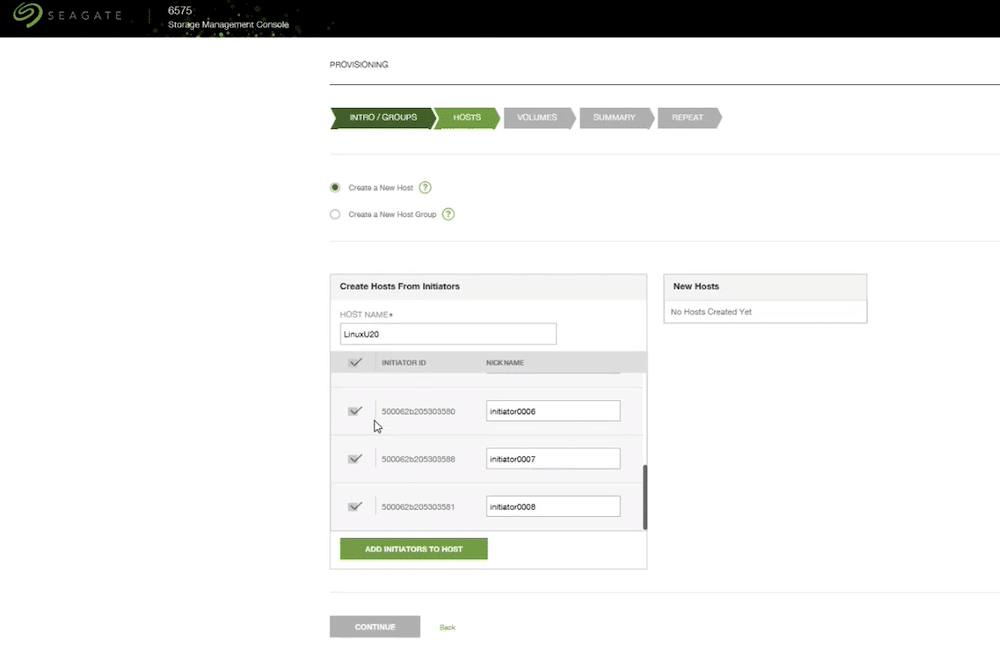 With the host created, create new volumes or select existing volumes to assign to the host.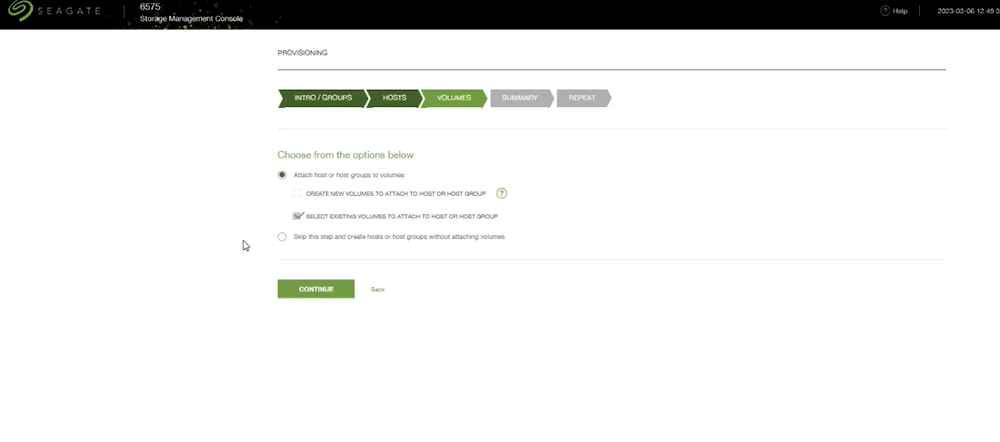 After the provisioning process kicks off, users can drill into the storage settings to see how items are configured at a low level. The Storage System Manager allows you to view hosts and their attached volumes.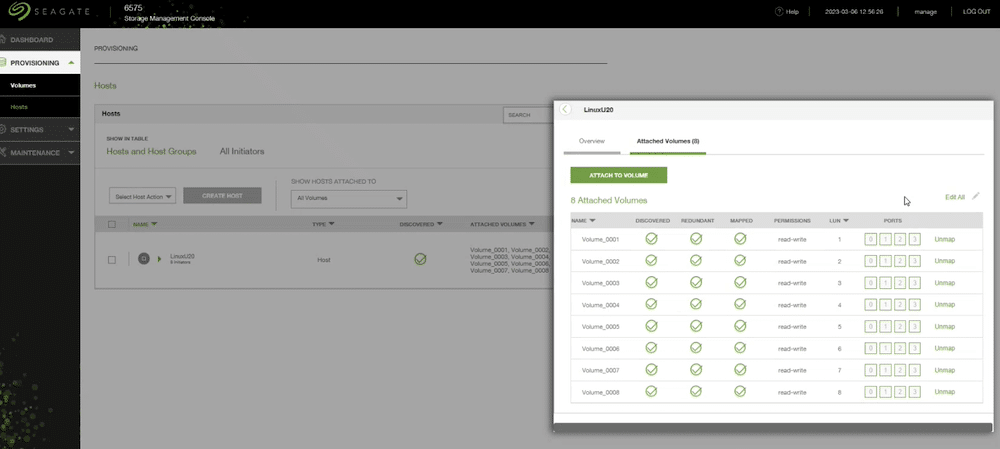 You can also view volumes and which hosts they are attached to as well.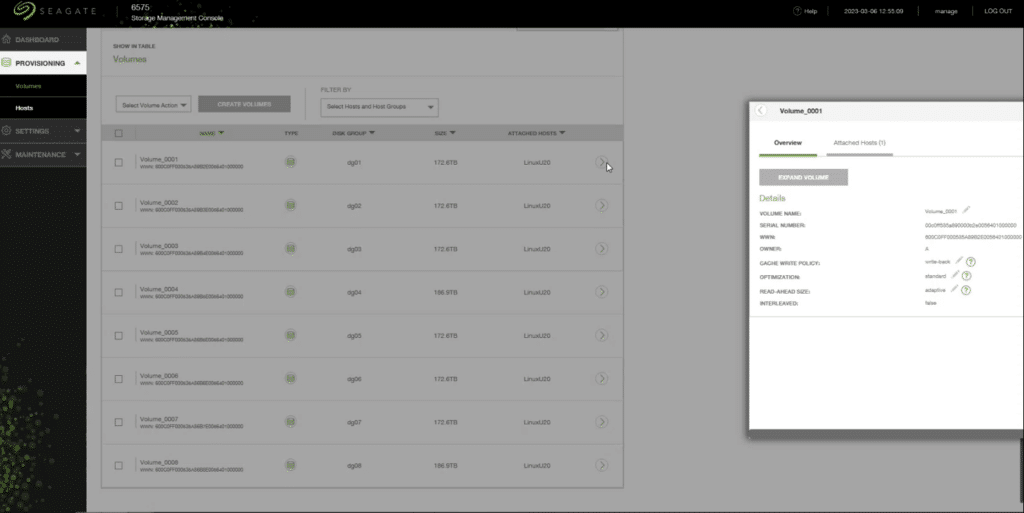 For volumes that are not yet provisioned to a host, you can select and assign them in this view.
All maintenance, upgrades, and notifications can be accomplished from within the System Manager. The following are just a small sampling of the tasks performed with the System Manager.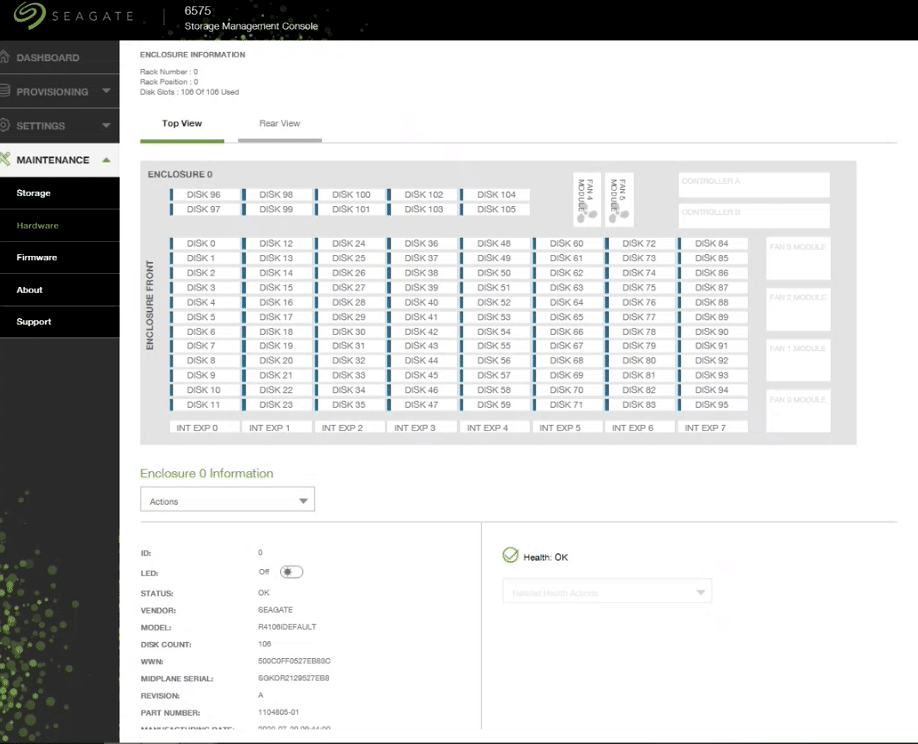 Selecting the hardware option under Maintenance displays each slot.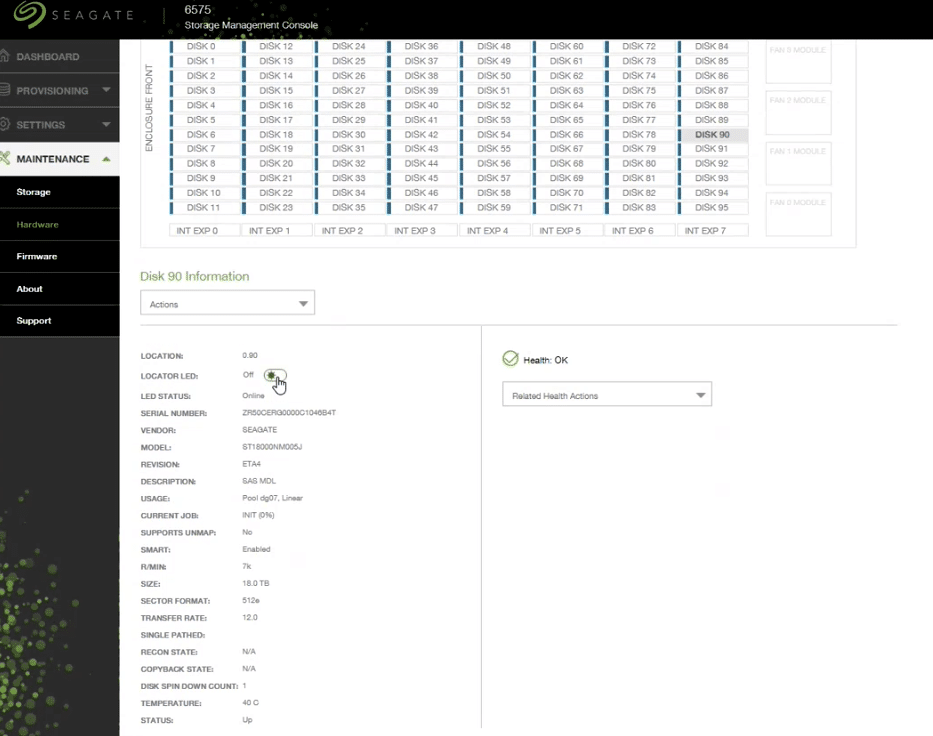 Selecting a disk will display the details for that disk. If troubleshooting, there is the option to illuminate an LED on the disk needing attention. When there are over 100 HDDs, it helps to know which one is problematic without having to count, or worse, guess.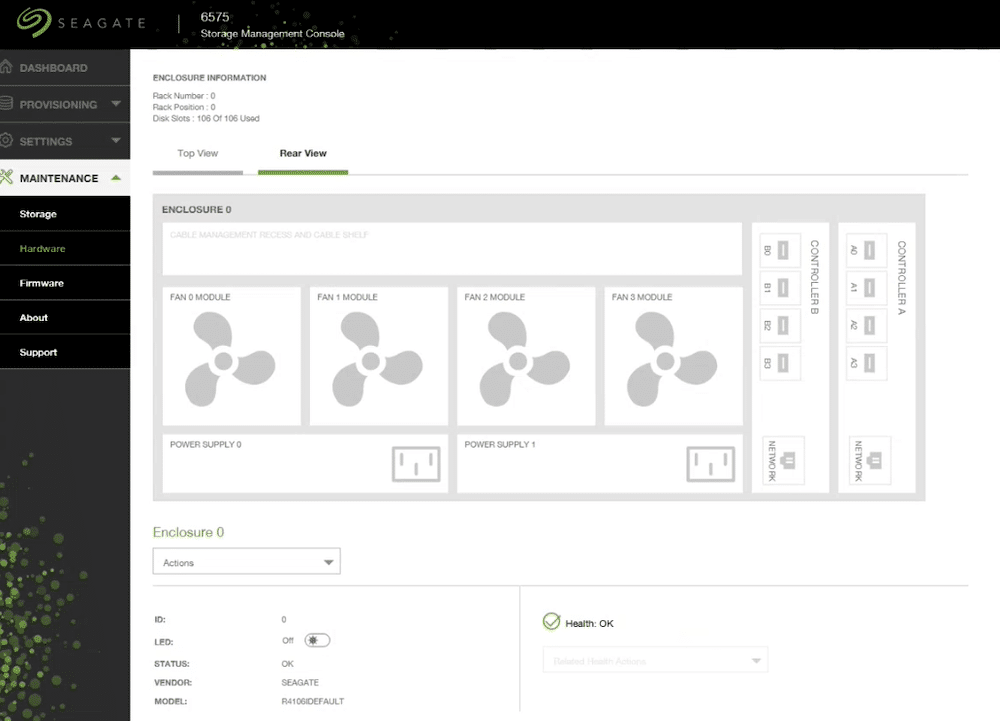 The rear view displays fans, controllers, power, and status.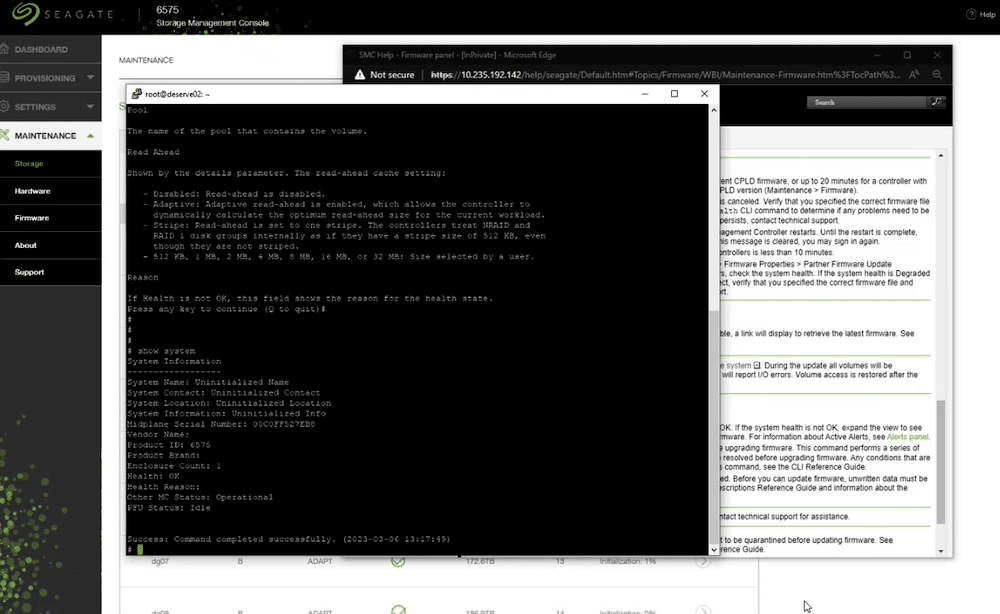 For the purists, the CORVAULT has a built-in shell where commands can be executed using Unix-style commands.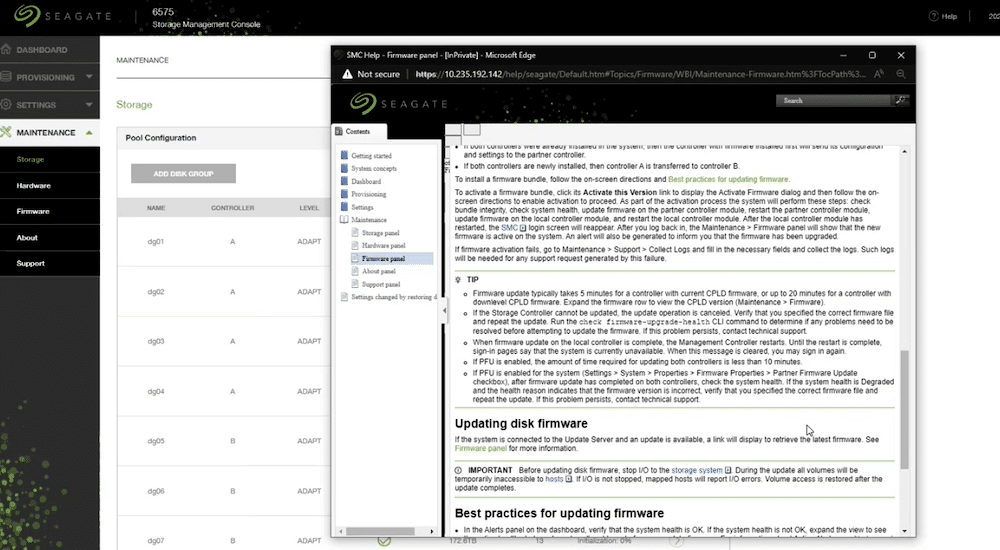 Help is available by clicking the Help option in the top right corner of the System Manager window.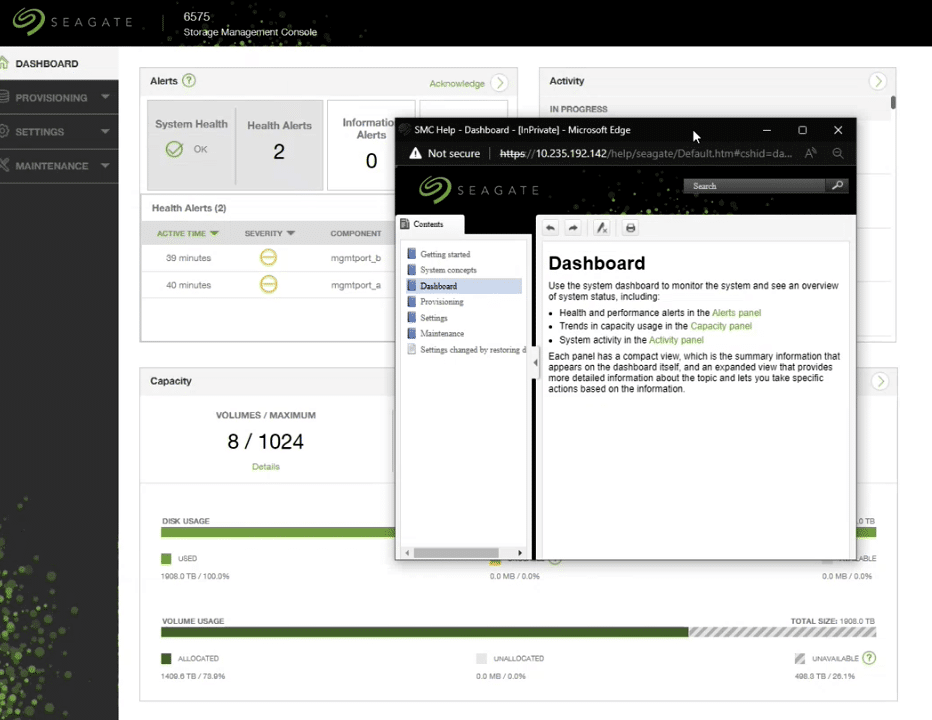 The display is intuitive and informative, with great detail about the CORVAULT.
Seagate Exos CORVAULT Performance
After deploying the Exos CORVAULT on location with Seagate, we hit the platform with a speeds-and-feeds type of workload to witness the platform's capabilities. In order to conduct these tests, we utilized the Fio workload generator and connected it to the loadgen server through four SAS3 connections. The host system had two links per HBA, with one controller connected to each HBA.
Exos CORVAULT LoadGen
AMD EPYC 7502 Processor (2.5GHz, 32-Cores)
4 x 32GB DDR4
2 x Broadcom 9500 HBA
Ubuntu 20 OS
The workloads consisted of 1MB sequential transfers for peak read and write bandwidth and 8KB sequential transfers for peak read and write throughput. On the storage side, the CORVAULT had two ADAPT 8+2 disk groups, split into eight 173TB volumes.
According to Seagate's listed spec sheet performance, the read and write speeds per array are 14GB/s and 12GB/s, respectively. However, our measurements showed that the actual read speed was 15.1GB/s and write speed was 13.9GB/s, exceeding the spec sheet figures, which is a pleasant surprise.
The specification numbers may be designed to accommodate different drive types or conditions, hence the slight variation in results. In any event, the Exos CORVAULT performance is robust, thanks to its efficient design and the 106 spindles ready to deliver impressive bandwidth.
| Workload | Read Bandwidth | Read Throughput | Read Latency | Write Bandwidth | Write Throughput | Write Latency |
| --- | --- | --- | --- | --- | --- | --- |
| 1MB Sequential (16QD) | 15.1GB/s | 14,364 IOPS | 8.9ms | 13.9GB/s | 13,289 IOPS | 9.6ms |
| 8KB Sequential (16QD) | 4.99GB/s | 607k IOPS | 209us | 2.16GB/s | 262k IOPS | 484us |
Seagate Secure
All Seagate devices are built using a secure supply chain. The process is stringent and is put in place before any devices are deployed. Security is a focus for each step of the product lifecycle, from design to retirement. Seagate Secure includes self-encrypting drives, a hardware-based data security measure in place since 2009. Seagate Secure SEDs (self-encrypting drives) protect data at rest. This feature makes it easier to retire a device when the time comes.
There are two levels of Seagate Secure service: Certified and Essential.
Certified service comes with FIPS, Common Criteria, and TAA-compliant solutions for government or enterprise customers running highly secure, data-sensitive services and applications.
Essential services feature protection suited for the majority of customers.
Level 1 Essential features include:
Secure Supply Chain 
Each of Seagate's components is sourced securely from trusted sources.

Seagate complies with the Open Trusted Technology Provider Standard (O-TTPS)
Increasing trust of third-party processes to Seagate and O-TTPS security policies
Ensuring customers receive authentic products, components, and firmware
Self-Encrypting Drive
Every device uses hardware-based encryption to protect against attacks.

Secure data locking using AES 256 standards with hardware root key and device root of trust
Drive locks on power-down
Industry-standard authentication key management interfaces
Secure Diagnosis & Download (SD&D)
Firmware is protected from attackers throughout its working life.

Digitally signed firmware with rogue firmware detection
Locked diagnostic ports
Cross-segment downloads blocked
Secure boot process
Instant Secure Erase
Administrators can instantly replace the encryption key on any device, rendering its data cryptographically erased and making retirement or reuse much more manageable.

Fast, secure, and complete data erasure in seconds
Internationally sanctioned erasure according to NIST 800-88 and ISO 27040
Level 2 Certified security features are optional to meet regulatory requirements and include:
FIPS 140-2 Level 2 Certified Configuration

Federal government encryption standard for sensitive, but not classified, data
Required for Health Insurance Portability and Accountability Act (HIPAA)
Tamper-evident labels

Trade Agreement Act (TAA) Compliant Storage

Client, Enterprise, and SSD product compliance
Meets origin requirements for US Government purchasing contracts
Adopted and recognized by 126 member nations

Common Criteria Evaluated

The international standard for data security certification
Neutral third-party evaluation to certify secure IT products
Adopted and recognized by 25 member nations
Seagate Exos CORVAULT Popular Use Cases
A high-performance, self-healing block storage system with multi-petabyte capacity, five-nines availability, and hyperscale efficiencies for data center and macro-edge environments make CORVAULT the go-to system for numerous use cases. The modular chassis is designed and built to protect against vibration and acoustic interference, excessive heat, and external power irregularities, making CORVAULT ideal for larger edge deployments. Moreover, the redundant, hot-swappable components enable uninterrupted data access during service activity.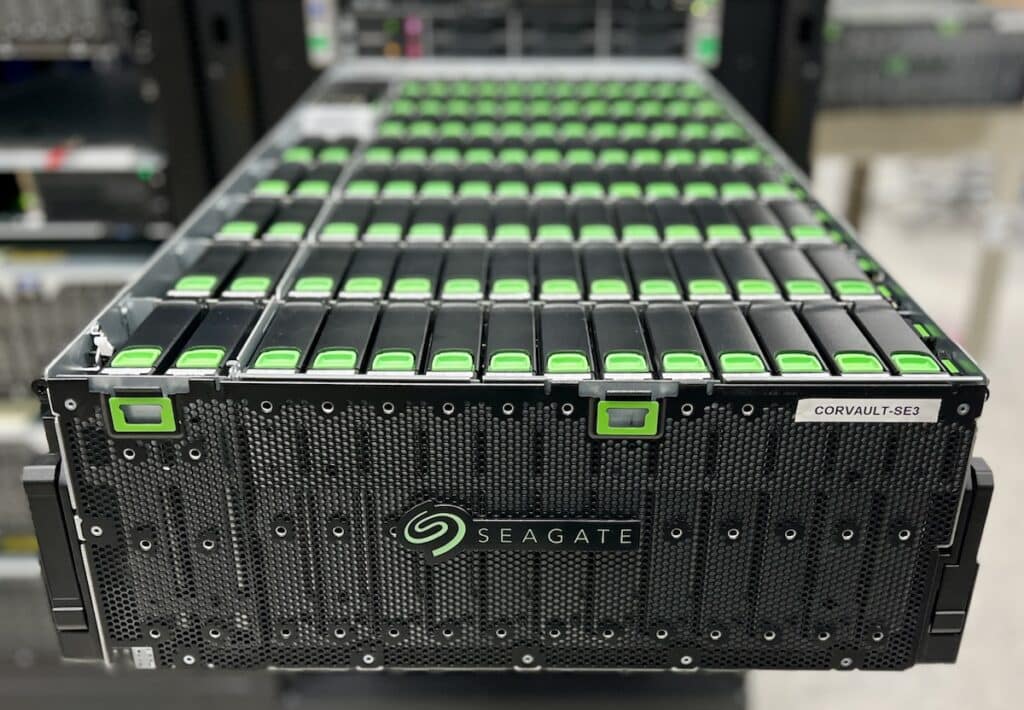 CORVAULT is built on a modular chassis with added components that protect against vibrational and acoustic interference (as described earlier), excess heat, and external power irregularities. The system is fitted with redundant, hot-swappable power supplies to ensure consistent and efficient noise-free power that delivers responsive burst capacity. The drives, controllers, and fans are all hot-swappable to provide uninterrupted performance when service is required.
Other features mentioned throughout this review include powerful onboard management accessible via web GUI or CLI, with a one-button configuration for fast and easy deployment. CORVAULT also features remote diagnostics and non-disruptive updates. Additionally, all included HDDs come standard with Seagate Secure self-encrypting drive (SED) technology and SFTP support for secure file transfers.
All these features available in the CORVAULT Storage System make it a strong solution for any of the following use cases:
Backup & recovery
Big Data Analytics (AI/ML)
Cloud Backup
Data Migration
Data Transfer
Edge Deployment
High-Performance Computing (HPC)
Multicloud, Private Cloud, and Public Cloud
Storage-as-a-Service
Video Analytics
Based on the extensive list of features available, CORVAULT is a fit for just about any organization. This might be the system that fits the "no-brainer" category. CORVAULT takes the chore of configuring a storage system and does it for the customer. Seagate ticks just about all the boxes on CORVAULT.
Service providers will benefit from open-source solutions like ZFS and CEPH, with OPEX savings due to not having to replace drives thanks to ADAPT and ADR. CORVAULT is on the VEEAM ready list, so that can be removed from the "must have" lists for backup and recovery.
Cryptocurrency companies like FileCoin, Chia, and others can take advantage of the dense and efficient system from the benefit of ADR, removing the chance of running in a degraded condition in the traditional RAID environment. And hyperscaler SDS players like OSNEXUS can take advantage of CORVAULT's resilience and density to offer tremendous value to service providers or enterprises that are at extreme scale.
OSNEXUS software adds another layer of data placement resiliency and, when aggregated with CORVAULT's underlying technology, can amplify the overall system reliability. As an example, to address storage challenges in up to 100PB per cluster, OSNEXUS's QuantaStor scale-out erasure coding, combined with Seagate's internal erasure coding, provides two layers of erasure coding. One in software and one in hardware with Seagate's ADAPT+ADR to deliver industry-leading 9s of uptime calculated to be in excess of 14 9s (99.999999999999 percent).
To make the management of Seagate CORVAULT units easy at scale, OSNEXUS has integrated the monitoring and management of Seagate CORVAULT directly into QuantaStor's distributed storage grid management control plane.
Organizations focused on analytics and business intelligence depend on a large-scale data warehouse. Unlocking the benefits of technologies like GPUs, these organizations are reluctant to delete any data as they search for new insights. The dense nature of CORVAULT makes their decisions a bit easier.
And, of course, Media and Entertainment can reliably store enormous amounts of data, ready to scale as the footprint expands over time.
Final Thoughts
Seagate designed CORVAULT to take the guesswork out of configuring a storage system that fits most industries' requirements, from density to one-button configuration to management. Features like ADAPT and ADR lift the burden of maintenance from over-stretched IT administrators.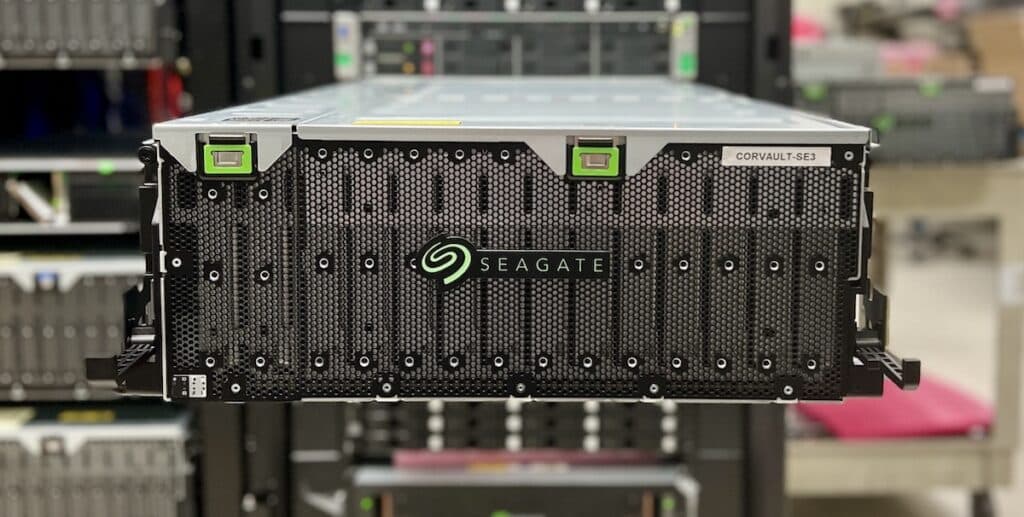 CORVAULT has been engineered to be more energy efficient and with less environmental impact, with features like power-saving modes, efficient cooling, and less waste, thanks to ADAPT and ADR. Reliable performance is assured with five-nines availability. Sharable across multiple networks and applications, CORVAULT's multiple host support eliminates data silos. CORVAULT also took security to the next level with self-encrypting technology on all included HDDs without the controller-level overhead. SFTP support for secure file transfer is also included.
All of this technology from Seagate seems to be working out well throughout the industry. We talked with several Seagate partners across a number of use cases and to a person, they all proclaimed their love for Exos CORVAULT due to its extreme density and resiliency. The fact that day-to-day management of the system is essentially handled by intelligent software means less admin time in the data center.
Ultimately Seagate Exos CORVAULT delivers an easy-to-consume, high-capacity solution that provides a powerful combination of availability, efficiency, and management that is applicable in a number of use cases ranging from HPC and AI to backup and recovery. It's also very cost-effective, check the Seagate TCO calculator to get a feel for CORVAULT's potential impact on your organization.
Seagate Exos CORVAULT TCO Calculator
This report is sponsored by Seagate. All views and opinions expressed in this report are based on our unbiased view of the product(s) under consideration.
Engage with StorageReview
Newsletter | YouTube | Podcast iTunes/Spotify | Instagram | Twitter | TikTok | Discord | RSS Feed