At StorageReview we tend to talk highly of Synology's operating system, DiskStation Manager (DSM). Many of us here have used, or currently use DSM on either a professional or personal level. Though we've reviewed numerous NAS devices from Synology, as well as a few of their applications (Surveillance Station and Cloud Sync), we had yet to actually take a deeper look into the OS itself. Now that Synology has released a major update to its DSM with 6.0 and up, we decided to take a closer look at the OS, all of its main apps, and what updates have come along.
At StorageReview we tend to talk highly of Synology's operating system, DiskStation Manager (DSM). Many of us here have used, or currently use DSM on either a professional or personal level. Though we've reviewed numerous NAS devices from Synology, as well as a few of their applications (Surveillance Station and Cloud Sync), we had yet to actually take a deeper look into the OS itself. Now that Synology has released a major update to its DSM with 6.0 and up, we decided to take a closer look at the OS, all of its main apps, and what updates have come along.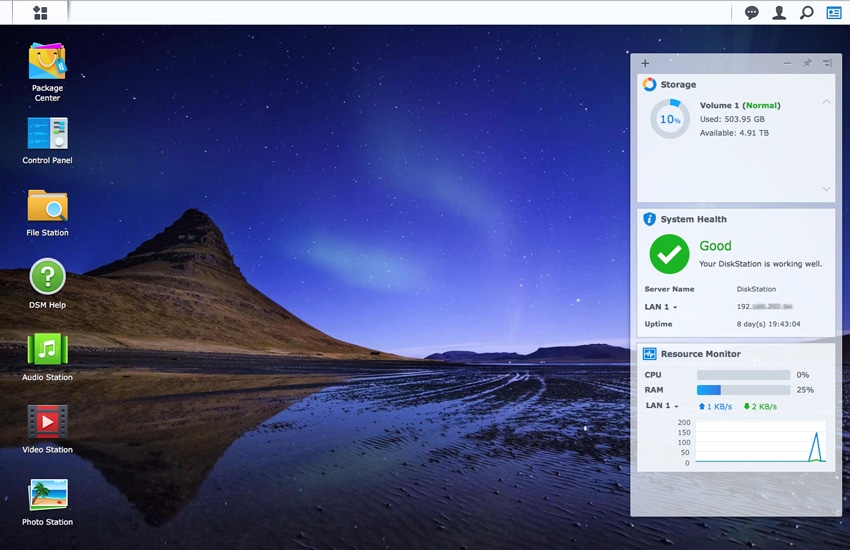 Synology was founded in 2000 and began its research on DSM in 2003. The following year the company debuted its first DiskStation (their desktop NAS devices) running DSM. Synology has since regularly updated their OS, with major updates happening once or twice a year. All the updates have been free of charge. DSM is a Linux-based operating system that is used on all of Synology's DiskStation and RackStation units (RackStations are rackmounted NAS devices that typically have more compute power, memory, and capacity than their DiskStation counterparts).
DSM comes with several applications one would expect to find on a NAS, including file sharing, centralized backup, RAID storage, and virtual storage. It also comes with several applications for home users and multimedia enthusiasts, including apps that catalog and stream media to various devices. Synology also offers users a slew of free mobile apps allowing for easy access of their NAS wherever there is an Internet connection. DSM itself comes with the purchase of a Synology NAS and all of the apps offered in the package center are free of charge as well (some do have a subscription fee from a third-party company).
In recent updates of its OS, Synology went through and touched most aspects of DSM. Synology has given users new features and in some cases, new interfaces in an effort to make their systems more user friendly, easier to manage, and more secure.
Multimedia Features
One of the biggest draws of DSM is its focus on optimizing the multimedia experience for users through its well-designed and easy-to-use (yet powerful) tools. Things only get better with version 6.0 and up.
Video Station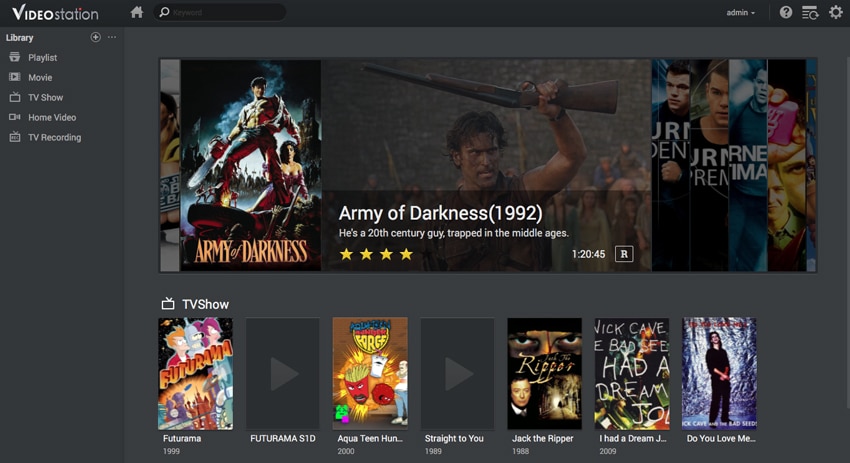 Sporting a new black and red color scheme, Synology's Video Station provides tools to manage and watch movies, TV shows, and home videos stored on DiskStations, and allows users to stream to other devices including computers, smartphones, media players, and TVs. Starting with version 6.0 and up, Synology has added even more intuitive features, including a new optimized interface for watching and managing video collections. Users will now be able to see recently added movies with the highest ratings on the homepage's top banner, allowing for easy selection of the top films.
Synology also added the offline-transcoding queue feature, which enables users to easily monitor the transcoding status of Video Station. Users can remotely start the transcoding process via a smartphone or web browser, and then download the file to mobile devices so it can be watched without an Internet connection.
In addition, DSM 6.x now has intuitive on-screen buttons, allowing users to add or play videos in one mouse click. Libraries can also be customized via the left panel for Video Station and DS video.
Audio Station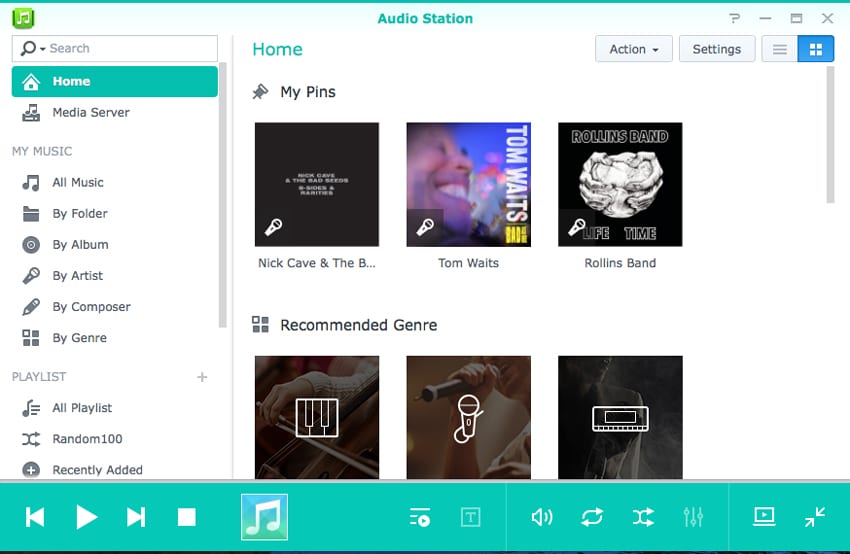 Another strong multimedia feature DSM has is its Audio Station. Much like Video Station, Audio Station allows users to create personal libraries of their audio files like music or audio books. While there are many ways to stream music or download music and keep in the user's cloud, many people still have large amounts of music in the collection that they can easily convert to digital copies and store on their NAS.
To address this, Audio Station allows users to stream their music through the Synology GUI, or connect to several other devices, such as most Apple devices, through airplay as well as DLNA devices, such as the Xbox One. With the quick connect and the mobile apps, users can easily stream their music library from anywhere with an Internet connection. The layout of the package is along the same lines of most music apps.
On the main screen, users can pin their favorite artists or albums and there is a recommended genre list beneath the pins. User also have the option to choose which media server to use (they can chose from Synology's built-in one, or they can download something like Plex). Beneath this is the My Music category with several sub-categories which are typical to music apps such as: All Music, By Folder (if users happen to have music on other folders or have transferred the music in with other files), By Album, By Artist, By Composer, and By Genre. Audio Station can take the meta-data and use it to automatically sort the music. However, if the data is missing, it needs to be done manually. The next category is Playlist, which enables users to create their own playlist, or have a randomly generated list created to listen to. Finally, there is an Internet Radio Category where users can listen to Internet Radio by adding in the URL and playing songs through USB or Bluetooth speakers connected to a Synology NAS.
In addition, Synology has released several mobile apps for iOS, Android, and Windows devices, so users can connect to their DiskStation wherever they have Internet access.
A related, but slightly different app is the iTunes server. For Mac users, or those that use their Windows PC to manage their iTunes account, iTunes server enables users to play their media over iTunes by selecting it from the drop down menu in their library. While this function is a nice add on to iTunes, it only works over LAN and in one case anyway, if there is an interruption in Internet, the place is lost. While this isn't terrible with music, it does make audio books difficult to find one's place again. There is no mobile App support for iTunes server.
Photo Station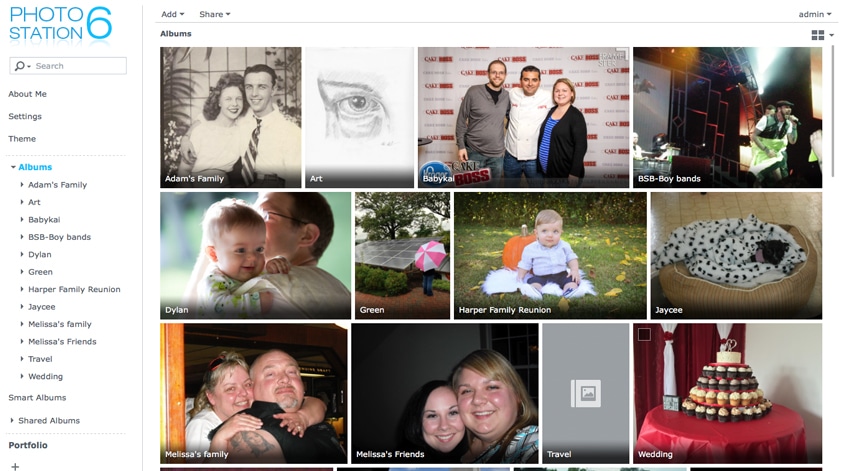 Photo Station allows users to centralize their entire photo library and gives them a way to easily share and access their photos from anywhere using the DS Photo mobile app, the latter of which is supported by Chromecast and other DLNA devices. Synology has also implemented features to give professionals a way to collect feedback from their clients.
Users can also create file-sharing links (similar to Google Drive), which can be sent to friends, clients, and other people for easy download directly from the Synology DiskStation NAS. If a user shares an album with someone, that person can see any photos that are added over time. Moreover, Synology makes sharing to social media (e.g., Facebook, Picasa Web Albums, Twitter, and YouTube) easy with just a few clicks.
Those who have a large amount of photos to organize can create categories to group related albums together. For example, users can create an album category named "January, 2017 – Clients" or "NYC Visits" and place all relevant albums in the respective categories. To do this, the user can simply click + in the left panel to create a new category and select and pin albums to it, or click the Action tab of an album to pin it to an existing category.
DSM 6.x has also brought new updates to Photo Station, including the ability to add customizable watermarked thumbnails on your photographs, so users can indicate ownership and prevent others from using their work without proper referral.
Photo Station now integrates with WordPress, Joomla, and Drupal CMS applications using a plugin, allowing users to easily add their photos or albums from Photo Station to their CMS.
File management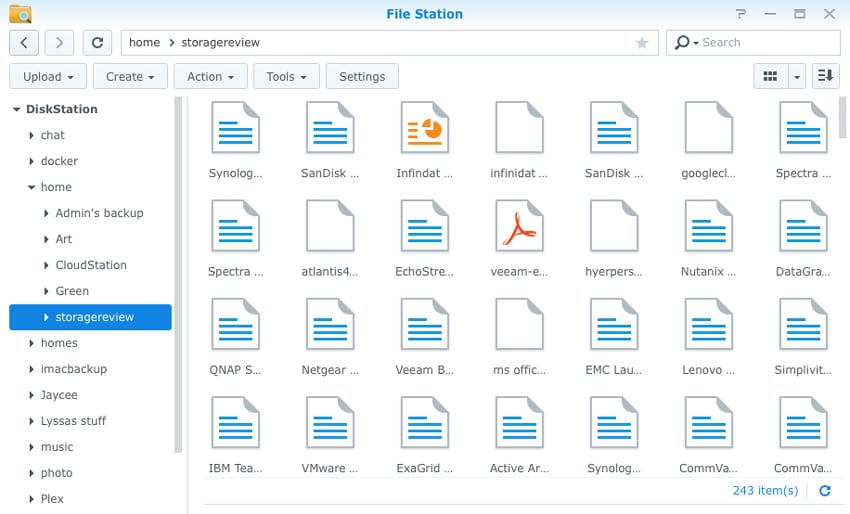 DSM also offers efficient ways manage files and folders through File Station, an easy-to-use file management tool that gives users access to Synology NAS folders using their web browsers. Users can do things like modify file structures, read and move files, search for files or folders, mount virtual drives, and mount remote folders.
The look-and-feel of File Station is similar to what you would see with any file management interface: a drill-down folder list on the left pane (shared folders and their subfolders are listed above folders on your local computer), with the files and sub-folders displayed in the right pane. Located at the top of File Station windows are the back, forward and refresh buttons, navigation bar, and the search field. Below are several buttons with a considerable amount of actionable functionality including: Upload, which offers various ways to upload files and folders from local computers to the Synology NAS; Create, which allows users to create both shared/unshared folders; Action, which allows users to do things like download, upload, copy, move, rename, delete, extract, and compress files or folders; Tools, which allows users to mount/unmount remote folders and virtual drives, as well as set up remote connections; and Settings, which is where users can configure general settings, enable File Station logs, mount remote folders or virtual drives, give permissions, and set speed limits to control DSM file transfer bandwidth usage for DSM file transfer.
With DSM version 6.x, additional and updated features have also been added to File Station.
To complement the shared-file links feature, users can now create file requests if they need to acquire large files from someone. In addition, businesses can customize the background of shared links, allowing them to leverage the benefits of a consistent brand image. Both of these new functionalities work seamlessly.
Note Station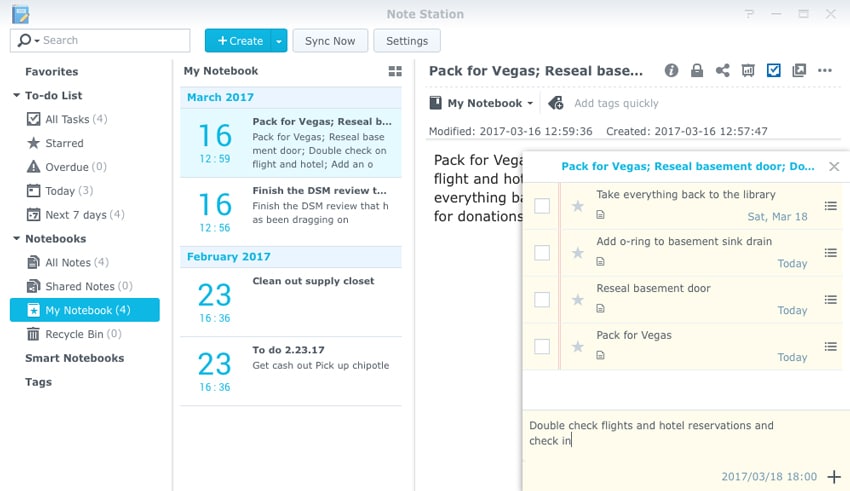 Another important DSM application is Note Station, which allows users to write, view, manage, and share detailed notes. Note Station is seamless to use, and offers functionality such as rich-text editing, media embedding, attachments, and much more.
The Note Station app also features useful ways to organize notes, a plus for professionals with busy schedules. This includes the ability to star or comment on important tasks, add subtasks, set a priority and due date for each task, and add reminders at specific dates and times. Users can add a lot of customization to their notes as well via images, fonts, colors, tables, and charts.
Users will also be able to take their to-do lists on the go, as DSM's Note Station can be synced with mobile devices. The app can also be installed from Google's Chrome Web Store, which allows editing even when users are disconnected from their NAS network.
Coupled with Synology Web Clipper, users can easily take a quick snapshot of web content and then access it via Note Station. This is particularly handy with web articles that might only be up for a short period of time, as it essentially creates a copy of the page on Note Station. It also offers a search feature so users can locate the content they need.
Data Protection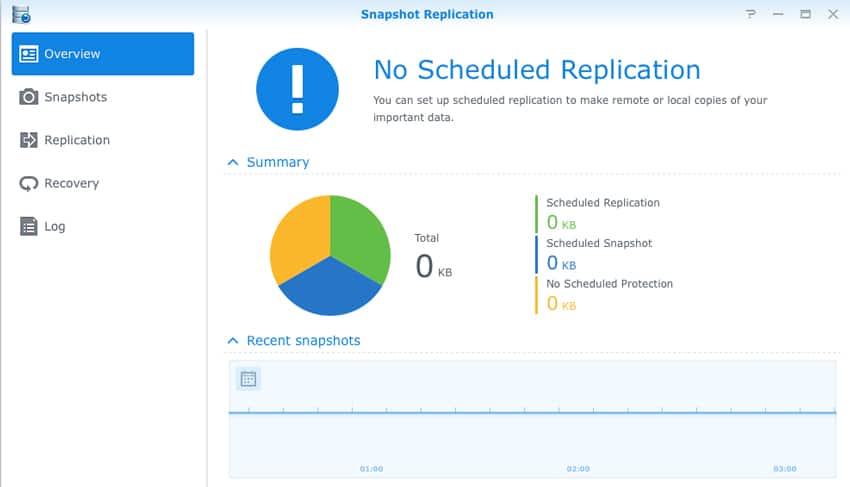 To help reduce the risk of data loss, DSM 6.x has added the Snapshot Replication feature, which offers "near-continuous data protection" and multi-site replication for added protection. Synology indicates that snapshots take up only marginal storage space and have no effect on performance. Snapshot replication is for shared folders and iSCSI LUNs (the NAS pictured above has none).
DSM 6.x also improved Synology's Hyper Backup package, as it now features multi-version backups for all destination types including public clouds, other Synology NAS devices, and remote rsync servers, as well as backing up an iSCSI LUN to an external storage device.
Cloud and File Syncing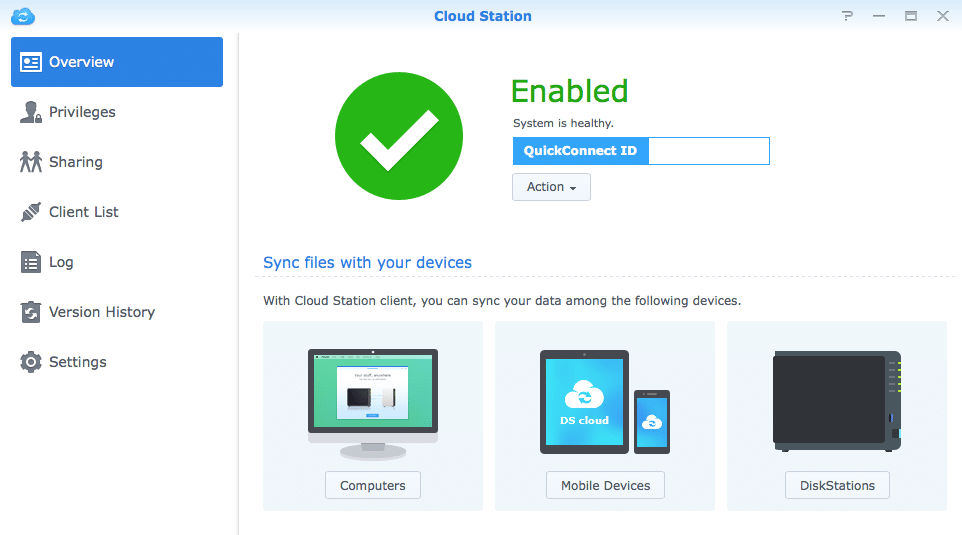 With Cloud Station Suite, users can synchronize data across computers, smartphones, and other Synology DiskStations; changes will be automatically updated on other devices. Users can also build their own private cloud for easy access to their files at any time and from any place. For a fairly in-depth look at Cloud Station, our review can be found here.
High Availability
Minimizing downtime is also a focus of DSM via the advanced Synology High Availability (SHA) technology. With SHA, users will have peace of mind that their services will remain online if an active server happens to malfunction. It does this by combining an active and a passive server into one cluster, the latter which is always mirrored to the former–meaning that whenever the active server malfunctions and goes down, the passive server automatically takes over.
Other Updates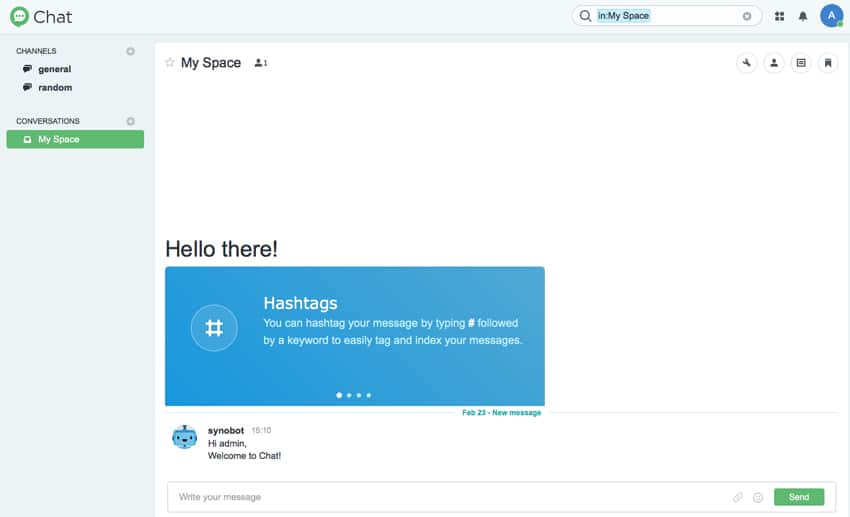 Here are some other new useful features added with 6.0 and beyond:
A full-content search feature, which gives users the ability to search through the content or metadata using more than 700 types of files.
A new Document Viewer, a useful preview tool that allows users to view documents without having to download and open them with Microsoft Office or iWork.
The ability to edit plain text files directly on the NAS with their Text Editor.
A chat function that allows users to use a setup that is similar to chatting on mobile platforms such as iMessages. Chat and texting is slowly becoming the preferred method of communication in several businesses (including our own). Synology chat enables these messages to remain secure and to be saved. There are also a couple of other interesting features such as adding hashtags to make certain elements easier to search.
A universal search function which enables users to search all files (they have access to), regardless of where they are located on the system. Users can even search Note Station and Office.
A word processor program (Synology Office already had a spreadsheet program), allowing for intra-office collaboration on familiar document formats (similar to the way Google Docs and Sheets work) while again keeping everything within the system for greater control.
Conclusion
Synology's DSM is one of the easiest NAS OS to use that can be found. On top of its overall ease-of-use and management, it is extremely comprehensive. Synology packs DSM with enough features that a media enthusiast, all the way up to a medium-sized business with surveillance needs, can use it. Before the 6.0 update, the OS was already a wonderful product and Synology just took what was working and improved upon it. While every feature in DSM isn't clear-cut, the learning curve on most is small. Users who have the faintest familiarity with any of the programs offered (e.g., if one is familiar with a video streaming product, Video Station is fairly simple to figure out), they would easily be able to learn how to use them all. If there is any confusion, Synology does offer a free forum with more than enough useful advice.
The multimedia packages are easy to use and only have a slight learning curve. After only a day or two of use, it will feel like the user has been using the programs for some time. The multimedia packages have tremendous benefits such as the ability to store and share large quantities of photos, music, and videos. This saves room on mobile devices where users can pull up whatever media they choose as fast as the connection on both ends allows. While this makes storing and consuming media easy and easier than paying a subscription fee, there are a handful of drawbacks.
Audio Station resembles more popular music services but it has a handful of bugs. When using the "Search the Internet for album info," the package may grab the wrong info and delete some songs. I found this particularly aggravating as my music collection is vast and eclectic and has been mostly digitized. Manually filling in album info still seems to be the safest bet for those concerned about losing content. With the mobile app, there are a few times where it takes a moment to get going, but once it is on, it is as easy as using iTunes to play music.
Video Station also sometimes has issues telling the difference between how large box sets are categorized if they vary from the source information it is drawing from. When loading the television show Futurama from its original DVD releases into Video Station, it frequently mixed up what episode was in each season (though the unusual and multiple releases, cancellations and network jumping of this particular show may have made it more difficult). I've noticed that when using quick connect, there are serious delays when playing a movie, even if there is fast internet on both ends; though once the movie starts, it typically has no buffering issues.
Of the Multimedia packages, Photo Station offers the most benefits with the least drawbacks. It works as easy as one would expect. Here the chance of losing content is probably the lowest (or would happen when transferring the files in incorrectly using File Station). In a world where photos can fill up mobile devices fast, it is nice to have a non-subscription based service to transfer photos and videos off and be able to easily pull them back up through the mobile app to view or share them. The built-in editors leave a lot to be desired. However, if a user wanted to do some serious editing, they could easily download the image on the computer or mobile device of their choice with the editing software and do it there.
Looking at file management, again Synology takes the road of simplicity. Users can access File Station through a web browser or through a mobile app (DS File). Files can be dragged and dropped into File Station (or loaded in from a file through the Upload tab). Users can easily drop files into the proper folder or create a shared folder multiple users can access. They also have the option of downloading files onto various end-user devices as well as setting up permissions for downloading to keep a better handle on sensitive documents.
For data protection, Synology offers a handful of services including Snapshot Replication and its Hyper Backup. Both packages are easy to set up and use, taking only a few minutes for either. Snapshot Replication can take up to 1024 snapshots per folder or 65,536 per system. Hyper Backup lets users adjust their backup settings with multiple options.
With everything above we listed, we are only just scratching the surface by looking at some of the more common packages. Synology offers over 50 packages native to the NAS and over 55 third-party packages. While there are lots of other features to go over, it is beyond the scope of a single review. Synology attempts to provide a service for almost all NAS related needs and anticipate future needs as companies grow, or as businesses grow out of the home into larger offices.
Pros
The same OS from client to enterprise eliminating the learning curve
Super user-friendly layout and operations
Great multi-media apps
Nice set of mobile apps
Steady roll out of new improvements
Cons
Some features are not needed for smaller/larger organizations
Glitches here and there but are being improved monthly
The Bottom Line
Synology DSM 6.x offers tons of features that address most concerns (or at least the most common concerns) that arise in day-to-day business. The OS also offers a nice set of multi-media packages and mobile apps for home users and creative professionals to use. It is simple to use, free with the purchase of a Synology app, and offers features for most users.
Sign up for the StorageReview newsletter