We recently took a look at Dell's latest entry-storage array, the PowerVault ME5. In that effort, we worked through mainstream use cases for the array, testing the ME5 in a popular hybrid configuration with very positive results. While the ME5 is excellent for SMB needs — mainly as a hybrid flash array — there's much more to it when configured with all-flash drives. Typical SMBs don't need that much performance, but a growing list of edge use cases can benefit from the predictable performance and reliability flash offers.
We recently took a look at Dell's latest entry-storage array, the PowerVault ME5. In that effort, we worked through mainstream use cases for the array, testing the ME5 in a popular hybrid configuration with very positive results. While the ME5 is excellent for SMB needs — mainly as a hybrid flash array — there's much more to it when configured with all-flash drives. Typical SMBs don't need that much performance, but a growing list of edge use cases can benefit from the predictable performance and reliability flash offers.

There are apparent targets like retail operations, smart warehouses, and robotics tasked with more analytics and AI at the edge when thinking about edge storage needs. The list continues to expand with applications like distributed content delivery networks that support streaming and gaming, surveillance, and oil/gas exploration. These all have explosive data growth and the need to provide that compute power closer to the source. This growth can be attributed to new ML/AI learnings available to businesses with the power of GPUs and other tools that get pushed to where data is being created.

There is a delicate balance at the edge. Organizations have to consider variables differently than in the data center. Cost, manageability, serviceability, and performance are critical elements that must be weighed in the decision rubric for edge IT investments.
Trends in Edge IT
Systems continue to get smaller and quieter and deliver the performance needed for edge computing. Current applications can run in public or private cloud environments, on-premises, or in an uncontrolled remote environment. Growth in AI adoption and ML development is critical in the growing trend toward edge computing. Hardware and software vendors continue to improve performance, fault tolerance, redundancy, and management capabilities—allowing edge devices to deliver simplified deployment options, scale-out expansion, ease of management, and a footprint that fits the remote environment.
In addition to the physical hardware and applications, these edge devices must have rock-solid, mature security hooks built into the system, network, peripherals, storage, and access. Zero-touch provisioning should be a key consideration when designing an edge solution. Whether a retail establishment, intelligent warehouse, autonomous vehicle staging, or factory floor, most remote locations will not have on-site IT personnel to support every site. One should aim to reduce the burden placed on the IT administrators back at the data center and simplify their edge.
Organizations embrace the move to edge computing because they can realize real-time insights, reduce bandwidth and network costs, keep their data secure, and ultimately improve operational efficiencies.
Typical Edge Topologies
Edge topologies come in many sizes. Typical deployments include edge server and storage centers, retail, regional telecom data centers, local or micro centers, and intelligent warehouses. This complexity at the edge will continue to grow as the demand for edge computing grows.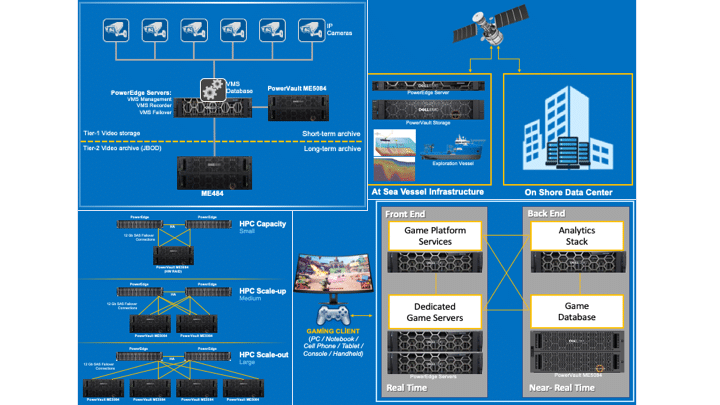 Pushing these environments to the edge will have immediate benefits:  lower latency, local processing, reduced overhead, local storage, less complexity, and improved stability. Benefits like these make sense for organizations wanting to innovate, grow, and deliver a better compute and support experience to the users. The primary reason to move to an edge solution is organizational success, which means providing solutions that can perform, grow, and remain secure.
Considering that analytics and business intelligence are the top use cases for edge deployments, the storage architectures deployed in edge data centers must provide high performance, low latency, and secure access to data. There are four common topologies that can be considered for edge storage use cases. For shared storage arrays, the standard topology is the shared storage SAN on the left. In this topology, the storage scales by adding more capacity to the array or adding additional arrays to the SAN. Fibre Channel is the protocol of choice because of its low latency, full offload, and proven resiliency. Soon, we will see native NVMe storage arrays and the transition to FC-NVMe that would drive further efficiencies.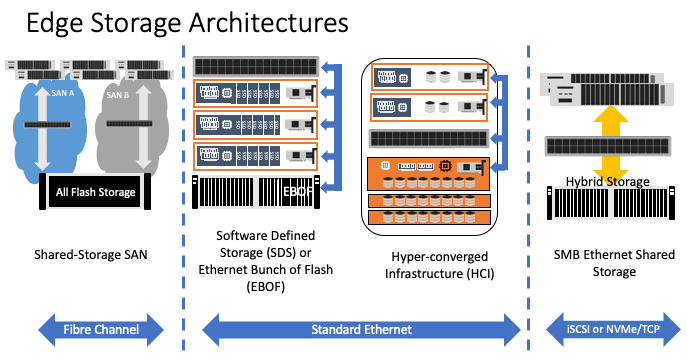 Another topology is software-defined storage (SDS) and Hyper-Converged Storage (HCI). Solutions like VMware vSAN enable a cluster of servers with captive storage to share their storage resources across the network. The storage scales as you add more servers with captive storage to the cluster, but such architectures do not benefit from the full offload that Fibre Channel SANs enable.
In addition, iSCSI and NVMe/TCP also provide shared storage connectivity and are typically used for tier-2 or non-mission-critical applications.
Dell PowerVault ME5 Edge Performance
Dell has been delivering solid edge solutions and continues to innovate with all-flash storage, pre-tested integration, management tools, and networking. StorageReview recently reviewed the PowerVault ME5 with impressive test results. The PowerVault ME5 is ideally suited to the SMB community with capabilities that flexibly expand into the enterprise and create a solid edge solution when paired with the right PowerEdge Server.
Designed to be simple, fast, and affordable, the PowerVault ME5's workload versatility is exceptional. There are over 50,000 globally installed PowerVault systems deployed across thousands of customer sites, supporting various workload types with wide-ranging performance and scale requirements.
Our first look at the Dell PowerVault ME5 focused on its performance in a hybrid configuration with two SSDs and ten hard drives. That type of drive configuration is common for capacity-dense customers, but for certain edge locations demanding higher performance, the ME5 can be positioned in other ways.
At the heart of the PowerVault ME5 are the dual controllers; however, the hybrid configuration with two SSDs can really only take advantage of one at a time. A proper configuration needs to be able to have one SSD disk group per controller, with a minimum quantity of two disks per group in RAID1.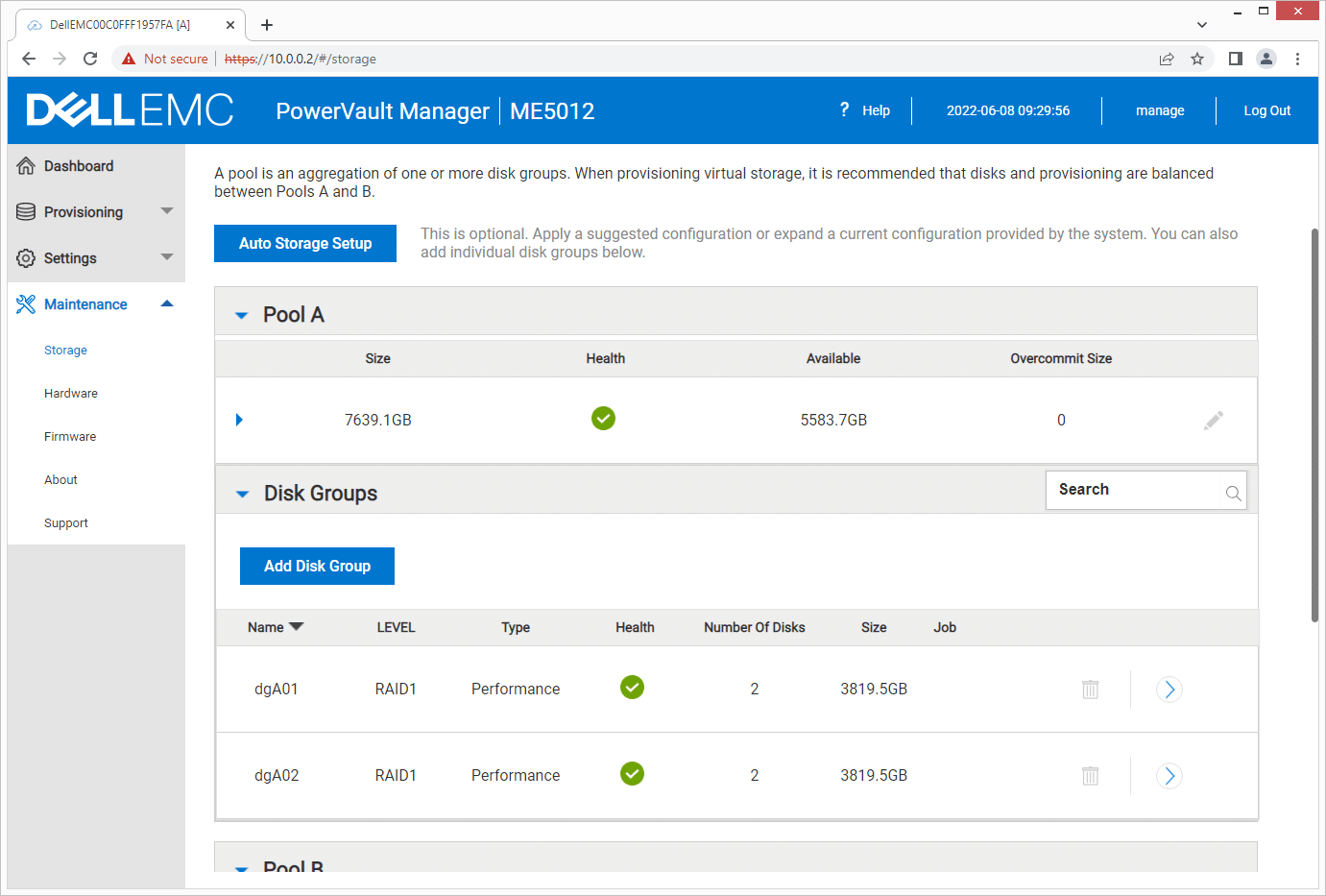 To better showcase how the PowerVault ME5 can benefit I/O intensive edge deployments, we leveraged a total of eight read-intensive SSDs. They were then split up into four groups of two SSDs in RAID1 on each storage pool, allowing the controllers to be fully saturated in an active-active configuration.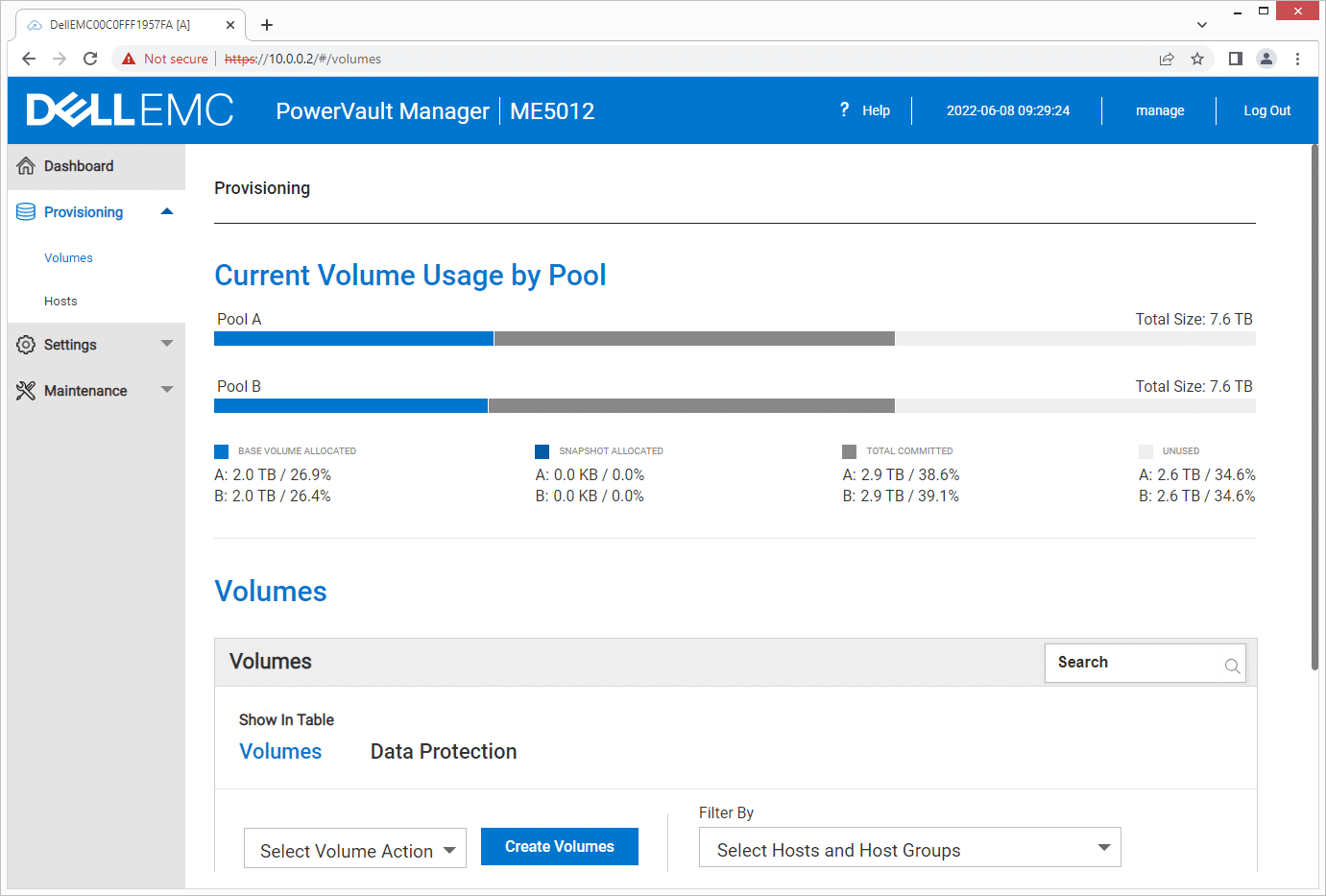 Being able to fully saturate the controllers means edge investments that leverage the ME5 with flash can see better system utilization. SSD configurations are also going to consume less power, generate less heat and noise and should offer better reliability in the media. All of this makes the all-flash version of the ME5 a strong offering at the edge where deployment and support environments are often not "data center" grade.

We used the same four-host deployment leveraging Dell PowerEdge R740xd servers, each with a 32Gb Marvell QLogic dual-port FC HBA. These were then connected through Brocade G620 32Gb FC switches to the Dell PowerVault ME5. We created two volumes that were 3TB each, one per pool or controller. Our data footprint peaked at 4TB total from our synthetic tests.
VDBench Workload Analysis
When it comes to benchmarking storage devices, application testing is best, and synthetic testing comes in second place. While not a perfect representation of actual workloads, synthetic tests do help to baseline storage devices with a repeatability factor that makes it easy to do apples-to-apples comparisons between competing solutions. These workloads offer a range of different testing profiles ranging from "four corners" tests and common database transfer size tests to trace captures from different VDI environments.
All of these tests leverage the common vdBench workload generator, with a scripting engine to automate and capture results over a large compute testing cluster. This allows us to repeat the same workloads across a wide range of storage devices, including flash arrays and individual storage devices. Our testing process for these benchmarks fills the entire drive surface with data, then partitions a drive section equal to 25% of the drive capacity to simulate how the drive might respond to application workloads. This is different than full entropy tests which use 100% of the drive and takes them into a steady state. As a result, these figures will reflect higher-sustained write speeds.
Profiles:
4K Random Read: 100% Read, 128 threads, 0-120% iorate
4K Random Write: 100% Write, 128 threads, 0-120% iorate
64K Sequential Read: 100% Read, 32 threads, 0-120% iorate
64K Sequential Write: 100% Write, 16 threads, 0-120% iorate
It's quick to see the advantage of putting both controllers to work with the heavier flash footprint inside the Dell PowerVault ME5. We were able to move from a peak of 300k IOPS in our hybrid ME5 configuration up to an impressive 614k IOPS 4K random read with all-flash.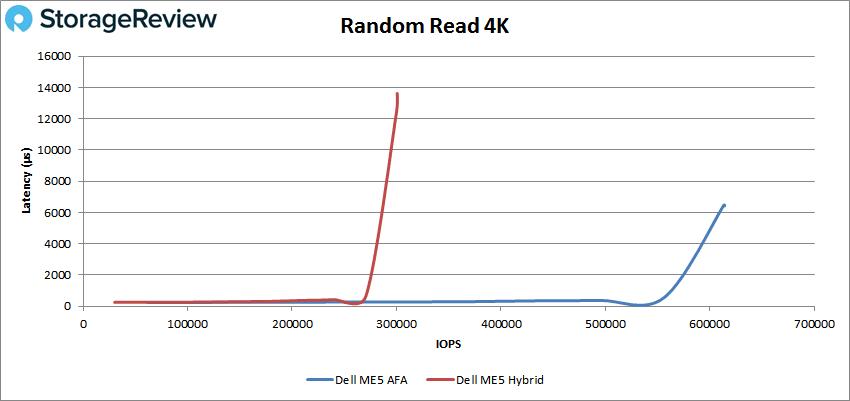 Random 4K write performance had over a 2x jump, moving from 78.8k IOPS with one controller utilized in our hybrid configuration to 172.6k IOPS in our all-flash build.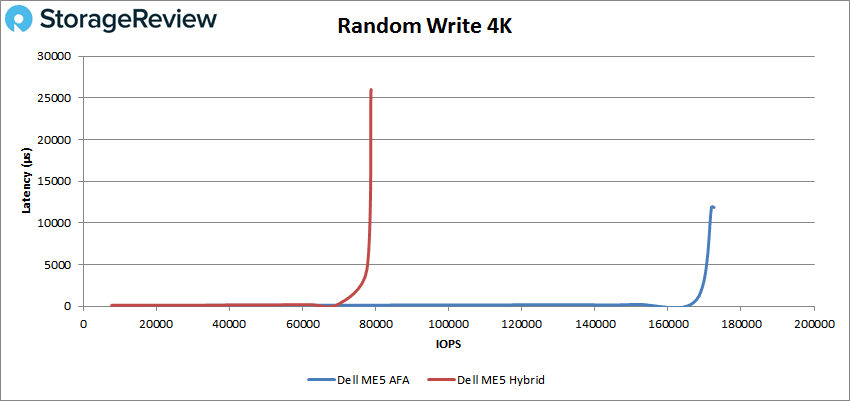 Next, we look at large-block sequential performance with our 64K tests. Measuring read performance we saw a massive jump in bandwidth, going from just under 4GB/s in a hybrid configuration to 11.9GB/s in our all-flash build. The reasons behind these improvements can be attributed to two areas. The first is going from one active disk group of two SSDs in the initial build to four active disk groups over eight SSDs. The second is being able to put both controllers to work.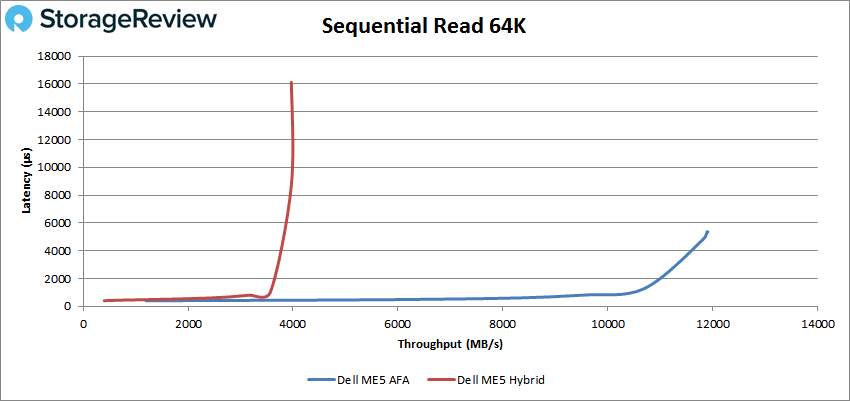 Sequential 64K write performance had a massive increase in speed, initially measuring a peak of 943MB/s in hybrid to 5.6GB/s in all-flash. For edge locations that need to capture and write data quickly, this type of configuration offers a lot of benefits.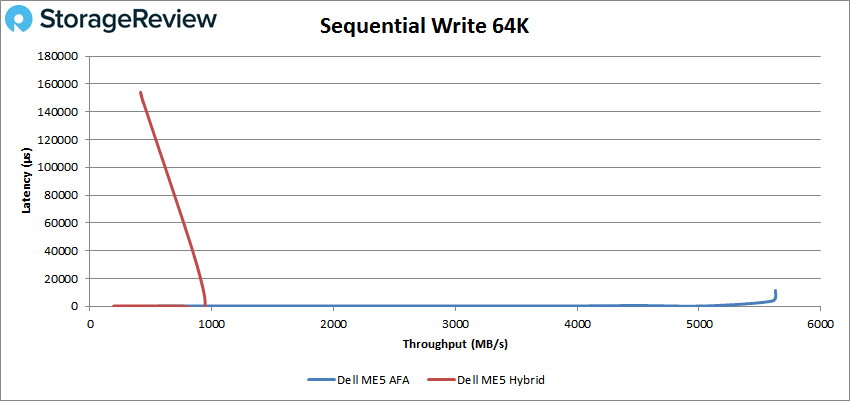 Essentially in this all-flash configuration, we end up with a much better performance profile as expected. This means at the edge, it's critical to understand system capabilities so that proper infrastructure alignment is in place. In this case, by taking advantage of both controllers, we're quite confident the ME5 can handle whatever the workload, be it on a research vessel or in a large retailer. Further, with the reliable and secure 32G FibreChannel connection between servers and storage, IT admins can be confident in the data path
PowerVault ME5 with PowerEdge
Dell has validated the PowerEdge and PowerVault configurations to provide easier, faster, and lower-cost deployment for supporting several workloads, including Edge, HPC, Safety and Security (CCTV), VDI and virtualization, Microsoft SQL, backup, and others. Dell Technologies provides pre-tested configurations, including software, hardware, storage, network components, and documented best practice guides to start small and grow as the business matures.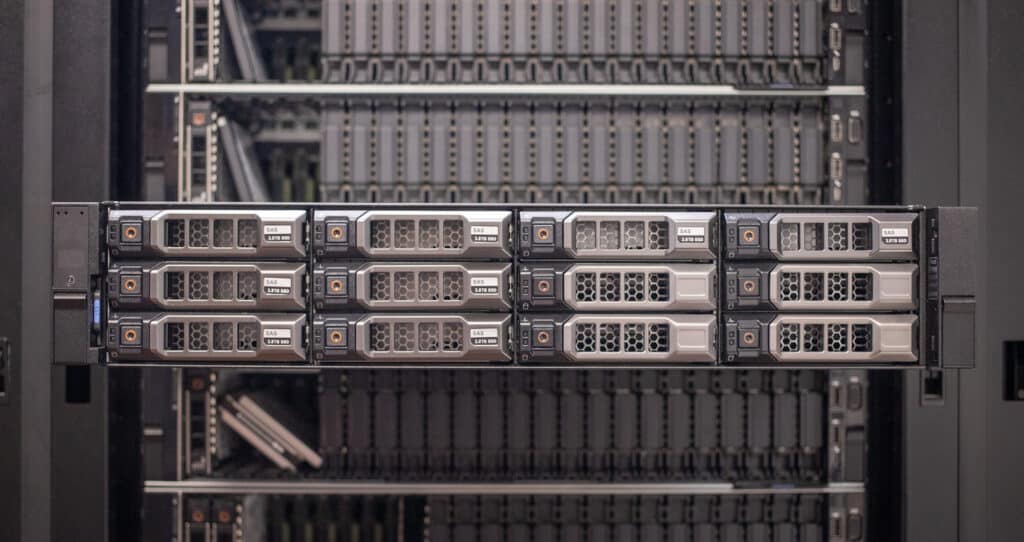 PowerVault ME5 supports the choice of how to provision the topology with either SAN or DAS connectivity. Separating compute and storage adds flexibility to modularly grow while replacing PowerEdge when more memory or CPU is required and adding capacity to PowerVault ME5.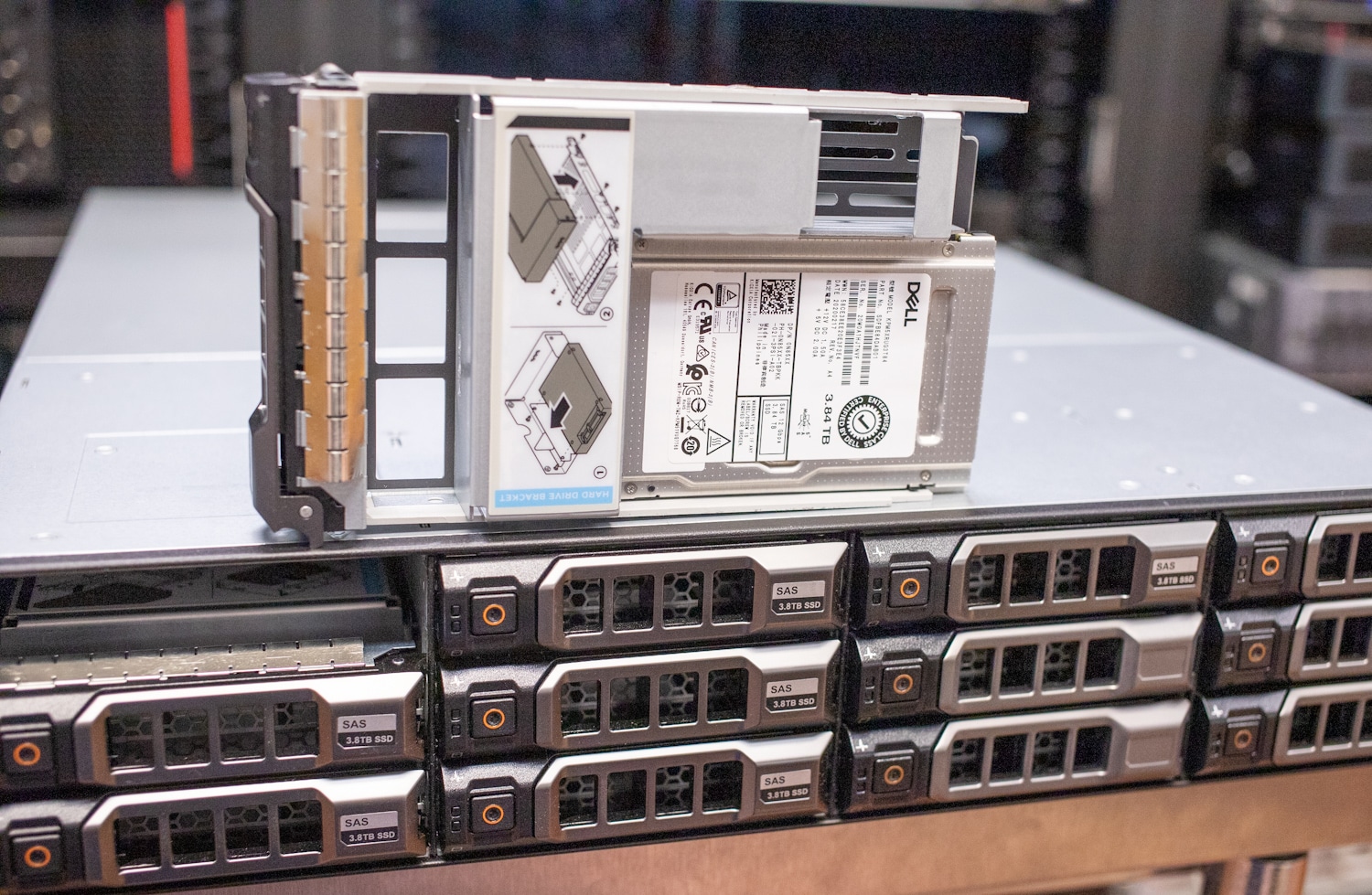 When focusing on application performance, DAS is preferred over network-attached storage since the server does not have to traverse a network to read and write data. Configuring the PowerVault ME5 for SAN makes the storage appear locally attached which improves application availability and data sharing over multiple data paths while preserving application performance on the server with storage data services being run on the array.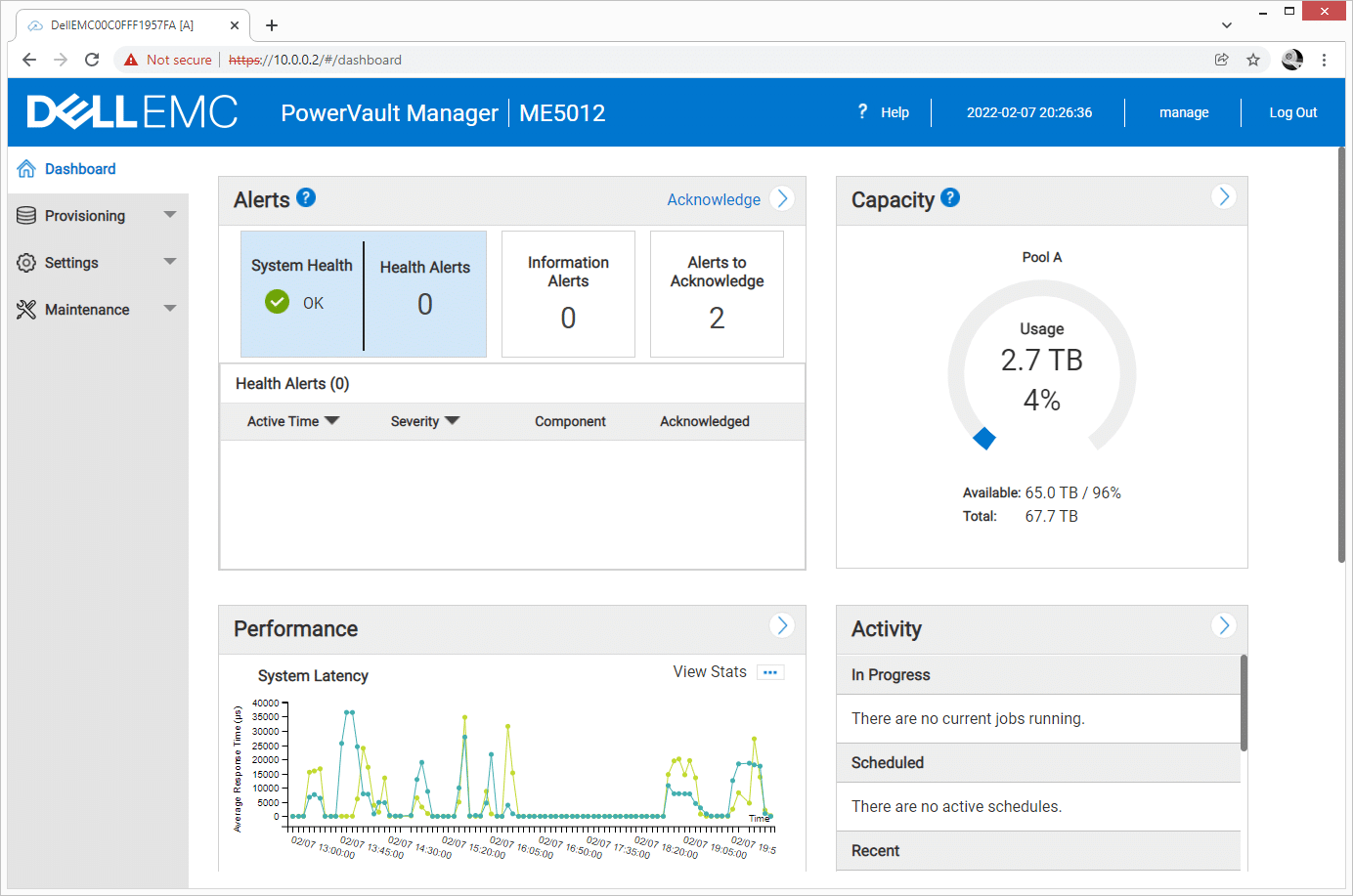 The PowerVault ME5 is configured and managed using the PowerVault Manager. Dell's Unified Management Ecosystem provides ease of management with other Dell Technologies products and third-party platforms. Several extensible management options are available, including Dell OpenManage Enterprise (OME) and OME Nagios plug-in.
Additionally, you can use iDRAC and CloudIQ for server and storage predictive analytics and health monitoring, respectively. The management options can be leveraged to speed time to repair, reduce monitoring efforts, accelerate new deployments and improve the end-user experience. We have a YouTube video that covers our initial ME5 deployment that illustrates how rapid the process is.
Final Thoughts
Recently Protocol's Donna Goodison spoke with VMware CEO Raghu Raghuram. When asked about the demand for on-premises, Mr. Raghuram said:
"…The other exciting thing that's happening is enterprises are rethinking the edge of the network. If you're a retail business, and you want to deploy cashier-less stores in your retail stores, now you're able to put a lot of cameras that can track what shoppers are wanting to purchase. All of the images have to get processed, so they want to get processed locally. And people are building clouds and applications that go into those clouds on the edge.
If you're a manufacturing company and you want to introduce a new level of automation in your manufacturing shop floor, or if you're a logistics and supply chain company, and you're restoring, and you're nearshoring your supply chain, and you're rebuilding a lot of that stuff new — all these activities are causing an increase in the edge. Or you're a telco, and you're building the 5G network.
The edge of the network is, in many ways, what we would classify as on-prem. That is growing very, very fast. In fact, it is growing faster than the cloud."
Artificial intelligence and edge solutions can streamline processes, increase profitability, improve customer satisfaction, and track inventory. These solutions would be complicated without expanding and accepting edge computing and the push to roll out AI/ML applications. The Dell PowerVault ME5 storage arrays deliver the performance and scalability required for successful edge deployment.
This report is sponsored by Dell Technologies All views and opinions expressed in this report are based on our unbiased view of the product(s) under consideration.
Engage with StorageReview
Newsletter | YouTube | Podcast iTunes/Spotify | Instagram | Twitter | Facebook | TikTok | RSS Feed