With the launch of TrueNAS SCALE 22.12.2 earlier this year, there is clear intent by the iX team to talk a little more to the enterprise. Some of the upscaled messaging comes via new hardware systems and support for managing NVDIMMs and improvements in HA and replication features. But another major push has come around application support, making TrueNAS SCALE Apps a much bigger deal.
With the launch of TrueNAS SCALE 22.12.2 earlier this year, there is clear intent by the iX team to talk a little more to the enterprise. Some of the upscaled messaging comes via new hardware systems and support for managing NVDIMMs and improvements in HA and replication features. But another major push has come around application support, making TrueNAS SCALE Apps a much bigger deal.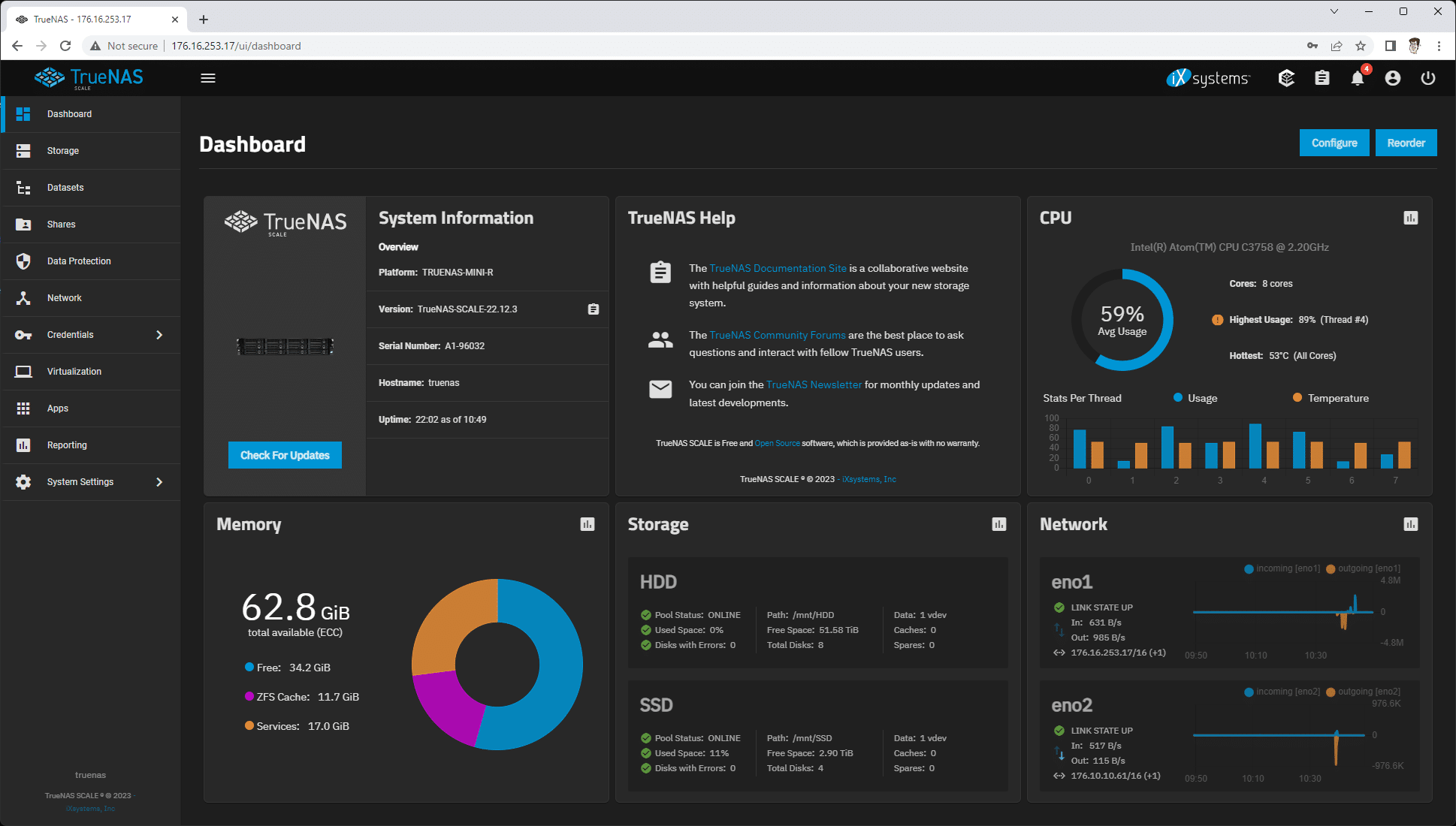 iX shipped over a new Mini R, configured with TruNAS SCALE, and asked us to poke around a little to see what we thought of the improved App catalog and integrations.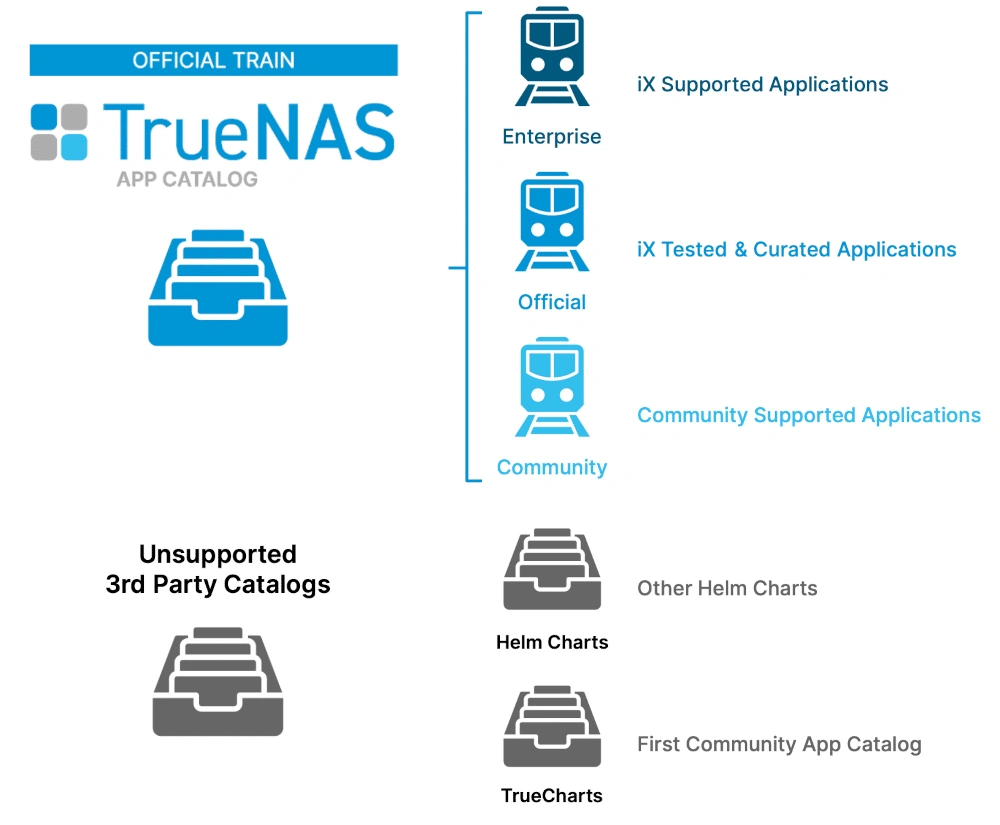 TrueNAS SCALE Bluefin, version 22.12.2, introduces a new set of Apps in the TrueNAS Catalog. These Apps are categorized into three trains based on their support and maintenance levels. The "Community" train consists of Apps contributed by either iXsystems or the community, with iX reviewing and moderating changes but not providing direct support.
The "Official" train contains Apps regularly tested and maintained by TrueNAS engineers, with significant issues addressed promptly. Apps from the "Community" train may move to the "Official" train if they prove to be high-quality and widely used.
The "Enterprise" train is exclusive to TrueNAS Enterprise appliances and includes Applications with enterprise-grade functionality, thoroughly tested, maintained, and documented for critical use cases. Software vendors can contact iXsystems to discuss including their Apps in this train.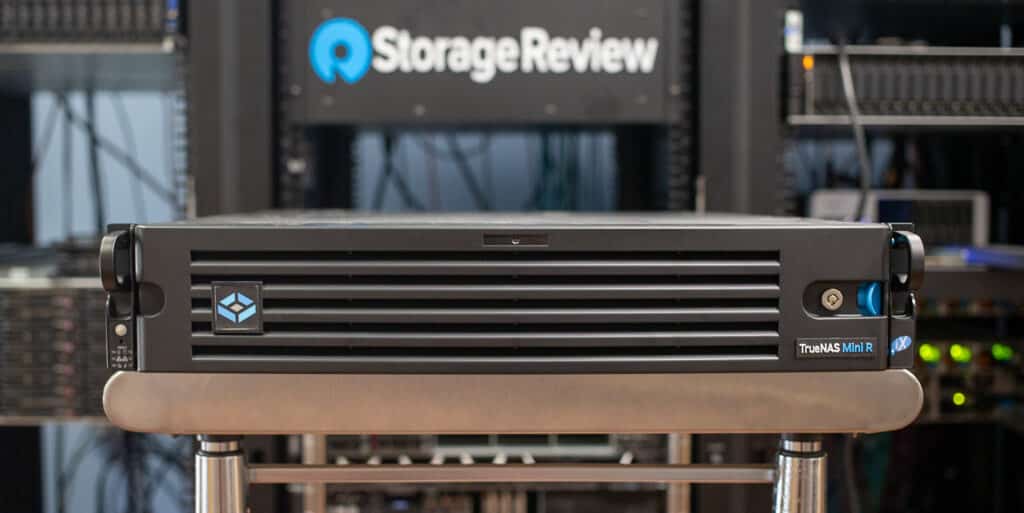 As to the underlying hardware,  the TrueNAS Mini R is a larger rackmount NAS within the Mini family; more information can be found on the TrueNAS website.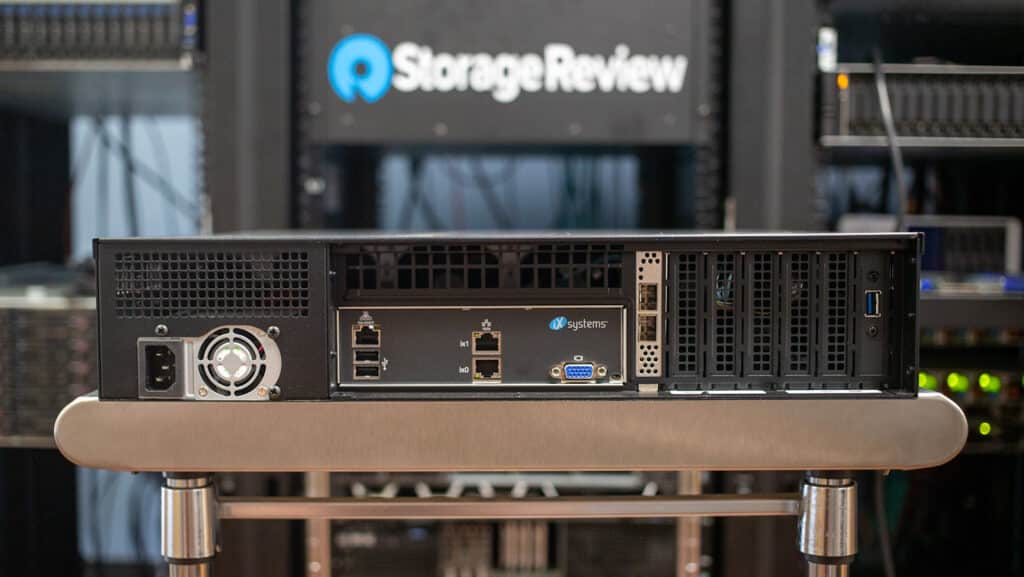 While physically larger than the other Minis, the TrueNAS Mini R uses that footprint for storage. The 2U short-depth server offers 12x 3.5″ SATA storage bays that can be used with a mixture of SSDs and HDDs. The system starts at $1848 and is pretty configurable depending on customer needs.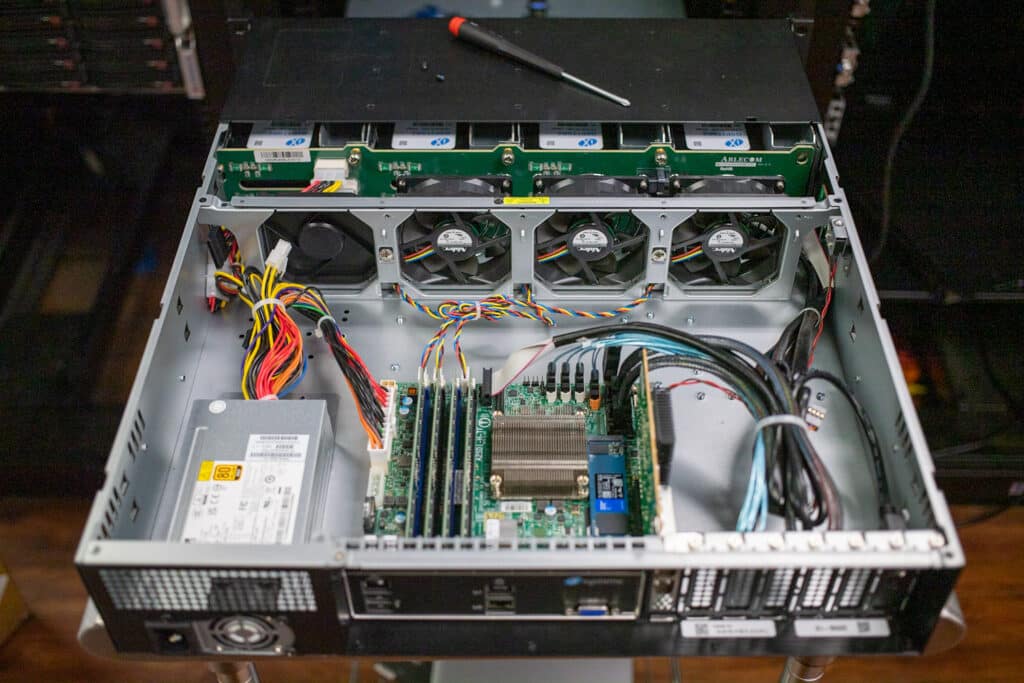 TrueNAS Mini R Specifications
| Features | TrueNAS Mini R |
| --- | --- |
| Chassis | 12 Bay Enclosure – Office Quiet Design: 45dB idle, 52dB peak |
| Drive Bays | 12 x SATA 3.5" Hot-Swappable Drive Bays (Optional 3.5″ to 2.5″ adaptors available) |
| Maximum Raw Capacity | Up to 216 TB |
| CPU | Octa-core C3758 Intel CPU |
| Memory | 32GB DDR4 with ECC (Upgradeable to 64GB) |
| RAID | OpenZFS: Stripe (RAID0), Multi-Disk Mirror (RAID10), Parity RAIDZ1 (RAID5), RAIDZ2 (RAID6), and RAIDZ3 (triple-parity) |
| Disk Management | Hot-Swappable Drives, Bad Block Scan + HDD S.M.A.R.T, ISO Mounting Support, Hardware-Accelerated Disk Encryption |
| Network | Standard: 2 x RJ45 1/10GBaseT Ethernet LAN ports Dedicated RJ45 IPMI Port (Remote Hardware Management) 2 x SFP+ 10G Add On Card (Optional) |
| USB Ports | 1 x USB 3.0 Port (Rear) 2 x USB 2.0 Ports (Rear) |
| Read/Write Cache | (Optional) Boost performance by adding a dedicated, high-performance read cache (L2ARC) or by adding a dedicated, high-performance write cache (ZIL/SLOG) |
| PCIe Expansion | 1 x PCI Express 3.0 x 4 |
| Power Supply | 100V to 240V AC, 50/60 HZ, Single Phase |
| Power Consumption (Maximum) | Diskless: 63W, With drives & 10G Add-on-card: 167W |
| Power Management | Remote Power-On/Off (IPMI), UPS Signal Response and Alerts |
| User Control Interface | Web Browser and Remote Hardware Management (IPMI) |
| Dimensions (W x D x H) | 17.2″ x 21″ x 3.5″ / 437 × 533 × 89mm |
| Weight (no drives) | 18.7lbs / 8.5Kg |
| Limited Warranty | 1-Year Warranty Included—optional 3-Year Warranty for purchase. Software Warranty requires registration at portal.ixsystems.com. |
| Accessories | Basic Setup Guide; 2 x bezel keys; bag of HDD screws; 2 x 7 ft cat6 copper cable; Bezel; 4 x Adhesive Rubber Feet; Short Rail Kit: 19″ to 26.6″ rackmount depth; Optional Long Rail Kit available: 26.5″ to 36.4″ rackmount depth |
TrueNAS SCALE with LINUX
TrueNAS SCALE on the Mini R gives enough power to run a fully deployed ZFS share with the ability to run several containers. While the CPU on this is not geared to be a powerhouse (Intel Atom CPU C3758 @ 2.20GHz), it is an eight-core eight-thread chip with a 16MB L2 cache.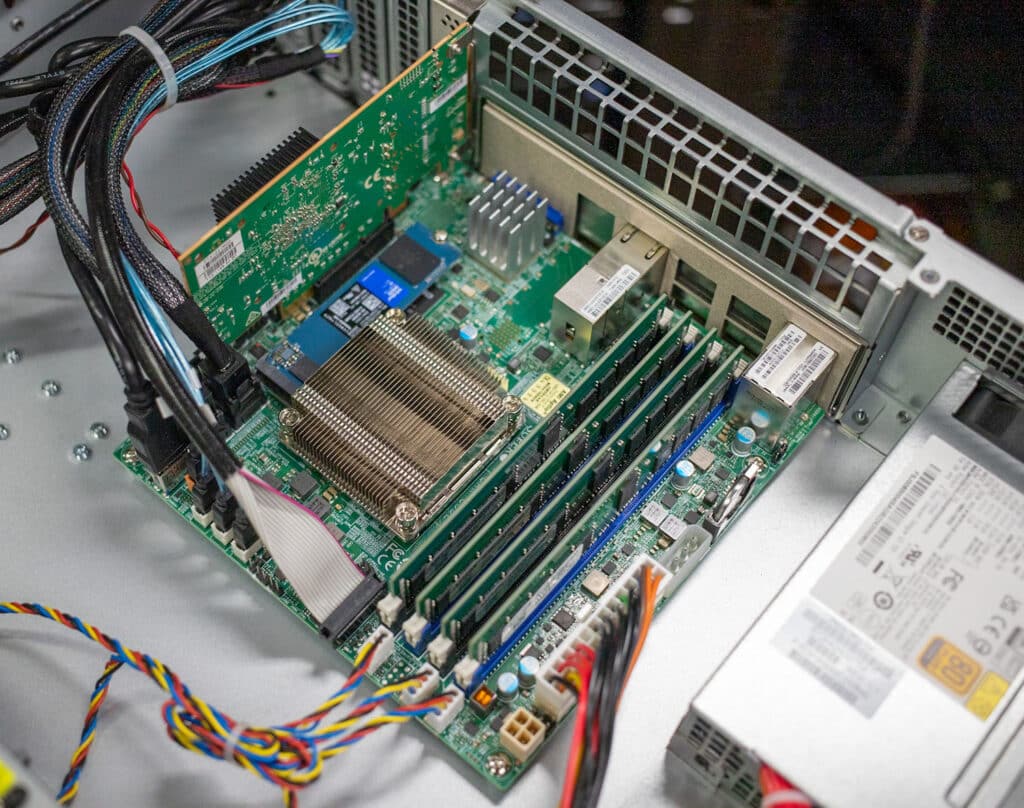 It is a 14nm chip based on intel Denverton first launched in Q3 of 2017 that sips power with a 25W TDP—it does have (and fully utilizes) DDR4 ECC RAM. Our review unit is set up with 64GB. To fulfill the need for faster processing and acceleration, TrueNAS requires a substantial amount of RAM and may require up to 5GB per TB to perform de-duplication. The minimum is 8GB of RAM with up to eight drives, and add 1GB for each drive above eight. It's best to consider 16GB or 32GB as the norm for a basic deployment.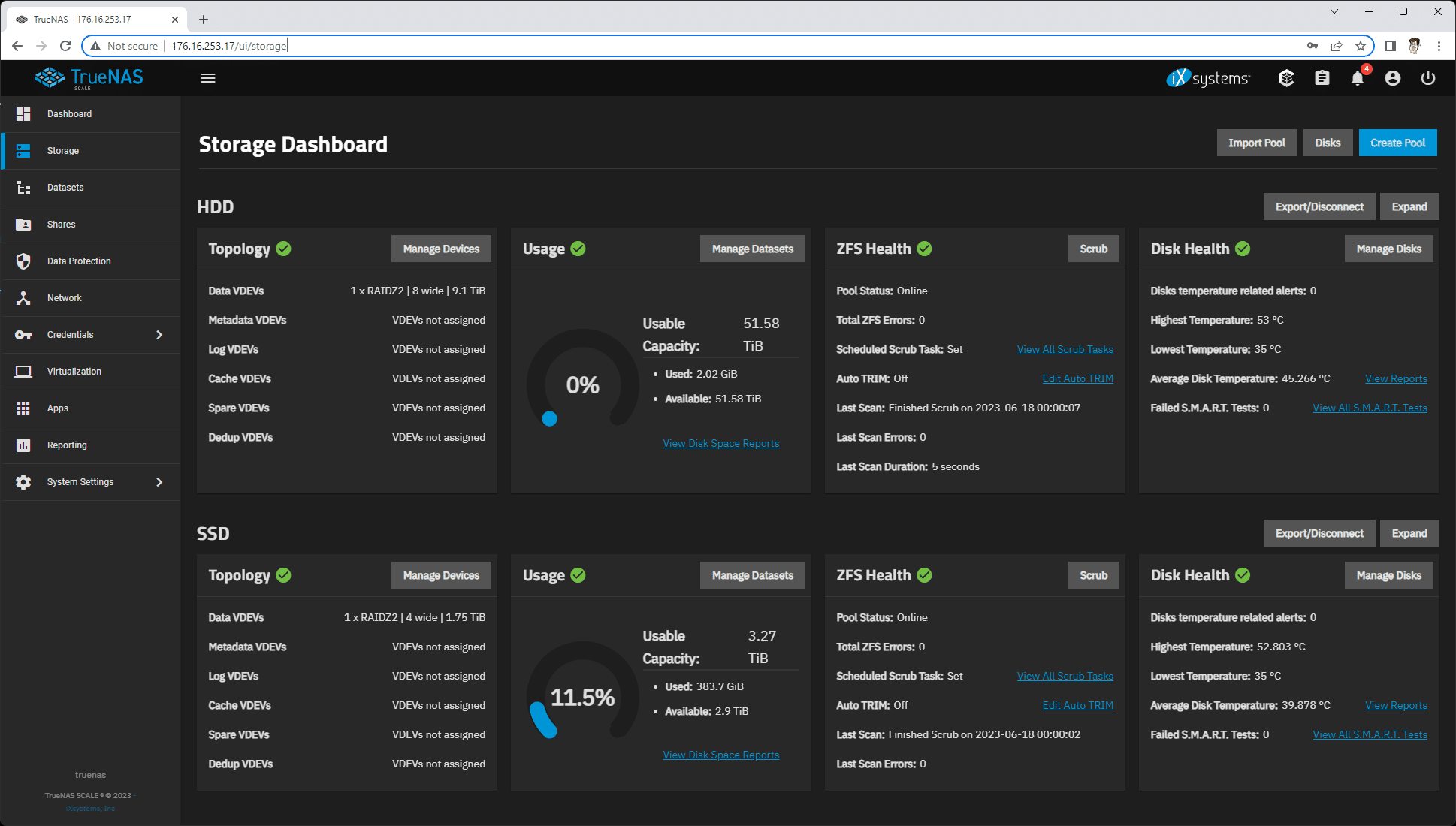 Our experience was that the CPU was more than adequate to run TrueNAS and keep up with several containers and even some virtual machines.
TrueNAS SCALE still offers all of the ZFS and sharing functionality of TrueNAS CORE while adding new support for containerized apps through Docker and the curated Apps catalog.

We even got a full install of Windows Server 2022 to install and function in the virtualization space. Admittedly it was a bit rougher than a more mature hypervisor.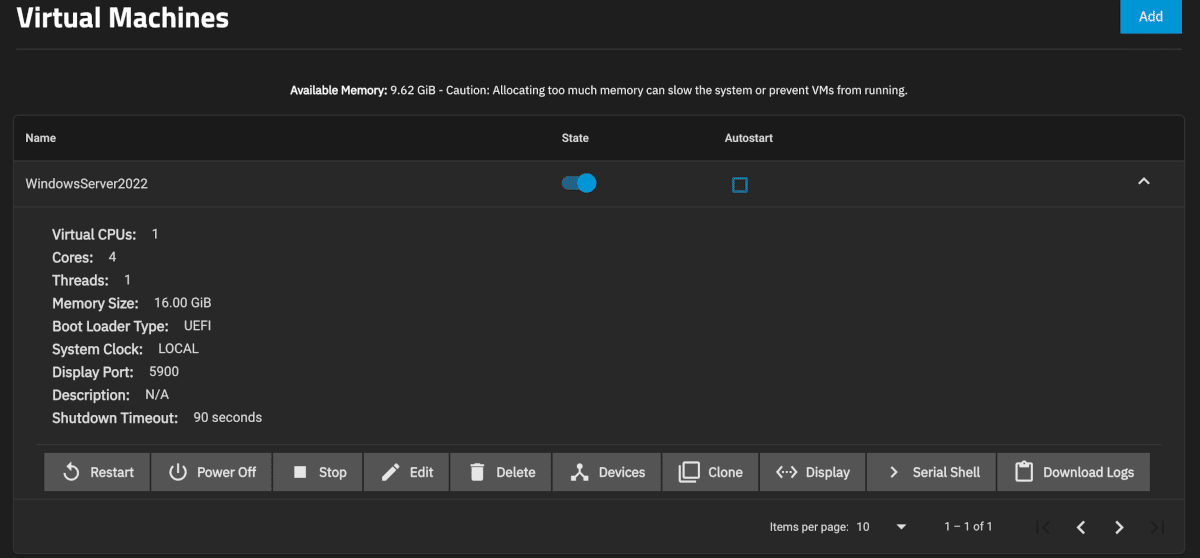 We found that the drivers for Windows Server 2022 needed to be loaded off a separately mounted ISO, but it integrated well with the onboard resources and was online immediately.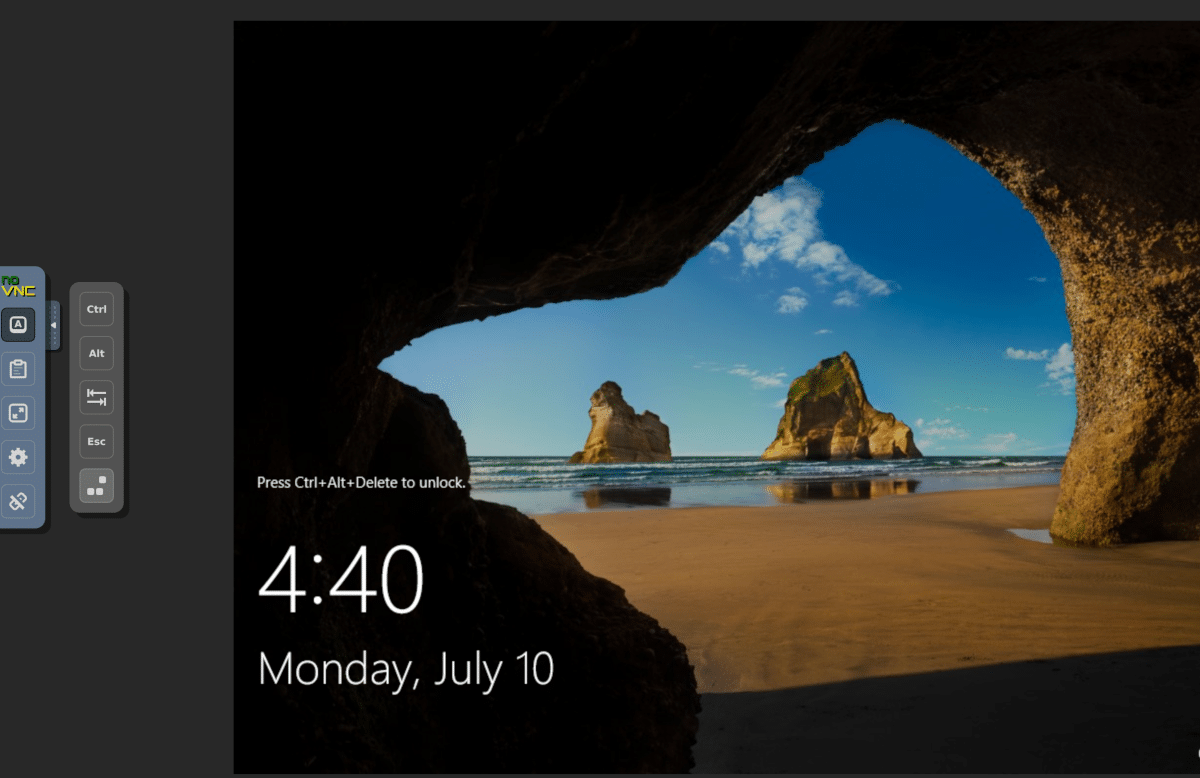 TrueNAS SCALE Apps
TrueNAS SCALE apps are very similar to those supported by TrueNAS CORE. Selecting the app from the list and deploying it is about the same as the TrueNAS CORE deploy and manage experience.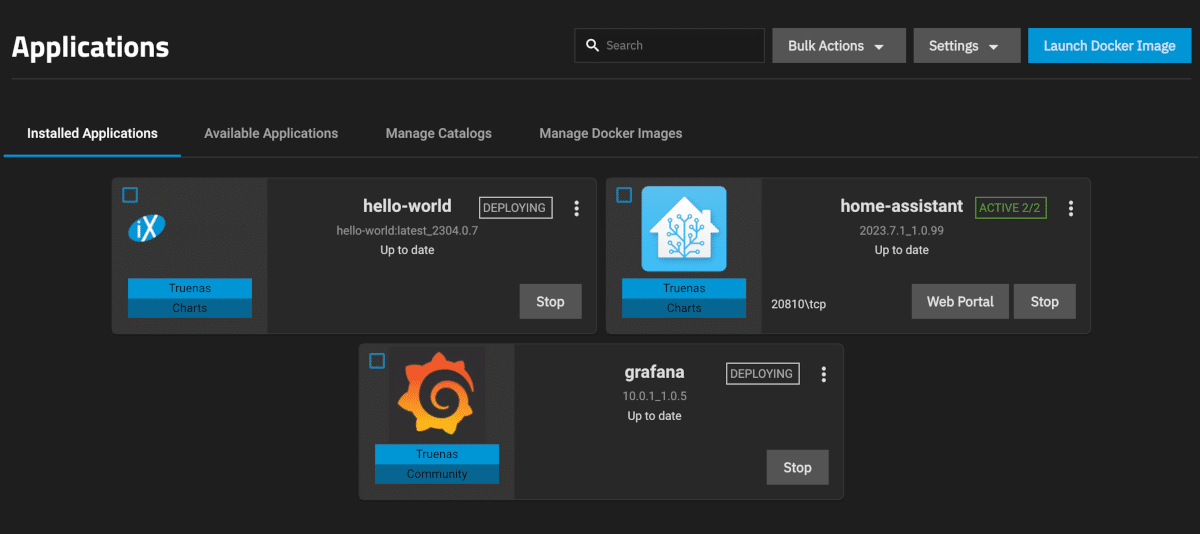 We tried deploying "Home Assistant" and "Grafana," and it is as simple as pick, click and deploy.

Once launched, it displays the port number of the running application, and you can log in through a browser on the network. We simply had to open a browser, enter the IP address of the NAS and port number of the application, and each new application greeted us with a config and setup screen.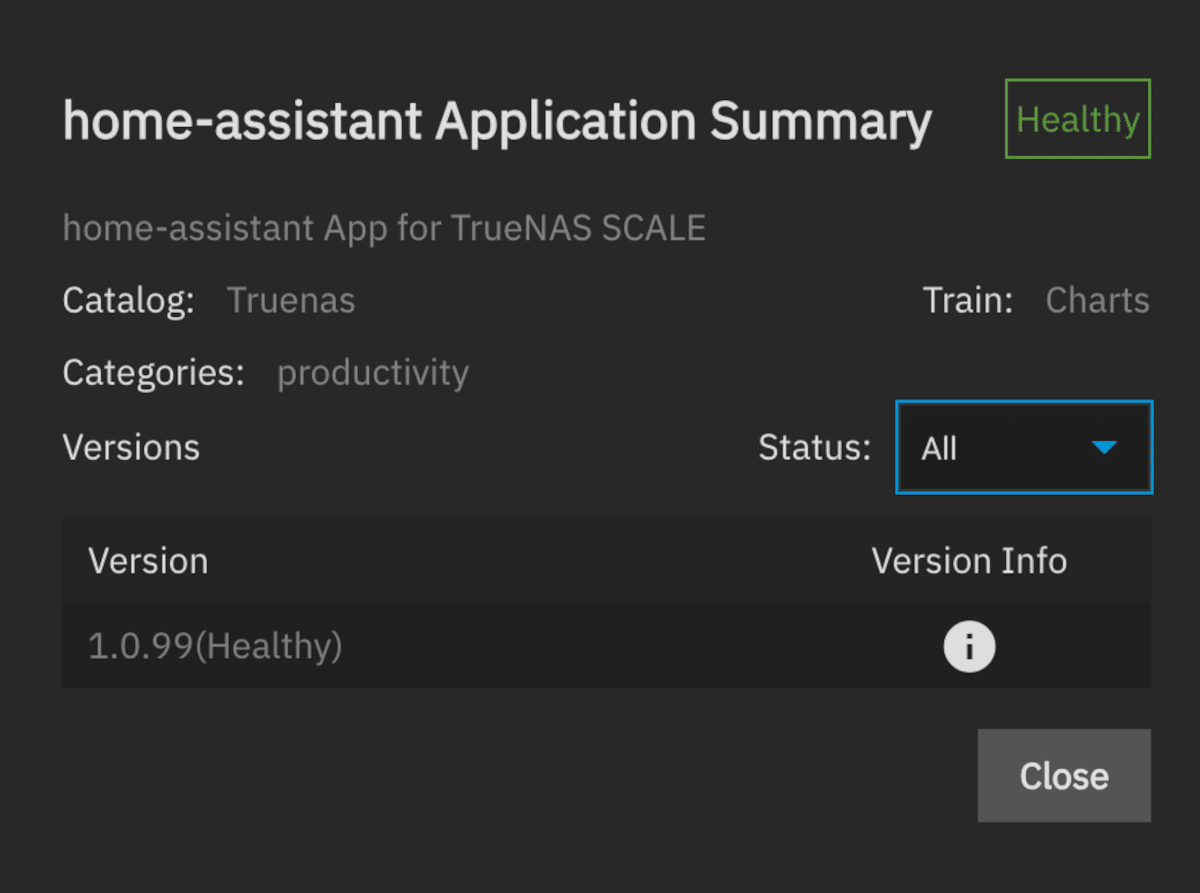 This was an almost identical experience to CORE and very similar to many other mainstream NAS offerings.
However, What is new is the ability to add containers not listed in the app list. Deploying Docker containers was straightforward if you have some experience with Docker.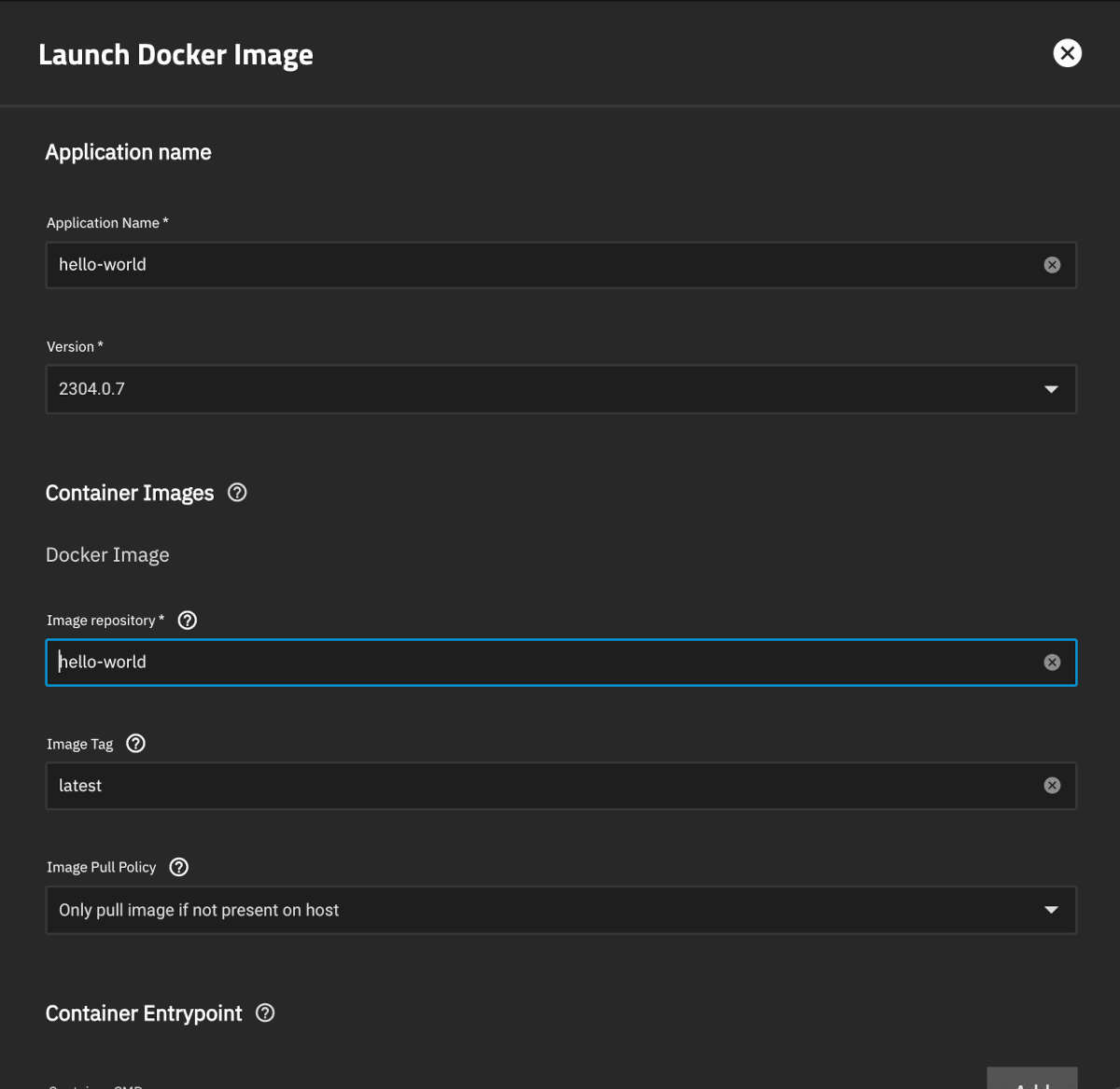 SCALE allows you to deploy a Docker container by selecting "Launch Docker Image" under apps and configuring it right through the GUI. This is not, however, as straightforward as using the app repository and requires browsing the Docker Hub repository (https://hub.docker.com/search?q=) for an image. This is more suited to an intermediate user with some container experience (Docker or Kubernetes).
Entering the Docker repository name and configuring it from the drop-down menu in the GUI was nice, but if this is your first time out with Docker—the GUI does not hold your hand, and you will need to consult the knowledge base.
Removing unneeded containers is simple; select the container to remove and click remove.
iX Mini R Performance
While we were primarily interested in checking out the TrueNAS SCALE Apps catalog and integration, we wanted to push the Mini R a bit on the performance side to see how it handles itself. For this review, our unit was equipped with 4x 1.9TB iX SATA SSDs and 8x 10TB WD Red Plus HDDs. Our unit also included the upgraded 64GB RAM footprint.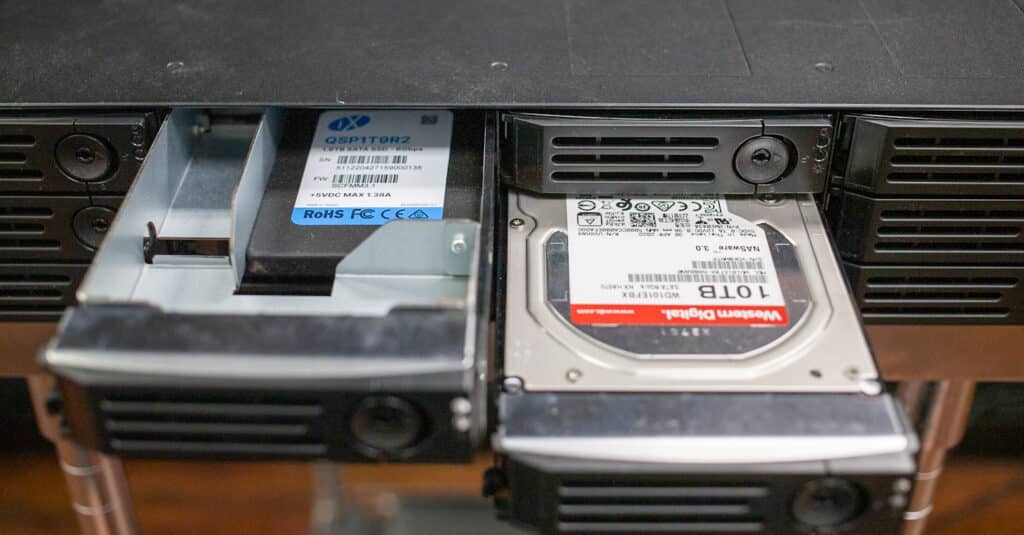 We touched on the flash performance inside our iX Mini R review unit. We configured two RAIDZ2 storage pools, each with compression enabled but without deduplication turned on. We looked at both external performance over the 10GbE connection and internal performance when the storage was presented to a Server 2022 VM running on the system.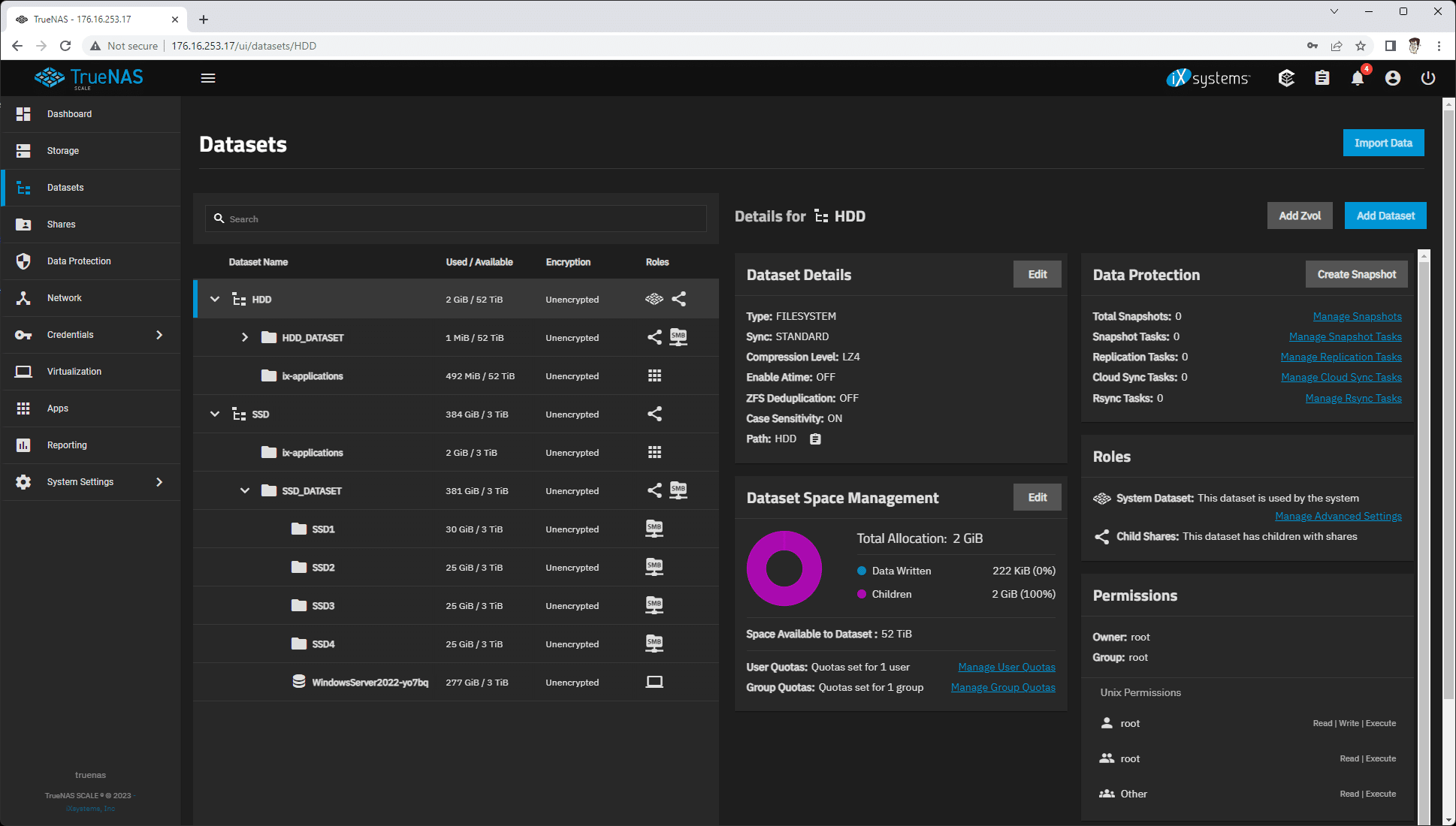 Our enterprise shared storage and hard drive benchmark process preconditions each drive into steady-state with the same workload the device will be tested with under a heavy load of 16 threads with an outstanding queue of 16 per thread and then tested in set intervals in multiple thread/queue depth profiles to show performance under light and heavy usage. Since NAS solutions reach their rated performance level very quickly, we only graph out the main sections of each test.
Preconditioning and Primary Steady-State Tests:
Throughput (Read+Write IOPS Aggregate)
Average Latency (Read+Write Latency Averaged Together)
Max Latency (Peak Read or Write Latency)
Latency Standard Deviation (Read+Write Standard Deviation Averaged Together)
Our Enterprise Synthetic Workload Analysis includes four profiles based on real-world tasks. These profiles have been developed to make it easier to compare to our past benchmarks as well as widely-published values such as max 4k read and write speed and 8k 70/30, which is commonly used for enterprise drives.
4K
8K (Sequential)
128K (Sequential)
Starting with 4K random read performance over 10GbE to our four SSDs in RAIDZ2, we measured 3,545 IOPS read and 1,017 IOPS write.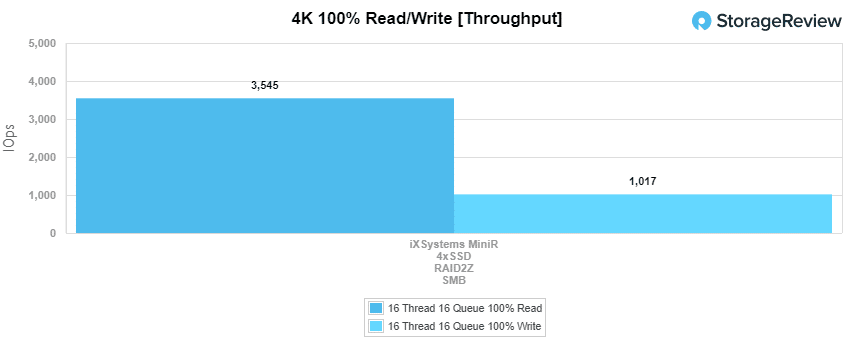 Next, we moved to our 8k sequential read and write test, where we measured just over 16k IOPS read and 14.9k IOPS write.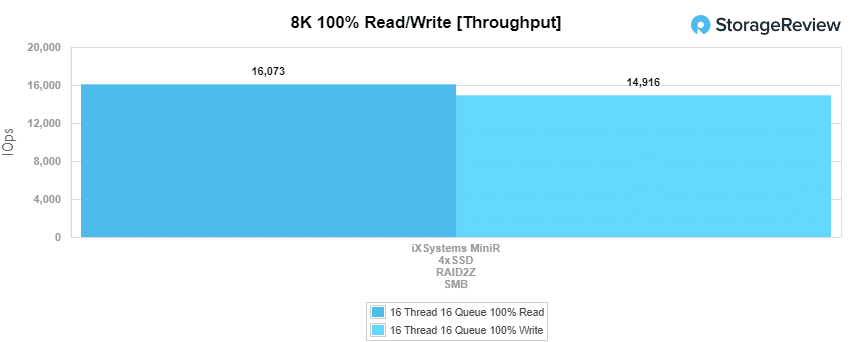 Finally, in our 128k sequential transfer test, we measured 972MB/s read and 738MB/s write over the wire.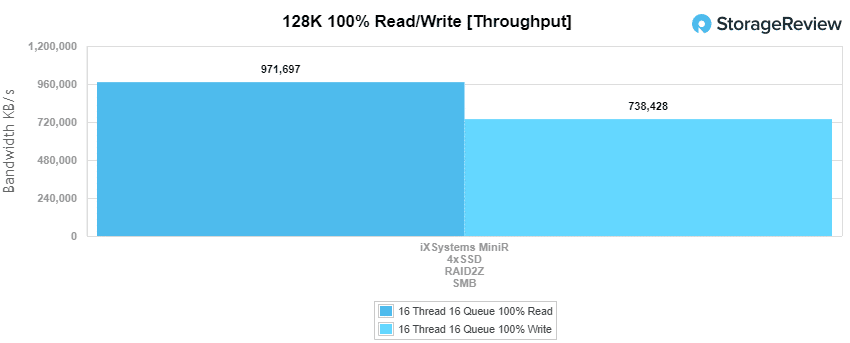 To measure the performance of the storage internal to the box, without the overhead of Ethernet, we used CrystalDiskMark inside the VM running on the built-in hypervisor. Here we measured 811MB/s read, and 425MB/s write with a 1M sequential transfer workload.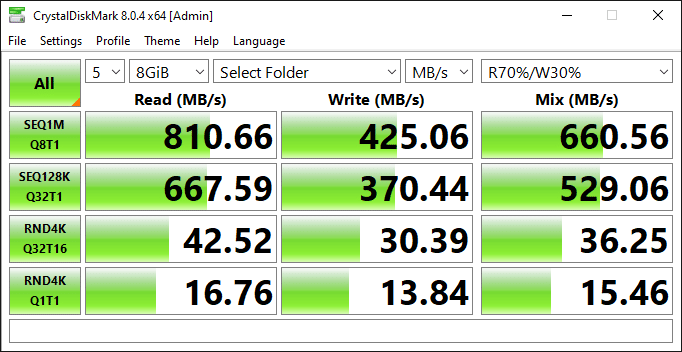 Conclusion
There's a lot to explore in the TrueNAS SCALE Apps catalog, and for the most part, it's easy to work with, especially for those familiar with TrueNAS SCALE. There are other spots, though, where it's easy to get lost in the weeds. Certainly the community will want to continue creating documentation and guides for users that want to explore outside of the enterprise and official app trains.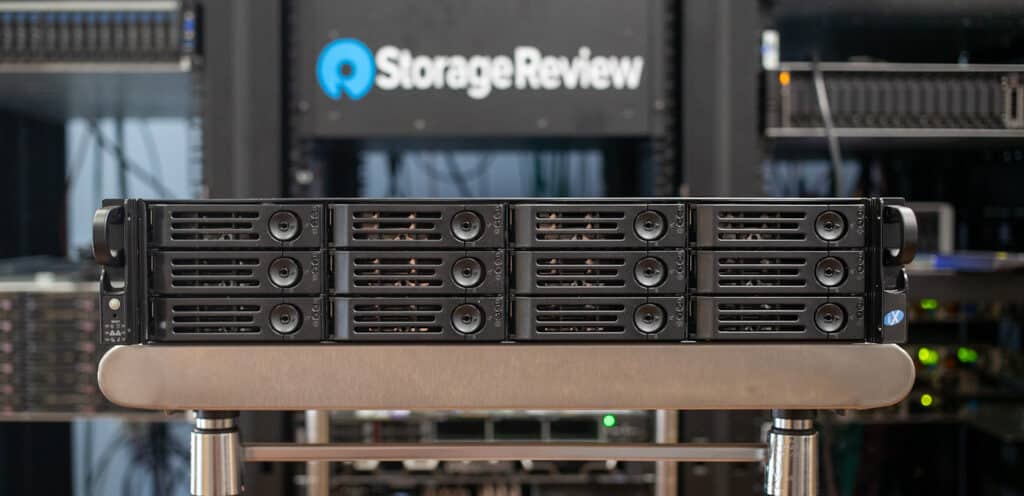 It's also great to see optimized hardware like the iX Mini R. With the shift to Linux and the power of ZFS, and the ability to host containers and VMs, this is a capable device for SMBs with the versatility to expand in the future. The continued combined growth of the software platform, with more enterprise hardware and data services support and the increasing variation in hardware platforms, are all good steps forward for TrueNAS generally and SCALE specifically as iX continues to push further up the enterprise IT stack.
Engage with StorageReview
Newsletter | YouTube | Podcast iTunes/Spotify | Instagram | Twitter | TikTok | RSS Feed