The My Cloud DL4100, which was designed to be easy to deploy while bringing new features to its users, is WD's newest four-bay SOHO NAS. All of the components of the DL4100 are made by WD, so the fully integrated system is ready for use right out of the box, delivering up to 24TB, 117MB/s read, and 107MB/s write. WD's MY Cloud OS (which comes standard with the DL4100) allows for PC/Mac consolidation, remote and mobile access (computers, tablets and smartphones), third-party app support, and maintained performance for multiple users. WD promises to provide reliability, security, scalability, which is evidenced in its features.
The My Cloud DL4100, which was designed to be easy to deploy while bringing new features to its users, is WD's newest four-bay SOHO NAS. All of the components of the DL4100 are made by WD, so the fully integrated system is ready for use right out of the box, delivering up to 24TB, 117MB/s read, and 107MB/s write. WD's MY Cloud OS (which comes standard with the DL4100) allows for PC/Mac consolidation, remote and mobile access (computers, tablets and smartphones), third-party app support, and maintained performance for multiple users. WD promises to provide reliability, security, scalability, which is evidenced in its features.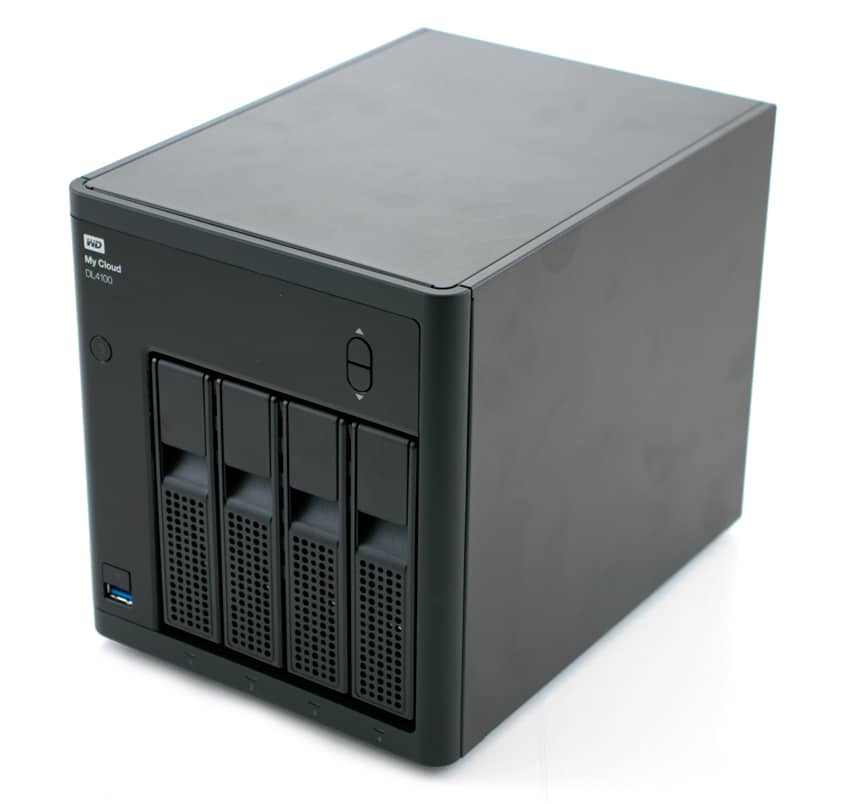 The DL4100 comes loaded with WD Red NAS HDDs, which are specifically optimized for 24×7 use in NAS environments by providing vibration compensation, increased power efficiency, and power loss contingencies. The device itself also has power loss protection with dual power ports. The system minimizes downtime from the network as well thanks to dual NICs that support network link aggregation and failover. In the event of an issue with the server, My Cloud OS's mobile alert feature will update administrators as to the status of the device. Volume encryption as well as local, remote, and cloud backup helps protect server data.
Like many NAS systems on the market, the DL4100 leaves a lot of room for future expansion. Although it comes standard with 2GB of RAM, WD includes expansion slots for up to 6GB. In terms of storage capacity, the DL4100 can be purchased with 24TB, 16TB, 8TB, or 0TB (drive-less), allowing users to tailor their initial investment to meet their current needs. With hot-swappable tool less drive bays, total capacity can be up-scaled as needed. WD also supports daisy chaining over Ethernet so more NAS devices can be connected to the DL4100 if more than 24TB is needed.
The 24TB, 16TB, 8TB, and drive-less models of the DL4100 carry a price-tag of $1,529.00, $1,169.99, $849.99, and $529.99, respectively, and come with a 3-year warranty (only 2 years if the drive-less model is purchased).
Specifications
Models

WDBNEZ0240KBK (24TB)
WDBNEZ0160KBK (16TB)
WDBNEZ0080KBK (8TB)
WDBNEZ0000KBK (0TB)

Interface

Gigabit Ethernet x2
Power supply (DC in) x2
USB 3.0 expansion port x2; USB 2.0 expansion port x1

Drive Bays: 4x 3.5" hard drive bays, hot swap capable, tray-less design
Internal Hard Drives: WD Red NAS hard drives
Processor: 1.7GHz Intel Atom C2338
Memory: 2GB DDR3 (expandable to 6GB max.)
System Requirements

Windows 8, Windows 7, Windows Vista operating system
Mac OS X Mountain Lion, Lion, Snow Leopard and Mavericks operating systems
DLNA/UPnP devices for streaming
Internet connection for remote access

Supported Web Browsers

Internet Explorer 8 or higher
Safari 6 or higher
Firefox 21 or higher
Google Chrome 27 and later on supported Windows and Mac OS platforms

Network Protocols

DHCP Client or Static IP
NTP Client
Dynamic DNS (DDNS)
Apple Bonjour and Windows Rally
Jumbo frame support up to 9K
VLAN (802.1Q)
Link Aggregation(802.1ad)/ Ethernet teaming and failover for 2
Gigabit Ethernet ports
UPnP port forwarding
IPv6
iSCSI
SSH

Security

Active Directory support for Windows Server 2003/ 2008/ 2012
Volume Encryption (256-bit AES)

Environmental

Power

Input voltage: 100V to 240V AC
Input frequency: 50 to 60Hz
Output voltage: 19V DC, up to 6.32A

Temperature

Operating Temperature: 0°C to 35°C ( 32°F to 95°F)
Non-op Temperature: -40°C to 70°C (-40°F to 158°F)

Package Contents

NAS
Ethernet cable
Power supply and cable
Quick Install Guide

Warranty: 3 years (populated), 2 years (driveless)
Design and build
The WD My Cloud DL4100 has a very similar design to the EX4 with the exception of the quick copy USB port on the front left hand side. The DL4100 has an all-metal, black chassis with ventilation on either side of the device. The front of the device has an LCD status screen running along the top with up/down selection arrows for controlling the readout on the display. Beneath the screen are four tool-less, tray-less, hot-swappable drives. The drives are super easier to change, pull the latch and the drive pops right out.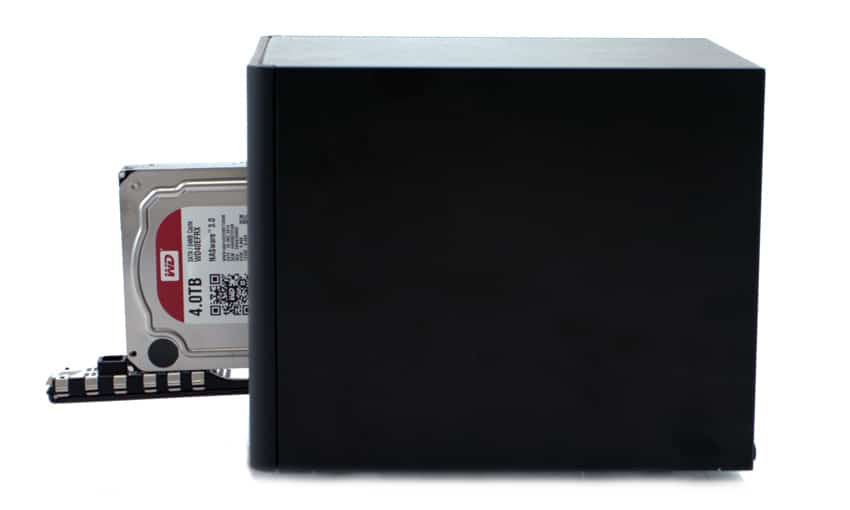 The rear of the device has the cooling fan taking up a majority of the space with a recessed reset button, two USB ports, two Ethernet ports, and two power supplies running down the right hand side.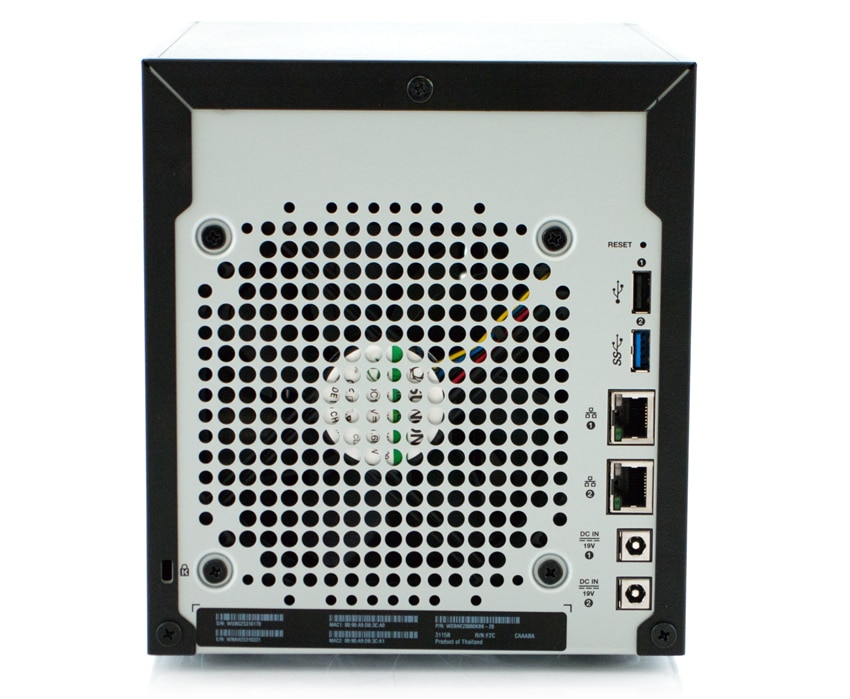 Management
Setup for the WD My Cloud DL4100 is simple. If the NAS is already populated by drives, plug it in, connect it to a router through an Ethernet cable, and the power LED light when start to blink and then turn a solid blue when it is ready. Once it is powered on, open a web browser and enter the device URL. Through the URL users will go through the usual suspects with setting up devices: passwords, languages, accepting license agreements, etc. After that it is ready to use.
The DL4100 runs WD My Cloud OS and is managed through both web browser-based and mobile GUIs. Through the dashboard users have large icon for things such as capacity, device health and firmware updates, network, CPU, and RAM activity, connected cloud and mobile devices, number of users accessing the NAS, and the apps that are installed. Across the top of the dashboard are tabs for the home screen, users, shares, cloud access, backups, storage, apps, and settings. The upper right hand corner has tabs for USB connected devices, notifications, help, and a shutdown, reboot, logout tab for users.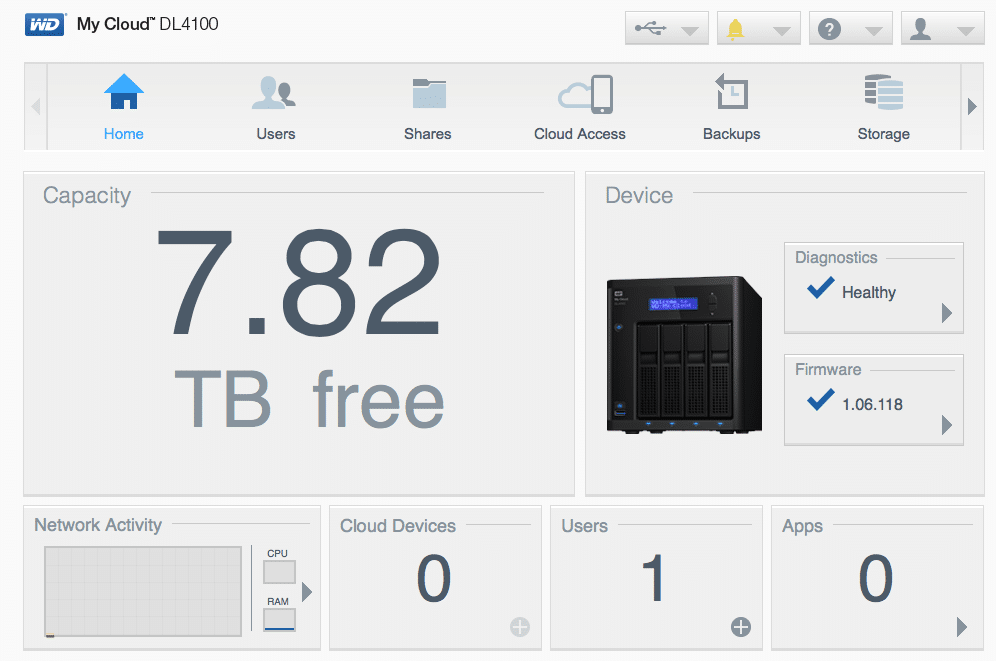 Through the Users tab, administrators can add new users (this can be done through the dashboard as well) as well as setup or import groups of users. Administrators can also setup the access type each user has through this tab.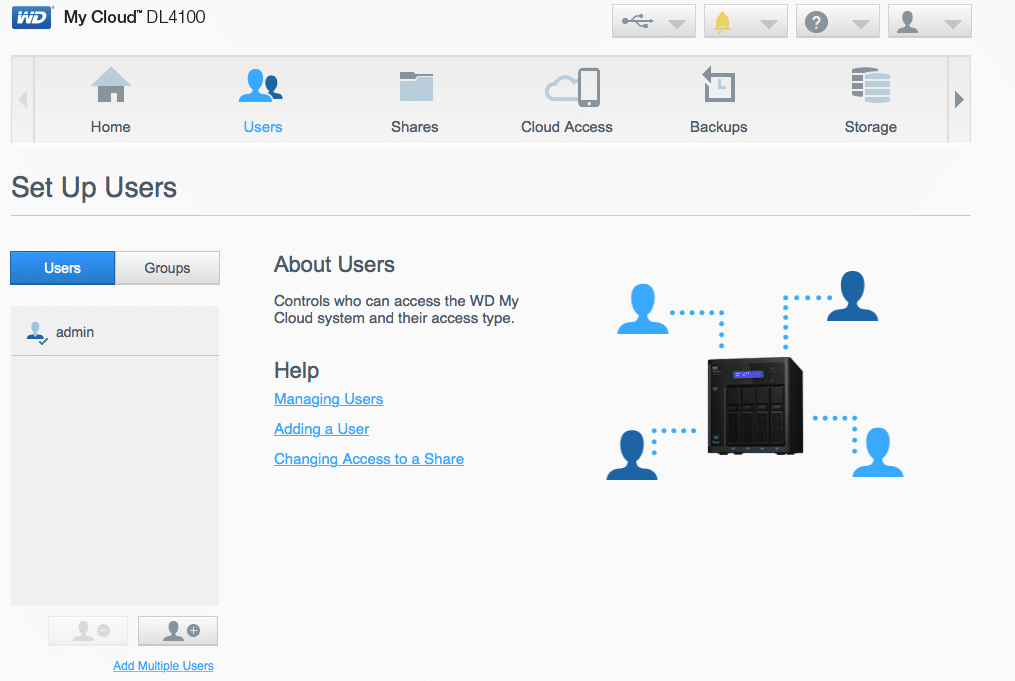 The Shares tab allows users to setup folders to put files in; these folders can either be public (all users have access) or private (administrators set up access to specific users). Clicking on a share folder tells user its name and description, whether or not it is public or private, who has access, and its usage.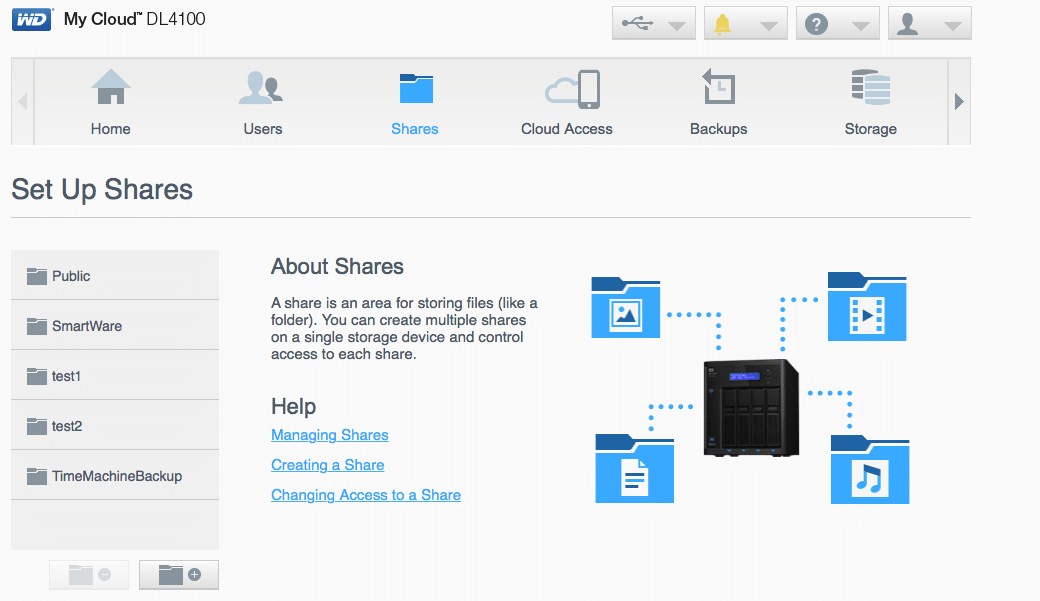 With the Cloud Access tab, mobile devices can be registered as part of the personal cloud ecosystem. Once the device is paired, users will be able to access the DL4100 through an app on their mobile devices.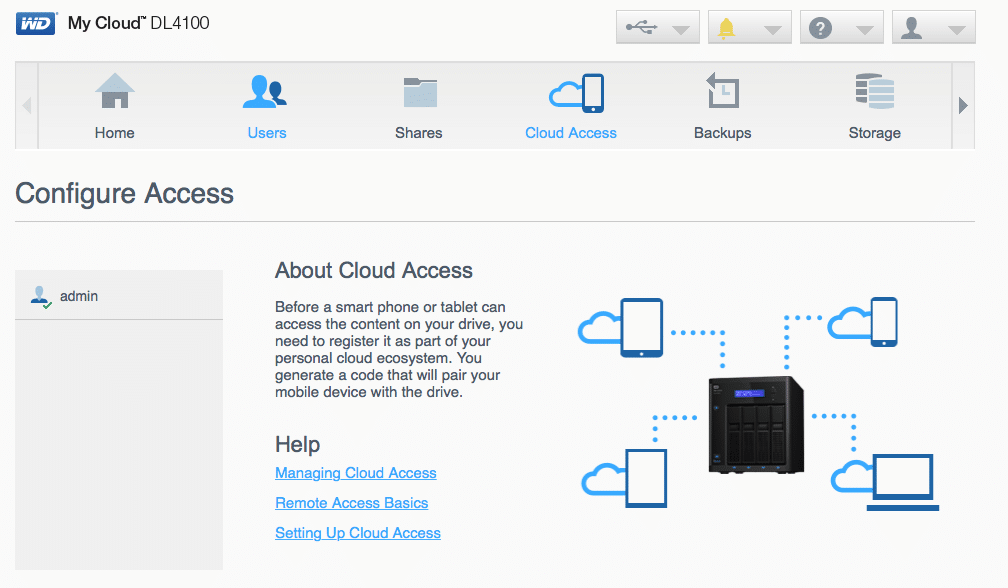 Through the Backups tab, users can create jobs for various types of backups. These backups include: a backup through a USB connected device. A remote backup option enabling the My Cloud system is backed-up to another server (either within the network or outside). An internal backup option where existing content is moved to another location within the My Cloud system. A cloud backup option allows the creation of remote backups that can be accessed through mobile devices. And a camera backup option to backup photos to the My Cloud, this option can be toggled to work automatically.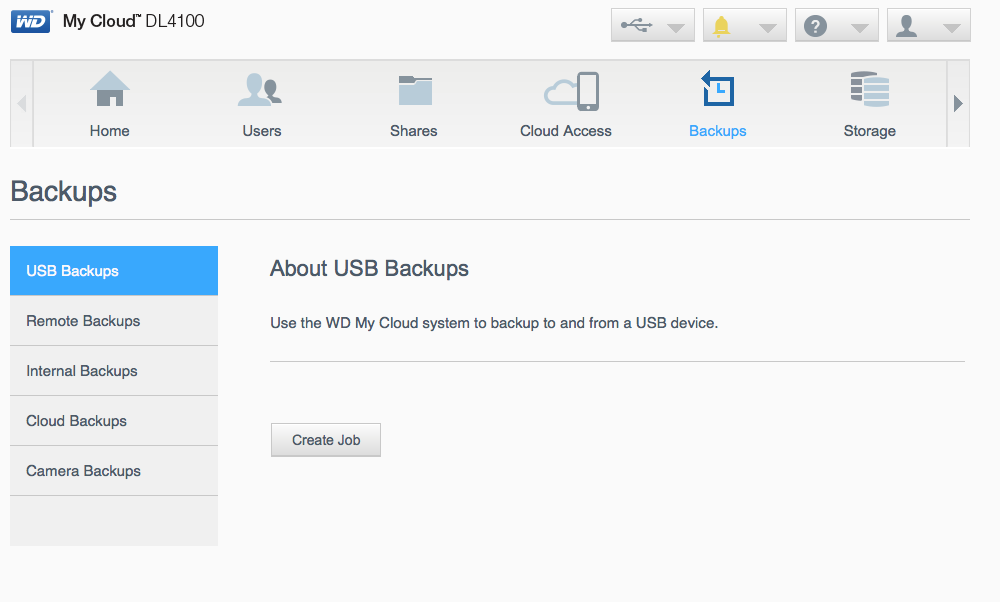 The Storage tab enables administrators to check on RAID health, turn on auto-rebuild, and change the RAID mode (support configurations are JBOD, spanning, RAID0, RAID1, RAID5, and RAID10). The Storage tab also allows the checking of disk status, setting up iSCSI targets, and setting up volume virtualization.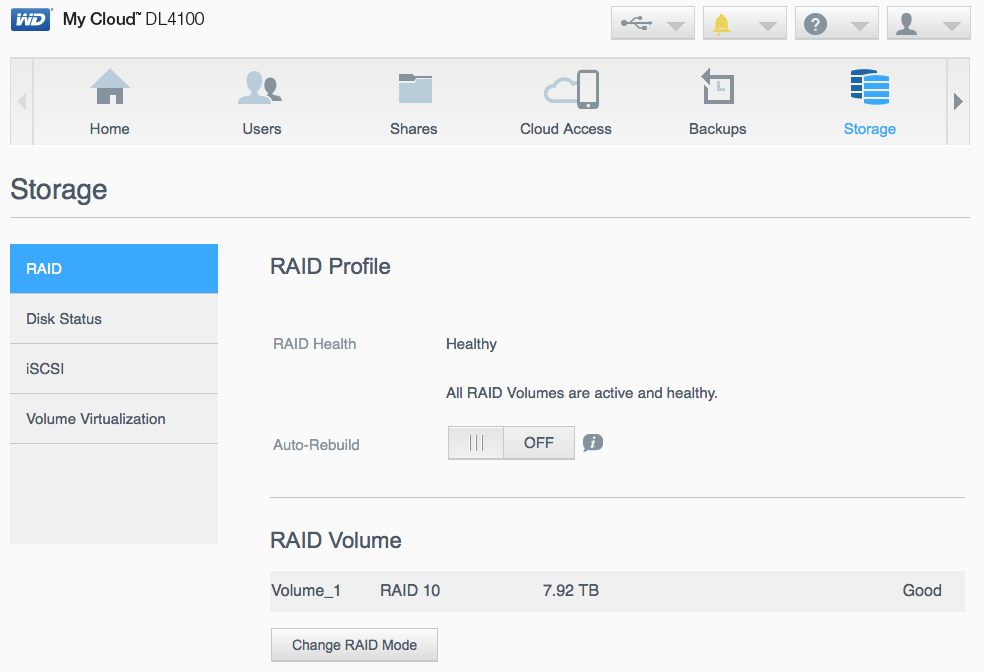 The Apps tab allows various apps to be downloaded to the NAS in order to make it more productive. Apps can be downloaded through the tab on the bottom left hand side. If apps are unavailable, users can manually download the apps they need. The Apps interface is the one place where WD could invest more time, the "app stores" with other NAS solutions are often more refined and offer easier integration.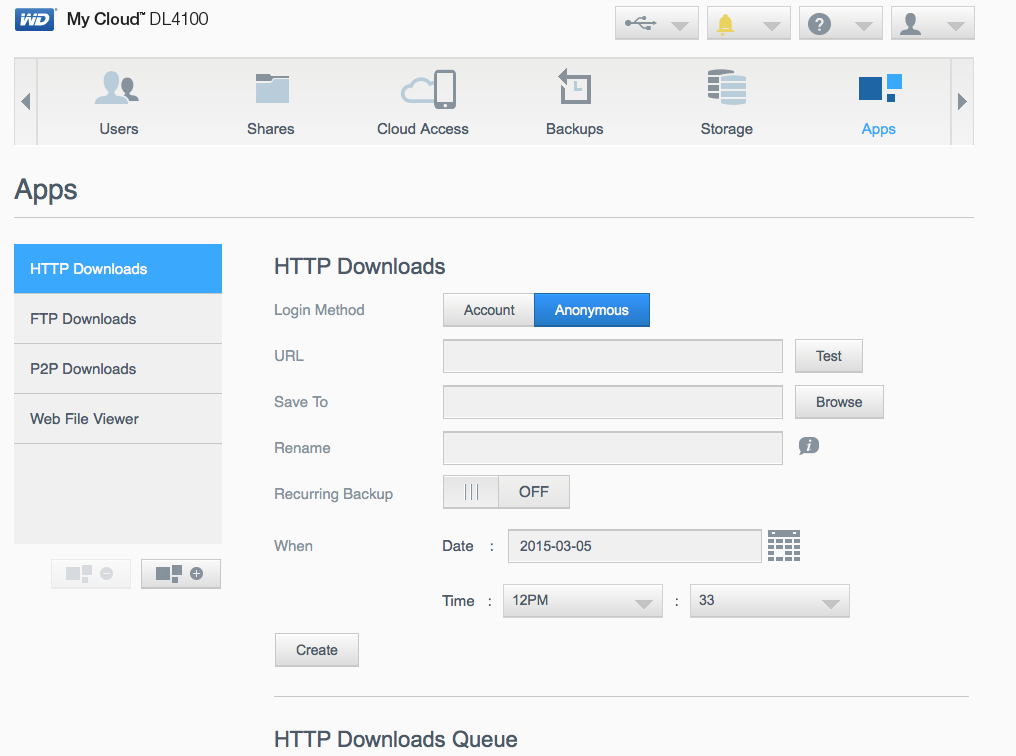 The Setting tab is exactly as it sounds: all the various settings of the device. Here users can view and access general setting such as device name, serial number, language, clock, cloud access, and energy saving settings. All network settings can be viewed here and remote server, port forwarding, and network UPS can be setup. Media settings tab let users turn on/off DLNA streaming and iTunes. The Utilities tab enables system testing and logging, restore to default, system configuration, device maintenance, and scan and format disk. The Notifications tab enables user to set up automatic email or SMS notifications. And the Firmware update tab allows user to set up automatic firmware updates or search for updates manually.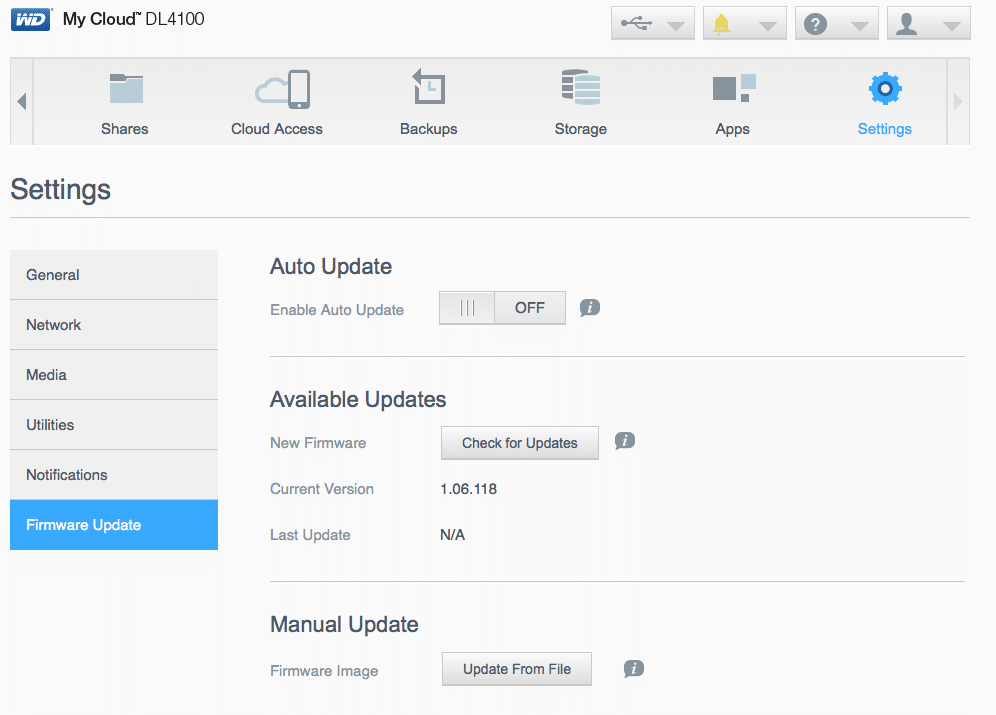 Testing Background and Comparables
We publish an inventory of our lab environment, an overview of the lab's networking capabilities, and other details about our testing protocols so that administrators and those responsible for equipment acquisition can fairly gauge the conditions under which we have achieved the published results. None of our reviews are paid for or overseen by the manufacturer of equipment we are testing.
We tested both SMB and iSCSI performance using RAID 5 and RAID 10 configurations of the WD Red NASware 3.0 4TB drive (our review of the WD Red NASware 3.0 6TB) that ships with the WD My Cloud DL4100 (unless you buy the diskless version). We will be comparing the DL4100 to the WD Sentinel DX4200 Storage Server configured with four 4TB WD Se enterprise HDDs with 4GB of RAM. The DX4200 was tested with both SMB and iSCSI performance using Parity and Mirror configurations.
Our standard StorageReview Enterprise Test Lab regimen runs the device through its paces with a battery of varying performance levels and throughput activity workloads. For the WD My Cloud EX4, the following profiles were utilized to compare performance between different RAID configurations and different networking standard protocols (SMB and iSCSI):
4K 100% Read / 100% Write throughput
8K 100% Read / 100% Write throughput
8K 70% Read / 30% Write throughput
128K 100% Read / 100% Write throughput
Our first benchmark measures the performance of random 4k transfers comprised of 100% write and 100% read activity. The DX4200 did tremendously better on read throughput however the DL4100 outperformed the other in RAID10 write throughput, topping out at 517 IOPS write throughput in RAID10 SMB.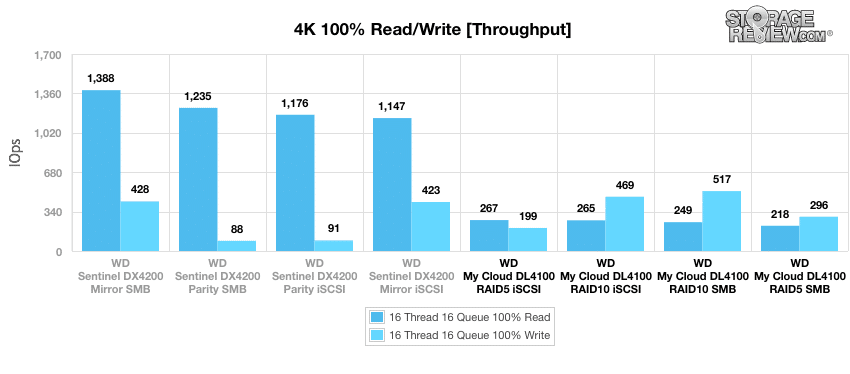 Looking at average latency, we see similar results to the above. The DX4200 had much lower read latencies (the Mirror SMB being only 184.32ms) and the DL4100 had the best write latencies, again the RAID10 SMB was the top write performer at 494.73ms.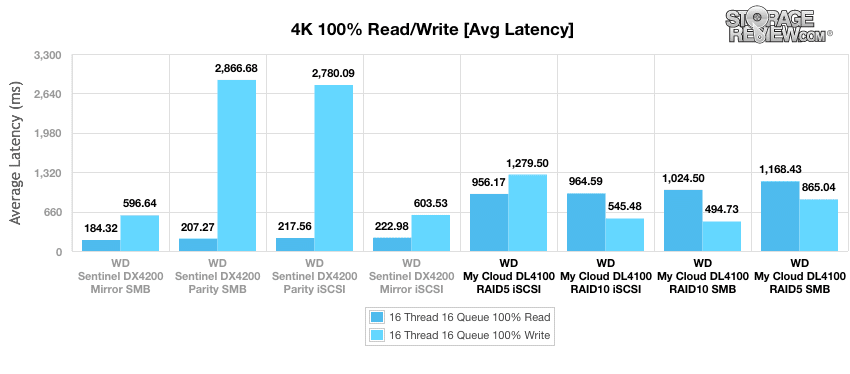 The maximum latency showed the DL4100 fall behind the DX4200 in pretty much every configuration. The DL4100's best results were for the RAID10 SMB read speed at 1,953ms and RAID5 SMB write speeds at 4,760.9ms.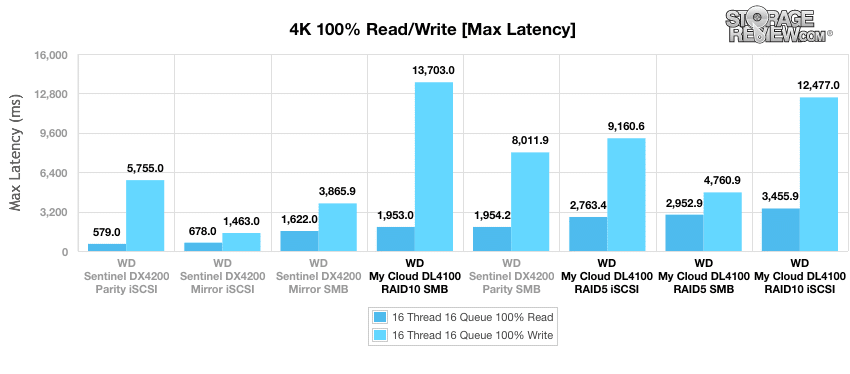 In our standard deviation section of the 4k test, we see more of the same we saw in the last test. The DL4100 fell behind the DX4200 with its best results being 267.57ms read in RAID10 SMB and 675ms write in RAID5 SMB.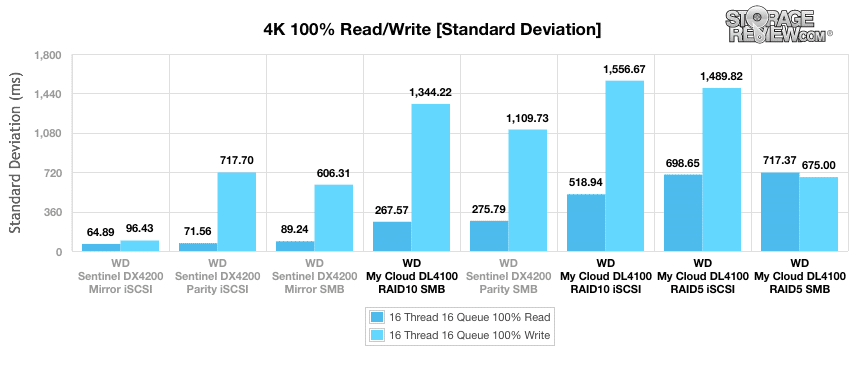 The next test again puts the drives under 100% read/write activity, this time at 8K sequential throughput. Here we see the DL4100 take the lead on performance. All of the DL4100's read performances were very close, within 150 IOPS of each other. The top performer was the RAID5 SMB with a throughput of 28,186 IOPS. The write throughput wasn't as close but was well ahead of the DX4200. The Top performer was the RAID10 SMB with a throughput of 20,376 IOPS.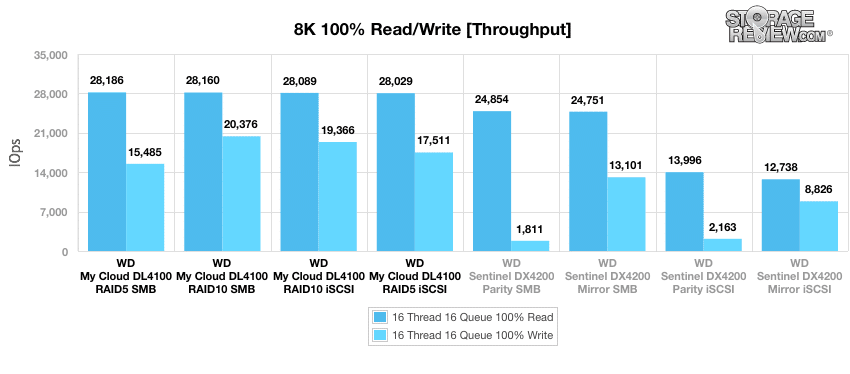 Compared to the fixed 16 thread, 16 queue max workload we performed in the 100% 4k write test, our mixed workload profiles scale the performance across a wide range of thread/queue combinations. In these tests, we span workload intensity from 2 threads and 2 queue up to 16 threads and 16 queue. In our expanded 8k 70/30 test, here all configurations of the DL4100 fairly steady and fairly close to one another along with the Parity configurations of the DX4200. The DX4200 Mirror configurations had a much higher throughput.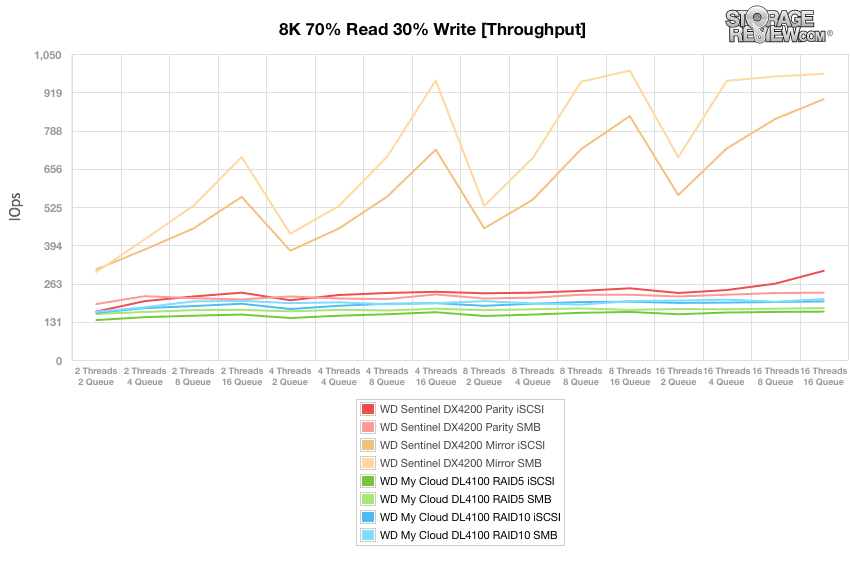 With average response times, we again see similar results to the above. The DL4100 and the Parity configurations of the DX4200 ran close together throughout while the Mirror configurations and a much lower and more stable speed.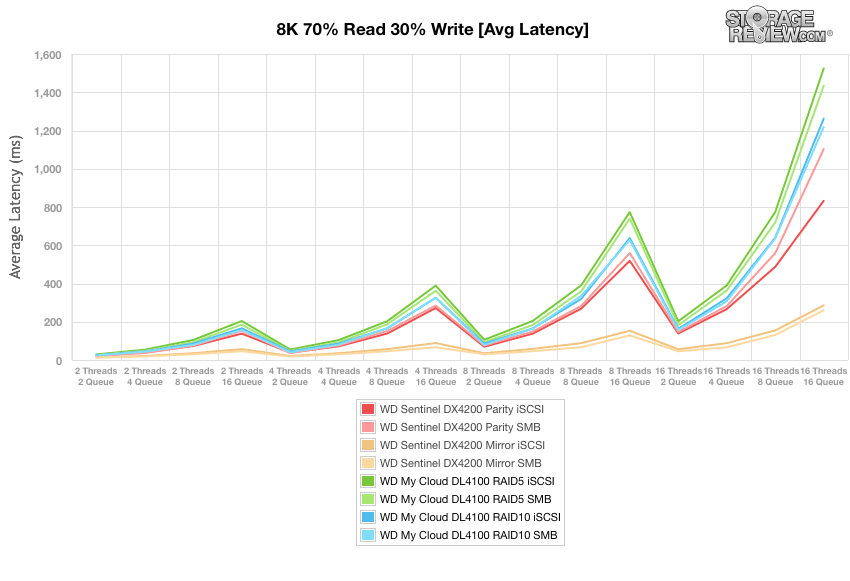 Looking at max latencies, the DX4200 outperformed the DL4100 across the board.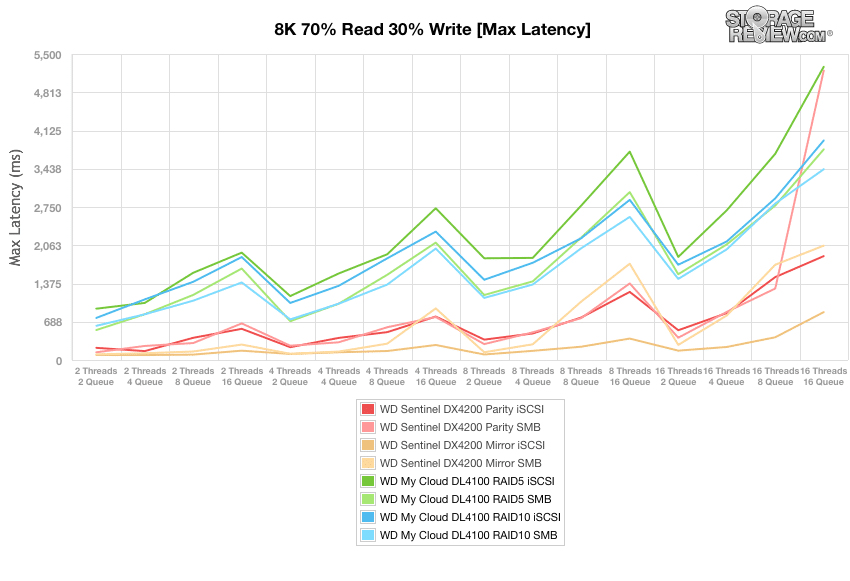 Standard deviation gave us similar results to max latency with the DX4200 again outperforming the DL4100 from beginning to end.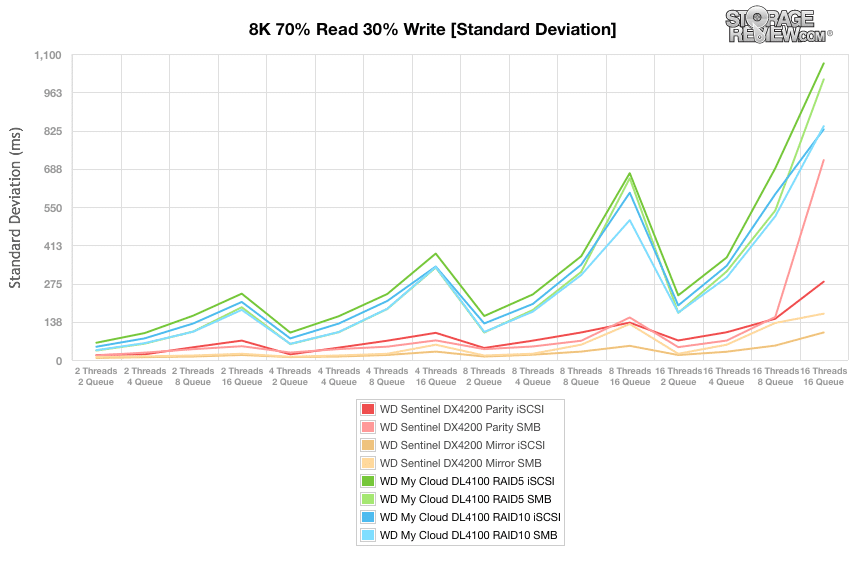 Our last test in our small NAS Synthetic Workload testing is the 128k test, which is a large block sequential test that shows the highest sequential transfer speed. When looking at the 128k performance of 100% write and 100% read activity, the results were much closer. The DL4100 got the top read speed of 231,474KB/s with RAID5 iSCSI, narrowly being beat by the DX4200 Parity iSCSI with a read speed of 231,622KB/s. Top write speeds were again close with the DX4200 Mirror SMB coming out on top with 223,925KB/s and the DL4100 RAID10 iSCSI coming right behind 220,263KB/s.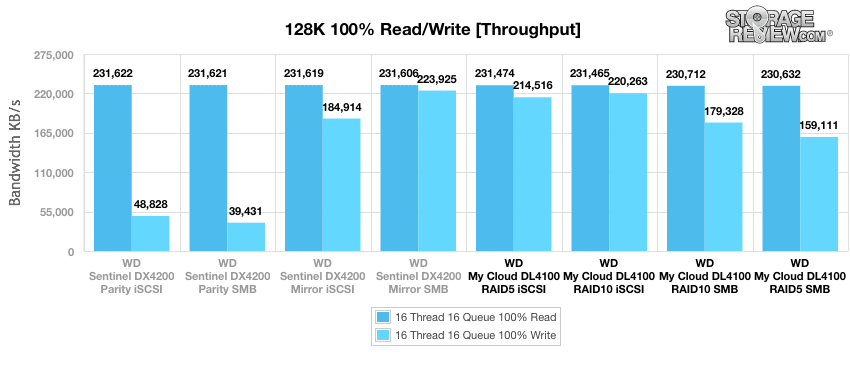 Conclusion
The WD My Cloud DL4100 is part of WD recently announced business series of NAS (which includes the DX4100 for prosumers). The DL4100 is a 4-bay NAS with capacity up to 24TB and has dual Ethernet ports allowing to daisy chain with another DL4100 when users need more than 24TB. The device comes with a 1.7GHz Intel Atom C2338 processor and 2GB DDR3 (but is expandable to 6GB). The DL4100 runs My Cloud OS and can be managed through both web browser and mobile interface and allows backup to several cloud solutions such as ElephantDrive and Amazon S3. While there is a diskless version available, customers can also by versions that are already populated by WD Red NAS HDDs.
Looking at performance, the DL4100 didn't perform as strongly as the DX4200 in the direct comparison which is to be expected as the DL4100 slots in at the lower-end of WD's business-centric line. The DL4100 had a 4k write throughput of 517 IOPS and an 8k read throughput of 28,186 IOPS. Its latencies overall ran higher than the DX4200 as well as being higher than some of other SOHO business NAS we've tested. The DL4100 did give us large block transfer speeds of 231MB/s read and 224MB/s write.
While the DL4100 isn't exactly a powerhouse in the performance arena, it is extremely easy to deploy and use. It also comes with several attractive features for a small business that are simple to configure out of the box, like backups and remote access. WD has managed a pretty good price point too, which will open more doors, especially given WD's brand power. For small workgroups or a home office where the benefits of NAS can be leveraged, the DL4100 is certainly a viable offering where ease of use and deployment are the critical concerns.
Pros
Simple to deploy
Can be daisy chained to other DL4100s for more capacity
UI for management is intuitive
Cons
3rd party apps were not readily available as they typically are on other popular brands
Performance isn't an overall strength
The Bottom Line
The WD My Cloud DL4100 is a 4-bay NAS that gives businesses secure, reliable storage that's easy to manage, providing small offices peace of mind and features like remote access from mobile devices.
WD My Book DL4100 product page
WD My Cloud DL4100 at Amazon