The WD Sentinel DS6100 is a 8 x 9 x 6-inch pedestal which can serve up to 16TB of unified NAS and iSCSI storage. The DS6100 and its sibling the DS5100 are two recent additions to WD's growing Sentinel Series lineup of small business network storage appliances, which consolidate primary server and storage solutions for small businesses and branch offices. The DS6100 offers simple deployment with quick access to Microsoft Windows Server 2102 Essentials, allowing the integrated server and storage device that can provide services and applications on the network alongside storage.
The WD Sentinel DS6100 is a 8 x 9 x 6-inch pedestal which can serve up to 16TB of unified NAS and iSCSI storage. The DS6100 and its sibling the DS5100 are two recent additions to WD's growing Sentinel Series lineup of small business network storage appliances, which consolidate primary server and storage solutions for small businesses and branch offices. The DS6100 offers simple deployment with quick access to Microsoft Windows Server 2102 Essentials, allowing the integrated server and storage device that can provide services and applications on the network alongside storage.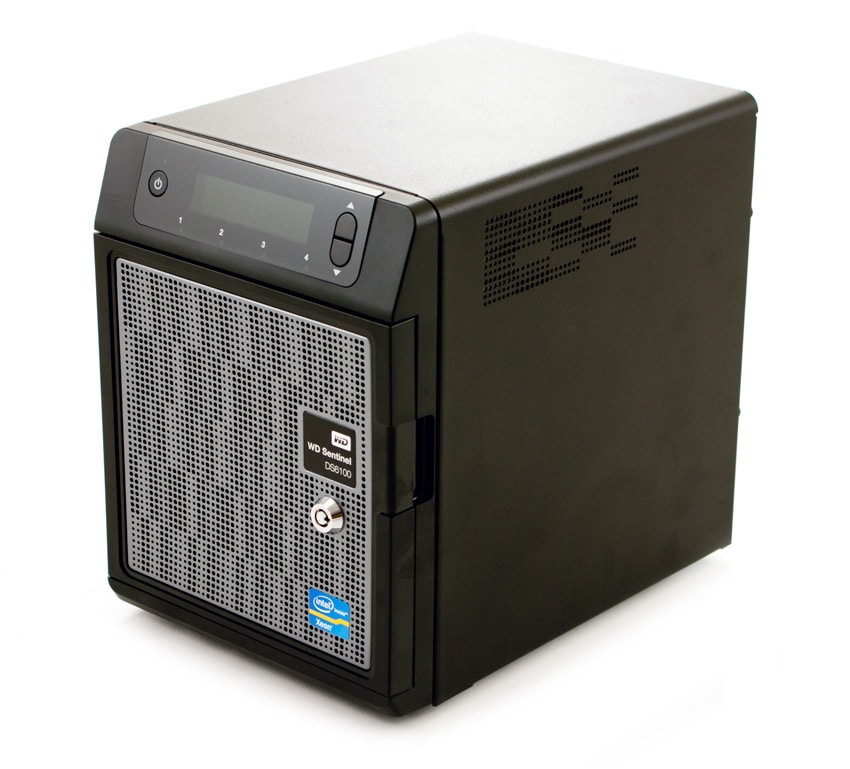 In the time since we looked at the Sentinel DX4000, WD has continued to focus the Sentinel lineup on filling a primary NAS role while taking advantage of its server capabilities to provide network services such as Active Directory, DNS, and DHCP via a Windows platform with its broad base of applications. The DS6100 has double the maximum storage capacity and a faster Xeon quad core processor than the DS5100, but the two Sentinel S-Series appliances share most other specifications which are capable of running on-premise and cloud applications including QuickBooks.
The DS6100 base configuration includes redundant operating system drives in a mirrored RAID 1 array, which is an option on the DS5100 with a single OS drive as base. The DS6100 is available with up to four WD Se enterprise 3.5-inch HDDs for storage, which are hot swappable and can be configured as a RAID array or managed via Windows Storage Spaces pools. For this review, we will evaluate the DS6100 as a Windows Storage Spaces volume accessed over the network via SMB/CIFS and iSCSI.
Dual gigabit Ethernet ports can be configured for fault tolerance, aggregated performance, or access to separate LANs. Failover redundant DC-in power supplies are also a valuable addition reflecting the enterprise orientation of the S-Series feature set. Alongside local disaster recovery through LAN and WAN links and direct attached storage, the DS6100 can be used with Windows Azure and other cloud platforms for hybrid storage and backup.
As WD continues to grow their branded storage portfolio, the DS6100 and DS5100 require a subtle but important point of clarification. While these systems deliver NAS functionality, they run Windows Server 2012 Essentials, which is different from Windows Storage Server 2012 Essentials that is found in pure NAS boxes. The difference means that the WD products more or less add server functionality to the storage box, making the DSs capable of running applications, acting as a domain controller and so on. While our focus in this review is primarily on the storage functionality, the point of differentiation is important.
WD Sentinel DS6100 Specifications
Models:

WDBWVL008KBK – 8 TB (2 x 4 TB)
WDBWVL0120KBK – 12 TB (4 x 3 TB)
WDBWVL0160KBK – 16 TB (4 x 4 TB)

Operating System: Windows Server 2012 R2 Essentials
CPU: Intel Xeon E3-1265LV2 2.5 GHz Quad Core processor
Memory: 16 GB ECC RAM (32 GB Max) – 2 used of 4 RAM slots
Data Protection: Storage Spaces or Hardware RAID (JBOD, 0, 1,5,10)
Cloud Integration: Windows Azure, Office 365
Boot Drives: Two 2.5" with OS pre-installed, pre-configured in RAID-1
3.5-inch Data drives: 2 or 4 (field upgradeable)
USB ports: 4 x USB 3.0, 2 x USB 2.0
Network interfaces: 2 x 1Gb/s (redundant)
LCD front panel display: Dual 16-character lines show status
Power Supply: Dual redundant external DC-in power supply ports with two power adapters
Initial Setup: VGA monitor, USB 2.0 keyboard and mouse
Network Authentication
Active Directory and Primary Domain Controller
Web Remote Access via Windows Server 2012 R2 Essentials
VPN Compatibility via Windows Server 2012 R2 Essentials
iSCSI via Windows Server 2012 R2 Essentials
Network protocols: CIFS/SMB, AFP, NFS, HTTP, HTTPS, FTP, WebDAV, Bonjour
Height: 8.1 Inches
Depth: 8.80 Inches
Width: 6.30 Inches
MSRP: 8 TB – $3,440, 12 TB – $3,960, 16 TB – $4,560
Design and Build
The WD Sentinel DS6100 uses its footprint economically, conceding a minimum of space for the server hardware and operating system drives in addition to the four storage bays. The resulting small form factor chassis offers limited upgrades other than storage media, RAM, and operating system updates, but within those areas makes it straightforward to access and maintain the system.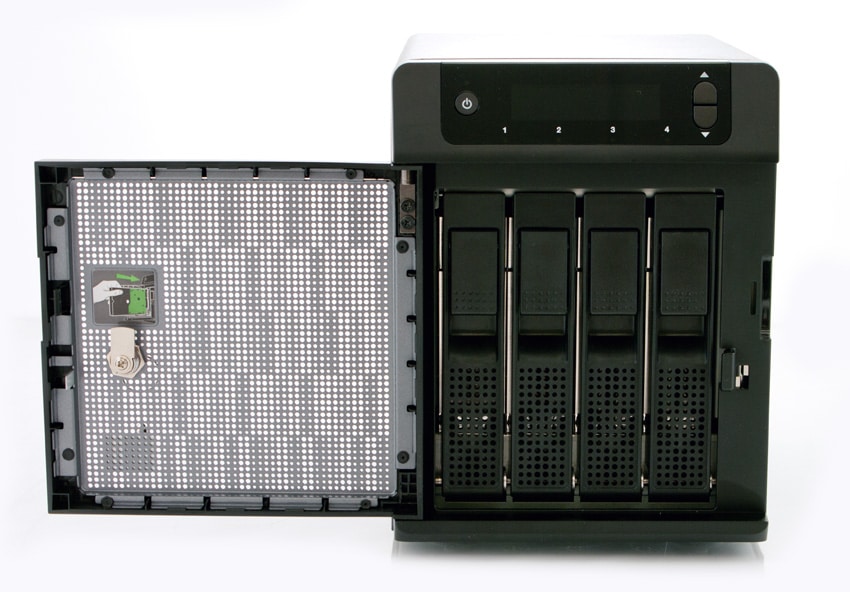 Behind a lockable bezel on the front, the DS6100 provides access to four drive bays that utilize WD's toolless and screwless design. Drives are inserted and removed by pulling a release tab to open the bay, which is pushed back into position to hold the drive in place. The drives are connected internally via software RAID, the DS6100 does not support a physical RAID card, which limits its use as a virtualization server.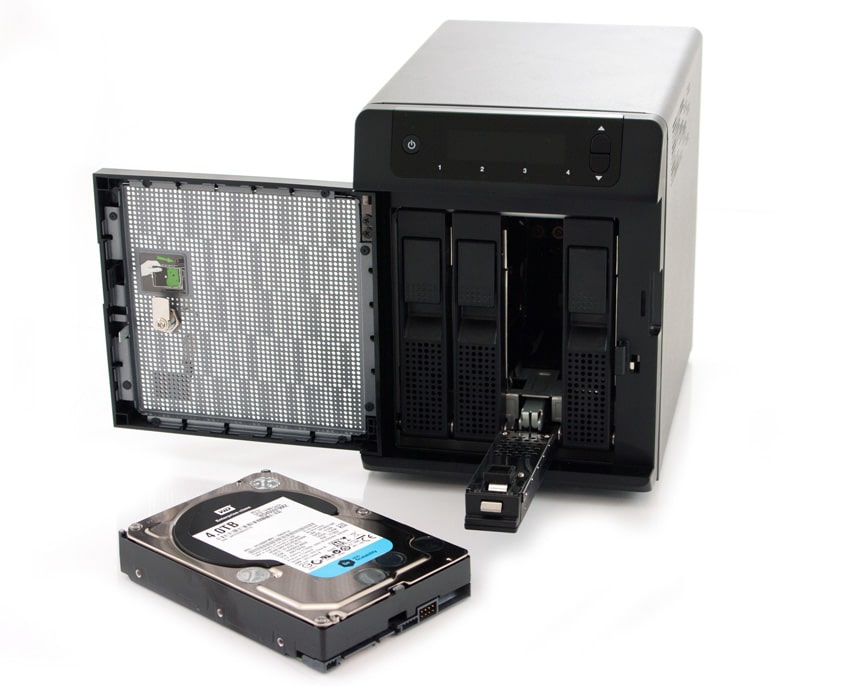 On the front is a power switch with an LED indicator for system status, and individual LEDs to display status and activity for each drive bay. The interactive two-line LCD display provides system status and alerts, and uses a pair of scroll buttons for interaction.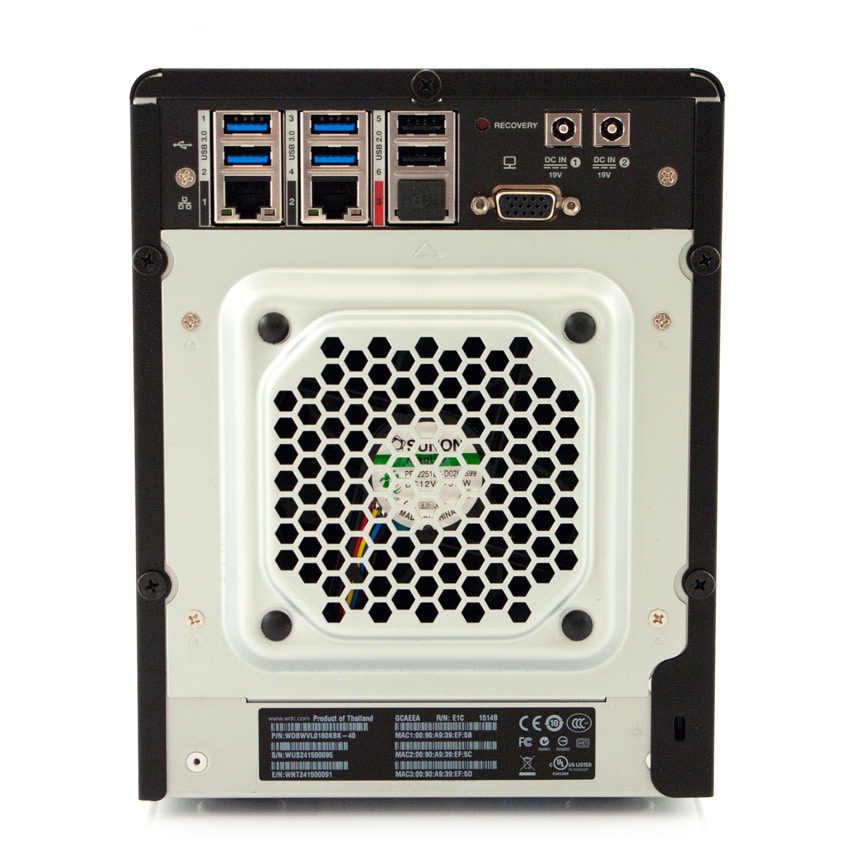 The rear of the DS6100 provides access to four USB 3.0 ports, two USB 2.0 ports, dual 1GbE interfaces, and an IPMI management interface. The rear also incorporates an operating system recovery button, a VGA port for local administration, and dual DC power supply inputs.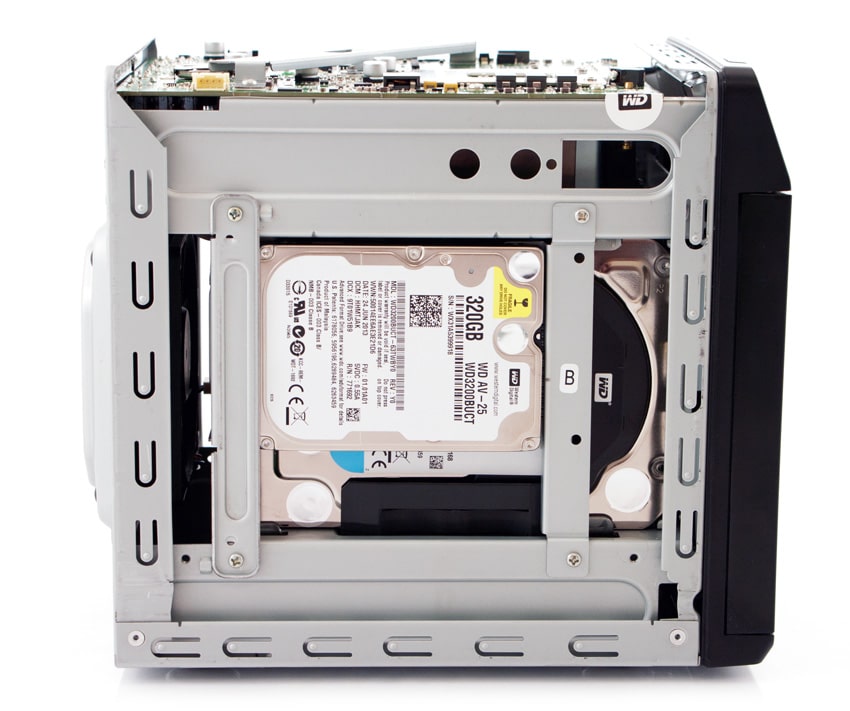 After lifting off the top cover, one of the 2 boot HDDs in RAID1 is visible tightly packed into the side of the chassis.
Management
The first time the DS6100 is powered on, a WD utility launches the Windows Server installation wizard. The S-Series appliances ship preconfigured with Microsoft Windows Server 2012 R2 Essentials, and can support up to 25 users and 50 devices via its integrated Connector software, with Launchpad and Dashboard applications for user and administrative access to the DS6100. Windows Server 2012 R2 Standard is available as an upgrade.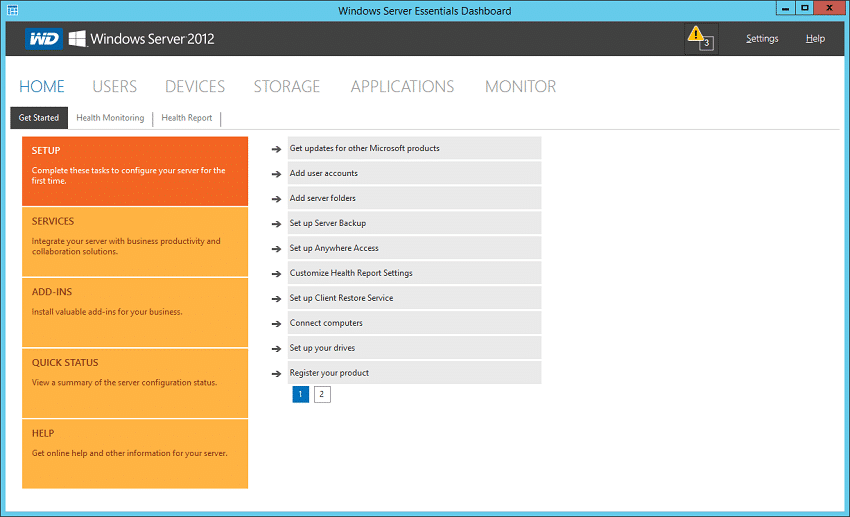 Users with administrative access can configure the DS6100 via the Windows Server 2012 Essentials Dashboard software tool. Dashboard manages user accounts and permissions, monitors alerts and server performance, remote access, and creates and manages iSCSI targets.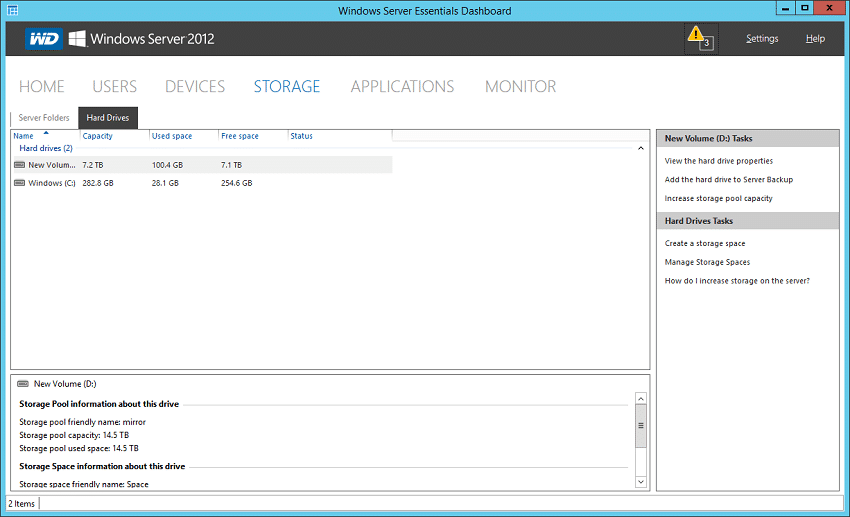 The Category pane at left provides access to information and configuration tools. The Task pane displays tasks and resources associated with that category, and the Action pane on the right provides a description of individual tasks with links to associated actions.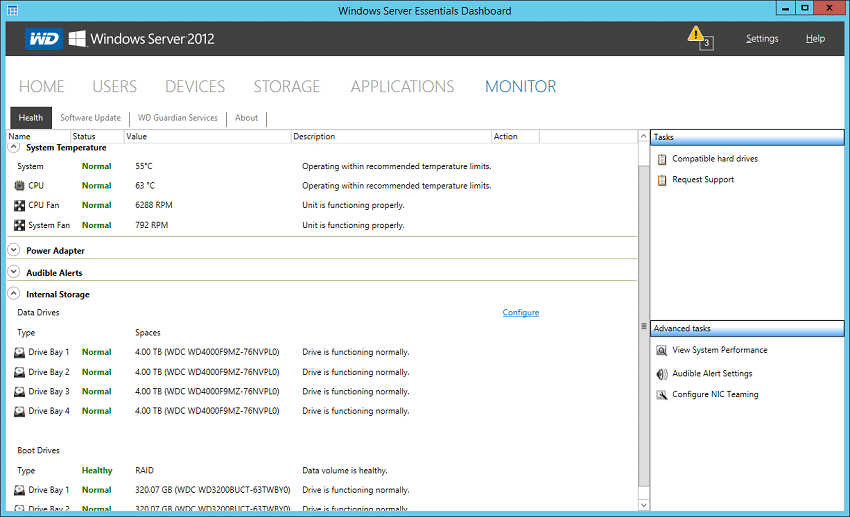 The WD RAID Storage Utility configures and maintains the software RAID settings, including the creation of Microsoft Storage Spaces pools. Storage Spaces is a Windows storage virtualization technology which abstracts storage within a pool that can span disks of different sizes. Disk mirroring or striping with parity provides redundancy against drive malfunctions.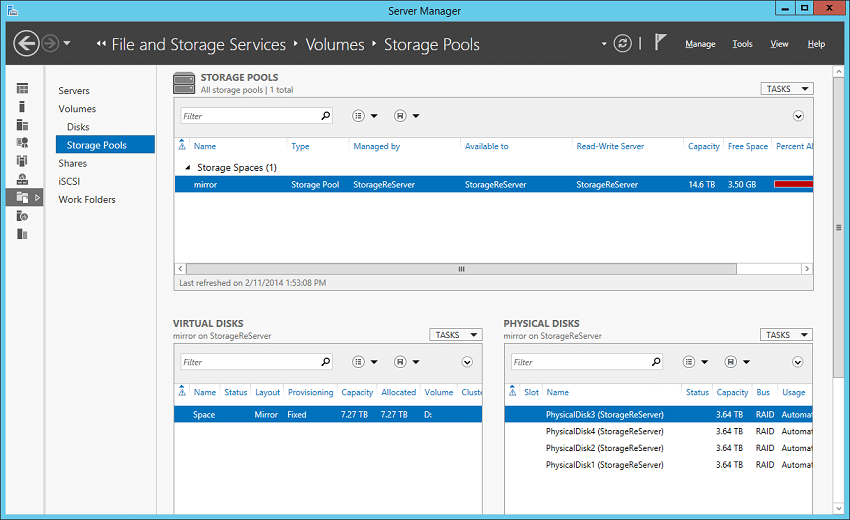 In addition to providing integration with UPS devices, the USB ports can be used to share attached external storage on the network via the Dashboard interface.
Testing Background and Comparables
We publish an inventory of our lab environment, an overview of the lab's networking capabilities, and other details about our testing protocols so that administrators and those responsible for equipment acquisition can fairly gauge the conditions under which we have achieved the published results. None of our reviews are paid for or overseen by the manufacturer of equipment we are testing.
We will be benchmarking the DS6100 configured with four 4TB WD Se enterprise HDDs and with 16GB of RAM. For this review, we will benchmark drive performance via both SMB/CIFS and iSCSI protocols with the drives configured as a single volume via Windows Storage Spaces. Storage Spaces is a Windows storage virtualization technology which offers built-in thin provisioning and can span disks of different size, performance, or interface. Storage Spaces can be configured for data protection via mirroring or striping parity across physical disks.
Enterprise Synthetic Workload Analysis
Prior to initiating each of the fio synthetic benchmarks, our lab preconditions the device into steady-state under a heavy load of 16 threads with an outstanding queue of 16 per thread. Then the storage is tested in set intervals with multiple thread/queue depth profiles to show performance under light and heavy usage.
Preconditioning and Primary Steady-State Tests:
Throughput (Read+Write IOPS Aggregated)
Average Latency (Read+Write Latency Averaged Together)
Max Latency (Peak Read or Write Latency)
Latency Standard Deviation (Read+Write Standard Deviation Averaged Together)
The synthetic analysis incorporates four profiles, including 4k and 8k 70/30 benchmarks which are widely used in manufacturer specifications and benchmarks.
4k
8k

100% Read and 100% Write
70% Read/30% Write

128k
Our first benchmark gauges the performance of random 4k transfers comprised of 100% write and 100% read activity. In 4k throughput, the WD6100 achieved its best overall results when configured with mirrored drives. Read performance was comparable throughout the benchmark.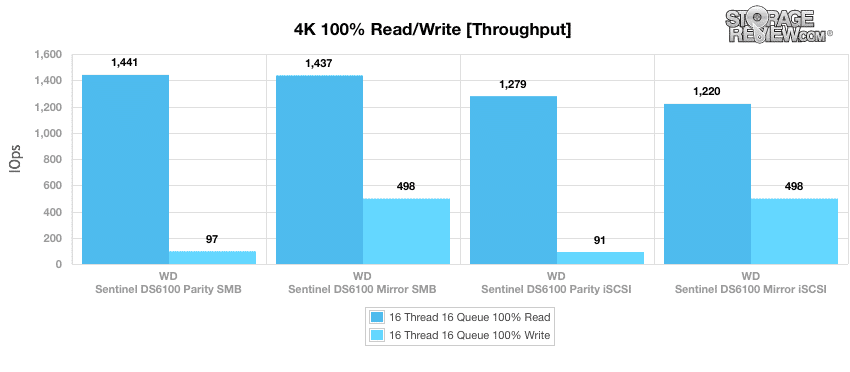 Average latency plots for the 4k benchmark show a similar pattern: a relatively narrow range of average read latencies alongside notably lower write latency with the mirrored configuration.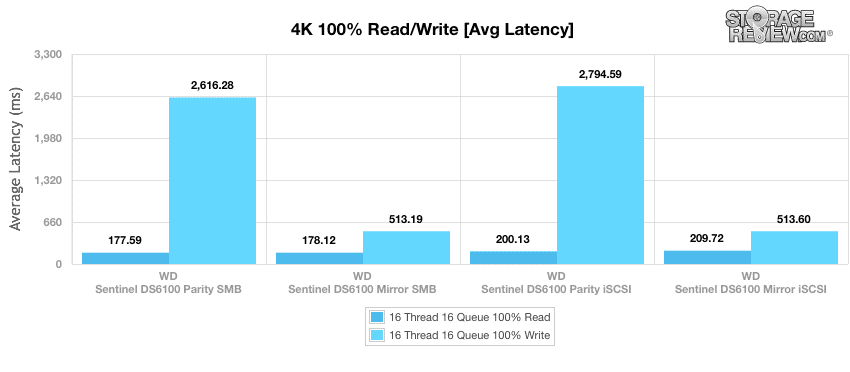 A mirrored Windows Storage Space accessed by iSCSI resulted in the lowest maximum latencies measured during the 4k benchmark with a 1,285ms maximum write latency and a 567ms maximum read latency.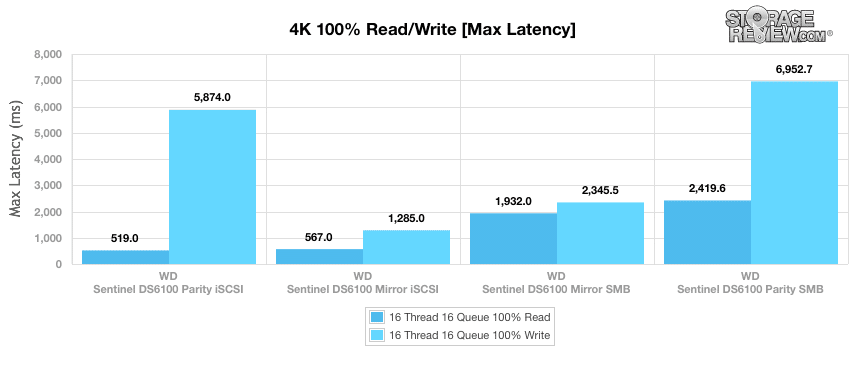 Plotting the standard deviations of the latency results reflect how consistent latencies were within each configuration that we evaluated on the DS6100. Mirrored drives and iSCSI connectivity are also the clear leaders here.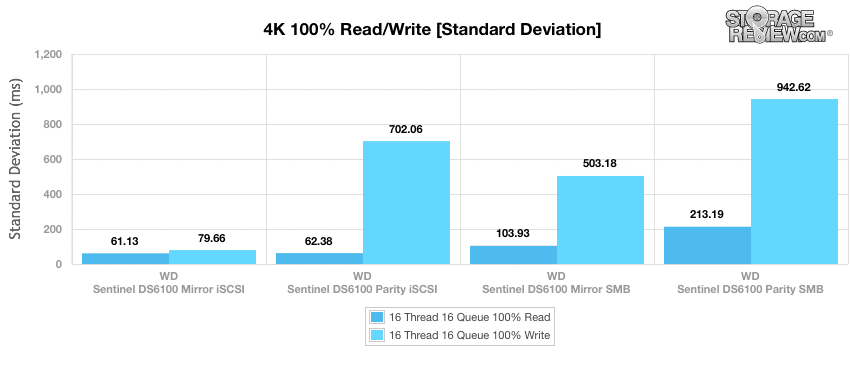 With the transfer size increased to 8k, IOPS increased but the performance profiles remain similar to the results of the 4k throughput benchmark. Read throughput is relatively consistent throughout the benchmark, and the best write results are achieved via iSCSI where the DS6100 hit 26,479 IOPS.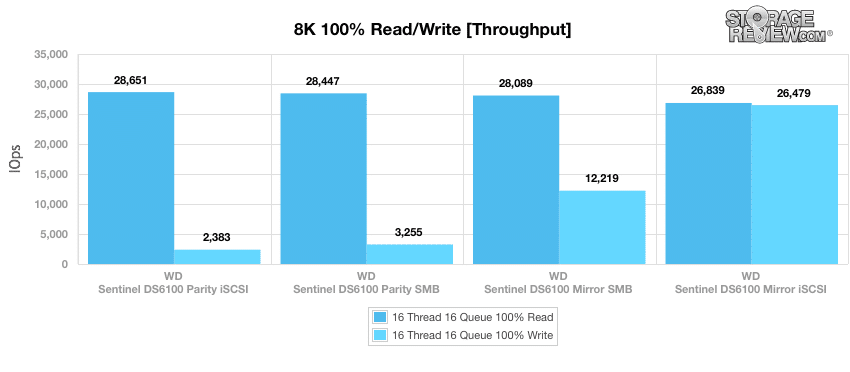 The next four charts are based on a protocol consisting of 70% read operations and 30% write operations with an 8k transfer size. The workload is varied from 2 threads and a queue depth of 2 up to 16 threads and 16 queue.
When the drives were configured to use Windows Storage Space's parity scheme, IOPS remained between 198 and 259 for both SMB/CIFS and iSCSI connections. With mirrored drives, performance scaled upward with the workload to reach 924 IOPS via iSCSI and 1,068 IOPS via SMB.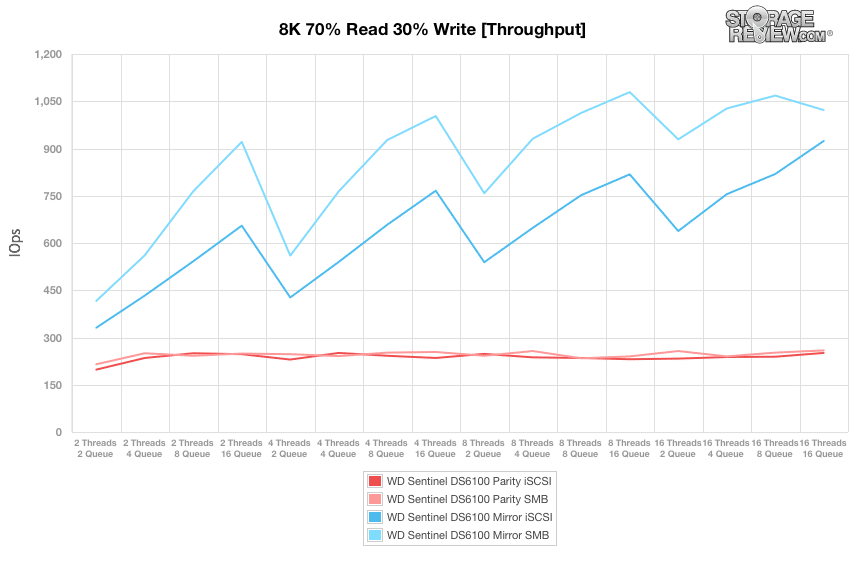 Average latency results during the 8k 70/30 benchmark vary as expected with changes to the workload. Mirrored drives have an overall advantage in average latency results, more so when used in conjunction with the SMB/CIFS protocol.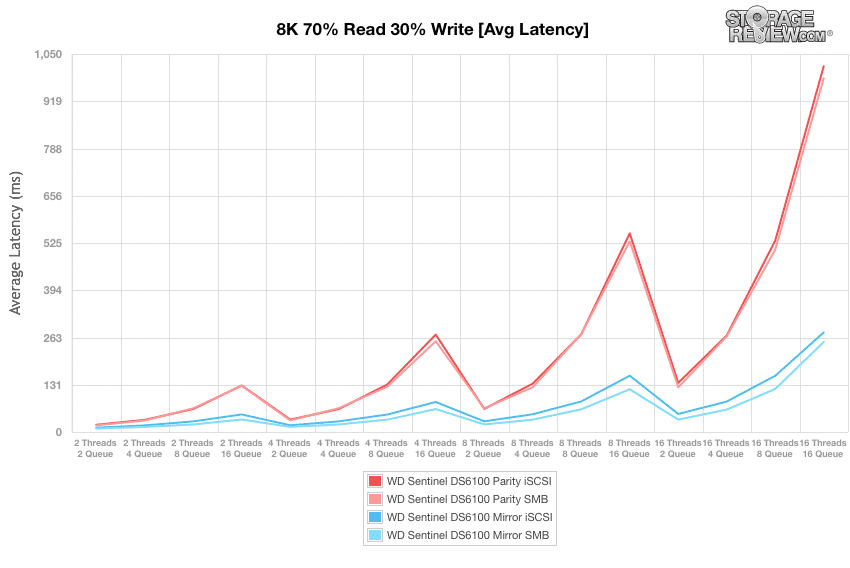 The maximum latency values still reflect the performance advantage of the mirrored drive scheme, but also show iSCSI's advantage in avoiding latency peaks compared to SMB/CIFS.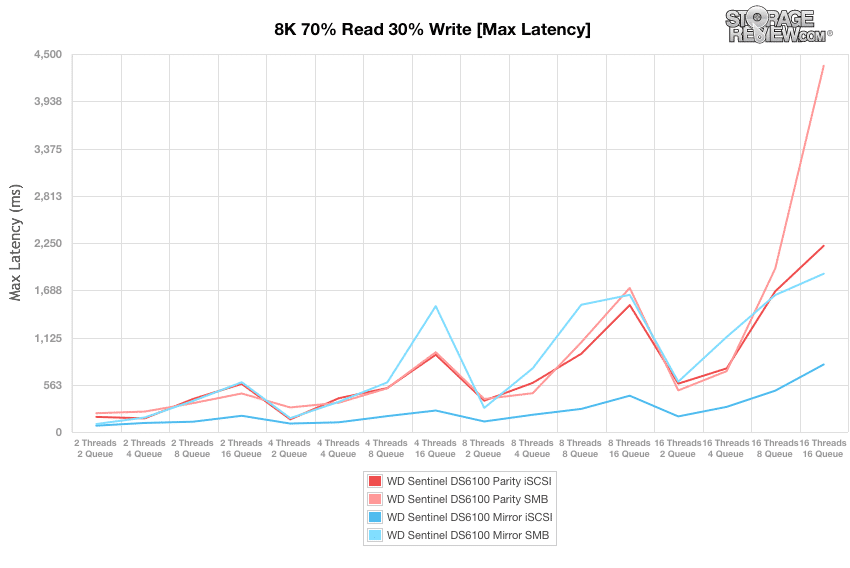 A plot of the standard deviation of the latency results throughout the 8k 70/30 benchmark also emphasizes iSCSI's more consistent latency performance with 8k transfers across the variations in workload.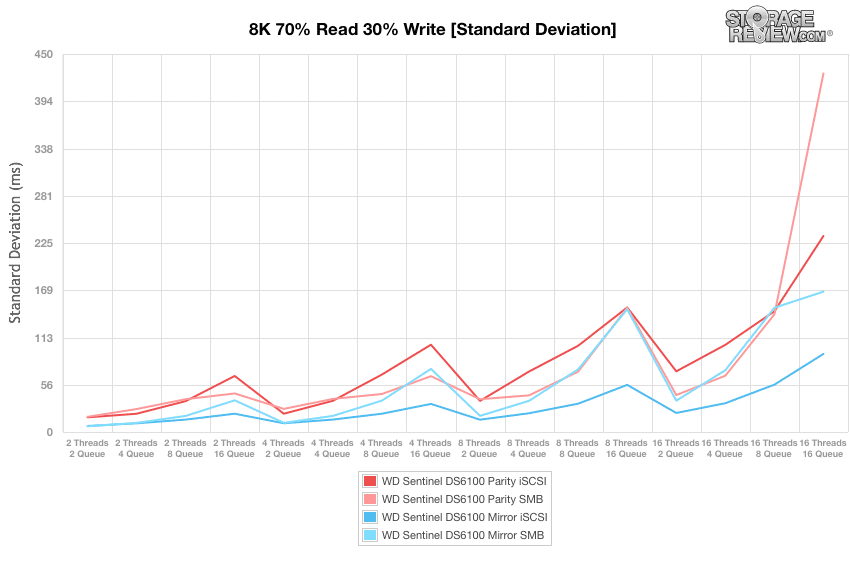 The final synthetic benchmark utilizes much larger 128k transfer sizes with 100% read and 100% write operations. Read performance remains consistent throughout the protocol, near 230,000 IOPS regardless of the Windows Storage Spaces redundancy scheme or the network protocol. Mirrored drives remain the best means to get the best performance from the DS6100, with comparable performance via SMB/CIFS and iSCSI.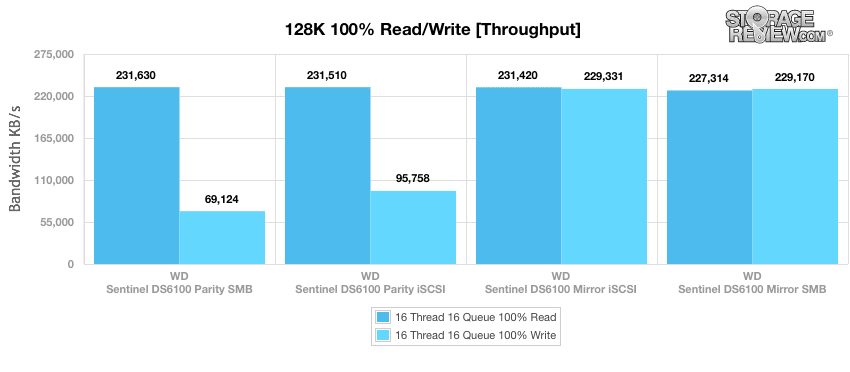 Conclusion
The Sentinel lineup of integrated NAS, iSCSI, and small business servers leverages WD's brand and engineering strengths to support integrated microserver and network storage solutions. In practice, the S-Series provides a thin WD wrapper around Windows Server 2012 Essentials, an environment which is both familiar to IT professionals and accessible to nonprofessionals for basic administrative tasks when necessary. The DS6100 has processing power and RAM to handle the kinds of server application workloads which are common in the small business and remote office scenarios where the DS6100 is likely to find itself.
Our benchmarks evaluated the DS6100's performance when configured in a Parity (RAID5) or Mirror (RAID10) Windows Storage Spaces pool, one of the benefits of the integrated Windows Server 2012 Essentials. In our synthetic enterprise benchmarks, the mirrored drive configuration consistently outperformed the parity configuration. SMB/CIFS and iSCSI connectivity each had advantages during different parts of the protocol as workloads changed. Compared to more storage-only solutions such as the Seagate Business Storage Windows Server with an Intel-Atom processor and less RAM, the Xeon processor and 7k Se's provided much better performance to handle a larger work-group.
WD's toolless drive bay system and other design considerations make the appliance straightforward for maintenance despite limited possibilities to upgrade or customize the standard configuration. Features like Ethernet link aggregation, failover DC power supplies, and diverse local and remote disaster recovery options also means that the DS6100 has the functionality to fit into SMB architectures. It is worth noting that the DS6100 is more server put on a storage box when evaluating it against other microservers in the market that take rack-based server hardware and miniaturize it for microserver duties. That's not to underplay the power or flexibility of the DS6100, but for virtualized environments and certain other use cases, a more server-centric microserver may be more appropriate.
Pros
Space-efficient chassis with toolless drive bay system
Dual 1Gb Ethernet for aggregation and failover
Can run applications in addition to handling storage needs
Easy to configure all-in-one for small businesses
Cons
Limited opportunities for upgrade and customization
Relatively poor performance with Windows Storage Spaces configured for parity striping
No hardware RAID options
Bottom Line
The WD Sentinel DS6100 is a logical step forward in WD's ongoing entry to the microserver market by leveraging the company's enterprise hard drive and NAS engineering resources. While not quite a full-featured microserver, it is a very easy to deploy all-in-one solution for small office and branch office use cases that need to run business applications in addition to typical storage needs.
WD Sentinel DS6100 Product Overview
WD Sentinel DS6100 at Amazon