If you are the kind of user who wants it all – performance, low power consumption, and copious storage capacity – in a single desktop drive, pay attention. Whether you're shopping for storage to fill up a home media server or you're just looking to max out the capacity of your current desktop, the latest high-capacity, low-power drives – like the 2TB Western Digital Caviar Green up for review today – make a lot of sense for the kinds of computing most of us do.
If you are the kind of user who wants it all – performance, low power consumption, and copious storage capacity – in a single desktop drive, pay attention. Whether you're shopping for storage to fill up a home media server or you're just looking to max out the capacity of your current desktop, the latest high-capacity, low-power drives – like the 2TB Western Digital Caviar Green up for review today – make a lot of sense for the kinds of computing most of us do.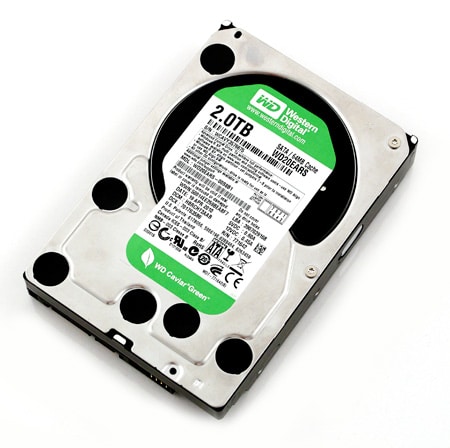 With a concession to current branding trends, manufacturers have sought to promote the eco-friendliness of storage in this category. But while these drives do use less power (in some case, significantly less) than their high-performance peers, compromises reached in the interest of going green make them attractive "all-arounder" options for general use as well. Cheaper price points than top-tier performance drives, lower operating costs, and high capacities are the name of the game here, and over the next several weeks we will be dissecting the relative merits of top contenders in the desktop eco-drive space from Samsung, Seagate, and (of course) Western Digital.
Aesthetics
The Western Digital Caviar Green 2TB (aka the WD20EARS) is the current top-shelf storage system in the manufacturer's Caviar Green lineup of eco-conscious drives, sporting 2.0 TB of storage capacity and a 64 MB cache.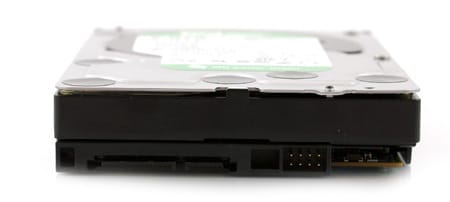 Visually, the 3.5 inch form-factor drive looks almost identical to Caviar devices in other colors (and to most other consumer- and business-grade desktop drives as well).

WD cleans up the appearance slightly with black adhesive dots that cover the drive's fasteners – a visual finishing touch we've seen on WD's Caviar Black drives as well. In fact, excepting the green label used here (which bears the drive's identifying information), the WD20EARS is a dead ringer for a member of the Caviar Black family of devices.
Disassembly
The WD20EARS is built on the familiar WD Caviar blueprint, which utilizes places heat-producing parts in contact with the body of the drive in order to aid in dissipation. The board sits atop a vibration-absorbing foam pad. It is held in place with multiple Torx screws.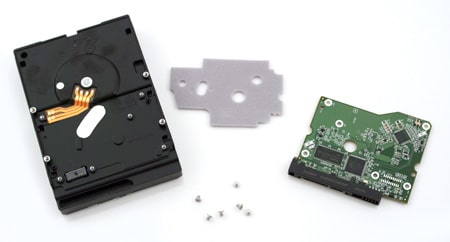 Board layout is basically identical to the Caviar Black drives, and the WD20EARS goes so far as to share the SMOOTH L7251 3.1 motor controller with its high-speed cousin.
The heart of the Western Digital Caviar Green is a Marvell 88i9045-TFJ2 controller chip paired with a 64MB Hynix DDR400 memory module.
Advanced Format
You may not be able to see it by taking the drive apart, but another important change is lurking under the WD20EARS's hood: Advanced Format. The WD20EARS, along with the companion 1TB WD10EARS, are the first 3.5″ drives to hit the market with Western Digital's new formatting structure, which divides the drive into 4,096-byte sectors instead of the smaller 512-byte sectors used in current drive technology.
The advantage? Fewer, larger sectors mean less drive space devoted to lead-ins and inter-sector gaps, which allows for formatting efficiencies in the high-90% range and usable-space increases of more than 10%. In short, it's a way to get more actual storage space from the same physical drive.
While larger sectors make sense for battling the diminishing returns on usable space as drives grow in size, it's worth noting that not all operating systems support this new technology. Windows users (including WHS users) from Vista forward should have no trouble, and the latest versions of Mac OS X and Linux are reported to handle 4K sectors without third-party software. If you're running XP, however, be aware that you'll have to use a software solution (WD's supplied WD Align tool, which provides 512-byte emulation) to get optimal performance, and you'll have to be even more creative in patching together a workable solution if you happen to use Windows Home Server 2003. We tested hits particular drive in a number of environments, including a custom Linux server running Ubuntu 10.04, a Synology DS410j Home Server, and inside Windows 7 with no 4K related problems.
Benchmarks
To appropriately gauge the largest Caviar Green drive's performance, we evaluated the drive against its most direct competitors: 2 TB low-power drives from Samsung and Seagate. In the case of the WD, we performed all benchmarks using both 512B sector "traditional" formatting and 4K sector Advanced Format whenever practical. Note that optimal performance on the 2TB Caviar Green is only observed when the tests are aligned for 4K read and writes.
In order to get a performance baseline (and to provide a best case transfer speed scenario) we clocked the Caviar Green's performance in a 2MB sequential transfer test conducted through IOMeter.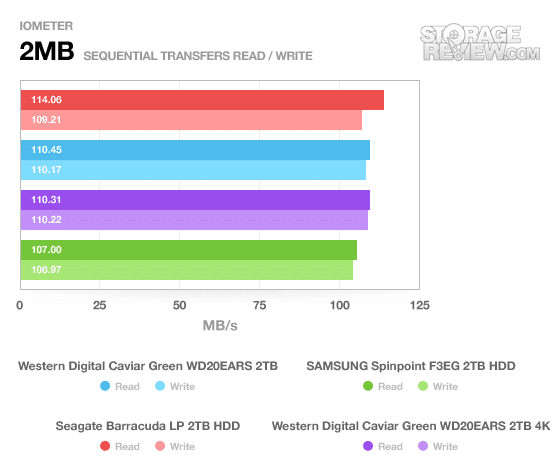 Under ideal conditions, there's very little to distinguish the performance of these three drives. Likewise, the Caviar Green performs equally well in 512B and 4K formats, turning in nearly identical transfer numbers in both modes.
CrystalDiskMark benchmarks the drives inside the system with an active NTFS partition, but the basic results confirm what we saw in IOMeter testing: the Caviar Green stacks up somewhere nearly dead center between the Seagate and Samsung competitors in almost every test.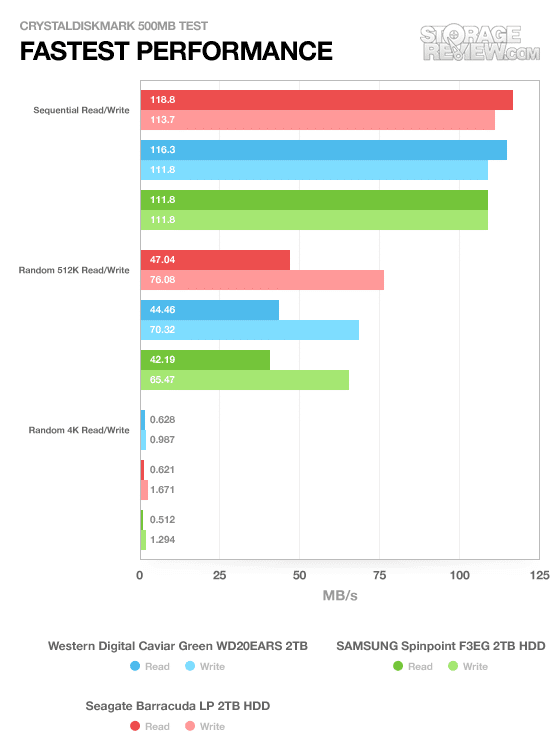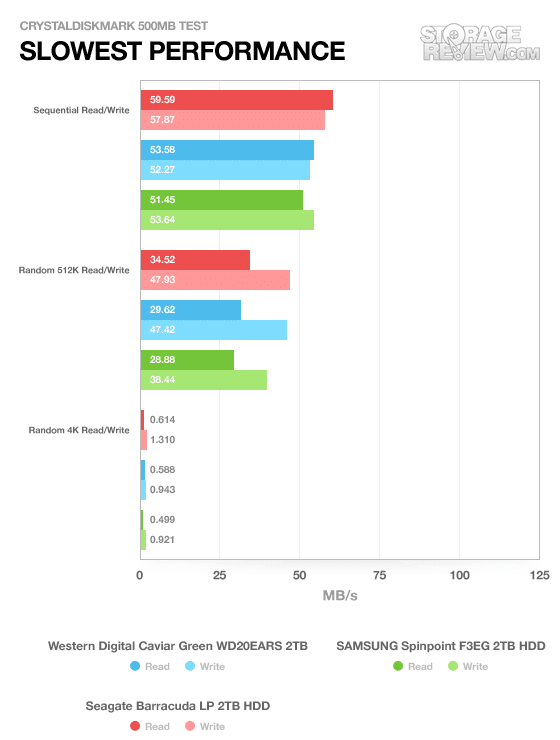 To collect data that more accurately mimics "real world" usage, we utilize IOMeter's 2MB and 4K random transfer read and write tests.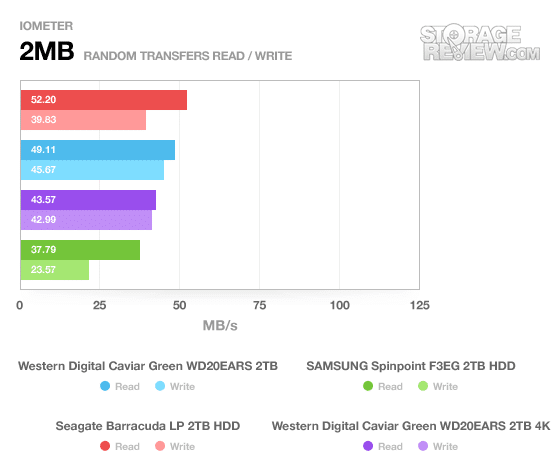 As in the sequential test, 2MB random read operations place the Caviar Green (in either mode) somewhere between the quick Seagate Barracuda LP and the much more moderate Samsung Spinpoint, although the WD20EARS clocks the best read speeds of the group.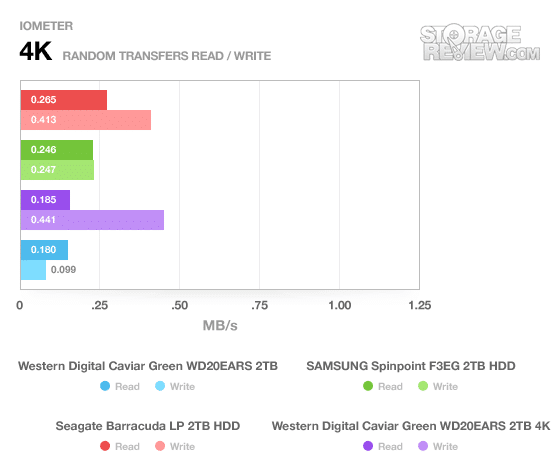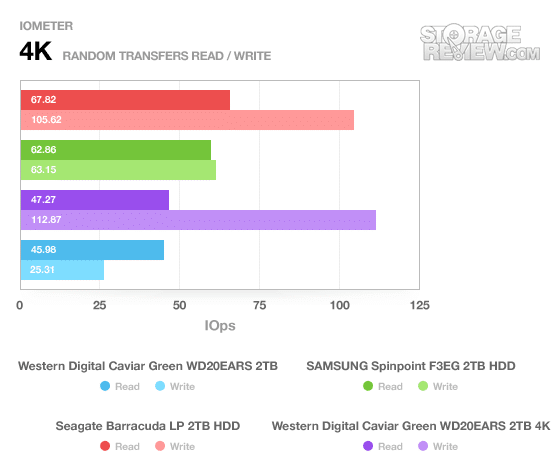 Performance in the 4K random tests is less impressive, with the Caviar Green lagging behind regardless of configuration. That said, while read speeds were consistently high whether or not Advanced Format was used, the speed and volume of write operations diminished significantly when not sending 4K-aligned transfer requests.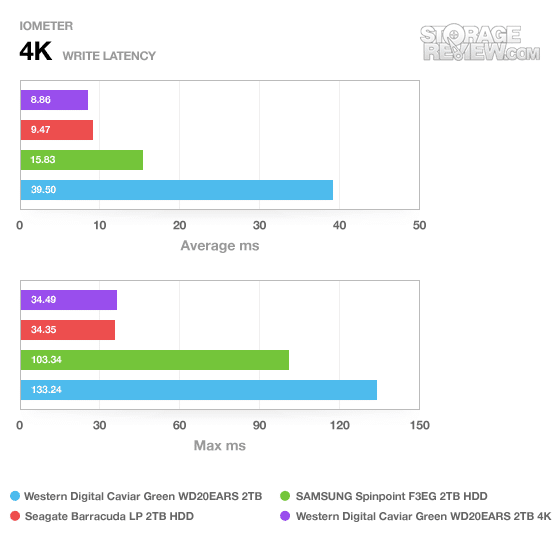 Write latency performance with the WD20EARS varied considerably depending on whether Advanced Format was used or not. In 4K sector format mode, the drive was a top performer, hanging with the Seagate Barracuda LP in both average and maximum timings. Switching the drive to 512B emulation file-writing slows operations down considerably.
Among other uses, the Caviar Green is an ideal choice for use in home or small business servers. With this in mind, we used IOMeter to compare the drive's multi-user performance in four basic scenarios: Database, Workstation, Web Server, and File Server.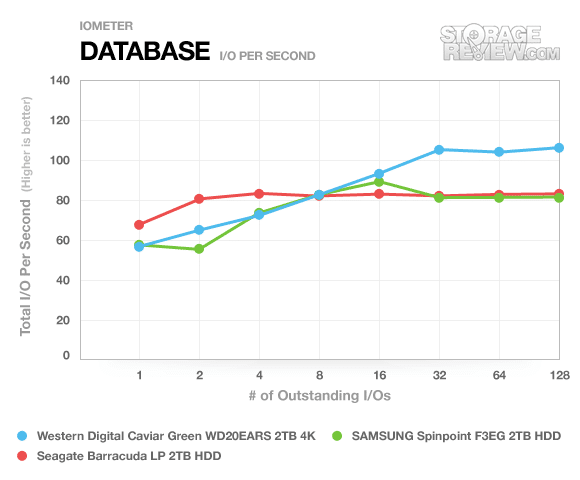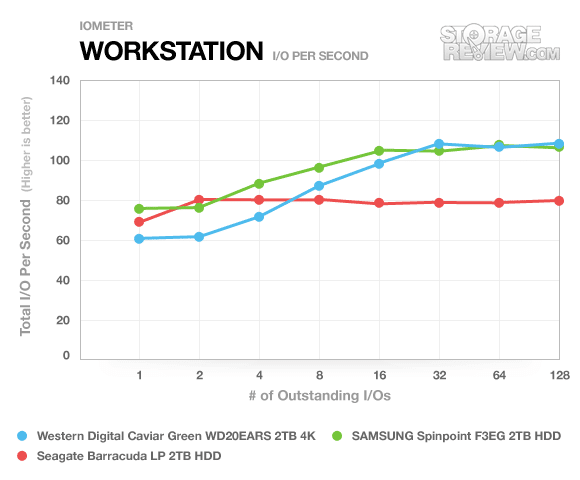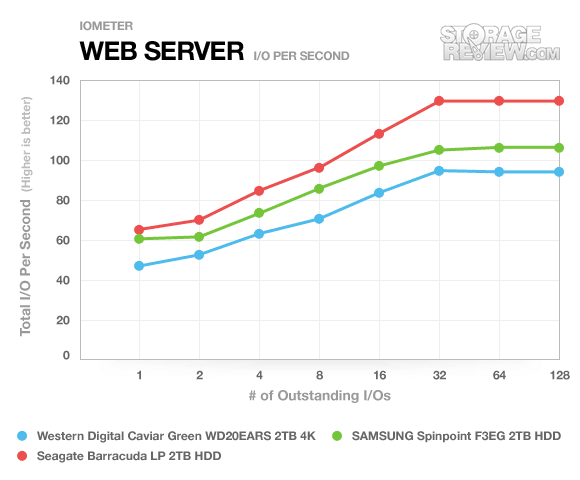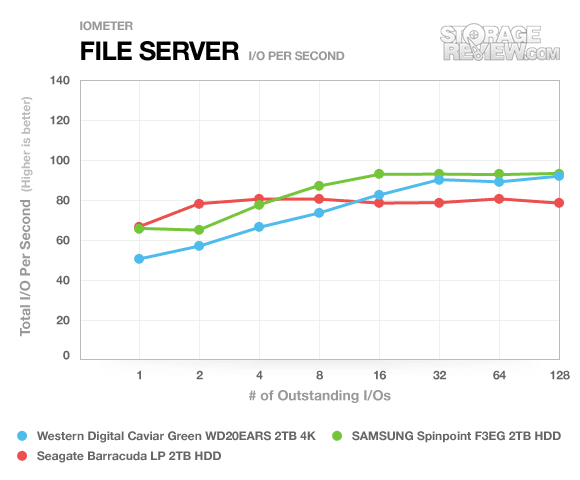 On average, the Caviar Green held its own (if rarely exceled) in these tests, steadily building speed as the number of requests increased.
Power Consumption
Originally launched as the GreenPower lineup in the days before WD's current branding scheme, the Caviar Green drives utilize several power-saving features – most notably, an "IntelliPower"  motor that is designed to spin at an efficient speed while still giving quick drive access through the use of custom caching and access algorithms. This arrangement is designed to offer the best of both worlds; modest power consumption and good drive performance.
The table below compares the Caviar Green's power consumption to its two tested rivals in several situations.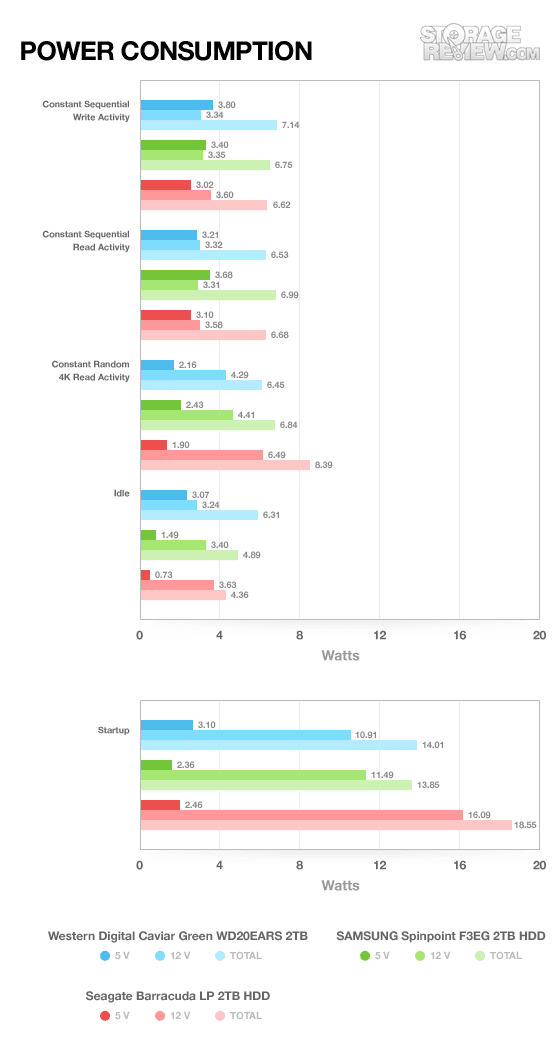 The above comparisons are interesting for a number of reasons. In terms of total power draw (reached by combining watt measurements from each drive's 5V and 12V rails), the Caviar Green was the most wallet-friendly of the three during both random and sequential read activity, but consumed more power than its competitors during write activities and at idle (where draw from the 5V rail, which typically powers board components, was appreciably higher). In spite of the aforementioned variably spindle speed, the drive's startup numbers also failed to impress, drawing heavy loads on both 5V and 12V rails that put the Caviar Green much higher than the power-sipping Samsung Spinpoint during this operation.
Warranty
Western Digital covers the WD20EARS with a three-year warranty – about average for devices in this class, but not the extensive five-year coverage that WD offers on their Caviar Black and Raptor performance drives.
Conclusion
Western Digital helped to pioneer the "green drive" segment, and the top-of-the-line Caviar Green drive sports a lot of cutting-edge technology: IntelliPower variable spindle speed, a 64MB cache, and Advance Format for more usable space. The wow factor associated with some of these innovations, however, is mitigated in part by the drive's generally average performance – in terms of both speed and power consumption – compared to other competitors in this space. All in all, the Caviar Green was rarely at the bottom of our performance rankings, but we expected a few more top finishes from this long-time leader in eco-friendly storage.
Pros:
Generally solid, if unremarkable, performance
Supports next-gen 4K sector formatting
Cons:
Generally solid, if unremarkable, performance
Heavy-handed power use in some situations
Bottom Line
Advance Format may be a big attraction for some. Otherwise, the Caviar Green is a good, if not always a top-tier, low power performer.