June 15th, 2015

by Tucker Mindrum
WD My Passport for Mac Review
WD has released a seventh generation of their popular My Passport line of external hard drives. The most notable upgrades with this line are an increase in maximum capacity (3TB), customization options, improved backup capabilities, and a line of models designed specifically for use with Mac OS. This review explores the Mac models, but the other new features are detailed in the new My Passport Ultra (7th Generation) review.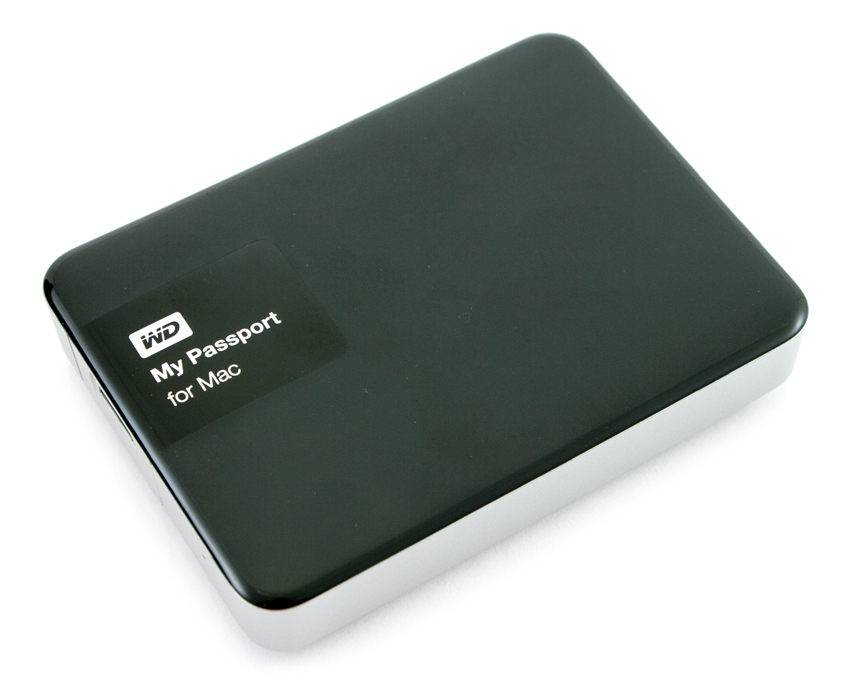 This line of drives is more or less just an adaptation of the My Passport Ultra that is optimized for Mac out of the box. The regular My Passport Ultra is compatible with Mac OS after reformatting, but users that know that they will be using a Mac might find this model to be easier. It comes with 256-bit AES encryption for added security, as well as compatibility with Apple Time Machine. Users can run diagnostics and format the My Passport with WD Drive Utilities, but other than that it is a plug and play drive that can be used to transfer and store up to 3TB of data. The USB 3.0 port powers the device, so no additional power supply is needed.
WD My Passport for Mac carries a street price of $199.99, $99.99, and $69.99 for 3TB, 2TB, and 1TB, respectively. All models carry a 3-year warranty.
Specifications
Models

1TB: (WDBJBS0010BSL)
2TB: (WDBCGL0020BSL)
3TB: (WDBCGL0030BSL)

System Compatibility

Reformattable for Windows OS X
Mac OS X Lion or Mountain Lion, Mavericks and Yosemite

Interface

USB 3.0 (5Gb/s)
USB 2.0 (480Mb/s)

Dimensions (H x D x W): 4.33in x 0.62in x 3.21in (110mm x 15.84mm x 81.6mm)
Weight

3TB: 0.50lb (0.23kg)
2TB: 0.50lb (0.23kg)
1TB: 0.34lb (0.16kg)

Environmental

Operating Temperature: 5ºC to 35ºC
Non-operating Temperature: -20ºC to 65ºC

Kit Contents

Portable hard drive
USB cable
Quick install guide
WD Security and WD Drive Utilities software (for Mac)

Warranty: 3 years
Design and Build
WD gave the My Passport a design that would pair well with modern Apple computers, with a textured aluminum finished along the sides and bottom. The top is black with some branding, and the edges are rounded. In terms of dimensions, it is identical to the My Passport Ultra.
There is a single USB 3.0 port on the side, which serves as the power supply for the device as well. The bottom of the device has some branding and product information.
Performance
Our comparables for this review are the following:
We tested the My Passport for Mac using a current generation MacBook Pro Blackmagic Disk Speed Test with a 5GB test file.
The WD My Passport Ultra posted 105.8MB/s read and 104.1MB/s write. G-DRIVE had 125.5MB/s and 124.1MB/s (read and write, respectively), and the Pro posted 103.4MB/s and 97.9MB/s (read and write, respectively).
Setup and Usability
Since this device is optimized and preconfigured for Mac, setup is quick and easy. Once it is plugged into a USB port, WD Utilities can be downloaded and users can begin managing the My Passport for Mac. The diagnose tab allows users to check for drive failures with Run Drive Status Check. Run Quick Drive Test and Run Complete Drive Test are used to check the drive for performance issues.
There is also a Sleep Timer tab for power conservation and drive longevity; users can schedule their device to enter sleep mode after a certain amount of idle time.
Users can quickly clear their device of all data with the Data Erase function. This reformats and renames the device, and removes any passwords that have been added.
WD Security, another program used to manage the My Passport for Mac, is used to configure passwords for the device. Auto unlock for certain users can also be configured.
Conclusion
The My Passport for Mac is WD's newest release, and was designed to specifically serve Mac users with the same out-of-the-box functionality that the My Passport Ultra offers. It maintains compatibility with PC operating systems (which requires reformatting), and it is similar in functionality and performance to the seventh generation My Passport Ultra.
In terms of features, the My Passport for Mac offers standard 256-bit AES encryption, compatibility with Apple Time Machine, and WD Drive Utilities. There is only one port on the device, which provides both data transfer and power supply via USB 3.0.
The My Passport for Mac performed well relative to its comparables, posting higher numbers than the My Passport Pro but falling a bit short compared to the G-Technology G-DRIVE. This is a reasonable finding though, since G-DRIVE is a higher end (and more expensive) model and WD mostly intends to provide inexpensive portable storage.
Pros
Sturdy construction

Good performance

Low cost
Cons
Only offered in a single color unlike its My Passport Ultra counterpart
The Bottom Line
The My Passport for Mac is a good addition to WD's library of portable hard drives; it makes setup easier for Apple users while still supplying the same features and performance of the My Passport line.
WD My Passport Mac at Amazon