December 17th, 2011

by Kevin OBrien
Western Digital Sentinel DX4000 Review
Western Digital announced the WD Sentinel DX4000 last month in an effort to bring easy to configure NAS storage to SMBs with fewer than 25 employees. At the core of the Sentinel is Microsoft's Storage Server 2008 R2 Essentials, an Intel 1.8 GHz Atom dual-core processor and two or four WD RE4-GP hard drives. Western Digital sells the Sentinel pre-configured with drives in either 4TB or 8TB models right now, with 6TB and 12TB models coming early next year. Given the Sentinel arrives with drives and is ready to roll, all it takes to get going is powering the unit up and connecting to the network, which is great for those who aren't used to dealing with storage appliances. Given the Microsoft software though, there's still plenty to tweak under the covers should SMBs with access to IT professionals care to do so.
The Sentinel DX4000 ships by default in RAID1 for the two-bay 4TB models and in RAID5 mode for those who opt for the four-drive 8TB version. Beyond the enterprise-grade hard drives, the rest of the Sentinel is well-suited for its prospective business use environment. The NAS features dual-Gigabit Ethernet interfaces as well as dual USB 3.0 ports and dual power supplies (second power cord optional). Both the Ethernet and power connections are designed with reliability in mind over performance, where each supports fail-over modes where if one side drops the unit stays fully functional. On the software side, the Sentinel supports Active Directory, DLNA media serving, and will backup and restore up to 25 connected devices. Even with its condensed version of Windows Server 2008 R2, it still offers remote desktop support for those who need to work on things underneath the dashboard.
Throughout the Sentinel, each area is designed to ooze with easy usability. This is evident everywhere from the helpful LED display on the front of the device through the process of adding or swapping drives - add or swap drives and the Sentinel does the rest, from recovery to switching RAID modes. When it comes to managing the unit, most activities are handled with dashboards that guide processes like adding users, setting up shares, remote access, PC backups and the like. WD manages to hit many key usability points without giving up on performance, the Sentinel claims to deliver read speeds up to 85 MB/s. Another area that helps the IT crowd is the dual USB 3.0 connections out back that help with fast backups or adding more storage.
Western Digital Sentinel DX4000 Specs
Intel Atom D525 1.8 GHz Dual-Core
2GB RAM
Versions Available

12TB - WDBLGT0120KBK (coming Q1 2012)
8TB - WDBLGT0080KBK
6TB - WDBLGT0060KBK (coming Q1 2012)
4TB - WDBLGT0040KBK

Interface - Gigabit Ethernet x2, USB 3.0 x2
Height 8.1 Inches x Depth 8.80 Inches x Width 6.30 Inches
Weight 10.7lbs 2-drive, 14.00lbs 4-drive
Operating 41° F to 95° F
Non-operating -40° F to 149° F
AC Input Voltage 100-240 VAC
Design and Build
The Western Digital Sentinel DX4000 is a very rugged and well designed network storage solution. As someone who works with countless NAS's, the Sentinel easily takes the cake for one of the easiest models to work with at the hardware level. From a quick glance you can easily tell the status of each installed hard drive through indicator lights over each bay (red bad, green good), as well as glean important information like the IP address from the two-line backlit display up front.
Even though in most situations you don't need to mess around with removing or installing hard drives, the spring-loaded hot-swap bays were a very nice touch. They completely remove the need for unscrewing drives from trays if you are adding a new drive or replacing a bad one. Just pull the release tab, slide the old drive out, and slide the new drive in; done. No hassle of digging around for a spare Phillips head screwdriver.
Powering the Western Digital DX4000 are two or four WDC RE4-GP hard drives. Currently the 2TB and 3TB versions are the only drives supported by this NAS, meaning you couldn't go out and load in Seagate or Hitachi models... or even a faster 7200RPM 2TB RE4. At the time of this review only 4TB and 8TB versions of the DX4000 are available, with 6TB and 12TB models coming early next year.
The Western Digital RE4-GP is an enterprise-grade 5400RPM low-power drive designed for high reliability environments.
The business end of the DX4000 shows off plenty of cool features, including redundant power supply inputs that you don't generally find on most SMB NAS offerings. It also includes twin USB 3.0 ports for fast data backups or storage add-ons, as well as two gigabit Ethernet ports for fall-over protection in the event one connection fails. At this time it doesn't support link-aggregation for faster transfers.
Buyers of any network storage device should really invest in a battery backup system to allow for a graceful shutdown in the event of a power interruption. The DX4000 supports UPS control when connected via USB and is highly recommended. As we found out after pulling the plug on this particular mode, the RAID rebuild times measure in days... not hours. We were set back about 6 days with reduced speeds and more importantly, no data protection during the RAID5 rebuild.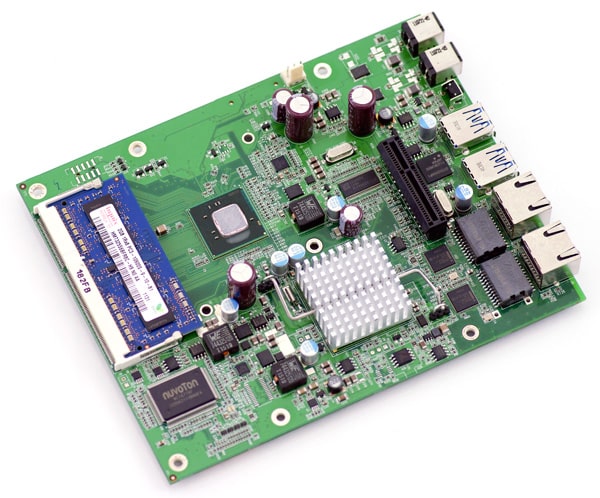 At the heart of the Western Digital Sentinel DX4000 is an Intel Atom D525 1.8 GHz Dual-Core processor paired up with 2GB of DDR3 memory. The system uses off the shelf memory and could technically be upgraded if you so chose to 4GB. With a 64-bit version of Windows users could fully take advantage of the larger memory, although the benefits to upgrading might be minimal. The only notable feature on the bottom of the circuit board is a small lithium battery for the system clock.
Performance
Given the nature of Windows Storage Server 2008 R2 Essentials, where users can log in through remote desktop as if they were logging into a full computer, we decided to benchmark the Sentinel inside and out. Our reasoning for this is to see what the system is capable of under local conditions, to better understand performance results from our network tests. For example, if an array is only pushing close to gigabit speeds (100MB/s) internally, we would know that the results over the network would not be able to surpass that. On the flip side if the unit could push well over that, we know that internally it has high performance potential. One area this can make a difference is allowing the array to push high speeds to a USB 3.0 backup drive as well as staying at full speed for network transfers.
Our first test looks at the Samba speeds when a given share is mapped to a local drive on our test rig. We measured speeds over our office's gigabit LAN using IOMeter. Three modes were recorded, including the primary share over gigabit, a USB 3.0 SSD internally, and the system's internal array speed using CrystalDiskMark over Remote Desktop.
The Western Digital Sentinel got the highest read speed over Samba measuring 74.38MB/s with a write speed of 86.58MB/s. Internally we also measured a massive read speed of 277MB/s and a write speed of 169MB/s to the systems 4-disk RAID5. The USB 3.0 connection with a 240GB SandForce SF-2200 SSD being used only measured 66MB/s read and 75MB/s write. Overall this tells us that the USB 3.0 chipset might not be as fast as what we might find in some high-end desktops but still much faster than a USB 2.0 connection that might top out at 30MB/s.
Our next test looks at random 2MB transfers, also using IOMeter.
Even though it was slightly held back with straight line performance, the SSD over USB 3.0 beat out Sentinel's internal RAID5 array as well as the array shared over Samba. Over gigabit LAN the Sentinel measured 50.39MB/s read and 16.81MB/s write.
When you start to look at multiple users accessing files on a large NAS, the importance of random read and write speeds become more apparent. The slower the system is the more than that will be present serving up files.
It wasn't really a surprise seeing the SSD up on top over USB 3.0... that was just a given. What does matter though is the while the read speeds of the Sentinel lagged towards the bottom of this group with 121 IOPS measured over gigabit, it had the strongest write speeds measuring 307 IOPS.
Measured as a function of 4K random write speed, the models with the fastest write speeds also have the lowest average latency. It is also important to take note of peak latency since it could mean pauses if the array is being heavily accessed.
With its strong 4K random write speed the Sentinel offered the fastest average response time of 3.25ms and the lowest peak latency of 341ms.
Power Consumption
At its heart, the Wentern Digital Sentinel as reviewed is a four-bay NAS... meaning that no matter how efficient the circuit board is, it still has four hard drives spinning when active. To give a nice comparison of how power demands differ being various types of storage arrays, we included a 2-bay 3.5" NAS (DS712+), a 4-bay 2.5" NAS (DS411slim) and another 4-bay 3.5" NAS (DS411+) which all offer similar performance levels.
The WDC Sentinel had the second highest startup requirements, measuring 65 watts when all drives were spinning up to full speed. Once things calmed down at it reached an idle state, it dropped to 41 watts which was the highest of the group tested. The most similar model being the 4-bay Synology DS411+ measured 29 watts at idle (albeit with different hard drives used). During drive access the Sentinel averaged between 42 and 48 watts, making it one of the more power hungry models in the group, but not by much. The Synology DS712+ trailed behind it by 4 to 6 watts in most cases. It should also be stated that out of all of the models compared, only the Sentinel had a backlit display which could have added to some of the increased power demands.
Conclusion
WD accomplished what it wanted, bringing enterprise grade software and hardware that's easy to use to the SMB with the Sentinel DX4000. As we look at the Sentinel as a potential line of many other NAS devices, Western Digital is certainly pointed in the right direction and poised to be a major player in the NAS market. It offers the most serviceable design, with spring loaded hot-swap trays that don't even require a screwdriver to install or replace a hard drive. The model also offers plenty of redundancy options, including twin gigabit LAN ports and two power supply inputs in the event one fails. Few, if any, in this price category offer power redundancy.
Relative to performance, the Sentinel stacked up well against the competition. If you compare it directly to models with 7200RPM hard drives, some speeds will come up shorter in random access, but for write speeds it did beat out the models we compared it against. For straight line performance the Sentinel also offered the fastest Samba read speeds, measuring 74MB/s (with an internal read speed of 277MB/s!). The on-board USB 3.0 connections were also a plus for adding additional storage or making it easy to backup the system, with a peak transfer speed of 66MB/s read and 75MB/s write measured internally. While not the fastest USB 3.0 connection we have measured, it does offer a huge speed boost over just USB 2.0.
Really the only thing we have to complain about much is the fact that it takes forever for a RAID to rebuild if there's a problem, like accidentally unplugging the NAS. Okay, forever may be a bit much, but ours took a week to rebuild, which if you're a business who needs that data - might as well be forever. We can't strongly recommend enough that you put a UPS behind any NAS; but with the DX4000 a UPS is even more critical. An additional power supply would also be a good item to look into, since it would help prevent data loss or system downtime if one power supply failed.
Overall the Western Digital Sentinel DX4000 has a lot of good features--centered primarily around data integrety and uptime--but still has a strong emphasis on performance. Given WDC's long-time experience in the enterprise sector, it was no surprise to see enterprise-grade features trickle down when it came time to make their first SMB storage device.
Pros
Excellent build quality
Dual power supplies, dual LAN with fail-over
Microsoft Storage Server software is easy to work with
Cons
Excessive RAID rebuild times
Bottom Line
Western Digital brings enterprise-quality features to the SMB-market with the Sentinel DX4000. Performance stacks up well against the competition, but this unit has its primary focus around reliability and long-term ease of use.
WD Sentinel at Amazon.com