Seagate has announced the IronWolf Pro 22TB HDD at the NAB 2023 conference, making it the company's highest capacity conventional magnetic recording (CMR)-based HDD.

Seagate has announced the IronWolf Pro 22TB HDD at the NAB 2023 conference, making it the company's highest capacity conventional magnetic recording (CMR)-based HDD.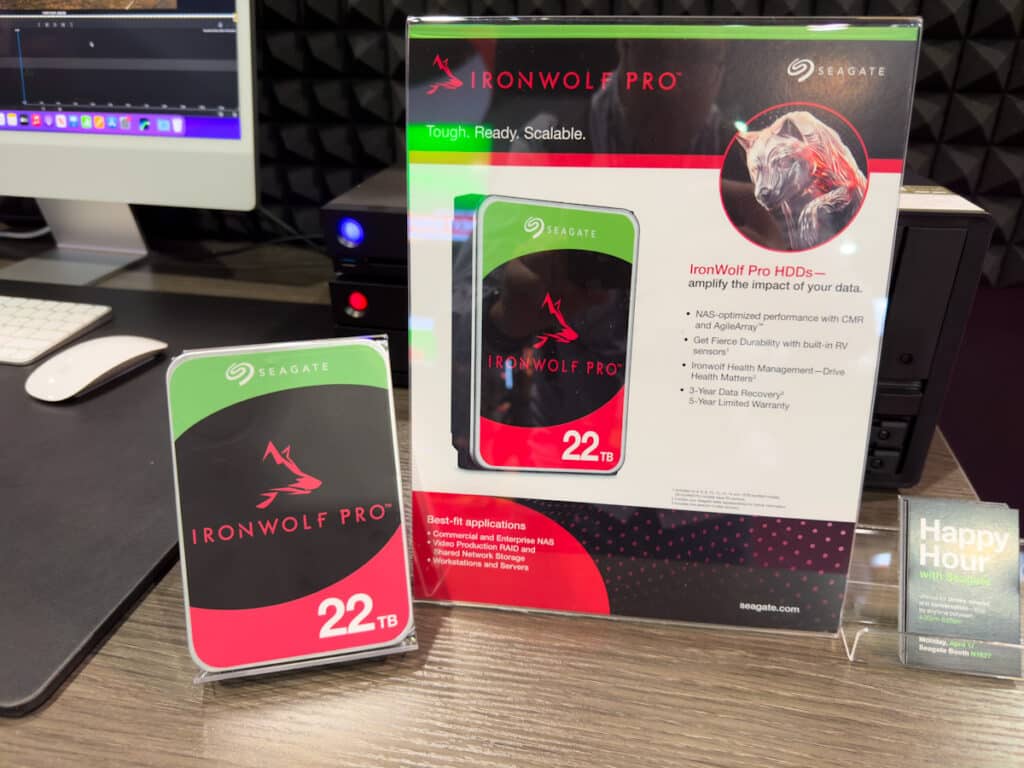 With its performance profile, market-leading capacity and a focus on reliability in multi-bay and multi-user environments, the new IronWolf Pro drive is it ideal for commercial and enterprise NAS applications. With support for Seagate's AgileArray technology, it is also a viable option for large-scale data storage, sharing and collaboration. We previously reviewed the IronWolf Pro 20TB model, and found it to be a great choice for businesses looking to get the most out of their capacity-driven NAS environments.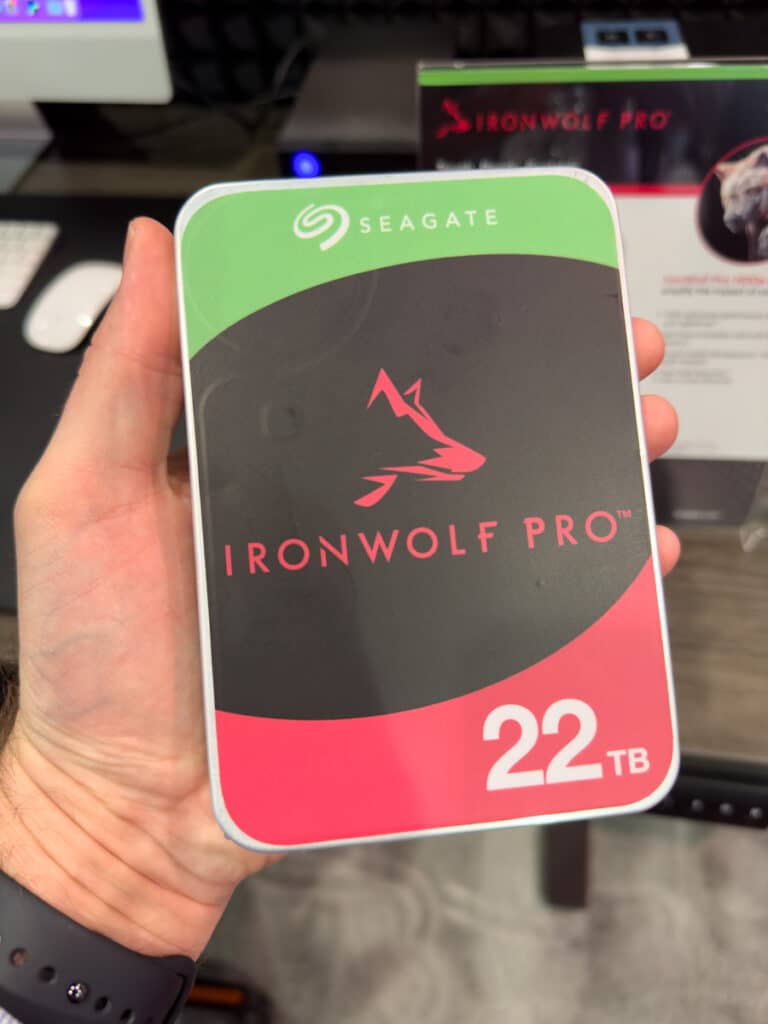 Seagate's new drive also supports user workload rates of up to 550TB/year and boasts an SDR of up to 285MB/s, allowing users to easily share files, back up and manage heavy workloads across multi-user environments. Additionally, the built-in rotational vibration (RV) sensors ensure that the HDD delivers consistent performance and reliability in multi-bay systems.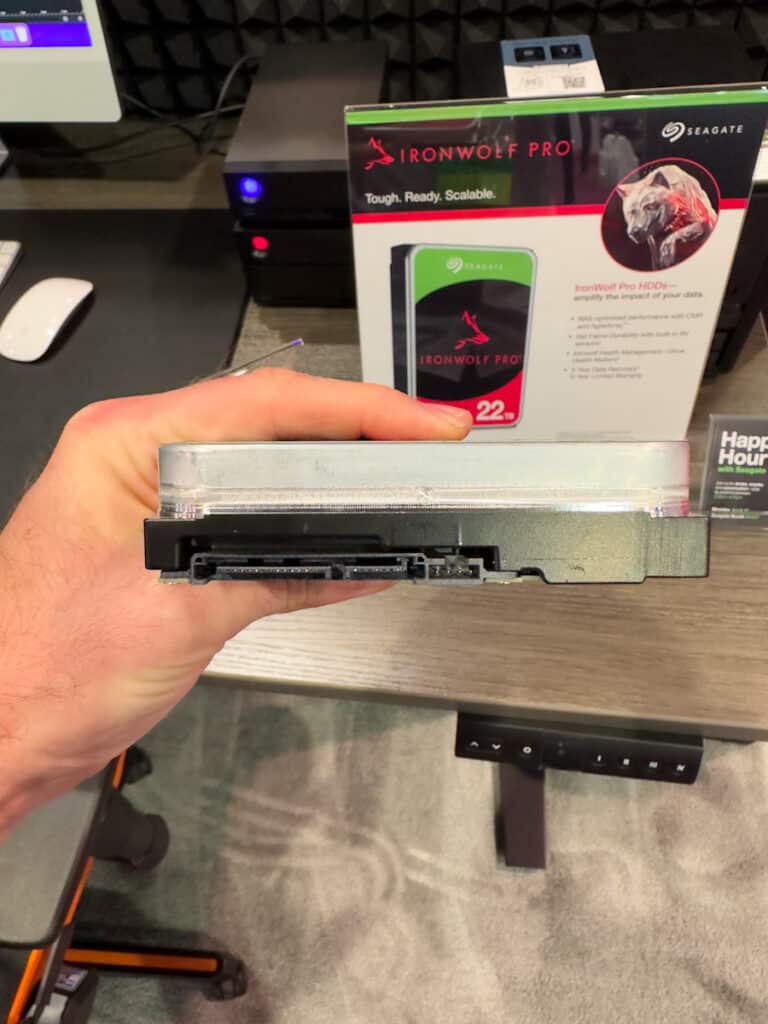 To ensure that the IronWolf Pro 22TB HDD delivers hassle-free storage and the best possible TCO, Seagate is offering a five-year limited warranty and up to 2.5 millions hours for MTBF. The HDD also comes equipped with Seagate's IronWolf Health Management system and three years of complimentary Rescue Data Recovery Services to help ensure that users have peace of mind that their data is always safe and secure.
Integrated Storage Solutions for SMBs and Content Creators
Also announced at the NAB 2023 conference is Seagate and QNAP's new range of integrated storage solutions for small-to-medium-sized businesses (SMBs) and content creators. This portfolio includes Seagate's IronWolf Pro HDDs, QNAP's high-capacity NAS solutions, and Seagate Lyve Cloud, and is designed to help businesses manage data from edge to cloud.
The new portfolio offers a range of enterprise-scale solutions that integrate Seagate's IronWolf Pro enterprise-class HDDs with QNAP's NAS with QuTS hero and QTS. The operating system of QNAP combined with IronWolf Pro drives offers high-capacity storage while centralizing data in a secure location, making it ideal for environments such as media and entertainment.
QNAP's enterprise ZFS-based QuTS hero NAS systems are designed for 4K/8K multimedia, video surveillance, big data storage, and critical backups. The new integrated solution with high density and efficient management will support select models of Seagate Exos E series JBOD systems, offering a future-proof data storage solution that helps address challenges that mass capacity.
The S3-compatible interface of Lyve Cloud complements the HybridMount and Hybrid Backup Sync features of QNAP NAS systems, enabling businesses to easily manage cloud backups. With the ever-increasing amount of data for businesses to handle, the combination of cloud and NAS solutions provides a flexible and affordable option for backup and restoration needs.
Pricing and Availability
The Seagate IronWolf Pro 22TB HDD is available now at a starting list price of $599.99.
The integrated cloud and NAS solutions are available now.
The integration of QNAP NAS and Seagate Exos E Series JBOD systems is slated for a release soon.
Engage with StorageReview
Newsletter | YouTube | Podcast iTunes/Spotify | Instagram | Twitter | TikTok | RSS Feed