ASRock Rack, a provider of server technology aimed at HPC, Cloud, and large-scale data center users, delivered its new midrange server to us for testing. The ASRock Rack 2U12L-ICX2 is an affordable barebone server designed for small to medium businesses and is well suited to System Integrators and Value-added Resellers. The company is known for its eco-friendly, do-it-yourself server hardware.
ASRock Rack, a provider of server technology aimed at HPC, Cloud, and large-scale data center users, delivered its new midrange server to us for testing. The ASRock Rack 2U12L-ICX2 is an affordable barebone server designed for small to medium businesses and is well suited to System Integrators and Value-added Resellers. The company is known for its eco-friendly, do-it-yourself server hardware.
ASRock Rack 2U12L-ICX2 Server
The ASRock Rack 2U12L-ICX2 is a 2U rack mount server with a dual-socket 3rd Gen Intel Xeon Scalable processor and flexible storage options. ASRock Rack focuses on delivering an extensive set of products covering everything from server motherboards to workstations and barebone systems. Last year we posted a review of one of the barebones workstations.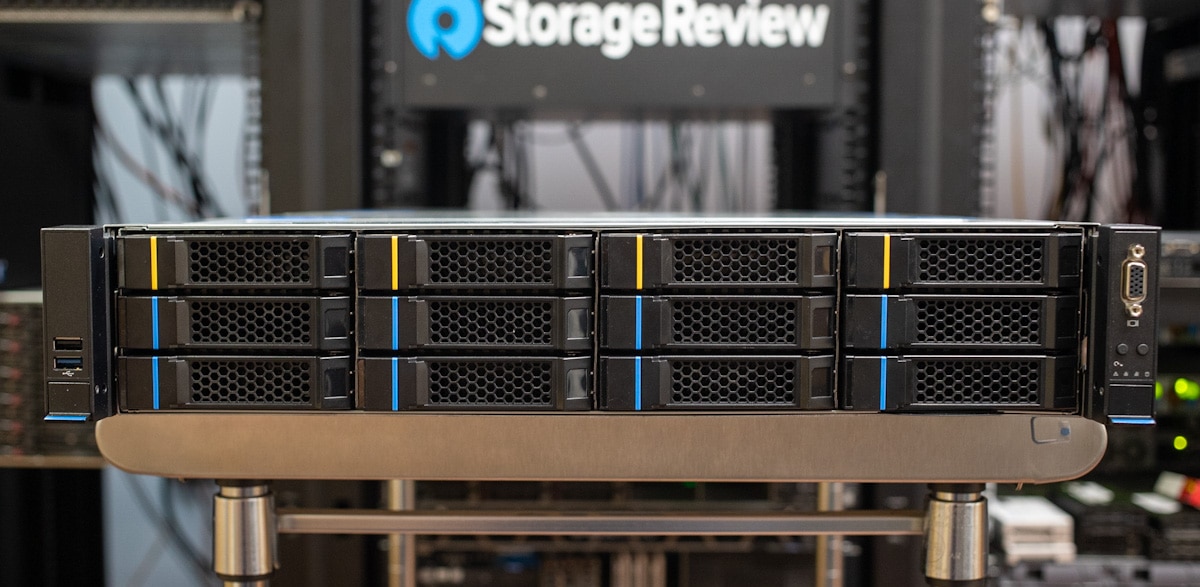 The ASRock Rack 2U12L-ICX2 rack-mount server is delivered with a full set of features and capabilities, making it an excellent choice for midrange server markets. The drive bays provided include 12 hot-swap 3.5″/2.5″ drive bays and 2 fixed 2.5″ SATA drive bays, as well as two M.2 (PCIe3.0 x4 or SATA 6Gb/s) slots. There is also the option for NVMe bays, which makes it an appealing choice for shared storage that might want acceleration via fast flash.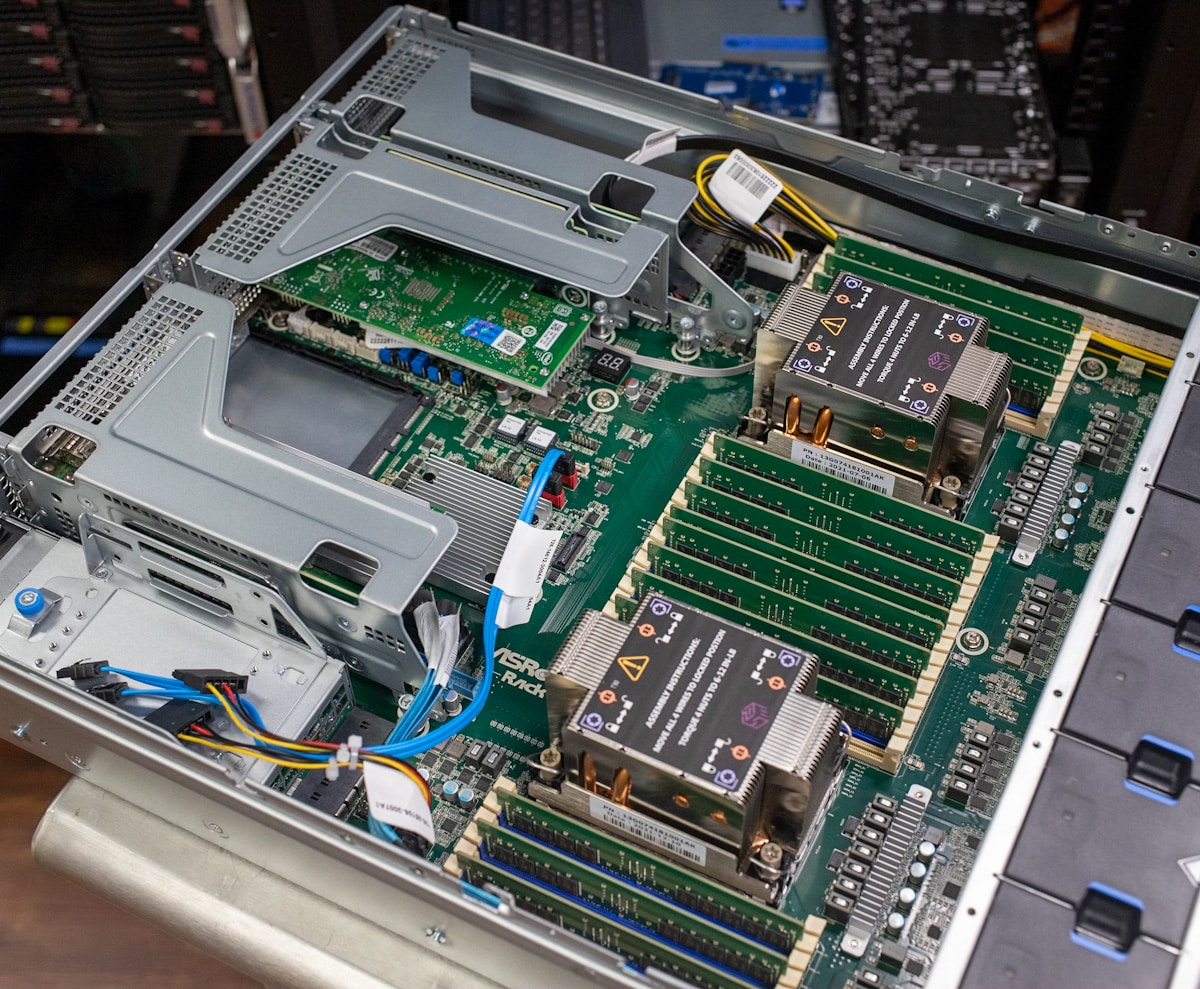 For memory, there are 16+16 DIMM slots (2DPC), supporting DDR4 RDIMM, LRDIMM, RDIMM/LRDIMM-3DS, and Intel Optane Persistent Memory 200 series. And finally, there are three FH PCIe4.0 x16, two FH PCIe4.0 x8, and two low-profile PCIe4.0 x8 that can be utilized for further expansion.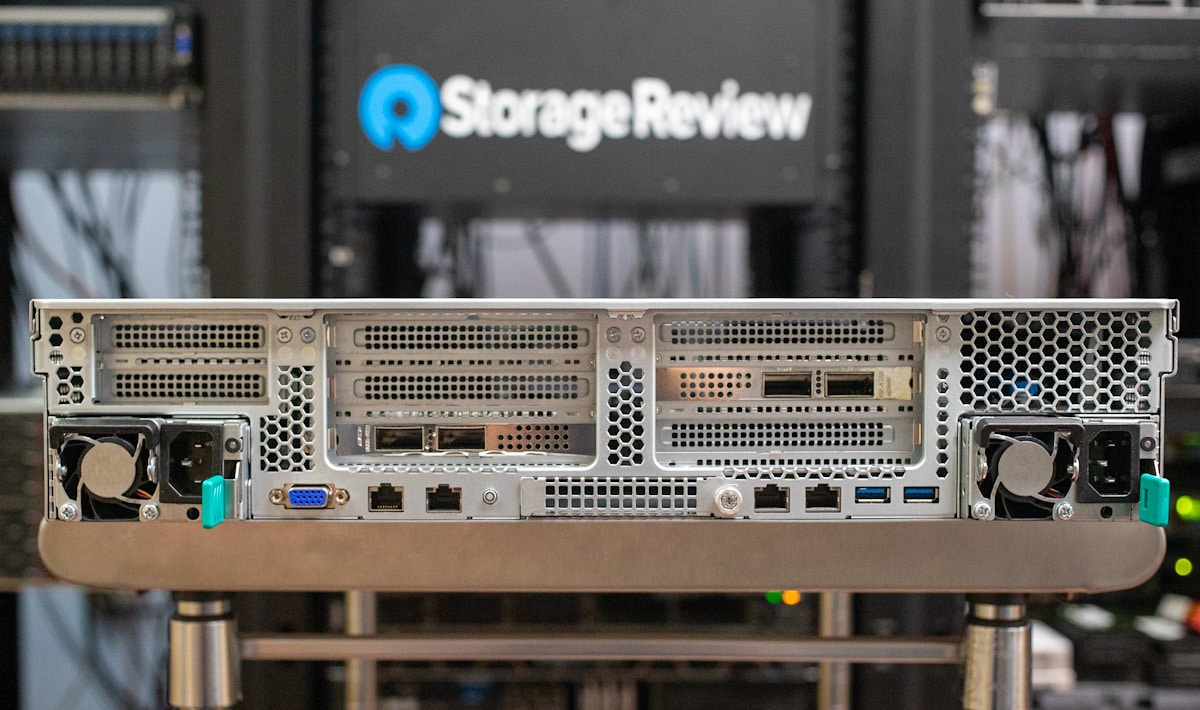 Externally, there are two RJ45 (1GbE) ports by Intel i350-AM2 (good for virtualization), 1 OCP NIC 3.0 (PCIe4.0 x16), and a Remote management (IPMI) port.
The full specifications of the two servers appear below:
 System
2U12L-ICX2
Form Factor
2U Rackmount
Dimensions
779.5 mm X 447.6 mm X 87 mm
Support MB
SP2C621D32TM3
 Front Panel
Buttons
Power, UID, Reset
LEDs
Power Status, LAN Activity, HDD Activity, System status
I/O Ports
1 Type-A (USB3.2 Gen1), 1 Type-A (USB2.0), 1 DB15 (VGA)
 External Drive Bay / Storage
Front Side Drive Bay
12 hot-swap 3.5″/2.5″ drive bays
supports 8 SATA HDD/SSD and 4 NVMe (PCIe4.0 x4) SSD*
*For more NVMe SSD support, please contact ASRock Rack
Front Side Backplane
12-port NVMe/SATA/SAS* passive backplanes *SAS drive is only supported with additional RAID/HBA cards
Internal Side
Two fixed 2.5″ SATA drive bays
2 M-key* (PCIe3.0 x4 or SATA 6Gb/s), supports 22110/2280 form factor [PCH]
* 1 fixed SATA drive bay share SATA with M2_1, and will be disabled when M2_1 populated with SATA device
 Power Supply
Type
1+1 CRPS
Output Watts
1600W
Efficiency
100-240V, 47-63Hz
 System Fan
Fan
6 PWM hot-swap 60 x 38 mm fans
 Processor System
CPU
Supports 3rd Gen Intel® Xeon® Scalable processors
Socket
Dual Socket P+ (LGA 4189)
Chipset
Intel® C621A
 System Memory
Supported DIMM Quantity
16+16 DIMM slots (2DPC)
Supported Type
Supports DDR4 288-pin RDIMM, LRDIMM, RDIMM/LRDIMM-3DS, Intel® Optane™ Persistent Memory 200 series
Max. Capacity per DIMM
RDIMM: up to 64GB
RDIMM-3DS: up to 256GB
LRDIMM: up to 128GB
LRDIMM-3DS: up to 256GB
Max. DIMM Frequency
max. 3200MHz
Voltage
1.2V
 PCIe Expansion Slots (SLOT7 close to CPU)
PCIe x 32
SLOT1: 1 FH PCIe4.0 x16, 2FH PCIe4.0 x8 via RB251-X8X8X16L_G4 [CPU0]
SLOT2: 2 FH PCIe4.0 x16 via RB251-X16X0X16R_G4 [CPU1]
PCIe x 16
SLOT3: 2 low-profile PCIe4.0 x8 via RB251-X8X8_G4 [CPU1]
 Rear I/O
UID Button/LED
1 UID button w/ LED
VGA Port
1 DB15
Serial Port
1 RJ45 (COM)
USB 3.2 Gen1 Port
2 Type-A (USB3.2 Gen1)
RJ45
2 RJ45 (1GbE), one dedicated IPMI
 System BIOS
BIOS Type
256Mb SPI Flash ROM
BIOS Features
AMI UEFI BIOS
 Hardware Monitor
Temperature
CPU, PCH, MB, Card side Temperature Sensing
Fan
CPU/Rear/Front Fan Tachometer
CPU Quiet Fan (Allow Chassis Fan Speed Auto-Adjust by CPU Temperature)
CPU/Rear/Front Fan Multi-Speed Control
Voltage
CPU1_PVCCIN, CPU2_PVCCIN, PVDDQ_ABCD, PVDDQ_EFGH, PVDDQ_IJKL, PVDDQ_MNOP, 1.05V_PCH,1.8V_PCH, +BAT, PVNN_PCH, 3.3V,5V,12V,3.3VSB, 5VSB
 Ethernet
Additional GbE Controller
Intel® i350-AM2: 2 RJ45 (1GbE)
Mezzanine
1 OCP NIC 3.0 (PCIe4.0 x16) [CPU0]
 Environment
Temperature
Operation temperature: 10°C ~ 35°C / Non operation temperature: -40°C ~ 70°C
Humidity
Non-operation humidity: 20% ~ 90% ( Non condensing)
Potential Applications
The ASRock Rack 2U12L-ICX2 server provides configuration options to build various SMB, midrange, and specialty servers. The combination of NVMe and LFF drive bays allows the server to drive heavy I/O for application workloads while still offering a ton of capacity potential. This enables quite a few integrated solutions that generally require more than one server or a broader infrastructure. Combining these capabilities into a 2U box offers added flexibility for edge locations, small offices, and any number of spots where flexible storage servers are in demand.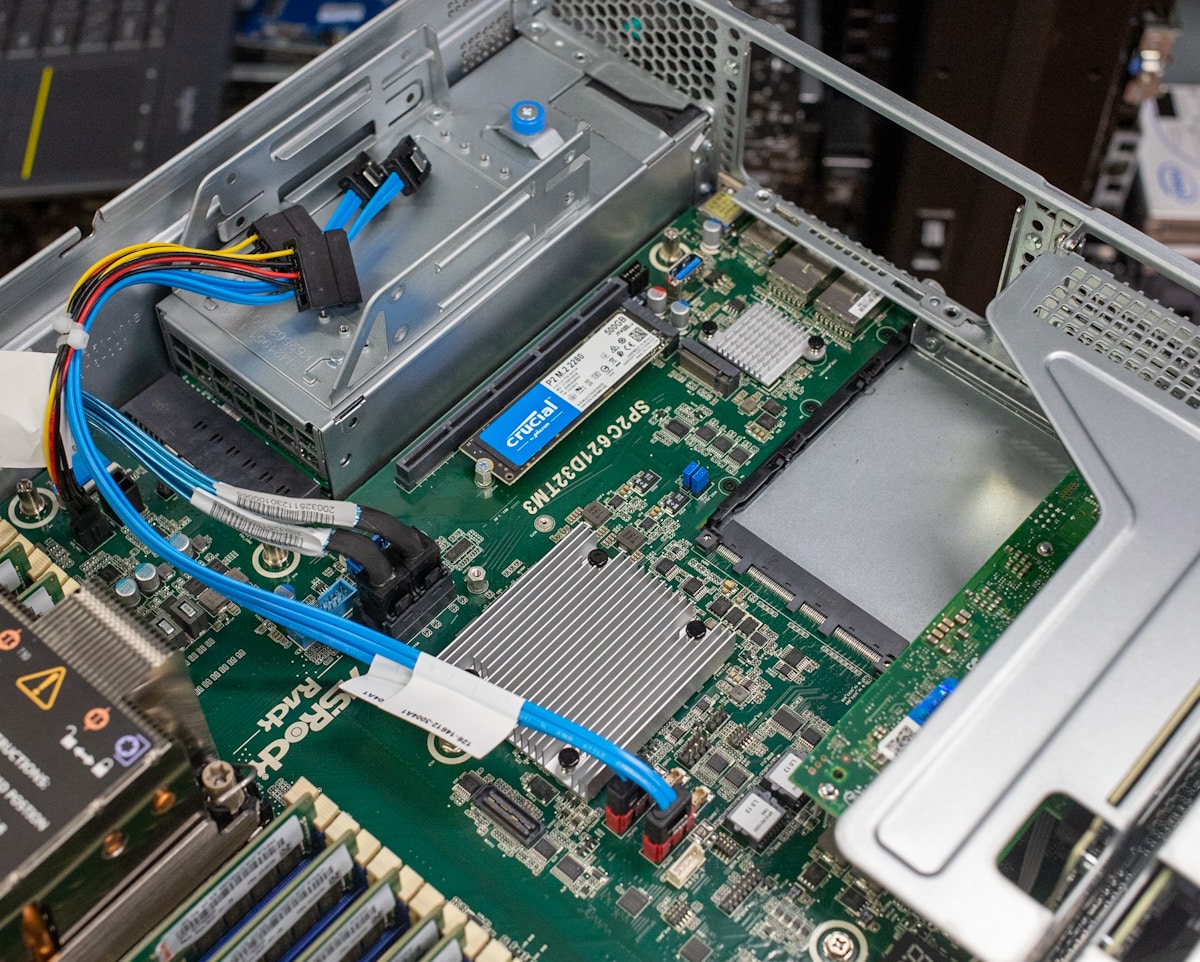 Virtualization
This server offers excellent options to make it a strong virtualization server running Microsoft HyperV and Windows Server 2022. Businesses can leverage the NVMe storage for VM Boot devices and databases and use the other drive bays for dense-capacity data storage. There is plenty of room for expansion to handle some pretty hefty workloads.
Backup Target
This ASRock Rack 2U server makes an excellent backup host when using products such as Veeam. By mixing NVMe and HDD storage with Veeam software, businesses can implement enterprise-class replication and DR capabilities at a much lower price than bigger competitors. Storage Spaces built into Windows enables strong data-reduction capabilities, allowing greater depth of ongoing backup jobs.
Network Attached Storage Services
The 2U12L-ICX2 server is also an excellent choice for a fileserver. The mix of NVMe bays and HDDs, along with Windows or even Linux-based solutions such as TruNAS, delivers flexibility and performance for networked storage services. OEMs and SMBs can quickly build solutions to operate in various deployment scenarios.
Database, Imaging, and Analytics
The available storage bays and additional expansion capabilities make this 2U server an excellent solution for database engines, imaging engines utilizing the PCIe slots to add graphics processing capabilities, and analytics engines.
Intel VROC Capabilities
By utilizing the Intel Xeon Scalable Gen3 processors, these servers benefit from Intel Volume Management Device (VMD) controller, which provides Intel Virtual RAID on CPU (VROC), delivering the capability to create NVMe RAID drives directly in hardware. This can benefit those solution platforms that do not offer NVMe RAID configuration within the software. For example, since VMware doesn't provide support for NVMe RAID configurations within their software, utilizing VROC capabilities to create the NVMe RAID configurations that are then presented to VMware provides NVMe redundancy for those hosts as well.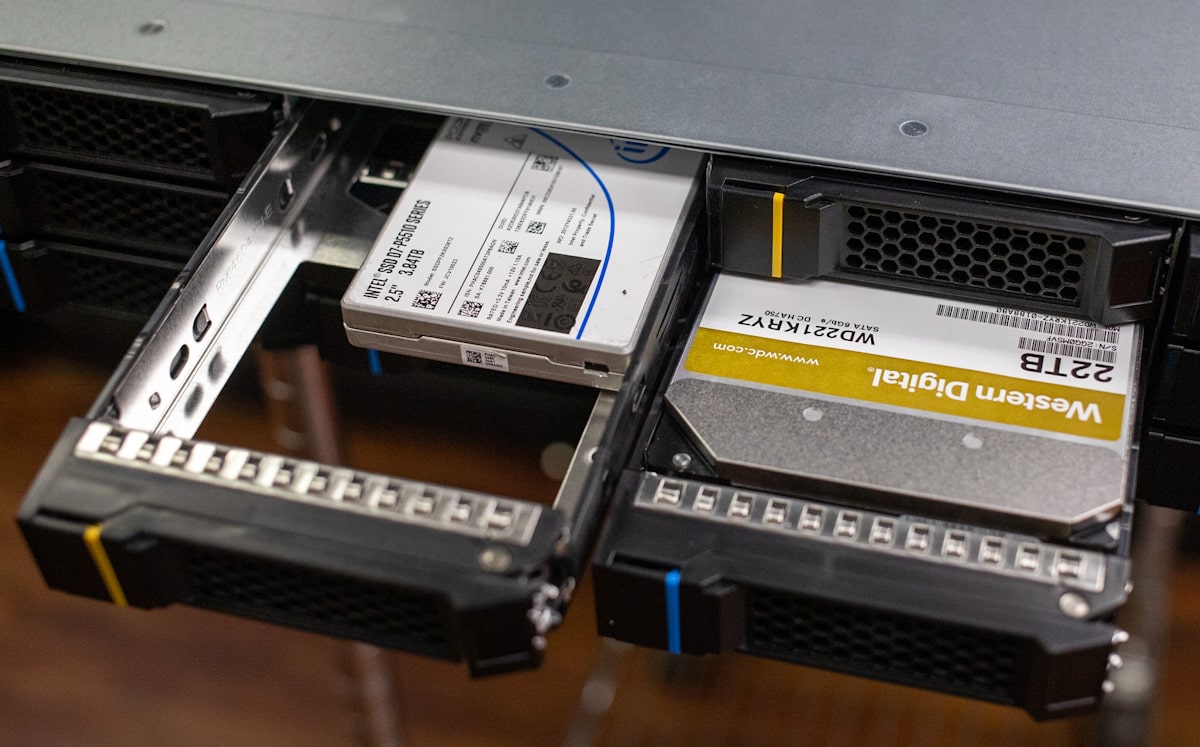 Our 2U12L-ICX2 Windows Server Testing Configuration
Our tests included the ASRock Rack 2U12L-ICX2 with two Intel Xeon Gold 6330 CPUs with 16 x 16GB DDR4 3200MHz RAM. We utilized a Windows Hyper-V Virtual Machine with Windows Storage Server 2022 Operating system. In this review, the test configured the unit as a Storage Server, similar to our NAS system tests.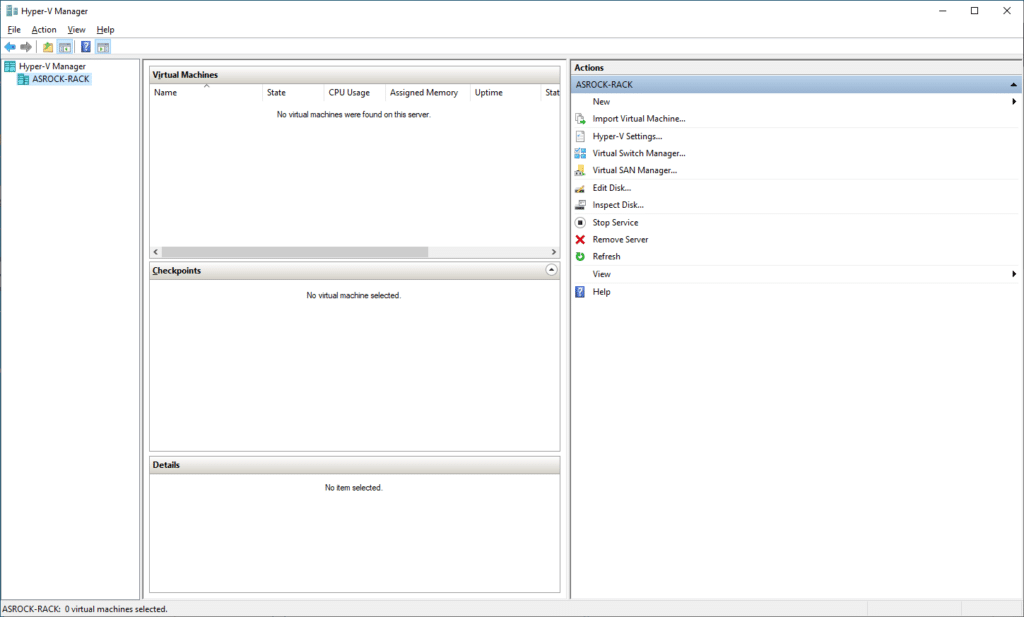 Testing Storage Configuration
Our testing included 8 x 22TB WD Gold HDDs configured in a Storage Spaces Mirror as well as four Solidigm P5510 3.84TB NVMe SSDs also in Mirror.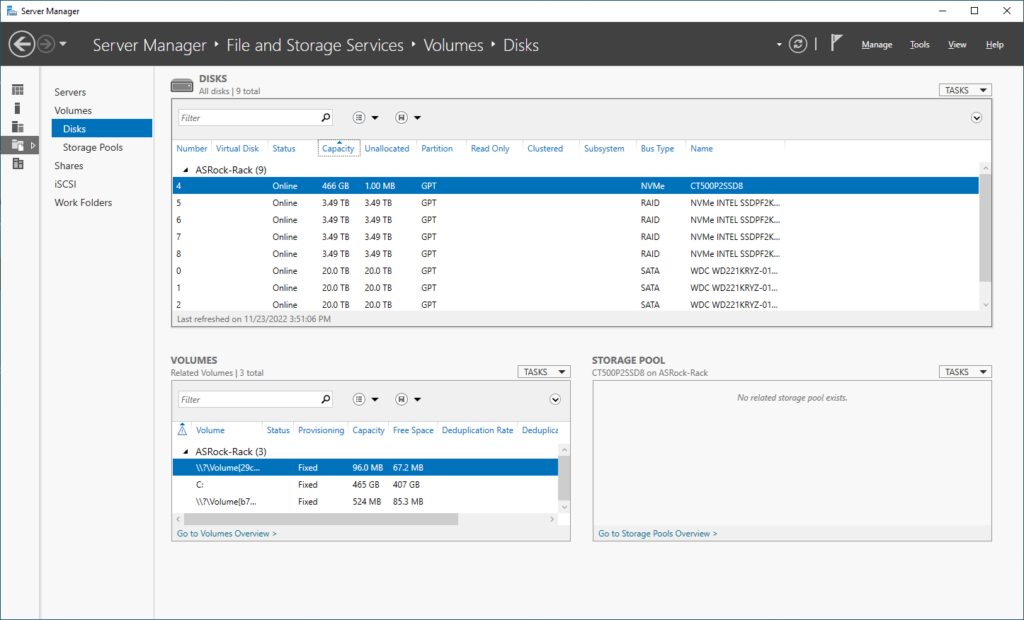 With the hard drives and SSDs positioned in their own respective pools, we had a raw capacity of 160TB of HDD and 14TB of flash. This was then divided up into the mirrored virtual disks which offered 80TB on the HDDs and 6.98TB on flash.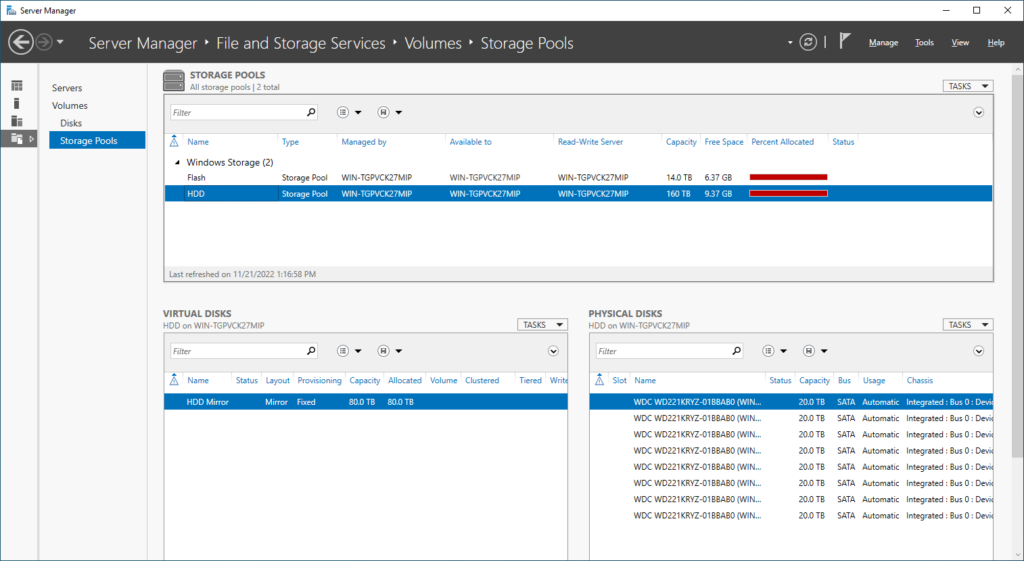 Enterprise Synthetic Workload Analysis
Our enterprise shared storage benchmark process preconditions each array into steady-state with the same workload the device will be tested with under a heavy load of 16 threads with an outstanding queue of 16 per thread and then tested in set intervals in multiple thread/queue depth profiles to show performance under light and heavy usage. Since storage solutions reach their rated performance level very quickly, we only graph out the main sections of each test. The FIO loadgen is used for this testing process. On each volume, we leveraged a 100GB footprint to offer a semi-localized hot spot for testing.
Preconditioning and Primary Steady-State Tests:
Throughput (Read+Write IOPS Aggregate)
Average Latency (Read+Write Latency Averaged Together)
Max Latency (Peak Read or Write Latency)
Latency Standard Deviation (Read+Write Standard Deviation Averaged Together)
Profiles:
4K Random Read: 100% Read and 100% Write, 16T/16Q
8K Sequential Read: 100% Read and 100% Write, 16T/16Q
8K Random Read/Write: 70% Read, 30% Write, 16T/16Q
128K Sequential Read: 100% Read and 100% Write, 4T/4Q
128K Sequential Read High QD: 100% Read and 100% Write, 16T/16Q
In the first of our enterprise workloads, we measured an extended sample of random 4k performance with 100% write, and 100% read activity to get our main results. The two disk configurations achieved Read/Write throughputs of 1,308,500/95,597 and 4,076/2,727 IOPs for SSD and HDD, respectively.

In our main average latency segment with a load of 16T/16Q, we measured an average read/write latency of .20ms/2.65ms for the SSDs and 62.80ms/93.84ms for the HDDs.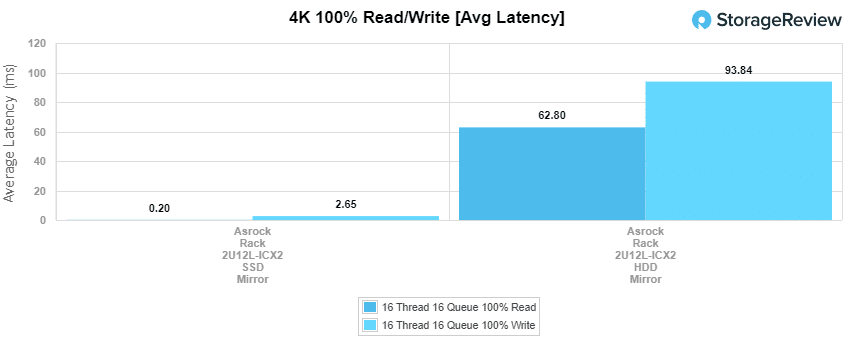 The maximum read/write latencies for each drive configuration with the ASRock server were 13.1ms/23.9ms for the SSDs and 329.6ms/691.7ms for the HDDs.

As can be seen in the standard deviation graph, there wasn't a significant variation in the latency for the SDDs, but for the HDDs, the range of latency was pretty wide compared to the average latency.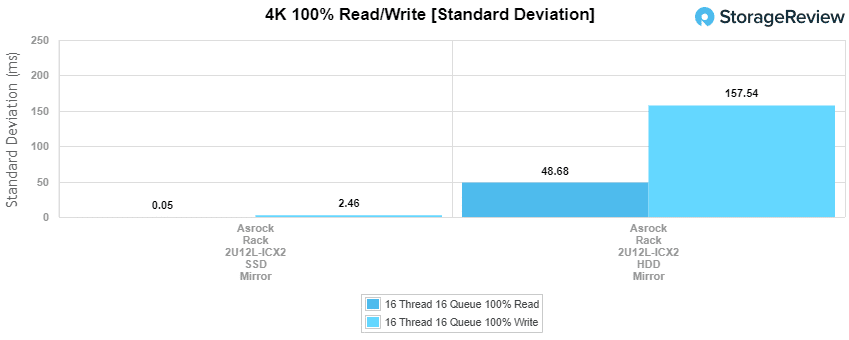 In the FIO 8K 100% Read, 100% Write testing, the SSDs achieved 109,500/162,828 IOPs in standard testing and 840,333/477,928 IOPs in the High Queue Depth tests. The HDDs achieved 32,978/6,104 IOPs for 8K 100% Read/Write operations.

Compared to the fixed 16 thread, 16 queue max workload we performed in the 100% 4k write test, our mixed workload profiles scale the performance across a wide range of thread/queue combinations. In these tests, we span workload intensity from two threads and two queues up to 16 threads and 16 queues. In the expanded 8k 70/30 test, the SSDs ranged from 8,709 IOPs in the 2T/2Q test up to 300,531 IOPs in the 16T/16Q test. The HDDs ranged from 734 to 3,381 IOPs in these tests.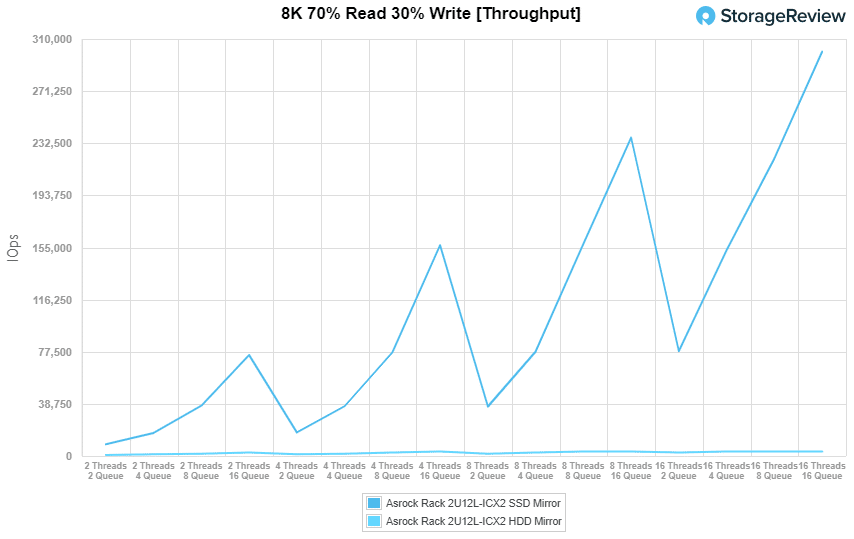 Looking over the 8k 70/30 average response times, the ASRock Rack achieved a range of .45ms to .84ms latencies for these tests, while the HDDs started at 5.45ms and reached at 75.69ms in the 16T/16Q tests.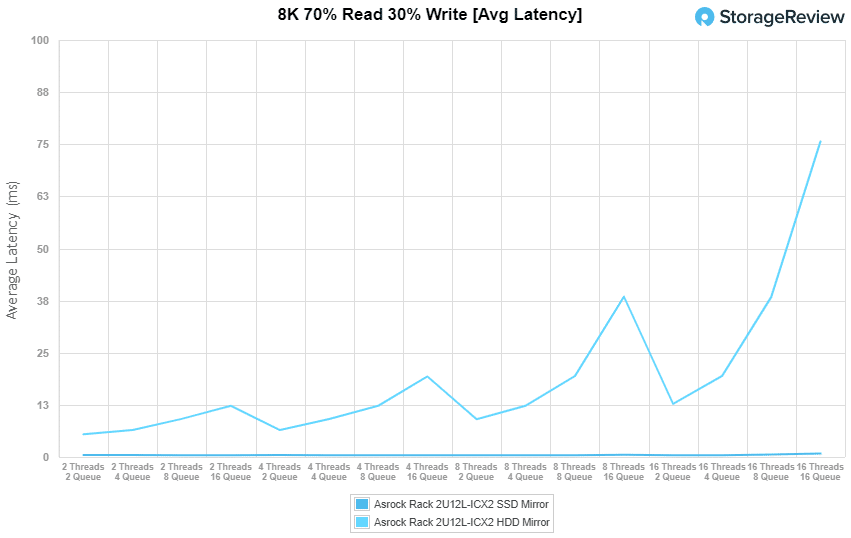 For the mixed read/write tests with varying thread and queue depth levels, SSDs had max latency that ranged from 3.52ms for the two threads and two queue depth level and 12.02ms at the 16 thread and 16 queue depth level. The HDDs ranged from 48.46ms to 996.57ms max latency for these tests.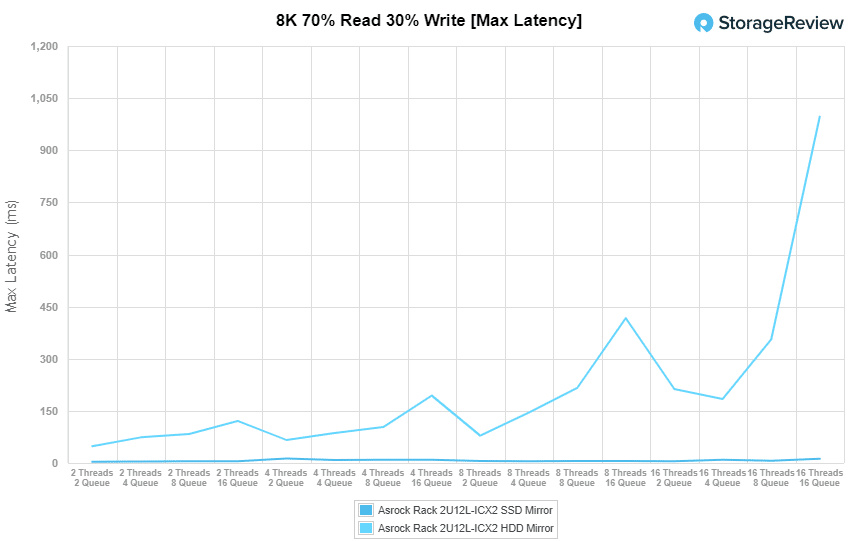 The standard deviation results for these tests went from .27ms to .72ms for the SDDs and 2.53ms to 54.62ms for the HDDs. These are pretty significant variations compared to the average latencies for each configuration.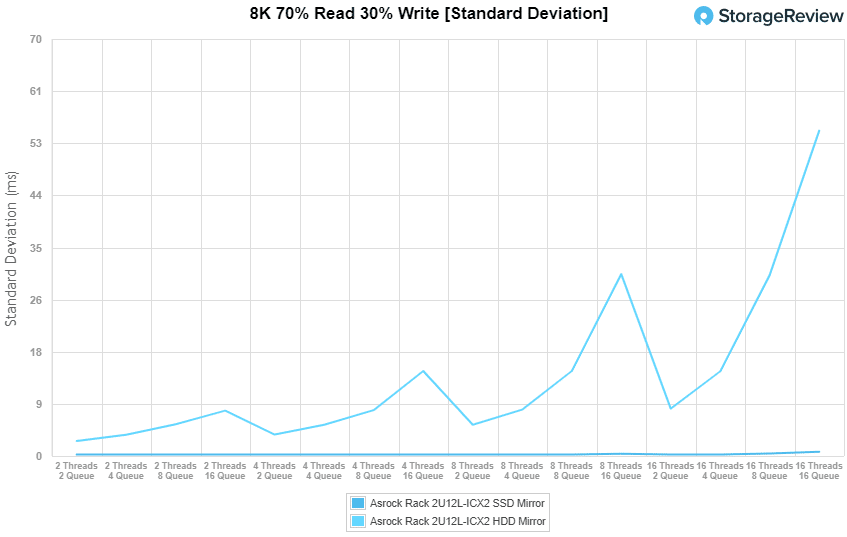 The 128K workload test is a large block sequential test that shows the highest sequential transfer speed for a drive. Looking at the 128k performance of 100% write and 100% read activity, the SSD tests showed a bandwidth of 5,365MB/s for sequential reads and 5,631MB/s for writes. In the High Queue Depth tests, the SSDs achieved 11,780MB/s and 5,629MB/s for Read/Write operations, respectively. The HDD configuration achieved 1,163MB/s for read operations and 551MB/s for writes in our 128K sequential workload tests.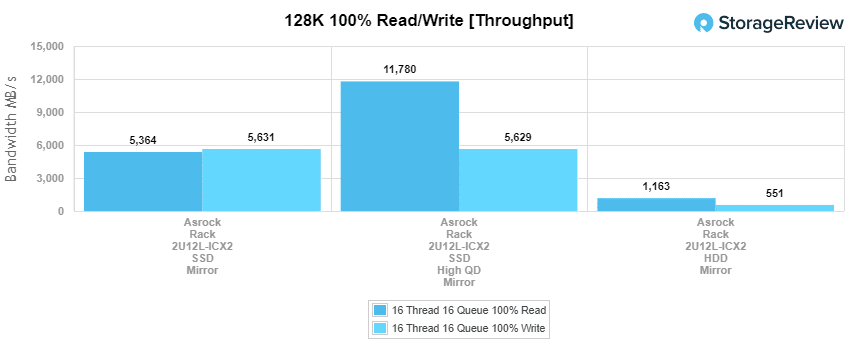 Conclusion
ASRock Rack is getting deeper into the server space with some very good, highly flexible solutions that are appealing for SMB and midrange workloads and have enough expandability to grow with an organization. The overall flexibility of the ASRock Rack 2U12L-ICX2 server is great, given the number of storage slots, NVMe bays, and PCIe expansion features. System integrators and VARs will find this a very promising system well-suited to building specialized service platforms.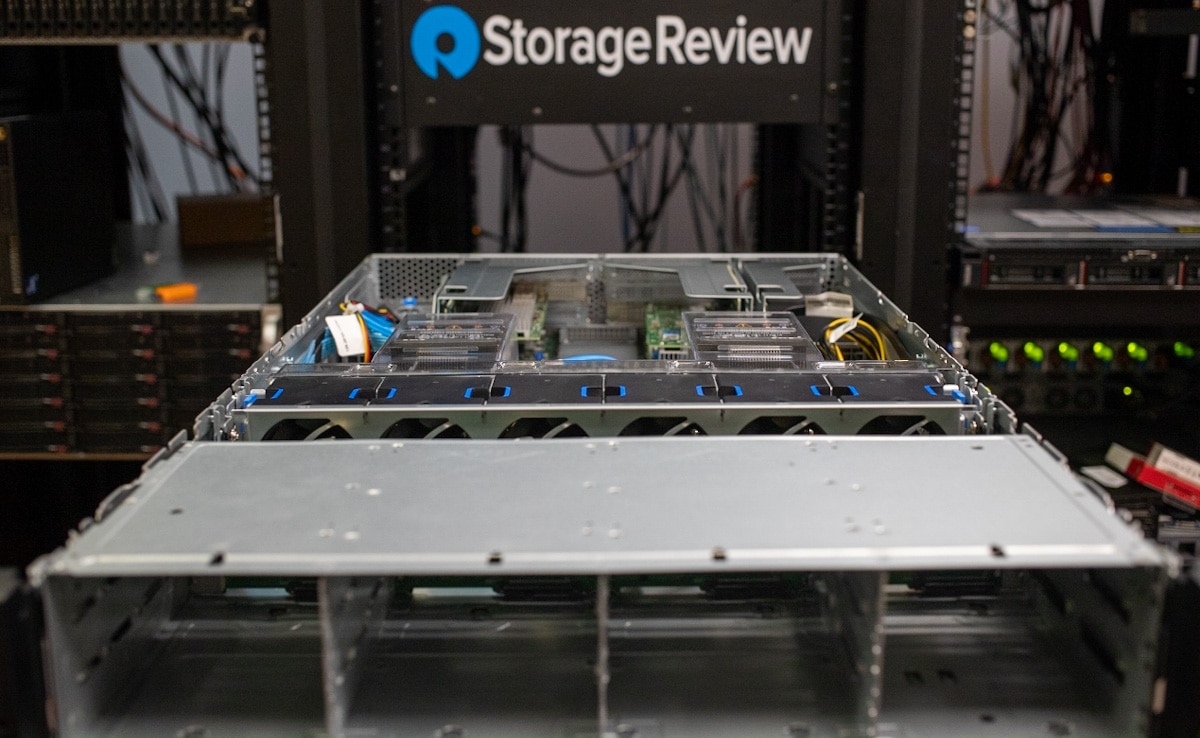 The focus of our performance testing was really to show the unique benefits of leveraging 22TB hard drives for dense capacity as well as 3.84TB NVMe SSDs for hot data. We leveraged Windows Server and Storage Spaces to create mirrored storage pools across both our spinning media and flash storage in the server. With this platform, the operating system and final deployment options are near endless, which is why we focused on just one area for performance testing.
In 4K random workloads, we measured over 1.3M IOPS read from our flash volume and 4K IOPS read from HDD. 8K read sequential I/O measured an impressive 840k IOPS on flash, with just under 33K IOPS from spinning media. In large-block 128K sequential tests, we measured a peak of 11.8GB/s read from flash and 1.2GB/s from spinning media.
Overall the storage flexibility and performance profile make this server very approachable. It would work great as a backup target for your data protection application of choice. And it would be equally at home as a large file server with flash acceleration. The point is, ASRock Rack has created a strong platform for system integrators who need one server platform that can address multiple customer personas.
View the ASRock Rack 2U12L-ICX2 information on their website. Contact the ASRock Rack Sales team for pricing and availability [email protected].
This report is sponsored by ASRock Rack. All views and opinions expressed in this report are based on our unbiased view of the product(s) under consideration.
Engage with StorageReview
Newsletter | YouTube | Podcast iTunes/Spotify | Instagram | Twitter | TikTok | RSS Feed