The Bluetti AC180 Portable Power Station is a midsize power solution that combines high-capacity, fast charging, and multiple output options for a wide range of use cases. The AC180 includes an AC inverter with a power output rated at 1,800W and a LiFePO4 battery with a capacity of 1152Wh.
The Bluetti AC180 Portable Power Station is a midsize power solution that combines high-capacity, fast charging, and multiple output options for a wide range of use cases. The AC180 includes an AC inverter with a power output rated at 1,800W and a LiFePO4 battery with a capacity of 1152Wh.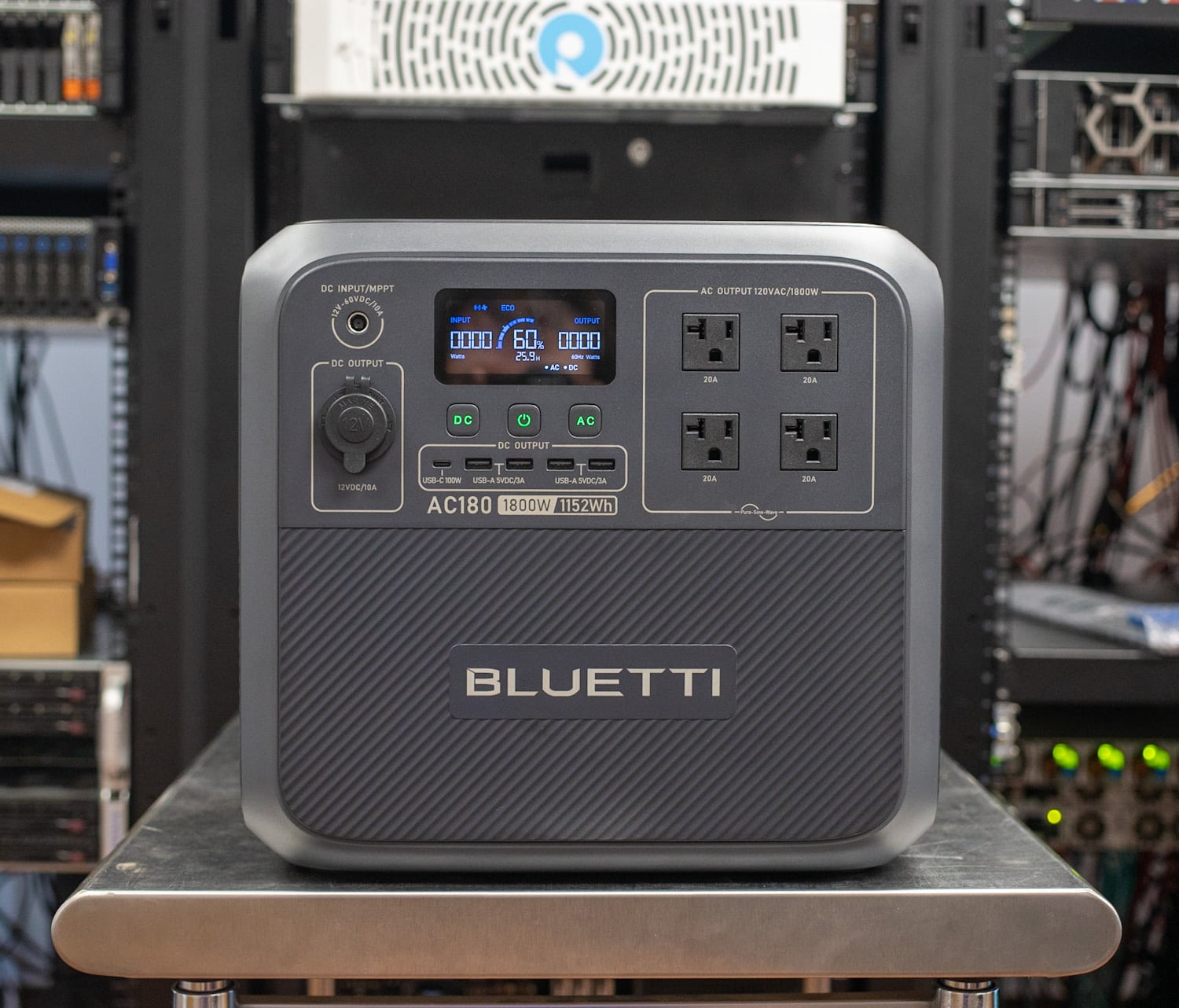 Bluetti has been releasing quite a few portable power station models to fit a wide range of deployment solutions. While we recently looked at the AC60 Portable Power Station that supports the B80 expansion battery units, it tops out with a 600W inverter. The AC180 slots in with a larger battery and 1,800W inverter, aiming to solve the pain points of larger power needs.
The Bluetti AC180 supports multiple charging methods, including AC home or generator power, solar power, or DC car charging. It also supports the unique ability to simultaneously charge using both AC and solar power to maximize charging speed.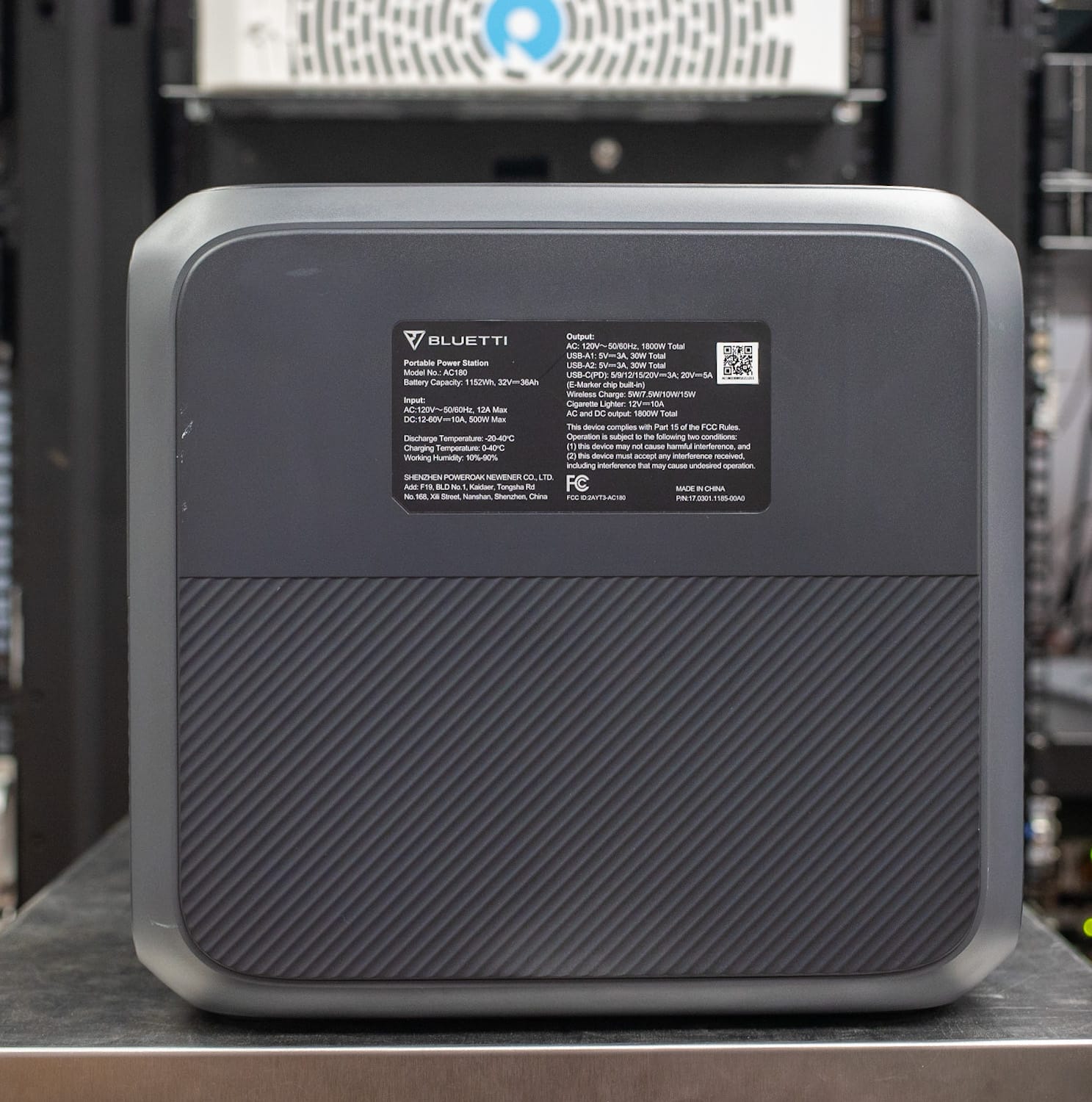 From the battery chemistry side, Bluetti continues to adopt LiFePO4 batteries across its portfolio of devices. This includes the AC180, as it features quality LiFePO4 battery cells which are rated up to 3,500+ cycles before capacity starts to degrade. As such, Bluetti provides a 5-year warranty on this system and expects it to last far beyond that period when deployed in the field.
While we will touch on the charging aspects further down in this review, the Bluetti AC180 offers a silent charging mode. For situations where the system might be in a sound-sensitive area, users can limit the charging speed which will in turn minimize fan noise. Bluetti claims this will enable the AC180 to limit its noise output to just 45dB while charging. this can be enabled through the Bluetti App.
At the time of this review, the Bluetti AC180 has a list price of $1,199.
Bluetti AC180 Specifications
BATTERY INFO
Capacity:
1152Wh (32V, 36Ah)
Type:
LiFePO₄ (Lithium Iron Phosphate)
Life Cycles:
3,500+ Cycles to 80% Original Capacity
Shelf-life:
Recharge to 80% Every 3-6 Months
Management System:
MPPT Controller, BMS, etc.
OUTPUT
AC Outlet:
4 × 120V, 1800W in Total
Inverter Type:
Pure Sine Wave
Surge Power:
2,700W
USB-C Port:
1 × 100W Max.
USB-A Port:
USB-A1: 5VDC/3A 15W in total (2 × USB Ports)
USB-A2: 5VDC/3A 15W in total (2 × USB Ports)
12V DC Outlet:
1 × 12V/10A (Car outlet, regulated.)
Wireless Charging Pad:
1 × 15W Max.
INPUT
AC Input:
1,440W Max.
Solar Input:
500W Max., VOC 12-60VDC, 10A
Car Input:
12/24V from Cigarette Lighter Port
Max Input:
1,440W
AC Charging Cable:
1.3-1.8 Hours (1,440W Turbo Charging)
Solar Panel (s):
2.8-3.5 Hours (500W Max.)
GENERAL
Pass-through Charging:
Yes
Weight:
35.27 lbs / 17 kg
Dimensions (LxWxD):
13.39 in × 9.72 in × 12.48 in / 340mm × 247mm × 317mm
Operating Temperature:
-4℉-104℉ / -20℃-40℃
Storage Temperature:
32℉-104℉ / 0℃-40℃
Certifications:
UL, CEC, DOE, FCC, CA Prop 65
Warranty:
5 years
Accessories:
AC Charging Cable
Car Charging Cable
Solar Charging Cable
Build and Design
The Bluetti AC180 includes a range of output ports, including four 120V AC outlets, a USB-C port with a maximum output of 100W, four USB-A ports with a total output of 15W, a 12V DC outlet, and a wireless charging pad capable of delivering up to 15W.
These outlets are split into AC and DC groups, which can be controlled independently of one another with a physical button on the front of the unit. Physical buttons are great to see on these units since they are much easier to use in the field and very durable.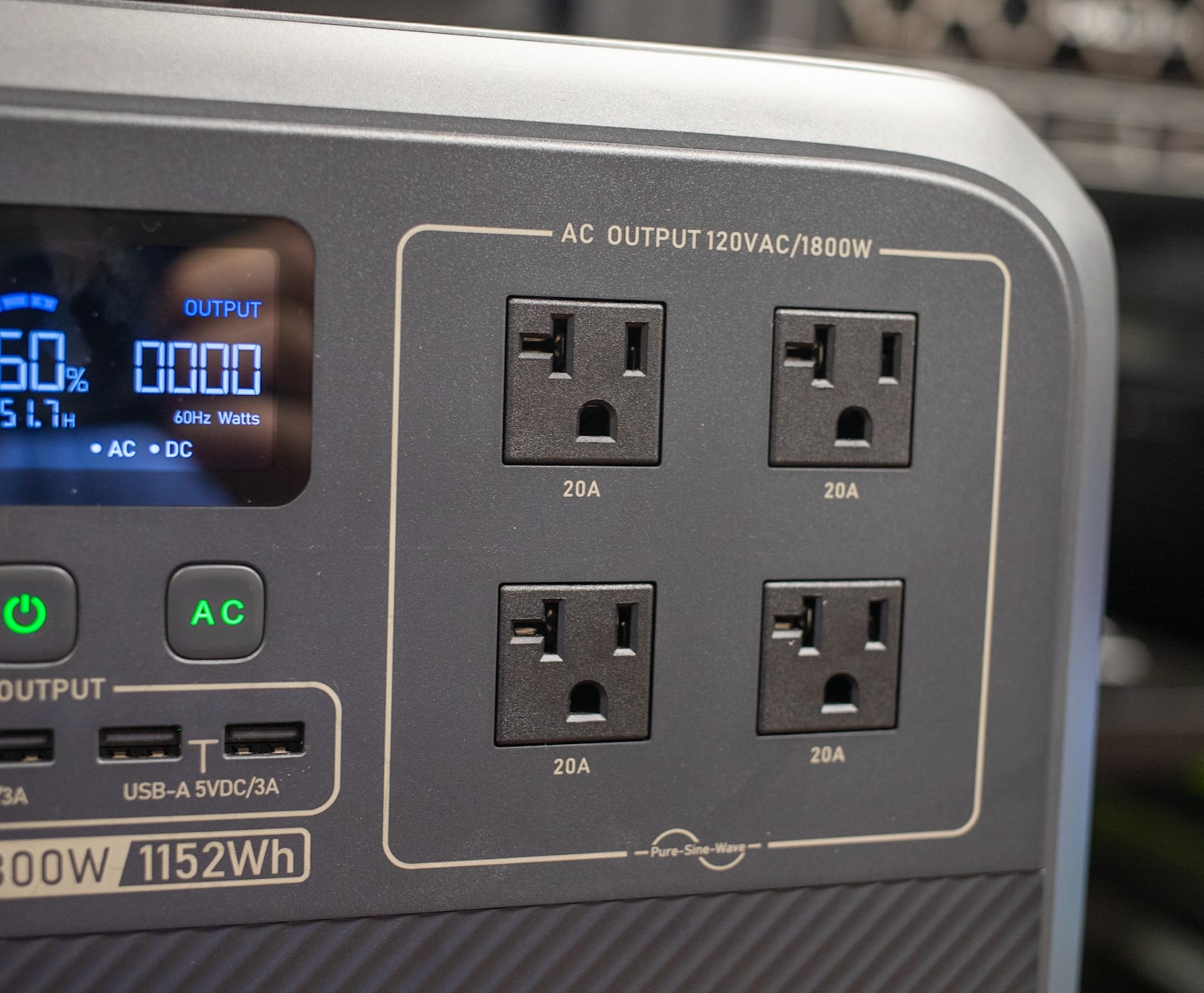 For charging the AC180 there are both AC and DC input options. The AC input supports a maximum of 1,440W, enabling fast charging using the included AC charging cable. Solar input allows for a maximum of 500W, and you can connect compatible solar panels with a VOC (Voltage Open Circuit) range of 12-60VDC and 10A.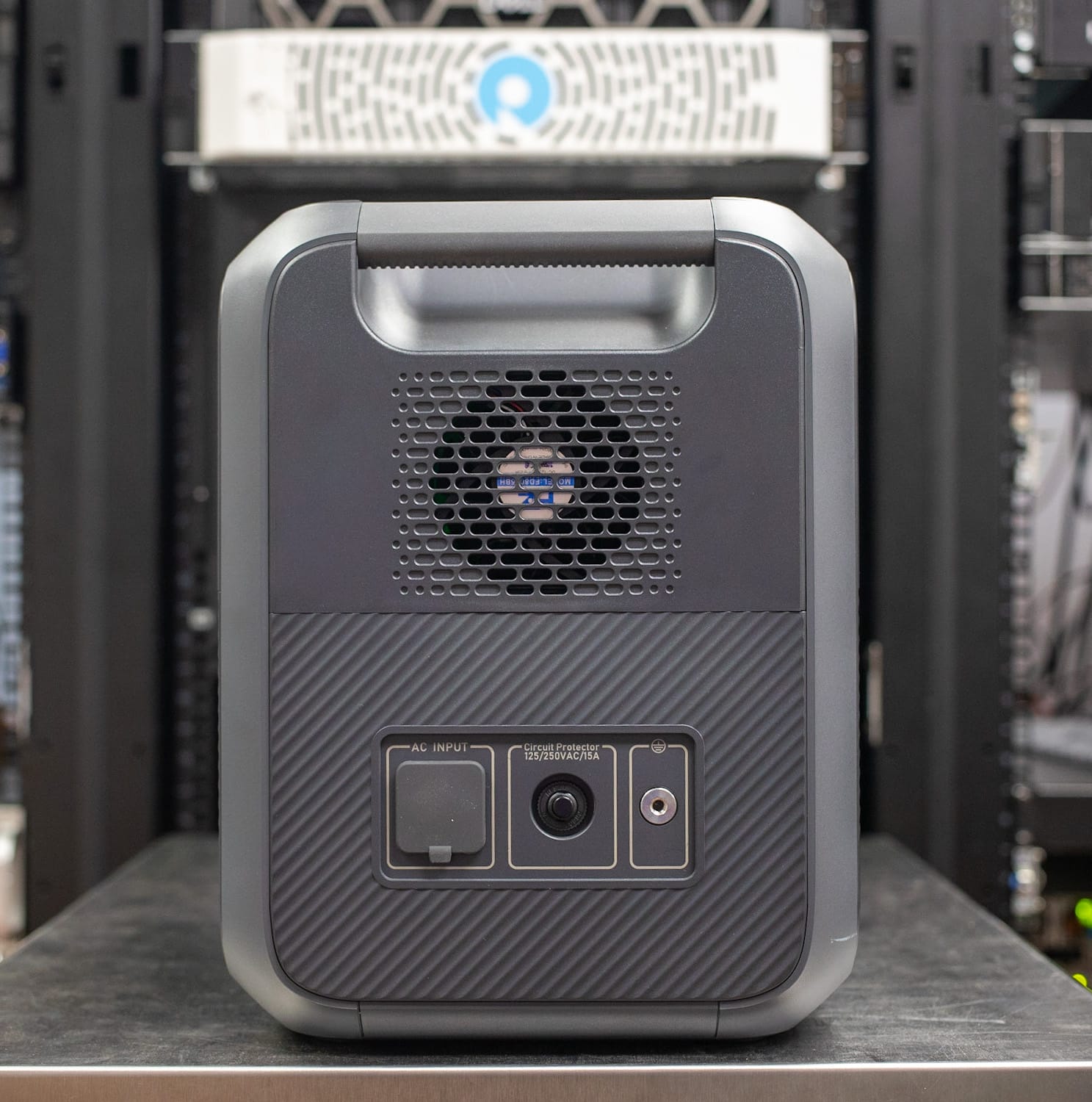 The car input accepts 12/24V power from a cigarette lighter port. The power station's recharge times vary depending on the charging method and speed. For reference using the AC input, expect the unit to reach full capacity in under 2 hours. Using solar power, at its highest rated voltage/amp connection, it could charge in as little as 3.5 hours. Obviously, this is highly variable to the user's exact situation and the solar panels being used.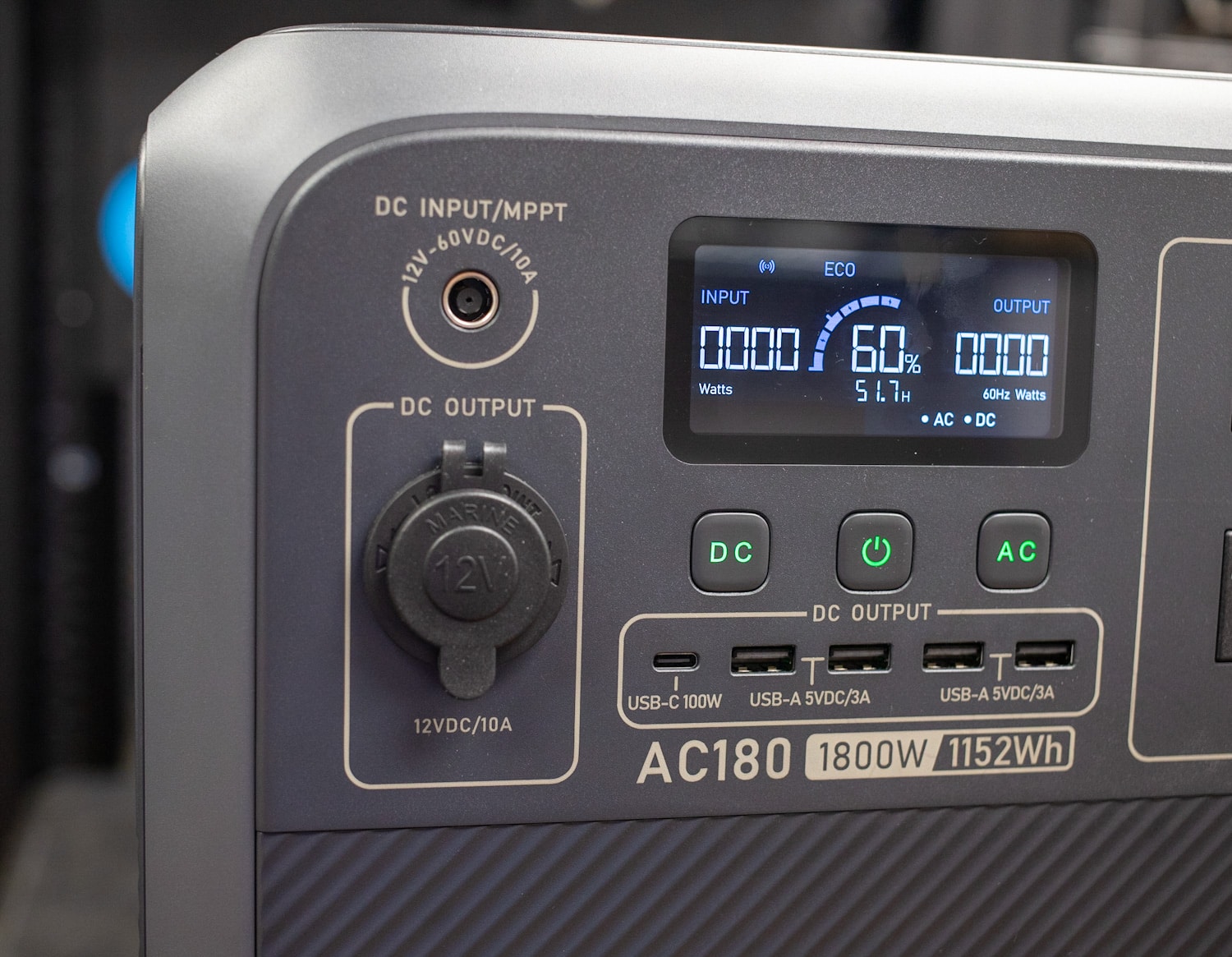 One advantage of the onboard AC charger is this unit offers a UPS mode to keep connected devices online if the power drops. In the event of a power outage, the AC180's UPS function is listed as having a transfer speed of 20ms. For sensitive IT equipment we'd still highly recommend a purpose-built UPS to prevent devices from rebooting. For other devices, this would be quite useful when dealing with weather situations or in an area with unreliable power.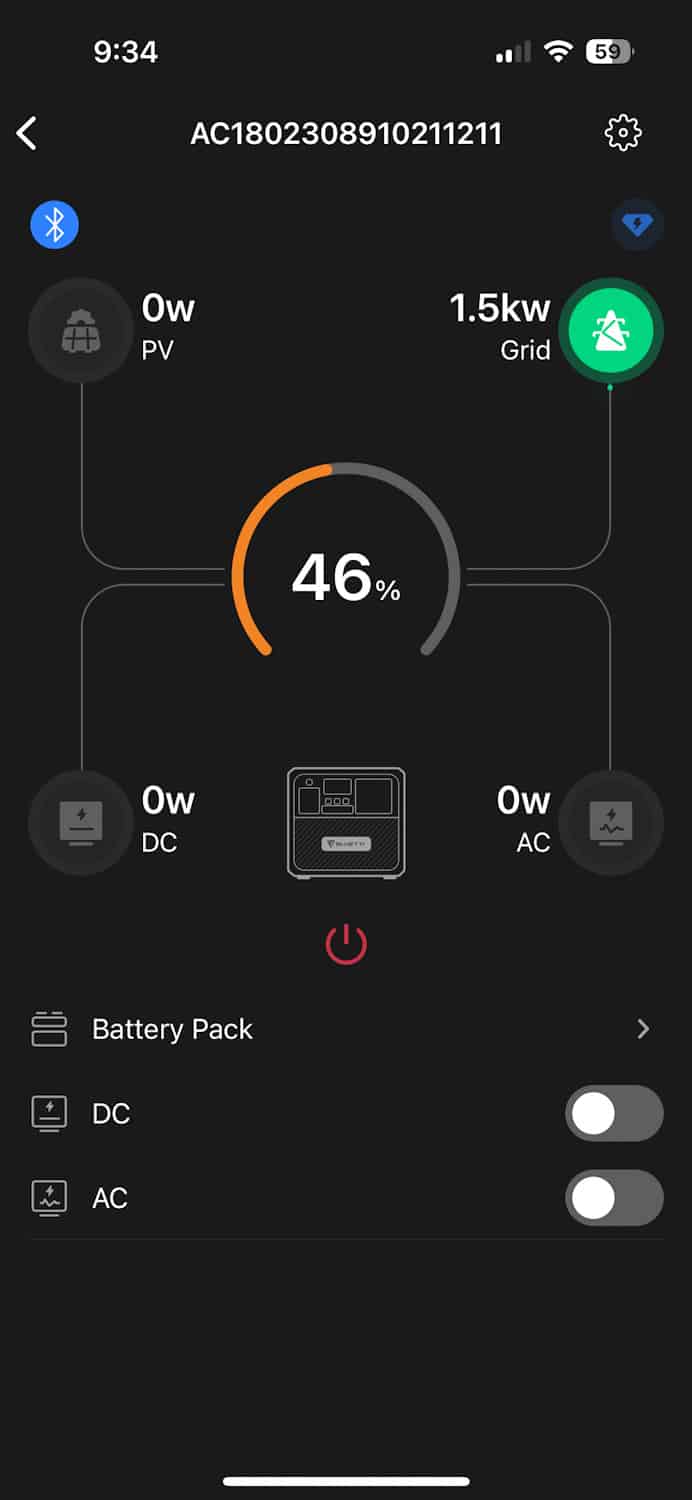 In terms of wireless control, the Bluetti AC180 does offer Bluetooth connectivity for App control. This app is needed to switch charging speeds but also allows users to monitor power and charge states. It can also be used to switch the unit on and off remotely.
In Use
During our field testing of the Bluetti AC180 Portable Power Station, we focused on evaluating its charging speeds and battery capacity. The unit has an onboard battery size of 1152Wh, which supports a peak charging speed of 1440W.
To measure the actual discharge capacity, we subjected the AC180 to a 350W load. Through our testing, we measured the actual capacity of the battery, with AC-inverter losses factored in, to be 1030Wh. When charging the power station from 0% to 100%, we measured a total power requirement of 1360Wh from the wall. This indicates an efficiency rate of approximately 80% on the charging side.
The ability to adjust the charging rate of these larger portable power stations is something we have been paying close attention to in our recent reviews. Not all remote scenarios offer 15A circuits that can be fully saturated by one of these systems getting topped off. To that end, Bluetti supports three charging speeds with the AC180. The fastest option is Turbo mode, which draws a maximum power of 1458W. Next is its normal charging rate, which we measured to be 1005W, and finally a silent mode that consumes 283W.
Conclusion
The AC180 Portable Power Station is another great product added to the Bluetti portfolio. It's geared for individuals in need of a good amount of power out in the field to stand up equipment and keep it running for an extended period of time. It has an AC inverter rated for a continuous 1,800W draw and a 1152Wh battery. This size pairing works quite well, giving users quite a bit of runtime off-grid. In our testing, we measured a usable capacity of 1030Wh, which would support roughly a 1kW load for one hour. For smaller loads, divide the power draw by the usable capacity and that would be roughly what your runtime would be.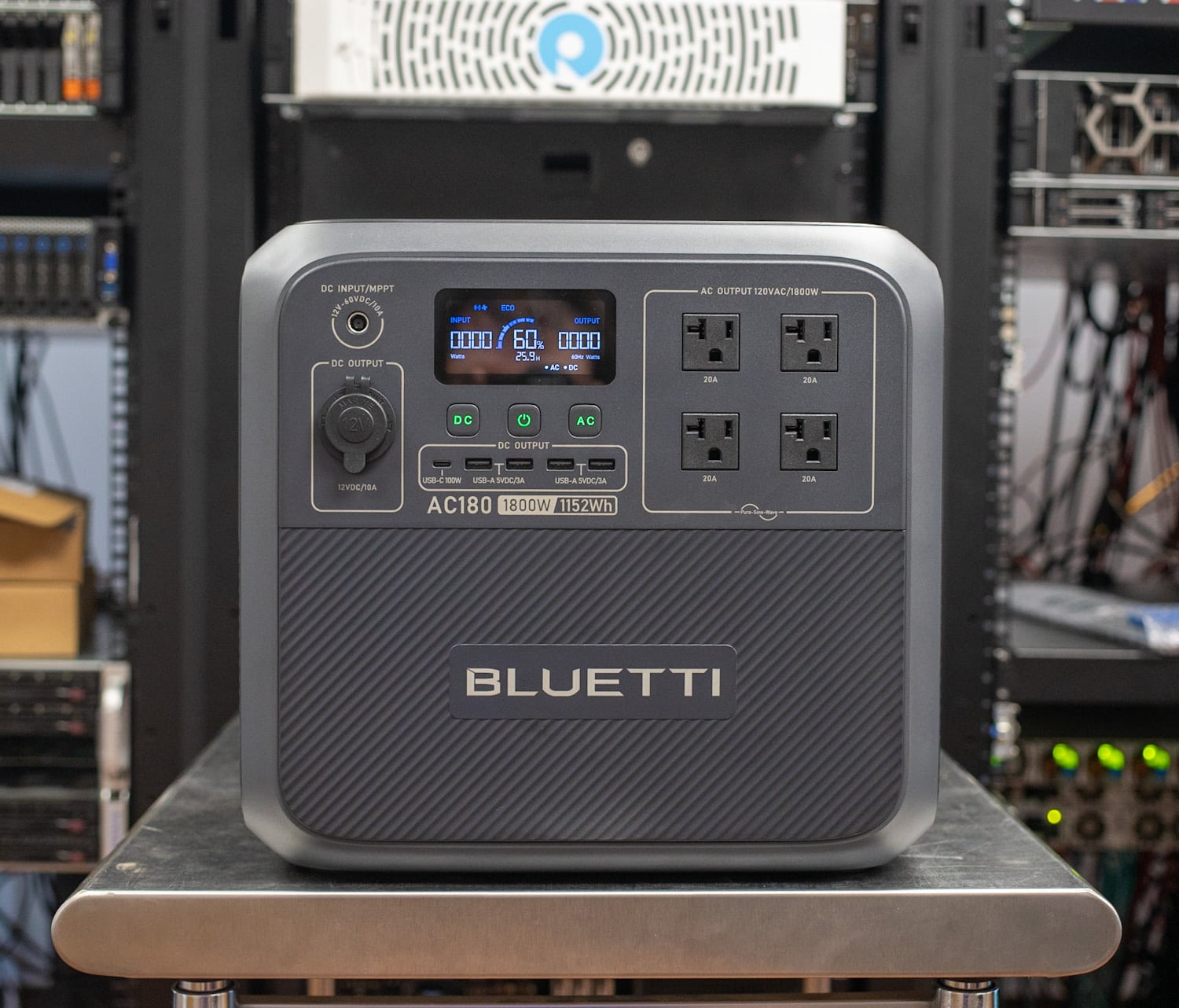 Overall we were quite impressed by the Bluetti AC180 Portable Power Station. It fits well into the mid-size market, weighing in at just over 35 lbs. It is quite portable to transport to remote locations, while still having a large power inverter and battery. For users needing something one step bigger than the AC60 unit, the AC180 is a great option.
Engage with StorageReview
Newsletter | YouTube | Podcast iTunes/Spotify | Instagram | Twitter | TikTok | Discord | RSS Feed