In last December was announced the latest version of Dell EMC's out-of-band management solution, the iDRAC9 4.00.00.00. The Integrated Dell Remote Access Controller (iDRAC) is designed to make server administrators more productive, allowing them to deploy, monitor, update, and manage PowerEdge servers, both locally and remotely. In the last firmware release, Dell EMC introduced many new features as well as a new license tier, the Datacenter License. The Datacenter license offers several unique features such as server data telemetry streaming and advanced thermal controls to help IT admins better understand and manage the datacenter.
In last December was announced the latest version of Dell EMC's out-of-band management solution, the iDRAC9 4.00.00.00. The Integrated Dell Remote Access Controller (iDRAC) is designed to make server administrators more productive, allowing them to deploy, monitor, update, and manage PowerEdge servers, both locally and remotely. In the last firmware release, Dell EMC introduced many new features as well as a new license tier, the Datacenter License. The Datacenter license offers several unique features such as server data telemetry streaming and advanced thermal controls to help IT admins better understand and manage the datacenter.

Previously, we have done an in-depth review of the iDRAC9, based on the firmware version 3.34.34.34; if you are unfamiliar with this out-of-band management solution, that review makes an excellent starting point before taking a look at this new version. There have been three more firmware versions released after that one,a but the version 4.00.00.00 is the one including new significant innovations and enhancements.
Recapping our previous article, the iDRAC controller is a piece of hardware integrated on the motherboard of the server, which as its own processor, memory, network connection, and access to the system bus. It provides remote access to the system console (keyboard and screen), allowing the system BIOS to be accessed over the Internet when the server is rebooted. Critical features of iDRAC include power management, virtual media access, and remote console capabilities. These features give administrators the ability to remotely configure a machine as if they were sitting in front of the local console.
iDRAC9 License Levels
iDRAC licenses are designed to offer the right set of capabilities for the customer need. New, with this release, is the iDRAC Datacenter License.
iDRAC Basic – Basic instrumentation with iDRAC web GUI.
iDRAC Express – Expanded remote management and server lifecycle features.
iDRAC Enterprise – Remote presence features with advanced, enterprise-class management capabilities.
iDRAC Datacenter – Extended remote insight into server details, focused on high-end server options and granular power and thermal management.
The new Datacenter license target Dell EMC customers with large datacenters focused on hardware performance analytics and granular power and thermal management.
New and Enhanced Features
Similar to older versions, the new enhancement and features brought with this new release, are per license basis. And as expected, since the focus is on the new iDRAC license, most of the new features are included only in the Datacenter one.
Taken from the iDRAC9 Version 4.00.00.00 release notes, below is the list of all the features and enhancements supported by the iDRAC Datacenter and Enterpriser licenses. And the key features are covered in the following sections of this article. Needless to say, the features included with the Enterprise license are also included for the new Datacenter one, which covers all of the features. And iDRAC9 Enterprise is still offered as before with some enhancements.
Datacenter License
Telemetry Streaming – metric reports streamed to an analytics tool
Thermal Manage – advanced power and cooling features:

PCIe airflow customization (LFM)
Custom Exhaust Control
Custom Delta-T control
System Airflow Consumption
Custom PCIe inlet temperature

Auto Certificate Enrollment and renewal for SSL certificates
Virtual Clipboard Support Cut and Paste of text strings into the remote virtual console desktop
SFP Transceiver I monitoring
GPU inventory and monitoring
SMART logs for storage drives
System Serial Data Buffer Capture
Idle Server detection
Enterprise License
Multi-Factor Authentication through email.
Agent Free Crash Video Capture (Windows only).
Connection View for LLDP transmit
System Lockdown Mode – new icon in header available from any page
Group Manager – 250 node support
Enhanced support for Secure Enterprise Key Management (SEKM)
Enable PERC to switch to SEKM security mode.
Customers running on the iDRAC Basic or Express license can also benefit from some of the new version features which are included for all level licenses.
GUI Enhancements
Task summary section the dashboard
A search box in the header
SupportAssist Collection Viewer – displays the output in iDRAC GUI
The iDRAC web-UI is one of the tools that standouts among other management systems we have been reviewing in the past. This GUI is a comprehensive admin tool loaded with many options that one can notice once navigating in the menus and submenus. Besides the ones mentioned above, another few changes were added to the GUI, such as Job
Queue overview and a collapsed accordion-style for faster page loading.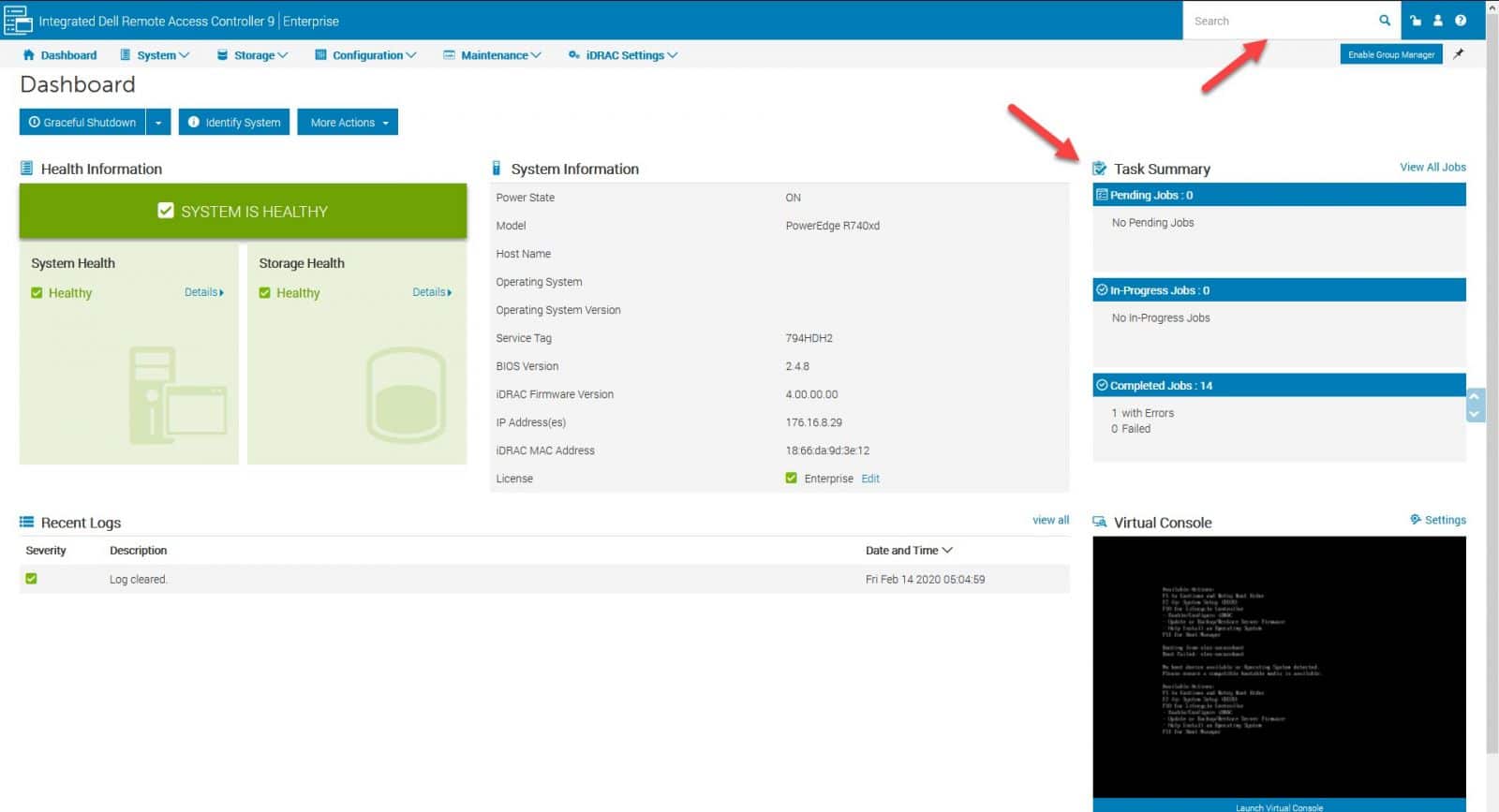 API, CLI, and SCP
Operating system deployment by Server Configuration Profile (SCP)
Enable and disable boot order control to SCP and RACADM
New schemas up to 2018.3 is supported for Redfish APIs
Option to change boot source state in SCP.
Automation for command/attribute autocompletion in RACADM
Lifecycle Controller
IDSDM firmware update to version 1.9 or later using out-of-band methods
File browsing from USB storage device
Multilevel filtering for LC Log viewing.
Enhanced updates from downloads.dell.com.
Alerts and Monitoring
Custom Sender Email Address for email alerts in SMTP configuration
SMARTlogs in SupportAssist log collection for hard drives and PCIe SSD devices
Include Part Number of a failed component in alert messages
Security
Up to five IP filtering ranges (using RACADM commands only)
iDRAC user password maximum length extended to 40 characters.
SSH Public Keys through SCP
Customizable Security Banner to SSH login
Force Change Password(FCP) option for login
New advanced features and enhancements of the iDRAC Datacenter license are targeting the datacenter management needs of IT and server admins. Starting with the key features, the new version of iDRAC introduces telemetry data for analytics to optimize and automate IT operations. Also, this version offers thermal and power customization for optimizing facilities operations, scalable and automated infrastructure security, and better remote management experience for easiest problem diagnosis and remediation.
Telemetry Streaming
Analytics is a feature that has been spiking-up in recent years. Its need, in modern datacenters, is no longer an option for admins and companies looking to simplify daily management tasks, monitor and predict system performance, and boost productivity. With telemetry, datacenters, can collect measures and data from remote systems for analysis and monitoring. Depending on how large a company is, the amount of data spread in its datacenter could be massive; it is here where telemetry and analytics make even more sense, as it helps to optimize IT operations rapidly, with actionable insight.
iDRAC telemetry streaming collects hardware metrics and status for analytics from servers, storage, networking, OS, and workloads. There are over 20 new metric reports for streaming data via Rsyslog or Redfish SSE. These new telemetry data available include serial data log, GPU inventory and monitoring, advanced CPU metrics, optical network interfaces, and more. Telemetry also decreases downtime with predictable analytics and enhances security and compliance.
Ultimately, the new iDRAC Telemetry streaming feature provides high-performance streaming of server data. It is achieved by extracting high-value data that can be leveraged by existing customers and popular analytic tools as well as enhancing Dell EMC customer support. Over 190 different server and peripheral metrics can be streamed or pulled from iDRAC, achievable due to the iDRAC agent-free architecture.
Other Key Features and Enhancements
Enhanced Security
Critical areas regarding security have been enhanced as well. Staring with an easy Multi-Factor Authentication (MFA) that uses one-time email passcodes when a new access method is detected (source IP, for example). This enhancement is targeted at SMB customers not wanting complex MFA solutions around LDAP/AD or Radius. Password security has been improved as well. Now, longer iDRAC credentials (up to 40 characters) are needed by new automated password generators. Also, in the domains of security, it has been improved the Automatic Certificate Enrollment (ACE) for auto-renewal and deployment of iDRAC9 SSL certificates, taking advantage of the Simple Certificate Enrollment Protocol (SCEP) supported in many server OS solutions. In this way, servers can automatically keep iDRAC SSL certificates renewed with zero manual scriptings or monitoring.
Thermal Manage
Another significant feature in this version of iDRAC is the customizable thermal and airflow management in PowerEdge servers; for optimizing datacenter power policies. Thermal Manage allows customers to customize the thermal operation of their PowerEdge servers. Now, it is possible to optimize server related power and cooling efficiencies across customer datacenters. This feature is integrated with OpenManage Enterprise Power Manager for optimized management experience. An advanced PCIe thermal management dashboard is also provided.
Thermal Manage key-related power features include PCIe airflow customization (LFM), Custom Exhaust Control, Custom Delta T control, System Airflow Consumption, and Custom PCIe inlet temperature.
Other Critical Enhancements
Some other crucial improvements in the iDRAC9 Version 4.00.00.00 are the new Zero Touch Provisioning via Enhanced Server Configuration Profiles (SCPs), which is useful to automatically provision customers' bare metal servers, including OS, Configuration, and Firmware over a secure, out of band network. Another enhancement is regarding the iDRAC email alerting; now, alerts are more compatible with Cloud-based messaging and more flexible for private email domains. Also, when using remote console operations, a virtual clipboard is now available to efficiently copy text/passwords to local clipboard and paste into HTLM5 remote console view.
Some other advanced server monitoring enhancements, available only with the iDRAC Datacenter license, are Idle server detection, which automatically detects and alerts admins to unused servers in their infrastructure. And, Agente-free OS crash and screen capture, that detects Windows OS crash events and automatically captures the desktop screenshot without installing iSM or OMSA.
Upgrading the Firmware
A walkthrough video about how to upgrade Dell EMC PowerEdge servers to version 4.00.00.00, is available from the StorageReview YouTube channel. In addition to the video, the step-by-step guide can be found in our previous iDRAC review (mentioned in the introduction), in the overview of the LifeCycle Controller section.

Conclusion
Dell EMC has released the new version of its iDRAC9 controller, version 4.00.00.00. iDRAC simplifies hardware management through the ease of use and automation. And with this new version, Dell EMC is targeting evolving trends and features of modern datacenters. Trends, such as cyber resiliency, automation of IT processes, simplified services and support, and analytics for datacenter management. This last one, is one of the critical features of this release, referring to the use of telemetry, to provide precise, time-series data for monitoring power, temperatures, performance (CUPS), and statistics (NICs, GPUs, Storage SMART attributes, and more). iDRAC telemetry, mainly, provides granular insight and control, by collecting, analyzing, and visualizing different datacenter metrics and data.
With this version, other vital areas of enhancements were regarding security, as it is a concern for IT datacenters; and secure infrastructure is becoming mandatory. For this, iDRAC focused on improvements in Multi-Factor Authentication (MFA), passwords security, and Automatic Certificate Enrollment (ACE). Thermal Manager features, email alerting, and advanced server monitoring are also enhanced. On the other hand, the management web-UI had a few but relevant improvements. With all these new features, Dell EMC with the iDRAC9 Controller keeps allowing organizations to build a secure, optimized, and intelligent IT infrastructure that simplifies deployment, configuration, and updates throughout a server's life.
Engage with StorageReview
Newsletter | YouTube | Podcast iTunes/Spotify | Instagram | Twitter | Facebook | RSS Feed
This post is also available in:
简体中文 (Chinese (Simplified))