The Dell Latitude 9330 is an elite 2-in-1 convertible notebook that can turn into a tablet in just a few seconds. It has ample performance for business use, a good-looking design, great build quality, and special Zoom buttons to make videoconferencing easier.
The Dell Latitude 9330 is an elite 2-in-1 convertible notebook that can turn into a tablet in just a few seconds. It has ample performance for business use, a good-looking design, great build quality, and special Zoom buttons to make videoconferencing easier.
Dell Latitude 9330 2-in-1 Specifications
The Latitude 9330 is a 2-in-1 convertible laptop designed for business and prosumer use. Its 13.3-inch frame is smaller than the 14-inch frame of the Latitude 9430.
This convertible is based on Intel's Alder Lake processors. Two chips are offered, a Core i5-1240U and a Core i7-1260U. They both have 10 cores (two Performance, eight Efficient) and can process 12 threads. The Core i5's maximum clock is 4.4GHz while the Core i7 hits 4.7GHz. Intel vPro remote management is standard.
Memory is 16GB or 32GB of soldered-down LPDDR5. Meanwhile, storage is a 256GB or a 512GB M.2 2230 drive. Dell only seems to offer Gen3 drives; we'd like to see Gen4, but Gen3 offers plenty of bandwidth for using Microsoft 365 or Google Workspace. Its low-powered CPUs limit its creative and workstation potential, anyway.
Let's move on to the Latitude 9330's design. First, though, here are its full specifications:
Processor

12th Gen Intel® Core™ i5-1240U, vPro® (12 MB cache, 10 cores, 12 threads, up to 4.40 GHz Turbo)
12th Generation Intel Core i7-1260U (10 Core, 12 MB Cache, up to 4.70 GHz, vPro)

Operating System
Windows 10 Pro (Windows 11 Pro license included), English, French, Spanish
Graphics Card
Integrated Intel® Iris® Xe graphics
Display
2-in-1, 13.3″ QHD+ (2560×1600) Touch, IR Cam, Mic and SafeShutter, ComfortView+, Proximity Sensor
Memory
16GB or 32GB, 6400MHz, LPDDR5, integrated, Non-ECC
Storage
256GB or 512 GB, M.2, PCIe NVMe, SSD, Class 35
Ports

1 Universal audio jack
1 USB 3.2 Gen 1 Type-C™ port
2 Thunderbolt™ 4 (USB Type-C™) ports with DisplayPort and Power Delivery

Slots

1 uSim Card Slot (optional) (WWAN only)
1 Wedge-shaped lock slot

Dimensions & Weight

Height (Front): 0.32 in. (8.30 mm), (Rear): 0.55 in. (14.12 mm)
Width: 11.66 in. (296.35 mm)
Depth: 8.20 in. (208.39 mm)
Weight (Starting) : 2.60 lbs (1.18 kg)

Camera

1080p 30 fps FHD camera + 720p 60 fps IR HD camera
Digital-array microphones

Audio and Speakers
Stereo woofer 2 W x 2 and stereo tweeter 2 W x 2
Wireless
Intel® Wi-Fi 6E AX211 2×2 802.11ax 160MHz + Bluetooth 5.2
Battery
3 Cell, 50 Wh, ExpressCharge™ Capable
Dell Latitude 9330 2-in-1 Build and Design
The Dell Latitude 9330 2-in-1 is handsome and modern. Made of all metal, it's one solid slab, and a sleek one at that, measuring 0.55 x 11.66 x 8.2 inches (HWD). The height tapers off to just 0.32 inches at the front edge, making it feel even thinner.
At just 2.6 pounds, the Latitude 9330 is one of the lightest 13.3-inch convertible laptops. In case you're wondering what convertible means, this laptop's hinges allow its display to fold around 360 degrees, effectively turning it into a tablet. You can also tilt the screen back 270 degrees and use the laptop in a presentation mode as shown below, which is more intuitive than reaching over the keyboard if you decide to invest $89 in Dell's PN7522W rechargeable active pen (Most convertible laptops don't include a pen, and this one is no exception). The screen has full touch support.
If you're shopping for the Latitude 9330, you'll probably notice Dell also offers two other 13.3-inch 2-in-1 business convertibles, the Latitude 5330 and 7330. The Latitude 9330's chief advantage is its taller and more productive 16:10 screen, which has a higher resolution of 2560×1600 versus 1920×1080. The 16:10 screen makes for a better tablet, though the Latitude 9330 isn't as competent in that regard as a tablet-first device, such as the Microsoft Surface.
The screen is easily the Latitude 9330's best attribute. It's not UHD/4K but it still shows excellent detail and is easier on battery life. The brightness and color are both well above what you'd need for productivity; this laptop could probably pull double duty for mild creativity or entertainment. Its quad-speaker array gets impressively loud and won't make you regret forgetting your headphones.
You can log into the Latitude 9330 using facial recognition, thanks to its infrared sensors over the display. The 1080p webcam has a reasonably sharp picture and a privacy shutter. The power button doubles as a fingerprint reader. A proximity sensor is included, which can automatically wake or lock the laptop depending on your presence.
The keyboard has full-size keys with pleasant feedback. Dell even managed to fit dedicated Home, End, Page Up, and Page down keys, though the combination of half-height up and down arrow keys and full-size left and right arrow keys is confusing; all half-height keys would have been better. The keyboard has two levels of white backlighting.
But what are those lights on the touchpad? Those are the virtual Zoom buttons, which automatically illuminate when you participate in a Zoom call. (They are otherwise invisible.) As a videoconference veteran, I found them invaluable; there are buttons to toggle your camera and microphone, another to share your screen, and one more to open chat. These convenient shortcuts eliminate fumbling around with the mouse when it's your turn to present.
As for port selection, the Latitude 9330 doesn't have much, just two Thunderbolt 4 (USB-C), a USB-C 3.2 Gen 1 port, and a universal audio jack.
The USB-C ports support DisplayPort video output, though you'll need to buy an adapter. You'll also need an adapter if you want Ethernet. Note that the included power adapter plugs into one of the Thunderbolt USB-C ports on the laptop's left edge. Having a Thunderbolt port on either edge would have been more convenient as this setup forces you to plug the power adapter into the left edge. The right edge also has a wedge lock slot.
Wireless networking comes from an Intel AX211 Wi-Fi 6E/Bluetooth 5.2 card. The Latitude 9330 can be ordered with 4G/5G WWAN; such models get a uSIM slot. WWAN can't be added after purchase.
The rear edge has only the cooling exhaust vent. The fan was audible during our benchmarks but usually stayed off, and we didn't notice the laptop getting unusually warm.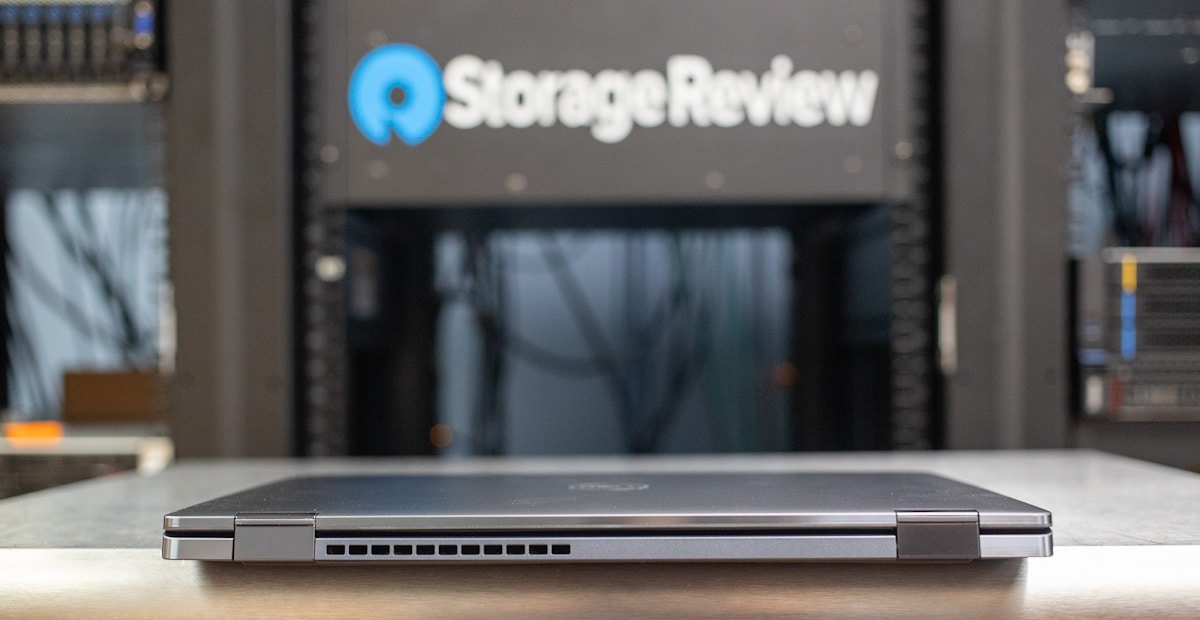 Dell Latitude 9330 2-in-1 Accessibility
Covering the accessibility of select systems is a new area StorageReview is starting to focus on. First seen in our Dell Latitude 9430 review, as well as the Dell Optiplex 7400 AIO, we are now adding the Dell Latitude 9330 into the mix. Amanda Lojeski is heading up this section for our readers.
To give some background about myself, I have a hard time using my hands and I struggle with many fine motor skills. This does create some issues using computers and puts a strong focus on portability and ease of control. I use computers quite a bit, staying connected with my calendar, making appointments, classes, social gatherings, and research. In my spare time, I enjoy skiing, bowling, and spending time with my friends and family. I also love art, which has been generally limited to paper or an iPad, although I am starting to use computers more in this space as technology allows. With much of my time online spent using Zoom, I'm excited to see how far Dell has integrated chat functions into this new system.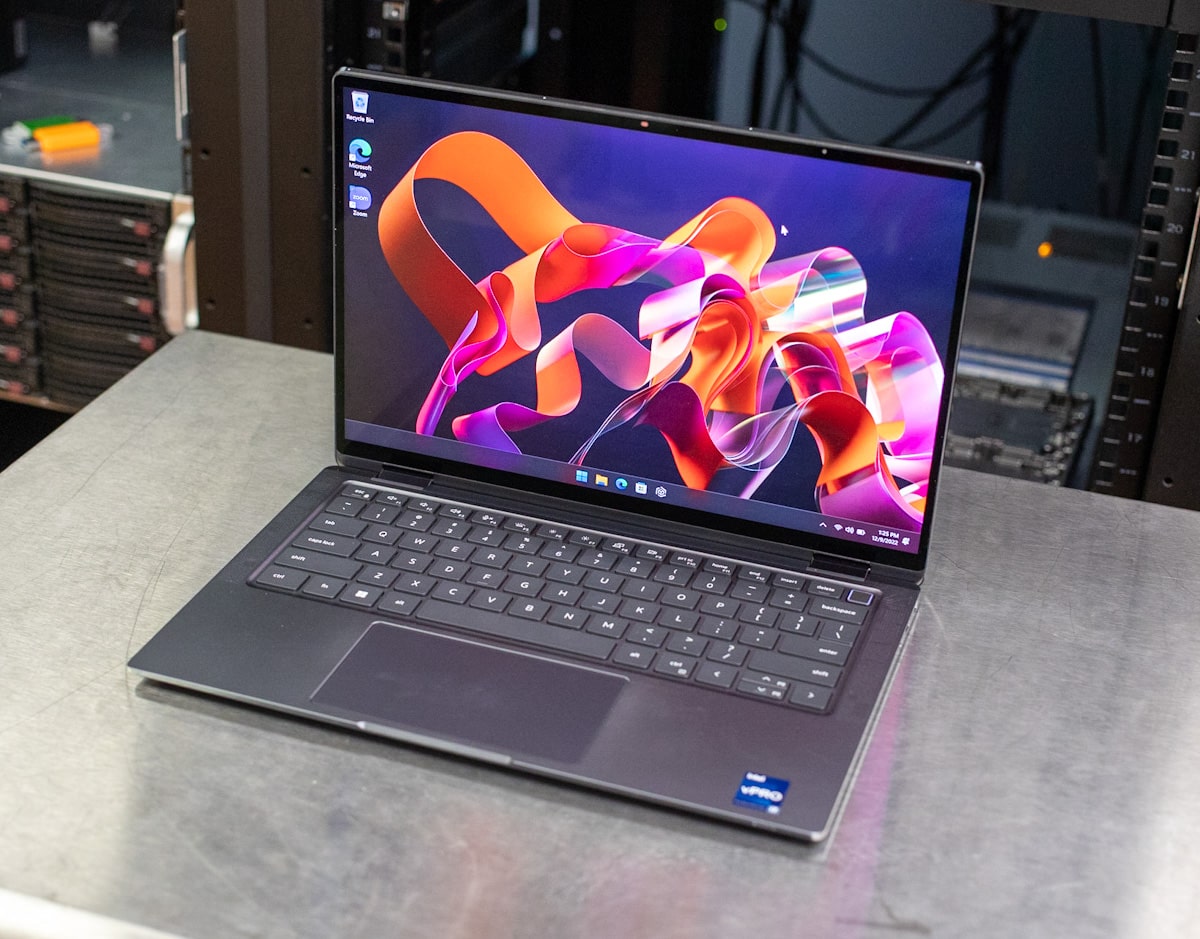 The Latitude 9330 carries over almost all the design elements of the Latitude 9430, so much of my initial comments stay the same. The display of the notebook is held shut firmly by magnets as well as tension from the screen hinges. I found it easy to open and close, although it would be nice to have a little gripper tab to give additional leverage if using just one hand. When I was using the display I had the backlight set to 100% to help with visibility. For those of you that have vision issues like me, I found the display nice and bright and easy to view and read while on websites.
The keyboard layout worked well given the overall size of the system. Being a 13" notebook, you can't really make it larger without going to a bigger screen size, so it's a tradeoff of the form factor. The keys are short-throw and offer nice tactile feedback without requiring a lot of force or travel to press each key. One nice thing that I notice while using the on-screen keyboard was having the opportunity to use word prediction. I found the power button was much easier to use than other systems that I have used in the past. Some manufacturers position them on the side edge of the notebook, which can be difficult to press.
Dell also includes a large touchpad that worked very well in most cases. The touchpad sensitivity was very responsive. The integrated backlit Zoom buttons were a nice addition to the system without being intrusive when not using Zoom. During calls, for example, the conveniently located Zoom icons on the touchpad allowed me to double-tap the video or mute buttons to enable or disable those items. This was a very nice feature especially, for someone with limited dexterity.
Being a 2-in-1 notebook, the Dell Latitude 9330 can operate as a touchscreen-capable notebook or as a slate-style tablet. In terms of the motions required to switch the Latitude between notebook and slate modes, it wasn't difficult to switch between notebook and slate configurations. With the notebook weight coming in at just over 2.6 lbs, it was easy to carry. The Latitude was wonderful to use in tablet mode, which is a feature limited to a smaller segment of the notebook world. The touchscreen works well using both a finger input and stylus input. The only frustrating part of using the folded tablet touchscreen was the power button on the keyboard is disabled when the notebook is in slate mode. Overall, I really enjoyed using the Latitude 9330  in notebook and slate configurations, as the ease of use is very desirable for individuals like me.
Dell Latitude 9330 2-in-1 Performance
Our Latitude 9330 2-in-1 review unit has the following loadout:
13.3-inch QHD+ (2560×1600) touch screen
12th Gen Intel Core i7-1260U (2 Performance cores, 8 Efficient cores, up to 4.7GHz)
Intel Iris Xe integrated graphics
Windows 11 Pro
16GB LPDDR5-6400 soldered RAM
512GB Gen3 SSD
Intel AX211 Wi-Fi 6E/Bluetooth 5.2
3-cell 50Wh battery
This configuration is $2,419 on Dell.com. The base model is $2,049 with a Core i5-1240U and half the storage (256GB). It should be the more economical choice, as there won't be much difference between the Core i5 and Core i7 chips, and the storage drive can be upgraded. The Sabrent Rocket 2230 is an excellent candidate, with sizes up to 1TB.
We will be comparing the Latitude 9330 to the slightly larger 14-inch Latitude 9430 2-in-1. It uses a more powerful Core i7-1265U processor, which has the same core and thread count as the Core i7-1260U but a higher 15-watt base power and 55-watt maximum turbo power. The Core i7-1260U is rated for just 9 watts base power and a 29-watt maximum turbo power. The Core i7-1265U should also show stronger graphics performance.
SPECworkstation 3
SPECworkstation3 specializes in benchmarks designed for testing all key aspects of workstation performance; it uses over 30 workloads to test CPU, graphics, I/O, and memory bandwidth. The workloads fall into broader categories such as Media and Entertainment, Financial Services, Product Development, Energy, Life Sciences, and General Operations. We are going to list the broad-category results for each, as opposed to the individual workloads. The results are an average of all the individual workloads in each category.
Convertible 2-in-1 laptops wouldn't be used for these types of tasks, but both Latitudes completed the tests without crashing. The Latitude 9330 lagged well behind the Latitude 9430, which isn't a surprise given its less powerful CPU.
SPECworkstation 3 (Higher is better)
Dell Latitude 9330 2-in-1 (Core i7-1260U, Iris Xe)
Dell Latitude 9430 2-in-1 (Core i7-1265U, Iris Xe)
M&E
1
1.18
ProdDev
1.12
1.54
LifeSci
1.05
1.37
FSI
0.87
1.55
Energy
1.19
1.47
GeneralOps
1.47
1.72
GPU Compute
0.18
0.2
Luxmark
Another 3D benchmark we will be looking at is LuxMark, an OpenCL GPU benchmarking utility. The Latitude 9330 again trailed the Latitude 9430, though it did complete the test.
Luxmark (Higher is better)
Dell Latitude 9330 2-in-1 (Core i7-1260U, Iris Xe)
Dell Latitude 9430 2-in-1 (Core i7-1265U, Iris Xe)
Hallbench
1528
2125
food
712
898
Blender OptiX
Next up is Blender, an open-source 3D modeling application. This benchmark was run using the Blender Benchmark utility. NVIDIA OptiX was the chosen render method. The score is in samples per minute, with higher being better. The Latitude 9330 surprisingly had no trouble keeping up with the Latitude 9430 in this GPU-driven test.
Blender OptiX (Samples per minute, Higher is better)
Category
Dell Latitude 9330 2-in-1 (Core i7-1260U, Iris Xe)
Dell Latitude 9430 2-in-1 (Core i7-1265U, Iris Xe)
Monster
43.174
35.025
Junkshop
19.747
19.220
Classroom
13.161
14.846
Blackmagic Disk Speed Test
The popular Blackmagic Disk Speed test shows the Latitude 9330's 512GB SSD putting up respectable numbers for a Gen3 drive, though a Gen4 drive would have undoubtedly done better. In this platform, though, cooling a Gen4 drive under full load would be challenging. The Latitude 9330's SSD was nonetheless much faster than the Latitude 9430's.
Blackmagic Disk Speed Test
Category
Dell Latitude 9330 2-in-1 (Core i7-1260U, Iris Xe)
Dell Latitude 9430 2-in-1 (Core i7-1265U, Iris Xe)
Read
3,857.3MB/s
2,830.3MB/s
Write
3,163.7MB/s
2,336.7MB/s
7-Zip Compression
We have also started running 7-Zip's built-in memory benchmark on laptops. The Latitude 9330 continued to trail the Latitude 9430.
7-Zip Compression Benchmark
 
Dell Latitude 9330 2-in-1 (Core i7-1260U, Iris Xe)
Dell Latitude 9430 2-in-1 (Core i7-1265U, Iris Xe)
Current CPU Usage
654%
1069%
Current Rating/Usage
4.285 GIPS
3.141 GIPS
Current Rating
28.025 GIPS
33.575 GIPS
Resulting CPU Usage
819%
1052%
Resulting Rating/Usage
3.425 GIPS
3.307 GIPS
Resulting Rating
27.380 GIPS
34.770 GIPS
Decompressing
Current CPU Usage
1127%
1174%
Current Rating/Usage
2.487 GIPS
3.076 GIPS
Current Rating
28.013 GIPS
36.120 GIPS
Resulting CPU Usage
1120%
1180%
Resulting Rating/Usage
2.551 GIPS
3.399 GIPS
Resulting Rating
28.564 GIPS
40.098 GIPS
Total Rating
Total CPU Usage
969%
1116%
Total Rating/Usage
2.988 GIPS
3.353 GIPS
Total Rating
29.972 GIPS
37.434 GIPS
SiSoftware Sandra 2021
We also run the popular SiSoftware Sandra 2021 suite. Higher numbers are better in all subtests. The Latitude 9330's high memory latency probably hurt its overall score.
| | | |
| --- | --- | --- |
| SiSoftware Sandra 2021 | Dell Latitude 9330 2-in-1 (Core i7-1260U, Iris Xe) | Dell Latitude 9430 2-in-1 (Core i7-1265U, Iris Xe) |
| Memory Bandwidth | 52.438 GB/s | 55.391 GB/s |
| Cache & Memory Latency | 70.3ns | 36.7 ns |
| Cache & Memory Bandwidth | 171.727 GB/s | 180.771 GB/s |
| Overall Memory Score | 1.27 kPT | 1.64 kPT |
Blackmagic RAW Speed Test
Our last test is the new Blackmagic RAW Speed Test. The numbers from the Latitude 9330 indicate it wouldn't be suitable for video resolutions much north of 4K/UHD. Streaming video at 4K or 5K shouldn't be a problem, though.
Blackmagic RAW Speed Test
Category
Dell Latitude 9330 2-in-1 (Core i7-1260U, Iris Xe)
Dell Latitude 9430 2-in-1 (Core i7-1265U, Iris Xe)
8K CPU
25
32
8K OPENCL
25
29
Final Thoughts
The Latitude 9330 is an admirably portable 2-in-1 convertible notebook. Its 13.3-inch frame and 2.6-pound weight make it well-suited for travel. It's not as light as a dedicated tablet, but still very light for a convertible and does an excellent job of blurring the lines. Strong metal build quality and good looks cement its spot among elite convertibles.
Our review unit's Core i7 processor made it through our strenuous testing without an issue, though there's no doubt this laptop isn't designed for CPU- or GPU-intense workloads. But for business use and even streaming 4K video, the Latitude 9330 has good pep. We especially like its Zoom buttons, which automatically illuminate within the touchpad after you start a Zoom meeting.
Consider the 14-inch Latitude 9430 if you want a slightly larger screen and stronger performance, but the Latitude 9330 otherwise makes a fine traveling companion.