The Sabrent Rocket 2230 is an M.2 SSD designed for laptops and devices like the Steam Deck that use M.2 2230 (30mm) length drives. It has a Gen4 interface, 176-layer TLC NAND, and surprisingly high capacities up to 1TB. We put it through its paces in our test system and the Steam Deck.
The Sabrent Rocket 2230 is an M.2 SSD designed for laptops and devices like the Steam Deck that use M.2 2230 (30mm) length drives. It has a Gen4 interface, 176-layer TLC NAND, and surprisingly high capacities up to 1TB. We put it through its paces in our test system and the Steam Deck.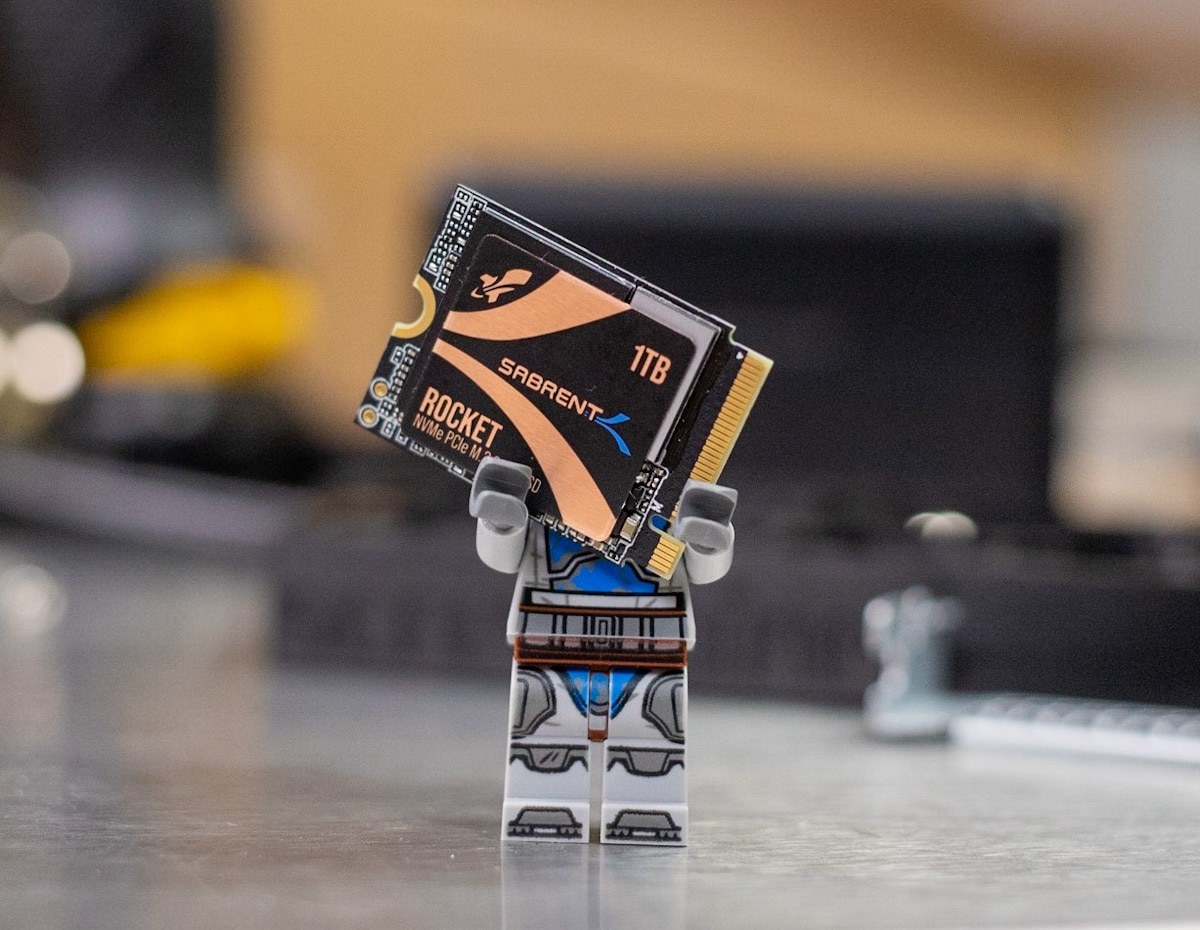 Sabrent Rocket 2230 Specifications
The Sabrent Rocket 2230 is essentially the little brother of the Sabrent Rocket 4 Plus. Like that drive, the Rocket 2230 uses 176-layer Micron B47R 3D NAND TLC flash memory and a PCIe Gen4 interface, though it uses a different controller, the Phison E21T.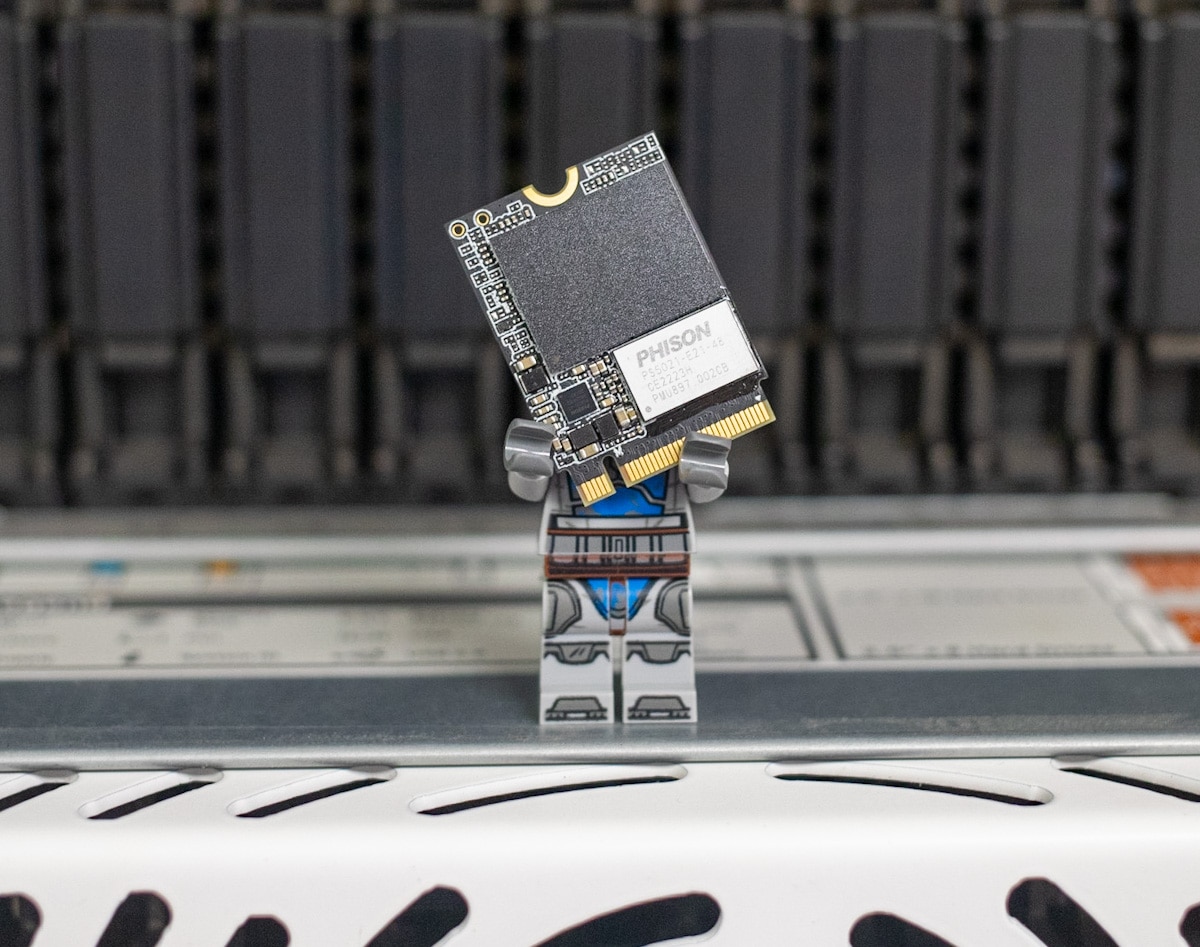 The Rocket 2230 offers capacities of 256GB, 512GB, and 1TB, the latter impressive since this drive is just 30mm long. Sabrent has also confirmed plans to release a 2TB version of the drive as well.
Performance claims are also impressive; Sabrent claims sequential speeds up to 5,000MB/s read and 3,700MB/s write for the 512GB model and 4,750MB/s read and 4,300MB/s write for the 1TB model. MTBF is rated at 1.5 million hours for all models, with up to 600TBW for the 1TB drive. Sabrent offers a commendable 5-year standard warranty with registration.
Amazon pricing is $49.99 for the 256GB model (link), $89.99 for 512GB (link), and $159.99 for 1TB (link).
The Rocket 2230's specifications are as follows.
Model
SB-2130-256
SB-2130-512
SB-2130-1TB
Capacity
256GB
512GB
1TB
NAND

B47R

Controller

Phison E21

Interface

PCIe Gen4x4

Max Sequential Read
4,650MB/s
5,000MB/s
4,750MB/s
Max Sequential Write
1,900MB/s
3,700MB/s
4,300MB/s
Random 4KQD32 Read IOPS
220K
440K
450K
Random 4KQD32 Write IOPS
470K
520K
545K
Power Consumption R/W
R 3550/W 2800 (mW)
R 4000/W 4000 (mW)
R 4150/W 4300 (mW)
Power Supply

3.3V

Form Factor

M.2 2230

Operating Temperature

0-70C

MTBF

1.5 million hours

Shock Resistant

1500G

Data Correction

LDPC

Warranty

5 years with registration

TBW
200
300
600
Sabrent Rocket 2230 Steam Deck Installation
Installation of the Sabrent drive into the Steam Deck was very easy. Taking less than 15 minutes from start to finish excluding cloning time, this upgrade is something in reach to anyone with the proper tools – a #0 Philips screwdriver, a non-marring pry tool, and a guitar pick.
Since Sabrent is clearly targeting Steam Deck owners looking for an upgrade, it would be nice to see them offer these three simple tools as a selectable option for a couple of dollars more for those who may not have them on hand.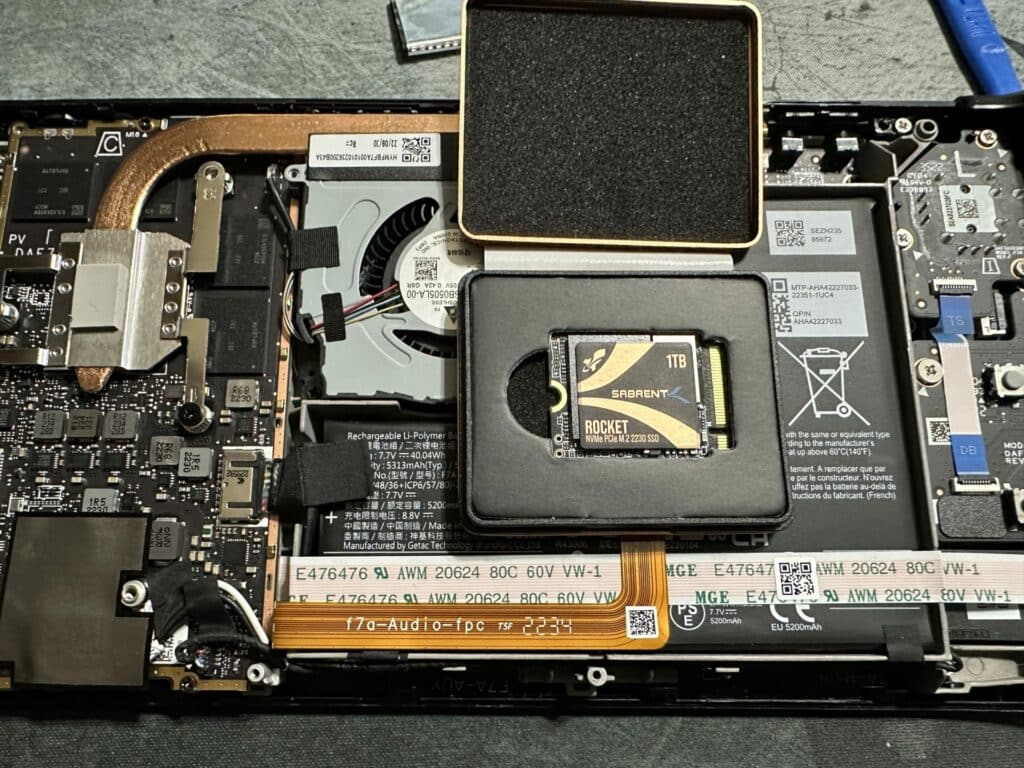 Prior to installing the new drive, you can make the choice of either cloning your existing installation or start fresh from a flash drive. We had a pair of Sabrent M.2 USB Type-C enclosures and used balenaEtcher to clone the drives using a laptop since it was the quickest way to get up and running. It copies over everything; all the games, cache files, and boots are ready to play after the swap. If you don't have a pair of enclosures or a machine with a spare M.2 slots, you can just drop the drive in and do a clean install which Valve has outlined here.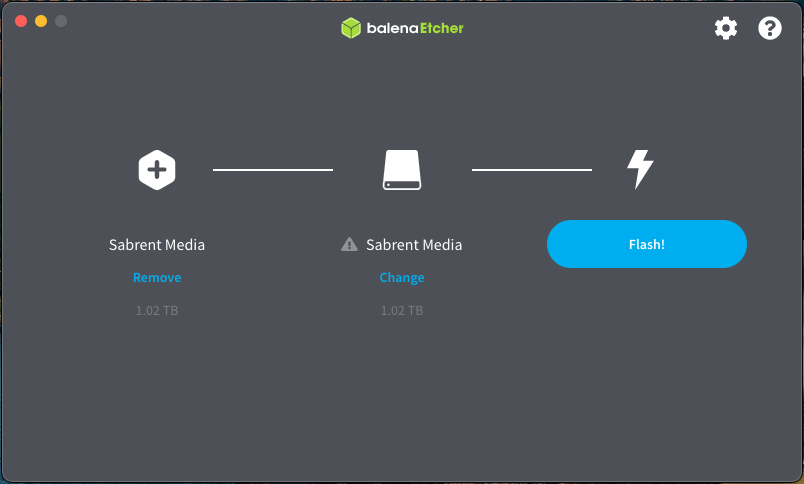 After the clone, it only took another few minutes to pop in the new Sabrent drive, put the screws back in, and boot the deck. Take care to make sure all of the case clips around the edges are fully engaged prior to installing the screws, and this will make sure everything goes back together as intended structurally and will reduce the risk of stripping out the case screws that go into the plastic.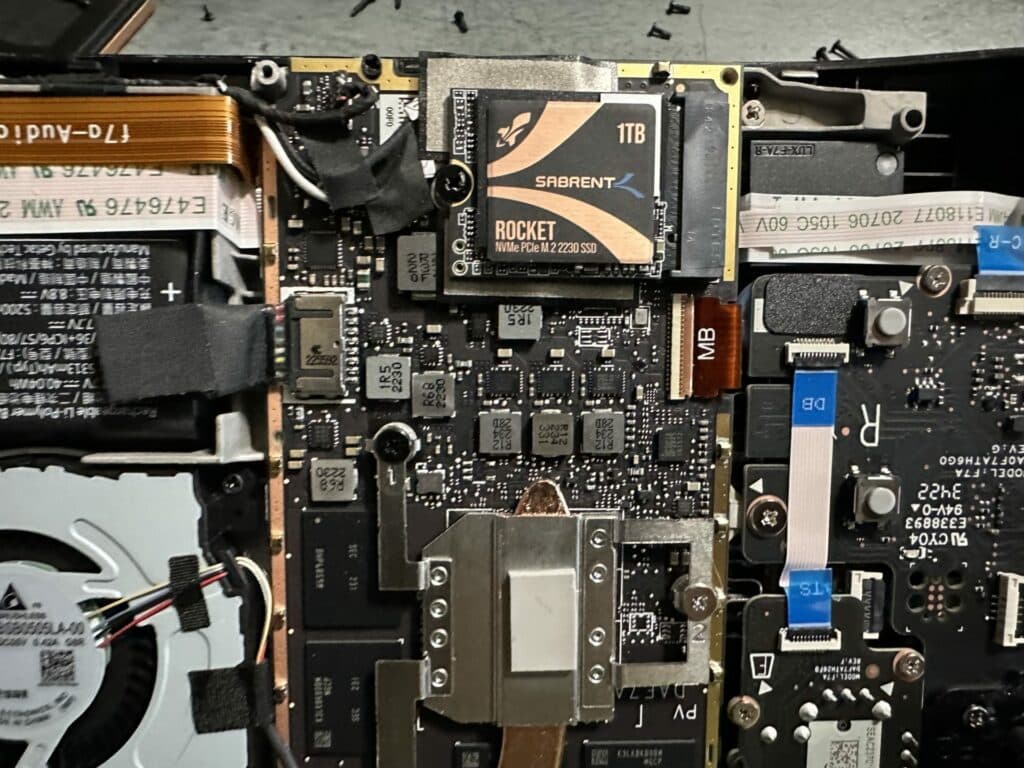 Sabrent Rocket 2230 Steam Deck Benchmarks
Drive benching on the deck was straightforward as the built-in package manager in Desktop mode has KDiskMark, which is a port of CrystalDiskMark. We were able to test 4 drives in the deck for the comparison to show just how well this new drive from Sabrent performs. Note that the Stock 64GB drive is a SATA interface, so if you have this model, you will really notice the increased performance from the PCIe NVMe upgrade.
| | | |
| --- | --- | --- |
| Drive | Read MB/s | Write MB/s |
| Sabrent Rocket 1TB | 3,542.49 | 3,221.80 |
| OEM Drive 1TB | 2,881.31 | 2,846.70 |
| Stock 256GB | 2,296.99 | 746.63 |
| Stock 64GB SATA | 281.59 | 193.92 |
After upgrading from the stock NVMe drive, the Steam Deck had a faster feel when installing games and cache files. However, due to the limitation of the interface to PCIe Gen3, overall load and boot times seemed to be about the same. Battery life and thermals were either completely unaffected or the difference was so negligible it was undetectable. The biggest difference was in the usability between the SATA SSD and the NVMe, and the Sabrent Rocket 2230 is a highly recommended upgrade if you still have that base drive.
Also, if you are considering purchasing a Steam Deck, getting the 64GB model and immediately doing this upgrade is a highly cost-effective way to get more storage in the handheld at a lower price point if you don't care about the case, anti-glare etched glass, and profile themes that come with the 512GB model.
Sabrent Rocket 2230 Performance
Now onto our standard SSD testing. We are reviewing the 1TB Rocket 2230. For performance comparison, we're using the Sabrent Rocket 4 Plus 4TB, a Gen4 M.2 2280 drive that uses TLC memory and a Phison PS5018-E18 controller.
VDBench Workload Analysis
When it comes to benchmarking storage devices, application testing is best, and synthetic testing comes in second place. While not a perfect representation of actual workloads, synthetic tests do help to baseline storage devices with a repeatability factor that makes it easy to do apples-to-apples comparison between competing solutions. These workloads offer a range of different testing profiles ranging from "four corners" tests, common database transfer size tests, to trace captures from different VDI environments.
All of these tests leverage the common vdBench workload generator, with a scripting engine to automate and capture results over a large compute testing cluster. This allows us to repeat the same workloads across a wide range of storage devices, including flash arrays and individual storage devices. Our testing process for these benchmarks fills the entire drive surface with data, then partitions a drive section equal to 5% of the drive capacity to simulate how the drive might respond to application workloads. This is different than full entropy tests which use 100% of the drive and take them into a steady state. As a result, these figures will reflect higher-sustained write speeds.
Profiles:
4K Random Read: 100% Read, 128 threads, 0-120% iorate
4K Random Write: 100% Write, 64 threads, 0-120% iorate
64K Sequential Read: 100% Read, 16 threads, 0-120% iorate
64K Sequential Write: 100% Write, 8 threads, 0-120% iorate
Synthetic Database: SQL and Oracle
VDI Full Clone and Linked Clone Traces
We start with Random Read 4K, where the Rocket 2230 topped out at 308,093 IOPS. The Rocket 4 Plus was a naturally superior performer, hitting 548,745 IOPS. Both drives showed smooth, predictable lines. The Rocket 2230's high latency is a sign of things to come.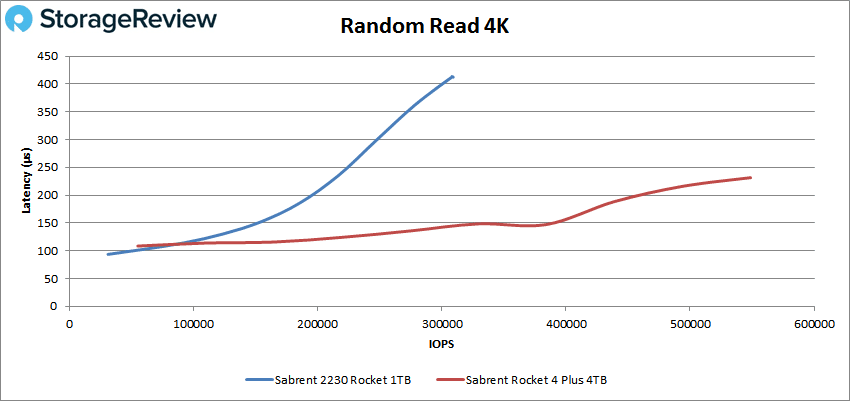 Random Write 4K is next, where the Rocket 2230 showed serious instability with lots of latency, so something didn't sit right. Its "best" showing was 100,343 IOPS at 1,129µs latency.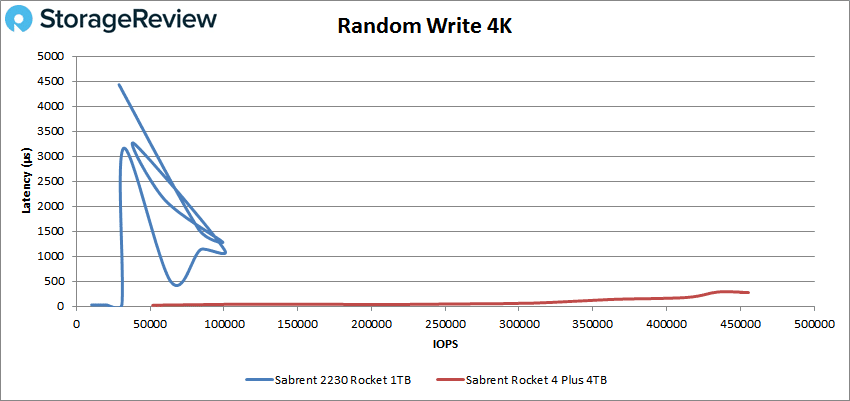 Things appear back to normal for the Rocket 2230 in 64K Sequential Read; it finished the test at 61,258 IOPS at 521.3µs.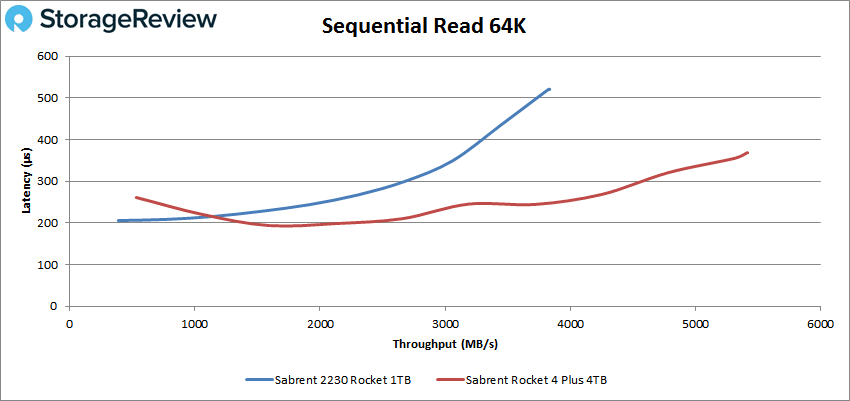 Moving on, the Rocket 2230 showed instability in 64K Sequential Write like it did in 4K Random Write, suggesting consistent write performance isn't this drive's strong suit. The Rocket 2230 ended at 12,260 IOPS at 1,295µs. Its latency continues to be high.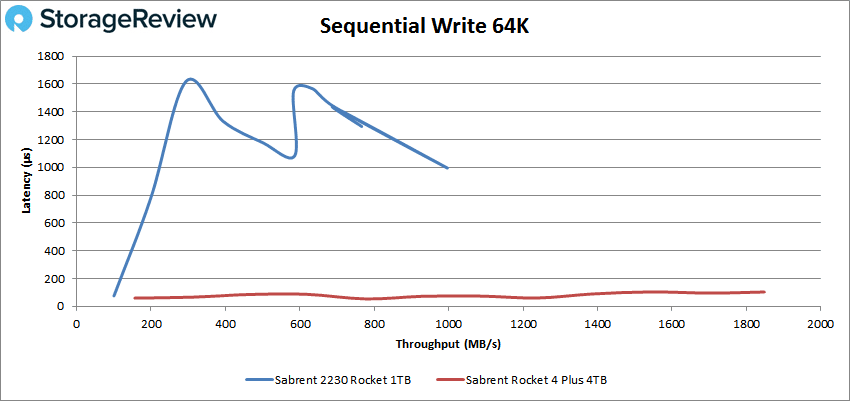 Our last tests are VDI full clone. The boot profile saw the Rocket 2230 exhaust itself rather quickly, with minor unpredictability and a final number of 59,038 IOPS at 580µs.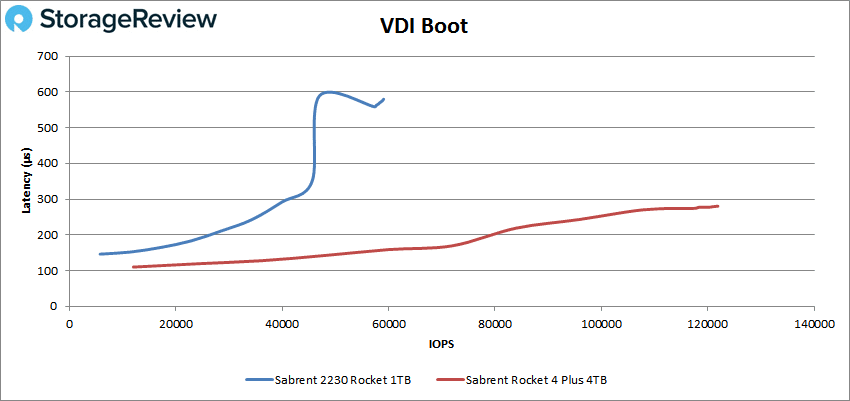 The Rocket 2230's instability continues in VDI Initial Login, though in fairness our VDI tests usually bring that out of consumer SSDs. Its best showing was 16,817 IOPS at 1,779µs.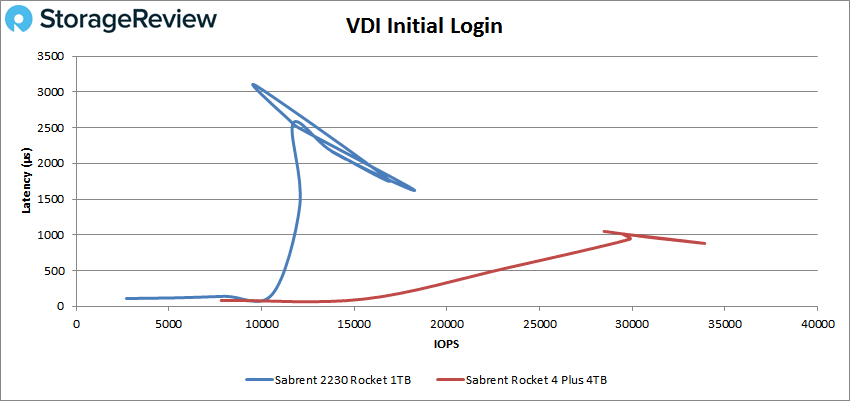 Last is VDI Monday Login, where the Rocket 2230's stair-stepping line ended at 11,204 IOPS at 1,422µs.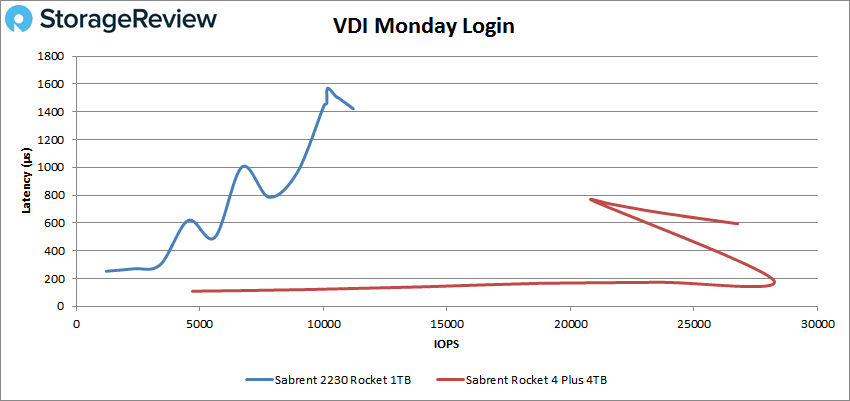 Conclusion
The Sabrent Rocket 2230 does everything it can to be an excellent performer in such a small package. Our standard testing suite revealed the drive is no match for Sabrent's performance-oriented M.2 2280 SSDs, but that's hardly a concern when you're dealing with systems like the Steam Deck or the Dell Latitude 9430 2-in-1 that only accept M.2 2230 drives. We compared the drives just to show scale between the two.
Our Steam Deck KDiskMark benchmarks showed outstanding performance improvements from installing the 1TB Rocket 2230. Next to the stock 64GB SATA drive, which saw just 282MB/s read and 194MB/s write, the Rocket 2230 achieved 3,542MB/s read and 3,222MB/s write. Much of that comes from the Rocket 2230's PCIe interface. The Rocket 2230 also handily outperformed an OEM 1TB drive, from which we saw 2,88MB/s read and 2,847MB/s write.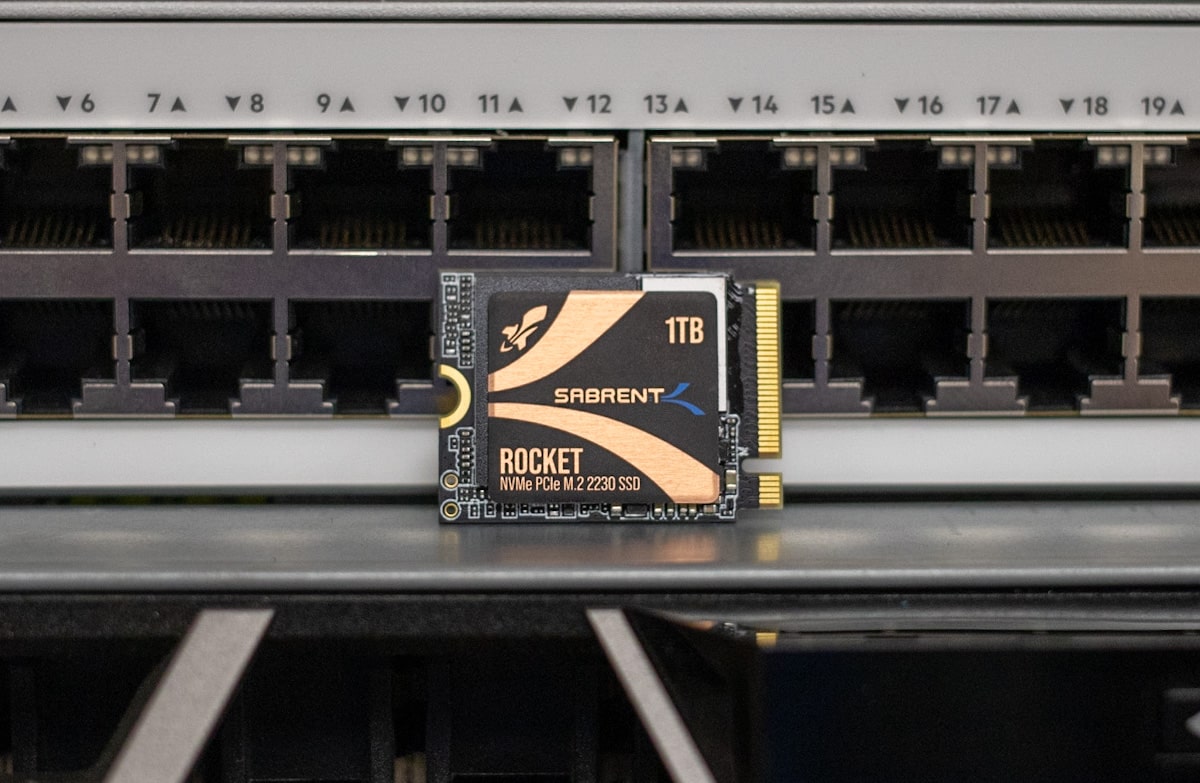 Sealing the deal for the Sabrent Rocket 2230 is its reasonable pricing and generous five-year warranty with registration. The warranty is crucial as most grey-market OEM drives end users are upgrading to, will carry no warranty at all. They may also be somewhere between hard and impossible to get firmware updates for. For upgrading space-limited devices like the Steam Deck and laptops, the Sabrent Rocket 2230 gets our recommendation.
Engage with StorageReview
Newsletter | YouTube | Podcast iTunes/Spotify | Instagram | Twitter | TikTok | RSS Feed