The new Dell Latitude 9440 2-in-1 is a slim 14-inch business laptop with many firsts, including a mini-LED keyboard and a collaboration touchpad with customizable feedback.
The new Dell Latitude 9440 2-in-1 is a slim 14-inch business laptop with many firsts, including a mini-LED keyboard and a collaboration touchpad with customizable feedback.
Dell Latitude 9440 2-in-1 Specifications
The Latitude 9000 series sits at the top of Dell's business-focused Latitude range and offers the latest features and innovations. The Latitude 9440 2-in-1 under review here is a 14-inch laptop with a screen that rotates 360 degrees, allowing it to convert into a tablet. Active pen support is standard.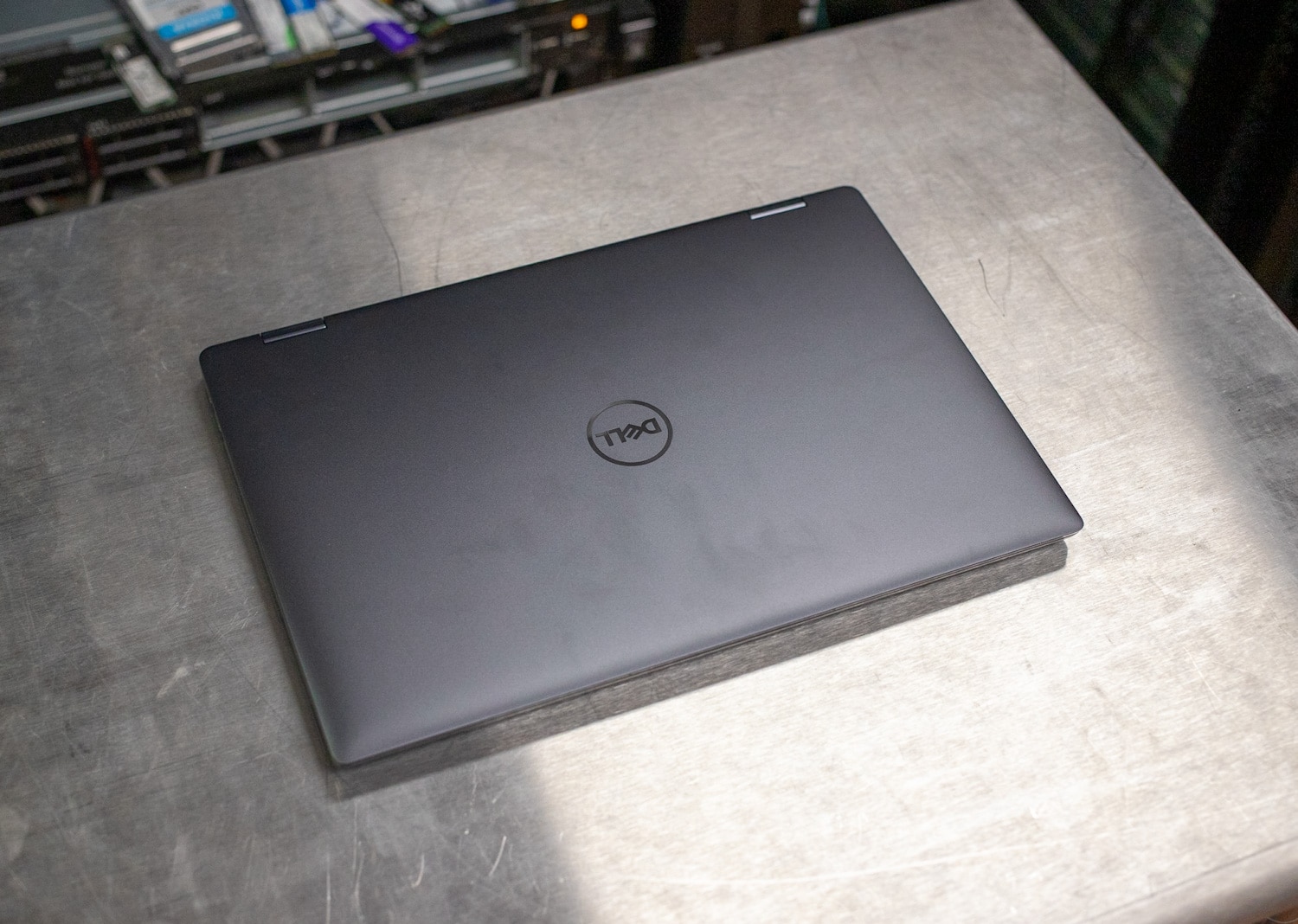 The Latitude 9440 2-in-1 is a redesign of the Latitude 9430 2-in-1 that seemed so modern when we reviewed it less than a year ago, but times change quickly. Internally, it has Intel's 13th generation Core processors up to the 15-watt Core i7-1365U (two Performance cores and eight Efficiency cores). This Latitude supports a single M.2 drive and 64GB of LPDDR5-6000 RAM.
The full specifications of the Latitude 9440 2-in-1 are as follows:
Processor
Up to 13th Gen Intel Core i7 U-class (15 watts)
Operating System
Windows 11
Graphics Card
Intel Iris Xe
Display
14" 16:10 2560×1600, IPS, pen support
Memory
Up to 64GB LPDDR5-6000 (soldered)
Storage
M.2 2242
Ports and Slots
3x Thunderbolt 4 (USB-C), 1x universal audio jack, 1x wedge-shaped lock slot, 1x nano SIM (WWAN only)
Dimensions and Weight

Height (front) : 8.00 mm (0.32 in.)
Height (rear) : 14.20 mm (0.56 in.)
Width : 310.50 mm (12.20 in.)
Depth : 215.00 mm (8.46 in.)
Weight : 1.53 kg (3.38 lbs.)

Touchpad
Collaboration touchpad with haptics
Camera
1080p at 30fps, FHD RGB IR
Audio and Speakers

Stereo speakers with Realtek & Waves MaxxAudio® Pro, 12 W, with subwoofer output
Dual-array microphones

Wireless
Intel® Wi-Fi 6E AX211, 2×2, 802.11ax, Bluetooth® wireless card
Battery
60Whr Battery, ExpressChargeTM Capable, 3-cell
Power
65W AC adapter, USB Type-C, TCO Gen9 compliant
Dell Latitude 9440 2-in-1 Build and Design
Quality, slimness, and C-suite style are three things the Latitude 9440 2-in-1 has in abundance. Dell takes great pains to emphasize much of the Latitude 9440 is made of recycled aluminum and bio-based material.
The Latitude 9440 2-in-1's 14-inch screen is a star attraction. It's not 4K quality, but its 16:10 2560×1600 (QHD+) resolution offers good vertical real estate and requires less scrolling than old-fashioned 16:9 screens. The display seems plenty bright and colorful for this Latitude's intended usage. It supports touch and, as noted, has active pen support. The surface coating is anti-reflective and anti-smudge.
The display has an especially narrow bezel, but Dell still fits a 1080p webcam along the top edge. It has an IR function, so it works for Windows Hello facial recognition. There's also a fingerprint reader built into the power button, which is at the top right of the keyboard.
How about that keyboard? Dell calls this a zero-lattice design; it's still chiclet style, but the keys are larger and there's no lattice or space between them. Typing on it feels natural; you can slide your fingers around instead of picking them up since there really aren't edges to the keys to catch your fingers.
The biggest innovation with this keyboard is its mini-LED backlighting. Dell says this technology uses 75% less power than traditional keyboard backlighting, though we found this nearly impossible to test since the keyboard backlighting automatically shuts off after a period of inactivity. Nonetheless, we like the innovation.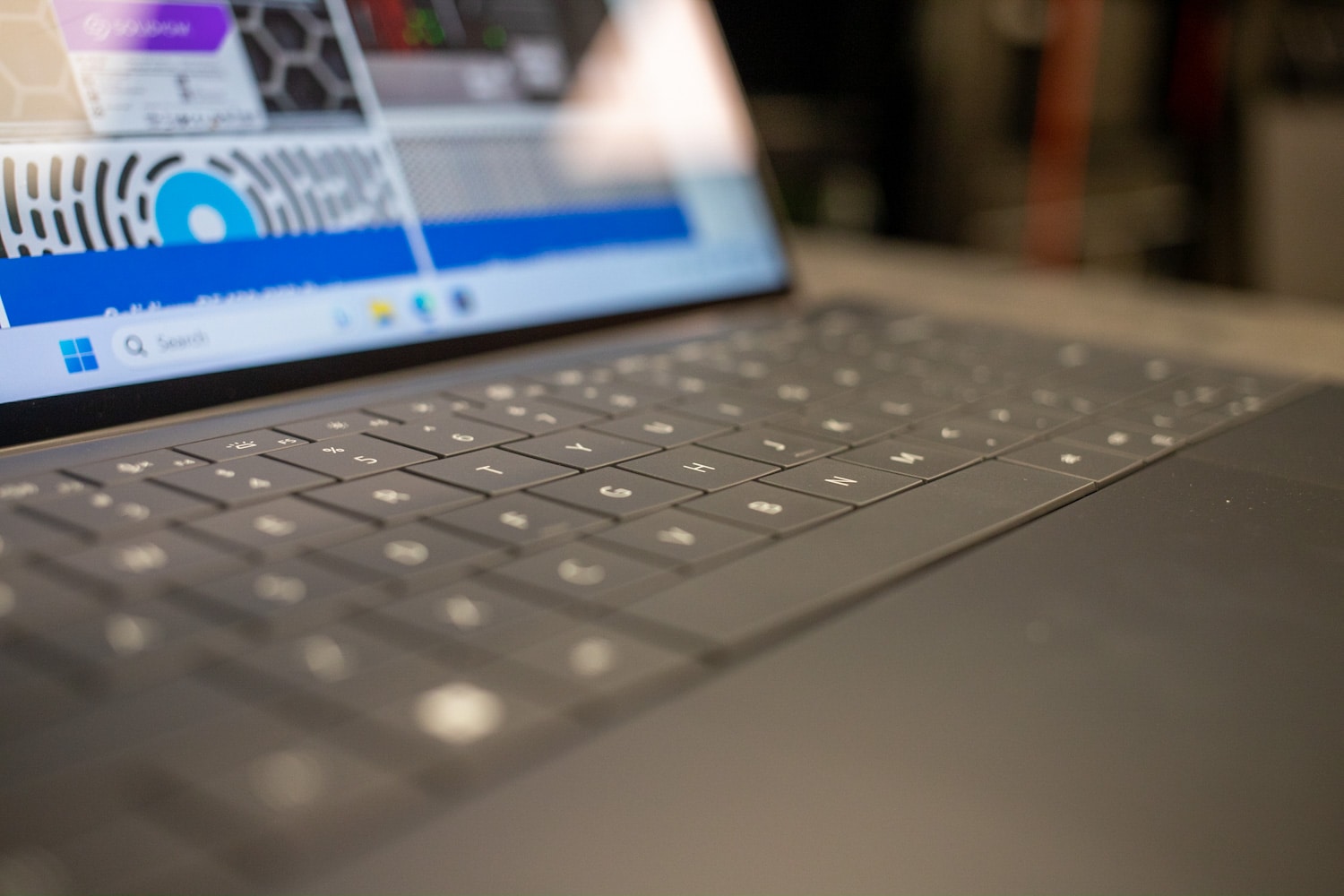 Layout-wise, Dell makes the cardinal mistake of squeezing half-height up and down arrows between full-size left and right arrows; I've never mastered this arrangement and never will. The arrow keys should all be the same size, even if they all have to be half-height. The half-height approach would have left room for dedicated Page Up and Page Down keys, but they're instead secondary functions in the up and down arrows. At least Home and End are dedicated.
Build-wise, this convertible feels exceptionally strong; Dell says it passes MIL-STD-810H testing. It's nearly the same size as its predecessor, at 0.32~0.56 x 12.2 x 8.46 inches. At 3.38 pounds, it's a laptop first, tablet second device; it becomes an armful as a tablet after a short time. Of course, the swiveling screen offers other advantages – you can rotate it 270 degrees to use the laptop in an easel-like presentation mode. This can be especially useful in airline coach for watching a movie.
Another improvement the Latitude 9440 2-in-1 makes over its predecessor is its enlarged touchpad, which now spans the height of the palm rest. This is Dell's collaboration touchpad, which we first saw on the Latitude 9330 2-in-1.
It features customizable haptic feedback that you can tune to your liking.
The illuminated collaboration icons automatically appear after opening a Zoom meeting – they let you enable your camera or microphone, share your screen, or enter the chat. The latter gently pulses when you receive a message. Swiping to the left over the icons automatically hides them and swiping right brings them back. Dell also lets you change the brightness and disable icons you don't use.
The Dell Command app helps when it comes to configuring Dell-specific features. It sits in the background without being too intrusive and quickly lets you adjust settings, such as the touchpad's, without much fuss.
The Latitude 9440 2-in-1's port selection is limited to three Thunderbolt 4 (USB-C) ports, so you'll need an adapter to connect anything that isn't USB-C. There's also a universal audio jack. The included 65-watt power adapter plugs into any of the Thunderbolt 4 ports.
The right edge also has a wedge lock slot. WWAN-equipped models also get a nano SIM slot. Wi-Fi 6E and Bluetooth 5.3 are standard.
Dell Latitude 9440 2-in-1 Upgradeability
Removing the Latitude 9440 2-in-1's bottom panel requires taking out the screws securing it and using a trim removal tool to pop the clips free. The motherboard has one M.2 2242 SSD slot, not the more common M.2 2280, so that will limit your storage drive choice. (The Sabrent Rocket 2242 comes to mind.) The PCIe slot seen on the right is empty in our unit, but that's where the WWAN card would go. It can't accept SSDs.
The battery can also be swapped out. No other components are upgradeable; the LPDDR5 memory is soldered as is the Intel AX211 wireless card.
This view also lets you see the Latitude 9440 2-in-1's twin-fan cooling system, which sends air out the back.
I like this fan placement since it keeps hot air as far as possible from the user. The Latitude didn't become more than lukewarm in our testing and the fan noise wasn't an annoyance. The dual-fan cooling setup got the job done well. It can move a good amount of air without spinning too fast or noisy, and plenty of airflow means the chassis doesn't significantly warm up.
Dell Latitude 9440 2-in-1 Performance
Our Latitude 9440 2-in-1 review unit has the following specifications:
Windows 11 Pro
Intel Core i7-1365U CPU (2P/8E, 15-watt PBP)
Intel Iris Xe integrated graphics
32GB LPDDR5-6000 RAM
1TB SSD
This unit retails for about $2,999, but that's the single-unit price on Dell.com; business buyers can expect volume discounts. (Dell told us it only sells a tiny fraction of its Latitudes through its site.) Any buyer should be able to appreciate that Dell uses 100% recyclable or renewable packaging on all Latitudes.
We will be comparing the Latitude 9440 2-in-1 to its predecessor, the Latitude 9430 2-in-1, in our performance tests. It has similar specifications: an Intel Core i7-1265U CPU (2P/8E), 16GB of RAM, and a 512GB SSD.
SPECworkstation 3
SPECworkstation3 specializes in benchmarks designed for testing all key aspects of workstation performance; it uses over 30 workloads to test CPU, graphics, I/O, and memory bandwidth. The workloads fall into broader categories such as Media and Entertainment, Financial Services, Product Development, Energy, Life Sciences, and General Operations. We are going to list the broad-category results for each, as opposed to the individual workloads. The results are an average of all the individual workloads in each category.
These Latitudes wouldn't normally be used for these tasks but they nonetheless completed the benchmark. The Latitude 9430 appeared stronger in most tests, though the margins were slim to negligible.
SPECworkstation 3 (Higher is better)
Dell Latitude 9440 2-in-1 (Core i7-1365U)
Dell Latitude 9430 2-in-1 (Core i7-1265U)
M&E
1.15
1.18
ProdDev
1.32
1.54
LifeSci
1.46
1.37
FSI
1.14
1.55
Energy
1.47
1.47
GeneralOps
1.78
1.72
GPU Compute
0.22
0.2
Luxmark
Another 3D benchmark we will be looking at is LuxMark, an OpenCL GPU benchmarking utility. The Latitude 9440 pulled ahead of its predecessor; perhaps its faster memory accelerated its integrated graphics performance.
Luxmark (Higher is better)
Dell Latitude 9440 2-in-1 (Core i7-1365U)
Dell Latitude 9430 2-in-1 (Core i7-1265U)
Hallbench
2,349
2,125
food
1,090
898
7-Zip Compression
We also run 7-Zip's built-in memory benchmark. The Latitude 9440 dominated the Latitude 9430; its faster memory must be making a difference.
7-Zip Compression Benchmark
 
Dell Latitude 9440 2-in-1 (Core i7-1365U)
Dell Latitude 9430 2-in-1 (Core i7-1265U, Iris Xe)
Compressing
Current CPU Usage
528%
1069%
Current Rating/Usage
8.002 GIPS
3.141 GIPS
Current Rating
42.224 GIPS
33.575 GIPS
Resulting CPU Usage
537%
1052%
Resulting Rating/Usage
8.543 GIPS
3.307 GIPS
Resulting Rating
45.468 GIPS
34.770 GIPS
Decompressing
 
Current CPU Usage
1105%
1174%
Current Rating/Usage
4.114 GIPS
3.076 GIPS
Current Rating
45.437 GIPS
36.120 GIPS
Resulting CPU Usage
1134%
1180%
Resulting Rating/Usage
4.351 GIPS
3.399 GIPS
Resulting Rating
49.372 GIPS
40.098 GIPS
Total Rating
Total CPU Usage
836%
1116%
Total Rating/Usage
6.447 GIPS
3.353 GIPS
Total Rating
47.420 GIPS
37.434 GIPS
SiSoftware Sandra 2021
Next up is the popular SiSoftware Sandra 2021 memory-performance suite. Higher numbers are better in all subtests. The Latitude 9440 generally fell behind its predecessor here, and we're not sure why.
| | | |
| --- | --- | --- |
| SiSoftware Sandra 2021 | Dell Latitude 9440 2-in-1 (Core i7-1365U) | Dell Latitude 9430 2-in-1 (Core i7-1265U, Iris Xe) |
| Memory Bandwidth | 51.990 GB/s | 55.391 GB/s |
| Cache & Memory Latency | 84.5 ns | 36.7 ns |
| Cache & Memory Bandwidth | 197.877 GB/s | 180.771 GB/s |
| Overall Memory Score | 1.25 kPT | 1.64 kPT |
Blackmagic RAW Speed Test
Our last test is the new Blackmagic RAW Speed test. The Latitudes are about even, and that was expected since they use the same Intel Iris Xe integrated graphics solution. These laptops can handle 4K video playback without issue, though above that will be a stretch.
Blackmagic RAW Speed Test
Category
Dell Latitude 9440 2-in-1 (Core i7-1365U)
Dell Latitude 9430 2-in-1 (Core i7-1265U, Iris Xe)
8K CPU
32
32
8K OPENCL
27
29
Blackmagic Disk Speed Test
This storage drive benchmark is a solo test for the Latitude 9440 2-in-1; it seems to have average numbers for a Gen3 drive. Storage performance is never going to be a strong suit for this laptop, but even the included SSD has plenty of pep for everyday tasks.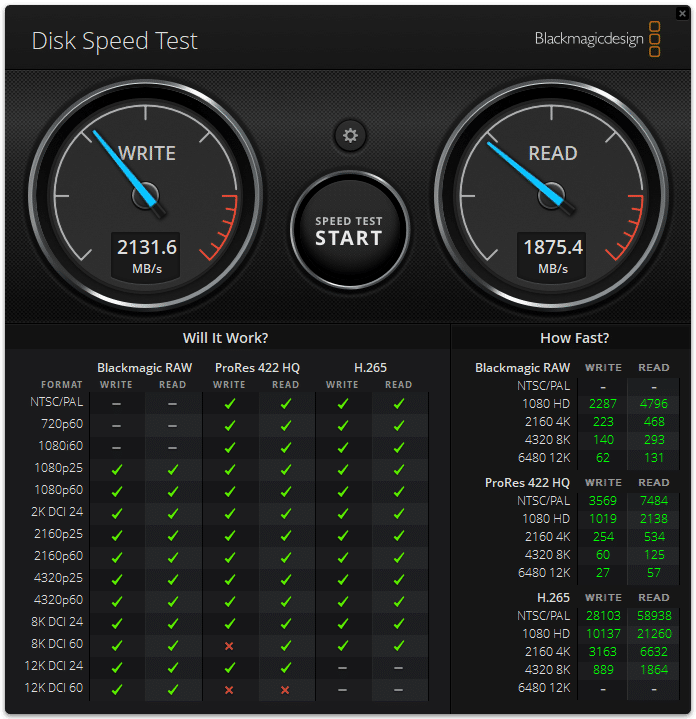 Dell Latitude 9440 2-in-1 Battery Life
We test laptop battery life using UL's Procyon Battery Life benchmark in its office productivity mode. The Latitude 9440 2-in-1 achieved 12 hours and 21 minutes. We just started running this, so we don't have comparisons to other machines yet, but this seems like a lengthy runtime; you should be able to go an entire working day without plugging in. That's battery life befitting a modern ultraportable.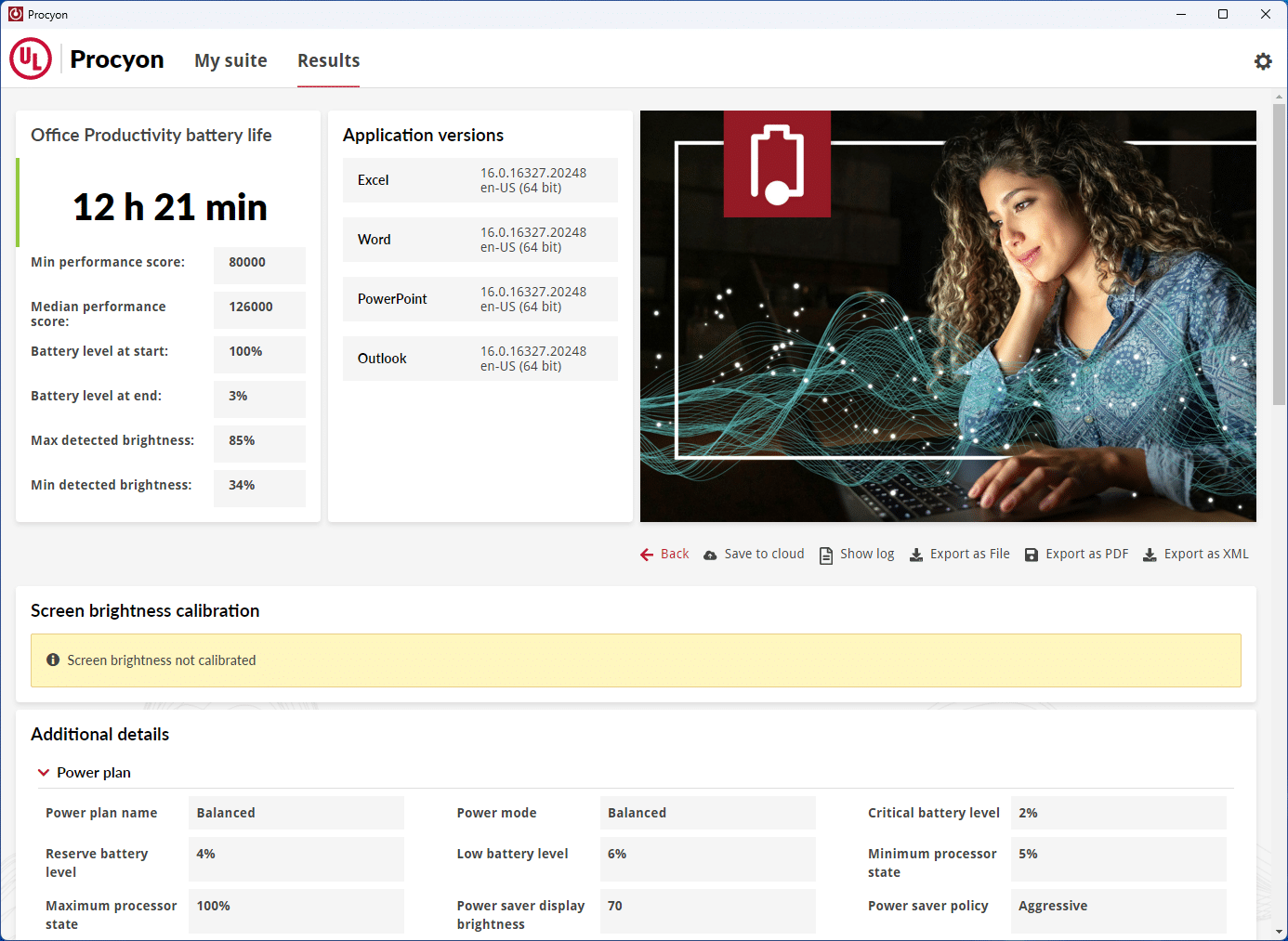 Conclusion
Dell's Latitude 9440 2-in-1 is a snazzy business convertible that combines high quality and useful innovation. We like its thin metal design even if it is on the heavy side for use as a tablet, but tablet mode is always a bonus with convertible laptops.
But innovation is where this convertible impresses the most. We found its collaboration touchpad to be truly useful in the real world. Dell also innovated with the mini-LED keyboard and its extra-large keys.
Performance-wise, we didn't see the Latitude 9440 2-in-1 hugely outperform its predecessor, but we didn't expect it to do that. Its numbers suggest solid everyday performance, and we also saw good results in our battery test. Overall, the Latitude 9440 2-in-1 gets our top recommendation among business convertible laptops.
Engage with StorageReview
Newsletter | YouTube | Podcast iTunes/Spotify | Instagram | Twitter | TikTok | Discord | RSS Feed