The Dell P2723QE is a 27-inch 4K monitor with USB Type-C connectivity that only requires one cable for display, audio, and data. Built for professionals looking to increase organization and productivity, the P2723QE acts as a hub for any devices in a workstation. Featuring thin bezels and the unique Dell monitor stand, the P2723QE offers a wide range of versatility and adjustability for any type of comfort level.
The Dell P2723QE is a 27-inch 4K monitor with USB Type-C connectivity that only requires one cable for display, audio, and data. Built for professionals looking to increase organization and productivity, the P2723QE acts as a hub for any devices in a workstation. Featuring thin bezels and the unique Dell monitor stand, the P2723QE offers a wide range of versatility and adjustability for any type of comfort level.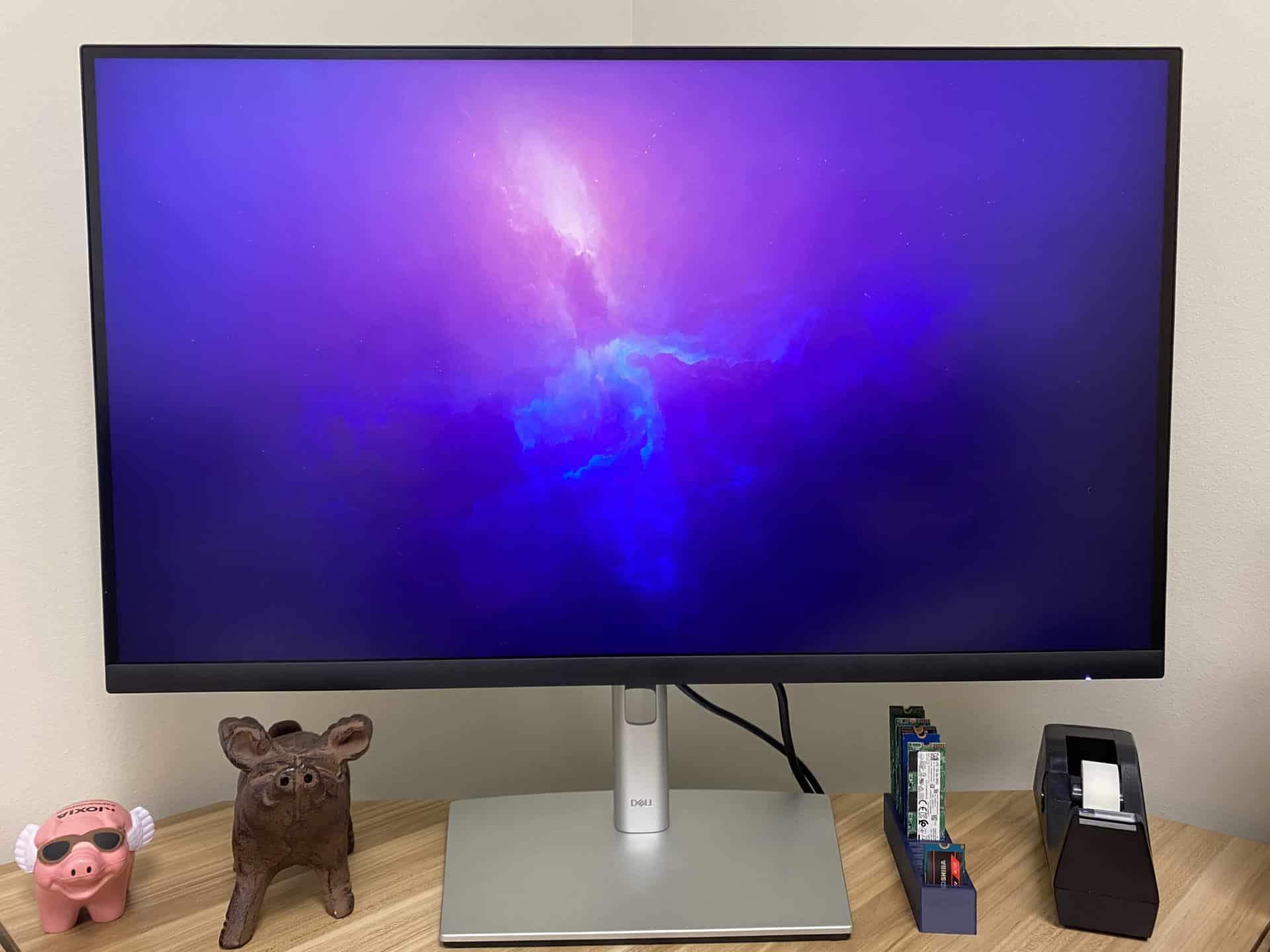 Dell P2723QE
For connectivity, the Dell P2723QE features an HDMI port, a DisplayPort, one USB Type-C port, four SuperSpeed USB 5Gbps (USB 3.2 Gen1 ports) Type-A downstream ports, and lastly an RJ45 Ethernet connector. With all this connectivity, it is easy to see how this monitor can be turned into a hub for any professional workspace or productivity environment.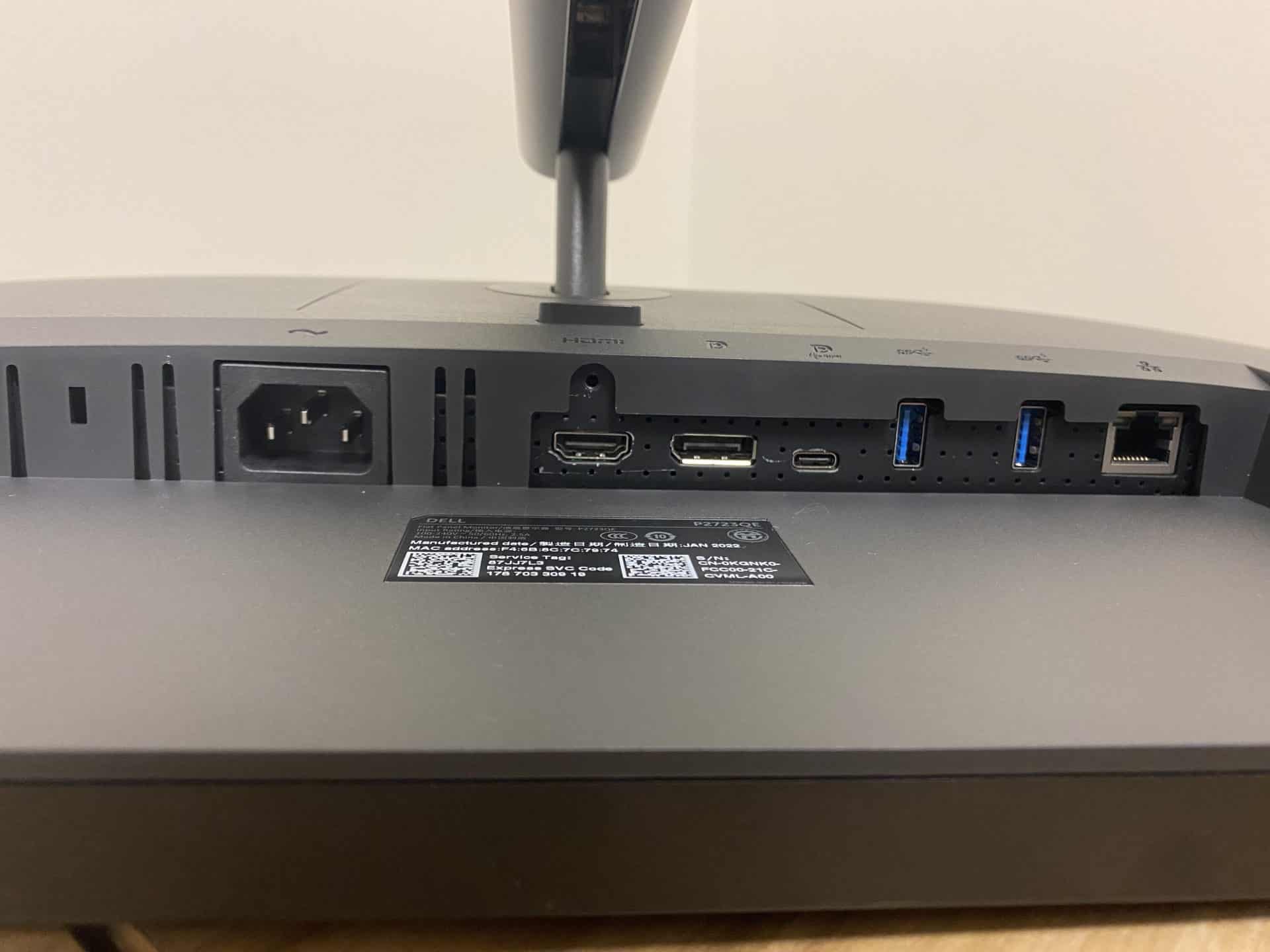 Viewing comfort was a big must for Dell as they were engineering this monitor as they built in their ComfortView Plus. This newly optimized technology from Dell features a built-in low blue light screen which reduces the harmful blue light that users tend to stare at all day long. The P2723QE also leverages In-Plane Switching technology for constant vibrant colors at any angle and pair that with 99% sRGB coverage and users won't have to worry about colors not being accurate.
Dell has also continued the process of sustainably making their monitors, as the P2723QE continues in their lineup. The P2723QE is made of 85% of post-consumer recyclable plastic and is able to meet the latest environmental standards including ENERGY STAR®, and TCO Certified Edge, and is EPEAT® Gold7 registered. The box and packaging that the monitor comes in are also 100% made of recyclable cardboard packaging.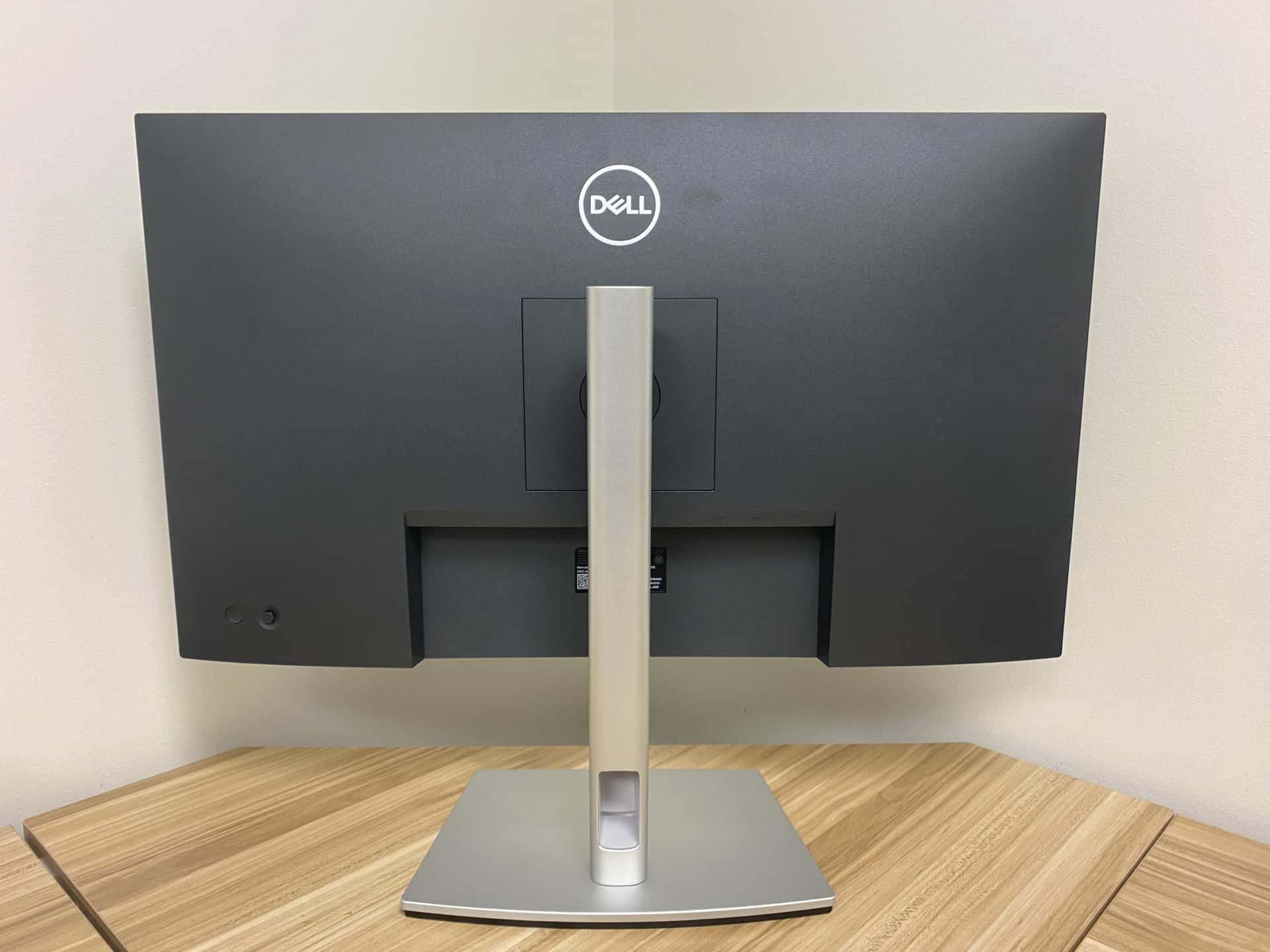 The P2723QE, as most Dell monitors are, is backed by a 1-year warranty. The P2723QE is listed for $549.99 on Dell, marked down from $729.99, however for those that don't need or want a 4K resolution and the features that the P2723QE has, Dell has various other monitors to fit any need.
Dell P2723QE 27-inch 4K Monitor Specifications
Display Type
LED-backlit LCD monitor / TFT active matrix
Diagonal Size
26.96″
Built-in Devices
USB 3.2 Gen 1/USB-C hub
USB Power Delivery
90 Watt
Panel Type
IPS
Aspect Ratio
16:9
Native Resolution
4K 3840 x 2160 at 60 Hz
Pixel Pitch
0.1554 mm
Pixel Per Inch
163
Brightness
350 cd/m²
Contrast Ratio
1000:1 / 1000:1 (dynamic)
Color Support
1.07 billion colors
Color Gamut
99% sRGB
Response Time
8 ms (normal); 5 ms (fast)
Horizontal Viewing Angle
178
Vertical Viewing Angle
178
Screen Coating
Anti-glare
Backlight Technology
WLED edge light backlight
Features
Mercury-free, arsenic-free glass, 3-sided bezeless, Dell ComfortView Plus
Dimensions
24.1 in x 7.3 in x 21.1 in – with stand
Weight
15.9 lbs
Connectivity Interfaces

HDMI (HDCP 2.3)
DisplayPort 1.4 (HDCP 2.3)
USB-C 3.2 Gen 1 upstream (power up to 90W)
4 x USB 3.2 Gen 1 downstream
LAN (RJ-45)

Mechanical Adjustments

Height, pivot (rotation), swivel, tilt
Tilt Angle: -5/+21
Swivel Angle: 90
Height Adjustment: 5.9-in
VESA Mounting Interface: 100 x 100 mm

Cables Included

1 x DisplayPort cable – DisplayPort to DisplayPort – 6 ft
1 x USB 3.2 Gen 1 upstream cable – USB Type A to C – 6 ft
1 x USB-C to USB-C cable – 3.3 ft

Compliant Standards
RoHS, NFPA 99, BFR-free, PVC-free
Power
Input Voltage: AC 100-240V (50/60 Hz)

Power Consumption:

On Mode: 26W
Typical: 169W
Stand by: 0.2W
Sleep: 0.3W
Off Mode: 0.2W

Warranty
3 years Advanced Exchange Service and Limited Hardware Warranty
Dell P2723QE Design and Build
The P2723QE is a well-built, well-designed monitor. Sporting a matte black curved back panel with a matte silver/platinum stand. The top and sides feature a thin bezel that isn't too distracting to users and allows users to see more of the screen without feeling as though the edges are taking up the screen size. The P2723QE stand offers a small footprint and a unique design that is shared with other Dell monitors.
Attaching the monitor to the monitor stand is quite easy as right out of the box, there are three pieces. Users attach the arm to the stand with a screw from the bottom and then the arm snaps into place on the back of the monitor, and the setup is complete.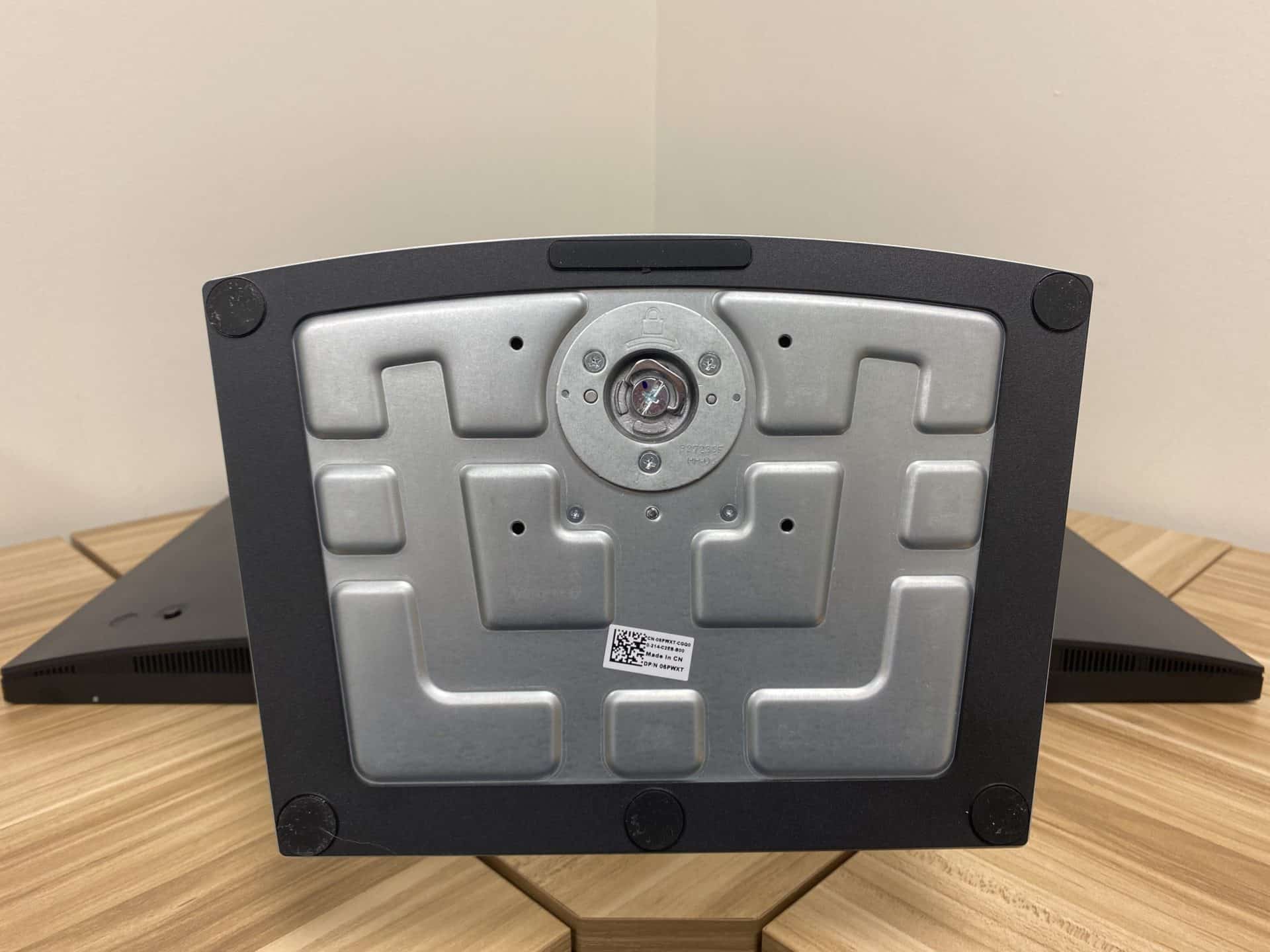 Adjuting the P2723QE is quite easy with the wide range of motion that it is. With its height adjustment, tilt, swivel, and ability to pivot, we were able to get the most optimal viewing angle for our comfort.
All the connectivity for the P2723QE is located underneath being split between two different areas. Most of the ports can be found right next to each other; from left to right, there is a security lock, power connector, stand lock, one HDMI port, one DisplayPort, one USB Type-C, four USB SuperSpeed USB 5Gbps (USB 3.2 Gen1) (two of which are on the left side underneath), and one RJ45 connector.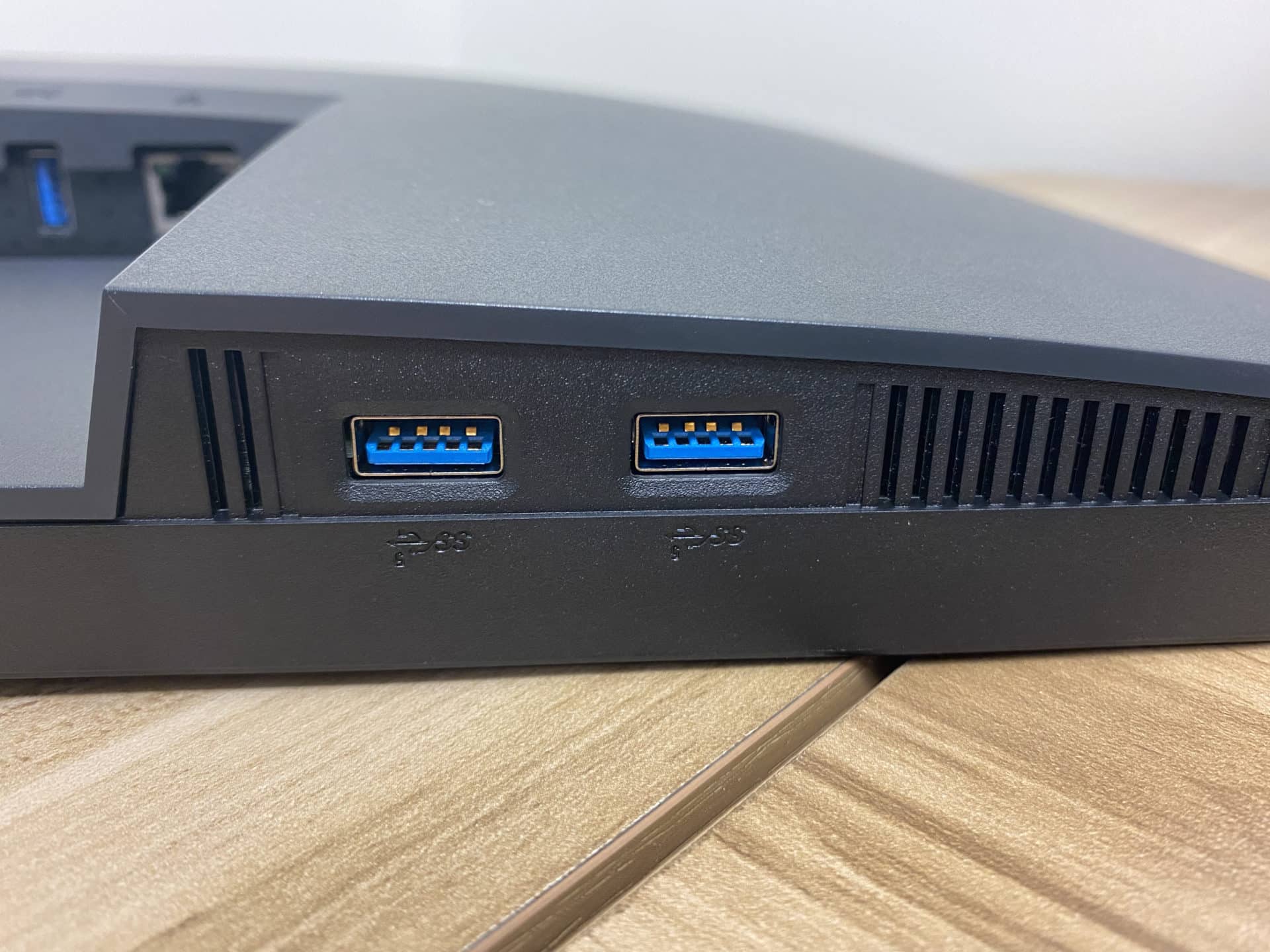 The cable management hole running through the stand arm also makes quick work of the cables that we have running off of the P2723QE. This cable management aspect is nice to see from Dell as it aids in helping clean up the clutter on workstations.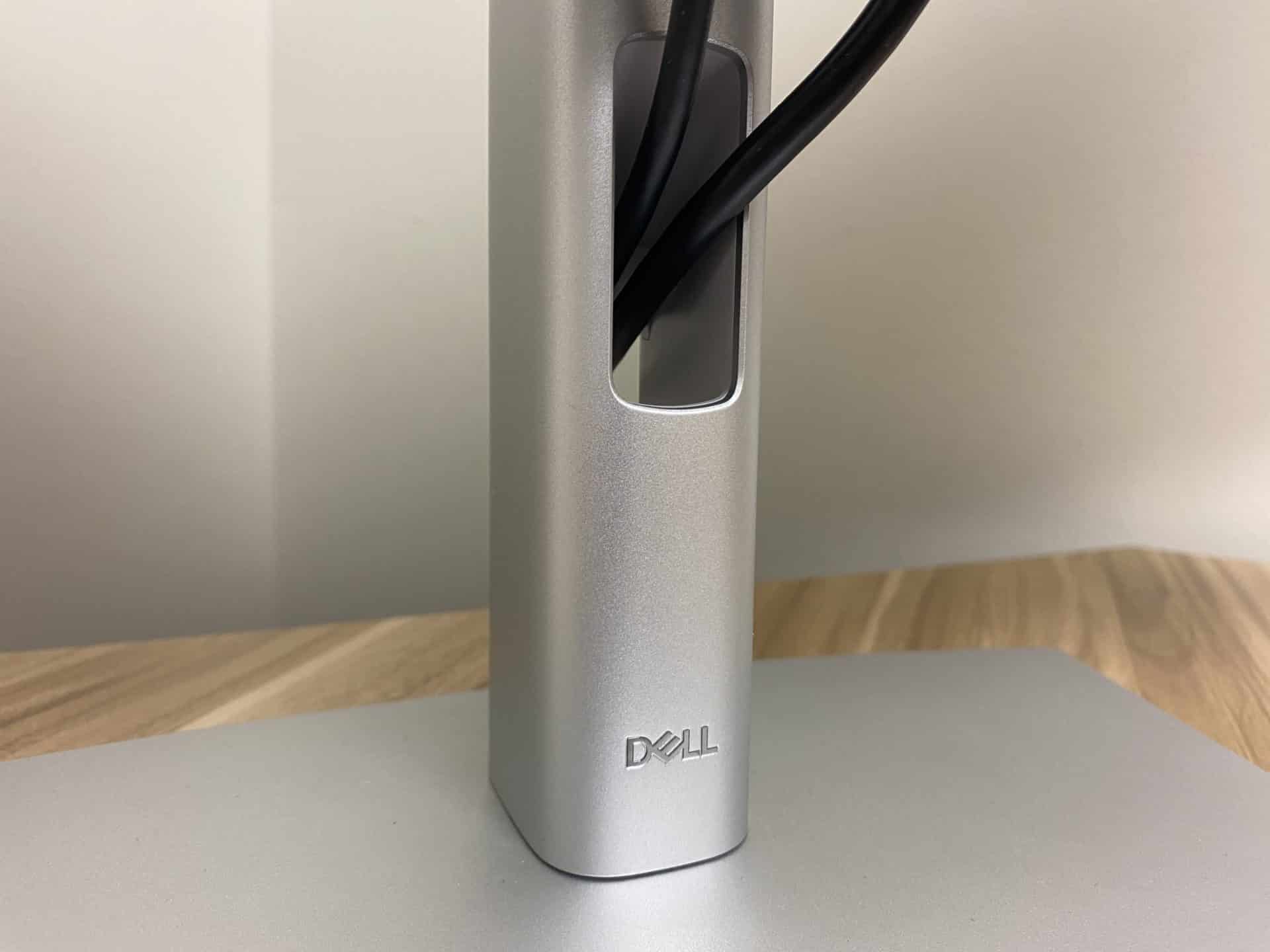 The P2723QE is completely managed by the joystick that is able to navigate all system settings and on-screen menus. There is a gap between users in which some people prefer the single joystick to control everything and some prefer the buttons for navigation. However, what we have found is that we had no problem using or setting up the monitor with the joystick and have found that in some cases it might be easier to use. This is because with buttons, most of the time, it is a must to keep track of which button to use for what, as with a joystick, it is all in one place. The power and menu buttons are similar enough that with their close placement, it's easy to hit the power by accident.
Dell P2723QE Usage
The P2723QE is made for those that want a 4K display while at the same time being able to be productive in a professional environment. This monitor that although features a 4K resolution, might not be the best for gaming intensive tasks as it can't go above 60Hz.
For tasks like image editing or photoshop, the P2723QE would be able to tackle and do it well. The P2723QE shows color and details much better than a laptop screen would be able to get. Once connected to a laptop via USB Type-C, the monitor is also able to be powered making for a quick setup if needed and not worrying about if there is an outlet around is a nice touch by Dell.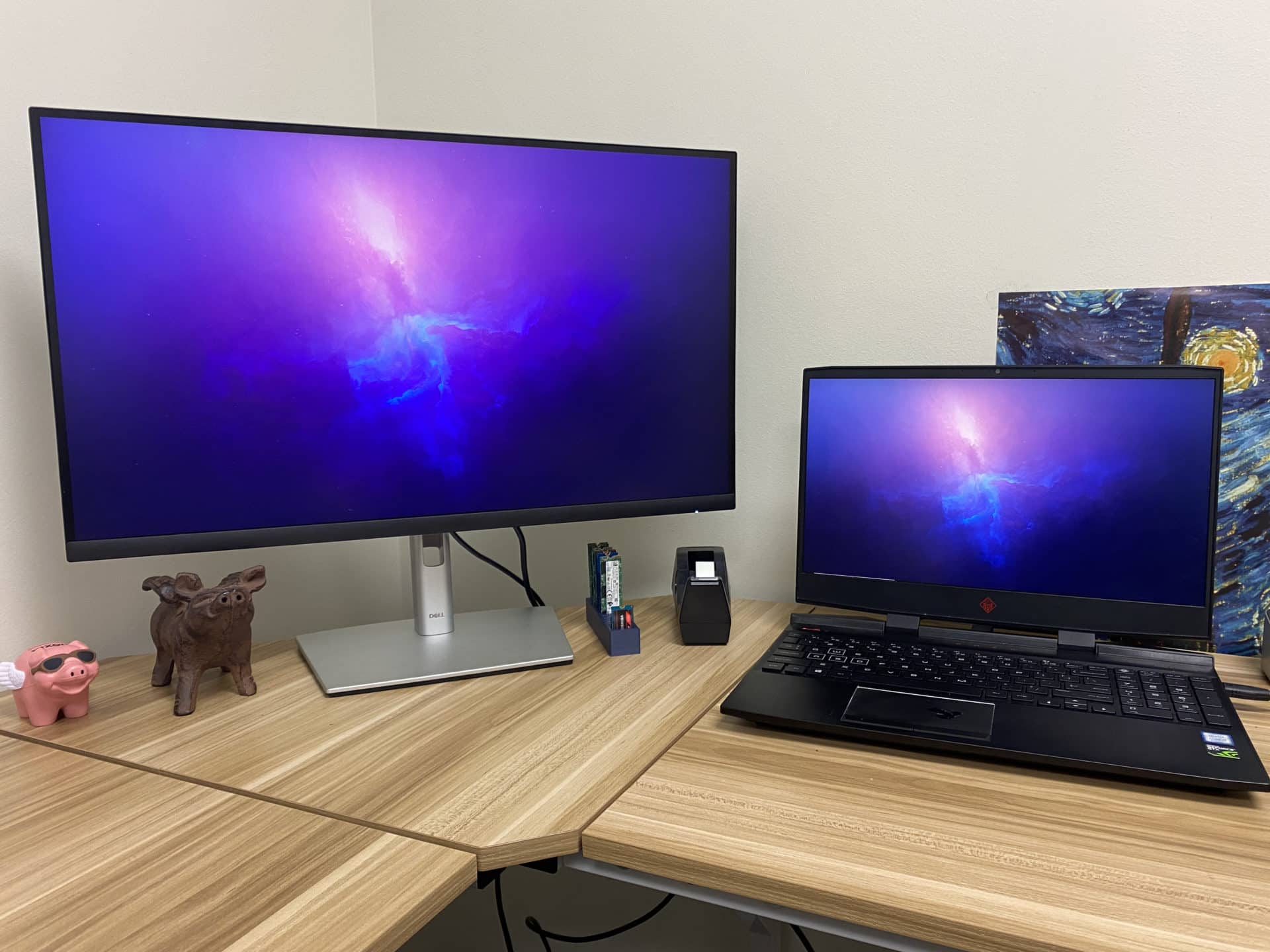 In our case of use, we mainly used it for workflow improvements, i.e., having windows/tabs open than just the one or two that a laptop is able to handle and effectively display. The 27-inch screen does make easy work of having two more windows and even though there are much larger screens out there, with a setup of two of these next to each other, it would make for a great workspace.
We also found that the use of a single cord is great for cable management and easy to set up without worrying about which cables are going where. With fewer cords to navigate and cable management, the P2723QE can give users the peace of mind of a cleaner setup, and as we know, when a workspace is organized and clean, it increases productivity.
Conclusion
Overall, we did enjoy the Dell 27-inch 4K USB-C hub monitor, making the P2723QE another good addition to Dell's extensive portfolio of monitors. While having super large monitors can be better for some, like the 38-inch UltraSharp U3821DW, the 27 inches that the P2723QE does have is great for having that extra window that seems to be always needed. Although it does have that price tag of over $500, it is a great addition to any productivity setup.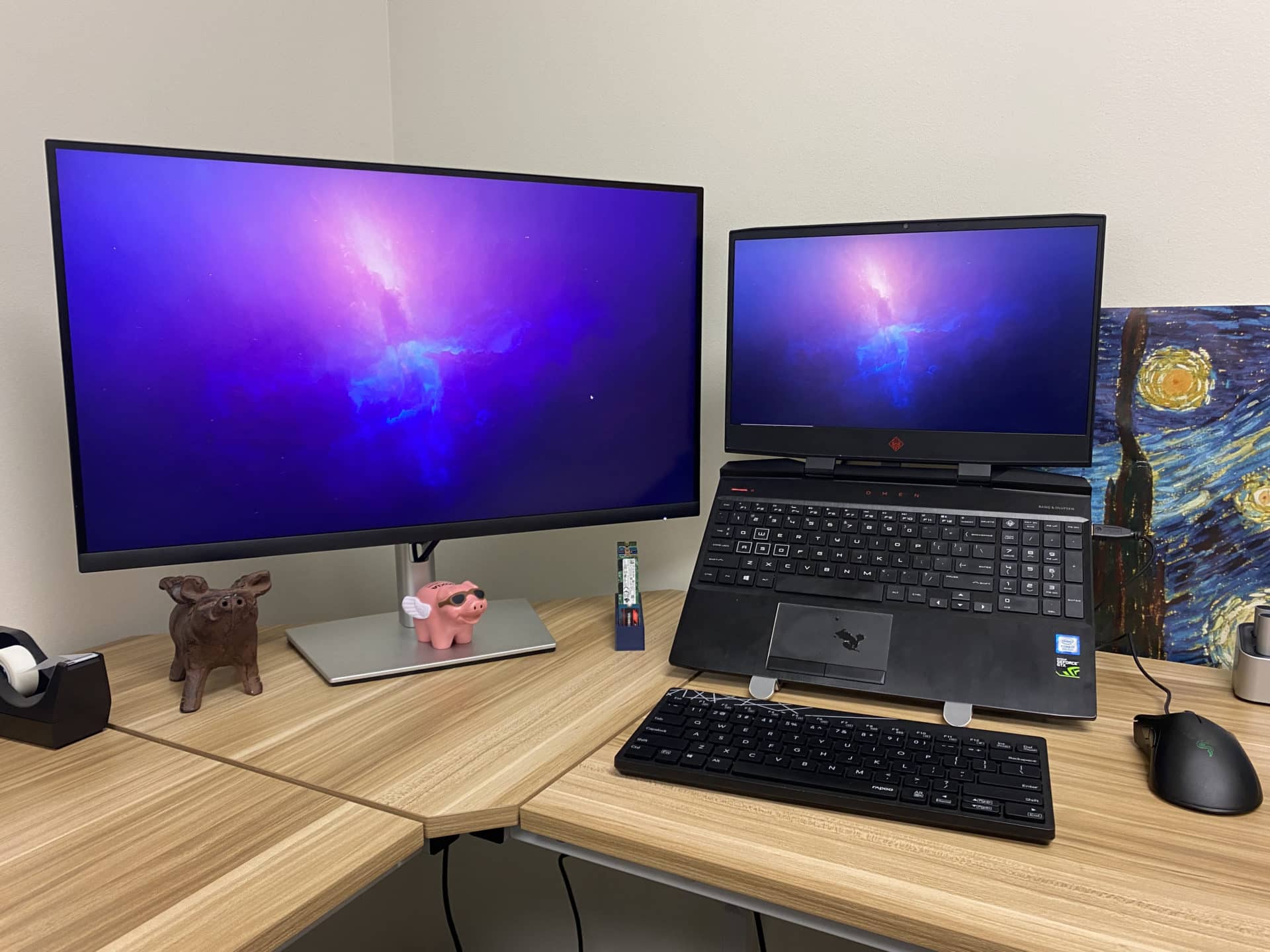 The P2723QE is made for those that need a detail-driven display for a workspace. Although it might not be the best at gaming, it makes up for that use in the various uses of the multiple points of connectivity such as the four USB Type-A ports or even the RJ45 Ethernet connector. The tilt, swivel, and pivot functionality just adds to the wide range of deployment points that the P2723QE can have, making it available for anyone in any type of setup.
The other aspect of the P2723QE that many users will find a use for is the power delivery and display over the USB Type-C cable. The target audience is laptop and workstation users and is certainly made for those users that need a good display while eliminating cable clutter. The ComfortView Plus technology that Dell has also integrated allows users to look at the P2723QE for extended periods of time without worrying about the harmful blue light.
Engage with StorageReview
Newsletter | YouTube | Podcast iTunes/Spotify | Instagram | Twitter | Facebook | RSS Feed