The EnGenius Cloud ECS2512 switch and ECW220S access point are new additions to the popular line of network devices from EnGenius. Users love this gear thanks to simple management via a web-based browser or mobile GUI.
The EnGenius Cloud ECS2512 switch and ECW220S access point are new additions to the popular line of network devices from EnGenius. Users love this gear thanks to simple management via a web-based browser or mobile GUI.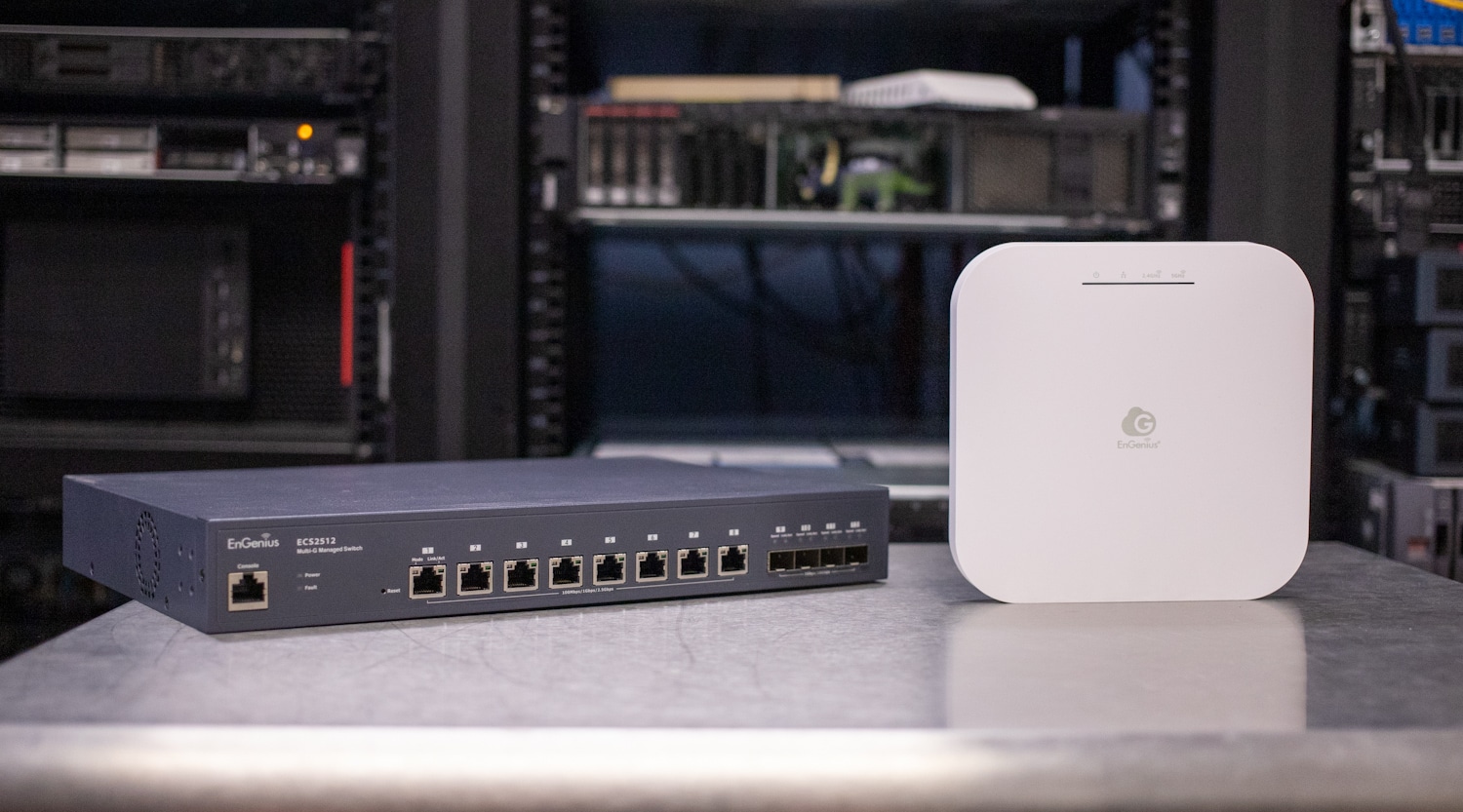 EnGenius Cloud ECS2512 Switch
The ECS2512 is a multi-Gigabit switch with eight 10/100/1000/2500Mbps Ethernet ports as well as four 1000/10000Mbps SFP+ slots. The EnGenius Cloud line is designed to bring enterprise-class features to businesses to help in network configurations and monitoring as well as bring a way to upgrade and optimize their network.
Securing the EnGenius Cloud ECS2512 is access control list/port security; 802.1X & RADIUS Authentication. The ECS2512 is also managed by EnGenius Cloud a simple way to deploy EnGenius compatible products with a ton of security and reliability between devices.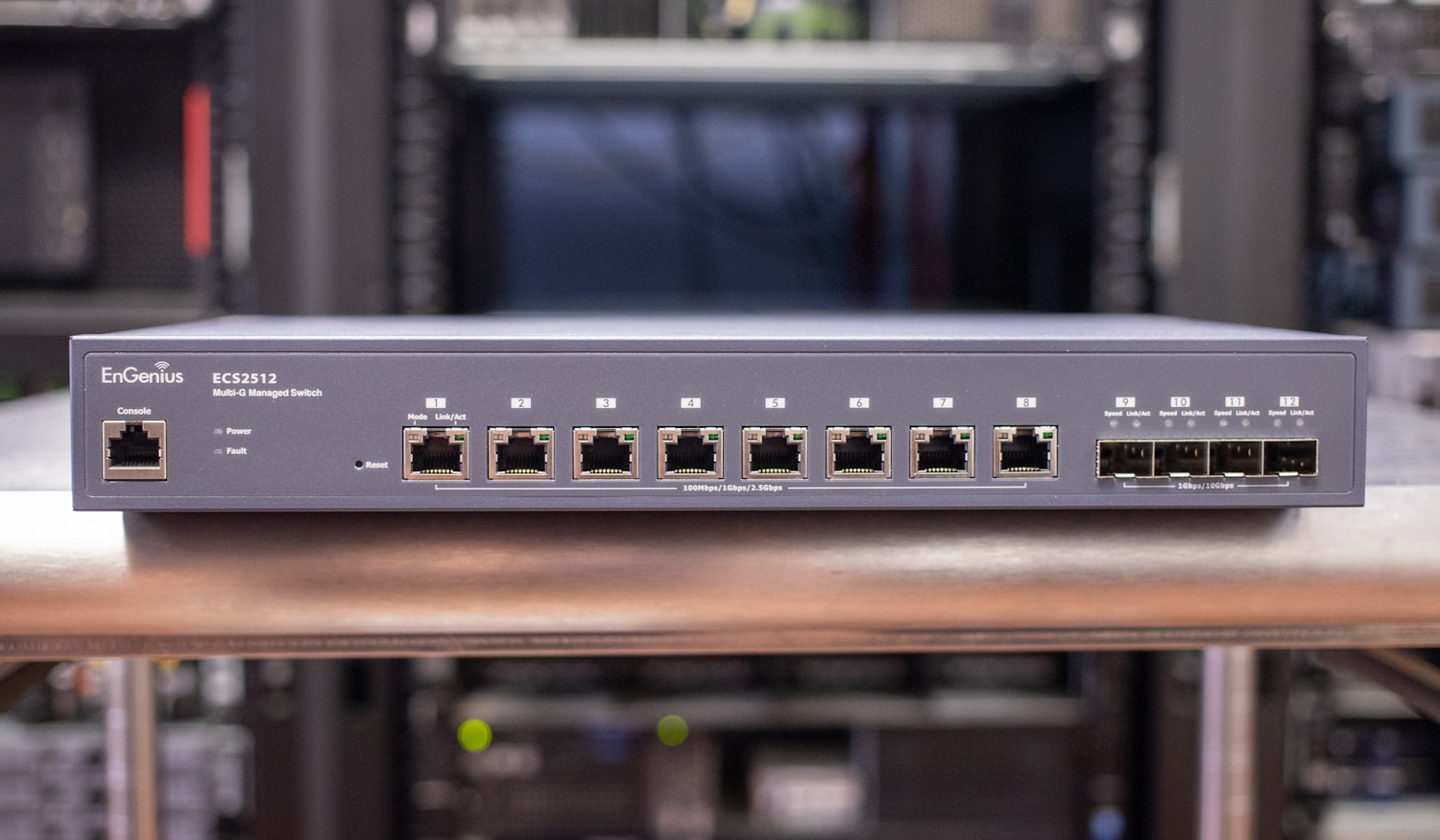 To get a more complete solution, the switch can be paired up with access points to deliver high-speed WiFi. The ECW220S is a compact WiFi-6 2×2 Cloud Managed built with WIPS radio and ZERO DFS radio detection interfaces for listening spectrum and channel utilization by WIPS radio and detecting DFS signal via Zero DFS radio.
The AP features speeds of up to 1,200Mbps (5GHz) and up to 600Mbps (2.4GHz) along with a 1GbE for a wider throughput and 48V PoE interface. The ECW220S is great for those that need a quick deployment indoor access point that can also be quickly and easily managed.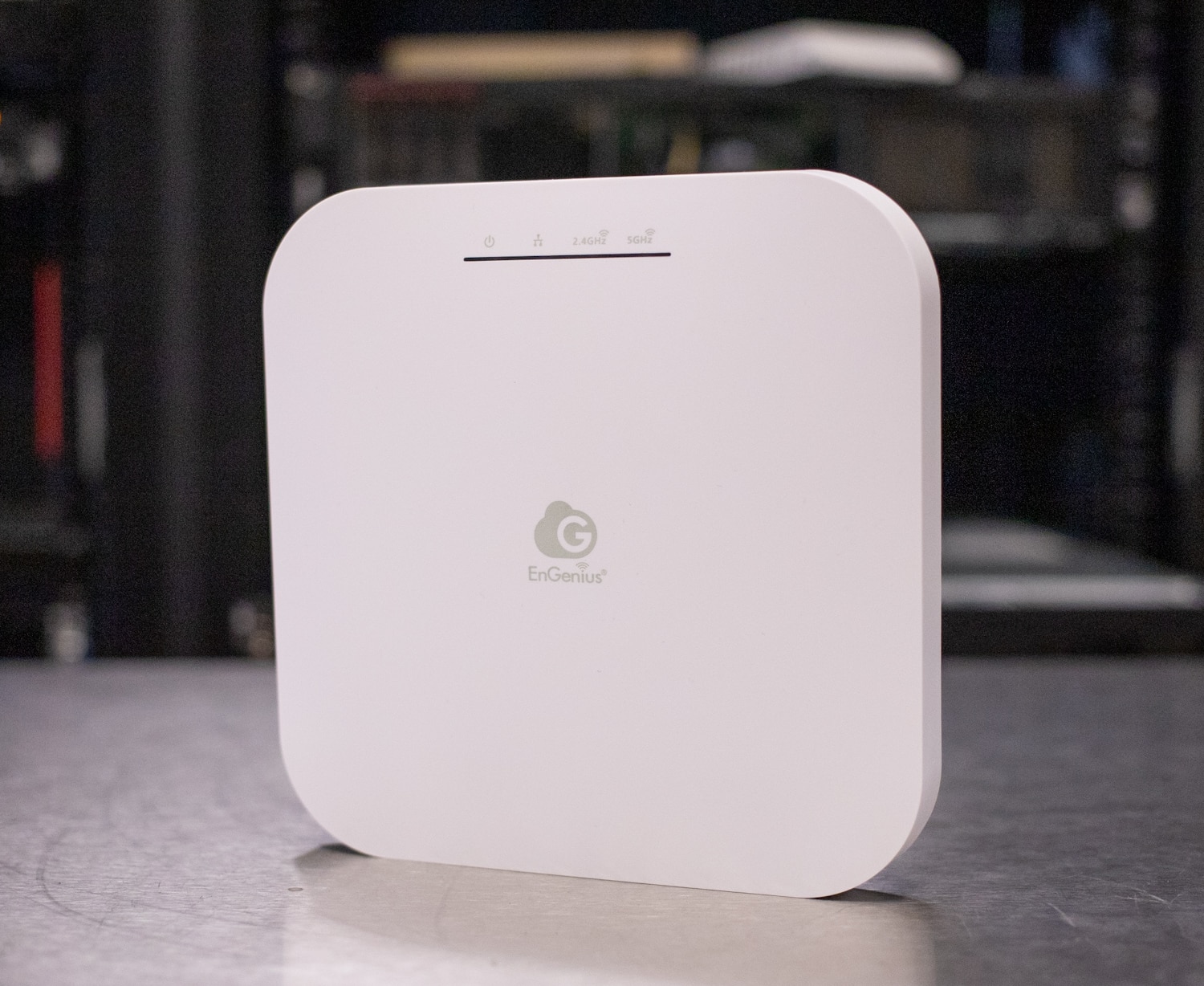 To get a better look at these devices, we will be creating an EnGenius Ecosystem of these devices along with the ECS2512FP Switch and ECW230 Access Point and taking a look at the management software for this Ecosystem.
EnGenius is constantly developing the latest network products that include remote management switches for edge networking to WiFi 6E Access Points delivering the most reliable connection to devices. As the need for more networking devices increases, having the ability to efficiently mesh devices also increases, and with EnGenius, users are able to do just that through the free EnGenius Cloud service. This service includes a range of features such as real-time metrics, network troubleshooting, and a device topology diagram.
The ECS2512 was released back in 2020 and is one of the many network switches from EnGenius that have been released since then. The ECS2512 and ECW220S are both backed by a 2-year warranty from EnGenius and currently go for $599.00 and contact for sale, respectively.
EnGenius Cloud ECS2512 Multi-Gigabit Switch Specifications
Port Standards
802.3 10Base-T Ethernet802.3u 100Base-TX Ethernet

802.3ab 1000Base-T Ethernet

802.3bz 2500/5000Base-T Ethernet

802.3x Full-Duplex Flow Control

Network Ports
8 10/100/1000/2500 Mbps Ports + 4x SFP+ Ports
Switching Capacity
120Gbps
SDRAM
512MB
Flash Memory
128MB
Power Source
100 ~ 240VAC, 50-60Hz
LED Indicators
Power LED

Fault LED

PoE Max LED

LAN Mode LED

PoE Mode LED

Ports
Link/Activity/Speed (per Ethernet port)

Link/Activity/Speed (per SFP slot)

Software Features (L3/L2 Features)
Multiple IP Interface
20 IPv6 address
ARP Table
Max. 192 ARP entries
Static ARP
Static 192 ARP entries
IPv4 Static Route
Max. 63 entries
IPv6 Static Route
Max. 21 entries
MAC Address Table
16K
Jumbo Frame
9K
Multicast Group
Max 256 groups
MLD Snooping
MLD Snooping: v1
QoS-Number of Priority Queues Supported
Queue 8
Trust Mode
Cos/802.1p

DSCP

CoS/802.1p-DSCP

Scheduling Mechanism
Strict / WRR/ Strict + WRR
Bandwidth Control
Port-based bandwidth control (Ingress/Egress)
Port Security
Max. 256 Entries
Max. 256 Entries
MAC Based ACL

IPv4/IPv6 Based ACL

ACL Binding

Time base ACL

Web Graphical User Interface (GUI)
HTTP IPv4 / IPv6

HTTPS IPv4 / IPv6

SSL Certificate
Certificate/Key Import
SNMP
SNMP v1/v2c/v3 Support
RMON
RMON 1,2,3,9
System Time
Time Setting/Daylight saving
Common L2 Features
802.1d Spanning tree

Loopback Detection

Multicast Filtering

IGMP Multicast Forwarding

IGMP Snooping

MLD Multicast Forwarding

802.1Q VLAN tagging

802.3x flow control

802.3ad Link Aggregation

IPv4 DHCP Relay

IPv4 DHCP Snooping

IPv4 DHCP Snooping Source MAC Address Check-up

ARP Inspection

ARP Packet Validation (additional validation checks)

Voice VLAN

Port-based VLAN

Protocol-Based VLAN

CoS Mapping

802. 1X Radius Authentication Protocol

IPv4 Settings

IPv6 Settings

IEEE 802. 3az Energy Efficient Ethernet (EEE)

Command Line Interface (CLI)

SSH Server

Telnet Server

TFTP Client

Configuration Upgrade/Backup

Simple Network Time Protocol (SNTP)

SYSLOG

802.1d Spanning tree

Environmental & Physical
Temperature Range
Operating: 32°F to 122°F (0°C to 50°C)
Humidity (Non-Condensing)
Operating: 5% – 95%
Package Contents
1x ECS Managed Multi-Gigabit Switch

1x Quick Installation Guide

1x Power Cord

1x RJ45 Console Cable

1x Rack Mount Kit

Device Dimensions & Weight
ECS2512FP Device
Weight: 5.7 lbs (2.6 kg)

Width: 9.05" (230 mm)

Length: 12.99" (330 mm)

Height: 1.73" (44 mm)

Warranty
2 years
EnGenius Cloud ECW220S Access Point Specifications
Standards
IEEE 802.11ax on 2.4 GHzIEEE 802.11ax on 5 GHz

Backward compatible with 802.11a/b/g/n/ac

Antenna
2 x 2.4 GHz: 4 dBi
2 x 5 GHz: 5 dBi
Integrated Omni-Directional Antenna
Physical Interface
1 x 10/100/1000 Ethernet Port (PoE+)
1 x DC Jack
1 x Reset Button
LED Indicators
1 x Power
1 x LAN
1 x 2.4 GHz
1 x 5 GHz
Power Source
Power-over-Ethernet: 802.3af/at Input
IEEE 802.11e Compliant Source
12VDC /1.5A Power Adapter (optional)
Maximum Power Consumption
12.8W
Wireless & Radio Specifications
Operating Frequency
Dual-Radio Concurrent 2.4 GHz & 5 GHz
Operation Modes
AP, AP Mesh, Mesh
Frequency Radio
2.4 GHz: 2400 MHz~2482 MHz
5 GHz: 5150 MHz ~ 5250 MHz, 5250 MHz ~ 5350 MHz, 5470 MHz ~ 5725 MHz, 5725 MHz ~ 5850 MHz
Transmit Power
Up to 22 dBm on 2.4 GHz
Up to 22 dBm on 5 GHz
(Maximum power is limited by regulatory domain)
Tx Beamforming (TxBF)
Radio Chains/Spatial Stream

2 × 2:2

SU-MIMO
Two (2) spatial stream Single User (SU) MIMO for up to 574 Mbps wireless data rate with HE40 bandwidth to a 2×2 wireless client device under the 2.4GHz radio. Two (2) spatial stream Single User (SU) MIMO for up to 1,200 Mbps wireless data rate with VHT80 to a 2×2 wireless device under the 5GHz radio.
MU-MIMO
Two (2) spatial streams Multiple (MU)-MIMO up to 1,200 Mbps wireless data rate for transmitting to two (2) streams MU-MIMO 11ax capable wireless client devices under 5GHz simultaneously. Two (2) spatial streams Multiple (MU)-MIMO up to 574 Mbps wireless data rate for transmitting to two (2) streams MU-MIMO 11ax capable wireless client devices under 2.4GHz simultaneously.
Supported Data Rates (Mbps):
802.11ax:
2.4 GHz: 9 to 574 (MCS0 to MCS11, NSS = 1 to 2)
5 GHz: 18 to 1200 (MCS0 to MSC11, NSS = 1 to 2)
802.11b: 1, 2, 5.5, 11
802.11a/g: 6, 9, 12, 18, 36, 48, 54
802.11n: 6.5 to 300 Mbps (MCS0 to MCS15)
802.11ac: 6.5 to 867 Mbps (MCS0 to MCS9, NSS = 1 to 2)
Supported Radio Technologies
8802.11ax: Orthogonal Frequency Division Multiple Access(OFDMA)
802.11ac/a/g/n: Orthogonal Frequency Division Multiple (OFDM)
802.11b: Direct-sequence spread-spectrum (DSSS)
Channelization
802.11ax supports high efficiency throughput (HE) —HE 20/40/80 MHz
802.11ac supports very high throughput (VHT) —VHT 20/40/80 MHz
802.11n supports high throughput (HT) —HT 20/40 MHz
802.11n supports very high throughput under the 2.4GHz radio –VHT40 MHz (256-QAM)
802.11n/ac/ax packet aggregation: A-MPDU, A-SPDU
Supported Modulation
802.11ax: BPSK, QPSK, 16-QAM, 64-QAM, 256-QAM, 1024-QAM
802.11ac: BPSK, QPSK, 16-QAM, 64-QAM, 256-QAM
802.11a/g/n: BPSK, QPSK, 16-QAM, 64-QAM
802.11b: BPSK, QPSK, CCK
Management
Multiple BSSID
8 SSIDs for both 2.4GHz and 5GHz radios.
VLAN Tagging
Supports 802.1q SSID-to-VLAN Tagging
Cross-Band VLAN Pass-Through
Management VLAN
Spanning Tree
Supports 802.1d Spanning Tree Protocol
QoS (Quality of Service)
Compliant with IEEE 802.11e Standard WMM
Wireless Security
WPA2-PSK
WPA2-Enterprise
WPA3-PSK
WPA3-Enterprise
Hide SSID in Beacons
MAC Address Filtering, Up to 32 MACs per SSID
Wireless STA (Client) Connected List
Https
SSH Tunnel
Client Isolation
Environmental & Physical
Temperature Range
Operating: 32ºF~104ºF (0ºC~40ºC)

Storage: -40ºF~176 ºF (-40ºC~80ºC)

Humidity (non-condensing)
Operating: 90% or less

Storage: 90% or less

Device Dimensions & Weight
ECW220S Device
Weight: 390 g
Width: 160 mm
Length: 160 mm
Height: 33.2 mm
Package Contents
1 – ECW220S Cloud Managed Indoor Access Point
1 – Ceiling Mount Base (9/16" Trail)
1 – Ceiling Mount Base (15/16" Trail)
1 – Ceiling and Wall Mount Screw Kit
1 – Quick Installation Guide
Compliance Regulatory
FCC

CE

Warranty
2 years
EnGenius Cloud ECS2512 Design and Build
The EnGenius ECS2512 is a modest size switch, being 12.9 inches long, 9 inches wide, and 1.73 inches tall. A decent size for an eight-plus four-port switch. The ECS2512 is well built as most switches of this caliber are and gives quite an ease of mind that this switch is built to last in a full lab environment. The ECS 2512 comes with rack-mounting hardware for those looking to mount, which is probably the best spot for this type of switch.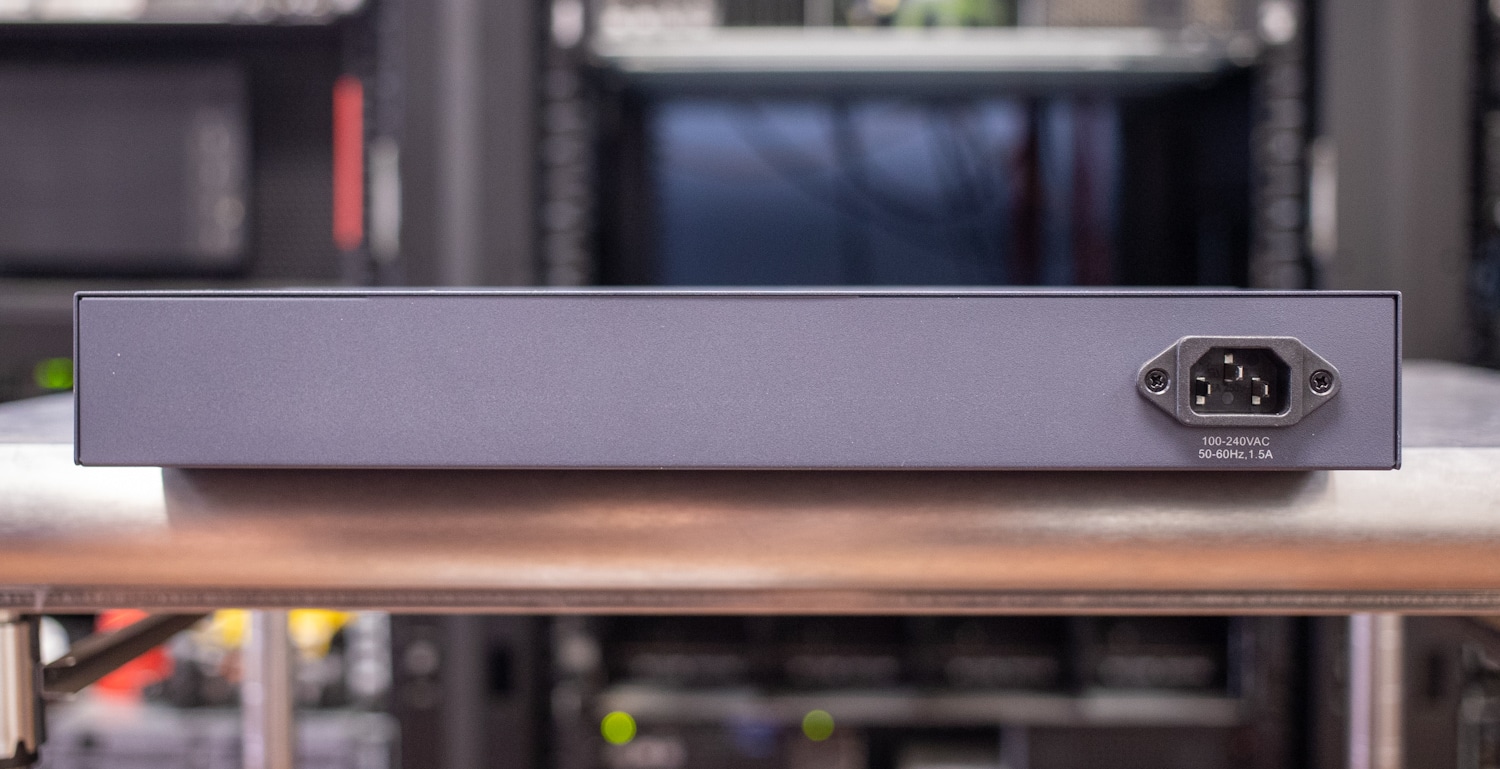 The front of the switch is where users will find all the necessary connectivity. From left to right, there is the console port, for admins looking to configure VLANs, trunking, and other needs based on the type of network the switch will be deployed in. Then there are the eight 10/100/1000/2500 Base-T GbE ports built for high-bandwidth devices and all networking needs. Lastly, are the four dual-speed 10G SFP+ (optical) uplink ports, which is a nice feature to have for those looking to have optical compatibility within a switch.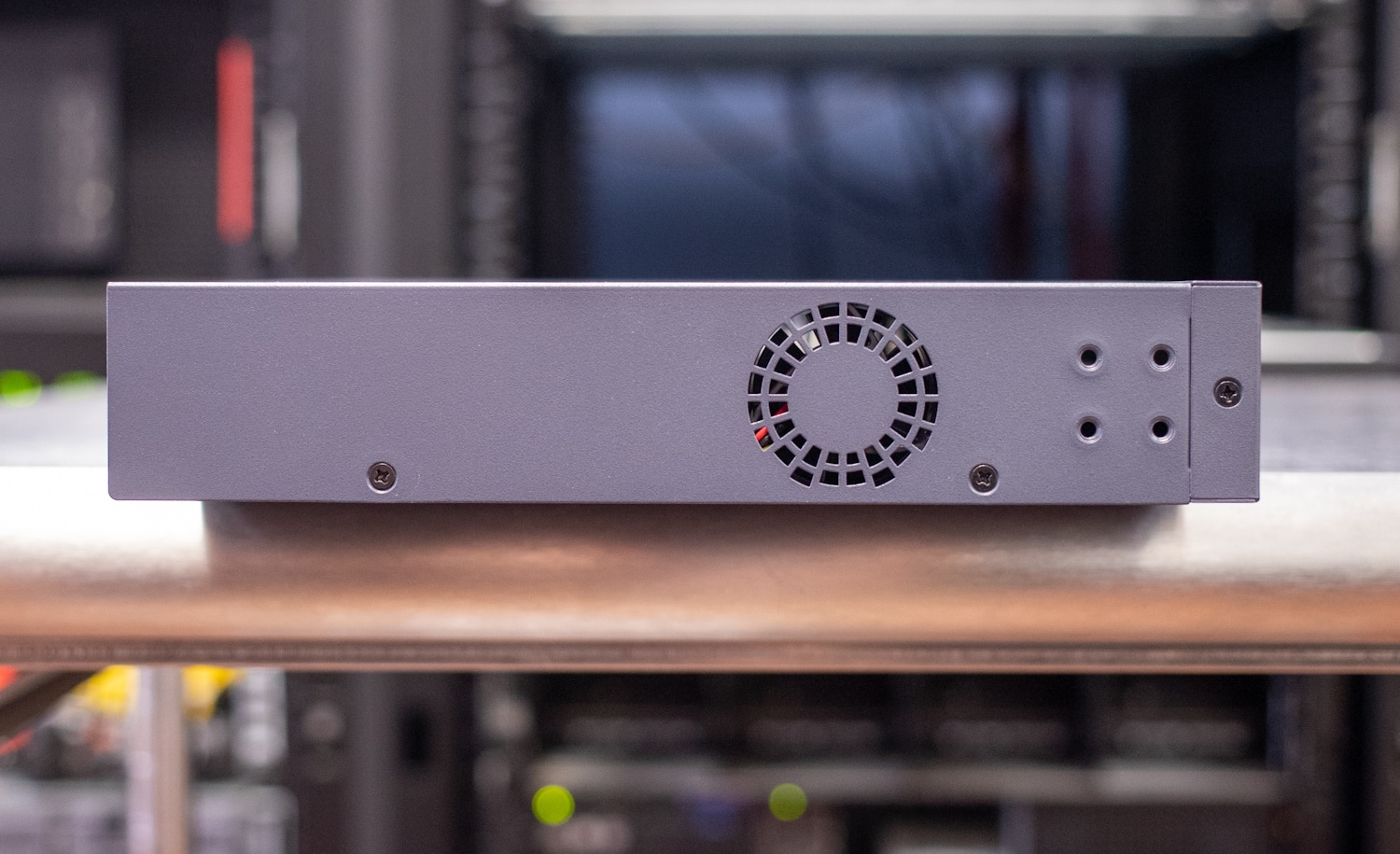 On the side users will see that the ECS2512 is very similar to other high bandwidth switches, featuring fans for cooling and heat dissipators to help when the switch is operating at max load.
EnGenius ECW220S Design and Build
The EnGenius ECW220S is a compact AP with a plastic and metal build with a couple of mounting options. With its compact design, the ECW220S is ideal for small environments like offices, display areas, or even lobbies. Compared to other access points that we have reviewed in the past, the ECW220S feels more like a model for those that are just looking for an access point to go with the rest of the EnGenius products on the network, more consumer than prosumer.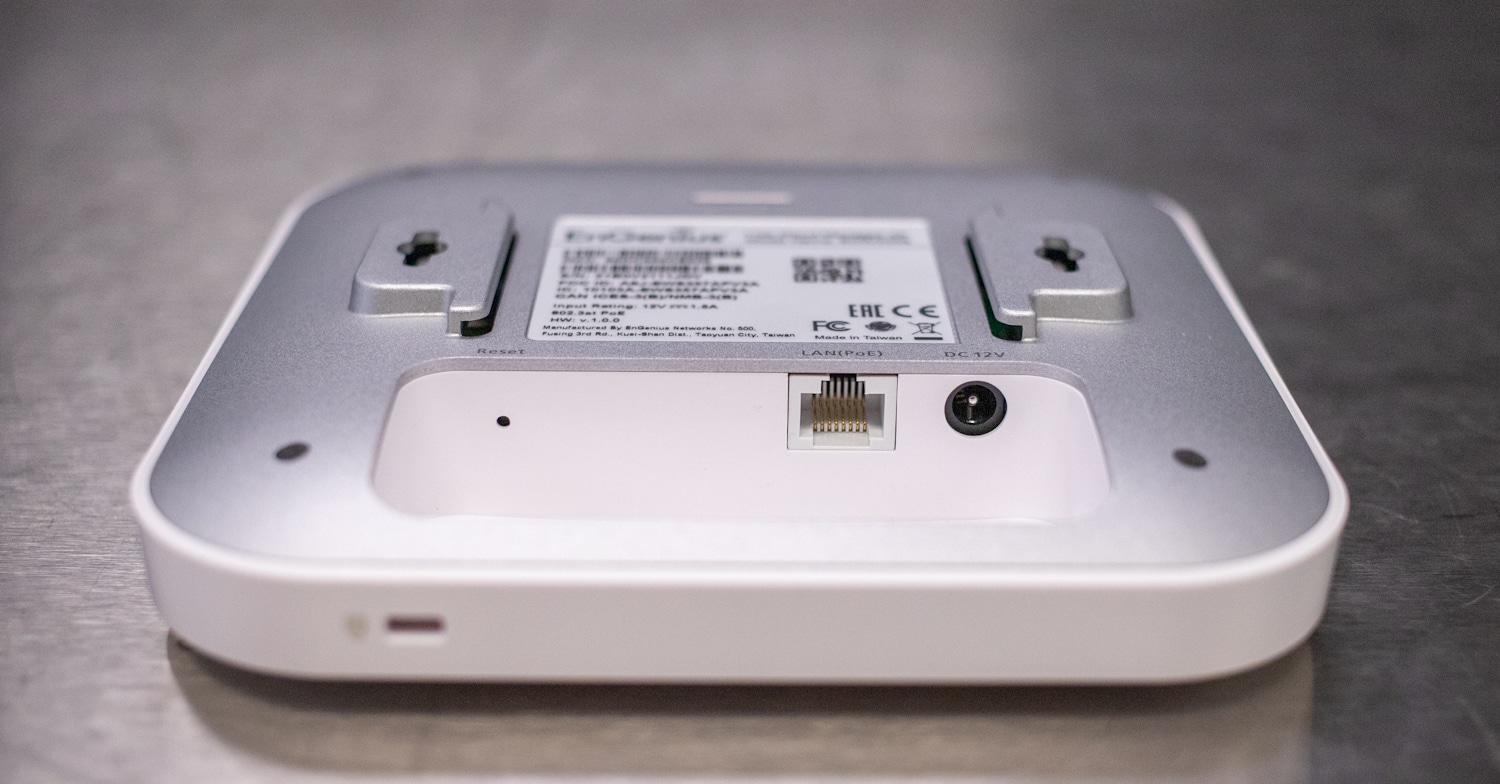 Right on top, the ECW220S is branded with the EnGenius logo, and right above that are the standard LEDs that are nearly every access point on the market: the power LED, the network LED, and the 2.4GHz and 5GHz connection LEDs.
On the backside of the ECW220S are the DC 12V power supply connection, the LAN port or internet, and a reset button for troubleshooting the device if necessary. As stated before, the LAN port is also PoE, adding to the quick deployment and versatility of this access point.
EnGenius Cloud Network Management
The ECS2512 and the ECW220S are both managed by EnGenius Cloud, a comprehensive subscription-model, cloud-based management software, that allows admins in an organization to manage all EnGenius Cloud devices via a web-based browser or via the mobile app from EnGenius.
EnGenius' Cloud platform was quick and easy to install. All you have to do is sign up for the service on their website and log in. You'll need to register all your devices using the serial numbers on the switches; however, you can do this all at once, as they allow you to enter multiple serial numbers (one per line) in the text field.
Overall, the EnGenius Cloud platform is very simple and easy to navigate. The web-based cloud platform has a simple, clutter-free GUI that is very responsive and allows users and admins to quickly find whatever they need without much effort. Starting from here, there are a ton of tools at your disposal.
On the Dashboard, there is a ton of overview information of the current network that includes the number of switches, APs, and client devices, as well as the number of those online and offline. The Dashboard is also able to give a real-time throughput graph of the access points and can be filtered to show specific SSIDs or even the day to help give a better understanding of the network.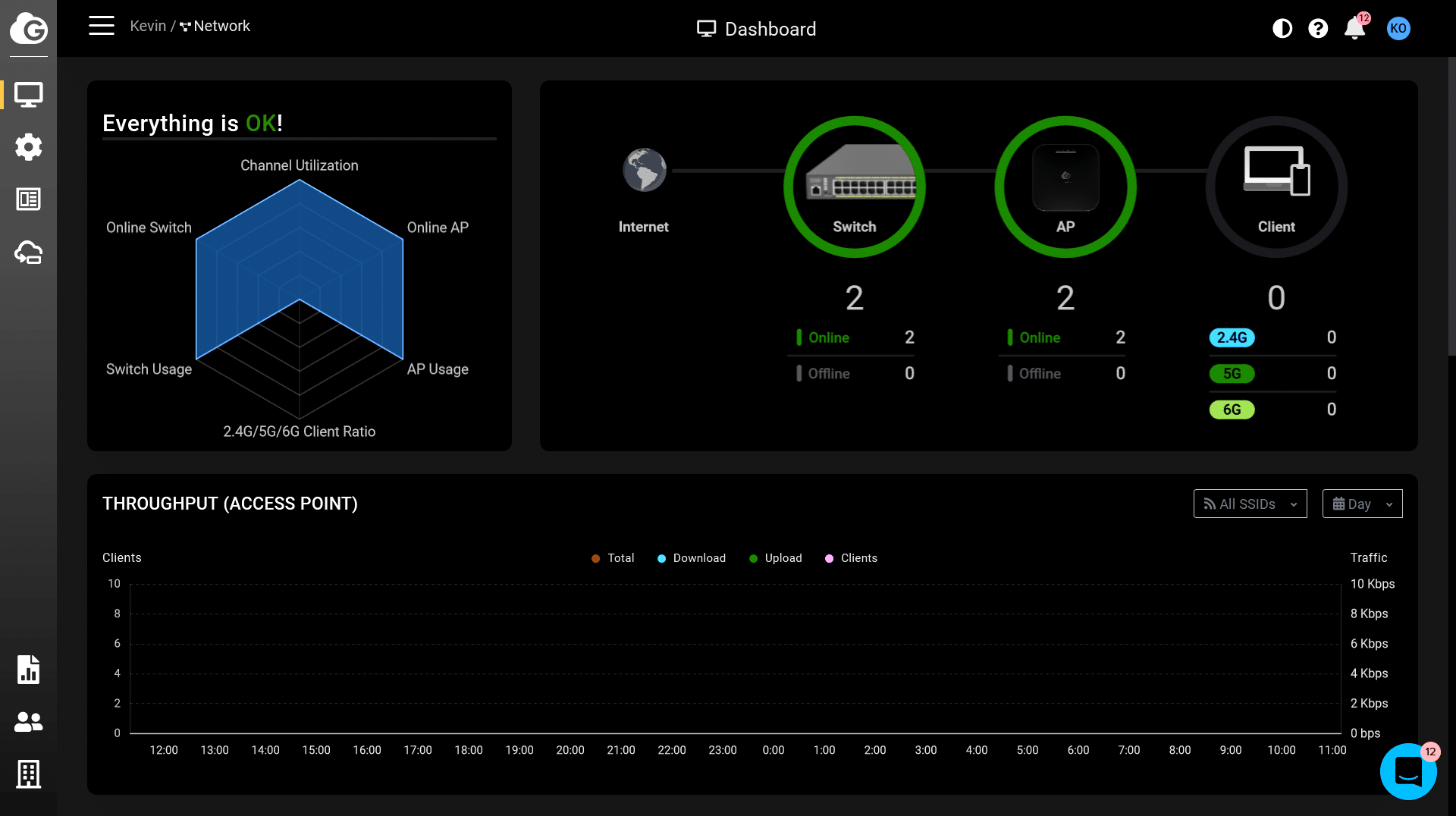 Once you are ready to add devices to the network to add, it is as easy as navigating to the Inventory section from the cloud icon, the fourth icon from the left. Once there, there will be a list of devices available to add to the network, check all the devices that you want to add and click Assing to Network. It may take a minute for the device to be added and run on the network.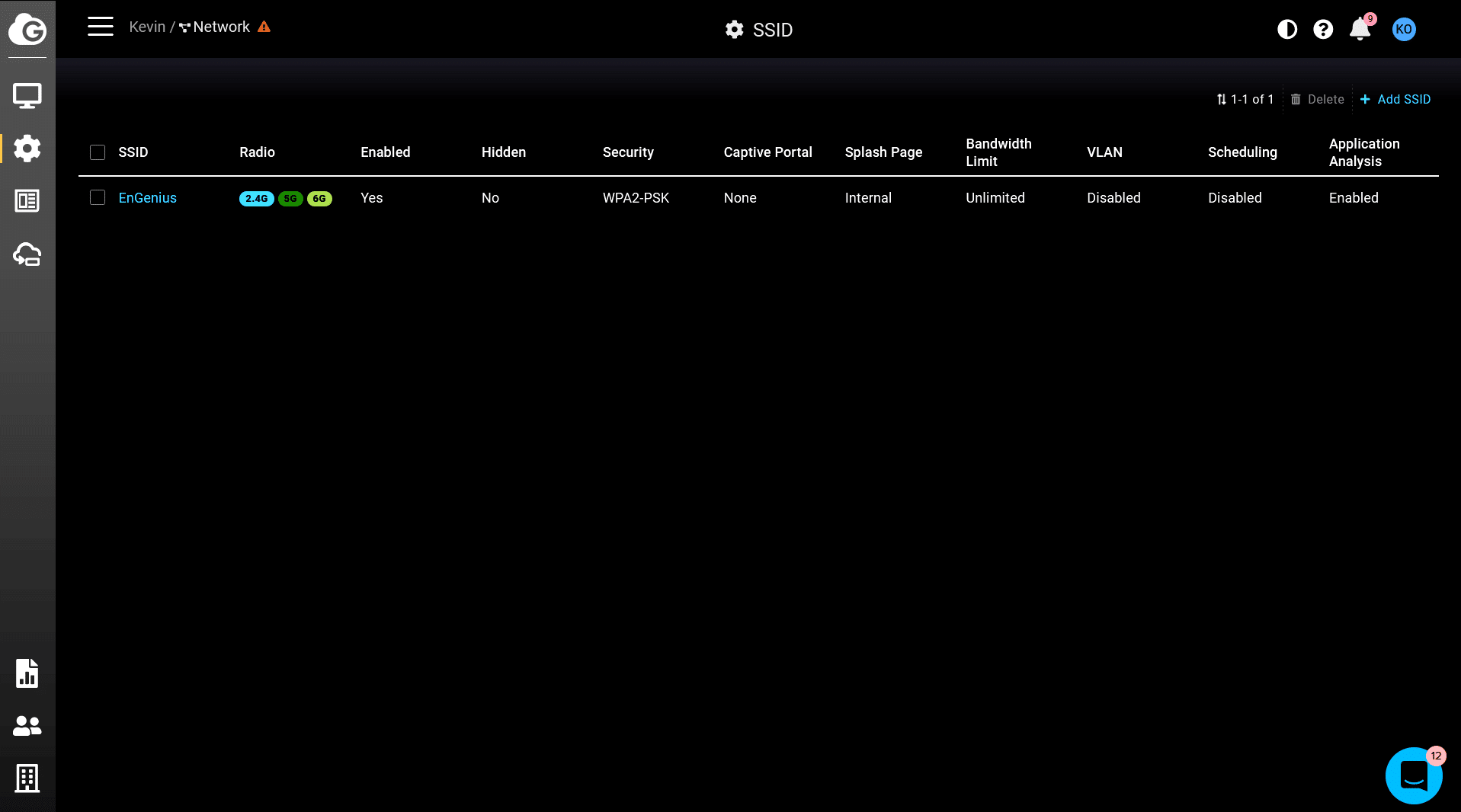 The General Settings page allows users and admins to configure the network's country, time zone, and username and password from the default one given to EnGenius devices. There is also an AP tab to configure the LAN port, Syslog Server, and messages for blocked client messages, and the same goes for the Switch tab as well.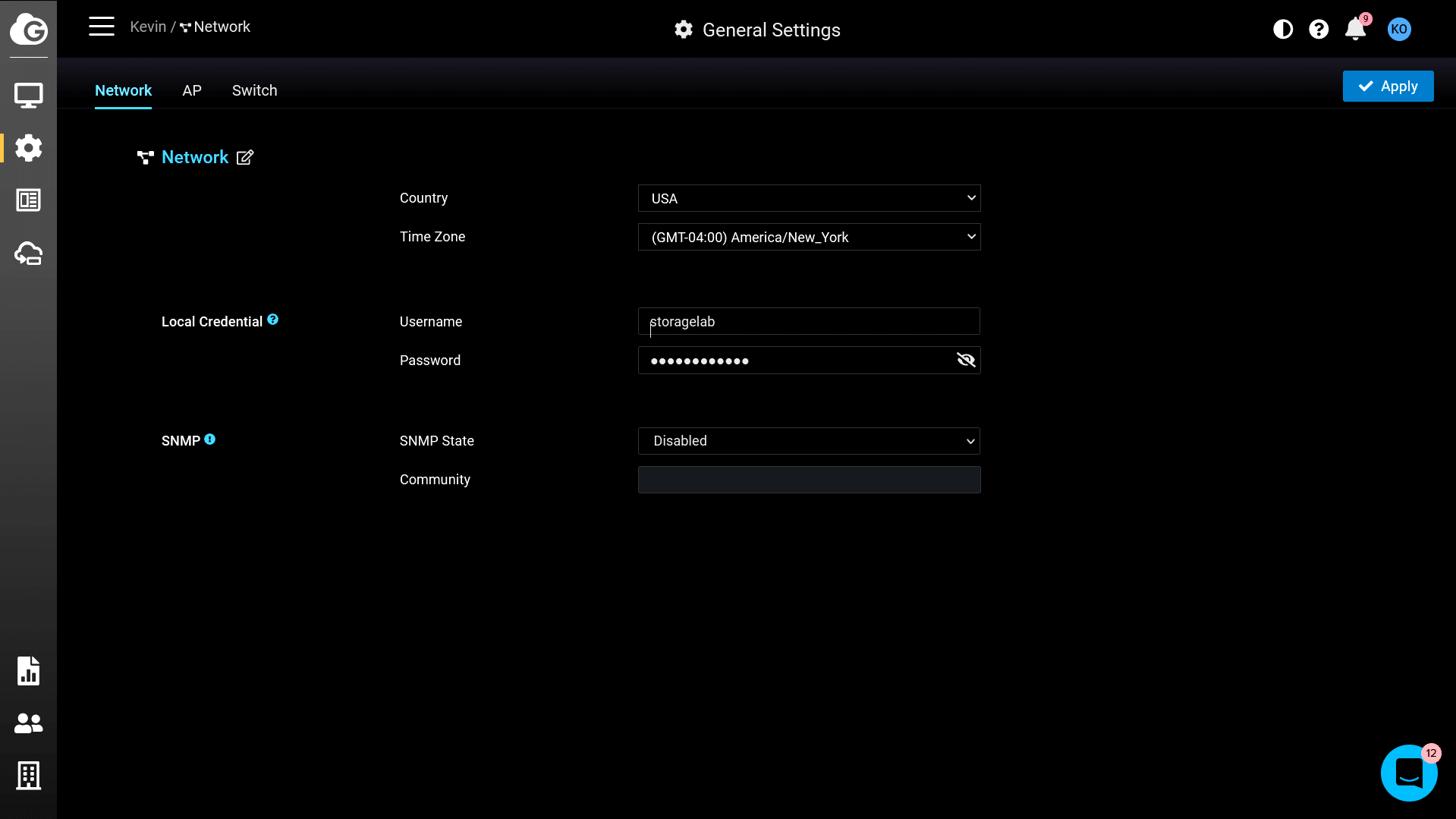 On the Radio Settings page, you can configure all the access points on the network with configurations such as the channel, Tx power, minimum bit rate, client limit, and mesh. Each radio also has the ability to be enabled or disabled if you want to limit the radios that are distributed.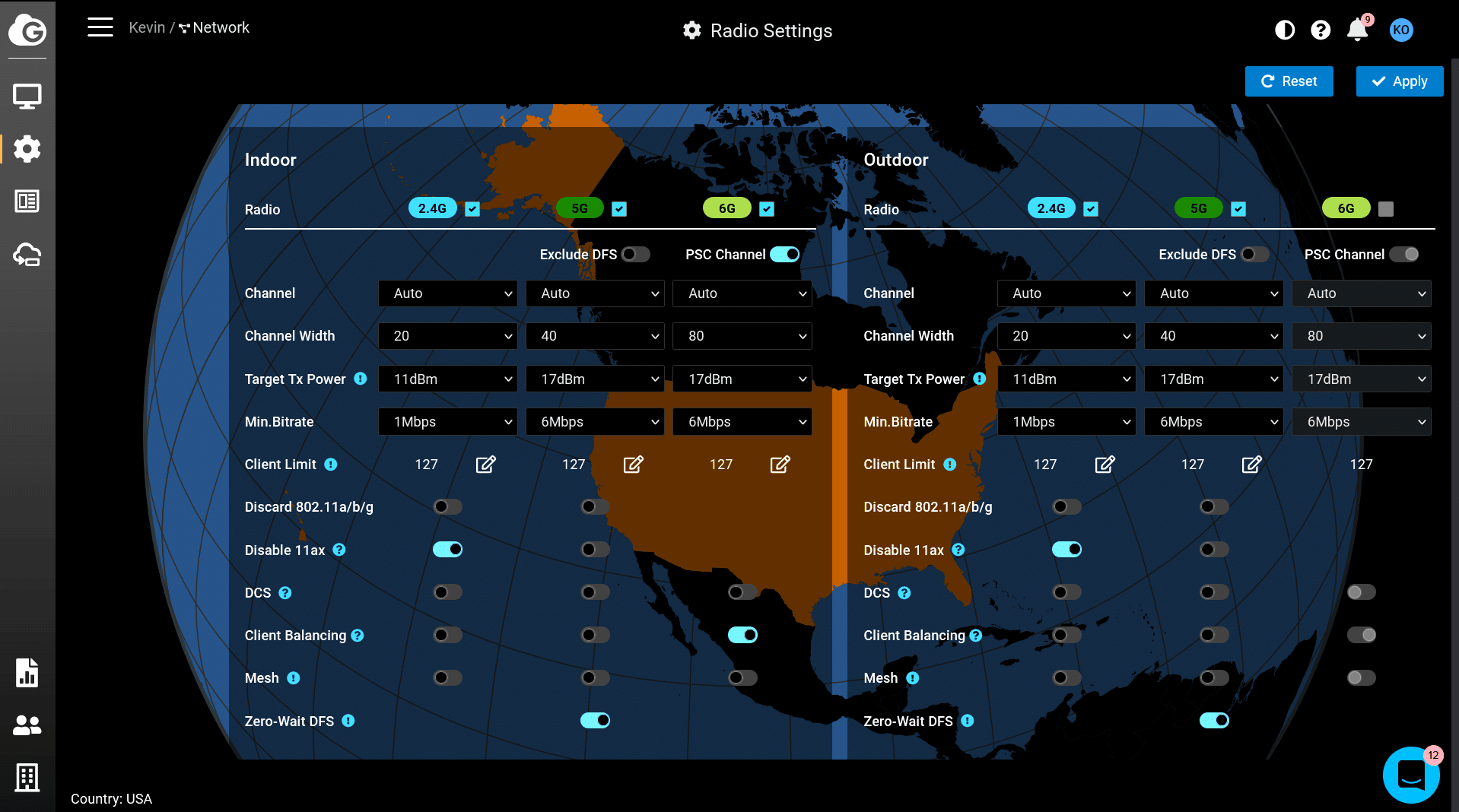 The Alert Settings page is where you are able to set up email alerts to be sent when certain events happen on the network or devices go offline/a different status than online. A good example of this would be setting an email alert if an AP on the network goes offline for more than 5 minutes or when a configuration is changed within the network. As for the switches, you can set the alert for when a port link status is changed or when there is a firmware upgrade available. Alerts are always nice for network admins so there is a way to quickly fix the network if a part of it goes down.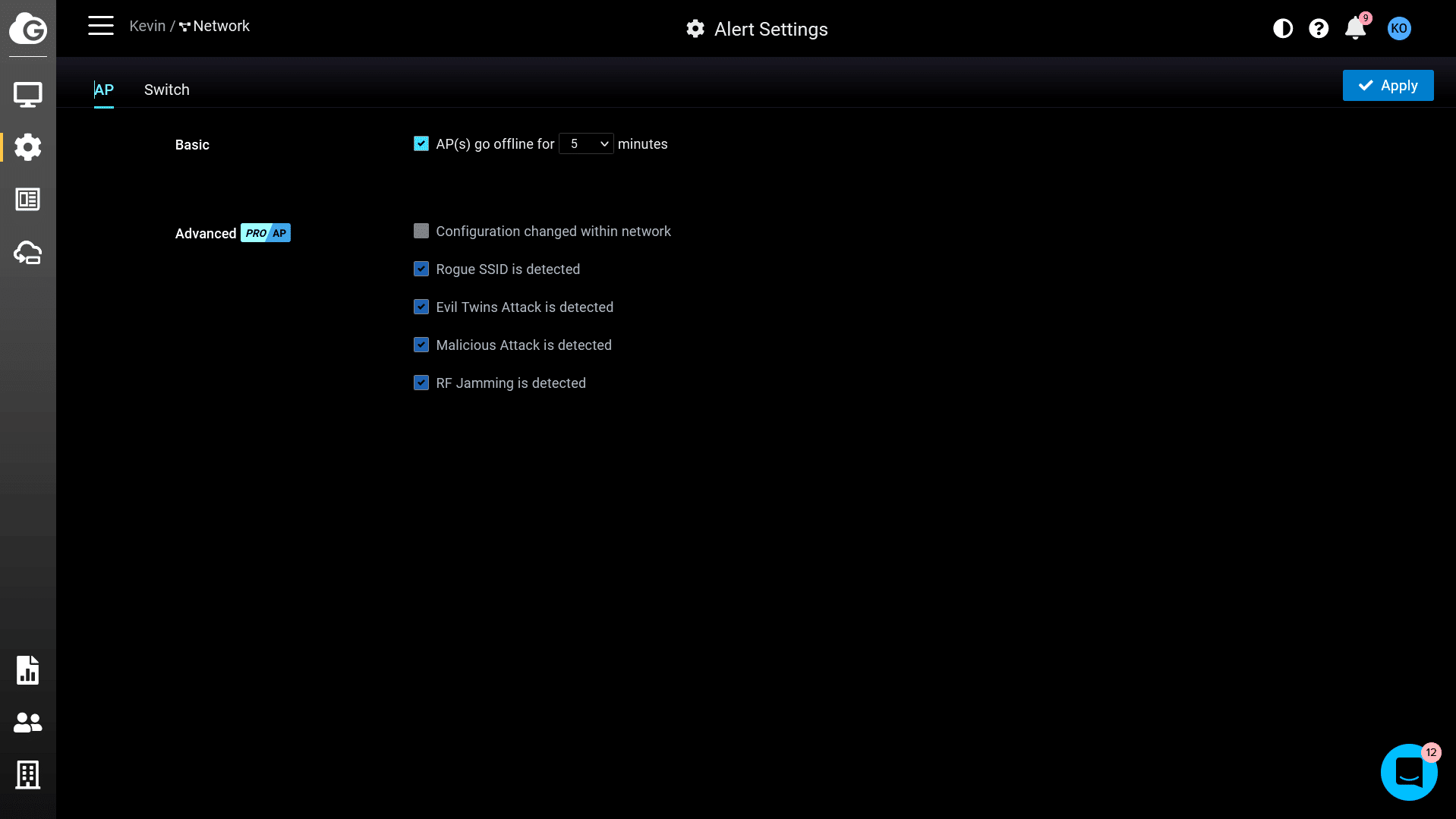 The Event Log pages show all the events that have happened on the devices and include the time, the device, the event type, and the description. In our case, there were quite a few events that were logged, most of them being the devices initially starting, going offline for system updates, or showing that the device had a cold start from being offline for quite a while.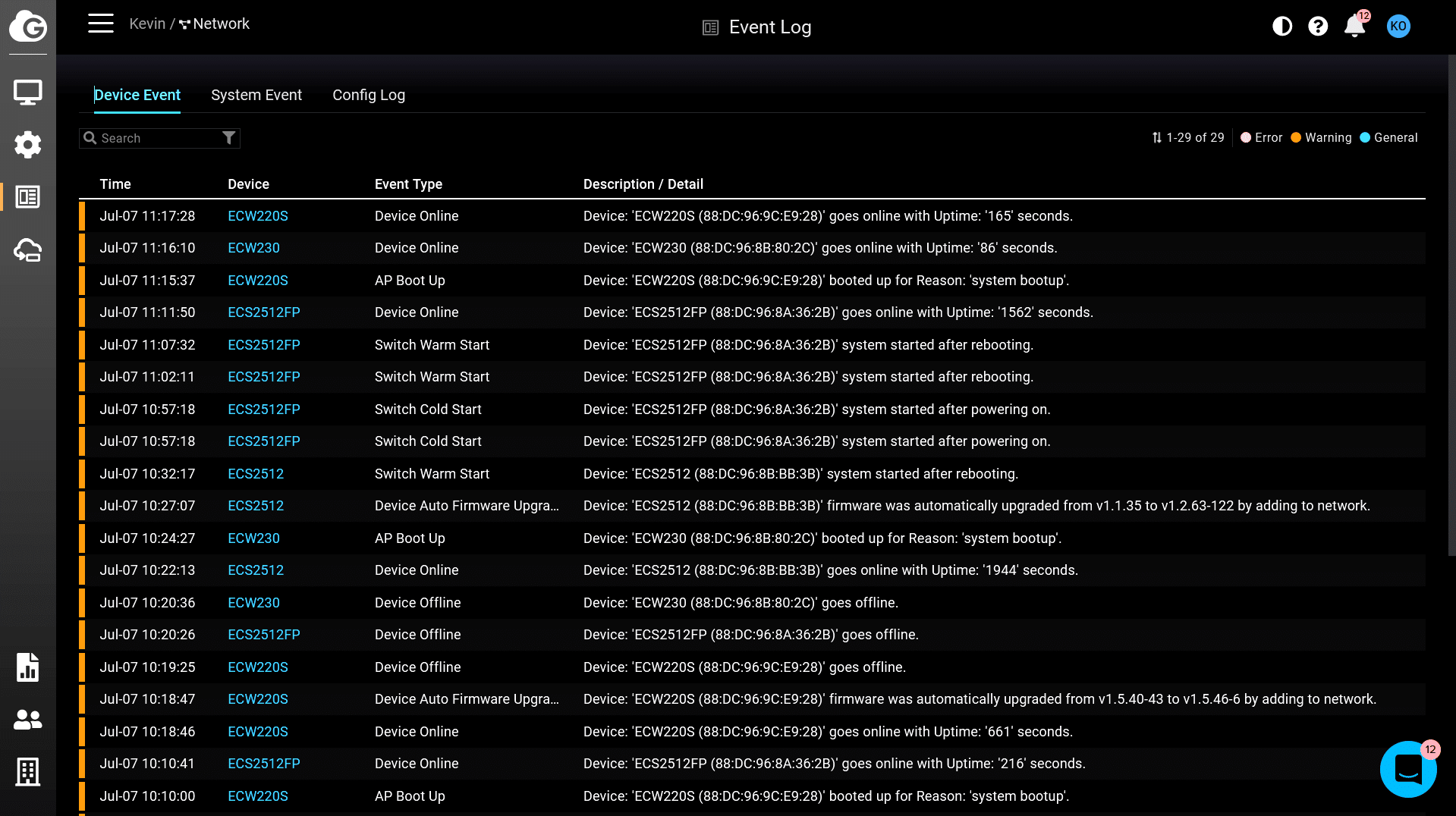 The Switches page shows all the switches that have been added to the network with the details of the name, serial number, MAC address, model name, WAN IP, LAN IP, ports, FW version, uptime, and last update. This page also allows for the removal or addition of switches, or if a specific switch needs to be rebooted.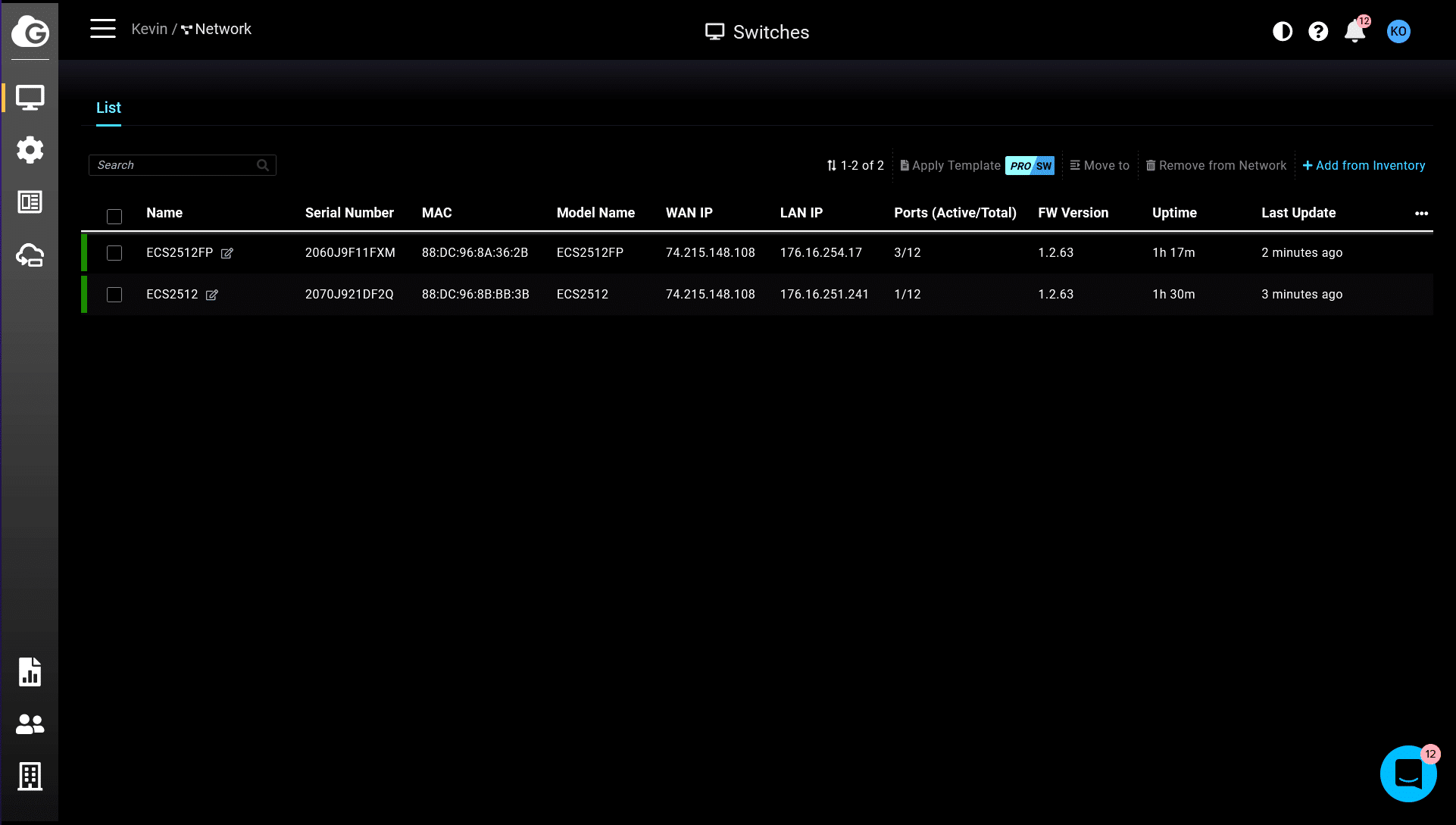 The Switch Settings page allows you to enable the spanning tree protocol, LLDP, and Voice VLAN.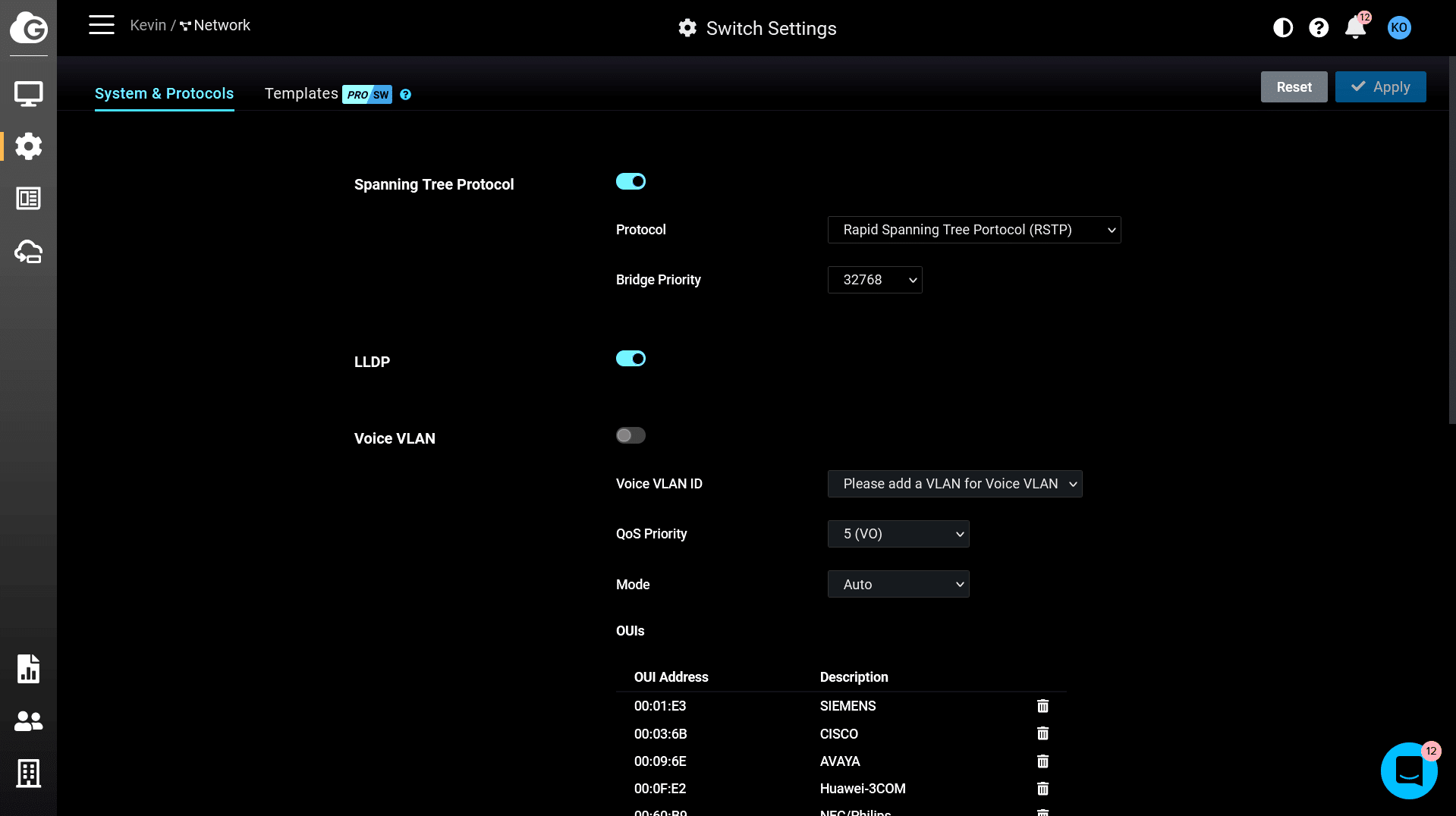 The Access Points page is very similar to the Switches Page, it displays a list of all the switches on the network with the details of the name, serial number, MAC address, model name, channel, WAN IP, LAN IP, the number of clients, and the mesh mode. APs can also be added or removed just like switches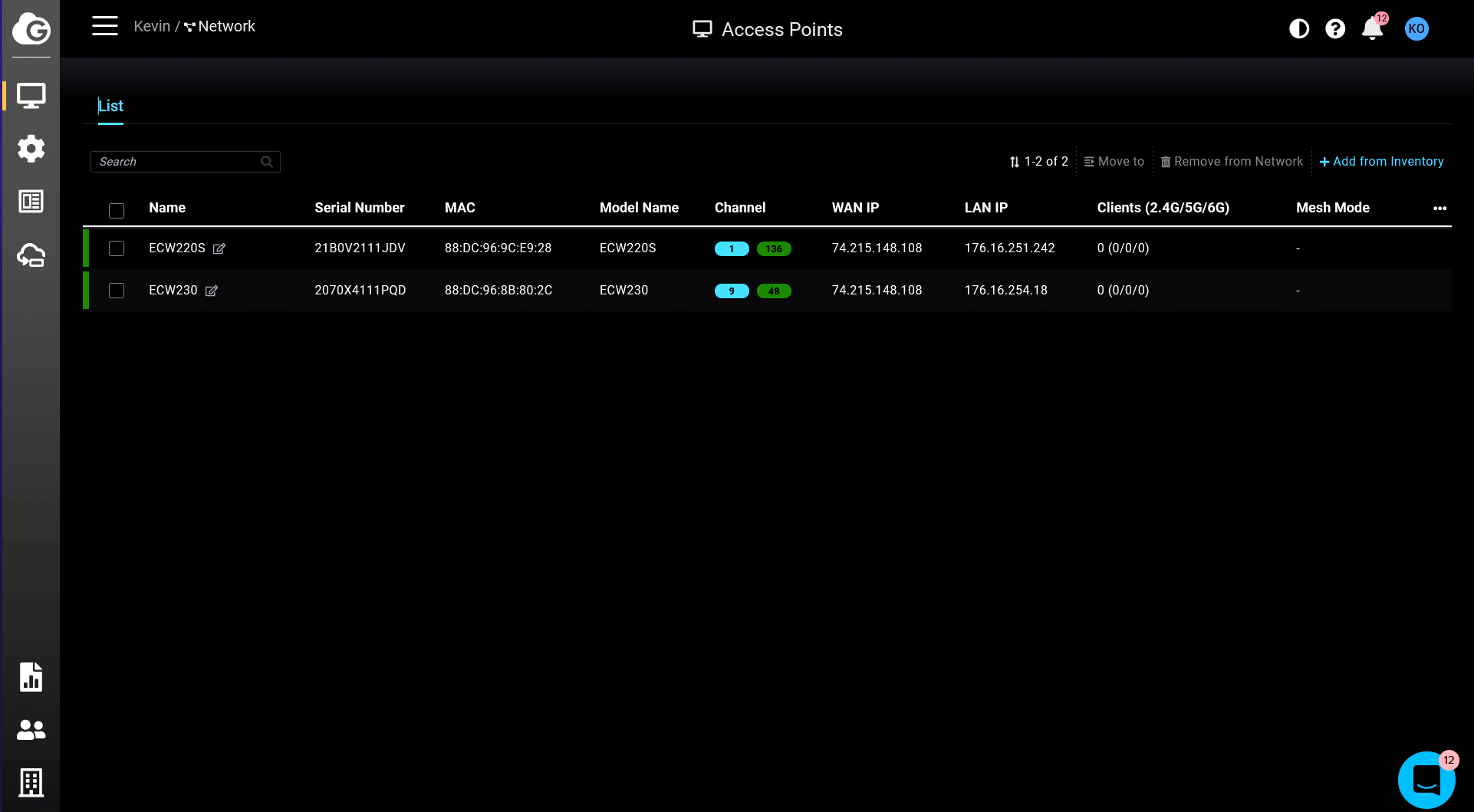 The SSID Settings can also be quickly and easily managed. Here is where you can easily enable or disable a specific SSID as well as the radios from the SSID. The security type is also able to be changed between WPA2 and WPA3. There are also options for a Bandwidth Limit, a schedule for the SSID, and an Access Control list for blocked or allowed devices.
The network Topology page is a really cool and interesting page that not many other providers have when it comes to a real-time topology diagram. This graphic shows the current layout of the network as it traces all the way back to the Internet with a status color next to each device to show whether they are online or not. There are also colored lines to show the connection type between the devices to show if they are PoE, trunked, etc. In our case, our topology is quite small, however, in larger environments, there is the ability to zoom in and view the device individually.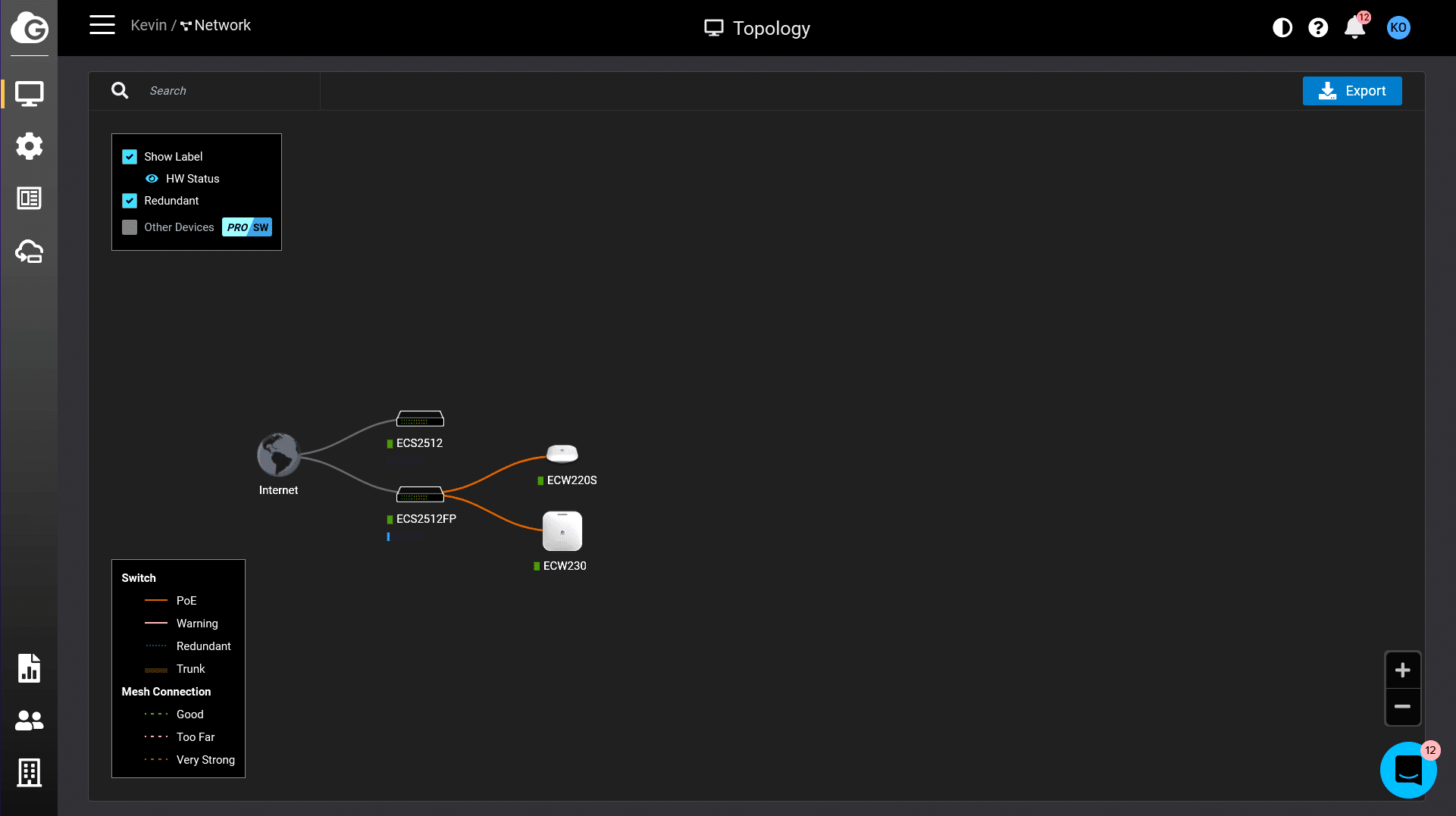 The topology diagram can also be filtered down to help clear up the clutter if there is a large environment. You are able to unclick the show labels for hiding the device name and HW status of each device. The topology is also able to be exported via a PDF if you want to print it out to have an offline copy to view.
Conclusion
The EnGenius Cloud line of devices have provided organizations with quick deployment of easy-to-use devices as well as powerful configuration options for each device that is cloud-managed. The biggest takeaway of these EnGenius devices is the subscription-based cloud-service EnGenius cloud software that can be accessed via a web browser or the mobile app for IOS and Android. This comprehensive management software is straightforward to set up and use, all it requires is online signup and then creating a network to view all your devices on. To view more information about the EnGenius cloud service, you can visit the website here.
The EnGenius ECS2512 was one of the first new models in EnGenius' new generation of cloud-managed switches for enterprise-grade networking. These switches were designed for mid to larger business environments and one of the more prominent features is the ability for them to scale proportionately as networks grow giving them a ton of flexibility for any type of business. The ECS2512 is a multi-gigabit switch that comes configured with eight 2.5 gigabit ports that can automatically detect network speeds and adjust accordingly. Unforatenly, the ECS2512 doesn't offer PoE capabilities, however, the sister model, the ECS2512FP does for those that might need the extra capability.
The EnGenius ECW220S is a solid mid-size WiFi 6 indoor access point that aids in the overall capabilities of wireless networking for any indoor environment. The ECW220S is reported to be able to push speeds of up to 1,200Mbps (5GHz) and up to 600Mbps (2.4GHz) along with a 1GbE for a wider throughput and 48V PoE interface. To note, the ECW220S doesn't come with a power adapter as most environments will have the PoE ability, and in our case, we did use the ECS2512FP to power it to establish an EnGenius ecosystem. The ECW220S was very easy to set up and after a few minutes of booting and connecting to our network, it was ready to go.
Overall, both the ECS2512 and the ECW220S were solid additions to the cloud-managed line of devices produced from EnGenius and will make a great addition to any EnGenius ecosystem that is being set up. To remember although, the ECS2512 doesn't have PoE capabilities but the ECS2512FP does, so the ECS2512 might be better as a secondary switch rather since EnGenius access points prefer PoE. Besides that, both the ECS2512 and the ECW220S would be good for an EnGenius-based network. Plus they've launched several new switches and APs, so there's something in the portfolio for just about everyone.
Engage with StorageReview
Newsletter | YouTube | Podcast iTunes/Spotify | Instagram | Twitter | Facebook | TikTok | RSS Feed