Earlier this year, Dell Technologies launched a new storage array line, PowerStore, geared to contend in the highly competitive midrange storage arena. PowerStore was designed to not only meet today's storage needs, but also be compatible with the new ways in which storage is consumed, supported, purchased, and managed in the future. To get a better idea of how this storage array line has radically simplified these processes, we brought a PowerStore into our Midwest testing lab. In this article, we'll first delve into some points about this array and then go over the hands-on work we did with it.
Earlier this year, Dell Technologies launched a new storage array line, PowerStore, geared to contend in the highly competitive midrange storage arena. PowerStore was designed to not only meet today's storage needs, but also be compatible with the new ways in which storage is consumed, supported, purchased, and managed in the future. To get a better idea of how this storage array line has radically simplified these processes, we brought a PowerStore into our Midwest testing lab. In this article, we'll first delve into some points about this array and then go over the hands-on work we did with it.
Read More – How it Works: Dell EMC PowerStore Cluster
Dell designed the PowerStore line on a clean sheet of paper to meet the demands of current-gen and next-gen datacenters, where workloads are highly virtualized and becoming more and more containerized. To reach this goal, not only did they rely on their own storage engineers, but they also reached out to VMware engineers to help with design and development.
One of Dell's goals with PowerStore was to consolidate their existing storage lines – Unity XT, Compellent (SC), XtremIO, and EqualLogic (PS) – under a single platform in order to reduce engineering and support costs while streamlining the customer purchasing process. To bring purchasing in line with today's data center needs, Dell not only offers a traditional purchasing model, but also Pay As You Grow, Flex on Demand metered usage, and short- or long-term Pay Per Use plans.
Another of Dell's goals with PowerStore was to eliminate disruptive forklift upgrades while allowing customers to continuously modernize the platform.  To accomplish this, the new Anytime Upgrade program gives customers no-downtime data-in-place upgrades to either next-gen controllers or "next-gen plus one model up."   For those who need more capacity, the Anytime Upgrade Scale-out option will add another unit.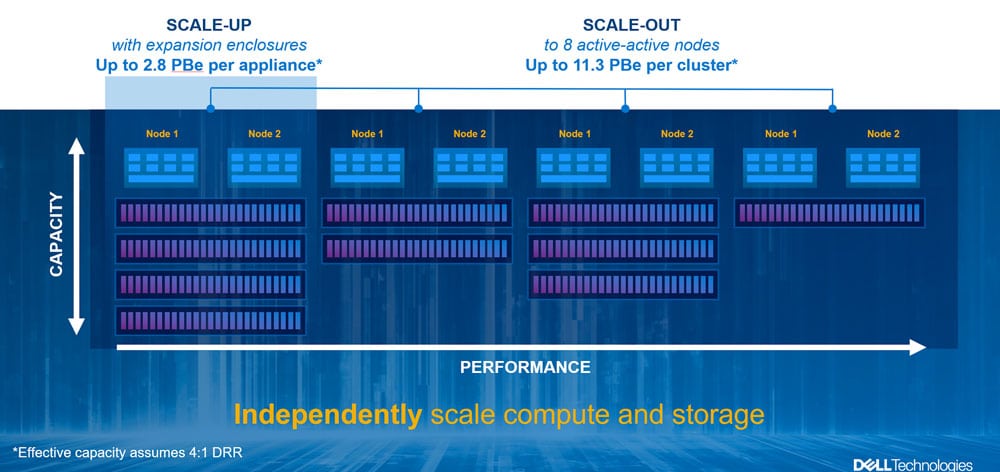 The PowerStore line is currently comprised of five different models: 1000, 3000, 5000, 7000, and 9000. You can see the full spec sheet on the PowerStore family here. All the base and expansion enclosures come in a 2U form factor. The base unit holds up to 21 2.5" NVMe drives, four NVRAM modules and can have up to three expansion enclosures attached to them, each of which is capable of housing up to 25 2.5" SAS drives. The base enclosure has four Intel Xeon Scalable CPUs with 32 to 112 cores that run at between 1.8 to 2.1 GHz, and support 384 to 2,560 GB of RAM. A fully configured appliance with three expansion enclosures has a max raw storage capacity of a touch under 900TB. There can be up to four appliances per cluster for a raw capacity of 3.59 TB. The appliances currently support Ethernet and Fibre Channel for connectivity with NVMe-oF on the road map. Each appliance can have up to 16 x 16/32Gbit/s Fibre Channel ports or 24 x 10Gbase-T iSCSI or 24 x 10/25GBE iSCSI ports with an overall appliance port count of 24.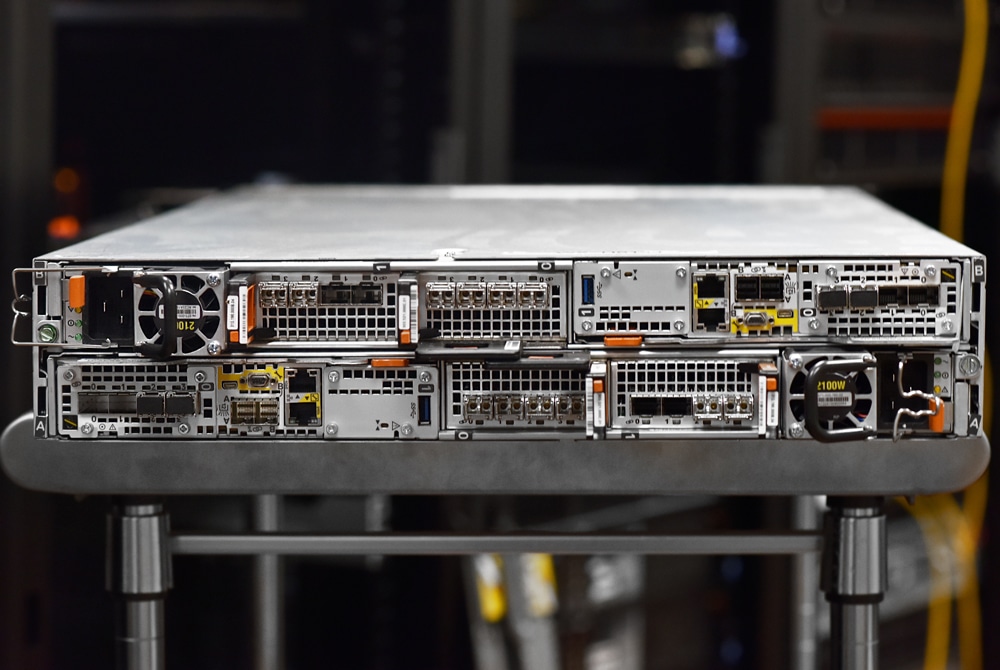 For data efficiency, Dell guarantees a 4:1 inline data reduction ratio. Using that 4:1 ratio, and factoring in the efficiency of their Dynamic Resiliency Engine (DRE) protection and performance architecture, it comes to an impressive 2.8 PBe usable space per appliance and 11.3 PBe per cluster.
As the PowerStore line was a clean-sheet design, Dell was able to use the latest technologies to boost the system's performance, including dual-ported Intel Optane NVMe SSDs. These devices have a direct path to the CPU, thereby greatly reducing their latency.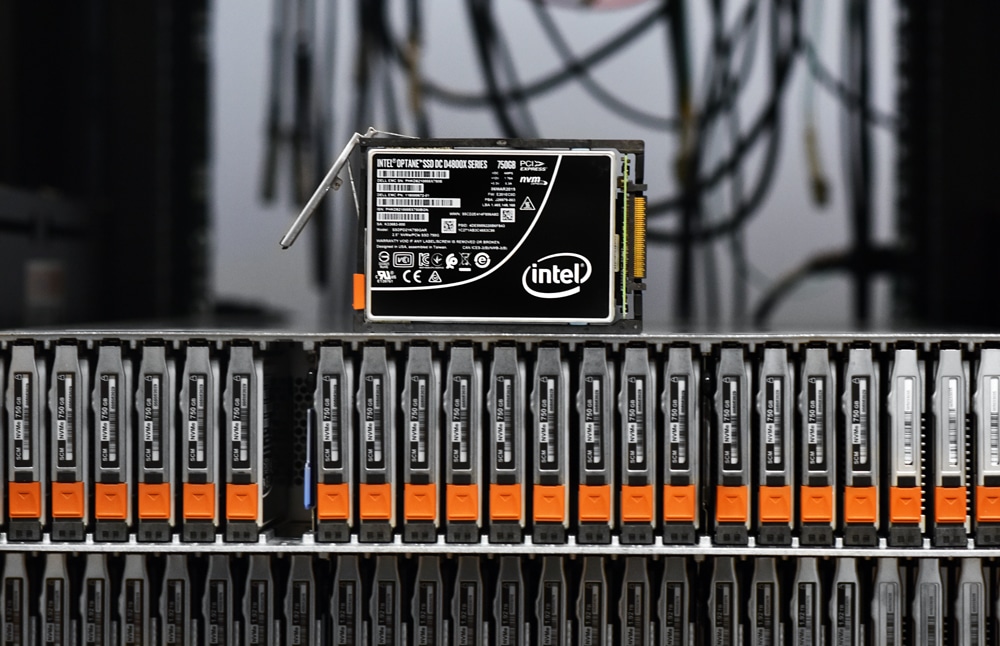 The hardware on these devices is beefy enough to handle demanding workloads, but what really sets the devices apart is their software. Dell has baked a lot of intelligence into its software and made them ready for the latest datacenter technologies, while at the same time greatly simplifying day-to-day operations.
Given their years of experience in writing storage software, Dell was able to automate monotonous day-to-day administration tasks, such as volume placement, load balancing, and migration of data.
About two years ago, we wrote a review of Dell EMC CloudIQ and were duly impressed with how intuitive it was to use and the value that it brought to the datacenter. It uses predictive analytics to detect patterns and trends to identify what is normal for a particular system, and then to alert operators when it detects anomalies that are either currently causing, or could potentially cause problems in the future. We were glad to see that Dell has included CloudIQ with its PowerStore offering.
The programmatic deployment of resources is mandatory to keep pace with the scale and complexities of today's datacenter. To this end, PowerStore services can be provisioned via many different technologies including Ansible (Ansible Module), Kubernetes (CSI Driver), and VMware (vRO Plugin).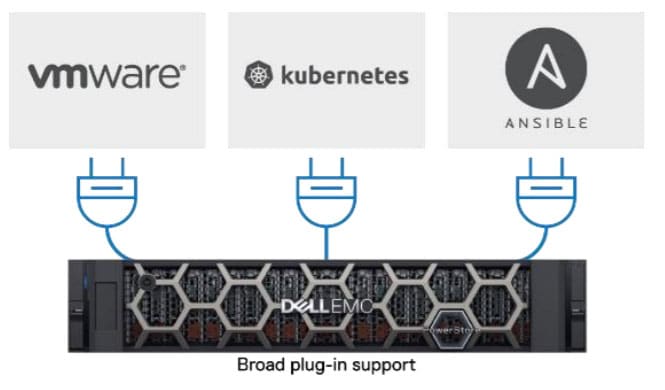 PowerStore can be deployed in two different modes: PowerStore T, which runs PowerStoreOS on the bare hardware, or PowerStore X, a hypervisor-enabled mode that installs VMware ESXi on it. By using AppsON VMs, including PowerStoreOS, certain virtualized applications can run directly on PowerStore.  VMs running on PowerStore X are managed using the vCenter Server, just as are any of the other VMs. Although PowerStore X is fascinating, and we are intrigued by the idea of storage with compute (as opposed to compute with storage), we initially deployed PowerStore T in our lab.
When installing PowerStore, you have the option to install it on one of three different modes, each of which has different capabilities.
| | | | |
| --- | --- | --- | --- |
| Mode | External Block Access | External File Access | AppsON Functionality |
| PowerStore T model: Unified | Yes | Yes | No |
| PowerStore T model: Block Optimized | Yes | No | No |
| PowerStore X Model | Yes | No | Yes |
This all leads into PowerStoreOS, which is unlike any other array control plane we have worked with, as it uses a container-based software architecture. By going this route, different software components can be separated out as modular microservices, and individual services can be updated or added without having to be replaced, and, more importantly, without disrupting the entire array.
Dell EMC PowerStore – Day Zero
Our day zero investigation of PowerStore covered everything from unboxing and cabling the unit, up to creating and presenting an iSCSI volume on it. For our hands-on investigation, we used a PowerStore 5000 that had 32Gb FC x 4 and 25Gb Ethernet x 4 ports per controller. It had 21 750GB NVMe Optane SCM SSDs and four NVRAM I/O modules. We deployed it as a PowerStore T unit with unified storage.
The appliance was, to be expected, very well packed in a heavy-duty cardboard box. After unpacking it, we attached it to our network using FC and Ethernet, and then plugged each of its two power supplies into a UPS protected power source. We directly attached a CAT6 cable from our laptop into the service port on the array and used a web browser to go to https://128.221.1.250. We then logged in to the PowerStore Manager as Admin.
From the PowerStore Manager, we were presented with a configuration wizard that let us name the cluster and choose if we wanted a Unified (block and file) or Block Optimized system. We selected Unified and then configured management and storage networking.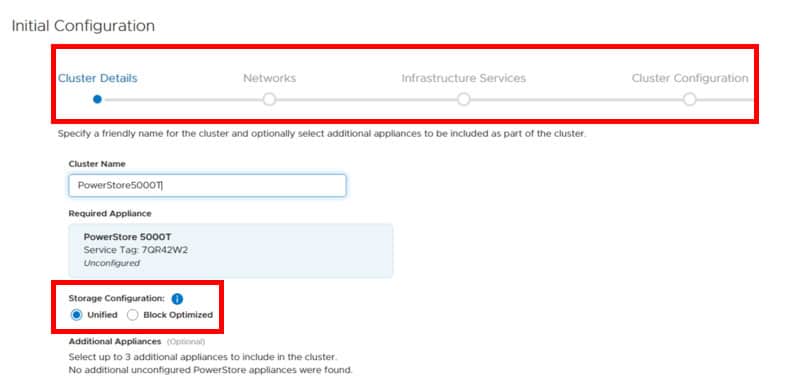 The next step was the configuration of the management, iSCSI, and storage networking.
After we did the initial configuration, the cluster configured itself. This process took a while, but it did display the status while it was installing.

It then installed NAS services.

We were then given the option to enable SupportAssist, which has many different benefits, including CloudIQ.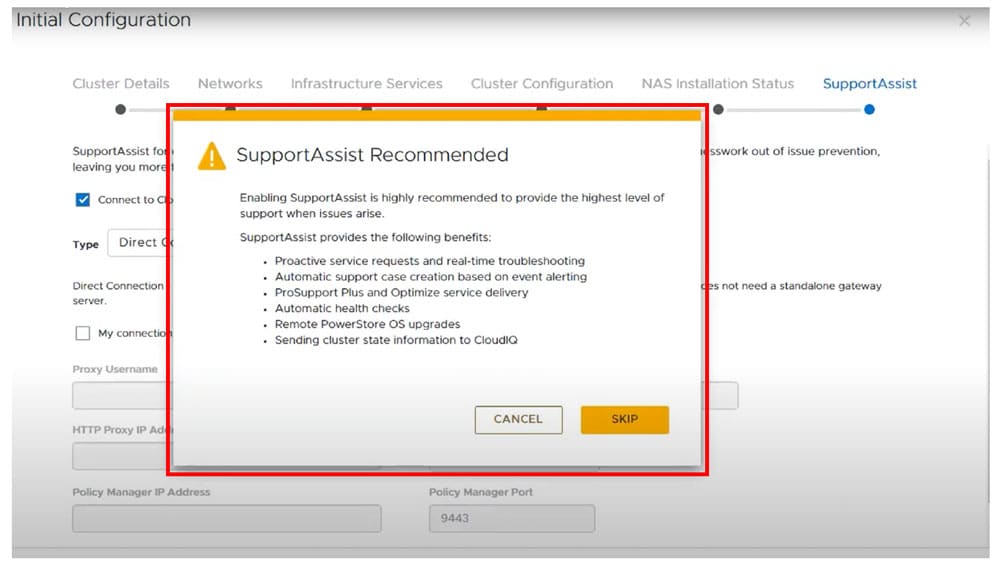 We were then informed that the system was fully installed and activated, and was given the IP address for the PowerStore Management interface.
All-in-all, it only took seven interactions with the management interface to fully configure and initialize the system.
We then disconnected our laptop from the service port on the device and plugged it into our standard network. We entered the IP address of the PowerStore Manager and logged into it, which then displayed a system overview dashboard.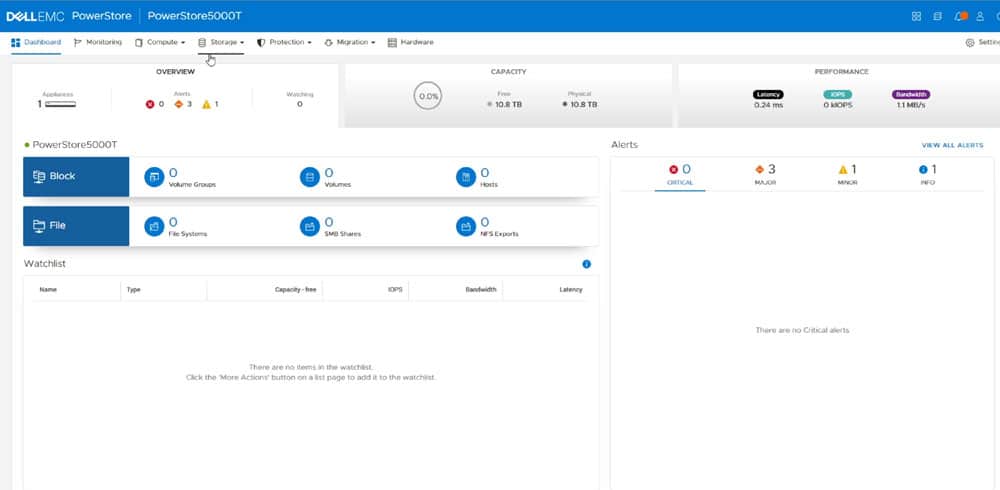 We clicked the Host tab, and then Add Host, and added an ESXi host to the system.

The system automatically discovered our Fibre Channel network and let us select the initiators we wanted to use.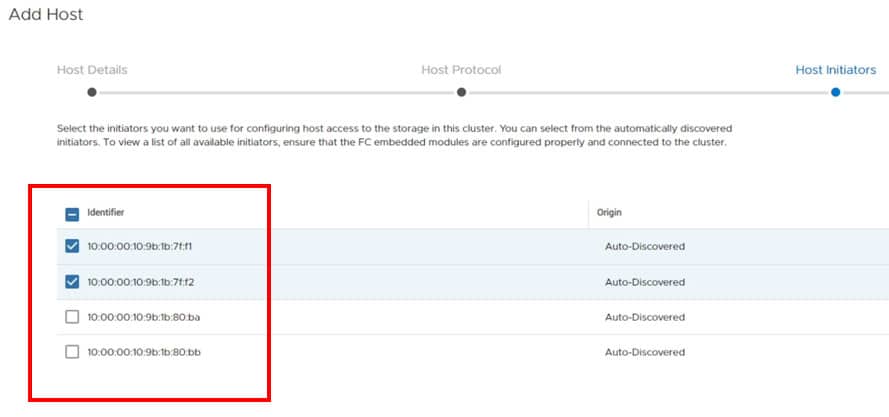 We set up storage for the ESXi host by selecting the Storage tab, then Create. The configuration panel lets us specify the name, size, and protection/performance policies of the volume that we were creating.

After we selected the ESXi host that we wanted to use, the volume was created.

Dell EMC PowerStore Database Migration
After we had our PowerStore setup and configured, we wanted to see how easy it would be to migrate existing storage over to it. To test this, we imported a volume from a Unity array that was being used by an SQL Server over to our PowerStore system. Although PowerStore systems can perform data migration from different technologies – including Storage vMotion, VPLEX, PowerPath, and even Linux LVM – we used Native PowerStore Tools.
Native PowerStore Tools, which is included with PowerStore systems at no additional cost, allows you to automate storage migration from Unity, SC Series, VNX Series, or PS Series storage. The entire migration process is completed via the PowerStore interface. The PowerStore system automatically discovers other storage sources on your network, and then walks you through the workflow to import storage from them.
We brought up the PowerStore interface and selected Import External Storage from the Migration drop-down menu, and then selected the Unity volume that was visible from the Unity we connected.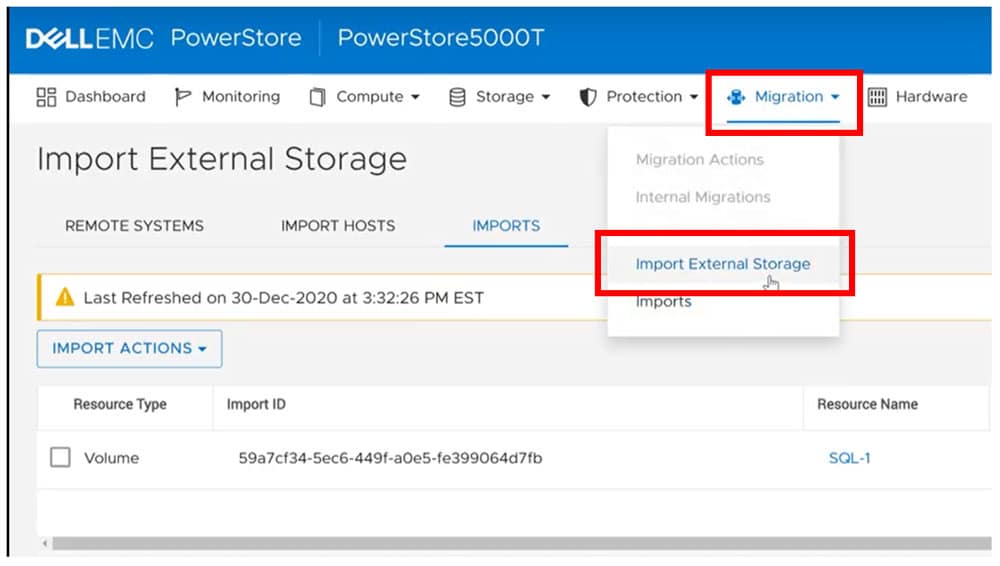 After selecting Import Storage, we were presented with a wizard that had a workflow diagram displayed at the top of it; we found it helpful to see where we were in the import processes. One of the steps had us select the hosts that we wanted to map the storage too.

After we completed all the steps, we reviewed our settings, and then clicked Begin import.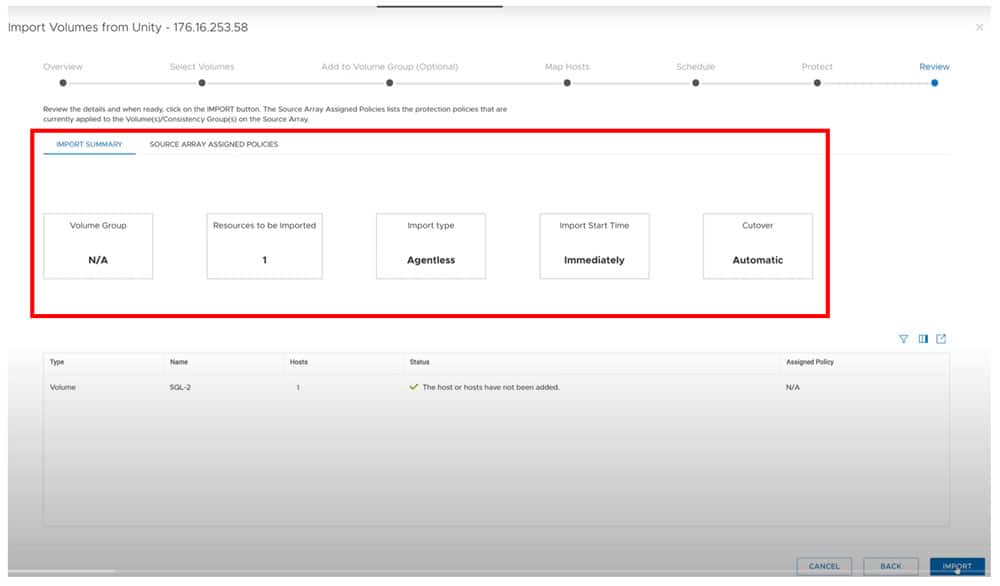 While the migration was in progress, we logged on to the virtual machine (VM) that was hosting the SQL database. Then, we took the database that was using the volume offline, removed the drive that was using the device, added the PowerStore volume to it, and then brought the database back online. This process took us about 30 seconds, during which time the storage migration was not interrupted.
We viewed our migration's progress by selecting Imports from the Migration drop-down menu and then clicking the state field of the migration. A details panel popped up on the right side of the interface which showed the status, estimated completion time, and transfer rate of the job.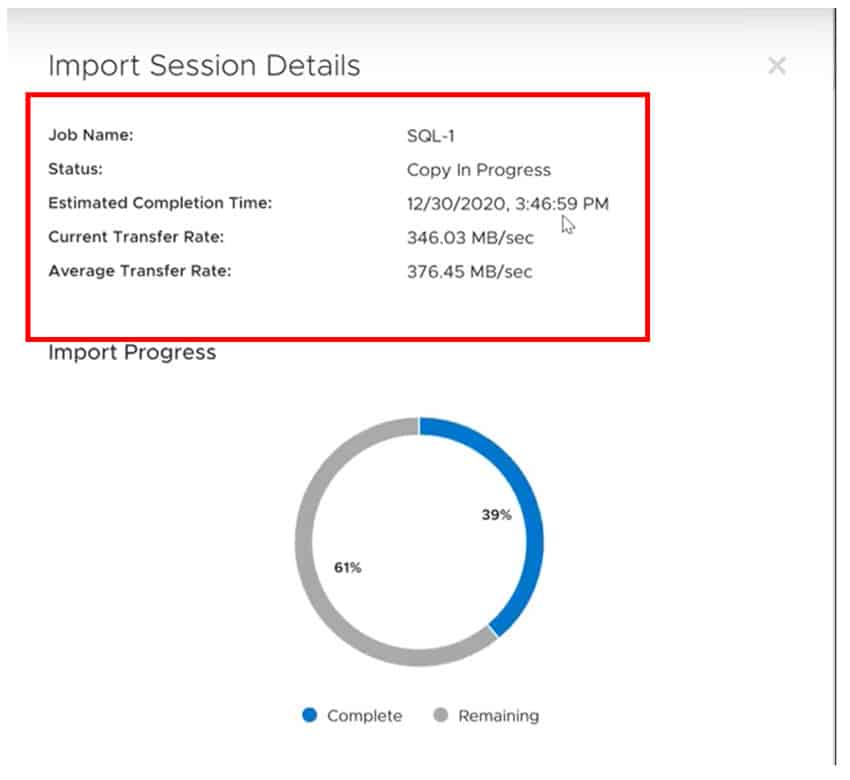 We could have canceled or paused the job using the Import Actions drop-down menu.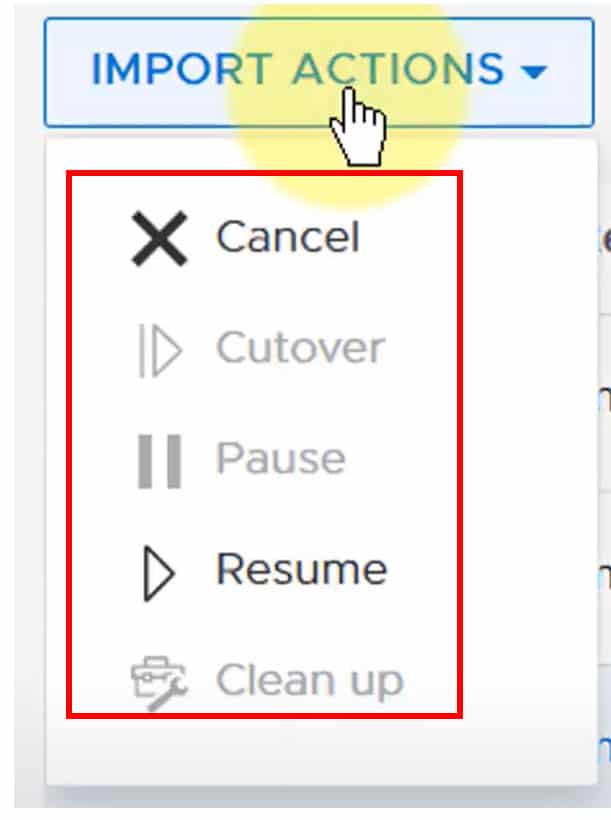 During the migration, the PowerStore Orchestrator automatically created a new volume, moved the data, and preserved all the host mapping to it.
As this migration was directly from the PowerStore array, we didn't see any increase in resource consumption on our ESXi servers. This is actually quite a benefit to data centers that want to run their compute servers at maximum efficiency.
We didn't have any disruptions during our migration, but if we had, the migration would have been canceled and rolled back.
Conclusion
Dell made the right choice to start with a clean slate when designing the PowerStore line of storage arrays. By doing this, they could use the latest hardware (including dual-ported Intel Optane SSDs), which increases reliability and decreases latency, as well as the latest technologies like containerization for PowerStoreOS which creates the ability to add, update, or upgrade the array in a non-disruptive manner.
In our hands-on testing, we found that we could set up the array in only seven clicks, and then get usable storage for our vSphere environment with just a few more. We were then able to import the database from an SQL server that was being stored on Unity to PowerStore all from the PowerStore interface with a minimal amount of clicks.
If you want some hands-on-time with PowerStore, Dell has set up a Hands-on Lab and Interactive demo for it. You can also see more information about PowerStore systems here.
Learn more about PowerStore in an Infographic!
How it Works: Dell EMC PowerStore Cluster
This report is sponsored by Dell Technologies. All views and opinions expressed in this report are based on our unbiased view of the product(s) under consideration