Netgear has added a new, multi-gigabit PoE++ unmanaged switch to its lineup of networking products that can be an excellent, low-cost choice for many business environments. The Netgear MS108UP Ultra60 Multi-Gigabit PoE++ Unmanaged Switch provides power and networking for up to 60W of power at 2.5G of network bandwidth.
Netgear has added a new, multi-gigabit PoE++ unmanaged switch to its lineup of networking products that can be an excellent, low-cost choice for many business environments. The Netgear MS108UP Ultra60 Multi-Gigabit PoE++ Unmanaged Switch provides power and networking for up to 60W of power at 2.5G of network bandwidth.
Key Benefits of the Netgear MS108UP Ultra60 Multi-Gigabit PoE++
The Ultra60 Multi-Gigabit PoE++ Unmanaged switch, providing 60W of Power Over Ethernet over half of its ports, allows simplified wiring, requiring only the Cat5e or better network cabling to your devices; thereby eliminating the need for additional wiring for power.
This works very well for WiFi access points, IP security cameras, IP Phones, PoE-powered LED lighting, IP Speakers, etc., which support power over ethernet. Also, the greater bandwidth allows for more network-intensive applications such as live streaming, as well as NAS and computer connectivity.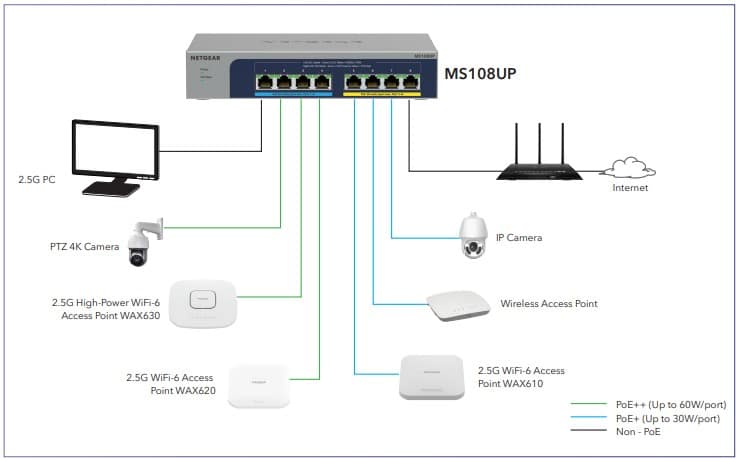 Being an unmanaged switch, that simplicity eliminates the need for network administration and configuration. That simplicity is extended by having Power-Over-Ethernet capabilities that greatly simplify the physical infrastructure needs for the deployment environment. The fanless design means it can be deployed in almost any business environment without special ventilation requirements.
In addition to those simplicity features above, the MS108UP Ultra60 Multi-Gigabit PoE++ Switch is energy efficient, automatically reducing the power needed on ports when needed. This is provided on 4 PoE+ ports that supply up to 30W/port, and 4 PoE++ ports that supply up to 60W/port, for a total of 230W total PoE budget. All 8 of those ports provide up to 2.5G speed in a non-blocking switching architecture, giving virtually no congestion with full duplex mode.
All of the above comes with a limited lifetime warranty that includes next business day replacement, as well as online technical chat support.
This unit is available now with a street price of $384 at Amazon.
Hardware Overview
As shown below, the front of the switch has 8 ports: 4 at 60W in blue, and 4 at 30W in yellow.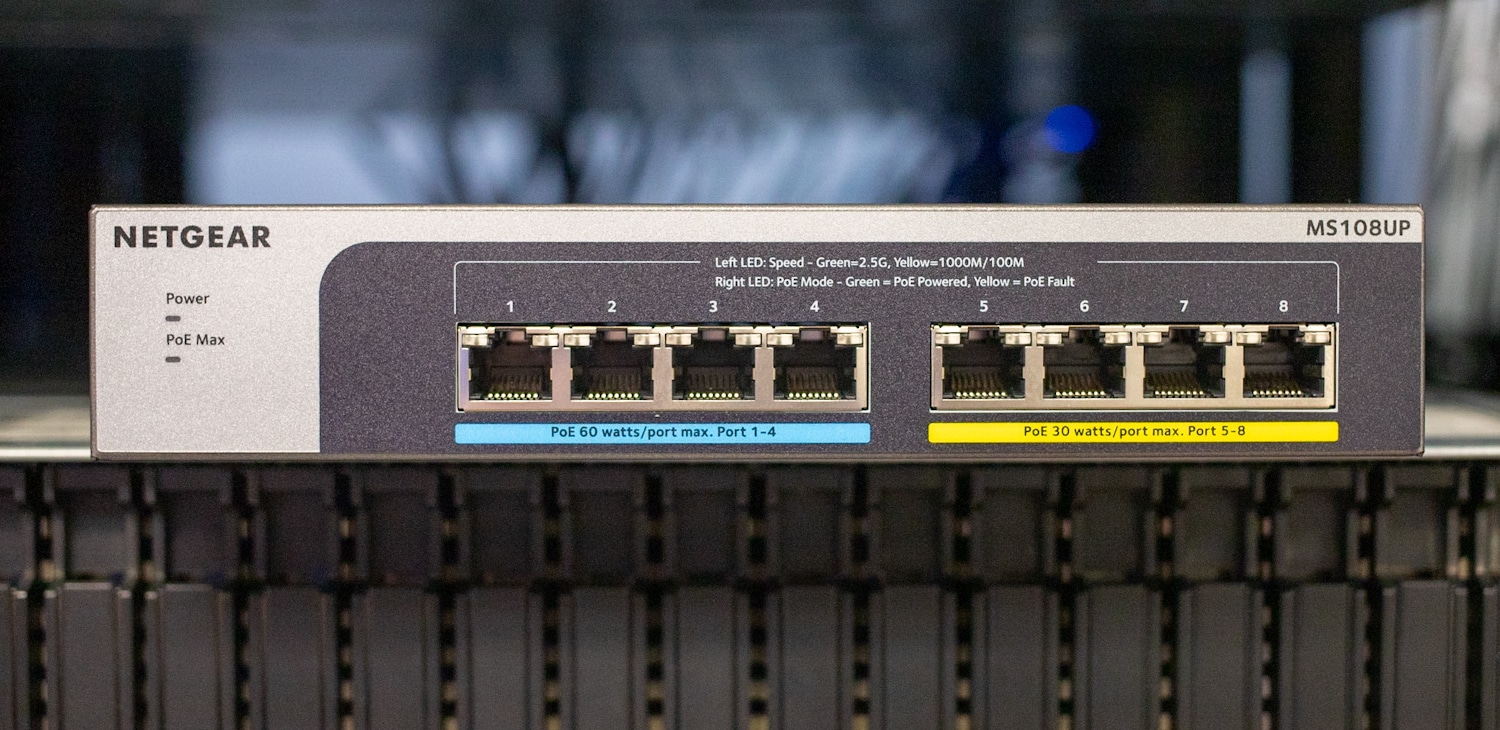 On the back of the switch is the power connection, ventilation, and a slot for a cable lock for security.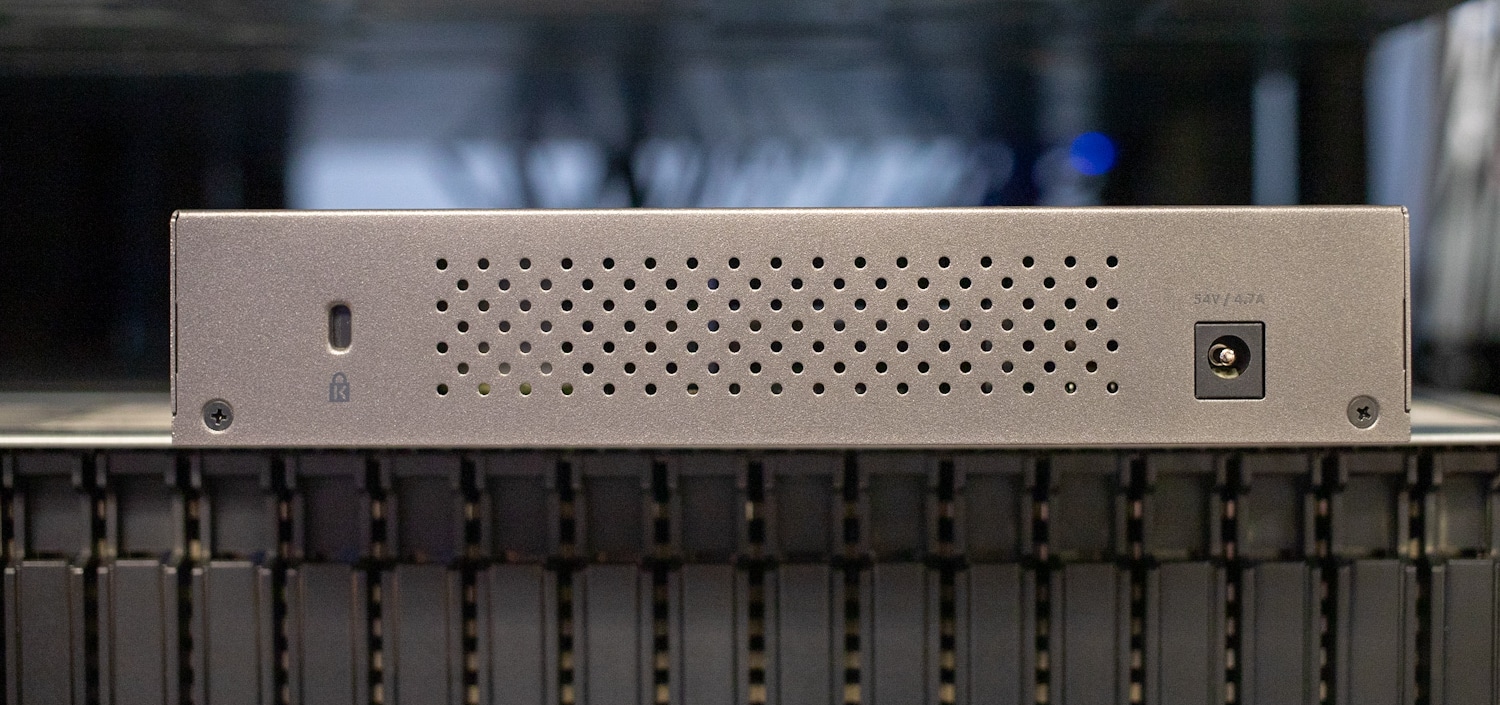 The side view has no significant features.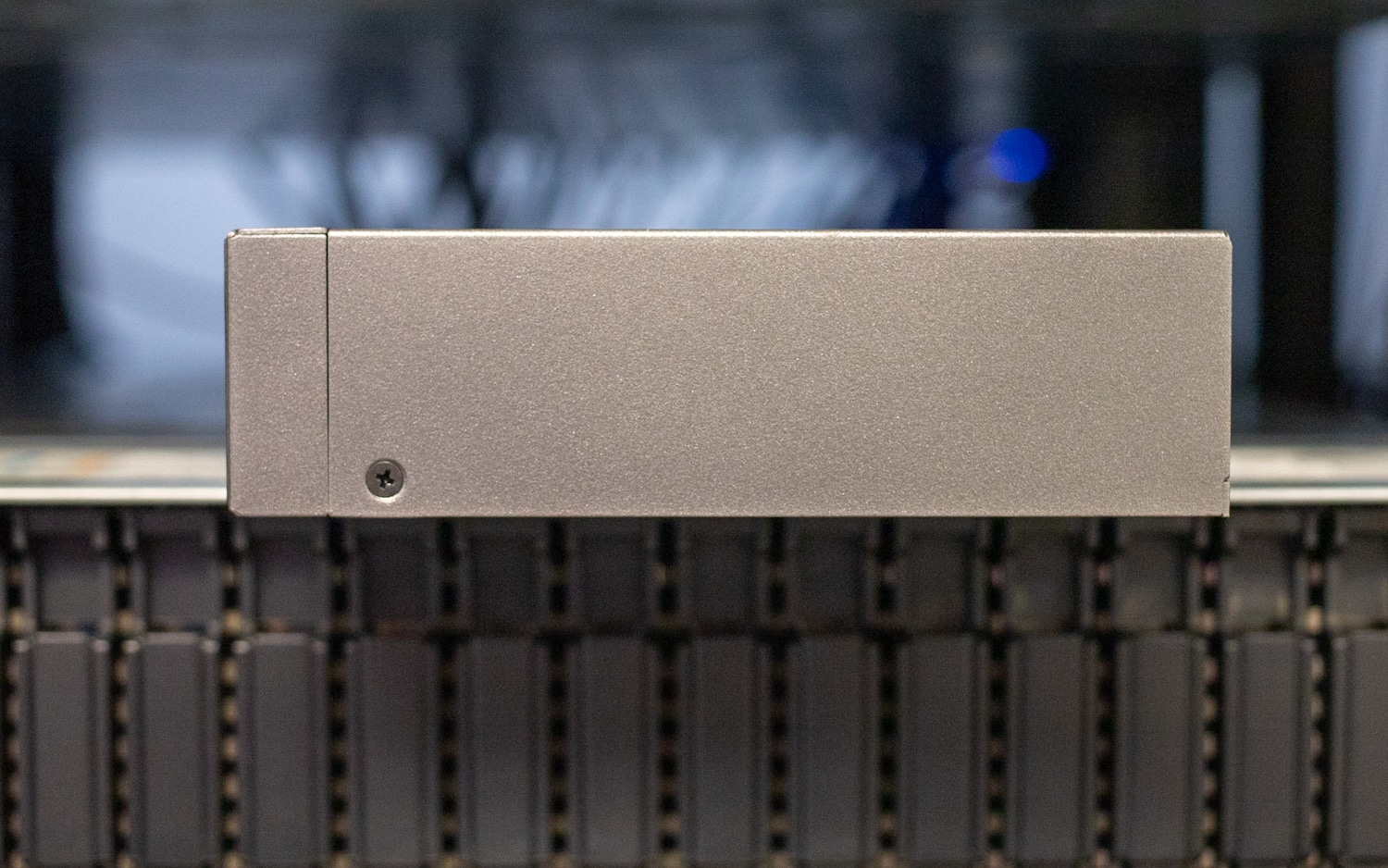 Based on these images, the MS108UP switch will fit very nicely in any small environment, and can be placed on a desktop, shelf, or mounted to a wall. The fanless design will make it very quiet and suitable for close environments.
Specifications
Physical Dimensions (W x D x H): 8.27in x 5.51in x 1.58in
Weight: 1.99 lbs

Multi-gigabit copper ports : 

8 (1G/2.5G)

Number of PoE+ (802.3at) ports : 

4

Number of PoE++ (802.3bt) ports : 

4

Total PoE Power budget : 

230 Watts

Uninterrupted PoE : 

Yes

Max MAC entries : 

16K

Buffer size : 

1.5MB

VLAN (Number Supported) : 

64

EEE : 

Yes

DoS Prevention : 

Yes

Internal/External PSU : 

External

Max power (worst case, all ports used, line-rate traffic) : 

230W

Fans : 

0

Acoustic Noise Level @25C : 

Fanless

Operating Temperature : 

0° to 40° C (32 to 104F)

MTBF : 

373,643.7 hrs (42.6 yrs)
The full data sheet can be found here: Netgear MS108UP Data Sheet
Security Monitoring
One of the primary uses for these Power Over Ethernet switches is to enable monitoring the physical security around a premises. By simplifying the wiring for power and networking it is much easier to place multiple security alarms and IP cameras without requiring expensive power outlet runs.
The 2.5G speeds should allow for better capability to capture higher definition video as well – allowing for 4K and possibly even 8K video. With an attached NAS device, the 2.5G networking speeds and non-blocking switching architecture are a great solution for capturing the streamed video to storage.
In addition, this switch is a great solution for attaching PoE-enabled Thin Client video displays, which are often used for live monitoring of video streaming from those security cameras placed around the premises.
Extending and Improving WiFi 6 Network Performance
In larger environments, where WiFi connections are needed but coverage needs to be extended significantly without any signal degradation, this PoE++ switch is an excellent solution. WiFi 6 access points, such as the Netgear WAX615, WAX630, and WAX630E, previously reviewed here at StorageReview.com, can be more easily located wherever needed.
The simplified wiring requirement for power and networking enables excellent connectivity without WiFi signal drop-off. Also, having 2.5G/port speeds enables enterprises to extend their WiFi networks without sacrificing overall throughput.
As shown below, the networking cable is all that's required to provide both power and network connectivity with the MS108UP. In this type of environment, businesses with a lot of traffic flowing through multiple APs maybe need to consider a model with a 10Gb uplink.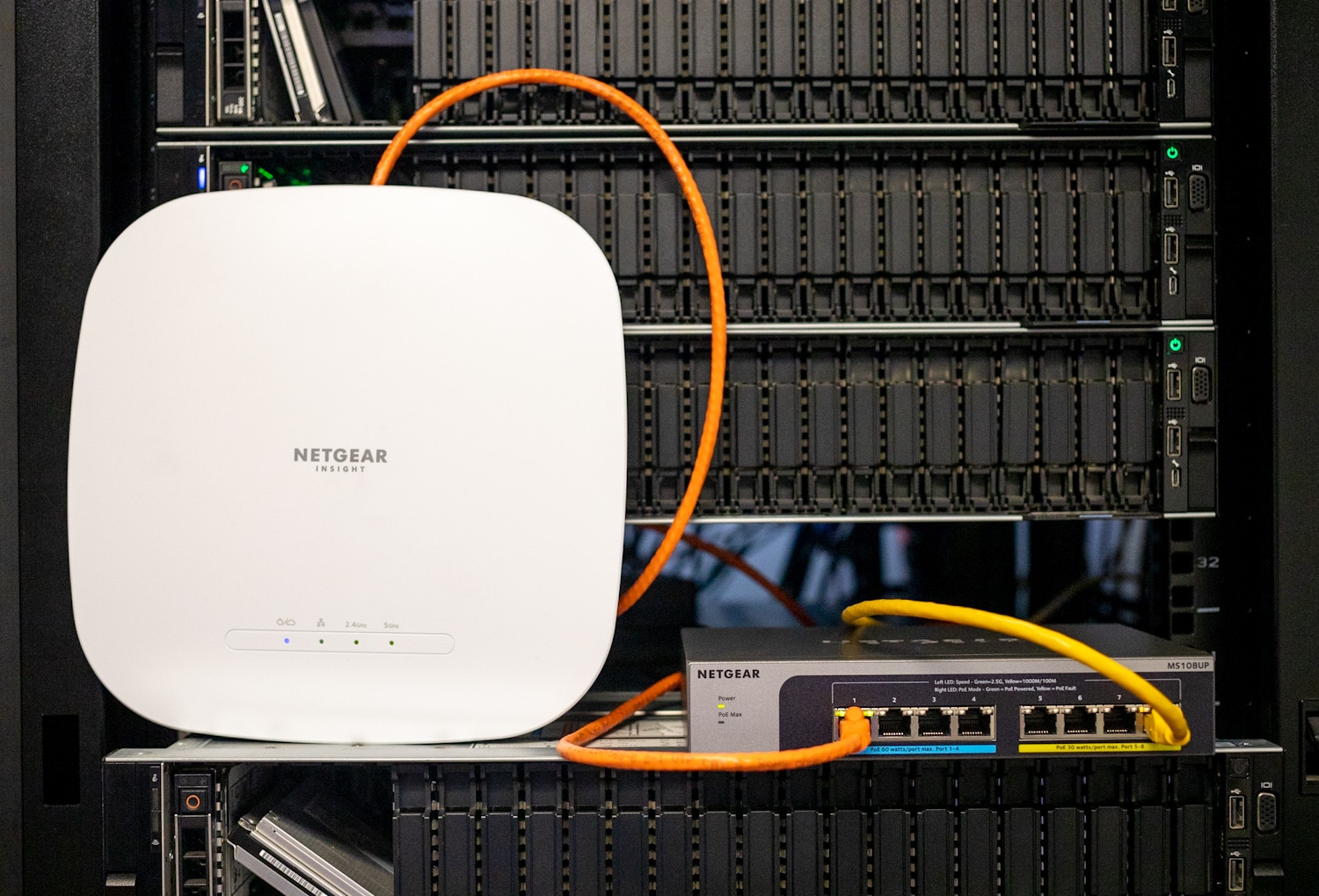 Unparalleled Small Environment Connectivity
The speed of the MS108UP enables high performance for many smaller environments. This is ideal for connecting VoIP phones, video IP phones, Point-of-Sale (POS) devices, office computers, network storage, and even Smart Lighting systems. This switch also enables connecting digital signage and thin client video displays, which can be useful to attract and communicate with customers.
Unmanaged Means Uncomplicated
Although the PoE features are great for simplifying cabling in any environment, that simplicity doesn't end there. As an unmanaged switch, the MS108UP provides all of the features mentioned above without requiring networking expertise to set up and maintain.
By not adding management complexity to the infrastructure, many businesses will enjoy all of these benefits with lower costs – both in terms of the cost of the switch itself, as well as the cost of managing the network.
Parting Thoughts
The MS108UP is ideal for installations requiring increased bandwidth while also providing simplified wiring and management. Although the lack of any significant management and configuration may limit its usefulness for some enterprise environments, it is ideal for many offices, and at a price-point that makes it attractive.
In fact, at less than $400, the Netgear MS108UP Ultra60 PoE++ Unmanaged Switch is attractive enough for even some home environments. Overall in our lab, the switch just sits in the background doing its job without any need for babysitting, which at the end of the day, is all Netgear is trying to do.
Further information can be found on the Netgear MS108UP product page.
Additional information on Network Attached Storage (NAS) can be found in our NAS Storage Reference Guide.
Engage with StorageReview
Newsletter | YouTube | Podcast iTunes/Spotify | Instagram | Twitter | TikTok | RSS Feed