With the introduction of PCIe 4.0 and several new devices that support it (for AMD processors anyway, Intel will jump in soon), we are about to see storage speed take another massive jump. While we've seen some examples on the enterprise side, now to look at client SSDs with the Sabrent Rocket NVMe 4.0 SSD.
With the introduction of PCIe 4.0 and several new devices that support it (for AMD processors anyway, Intel will jump in soon), we are about to see storage speed take another massive jump. While we've seen some examples on the enterprise side, now to look at client SSDs with the Sabrent Rocket NVMe 4.0 SSD.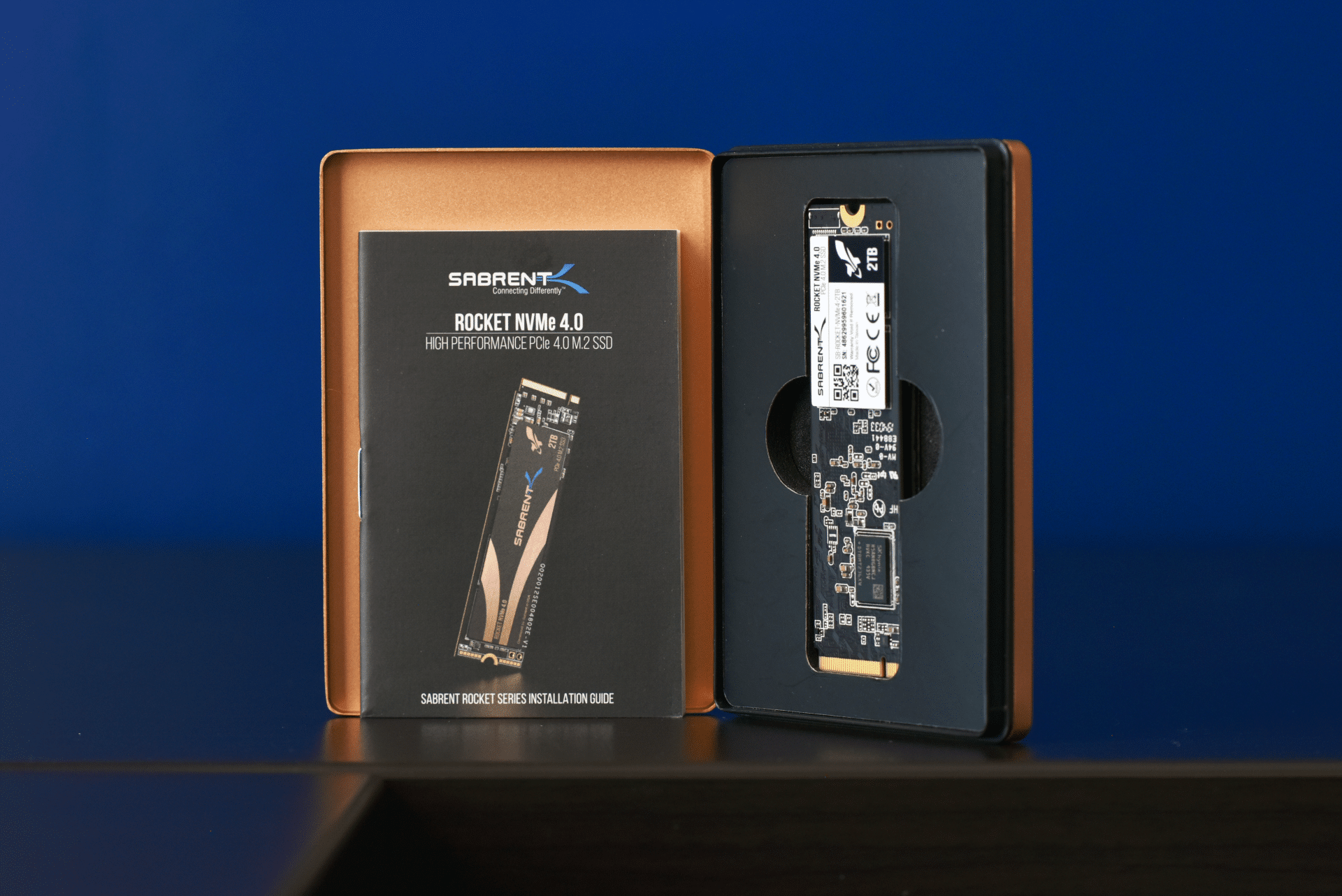 Leveraging Toshiba's BiCS4 96-layer TLC NAND and a PS5016-E16 controller, the Sabrent Rocket NVMe 4.0 SSD claims speeds as high at 5GB/s read and 4.4GB/s write with throughput as high as 750K IOPS. Of course, one would need a motherboard that supports PCIe 4. With an older motherboard the expected speeds are dropped to 3.4GB/s read and 3GB/s write, more in line with what is seen with current NVMe SSDs. The Sabrent SSB comes with some decent endurance numbers as well, 1.7 million hours MTBF and up to 3600TBW.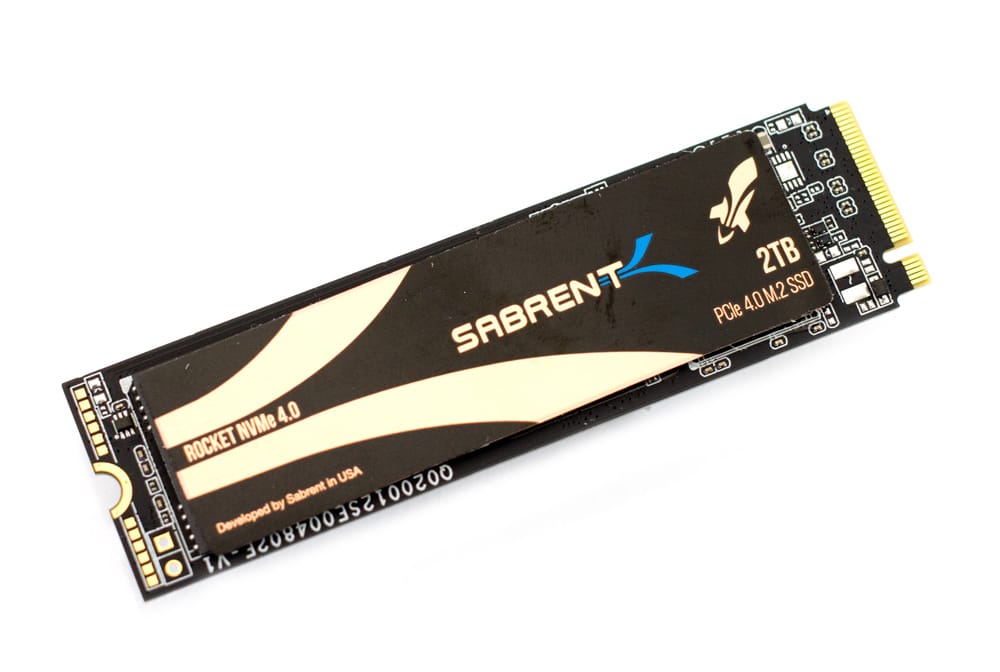 A few other things to note, there is a custom heatsink available to those that need maximum performance and don't want to worry about heat generation slowing down the drive. This heatsink is a combination of aluminum and copper and is easy to install. The drive comes in a nifty little aluminum box, that while not really adding anything to it, is still a nice touch in the design side of things. The Sabrent SSD is backward compatible with PCIe 3 motherboards.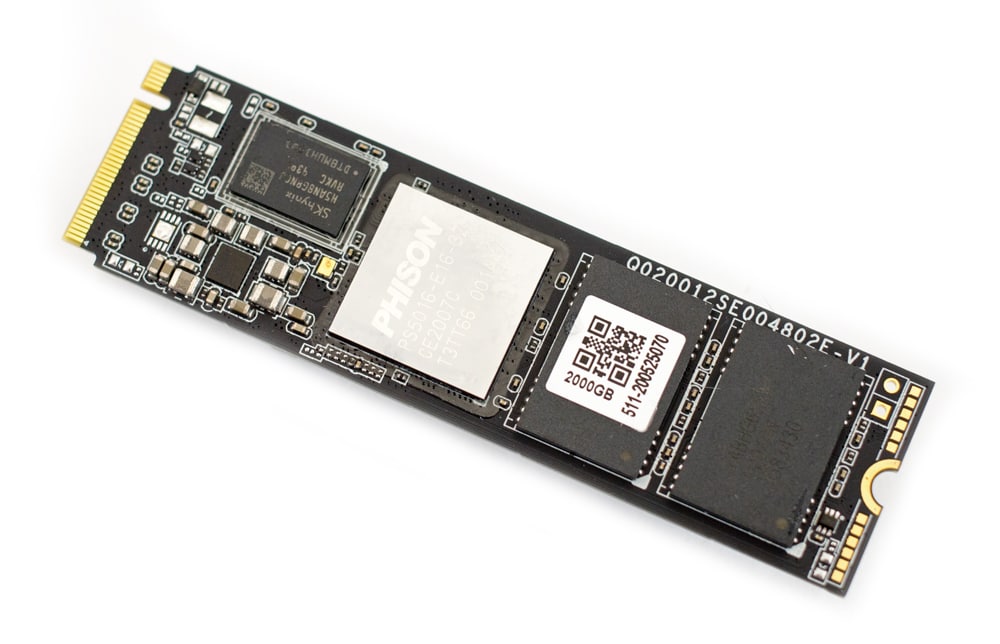 The drive comes with a 5-year warranty and can be picked up for $120 for the 500GB up to $420 for the 2TB. For this review we will be looking at the 2TB.
Sabrent Rocket NVMe 4.0 Specifications
Model
SB-Rocket-NVMe4-500
SB-Rocket-NVMe4-1TB
SB-Rocket-NVMe4-2TB
Form Factor
M.2 2280
Capacity
500GB
1TB
2TB
NAND
3D BiCS4
Controller
PS5016-E16
Interface
PCIe Gen4 x 4
Performance
Max Seq. Read
5000MB/s
Max Seq. Write
2500MB/s
4400MB/s
Random 4K Read
400K
750K
Random 4K Write
550K
750K
Endurance
MTBF
1.7 million hours
TBW
850
1800
3600
Warranty
5-year
Power
Consumption R/W
6.2/4.6
6.1/5.9
6.7/6.6
Supply
3.3V
Environment
Operating Temp.
0-70C
Storage Temp.
-40-85C
Shock Resistant
1500G
Data Correction
LDPC
Physical
Height
3.7mm
Width
22mm
Length
80mm
Sabrent Rocket NVMe 4.0 Performance
Testbed
As we migrate into testing newer NVME Gen4 SSDs, its required a platform shift in our lab to support the newer interface. Lenovo has been out in the front of the pack with PCIe Gen4 support, including up to the front-mount U.2 bays, while others still only offer edge-card support. In our Gen4 reviews we leverage the Lenovo ThinkSystem SR635 server, equipped with an AMD 7742 CPU and 512GB of 3200Mhz DDR4 memory.  NVMe is tested natively through an M.2 to PCIe adapter card in the edge-card slot, while U.2 drives are loaded in the front. The methodology used better reflects end-user workflow with the consistency, scalability and flexibility testing within virtualized server offers. A large focus is put on drive latency across the entire load range of the drive, not just at the smallest QD1 (Queue-Depth 1) levels. We do this because many of the common consumer benchmarks don't adequately capture end-user workload profiles.
SQL Server Performance
Each SQL Server VM is configured with two vDisks: 100GB volume for boot and a 500GB volume for the database and log files. From a system-resource perspective, we configured each VM with 16 vCPUs, 64GB of DRAM and leveraged the LSI Logic SAS SCSI controller. While our Sysbench workloads tested previously saturated the platform in both storage I/O and capacity, the SQL test is looking for latency performance.
This test uses SQL Server 2014 running on Windows Server 2012 R2 guest VMs, and is stressed by Quest's Benchmark Factory for Databases. StorageReview's Microsoft SQL Server OLTP testing protocol employs the current draft of the Transaction Processing Performance Council's Benchmark C (TPC-C), an online transaction-processing benchmark that simulates the activities found in complex application environments. The TPC-C benchmark comes closer than synthetic performance benchmarks to gauging the performance strengths and bottlenecks of storage infrastructure in database environments. Each instance of our SQL Server VM for this review uses a 333GB (1,500 scale) SQL Server database and measures the transactional performance and latency under a load of 15,000 virtual users.
SQL Server Testing Configuration (per VM)
Windows Server 2012 R2
Storage Footprint: 600GB allocated, 500GB used
Database Size: 1,500 scale

Virtual Client Load: 15,000
RAM Buffer: 48GB
Test Length: 3 hours

2.5 hours preconditioning
30 minutes sample period
For our SQL Server transactional benchmark, the Sabrent Rocket NVMe 4.0 had 3,160 TPS placing fifth.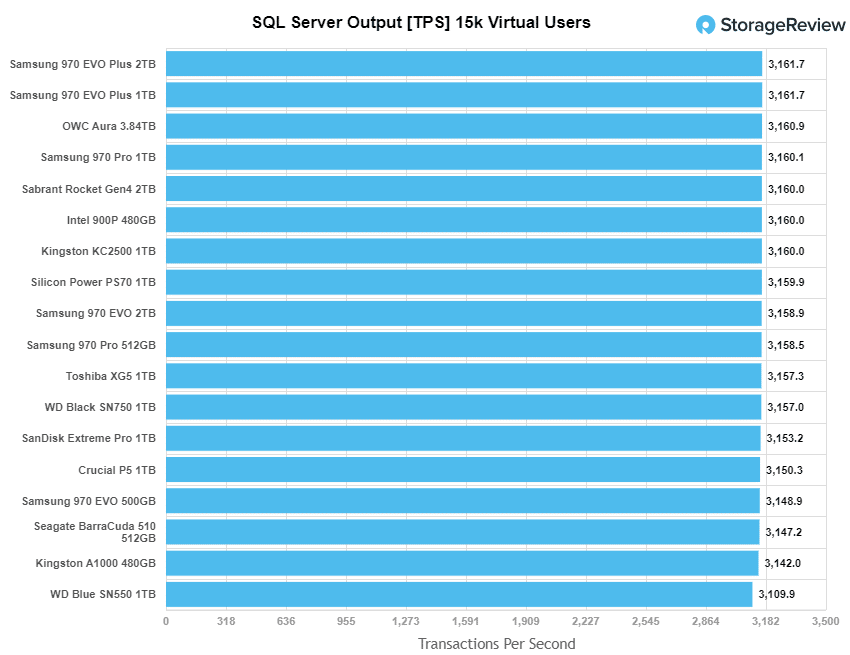 For SQL Server average latency the Sabrent had an average latency of 3ms tying for fourth.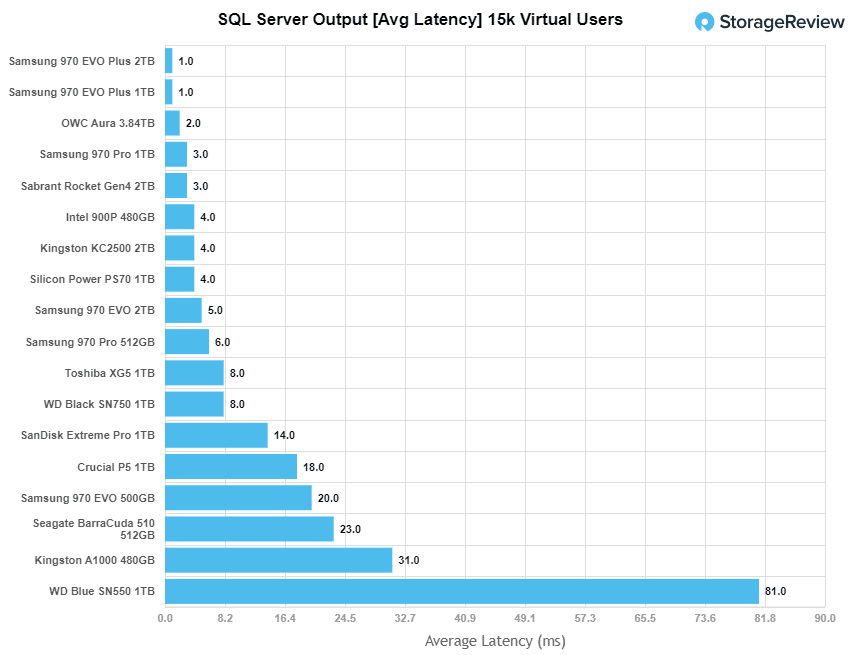 VDBench Workload Analysis
When it comes to benchmarking storage devices, application testing is best, and synthetic testing comes in second place. While not a perfect representation of actual workloads, synthetic tests do help to baseline storage devices with a repeatability factor that makes it easy to do apples-to-apples comparison between competing solutions. These workloads offer a range of different testing profiles ranging from "four corners" tests, common database transfer size tests, to trace captures from different VDI environments. All of these tests leverage the common vdBench workload generator, with a scripting engine to automate and capture results over a large compute testing cluster. This allows us to repeat the same workloads across a wide range of storage devices, including flash arrays and individual storage devices. Our testing process for these benchmarks fills the entire drive surface with data, then partitions a drive section equal to 5% of the drive capacity to simulate how the drive might respond to application workloads. This is different from full entropy tests which use 100% of the drive and take them into steady state. As a result, these figures will reflect higher-sustained write speeds.
Profiles:
4K Random Read: 100% Read, 128 threads, 0-120% iorate
4K Random Write: 100% Write, 64 threads, 0-120% iorate
64K Sequential Read: 100% Read, 16 threads, 0-120% iorate
64K Sequential Write: 100% Write, 8 threads, 0-120% iorate
Comparables for this review:
In our 4K random read the Sabrent placed second with a peak of 363,826 IOPS with a latency of 350µs.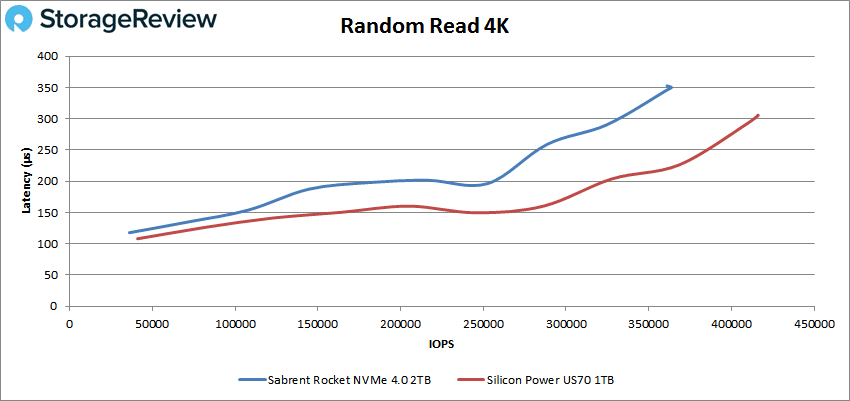 For 4K random write the Sabrent took first with a peak of 144,229 IOPS at a latency of 882µs.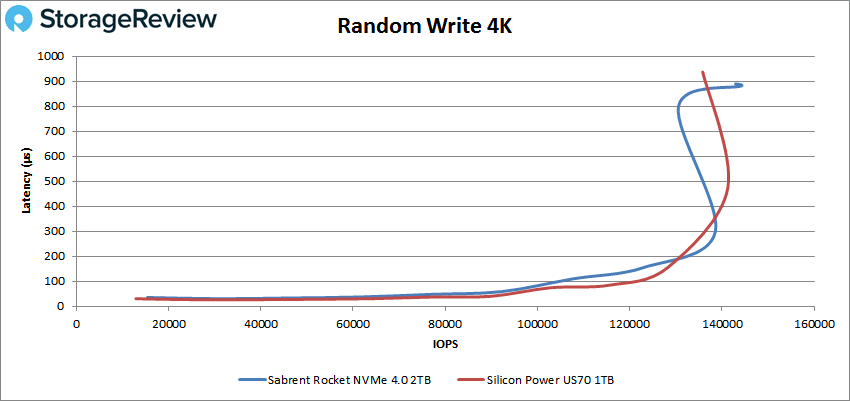 Switching over to sequential workloads, we first look at 64K read. Here the Sabrent once again took second with a peak of 55,611 IOPS or 3.5GB/s at a latency of 574.3µs.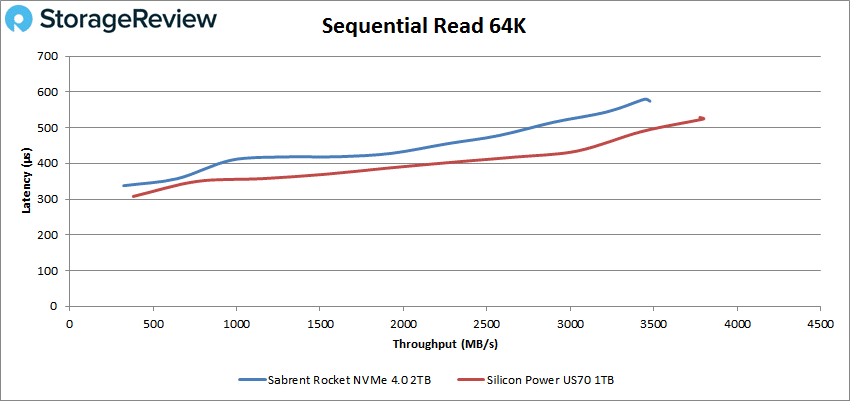 Showing its strength in writes, the Sabrent took the top spot with a peak of 13,683 IOPS or 855MB/s at a latency of 1.2ms.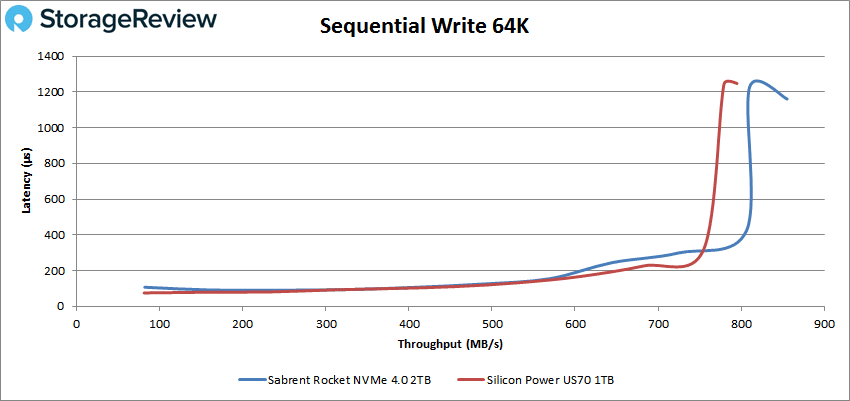 Next, we looked at our VDI benchmarks, which are designed to tax the drives even further. These tests include Boot, Initial Login, and Monday Login. Looking at the Boot test, the Sabrent took second once more with a peak of 104,323 IOPS at a latency of 309µs before dropping off a bit.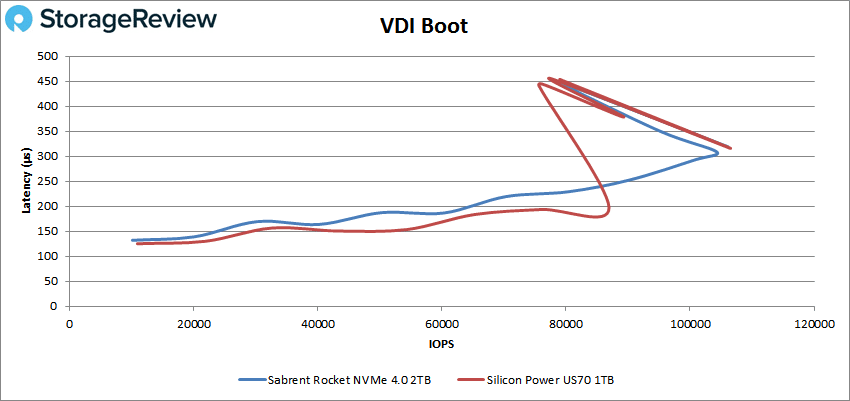 VDI Initial Login saw the Sabrent take first with a peak of 39,811 IOPS at 749µs before a sharp drop off.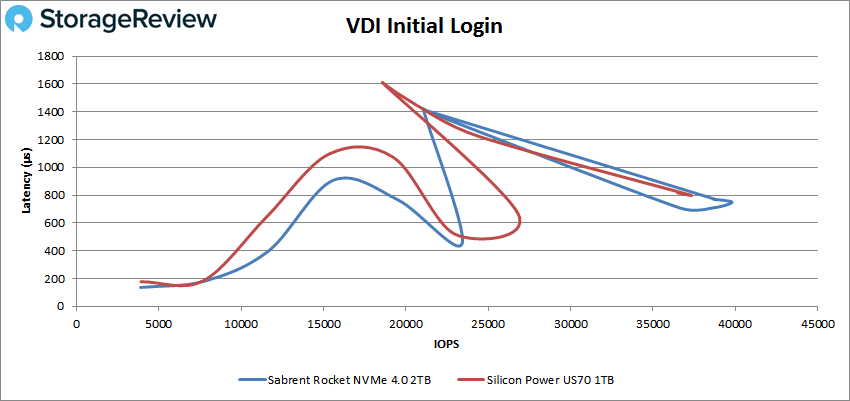 Finally with VDI Monday Login the Sabrent once again took second with a peak of 22,490 IOPS at a latency of 484µs.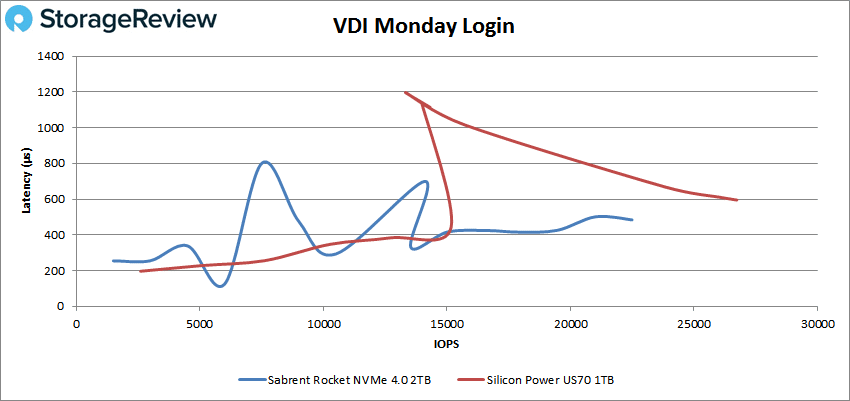 Conclusion
The Sabrent Rocket NVMe 4.0 SSD leverages the newly enabled PCIe Gen4 with the promise of much higher speeds. In fact, the company claims max speeds of up to 5GB/s read and 4.4GB/s write with throughput over 750K IOPS (assuming users are leveraging machines that take advantage of PCIe Gen4). For those that want to use the SSD for maximum performance but are concerned about heat, Sabrent has you covered with a fancy heatsink to dissipate heat.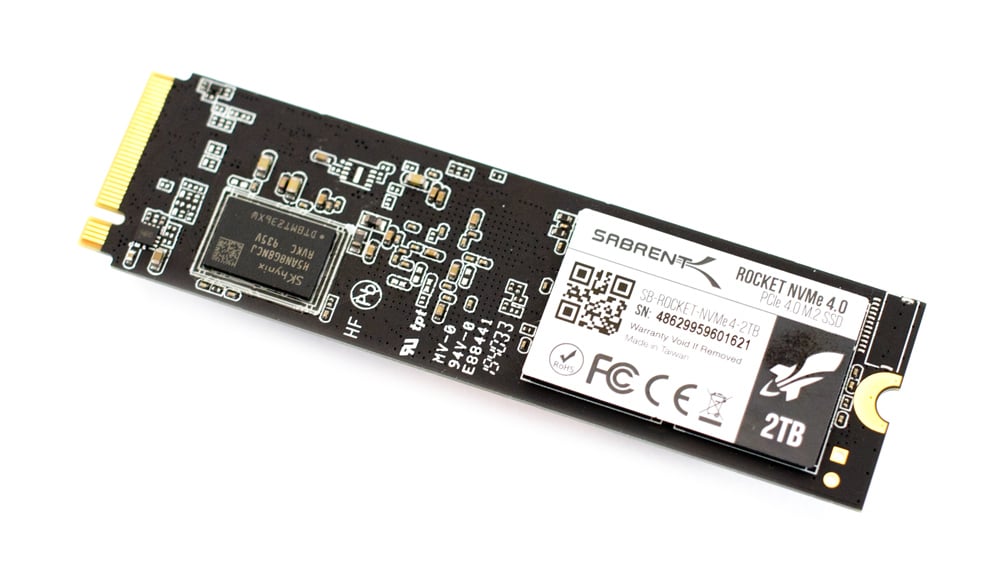 For performance one might expect a massive jump, unfortunately that is not the case. We compared the Sabrent to another PCIe Gen4 SSD (with the same controller) but in both cases the numbers were behind the top of the line PCIe Gen3 drives we've seen in the past. Fresh out of the box read speeds after a secure erase operation were in excess of 5GB/s, which were at spec sheet values in the Gen4 realm. Our test process though first performs a full sequential write across the disk surface, creates a partition that is 5% of the disk surface, and then tests the performance of the drive. During that latter operation speeds recorded in sequential read were unable to exceed 4GB/s in both vdBench and FIO. As more consumer Gen4 devices come into our lab we will probably see this trend change.
For SQL Sever the Sabrent gave us 3,160 TPS and an average latency of 3ms. In VDBench the drive had peaks of 364K IOPS in 4K read, 4K write saw a peak of 144K IOPS, 64K read gave us 3.5GB/s, and 64K write saw the drive peak at 855MB/s. For our VDI benchmarks the drive hit a peak of 104K IOPS in boot, 40K IOPS in Initial Login, and 22K IOPS in Monday Login.
PCIe Gen4 potentially offers double the performance of Gen3. While we didn't see that here, the numbers are still strong for the price and would make a good storage option for those that are leveraging PCIe Gen4 in their machines. Sabrent is on the tip of the spear with the latest technology though, which is fun to see even if the system support isn't really there yet.
Sabrent Rocket NVMe 4.0 SSD on Amazon
Engage with StorageReview
Newsletter | YouTube | Podcast iTunes/Spotify | Instagram | Twitter | Facebook | RSS Feed