The Synology RT6600ax Router is a WiFi 6 solution to the massive rise of connected devices and IoT needs. The RT6600ax features built-in Tri-Band connectivity giving a combined 6.6Gbps, supports new 5.9 GHz channels, and is configured with a 2.5 GbE multi-gig WAN/LAN port that allows for load balancing. The RT6600ax also features the newest update to the RSM Manager: Version 1.3.
The Synology RT6600ax Router is a WiFi 6 solution to the massive rise of connected devices and IoT needs. The RT6600ax features built-in Tri-Band connectivity giving a combined 6.6Gbps, supports new 5.9 GHz channels, and is configured with a 2.5 GbE multi-gig WAN/LAN port that allows for load balancing. The RT6600ax also features the newest update to the RSM Manager: Version 1.3.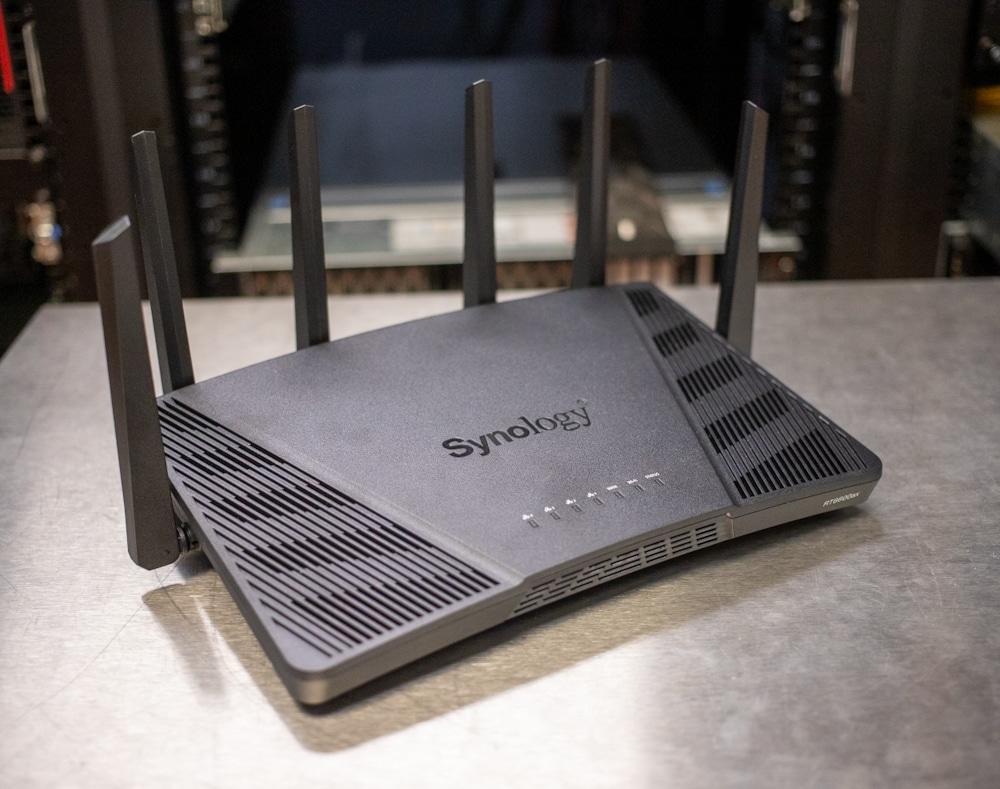 The Synology RT6600ax was built to solve the problems that the technology world has been facing. As more people are getting more devices, more connections are necessary, and the problem of connectivity and reliability of a network supporting those devices rises. More IoT devices have become vulnerable to hijacks or are used as an access point to the rest of your network. Even traditional anti-virus for networks has become weak to threats and filter internet use.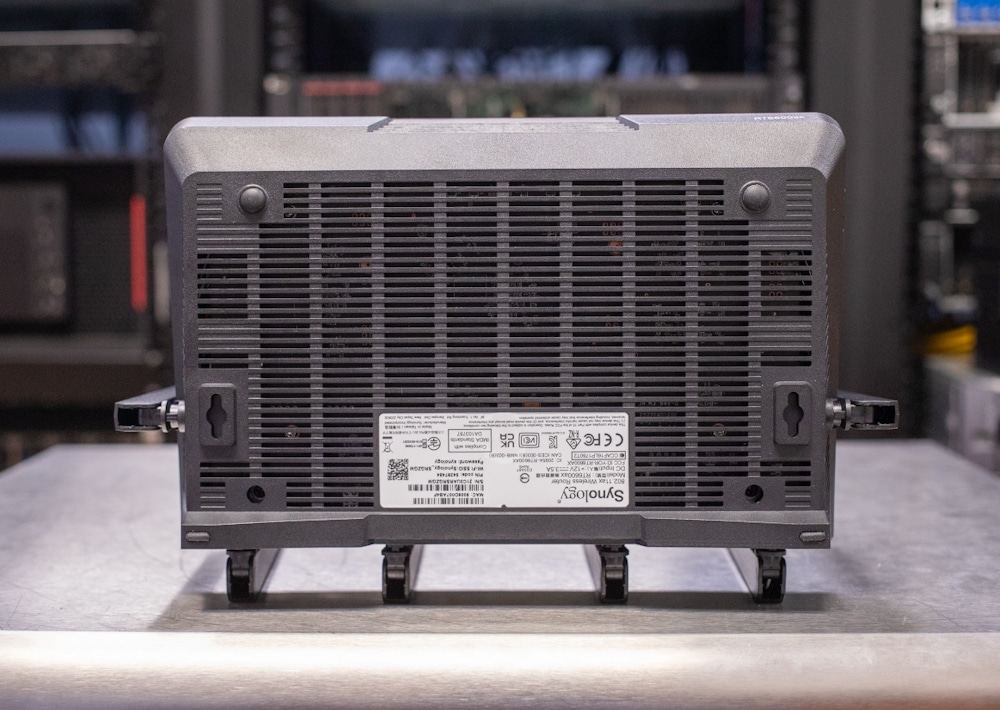 Synology has tried to solve these problems with the release of the RT6600ax. The RT6600ax offers solutions, the first being Wi-Fi 6, the fastest and most reliable wireless connection that's broadly available. Synology Router Management (SRM) provides strong network security for all devices and can even be configured with one-way connections, which protects external devices. SRM also includes Safe Access, essentially, a more secure parental control center.
Synology RT6600ax Specifications
CPU
Quad-Core 1.8 GHz
Hardware Acceleration Engine
Layer 4/Layer 7
Memory
1GB DDR3
Antenna Type

4×4 MIMO Omni-directional high-gain dipole (5GHz)
2×2 MIMO Omni-directional high-gain dipole (2.4GHz / 5GHz)

LAN Port

Gigabit (RJ-45) x 3 (Dual WAN)
2.5GbE (RJ-45) x 1

WAN Port

Gigabit (RJ-45) x 1
2.5 GbE (RJ-45) x 1 (Dual WAN)

External Ports
USB 3.2 Gen 1 x 1 (5V, 0.9A power output)
IEEE 802.11ax

IEEE 802.11a/b/g/n/ac/ax
5GHz-1: 4800Mbps
5GHz-2: 1200Mbps
2.4GHz: 600Mbps
4×4 160MHz
Simultaneous tri-band Wi-Fi

Wi-FI Encryption
WPA/WPA2-Personal, WPA/WPA2-Enterprise, WPA2/WPA3-Personal, WPA3-Personal/Enterprise, Wi-Fi Enhanced Open (OWE)
Button and Switch
WPS, Power, Reset, Wi-Fi On/Off
Size (Height x Width x Depth)
175 mm x 320 mm x 200 mm
Weight
1.6kg
Temperature
Operating Temperature: 5°C to 40°C (40°F to 104°F)

Storage Temperature: -20°C to 60°C (-5°F to 140°F)

Relative Humidity: 5% to 95% RH

Certification

FCC
CE
BSMI
VCCI
RCM
KC
iDA
TELEC
JATE
IC

Wi-Fi Certification

CE
FCC
NCC
RCM
iDA
TELEC
KC
IC

Warranty
2 Years
AC Input Power Voltage
100V to 240V AC
Power Frequency
50/60Hz, Single Phase
Power Consumption
11.11W (Access)

6.77W (Idle)

Environment
RoHS Compliant
Packaging Content

Main Unit X 1
AC Power Adapter X 1
RJ-45 LAN Cable X 1
Quick Installation Guide X 1
Synology RT6600ax Design and Build
Right up front on the RT6600ax, are the LED status lights, along with the Synology logo. It seems that Synology has tried to make the RT6600ax look as professional as possible while also providing the necessary airflow to the router. The RT6600ax is covered with ventilation, which allows for the device to run efficiently without the risk of thermal throttling the rest of the system.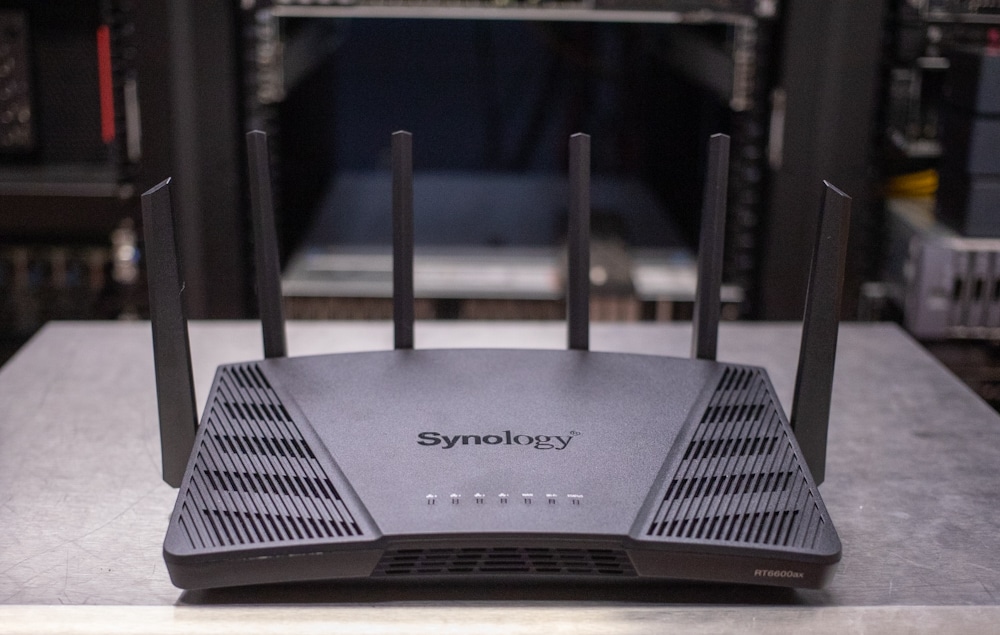 On the rear of the RT6600ax is where all the connectivity of the device lies similar to nearly all routers in its class. From left to right, the RT6600ax is configured with a USB 3.x Gen x, a blue WAN port, and 4 yellow LAN ports, however, LAN 1 is also used as the WAN 2 port and is 2.5Gbps. There is the push power button, a reset switch, and the power connector.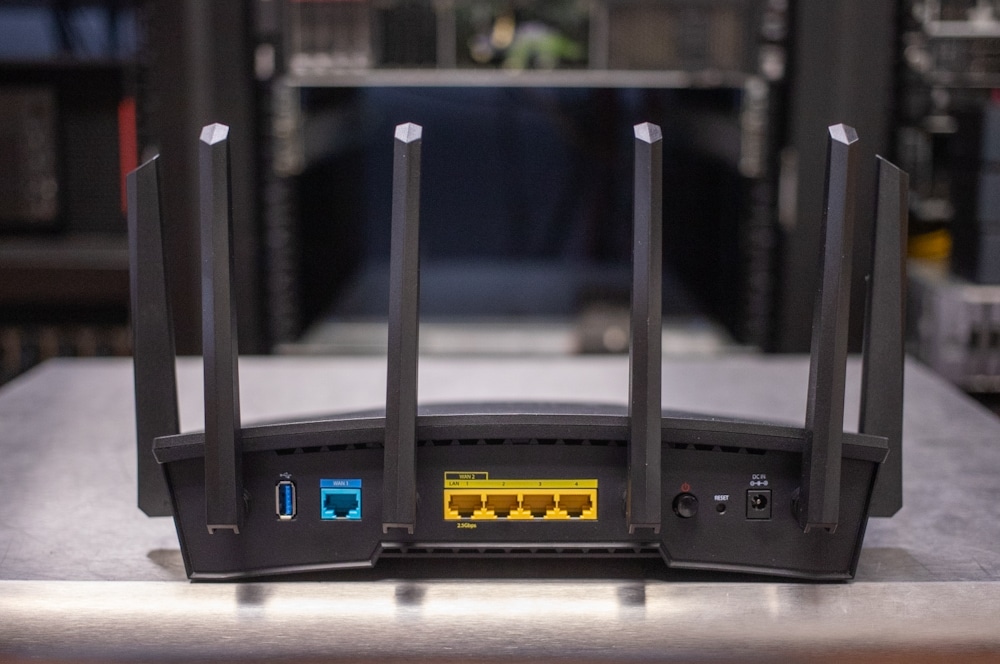 On the right side of the device, there are also two little buttons. These buttons are labeled WiFi and WPS and represent their respective function.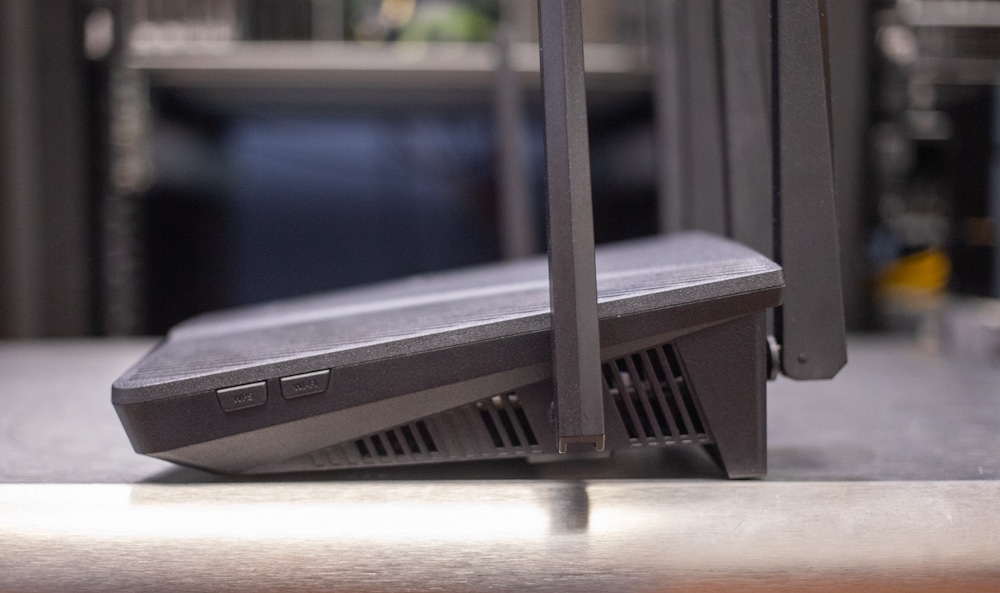 The most notable feature of the RT6600ax is the six different antennas for its wireless connections. These antennas allow the RT6600ax to perform at the highest ability it has; each antenna provides a better stream of information across the network and supplies devices with a reliable connection.
Synology RT6600ax Management
Powering the RT6600ax is the Synology Router Management (SRM), a DSM-inspired operating system to control and manage Synology Routers. With the release of the RT6600ax, comes the newest update to the SRM, version 1.3. Synology's massive revamp of the SRM with version 1.3 is a complete overhaul from version 1.2. SRM 1.3 offers more versatility for management as well as more functionality.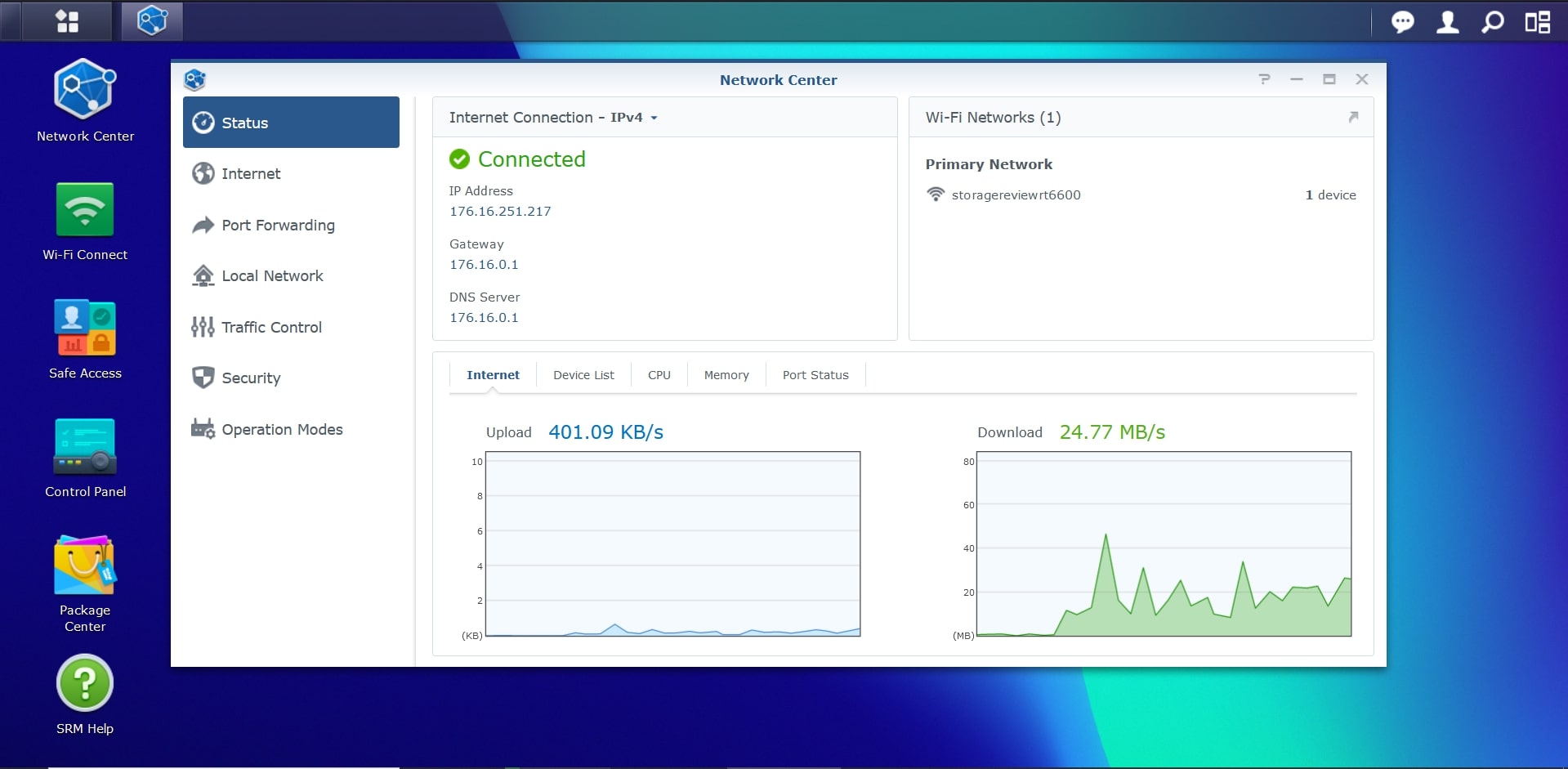 Synology's first major change in the SRM is the realm of network security for the RT6600ax with multiple VLAN/SSID support. The RT6600ax features support for up to three different SSIDs on each radio, which allows for a total of 15 different SSIDs on one device.
Each SSID is designed to be mapped to the different roles and purposes required in a full-time deployment. There can be support for home functions, a guest SSID, and even your IoT devices operating on another. Each SSID can also be configured with a variety of access rules and security settings, adding even more flexibility.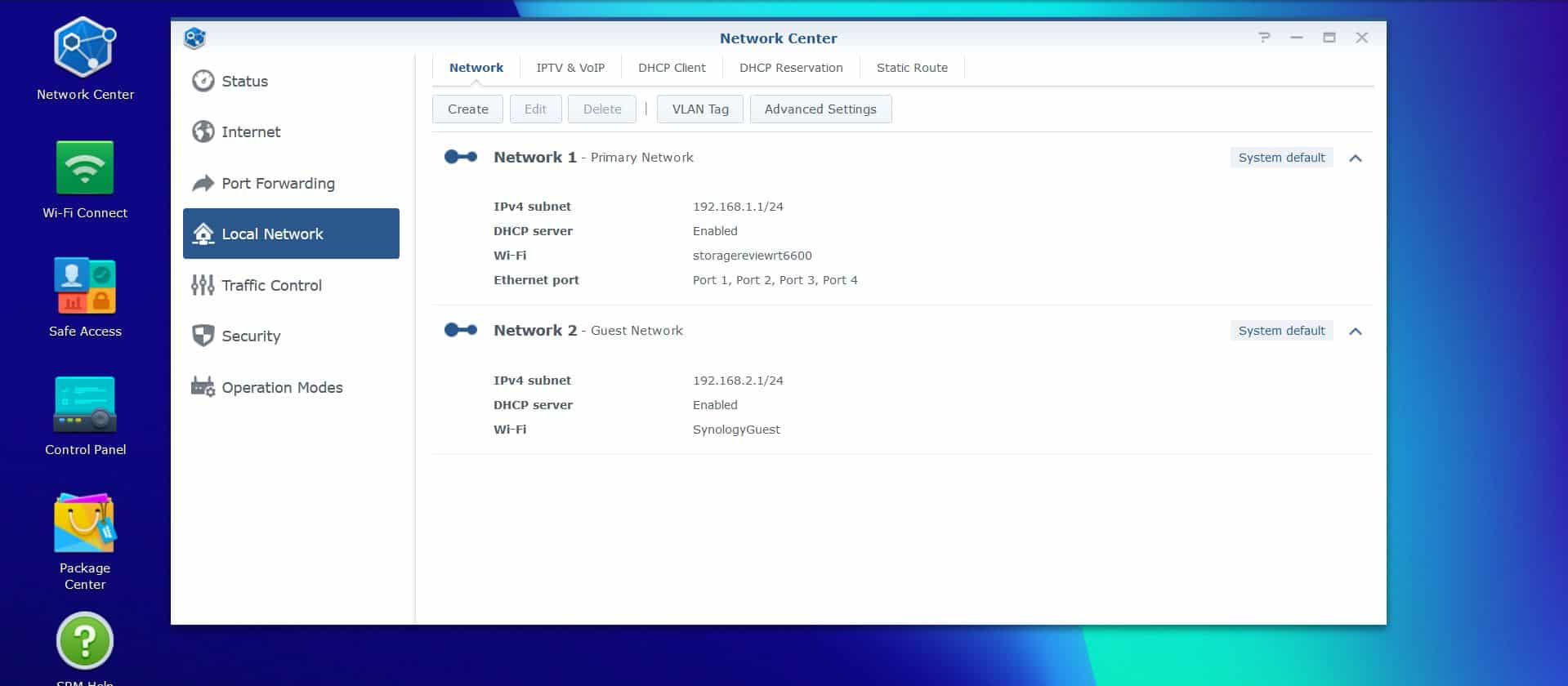 The RT6600ax's network security debuts 802.1q VLAN tagging, which is entirely new in the SRM 1.3. The supported usage modes include the RT6600 in router mode, AP mode, and even in a mesh setup. 802.1q VLAN tagging was designed to be quickly deployed on the RT6600ax when it is deployed on existing networks that need the WiFi capabilities that the RT6600ax has.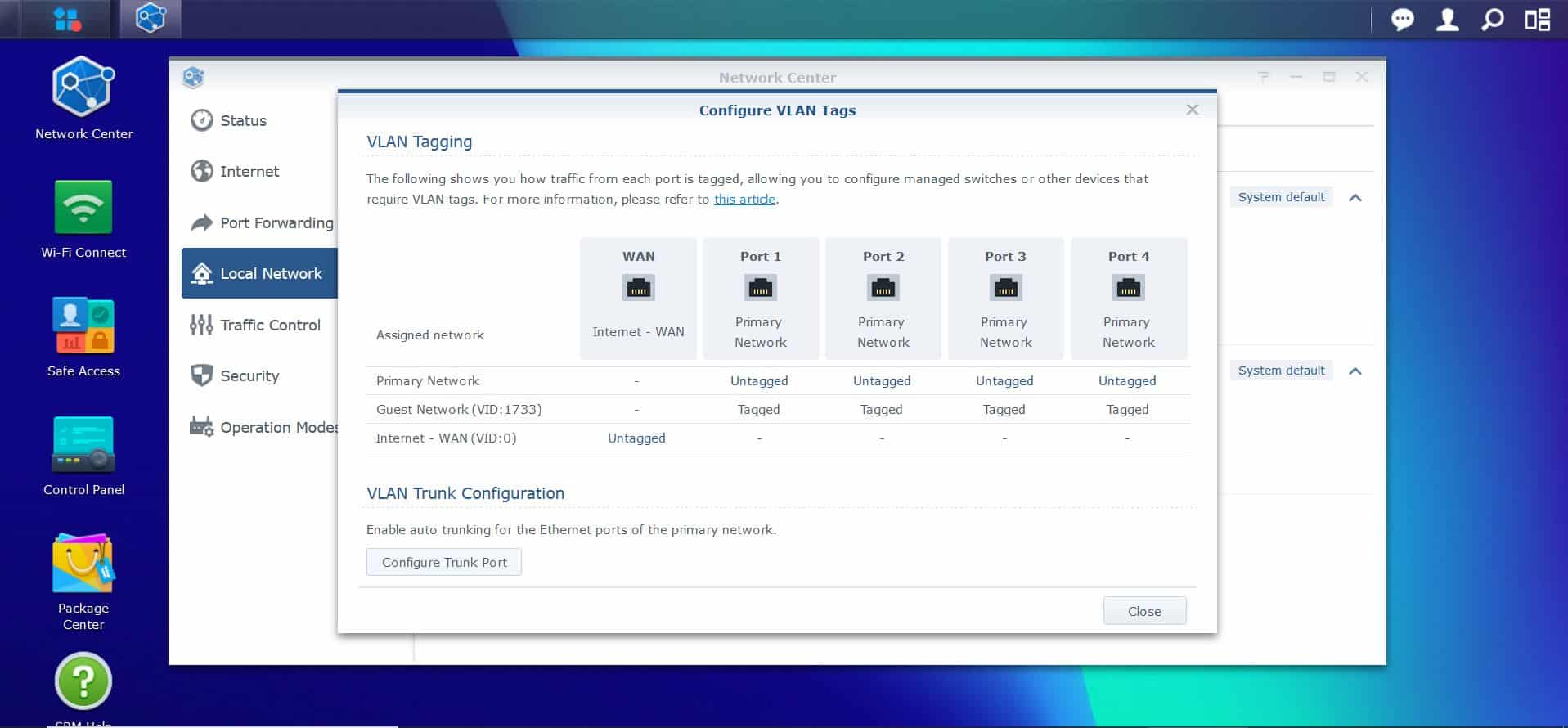 Synology has also enabled network isolation and one-way firewall rules in SRM 1.3. This design feature was to allow for networks to be isolated, however, in some use cases, one network may need to talk to another, without a reply. This is configured by a destination IP or IP range and the ports along with the source IP or IP range and the ports. One scenario in which this one-way traffic is prudent is the deployment of cameras and a NAS. The NAS may be used as a surveillance station, however, keeping the cameras and station on separate networks allows for tighter security all around.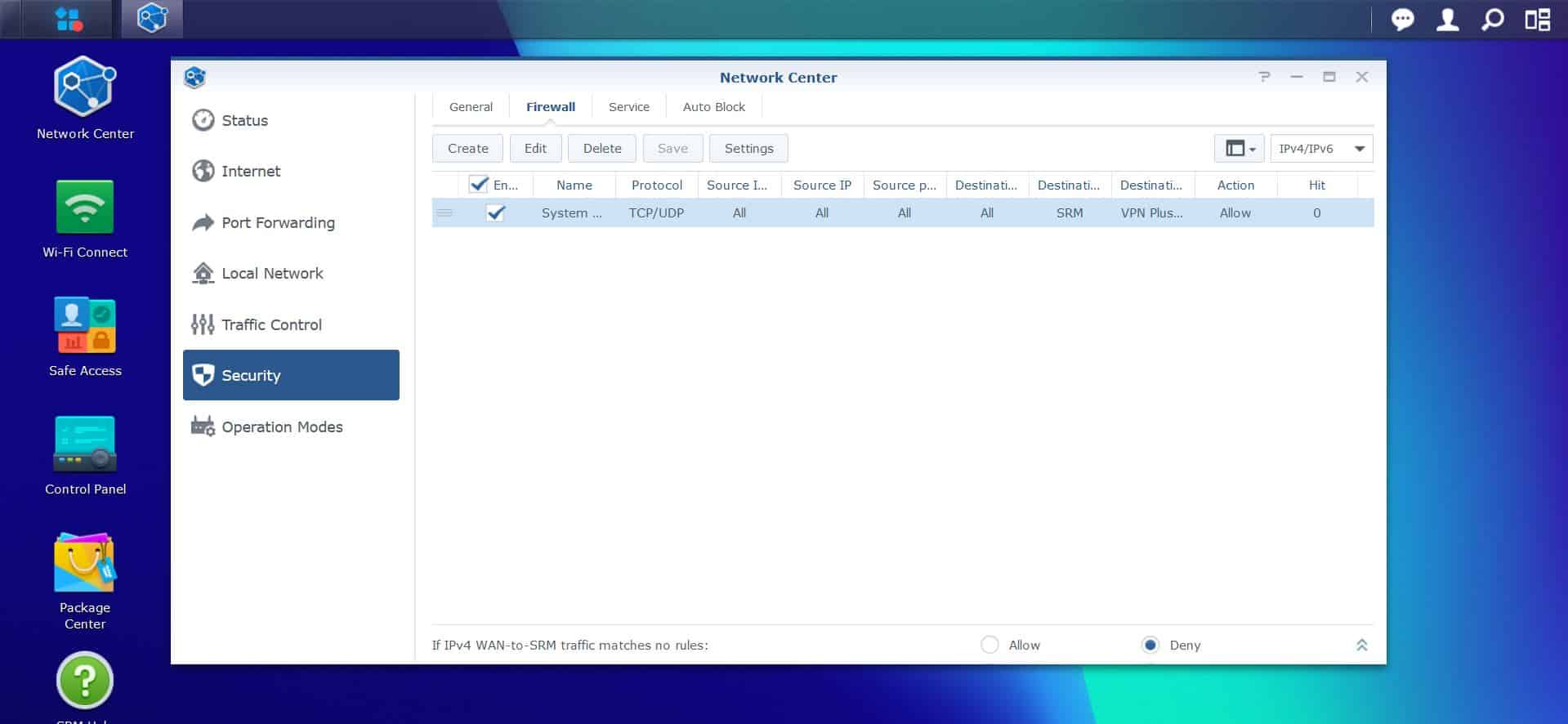 SRM 1.3 comes with an improved way to monitor and manage traffic on the RT6600ax. Known as traffic control, SRM is designed to enable administrators to distribute bandwidth or prioritize services or clients. Traffic control shows graphical representations of the network, historical data, or live depending on what option is chosen. Reports are also able to be generated, showing active devices, bandwidth usage, or even details on applications or destinations.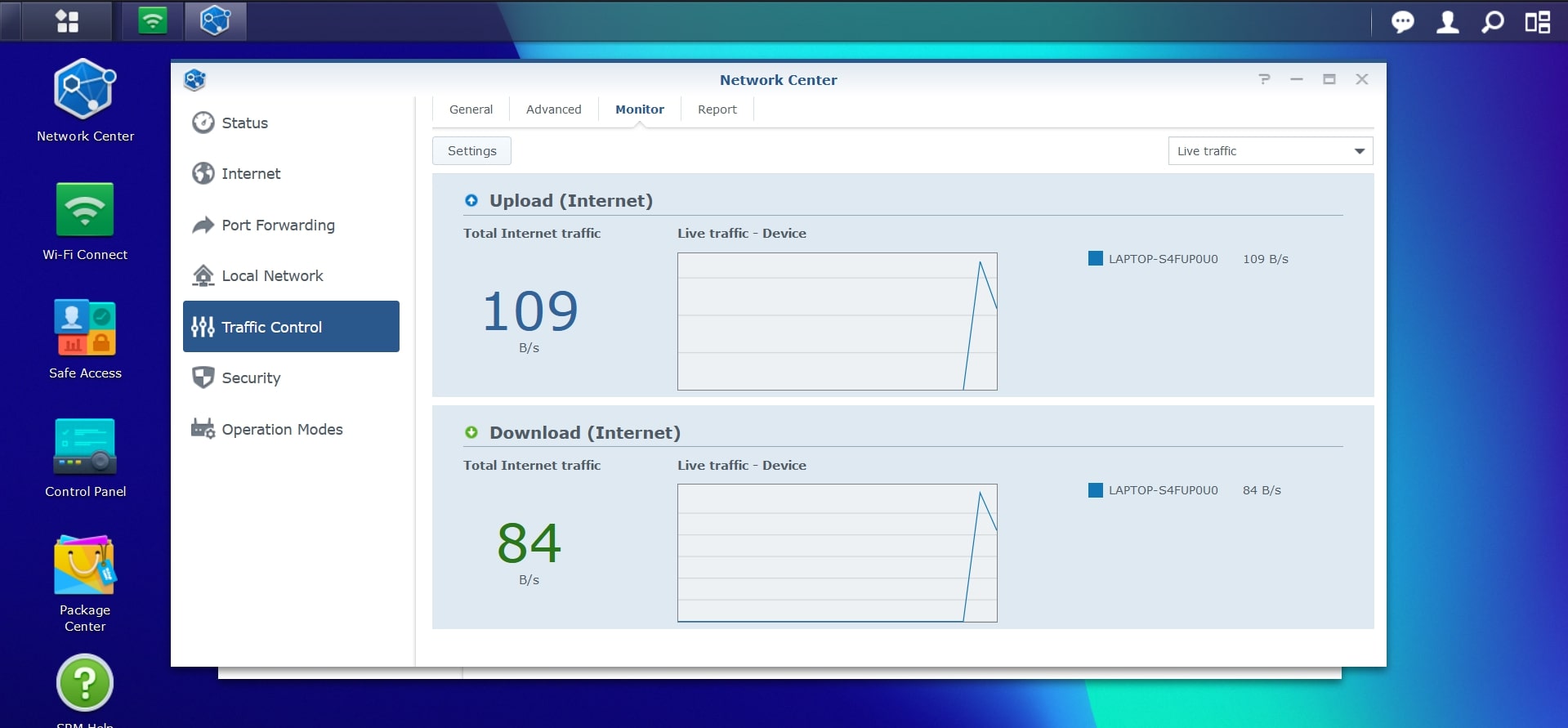 Safe Access is a tool on SRM, similar to parental controls for a network. Safe Access is able to create user or network profiles that are able to filter or manage Internet usage and can be assigned to anyone or any network that has been configured. Upon configuration of Safe Acess rules, admins are able to monitor the applied rules for the profiles and even limit or give more access if necessary.
SRM 1.3 leverages a newer tool from Synology, the Package Center, which is where admins are able to install, set up, and use new software from Synology. To showcase this, we installed VPN Plus Server, which turns the router into a powerful VPN server for the network. The process was quite easy as all we had to do was go to Package Center, and click install on the VPN application.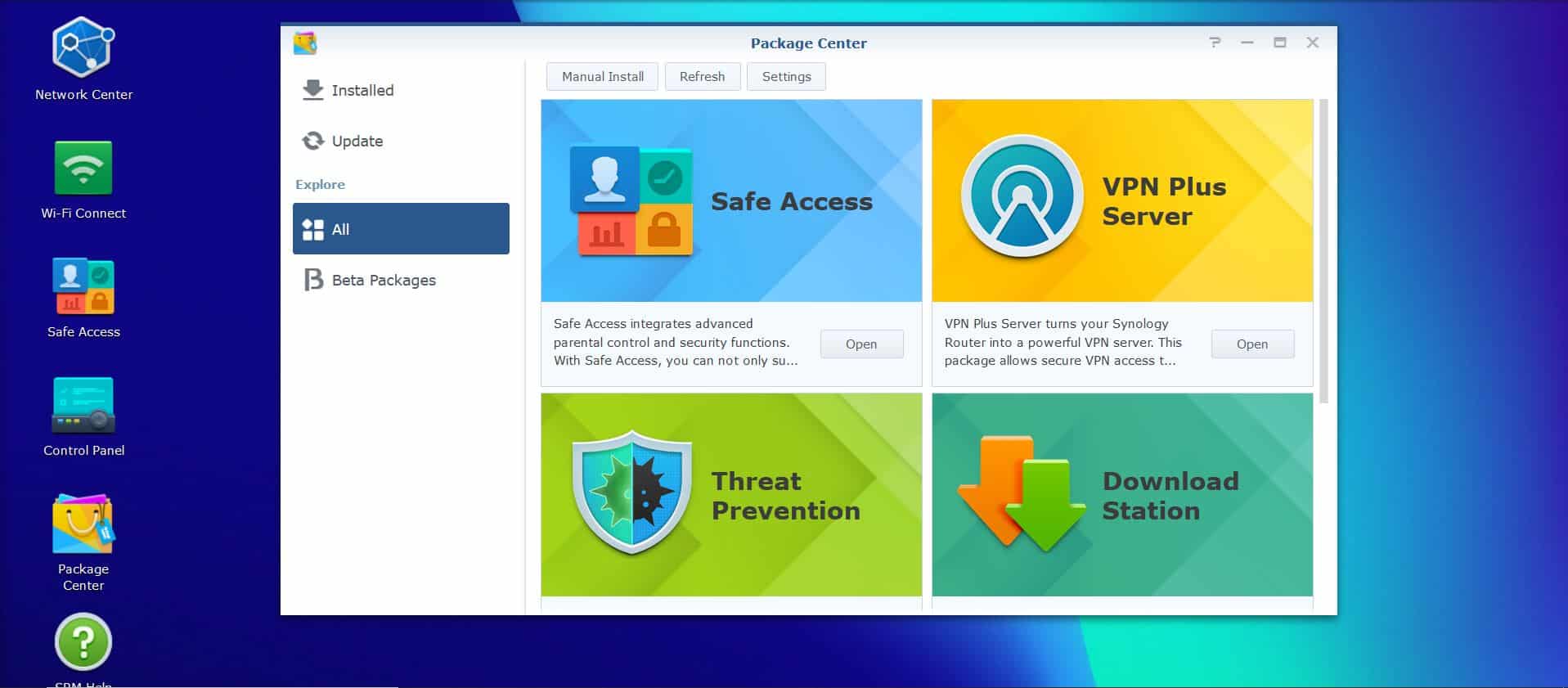 Accompanying the newest version of RSM comes the mobile app for Andriod and IOS: DS router. DS router allows for the initial setup of networks with the RT6600ax and mesh networks if necessary. DS router allows users to create WiFi networks, manage port forwarding, and traffic control. Users can also configure Safe Access and manage the VPN connections if wanted.
Synology RT660ax Performance
For the testing of the Synology RT6600ax, we focused on the single 2.5GbE port on the router that can be leveraged for both a faster WAN connection (multi-gig internet) or a single fast device on the network (NAS). We went with the NAS angle, using a smaller all-flash 4-bay QNAP model with a 2.5GbE interface (yes, we know…but we needed a 2.5GbE device). We then used the remaining three 1GbE LAN ports to three hardwired notebooks to measure aggregate performance across the router.
The testing plan was pretty simple. Have three shared folders on the NAS with a 25GB footprint each, and assign one folder per notebook. We then measured sequential read and write speeds on each system running simultaneously and combined the numbers for a final score.
Over the wire in aggregate, we measured the read performance over the 2.5GbE port at 157MB/s and write performance at 285.6MB/s. Write performance was able to better utilize the 2.5GbE speed in this case versus read speed, but it also shows some weakness in the setup.
The best LAN port configuration would be 4 2.5GbE ports with 2 2.5GbE ports as a nice middle ground. The single port of 2.5GbE really only helps with multiple users hitting one fast storage device or more than likely supporting a faster WAN connection.
Conclusion
Overall, the Synology RT6600ax is a solid tri-band Wi-Fi router optimized to distribute reliable connection and performance while avoiding bottlenecks. The RT6600ax also has a strong application backing, which is somewhat uncommon in the router space. This offers users with access to VPN servers, a download package to handle FTP, torrent and other protocols, and even an onboard media host. Many of these capabilities overlap with what would be considered a NAS function, but they can be run onboard the RT6600ax if needed.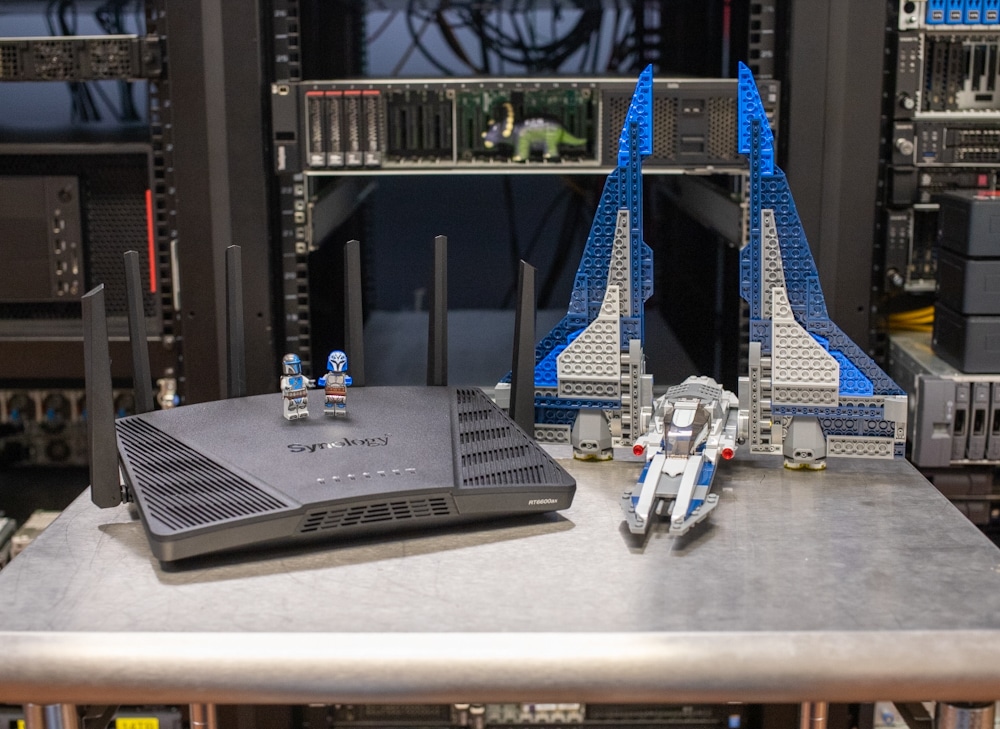 The performance of the Synology RT6600ax we feel is a bit lacking when it comes to the Ethernet connectivity. The RT6600ax includes just a single 2.5GbE port, which can be used for WAN or LAN side needs. For WAN it allows you to manage traffic from a multi-gig internet connection, or on the LAN side something faster such as a NAS. The downside of having just one port means that if you have a workstation in your home network, you can't have a completely fast data path from the computer to NAS. It would have been nice here to see two 2.5GbE ports on this to open up some additional use cases. In our performance testing, we measured an aggregate of 157MB/s read and 286MB/s from three hardwired notebooks accessing a single flash file share on a connected NAS.
The Synology RT6600ax is a great router/AP/mesh device that offers a wide range of flexibility with multi-gig functionality and load balancing. Along with Synology Router Management, the RT6600ax allows admins to have complete control over any part of the network. The RT6600ax is now available for $299.99
Engage with StorageReview
Newsletter | YouTube | Podcast iTunes/Spotify | Instagram | Twitter | Facebook | TikTok | RSS Feed