Today Dell EMC announced its new midrange storage array, Dell EMC PowerStore. PowerStore is said to be up to seven times faster and three times more responsive than the company's previous midrange storage entries. This is in part from its end to end NVMe architecture, support for dual-ported Intel Optane SSDs, and up to 32Gb FC or 25Gb Ethernet support. PowerStore is built from the ground up to address all of the challenges of the new "data era."
Today Dell EMC announced its new midrange storage array, Dell EMC PowerStore. PowerStore is said to be up to seven times faster and three times more responsive than the company's previous midrange storage entries. This is in part from its end to end NVMe architecture, support for dual-ported Intel Optane SSDs, and up to 32Gb FC or 25Gb Ethernet support. PowerStore is built from the ground up to address all of the challenges of the new "data era."

Dell EMC points out that we are entering a world where workloads are new, changing, and in larger volumes than ever. Dell and EMC had separately been tackling the storage issue by themselves for years. Once the two became one, they had several different products that all addressed mid market needs in different ways. Some of the was addressed when Dell EMC launched Unity and later Unity XT. That initial launch pretty much ended EqualLogic and brought EMC's VNX and VNXe into a more modern era. XtremIO and SC Storage (Compellent) remained on though, in addition to Isilon for unstructured data. With Dell EMC PowerStore, the company streamlines further, by ending the future development for XtremIO and SC Storage. Dell EMC Unity remains as a lower-end midrange option that will be Dell EMC's lead hybrid offering and of course Isilon is the lead NAS offering.
In terms of hardware, Dell EMC uses the popular 2U form factor with dual controllers. Each array has 25 2.5" bays (up to 23 usable for storage depending on model), supporting drive capacities ranging from 375GB to 750GB in Optane SSDs and 1.92TB to 15.36TB NVMe SSDs. While not available at launch, NVMe-oF support will come in a future release.
Each PowerStore appliance can grow to over 2.8 PB effective capacity, and multiple appliances can be clustered for greater performance. PowerStore supports up to four appliances in a cluster, or eight nodes. If there's a need to scale just storage, Dell EMC supports that via SAS-based expansion enclosures filled with 1.92TB to 7.6TB SSDs.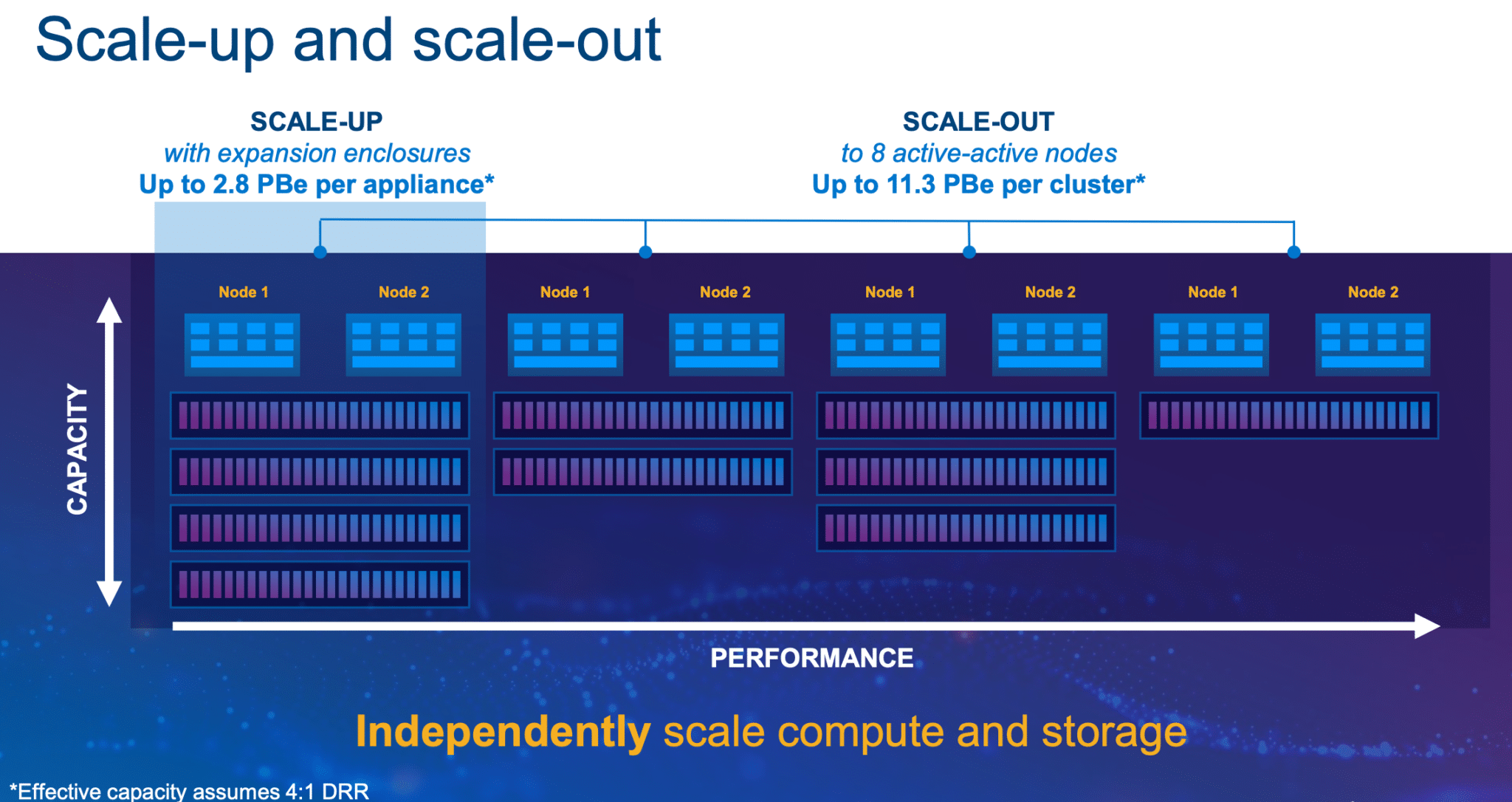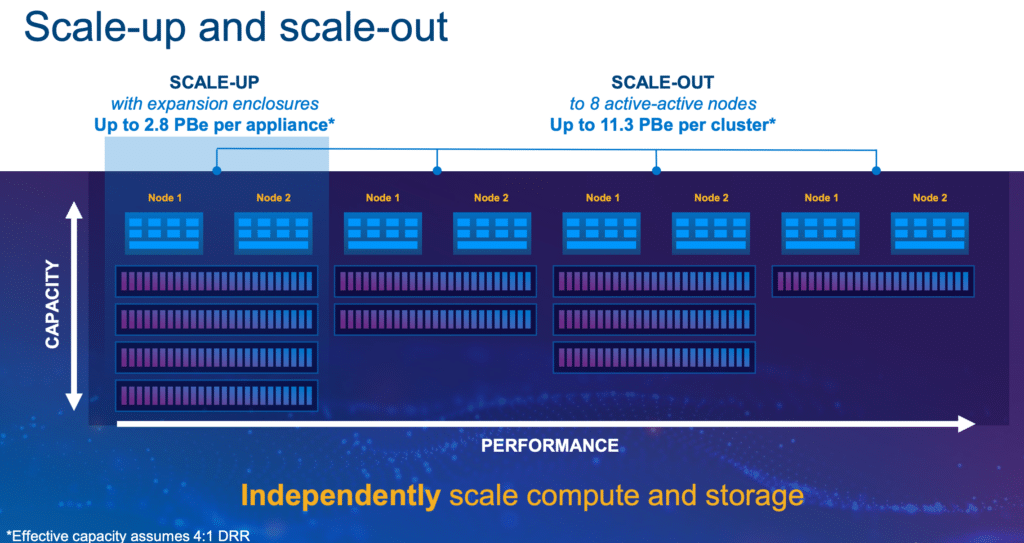 PowerStore uses a single architecture for block, file, and VMware vVols. This array accommodates application, multi-protocol network and multi-format storage diversity (physical and virtual volumes, containers, traditional files). On the back-end, PowerStore offers a multitude of IO Module configurations, ranging from the traditional quad-port 10Gbase-T up to 25GbE SFP+ cards on the Ethernet side to quad-port 32Gb FC cars on the Fibre side.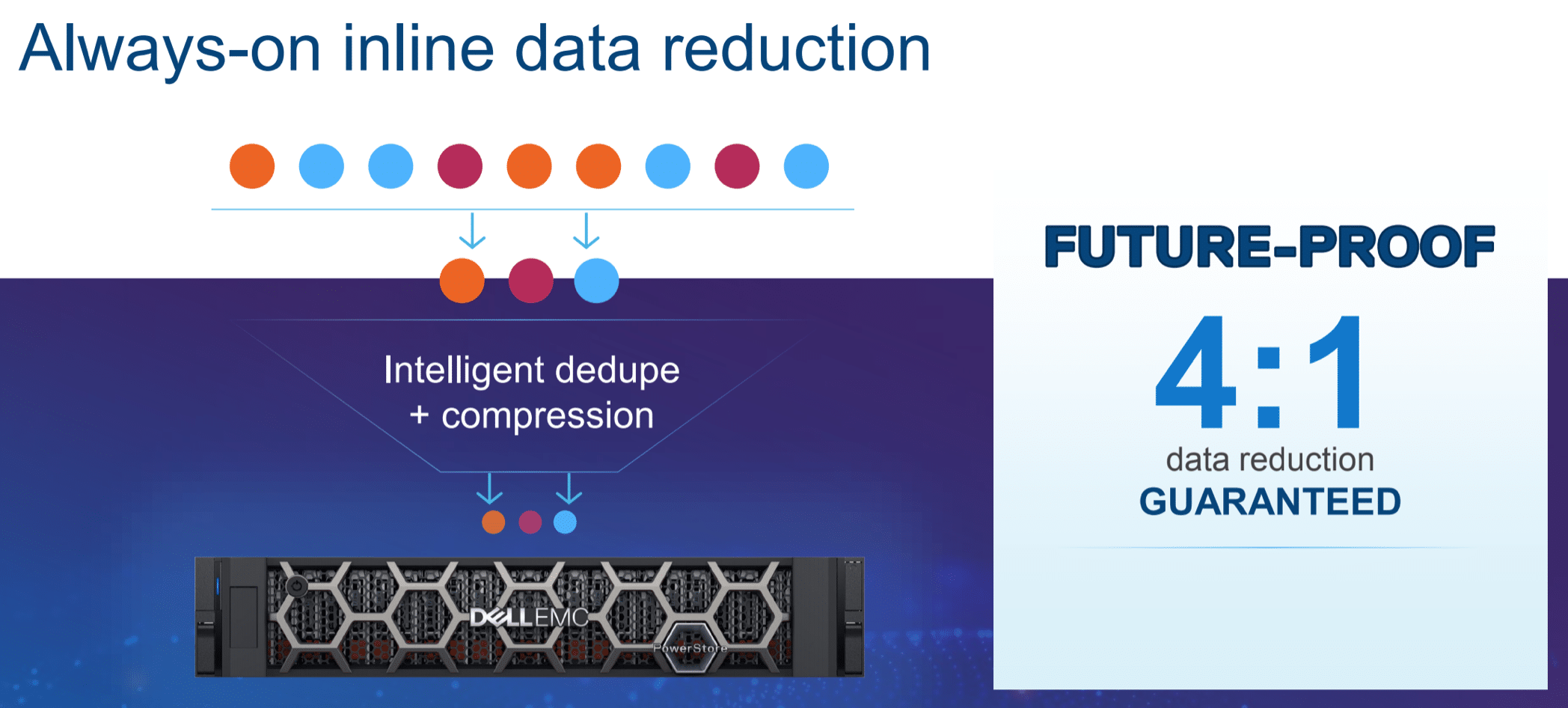 We've looked at performance and scale, what about cost. Being a midrange product, it needs to fall in line with other offerings. Deduplication and compression are a set of ways to help keep costs lower on a per terabyte basis. With PowerStore, and through the use of Intel QuickAssist hardware acceleration, deduplication and compression are 100% inline and always on. And the company guarantees, an average 4:1 data reduction, which is remarkable as their previous capacity guarantees topped out at 3:1.
Dell EMC PowerStore – Programmable Infrastructure
Performance -check, scalability-check, data reduction-double check, let's look at the steps beyond normal storage including intelligence, learning, and automation. Leveraging VMware amongst other management and orchestration frameworks, PowerStore is able to streamline application development and automate storage workflows.
Deployment times can be significantly reduced through the use of popular plugins from VMware (vRO Plugin), Kubernetes (CSI Driver) and Ansible (Ansible Module). Automation takes care of menial and laborious tasks freeing up more of the admin's time (or reduces the total need of IT personnel). PowerStore has an on-board ML engine to help optimize performance and comes with support for CloudIQ for analytics.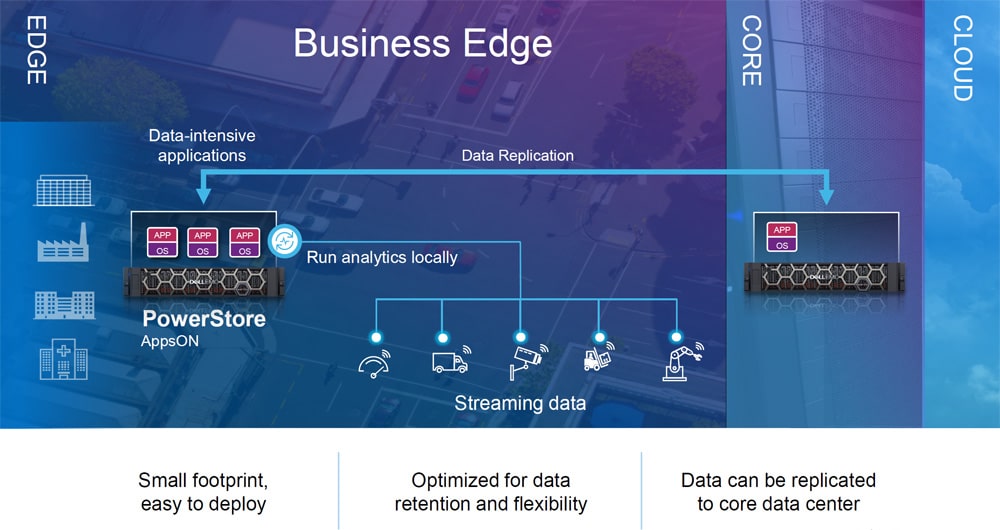 PowerStoreOS is the array's container-based software architecture. It is said to improve performance, fault tolerance and security by isolating individual OS components as microservices. PowerStoreOS can be run directly on the PowerStore hardware in a bare metal configuration or within a VM on a built-in VMware hypervisor. When PowerStoreOS runs on a VM, administrators can also access the hypervisor to deploy their own applications directly on the appliance, using the same VMware tools and methods they use with external hosts. This new capability is known as AppsON.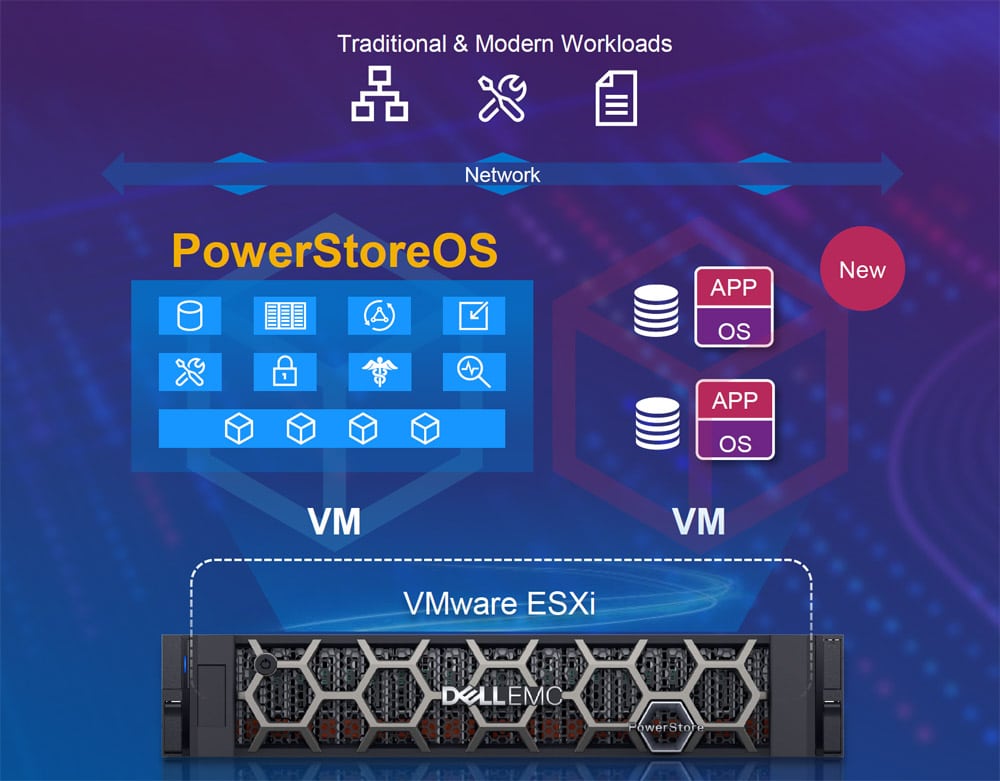 AppsON gives customers the ability to run certain workloads directly on the dual-node controllers. Dell EMC states this can be for data-intensive workloads in the core or edge locations, such as running analytics without the need for additional servers. With full VMware ESXi support for AppsON, administrators can seamlessly manage it with existing infrastructure. This even includes vMotion and SvMotion capabilities, which presents interesting "last man standing" possibilities during power-fail situations where servers need to be powered down and the storage array could keep core functions online as equipment is being load-shedded off battery backups. AppsON is easily one of the most interesting capabilities we've seen announced in the storage space.
The Dell EMC PowerStore is covered by the company's Future-Proof Program. This covers Anytime Upgrades and a flexible controller upgrade program. Dell EMC also offers migration tools to let customers transition to PowerStore from XtremIO, Unity, SC, VNX or PS in 10 clicks or less.
Dell EMC PowerStore Physical Specifications
PER APPLIANCE
1000
3000
5000
7000
9000
Max Drives
96
96
96
96
96
NVRAM per Appliance
2
2
4
4
4
Base Enclosure
A 2U, 2 node enclosure with twenty-five 2.5" NVMe drive slots
Expansion Enclosure
A 2U enclosure attached to a PowerStore base enclosure with twenty-five 2.5" SAS drives slots (3 max per appliance)
Power Supplies
PowerStore appliances are powered by 2 redundant power supplies (PS) per enclosure.
RAID Options
RAID 5 (4+1/8+1)
CPUs per Appliance
4 x Intel CPUs, 32 cores, 1.8GHz
4 x Intel CPUs, 48 cores, 2.1GHz
4 x Intel CPUs, 64 cores, 2.1GHz
4 x Intel CPUs, 80 cores, 2.4GHz
4 x Intel CPUs, 112 cores, 2.1GHz
Memory per Appliance
384GB
768GB
1,152GB
1,536GB
2,560GB
Max Mezzanine cards per Appliance
2
2
2
2
2
Max IO Modules per Appliance
4
4
4
4
4
Embedded SAS IO Ports per Appliance
4 x 4 lane 12Gb/s SAS ports for back end connection
Max front end Ports per Appliance (all types)
24
24
24
24
24
Max 16/32Gb FC Ports per Appliance
16
16
16
16
16
Max 10 Gbase-T/iSCSI Ports per Appliance
24
24
24
24
24
Max 10/25 GbE/iSCSI Ports per Appliance
24
24
24
24
24
Max Raw Capacity
898.56TB
898.56TB
898.56TB
898.56TB
898.56TB
Availability
Dell EMC PowerStore is now generally available globally.
Dell EMC PowerStore will be available as an option for PowerOne autonomous infrastructure this summer.
Engage with StorageReview
Newsletter | YouTube | Podcast iTunes/Spotify | Instagram | Twitter | Facebook | RSS Feed