NVIDIA has announced the release of AI Enterprise 3.0 to be available in December, along with a partnership with Deutsche Bank. NVIDIA AI Enterprise 3.0 will offer AI workflows for contact center intelligent virtual assistants, audio transcription, digital fingerprinting for cybersecurity, and support for over 50 NVIDIA frameworks and pre-trained models.
NVIDIA has announced the release of AI Enterprise 3.0 to be available in December, along with a partnership with Deutsche Bank. NVIDIA AI Enterprise 3.0 will offer AI workflows for contact center intelligent virtual assistants, audio transcription, digital fingerprinting for cybersecurity, and support for over 50 NVIDIA frameworks and pre-trained models.
What is NVIDIA AI Enterprise?
NVIDIA AI Enterprise is a suite of tools and technologies developed by NVIDIA for enterprise-level organizations and businesses looking to leverage the power of artificial intelligence and machine learning in their operations. The suite includes a range of products and services designed to help organizations build and deploy AI models and tools for managing and scaling AI deployments.
We completed a recent deep-dive on some of these features available via NVIDIA LaunchPad.
NVIDIA AI Enterprise 3.0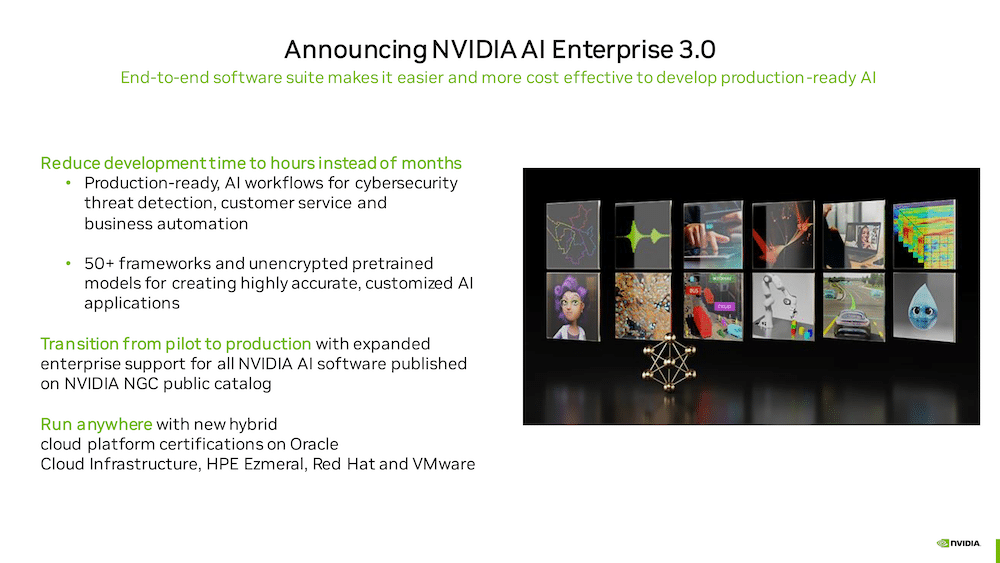 The new version of AI Enterprise comes as Deutsche Bank announced it would partner with NVIDIA to accelerate the use of AI in financial services as part of its strategy to develop AI-powered speech, vision, and fraud detection applications. The solution workflows introduced in AI Enterprise 3.0 are designed to address applications for enterprises adopting AI to serve customers better and will be made available on the NVIDIA NGC software catalog.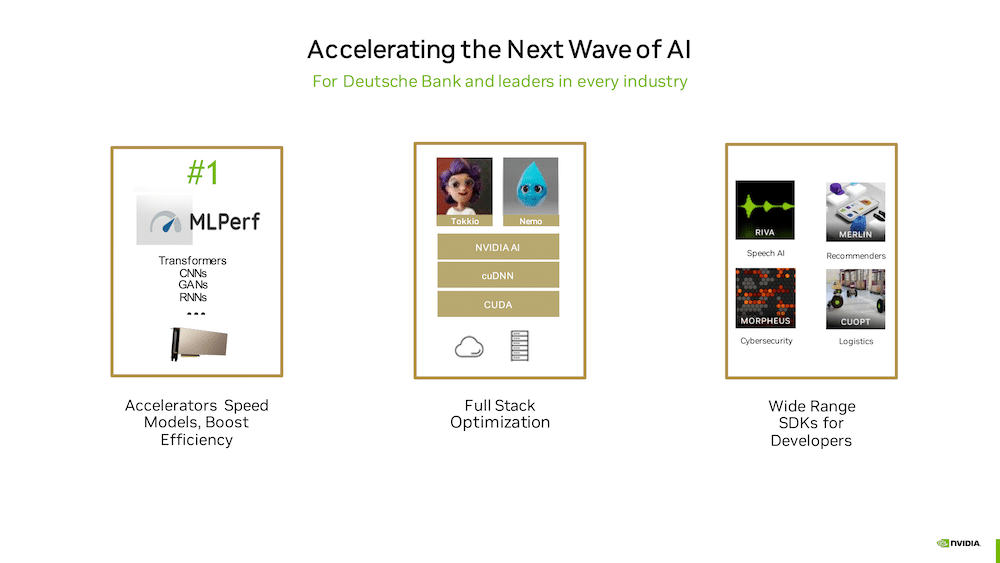 Gil Perez, chief innovation officer and head of Cloud & Innovation Network at Deutsche Bank, said:
"AI and machine learning will redefine banking, and we're already working closely with NVIDIA to lead the industry in leveraging these technologies to improve customer service and mitigate risk. Accelerated computing enables traders to manage risk and run more scenarios faster while also improving energy efficiency, and NVIDIA AI Enterprise provides the flexibility to support AI development across our hybrid infrastructure."
Solution Workflows to Speed Business Success
The new AI solution workflows in AI Enterprise 3.0 are meant to solve business challenges while increasing operational efficiency. It will accelerate the data science pipeline and streamline the development and deployment of AI models to automate essential processes and gain faster insights from data.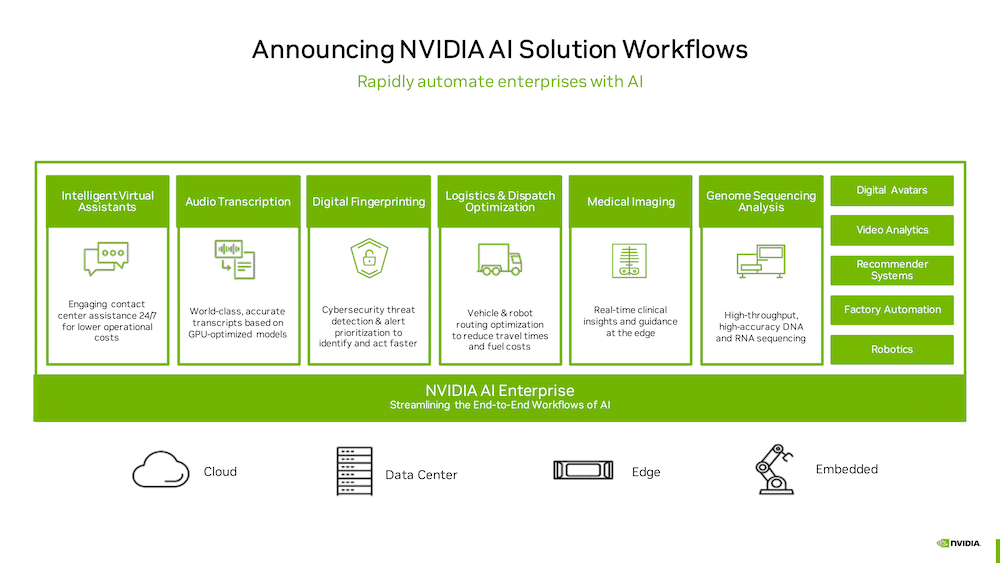 The workflows run as cloud-native microservices using NVIDIA AI frameworks and pre-trained models, Helm charts, Jupyter notebooks, and more. Enterprises can deploy the microservices as standalone Kubernetes containers or combine them with other services to create production-ready applications.
The contact center intelligent virtual assistant workflow allows enterprises to develop agents that deliver personalized and precise responses in natural-sounding voices. Enterprises will be able to respond to customers around the clock, reducing wait times and freeing up human contact center agents to support complex inquiries and, ultimately, reduce costs. Leveraging AI lets agents better understand customer calls, even when the call audio quality is poor.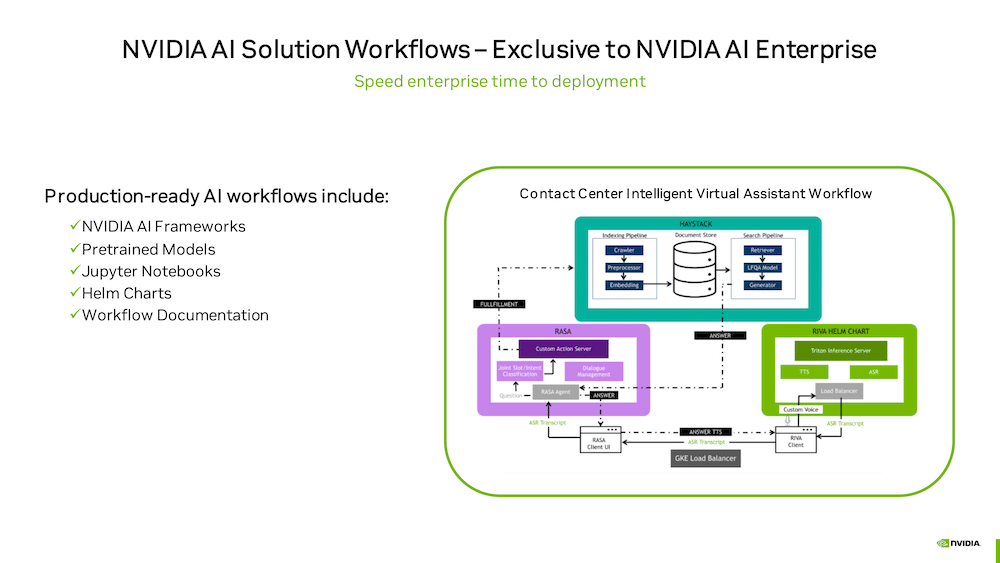 Using automatic speech recognition technology, enterprises can use the audio transcription AI solution workflow to rapidly create accurate transcripts in several languages, including English, Spanish, Mandarin, Hindi, Russian, Korean, German, French, and Portuguese. Japanese, Arabic, and Italian are expected to be added soon.
The transcription workflow leverages customizable GPU-optimized models that enable better understanding, contextual insights, and sentiment analysis with real-time accuracy. The transcripts can improve product development and ramp up contact center agent training.
The digital fingerprinting AI solution workflow improves security by helping enterprises fingerprint every user, service, account, and machine across the network to detect anomalous activity. When deployed, the workflow provides intelligent alerts and actionable information to reduce detection time from weeks to minutes.
Pretrained Models provide a View Into Biases
The unencrypted pre-trained models and source code in AI Enterprise 3.0 came from the latest release of the NVIDIA TAO Toolkit. The TAO Toolkit is a low-code AI development solution for creating accurate, customized, production-ready AI models for speech and computer vision AI applications.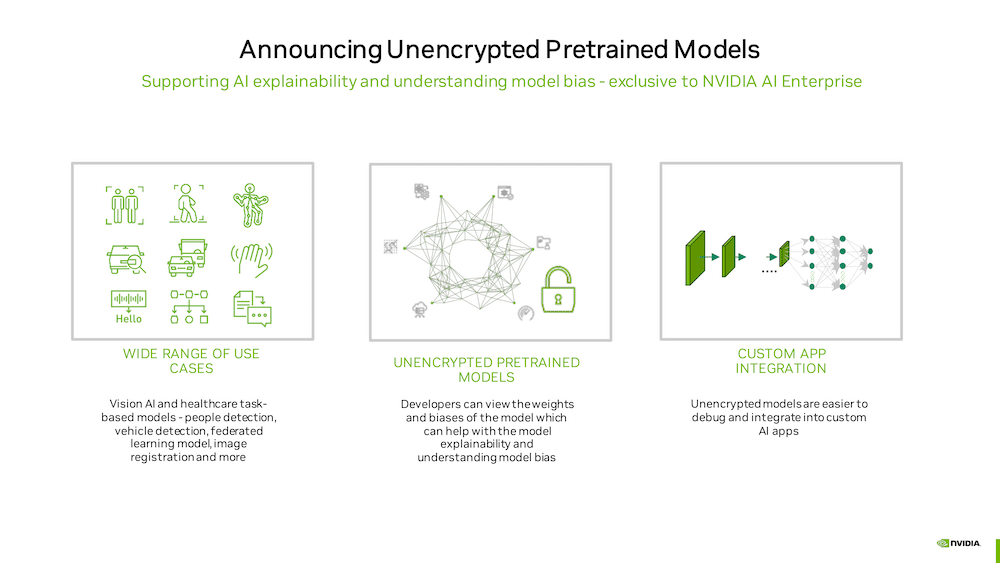 The unencrypted models are exclusive to NVIDIA AI Enterprise and support imaging and vision AI tasks for healthcare, smart cities, and retail. Tasks include pathology tumor, people, and vehicle detection and can pose estimation and action recognition. The unencrypted pre-trained models are easier to debug and integrate into custom AI applications.
NVIDIA AI Enterprise 3.0 also introduces support for a wide range of NVIDIA AI frameworks and infrastructure options, such as:
NVIDIA Clara Parabricks and MONAI to improve healthcare: New support for NVIDIA Clara Parabricks enables faster, more accurate genomic analysis for sequencing centers, clinical labs, genomics researchers, and genomics instrument manufacturers. NVIDIA AI Enterprise also supports MONAI, a domain-specific medical imaging AI framework that provides pre-trained models and a collaborative, scalable workflow for data labeling and training robust AI models.
Boosting customer service, safety, sales, and more: The 50+ frameworks and pre-trained models include NVIDIA Riva, a GPU-accelerated speech AI software development kit for building and deploying customizable, real-time AI pipelines that deliver accuracy in all leading clouds, on-premises, at the edge, and on embedded devices. NVIDIA Morpheus enables cybersecurity developers to create optimized AI pipelines for filtering, processing, and classifying large volumes of real-time data. SDKs in the NVIDIA Metropolis intelligent video analytics platform, such as TAO Toolkit and NVIDIA DeepStream for vision AI, are supported, as is the NVIDIA Merlin open-source framework for building high-performing recommender systems at scale.
Expanded certification for the cloud: Provides organizations with a hybrid cloud strategy and the flexibility to run the software on GPU-accelerated instances from Oracle Cloud Infrastructure. Customers who purchase a license through one of NVIDIA's channel partners can deploy in OCI with full certification and support from NVIDIA on designated OCI instances. This is in addition to existing NVIDIA AI Enterprise certification for accelerated instances from Amazon Web Services, Microsoft Azure, and more.
Hewlett Packard Enterprise and NVIDIA extend AI support for hybrid data centers: HPE and NVIDIA will deliver a joint offering that provides  NVIDIA AI Enterprise 3.0 support on HPE GreenLake and HPE Ezmeral. The solution allows customers to securely speed up AI application development by procuring and deploying NVIDIA AI Enterprise on a managed HPE GreenLake instance.
Broadened storage and virtualization support: Support for NVIDIA Magnum IO GPU Direct Storage, providing a direct data path between local or remote storage and GPU memory to speed AI workloads. It also delivers expanded virtualization options, including Red Hat Enterprise Linux with KVM and VMware vSphere 8.
Availability
NVIDIA AI Enterprise is available now. Customers can contact NVIDIA partners worldwide for pricing.
NVIDIA AI Enterprise 3.0 is expected to be available for customers with current and new subscriptions in December. A license for NVIDIA AI Enterprise is also included with servers from NVIDIA partners that feature NVIDIA H100 PCIe GPUs, including systems from Dell Technologies, Hewlett Packard Enterprise, Lenovo, and Supermicro.
Enterprises can grow their AI expertise by trying NVIDIA AI workflows and frameworks supported in NVIDIA AI Enterprise on NVIDIA LaunchPad at no charge.
Engage with StorageReview
Newsletter | YouTube | Podcast iTunes/Spotify | Instagram | Twitter | TikTok | RSS Feed