Addressing the growing Autonomous Vehicle (AV) market, Cheetah RAID is releasing a ruggedized, compact server designed to sit under a seat or in the trunk. The Cheetah RAID Prowler is powered by a 3.6GHz 8-core or 16-core processor, with up to 128GB memory and four NVMe drive bays housed in hot-swappable canisters supporting up to 120TB on the new Solidigm P5316 SSDs (see our update on the SK hynix acquisition and Solidigm announcement). We just reviewed the Solidigm D5-P5316 SSDs here. Cheetah Raid has partnered with RAIDIX to provide high-performance software RAID technology to meet the stringent requirement the Prowler system demands. The Cheetah RAID Prowler is the smallest high-performance data logger built for vehicle and Military applications.
Addressing the growing Autonomous Vehicle (AV) market, Cheetah RAID is releasing a ruggedized, compact server designed to sit under a seat or in the trunk. The Cheetah RAID Prowler is powered by a 3.6GHz 8-core or 16-core processor, with up to 128GB memory and four NVMe drive bays housed in hot-swappable canisters supporting up to 120TB on the new Solidigm P5316 SSDs (see our update on the SK hynix acquisition and Solidigm announcement). We just reviewed the Solidigm D5-P5316 SSDs here. Cheetah Raid has partnered with RAIDIX to provide high-performance software RAID technology to meet the stringent requirement the Prowler system demands. The Cheetah RAID Prowler is the smallest high-performance data logger built for vehicle and Military applications.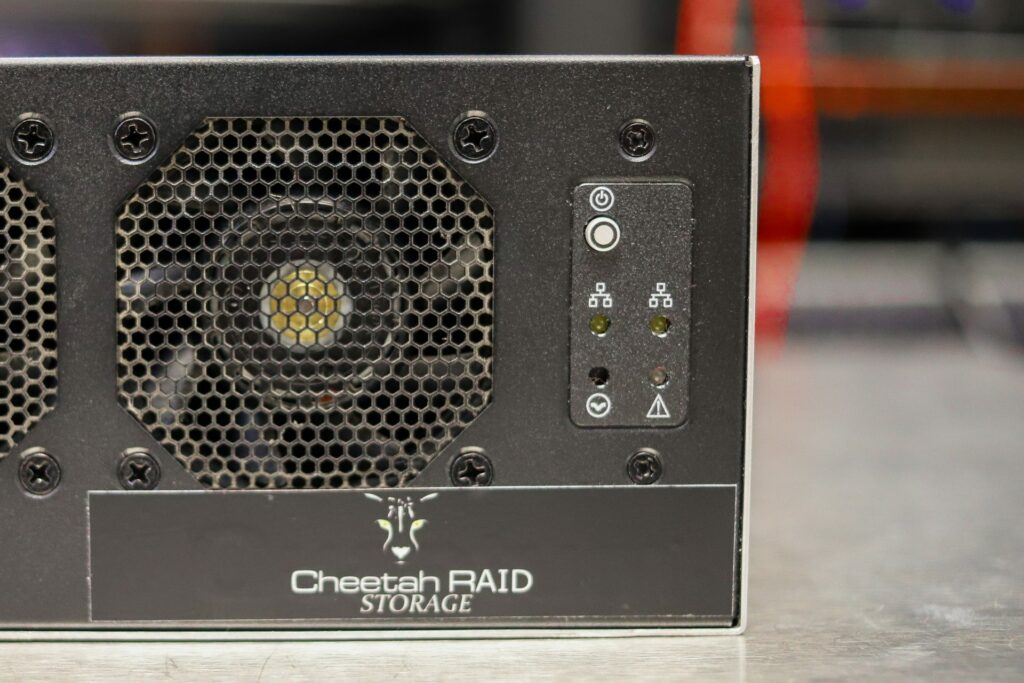 The Cheetah RAID PROWLER autonomous server was specifically designed for autonomous vehicles in mind. However, being a high-performance rugged server/JBOF, the Prowler can be used in applications that need to capture a lot of data at a high rate of speed in a harsh environment, including military and surveillance and Media/Entertainment. The removable drive canister allows easy offloading to the ingest system and can quickly swap in fresh storage to go back in the field.
The Need For Rugged Edge Computing
There continues to be a focus on pushing data processing to the edge where data is created. This is especially true for AV and military applications, but the need doesn't end there. Rugged-edge is also needed in agriculture, where data collection is done in adverse conditions, and also in media and entertainment, for those chase scenes or in-flight "accidents." These applications require a secure, high-performing, rugged server to provide data collection in real-time.
Edge computing is growing at an incredible rate. According to Gartner, more than 50% of enterprise-generated data will be created and processed by the cloud or data center this year. This type of growth is expected to continue, forcing enterprises to deploy even more edge applications over the next 24 months.
AV and military applications are great use cases for edge computing, but it doesn't stop there. Edge computing is being deployed for retail, hospitals, mining, and airports, to name a few. There are many reasons for this push to edge, with cost and time heading the list. Think about data that could provide a pilot with information on birds in flight over a landing flight path. Bird strikes are dangerous, as we all know, so having that information available from edge-device collections would allow evasive action by a pilot to avert a potential disaster.
Most of the data collected at the edge is essential enough to be processed quickly, and taking it back to a central data center is time-consuming and wastes crucial minutes. Building additional cloud resources at every endpoint is expensive and requires maintenance and management. Edge computing solves these two essential aspects of delivering processed information quickly and cost-effectively.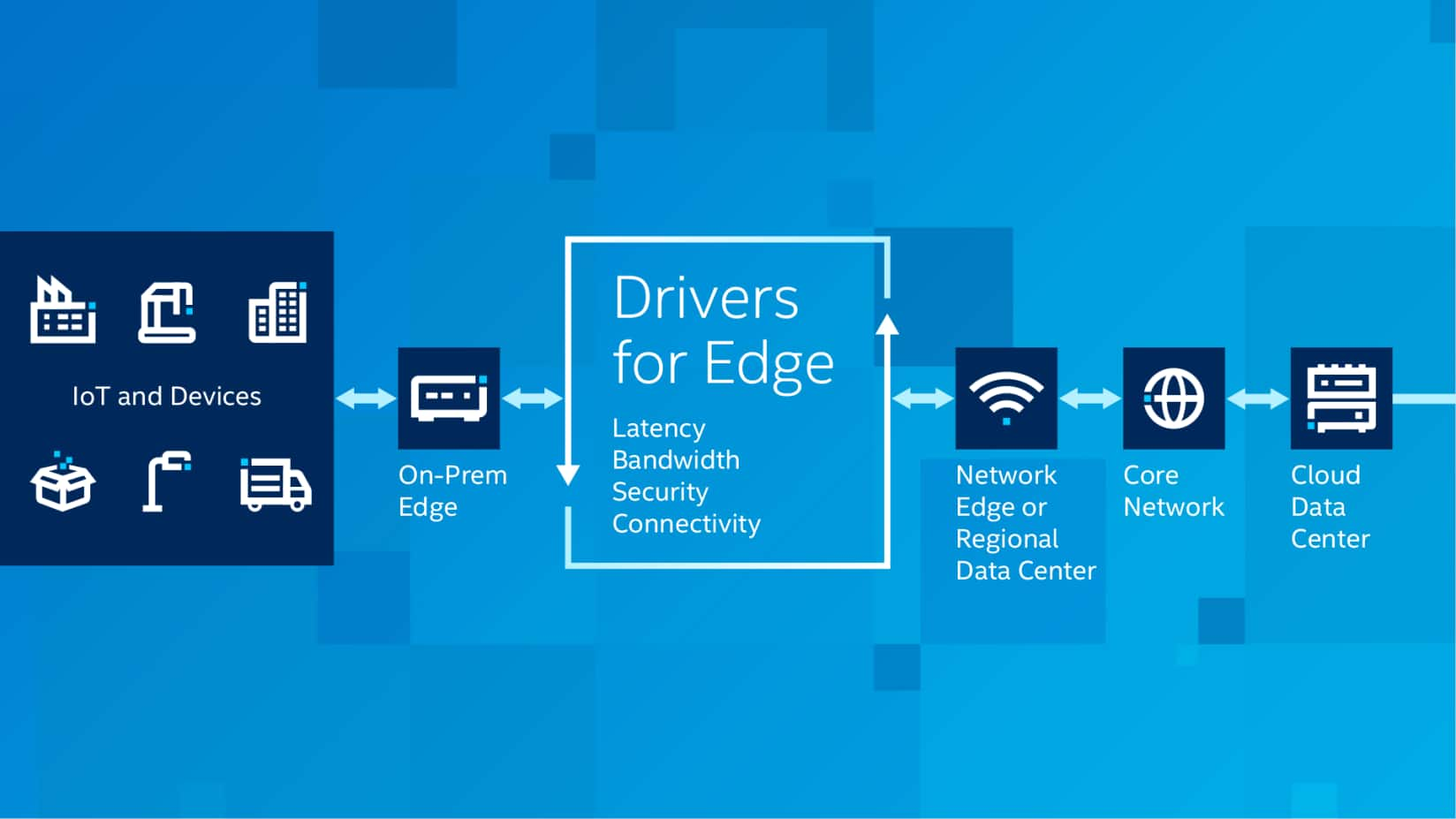 Going back to the AV application, data collected from the vehicle and sending it to the processing center can save lives and prevent future accidents. Collecting data from military missions and delivering it to decision-makers can prevent conflict and possible loss of life.
The collected data is also used for AI applications to improve the performance of the devices collecting and storing that data.
Cheetah RAID Prowler – Ruggedizing the Hardware
If you think about having a server mounted in a moving vehicle, be that a car, tank, truck, or ship, it has to withstand all the vibrations that come with that territory. AV Servers have been built to withstand vibration, shock, temperature extremes, and other anomalies that typical hardware would not survive.
One of the significant components, other than the rugged chassis, is the SSD used for critical data collection. HDDs would not fare well in the conditions described, so SSD technology is a no-brainer. The chassis is mounted in the vehicle in an inconspicuous location, typically under the seat if it is an AV, but it could go in a truck or other secure area. The critical thing here is to make sure it has a solid, firm installation. The SSD magazine is placed in the server for data collection. The magazine needs to have easy access so it can be transferred at the "home" location. A clean magazine is then placed in the server, and the vehicle can get back on the road.

Special consideration must be taken to ensure the server can fit in the assigned location, mount securely, and withstand harsh elements. The CheetahRAID Prowler is purpose-built for this service.
Prowler was designed explicitly for edge-data-capture use cases, such as autonomous vehicle research, surveillance monitoring, media and entertainment production, and Internet of Things (IoT) technologies. The Prowler was built to withstand the demanding data capture requirements in any challenging environment—from military vehicles on rough terrain to autonomous vehicles traveling at variable speeds to research vehicles dodging potholes and obstacles.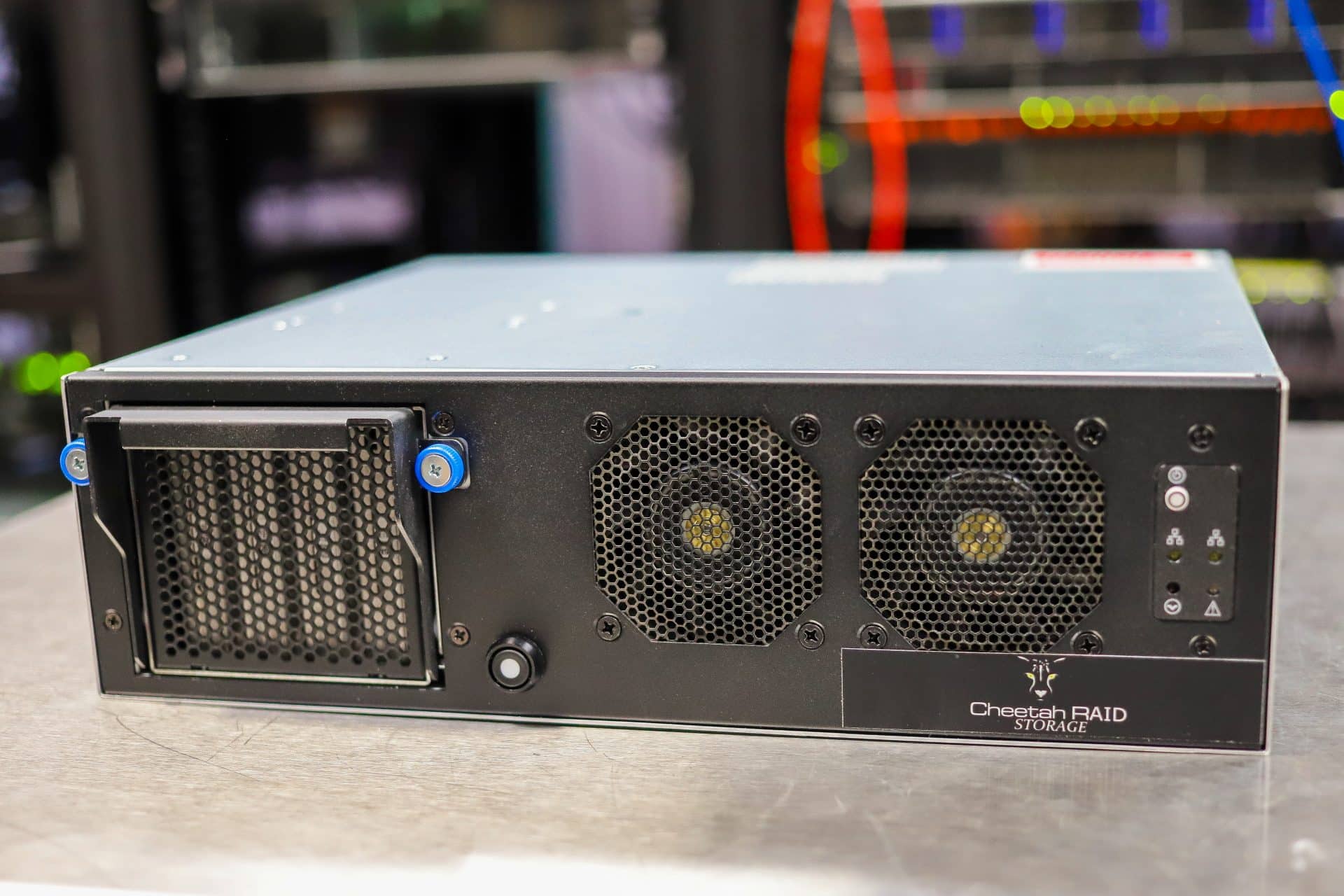 The front of the Prowler has a fairly basic layout, and includes the NVMe drive caddy with an eject switch to safely remove the installed NVMe SSDs via software, two fans, and a power switch. Also included are the power and network status LED indicators to provide visible system status, which wraps up the front design.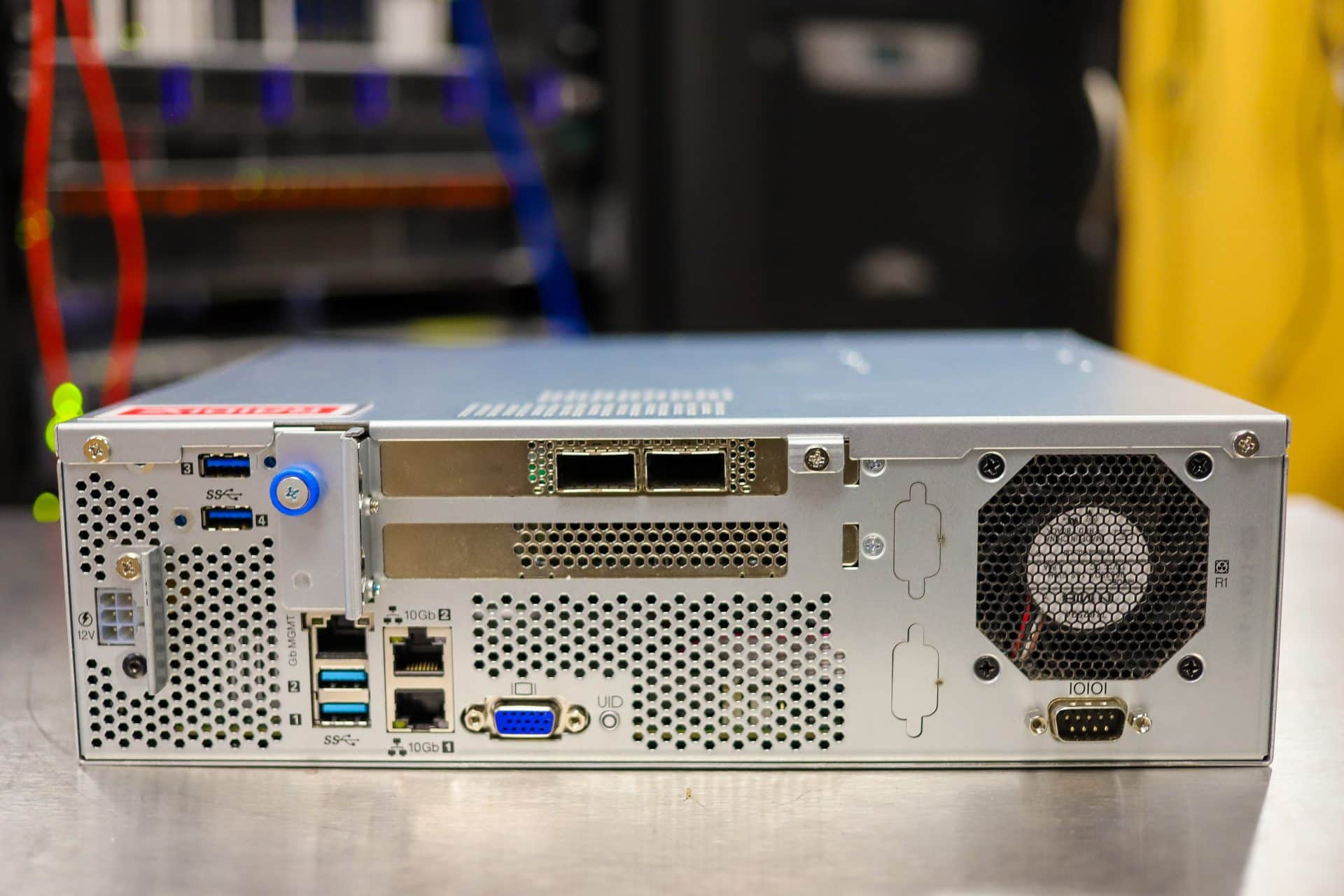 While the front of the chassis didn't offer any connectivity, switching to the rear, we see all of the available ports condensed onto one side. Left to right, we see a pretty typical layout for server designs, including a power connection (12VDC), four USB3 ports, out-of-band management, two 10G RJ45 ports, VGA, and a serial port. The installed PCIe cards include an NVMe RAID card in the lower slot and a dual-port 100GbE NVIDIA ConnectX-5 NIC in the upper slot.
Internally the CheetahRAID Prowler is built to a much higher and demanding standard than most off-the-shelf systems. By removing the top panel, it's easy to see the substantial bracing components that give strength to the system chassis. Horizontal and vertical supports are used to limit chassis flex and movement and tie in components like the PCIe cards, protecting them from movement from shock or vibration.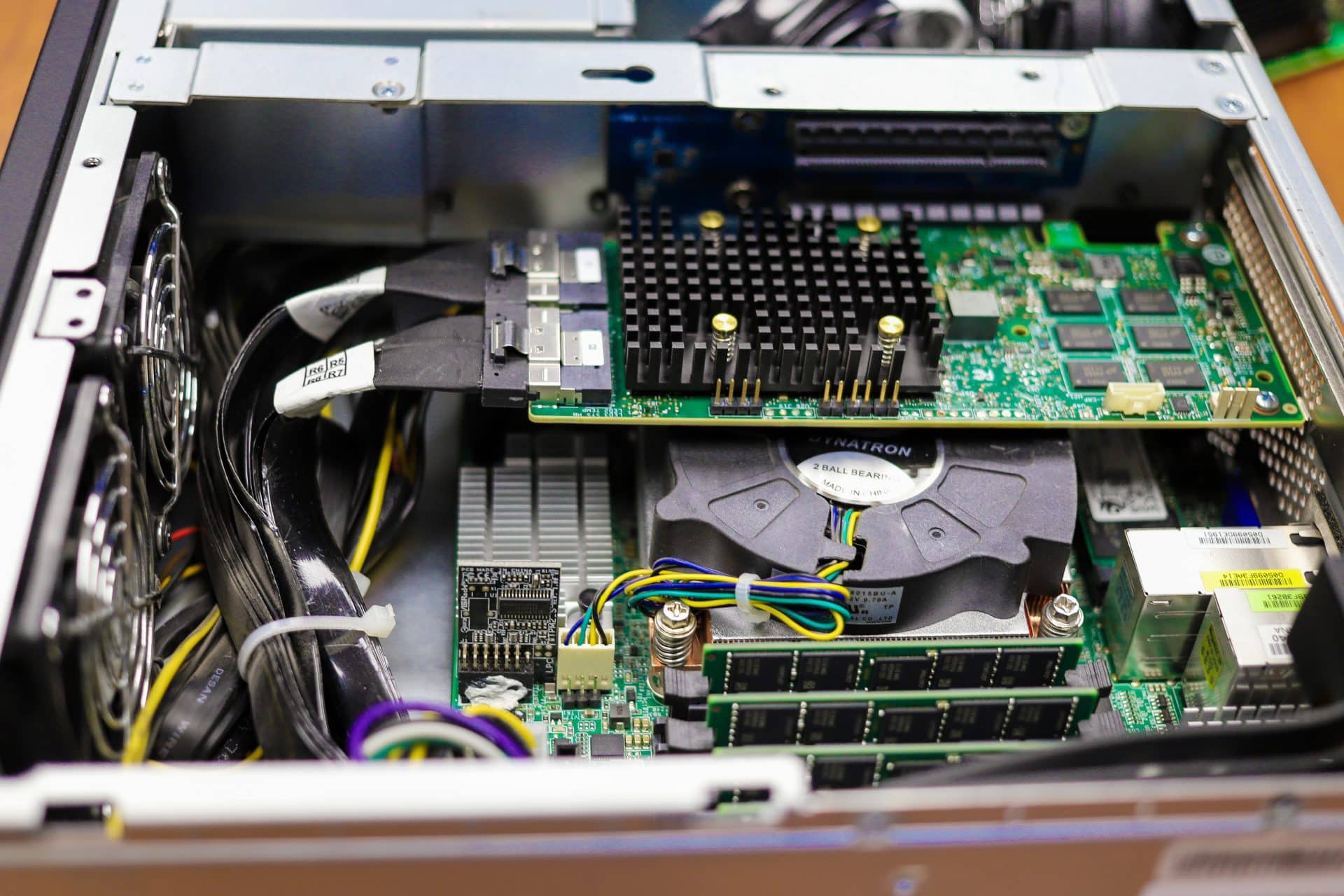 From a connectivity standpoint, the chassis includes provisions for a durable12V power connector with a blocking plate to prevent accidental disconnect in the field. Once the power supply is plugged into the chassis, you need to unscrew the blocking plate to gain access to the release tab to disconnect it. Network connectivity is available through two onboard 10G RJ45 connections, and there is one available PCIe slot for a high-speed network adapter. Our system came with an NVIDIA ConnectX-5 dual-port 100GbE NIC installed, offering a high-bandwidth I/O option for deployments that require it.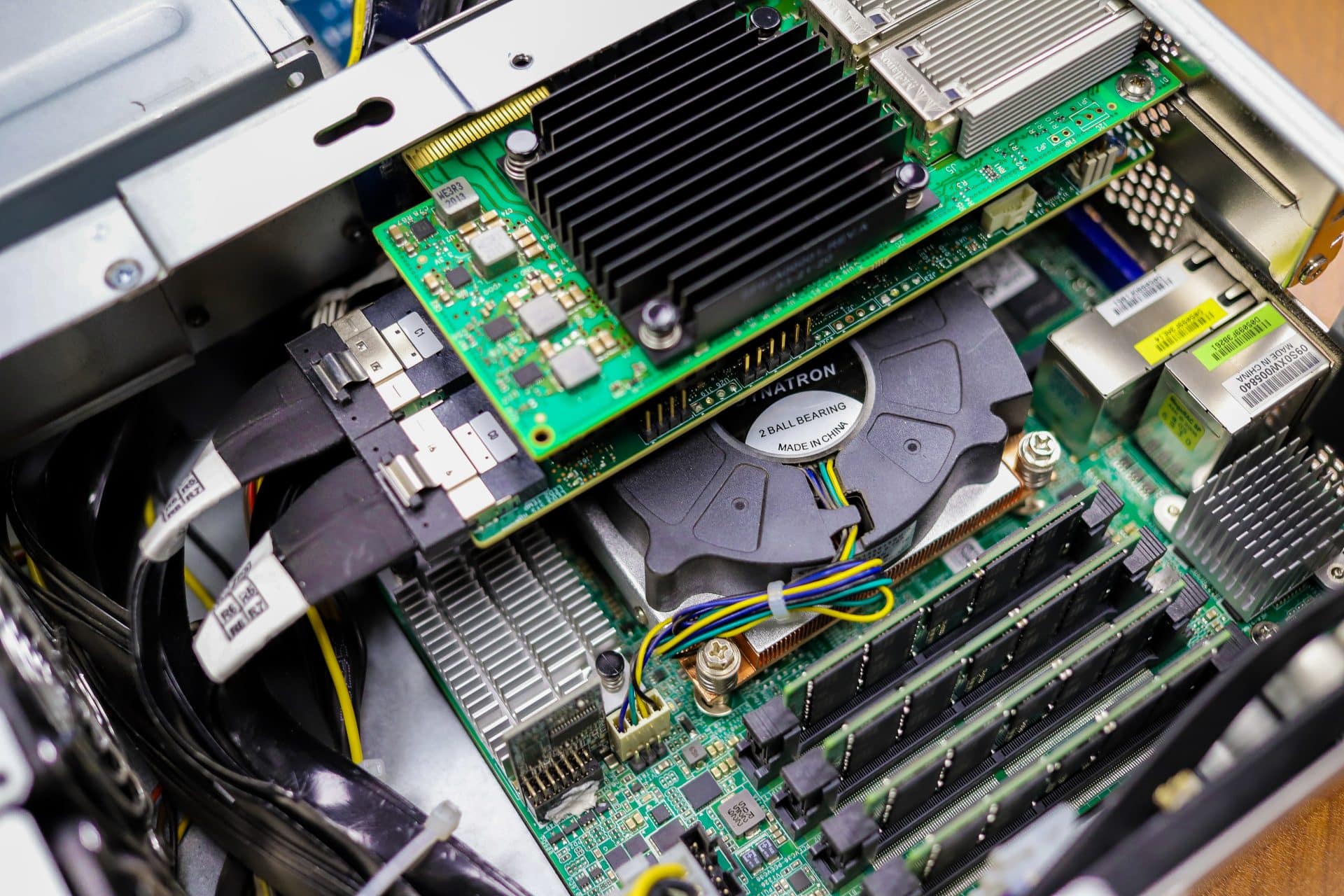 The NVMe drive caddy is also very rugged by design, which keeps the connection between the drives, their adapter board, and midplane connector stable at all times. The box that houses the four NVMe SSDs mechanically ties the SSDs to the frame, leveraging every screw hole available on the SSDs and cage itself. As a result, to gain access to the drives for the initial installation or to swap out one for maintenance, you need to remove about a dozen screws to open it up.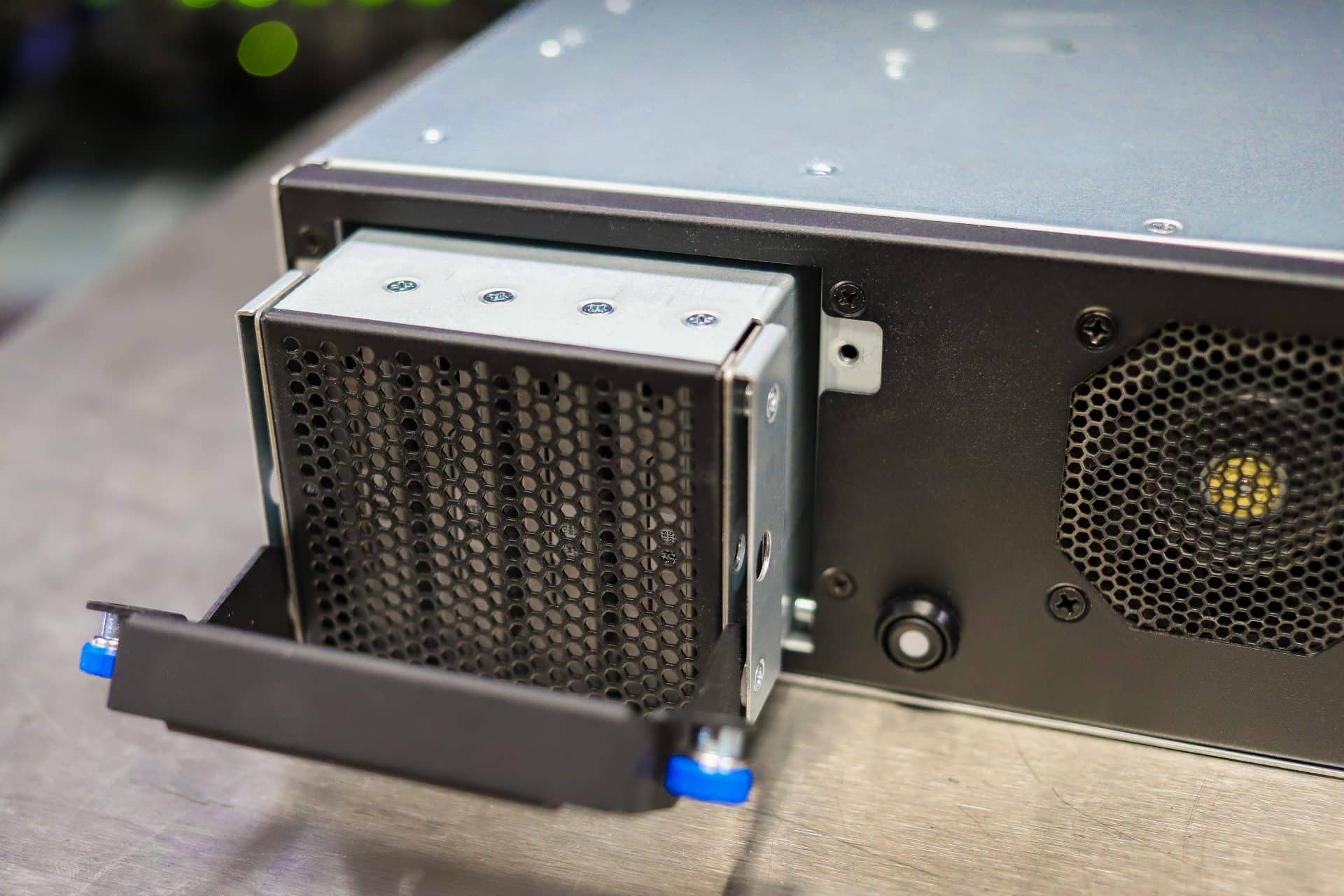 The Prowler is built to meet MIL-STD-810F, MIL-STD-810G, and MIL-STD-461F specs with the latest technology on the market today, including PCIe GEN4, MIL-spec grade locked down internal components, and tamper-proof features. Beyond the ruggedized hardware, the Prowler contains substantial encryption. Disk security features include Sanitize Instant Erase (SIE), Self-Encrypting Drive (SED), and Self-Encrypting Drive (SED) with FIPS 140-2 validation or compliance. Encryption and Secure erase are built into the software with support for instant erase.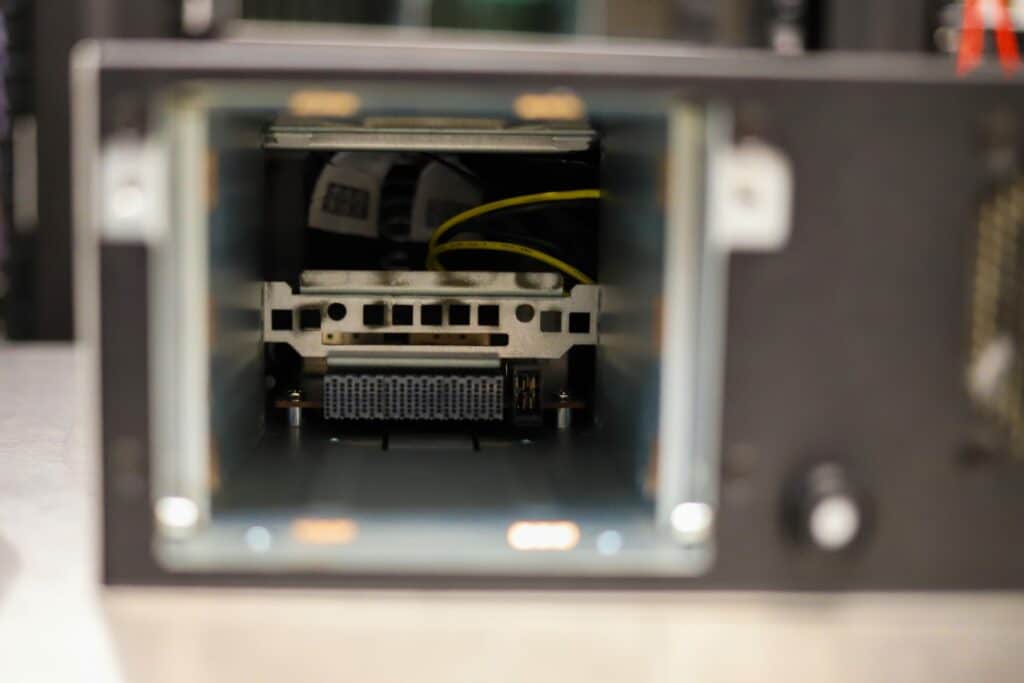 Plenty of Power in a Small Footprint
The Prowler packs a lot of processing into this server. It weighs 10 lbs and measures only 10.2″ (D) x 11.8″ (W) x 3.43″ (H). The Cheetah RAID Prowler sports an AMD Ryzen 3 Processor or Optional AMD EPYC Zen 3 (Milan) CPU. The 4-bay server comes with PCIe Gen4 NVMe storage and supports PCIe Gen4 X8 Tri-mode hardware RAID. RAID is critical when installed in an AV or military vessel.
The removable storage canisters, supporting capacities up to 120TB, make it simple to swap the drives into the ingestion system. A quick drive swap is crucial for successfully transferring data and getting the vehicles back in the field for further data collection.
This secure platform supports TPM (Trusted Platform Module) and data encryption using AES-256 encryption and TCG Opal, and all drives are protected with RAID 0, 1, 10, 5, 6 for data integrity. AC or DC power is available.
Processing Flow
The flow of data from the collection to ingestion is relatively straightforward. In the case of Cheetah RAID Prowler, the unit is installed in the vehicle, whether an automobile, aircraft, ship or submarine or military vehicle. Based on customer requirements, the appropriate operating system is preinstalled along with the required software to perform the collection.
Data is collected from the onboard Ethernet and stored on the NVMe in the canister. When ready, the canister is swapped from the vehicle and replaced by a fresh canister at the ingestion server site. The vehicle is then ready to go back into the field. The data from the canister is transferred to the final collection location for processing.
Security is Key
Security is a crucial consideration when developing and delivering an edge server. This can be a challenge when it's possible that the data could pass through several devices before reaching the final destination. Securing data can include encryption, access-control methods, and even VPN tunneling.
The Cheetah RAID Prowler addresses these concerns by implementing Sanitize Instant Erase (SIE), Self-Encrypting Drive (SED), and SED with FIPS 140-2 validation or compliance.
Reliability is Essential
The Cheetah RAID Prowler is configured with four 30.72TB Solidigm P5316 NVMe SSDs.
Cheetah RAID has partnered with RAIDIX to provide RAID solutions that perform at comparable hardware levels. Although Prowler will support all RAID levels, applications in this space will typically utilize RAID 0 or 5. There are two flavors of RAIDIX software used in Prowler, RAIDIX ERA and RAIDIX 5.2, and both RAIDIX implementations have their sweet spot for RAID.
RAIDIX ERA is a software RAID engine for Linux that can reveal full NVMe performance, and it is very efficient with RAID5/6. With I/O handling parallelization and lockless datapath, RAIDIX ERA utilizes maximum hardware performance capabilities to achieve the highest performance rate.
RAIDIX 5.2 is a complete storage solution with RAIDs, volume manager, targets (FC\iSCSI\iSER\NVMe-oF) that includes RAIDIX ERA as its part.RAIDIX storage demonstrates minimum performance penalty when a drive goes out, maintaining smooth application workflow and data integrity in the event of a failure. The dual controller configuration eliminates a single point of failure and prevents impact from the most common hardware failures.
Configuration and maintenance for RAIDIX software is performed using a Unix command line or WebGUI. Both RAIDIX ERA and RAIDIX 5.2 use the same command format.
The Cheetah RAID Prowler is equipped with the Solidigm SSD D5-P5316 Series, Solidigm's newest enterprise SSD. The P5316 is a 144-layer QLC NAND with a PCIe 4.0 interface. Available in capacities up to 30.72TB in both the 2.5-inch and E1.L form factor, this is a read-optimized SSD designed for warm storage. The Solidigm P5316 SSD is built for use cases such as content delivery networks, hyper-converged infrastructure (HCI), Big Data, artificial intelligence, Cloud Elastic Storage and, high-performance computing.
QLC drives are known for retaining high-capacity points and delivering solid performance. This means there are a lot of scenarios where companies can leverage QLC SSD technology, one being in a rugged edge server such as Prowler. RAIDIX ERA has been designed specifically to work with all-flash systems. When deploying RAID5 on QLC SSD systems, RAIDIX ERA has implemented features to improve overall performance. 
The merge optimization parameter will improve the system workload performance, as the access pattern is sequential and high-threaded, reducing re-modify-write operations on the syndrome RAID drives.
Another feature to improve performance is scheduling. For single-threaded workloads, scheduling redistributes workloads equally across all system CPUs. With multithreading access patterns, scheduling would be inefficient and would waste cycles with transfer requests from one CPU core to another.
In addition to the need to withstand harsh conditions, the AV application requires high-performance read and write numbers. The Solidigm P5316 does not disappoint. These drives are quoted at 7GB/s read and 3.6GB/s write and 800K IOPS read for sequential and random performance, respectively. StorageReview recently posted a review on the Solidigm D5-P5316.
Cheetah RAID Prowler Performance Testing
The StorageReview Enterprise Test Lab provides a flexible architecture for conducting enterprise storage and server benchmarks in an environment comparable to what administrators encounter in real deployments. The Enterprise Test Lab incorporates a variety of servers, networking, power conditioning, and other network infrastructure that allows our staff to establish real-world conditions to gauge performance during our reviews accurately.
We incorporate these details about the lab environment and protocols into reviews so that IT professionals and those responsible for storage acquisition can understand the conditions under which we have achieved the following results. None of our reviews are paid for or overseen by the equipment manufacturer. Additional details about the StorageReview Enterprise Test Lab and an overview of its networking capabilities are available on those respective pages.
To measure the capabilities of the Cheetah RAID Prowler, we focused on storage performance both internally and externally of the system. With the multiple network interfaces and transfer protocols supported, knowing the peak capabilities of the box and what you can get out of it are essential. To that end, we focused on four configurations utilizing four 30.72TB Solidigm QLC P5316 Gen4 NVMe SSDs:
Internal RAID5
Internal RAID0
External RAID5 (NVMEoF over the supplied 100GbE NIC)
External RAID0 (NVMeoF over the supplied 100GbE NIC)
For external testing, we used a Dell EMC PowerEdge R740xd server with an NVIDIA ConnectX-5 dual-port 100GbE NIC directly attached to the Cheetah RAID Prowler. This system was set up using a standard NVMe-oF configuration without the need to use specific drivers. Ubuntu 20 has included the necessary drivers to make this a more universal installation for the NVIDIA ConnectX-5 100GbE NIC. We used the same FIO loadgen software as our internal benchmarks on the Prowler itself.
Dell EMC PowerEdge R740xd Specifications:
2 x Intel 6310 CPUs
256GB DDR4 RAM
NVIDIA ConnectX-5 100GbE NIC
Ubuntu 20.04 OS
The hardware RAID card installed in the Prowler was set to pass through each of the four SSDs to RAIDIX to leverage software RAID. We used the RAIDIX ERA RAID engine for either RAID5 or RAID0 storage configurations, with a 128K stripe size. As the intended application focuses on sequential transfer speeds, we used a 512KB block size to measure read and write performance with FIO.
Internally, the RAID5 or RAID0 LUN presented from RAIDIX with a 2-thread and 20-queue workload. Externally two 40GB or 50GB LUNs were shared out (one per NIC port), and the queue was increased to 32 to thoroughly saturate the NVMe-oF connection, keeping the 2-thread workload.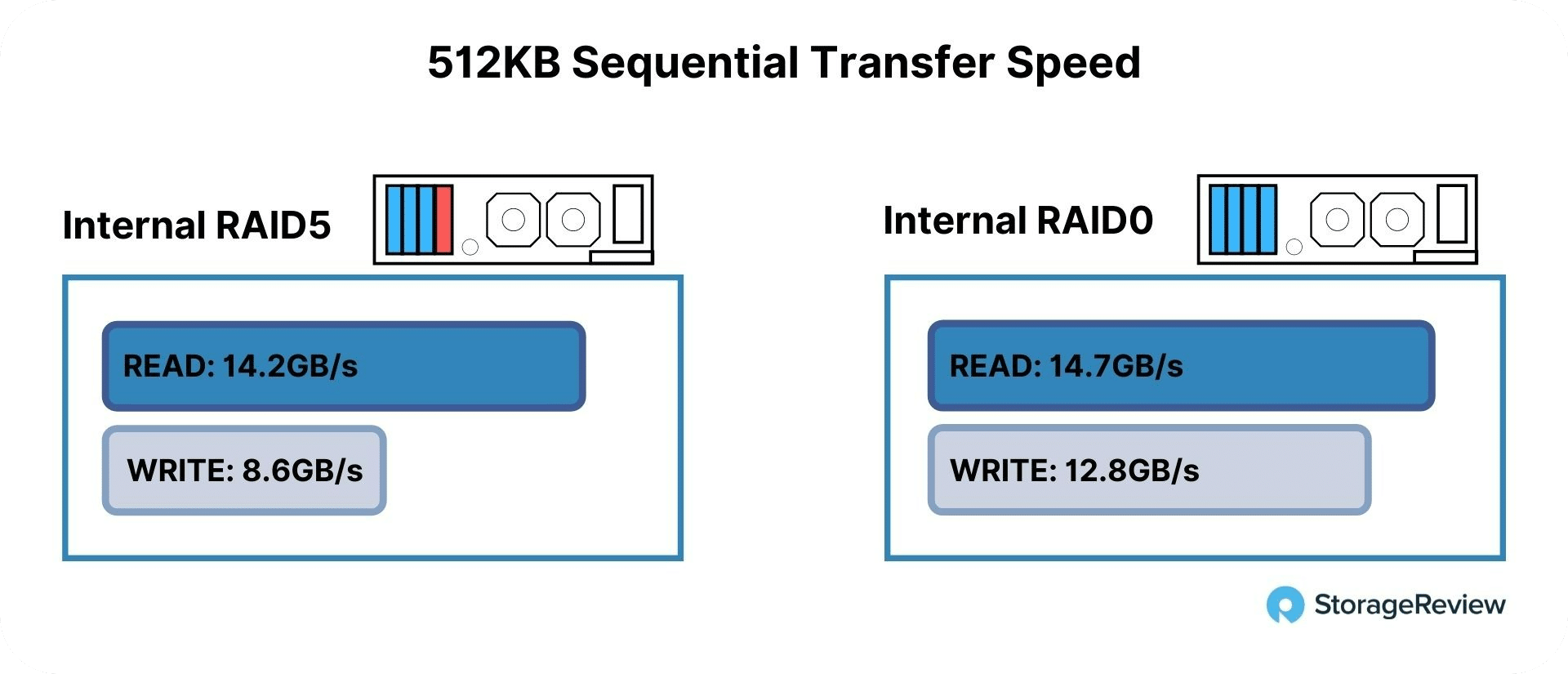 Internally we measured RAID5 sequential transfer speeds of 14.2GB/s read and 8.6GB/s write. In RAID0, we measured 14.7GB/s read and 12.8GB/s write.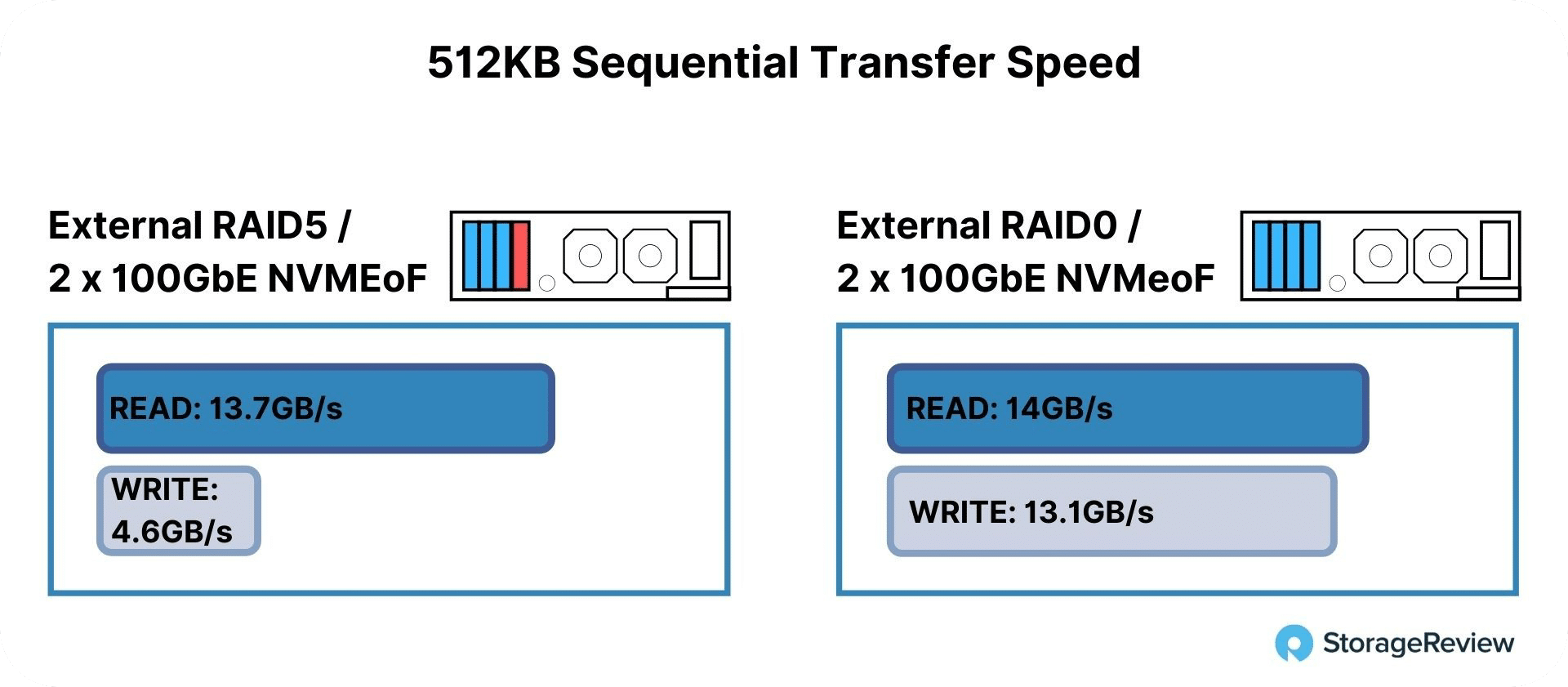 Externally, leveraging our single NVMe-oF client running Ubuntu 20.04 with two 100GbE cables directly attached to the Prowler, we repeated the same sequential transfer tests. Here RAID5 sequential transfer speeds measured 13.7GB/s read and 4.6GB/s write. In RAID0, we measured 14GB/s read and 13.1GB/s write.
RAIDIX Monitoring
Cheetah RAID has been building custom servers since its inception. However, this project required working with partners to deliver a robust, rugged solution. RAIDIX and Solidigm have stepped up to ensure the combination is a fully functioning model. With the software RAID solution from RAIDIX and high-performance SSDs from Solidigm, the Prowler is a strong player. However, usability at the edge is critical and is something RAIDIX helps enable.
Although optimized for NVMe-oF, RAIDIX allows fast access via FC, iSCSI, iSER, as well as file access via SMB and NFS, making RAIDIX a truly versatile software RAID option.
RAIDIX has a robust Dashboard for monitoring and configuring RAID. It is intuitive and user-friendly, and the output is detailed. There are also help bubbles if you need them. We have provided a few of the screen captures of the RAIDIX Dashboard to get an idea of the tools available should you choose RAIDIX or if you are considering one of the Cheetah RAID Prowler servers.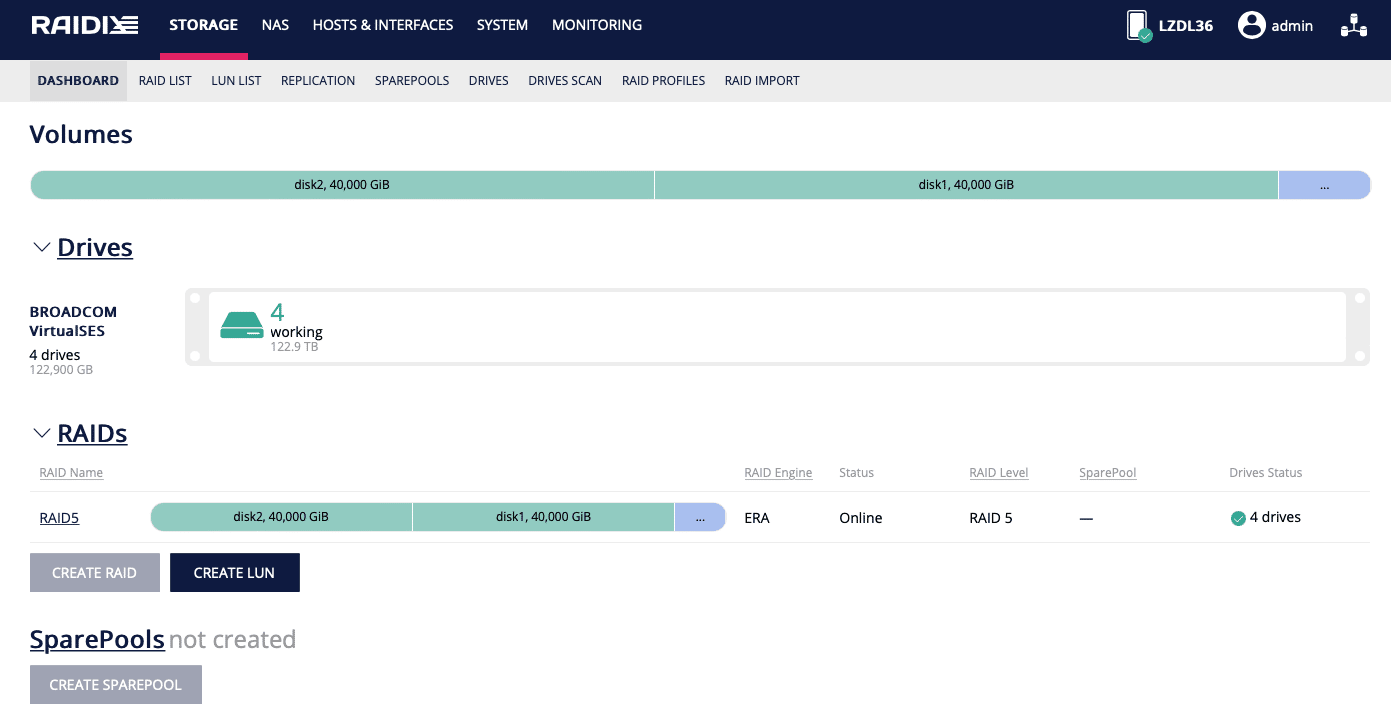 Upon connecting to the server and logging into the dashboard, you are presented with an easy-to-navigate main page. From here, you can look at what has been configured, what is being monitored, import existing RAID profiles, etc.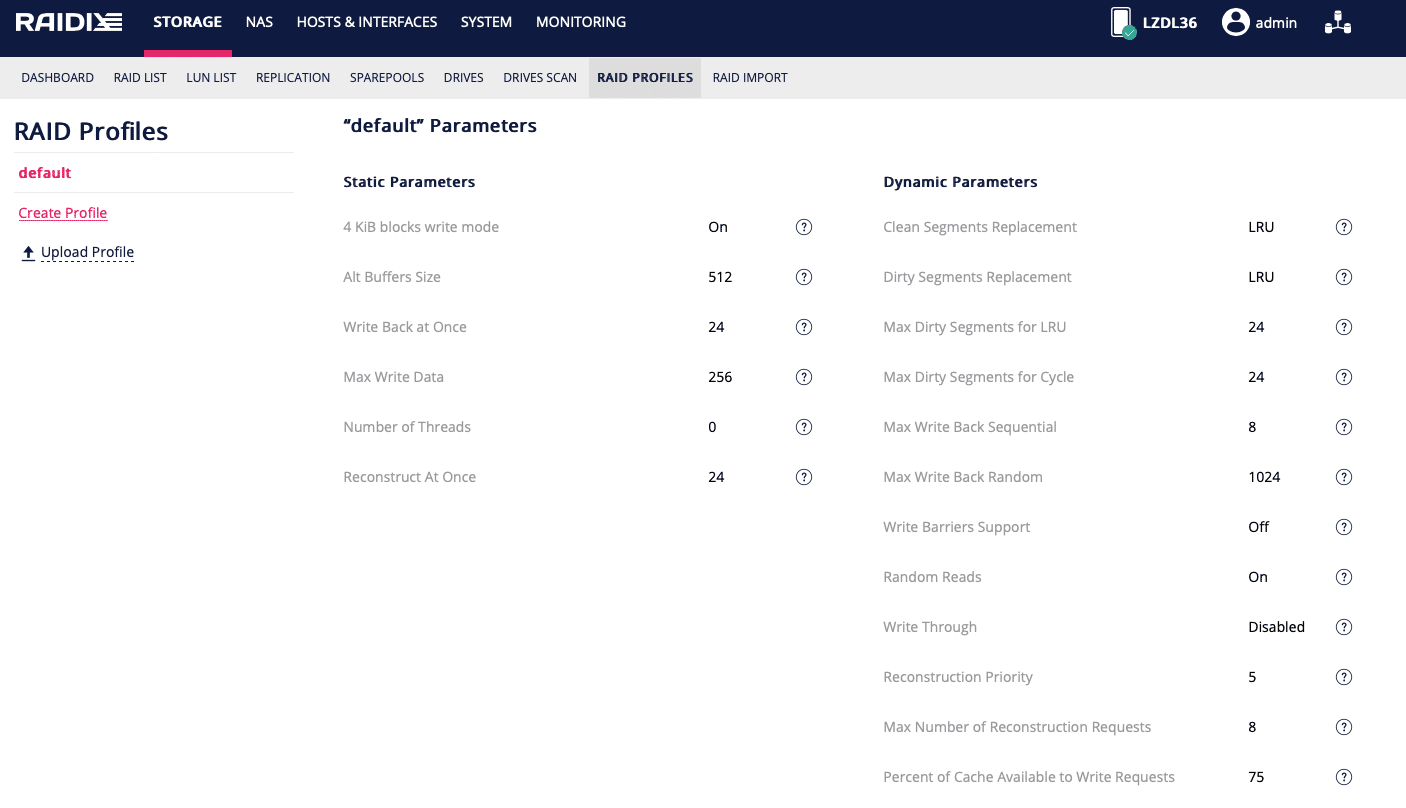 For example, from the dashboard, select Storage from the main panel and then RAID Profiles, and you will be presented with this display. It is possible to upload existing profiles or create new ones from here.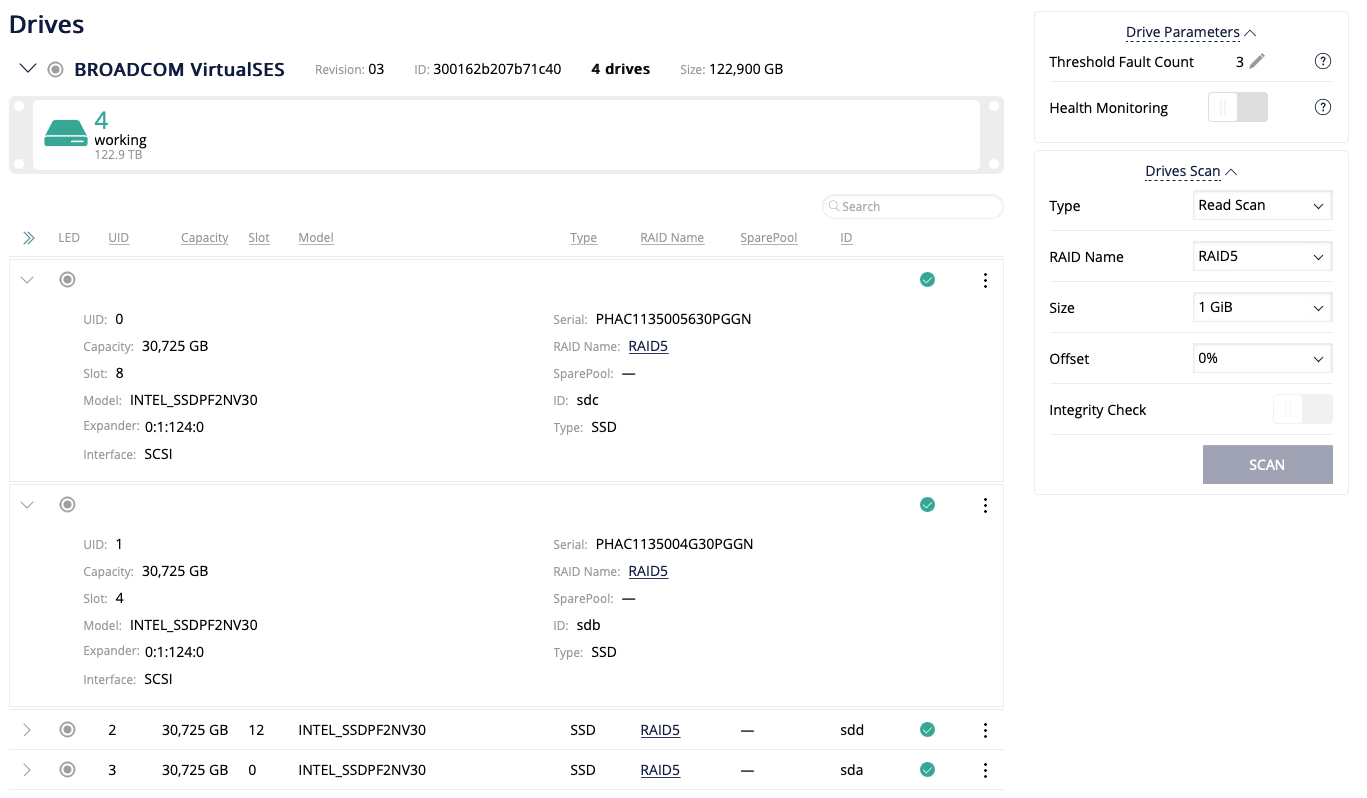 In one of our tests, we used Solidigm SSD PF2NV30 drives configured for RAID5 in this example. The output is a comprehensive description of installed drives, fault count threshold, and scan capabilities.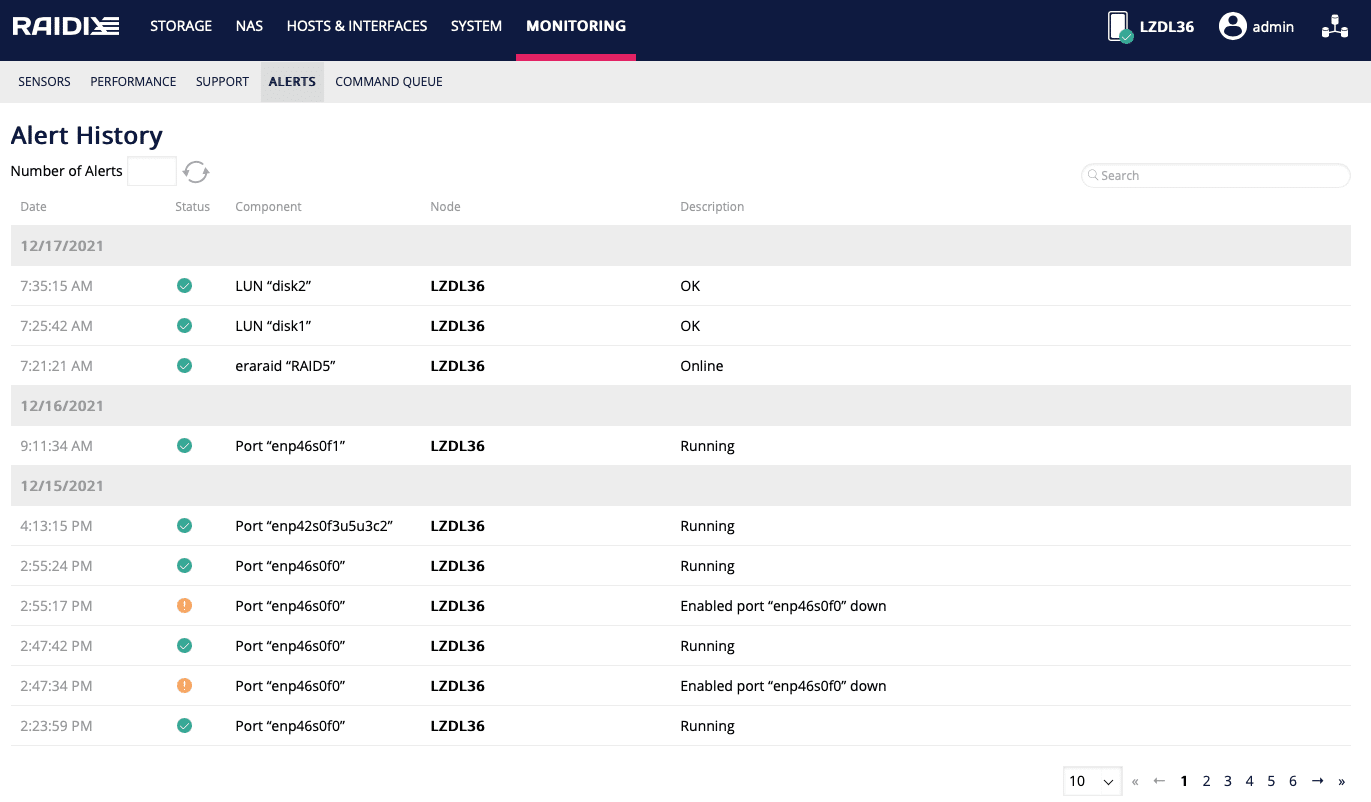 Monitoring the system's health and performance is detailed. This is a running capture detailing any anomalies that occur during normal operation. In addition to the Alert History, you can drill down to drive performance, sensors, and queues.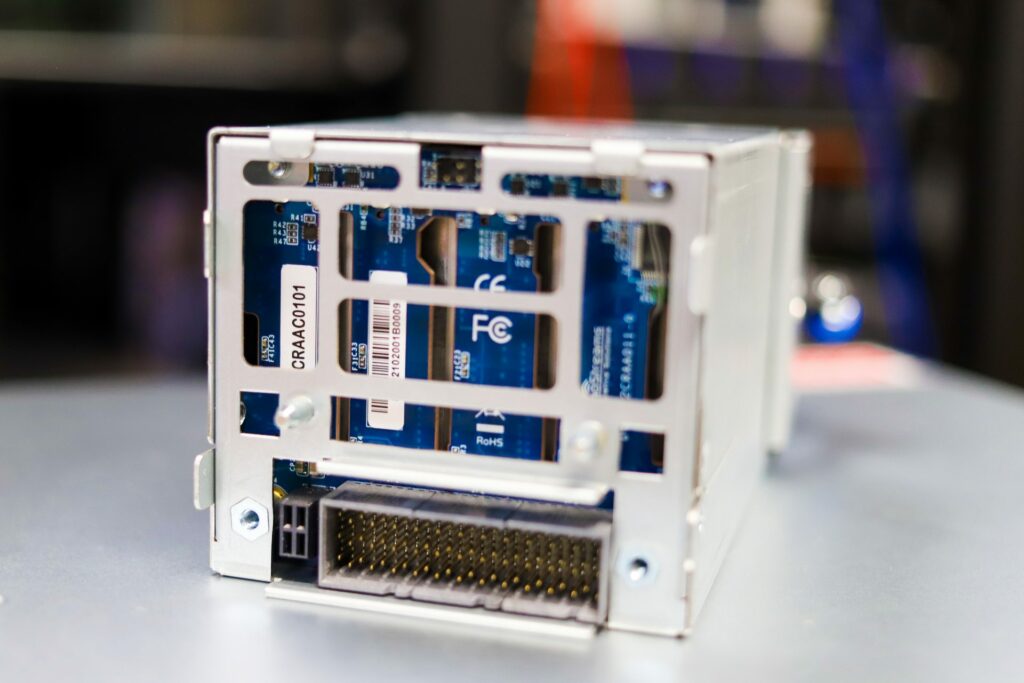 Summary
Don't let the size fool you; the Prowler is a powerful server for data logging. The server design is ideal for harsh environments that demand a rugged build but still allow components such as the NVMe flash to be quickly swapped when full.
The integrated RAIDIX software provides the data reliability needed to meet even the most demanding data protection requirements. RAIDIX offers near hardware RAID performance for a software RAID solution, with minimal overhead and disk usage. Additionally, the RAIDIX management suite is easy to navigate and provides essential detail regarding the system's performance.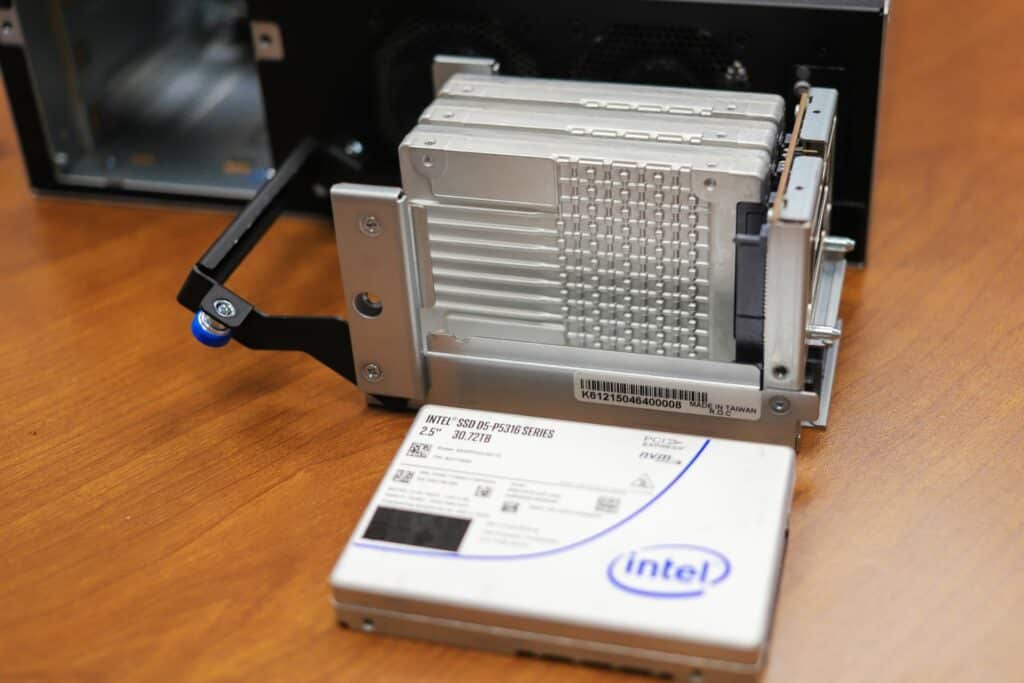 Inside, Solidigm's new Gen4 QLC-based P5316 SSD meets the read/write speed goals for the AV market this is marketed towards, while also maintaining a cost-effective $/TB profile. Although the original use-case was AV, this server fits the retail market, military, or aircraft flight data collection. With the ruggedized design, this server would survive in harsh environments. Overall, the Cheetah RAID Prowler is a high-performance server with a small footprint built to survive.
Cheetah Raid NVMe Storage Solutions
RAIDIX High-Performance Software RAID Solutions
This report is sponsored by RAIDIX and Cheetah RAID. All views and opinions expressed in this report are based on our unbiased view of the product(s) under consideration.
Engage with StorageReview
Newsletter | YouTube | Podcast iTunes/Spotify | Instagram | Twitter | Facebook | TikTok | RSS Feed