About a year ago, we took a look at SK hynix's Gen4 enterprise SSD, the PE8010. We compared that drive to the prior model family, and clearly, the PE8010 was a fantastic progression. Now we've been able to wrangle more SSDs from the company. Our focus in this testing is the brand new SK hynix PE8110, and it's our first extensive dive on an SSD with the E1.S form factor. This drive is extremely important for SK hynix, as it shows off so much of what the company is about, including NAND and controller development, and the ability to deliver innovative SSDs to meet customer demand.
About a year ago, we took a look at SK hynix's Gen4 enterprise SSD, the PE8010. We compared that drive to the prior model family, and clearly, the PE8010 was a fantastic progression. Now we've been able to wrangle more SSDs from the company. Our focus in this testing is the brand new SK hynix PE8110, and it's our first extensive dive on an SSD with the E1.S form factor. This drive is extremely important for SK hynix, as it shows off so much of what the company is about, including NAND and controller development, and the ability to deliver innovative SSDs to meet customer demand.
SK hynix PE8110 E1.S SSD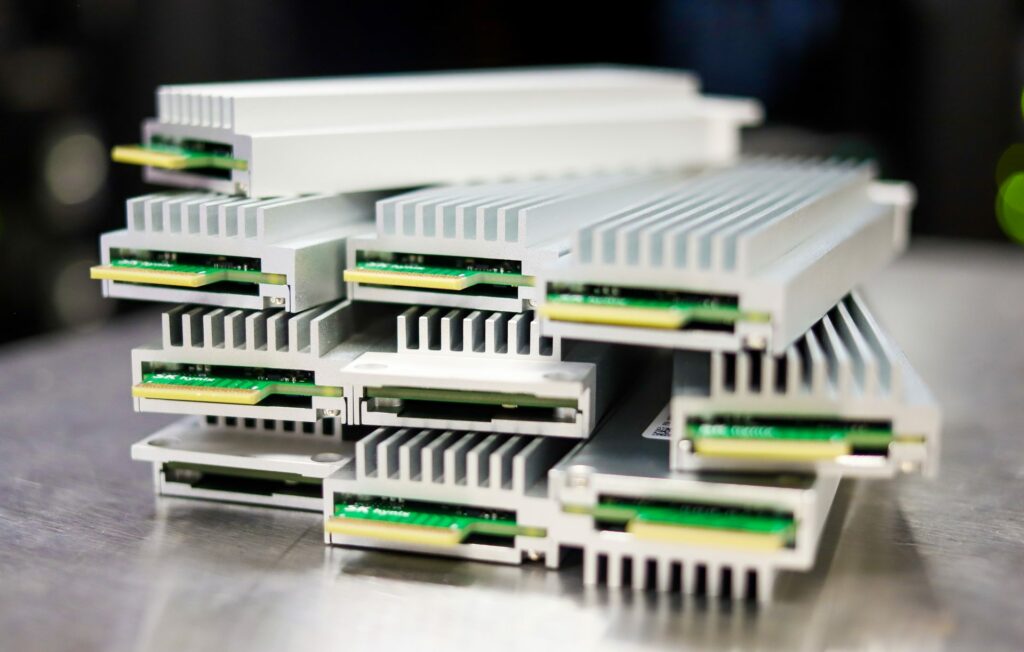 We've been talking a lot about the "ruler" form factor lately, including an extensive E1.S  deep dive, a podcast with Jason Adrian, the storage guru at Microsoft Azure and another podcast with Viking Enterprise Solutions about server design for ruler SSDs. For those who need a summary, E1.S (short ruler) is definitely coming to the enterprise very soon and E1.L (long ruler) may not be far behind. Each form factor has certain advantages, but with the industry moving to a 15mm z-height for E1.S, server vendors can more easily design solutions for these form factors.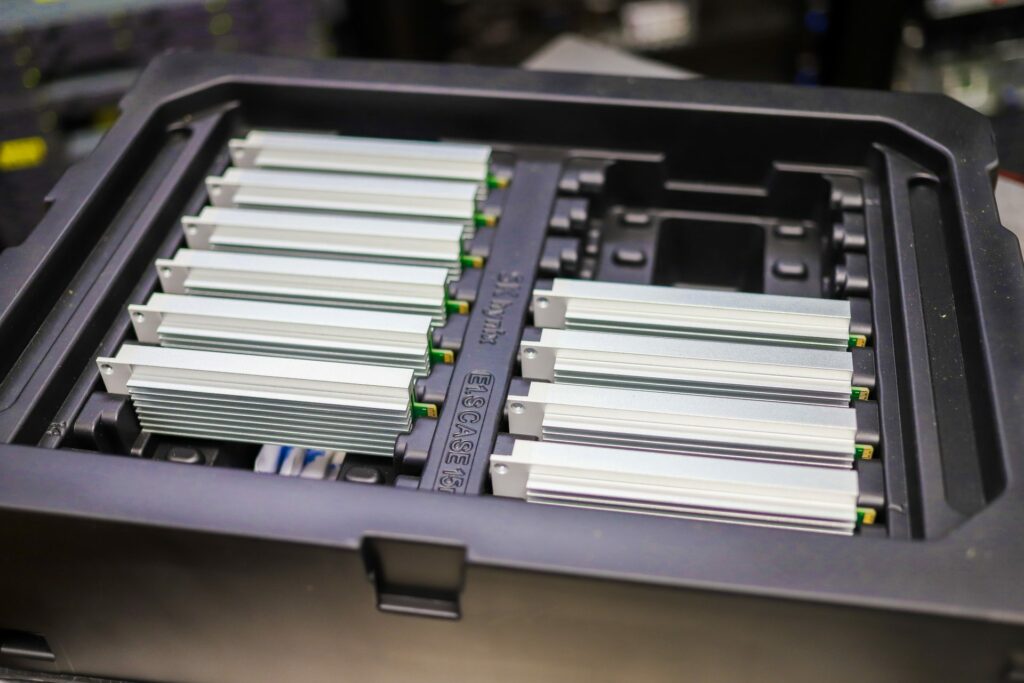 While hardly mainstream today, the E1.S form factor has been wildly popular in hyperscale data centers. The cloud guys love them for the mix of performance, cooling profile, power draw, and in some cases, density. E1.S in many ways has come about as a migration away from the M.2 form factor. The M.2 SSD design, while performant and compact, works well for mobile systems and boot drives, but not for high-performance enterprise offerings. Where E1.S comes in is allowing for increased power draw as well a form-factor design that accounts for thermal dissipation from that ratcheted up power spec.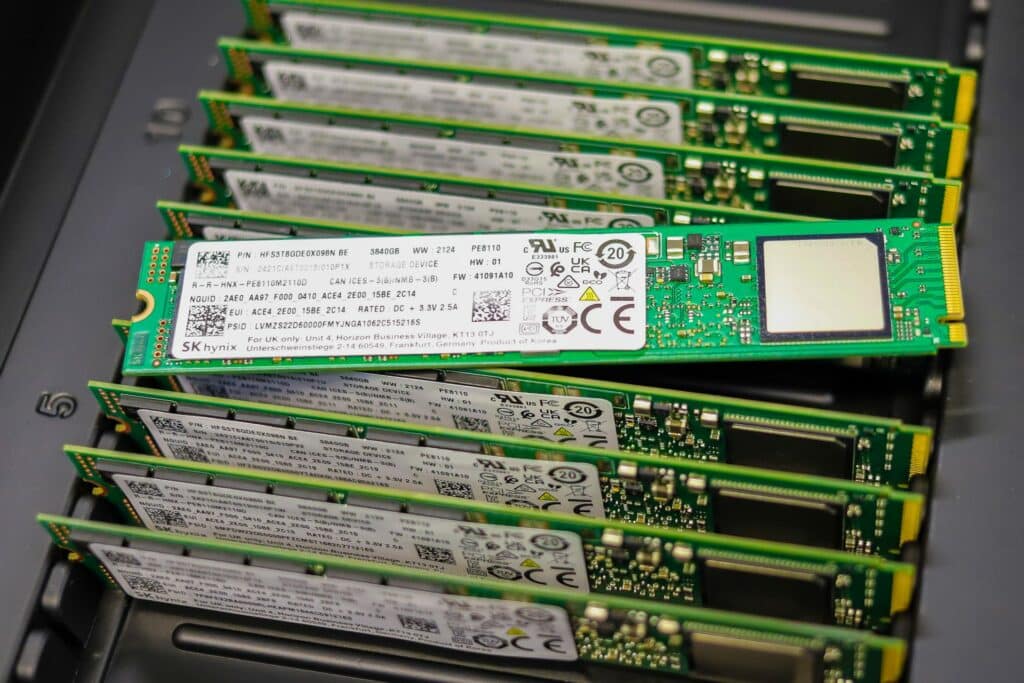 M.2 drives have certain limitations, especially when it comes to serviceability and the need to be used in an adapter card when it comes to server storage. E1.S on the other hand offers the same serviceability of a U.2 drive and removes the need for a drive carrier of any kind. SK hynix does make the PE8110 in an M.2 form factor as well though. Even with the migration to E1.S, there are still customers who have a need for the M.2 connector.
Server Adoption of E1.S is Accelerating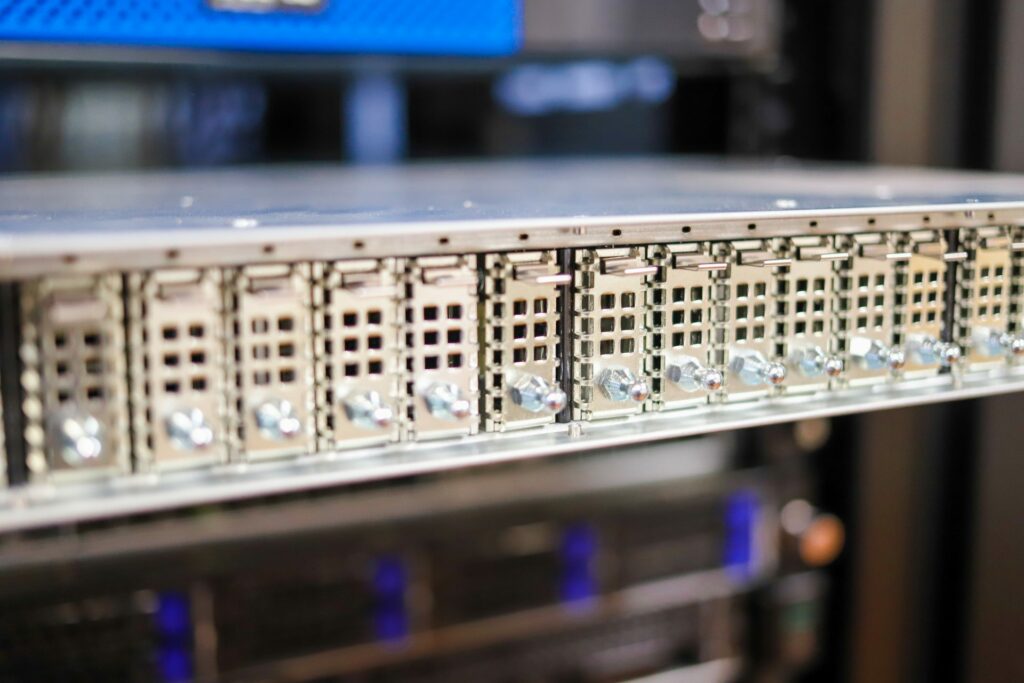 When we think about where E1.S SSDs have been successful, most use cases include hyperscalers or cloudscale data centers. That said, a number of server vendors are pushing their E1.S adoption forward. Above is a two-node Viking Enterprise Solutions server. This system leverages 24 of the 15mm drive bays to offer astounding storage density in a 1U box. Viking is working on a variety of E1.S platforms. If you're interested in the challenges of server design when it comes to E1.S, we have a podcast on the topic with Viking.

Other vendors are supporting E1.S as well, including Lenovo with their ThinkSystem SR630 V2. This twin Intel processor server offers support for up to 16 E1.S SSDs as part of the many configurations offered in the 1U server.

Perhaps some of the most comprehensive E1.S servers come from Inspur's portfolio. The latest Inspur M6 servers have a number of E1.S options. The NF5180M6 is a 1U, twin Intel CPU system that offers up to 32 E1.S SSDs, but also has offerings that combine U.2 and E1.S bays. Then there's the Inspur NF5266M6, which is an innovative 2U server that supports 24+2 3.5″ HDDs via triple-layered drive sleds in the front of the server. In this context, though, the interesting bit is in the back, where they offer a version that supports eight E1.S SSDs.
Emerging SSD Form Factors
Enterprise adoption of form factors is very much a moving target though. Of course, when we think about flash, almost all units sold for storage are U.2/U.3 SSDs (15mm 2.5″), with M.2 generally being relegated to boot duty. While we've talked a lot here about the SK hynix E1.S SSD, there's much more in the portfolio.  SK hynix also offers a number of SSD options in the long ruler form factor, with a PE8111 in E1.L. This drive is shipping today in capacities up to 16TB.
Support for the popular ruler form factors is critical, and enterprise servers are adopting these slots very quickly. But drive form factors are seeing more innovation and change right now than maybe any other time in server design. There's yet another form factor called E3.S and E3.L. These drives tend to have high power consumption, enveloped up to 70W. While not publicly announced yet, SK hynix has offerings in the works for these form factors as well, highlighting the company's flexibility.
With the rapid progression from PCIe Gen3 to Gen5, there's a lot of turmoil in the industry when it comes to SSD form factors. SK hynix is a major player in all of these form factors, delivering solutions their customers demand. Because they're a vertically integrated SSD provider (meaning they own the NAND, controller and firmware), SK hynix is well-suited to move quickly as the industry shifts. Additionally, SK hynix will soon absorb Intel's NAND business, making the combined organization a behemoth in the enterprise SSD business.
SK hynix PE8110 E1.S Specifications
Device Configuration
Density
1,920/3,840/7,680GB
Form Factor
E1.S 15mm
NAND
4D V6 512Gb TLC
Interface
PCIe Gen4x4
Protocol
NVMe v1.4
Sector Size
512, 4096 Bytes
Operating System
Windows Server 2012 R2/2016/2019, CentOS 7.2 or later, RHEL, Ubuntu 16.04 or later.
Performance (Typ.)
Sequential (128KB, QD128, Sustained)
Read
Up to 6,000 MiB/s
Write
Up to 4,000 MiB/s
Random (4KB, QD128 with 8Threads, Sustained)
Read
Up to 1000K IOPS
Write
Up to 155K IOPS
Read/Write, 90:10
Up to 510K IOPS
Power (Typ.)
Supply Voltage
+12V ± 10%
Active Read/Write
Up to 20W
Active Idle
Up to 5W
Reliability
UBER
< 1error per 1017 Bits Read
MTBF
2.5 Mhrs
Endurance
1 DWPD 5year
Unpowered Retention
3 Month (40'C)
Security
AES 256bits
Secure boot
eDrive / TCG Opal
Environmental
Temperature Range
Operating(by SMART)3)
0℃ ~ 70℃
Non-Operating
-40℃ ~ 85℃
Shock (Non-Operating)
1500G, Duration 0.5ms
Vibration (Non-Operating)
20G, 20~2KHz
Humidity (Non-Operating)
5~85%
Quality of Service (Latency)
4KB, Random Read, QD1 (Typ.)
75us
Quality of Service (4KB Read, QD1, Typ.)
Average
75us
99%
2-nine
85us
99.9%
3-nine
170us
99.9%
4-nine
370us
99.999%
5-nine
460us
Power On Ready (Typ.)
Normal Shut down
Up to 10sec
Ungraceful Shutdown
Up to 20sec
Min Power-off time
1sec
Physical Dimension
Width, mm
33.75 ±0.25
Length, mm
118.75 ±0.55
Height, mm
15 +0.35/-0.60
Weight, g
Up to 90.0±5%
Features support
Power Loss Protection (by Onboard Circuit)
Thermal Throttling
SMBus Basic Management (Out of Band)
SK hynix PE8110 E1.S Performance
For our performance comparison, we used a dual Intel Scalable Gen3 Intel server with two 8380 CPUs. This Intel server is a 2U model that supports PCIe 4.0 from end-to-end and includes eight U.2 NVMe bays in front. We used U.2 to E1.S adapters to physically connect eight PE8110 E1.S SSDs to the system and test eight of the U.2 PE8010 SSDs on the same platform.
For our initial testing in Ubuntu 20.04 with eight E1.S PE8110 versus eight U.2 PE8010 NVMe SSDs, we looked at traditional "four-corners" throughput and bandwidth tests using 4K random and 64K sequential workloads.
Next, we changed our software environment to VMware ESXi 7.0 and compared the performance of a smaller SSD group size. For SQL Server, we used 1 NVMe SSD with 5 VMs with our SQL Server 2014 instance running our 1,500 scale TPC-C workload profile. This put enough stress on each SSD model to magnify the differences between each model.
Lastly, we concentrated our MySQL Sysbench workload onto 2 SSDs from each group, with 8VMs placed evenly across the pair of SSDs. This gave us a workload footprint of 4VMs per SSD, focusing on the storage impact of the environment.
Comparing the synthetic four corners performance of the new SK hynix PE8110 E1.S SSD to the PE8010 we've looked at previously, we found random 4K performance very close to one another.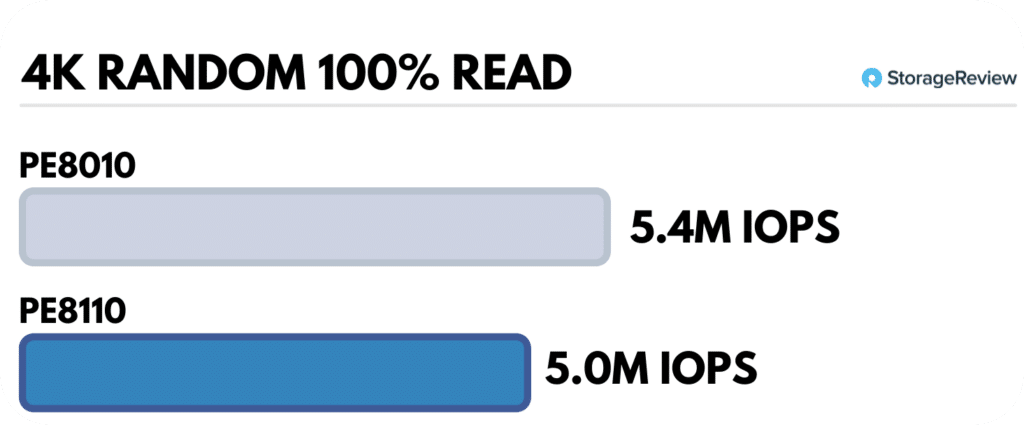 The U.2 drive had a slight lead in read performance, with the PE8110 measuring 5.0M IOPS versus the PE8010 with 5.4M IOPS. The E1.S version had the upper hand in write performance. Here we measured the PE8110 with 3.2M IOPS compared to the PE8010 with 2.8M IOPS.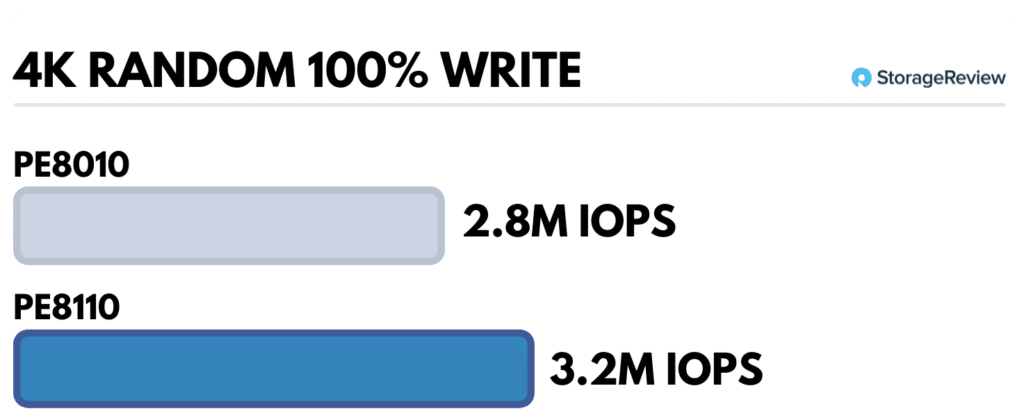 Transitioning to a larger block size with a sequential transfer profile, we found a similar trend where the PE8010 had a slight advantage with read performance whereas the PE8110 had the upper hand in write speeds. Here the PE8110 measured 40GB/s 64K read versus the PE8010 with 43.1GB/s.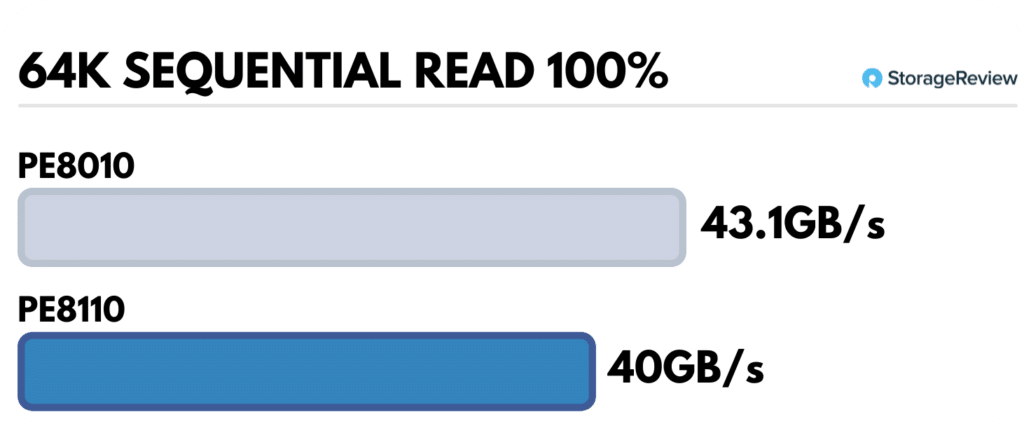 In sequential write, the PE8110 measured 14.6GB/s while the PE8010 measured 12GB/s.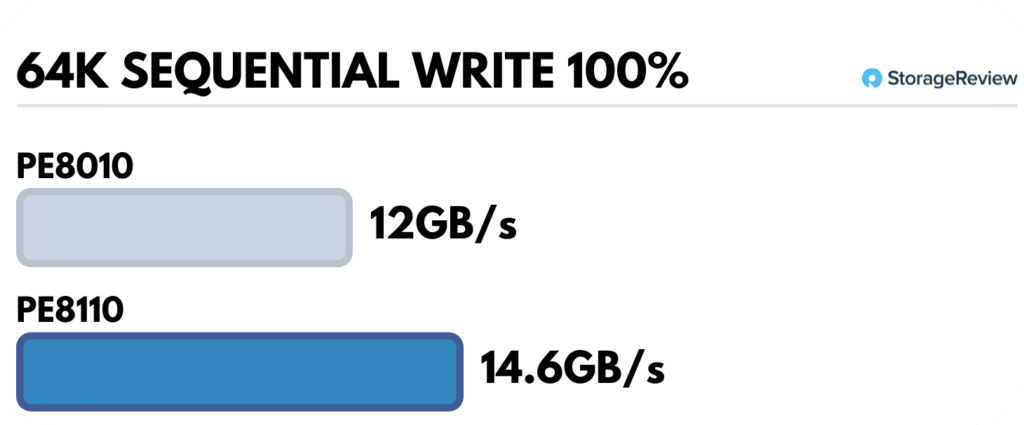 With the upper hand in write performance, as we turned to the SQL Server application test, we found that the PE8110 showed strong improvements over the PE8010 in our TPC-C test. Here we measured the average latency of five VMs, with the PE8110 showing an aggregate average of 14ms. This is in contrast to the PE8010 measuring 23.2ms under the same conditions.

Our final application workload that we ran on the SK hynix PE8110 and PE8010 consisted of our MySQL Sysbench workload, running 8 VMs across two SSDs. Here the E1.S PE8110 measured 18,544 TPS with an average latency of 13.81ms, compared to the PE8010 measuring 19,416 TPS with an average latency of 13.23ms.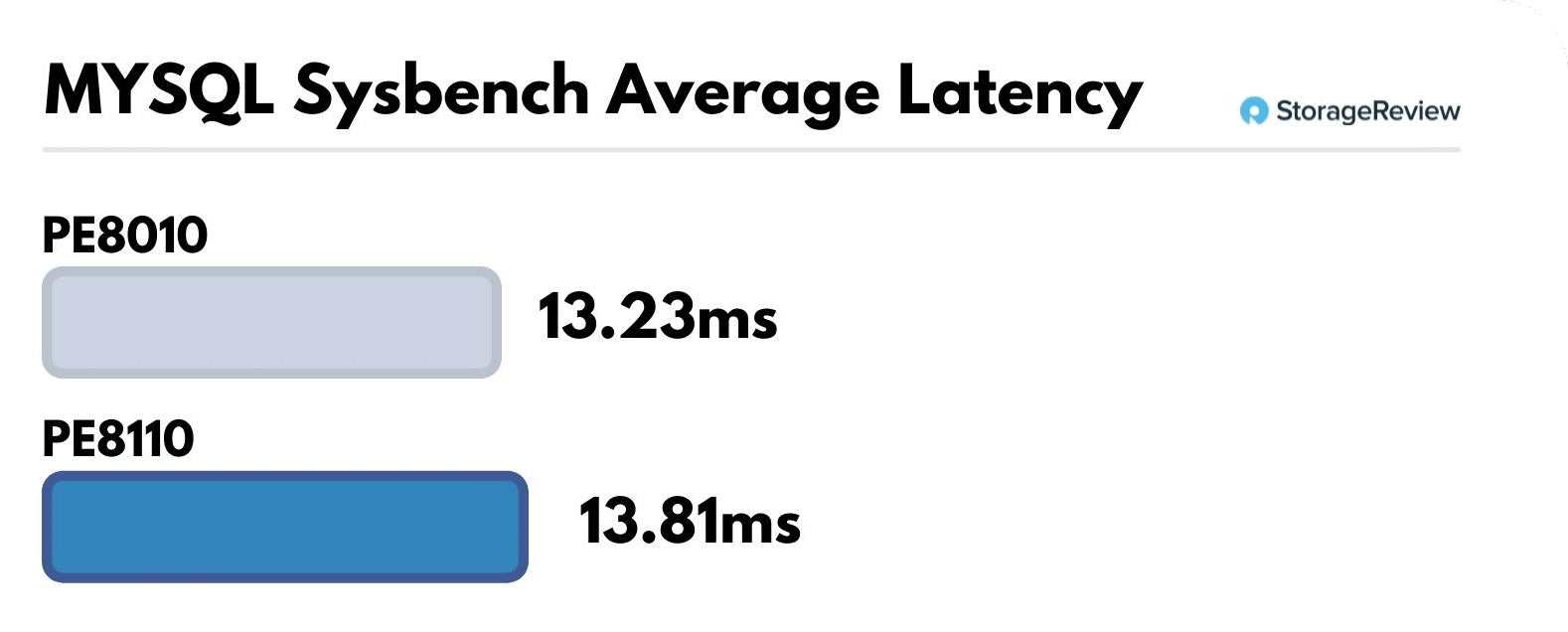 Final Thoughts
We've worked with SK hynix for years now on their ever-expanding line of SSDs. Being vertically integrated (meaning they have NAND fabs, an in-house controller, and write their own firmware), SK hynix has a lot of flexibility in what they can bring to market. At times, this means products specific for hyperscaler use. But more and more, this means bringing next-generation storage technologies to the enterprise. And this doesn't even factor in the presence of the recently acquired Intel NAND team. The combined entity has the global scale and engineering talent to deliver leading SSDs across a number of categories.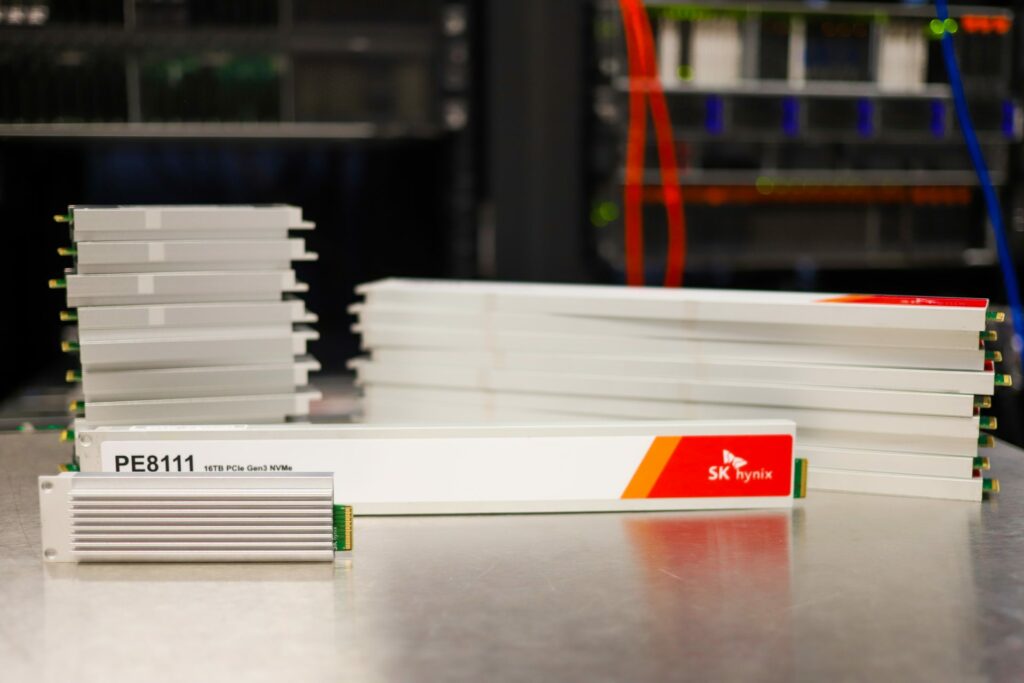 The PE8110 has been pretty fun to work with over the last several weeks. While many vendors have announced E1.S SSDs, SK hynix is the first to get a batch of them in our lab. Of course, one thing we wanted to understand is how the performance profile compares between U.2 and E1.S SSDs. To that end, we put a batch of each SK hynix SSDs head to head in our benchmarking process.
SK hynix kept the performance profile between the U.2 PE8010 and E1.S PE8110 Gen4 SSDs very closely aligned with one another. The PE8110 saw an improvement in random and sequential write performance, with a slight trade-off of read performance.
Comparing the group of 8 SSDs against one another, we measured 3.2M IOPS from the PE8110 group in 4K random write, against 2.8M IOPS from the PE8010 set. In 64K sequential write, the PE8110 group measured 14.6GB/s compared to 12GB/s from the PE8010. In our application tests with Sysbench favoring read performance to a small degree, the PE8110 SSDs measured 18,544 TPS to the PE8010 SSDs recording 19,416 TPS. SQL Server, on the other hand, saw a substantial improvement thanks to the faster write speeds. The PE8110 running 5 VMs of our SQL TPC-C workload measured 14ms, compared to the PE8010 with an average aggregate latency of 23.2ms.
E1.S SSDs are already commonplace in hyperscale data centers. With more enterprise systems offering E1.S support, though, we expect to see E1.S SSD adoption increase significantly. The performance and density combination is irresistible for many use cases. Either way, SK hynix will continue to deliver SSDs in whatever form factors the industry demands. Paired with the acquisition of Intel's NAND assets, it's clear that SK hynix intends to be very aggressive in the enterprise SSD market.
SK hynix PE8000 Family of SSDs
This report is sponsored by SK hynix. All views and opinions expressed in this report are based on our unbiased view of the product(s) under consideration.
Engage with StorageReview
Newsletter | YouTube | Podcast iTunes/Spotify | Instagram | Twitter | Facebook | TikTok | RSS Feed